January, 6, 2014
Jan 6
3:00
PM ET

Baylor had one of the best seasons in school history, winning 11 games for the first time, making its first BCS bowl and winning the Big 12 for the first time. Those accomplishments easily could have been forgotten with the Bears' horrible showing in their 52-42 loss to UCF in the Tostitos Fiesta Bowl, but this season will be remembered fondly in Waco, Texas.
Offense:
A+
[+] Enlarge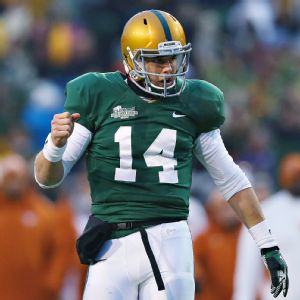 Ronald Martinez/Getty ImagesBryce Petty led Baylor to a nation's-best 52.4 points per game.
Is there anything higher than an A-plus? What more could
Bryce Petty
& Co. do? The Bears averaged 52.4 points per game, 618.8 yards per game and 7.49 yards per play as their offense led the Big 12 in nearly every offensive category. During his first season as the starting quarterback for Baylor, Petty earned Big 12 offensive player of the year honors and was the driving force behind the Bears' title run.
The running backs were superb, with
Lache Seastrunk
,
Shock Linwood
and
Glasco Martin
each finishing with at least 500 rushing yards, helping Baylor lead the conference in rushing. The receivers were just as good, with
Antwan Goodley
and
Tevin Reese
ranking among the Big 12's top receivers and
Levi Norwood
,
Corey Coleman
and
Clay Fuller
providing quality depth.
The foundation was the offensive line, led by Lombardi Award finalist
Cyril Richardson
. Their offensive front allowed Petty's accuracy to draw praise, Seastrunk's shiftiness to frustrate defenders and Reese's deep speed to scare Big 12 secondaries.
Defense:
A-
The defense was the biggest reason the Bears won their first Big 12 title. In recent history, the Baylor offense has been good consistently, always explosive. This season, the defense held up its end of the bargain, finishing among the top 10 nationally in yards per play at 4.75, ranking ninth among FBS teams.
Safety
Ahmad Dixon
was the emotional leader of the defense and set a tone for its aggressive approach with his physical presence in the secondary. Cornerback
K.J. Morton
was a playmaker on the outside and linebackers
Eddie Lackey
and
Bryce Hager
were versatile tackling machines in the middle of the field.
The defensive line did its part as well, leading the Big 12 with 99 tackles for loss and recording 31 sacks. Defensive ends
Shawn Oakman
and
Chris McAllister
were active throughout the season and defensive tackle
Beau Blackshear
was an underrated presence in the middle.
The lone reason the Bears don't get an A-plus was their performance in Baylor's two losses. They allowed 594 yards to Oklahoma State and 556 yards to UCF. As good as Baylor's defense was in 2013, it took a step backward on the big stage against the Cowboys and Knights.
Special teams:
C
Baylor's special teams weren't special; they were average. The Bears finished ninth in the Big 12 in field goal percentage, seventh in kickoff returns and eighth in punt returns. Baylor did have two punt returns and one kickoff return for touchdowns this season, but its special teams units didn't win games. But the Bears didn't need their special teams do to anything but operate efficiently and allow their offense and defense to perform.
Overall:
A+
The Bears will receive rings that say "Big 12 champions" on them. What more could you ask for from a team that opened the season picked to finish fifth in the conference?
December, 26, 2013
12/26/13
3:00
PM ET
Baylor's rise from the bottom of the Big 12 to the top of the conference standings can be attributed to a lot of different things. Coach Art Briles' confidence, an exciting offensive system that attracts playmakers and a clear plan to build the program have been key.
Recruiting plays a major role as well, but the most overshadowed characteristic of the rise has been the Bears' ability to evaluate prospects. Year after year the Bears seem to have playmakers emerge who were overlooked during their prep days.
Here are five key contributors to Baylor's first conference championship who represent BU's ability to evaluate prep prospects.
[+] Enlarge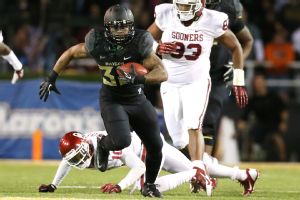 Matthew Emmons/USA TODAY SportsShock Linwood has 800-plus rushing yards, not bad for No. 3 on the depth chart at running back.
Running back Shock Linwood, redshirt freshman
Then:
A two-star recruit in the Class of 2012, Linwood had offers from Arkansas State, North Texas, UTSA and TCU. He was committed to the Horned Frogs before a late switch to Baylor.
Now:
Linwood started several games with
Lache Seastrunk
and
Glasco Martin
battling injuries. He finished with 125 carries for 862 yards, averaging 6.9 yards per carry, with eight touchdowns. His quickness and slashing style created problems for Big 12 defenses. He had four 100-yard rushing games including in wins over Oklahoma and Texas Tech.
Linebacker Eddie Lackey, senior
Then:
A junior college signee, Lackey had offers from Hawaii and New Mexico State when he signed with Baylor in the Class of 2012.
Now:
Lackey was the anchor of Baylor's defense, which finished atop the Big 12 in several categories. He led the team with 97 tackles, 26 more than any other Bear. He added a team-high 13 tackles for loss with 4.5 sacks, two interceptions, one forced fumble and one fumble recovery. He played as well as any defender in the Big 12 and didn't miss a game while being a driving force behind BU's 11-1 regular-season record.
Receiver Antwan Goodley, junior
Then:
A three-star signee in the Class of 2010, Goodley had offers from Arizona and Texas A&M.
Now:
Goodley was the Big 12's most productive receiver, giving defenses fits with his size, speed and big-play ability. He finished with 67 receptions for 1,319 yards, averaging 19.69 per catch, and 13 touchdowns to finish among the top five receivers in every Big 12 category.
Defensive tackle Beau Blackshear, sophomore
Then:
A three-star defensive end prospect in the Class of 2011, Blackshear had offers from Houston and TCU.
Now:
Blackshear was a quiet, consistent presence in the middle of the Bears' defensive line. He started 11 games, finishing with 31 tackles including five tackles for loss and 2.5 sacks. He's one reason Lackey and fellow linebacker
Bryce Hager
were able to finish 1-2 in tackles as he helped keep blockers off the Bears' tackling duo.
Guard Desmine Hilliard, sophomore
Then:
A two-star prospect in the Class of 2011, Hilliard had offers from Kansas and Kentucky.
Now:
Hilliard worked his way into the starting lineup as a sophomore and looks poised be an anchor of the Baylor offensive front in the future. The Bears' offensive line was the foundation of the eye-popping success the Bears had on offense and was the reason BU led the league in rushing at 265.17 yards per game despite battling injuries at the running back position.
April, 17, 2013
4/17/13
2:30
PM ET
Turnover is an annual tradition in college football, but with that, teams' strengths and weaknesses constantly shift, too. Today, we'll wrap our series looking at the biggest strengths and weaknesses for each Big 12 team.
We'll close with those Baylor boys in Waco.

Strongest position: Running back
Oregon transfer
Lache Seastrunk
emerged as the Big 12's best running back over the final month of the season, sprinting to a 1,000-yard season and returning to Waco for a highly anticipated encore. He's the Big 12's most dangerous player with the ball in his hands and will get plenty of chances to showcase his game-breaking speed. He's sometimes a bit too ambitious and and takes losses in the backfield, but it's definitely worth it, and he's working on being more north-south through the first line of the defense this spring.
He's not alone, either. Running back
Glasco Martin
"runs angry," Bears coach Art Briles told me on my visit earlier this month. We've seen that to be the case over his career, but the duo definitely balances each other out well. Martin is a more physical runner capable of earning tough yards, and he'll come in handy in short-yardage situations this season. The depth is impressive, but the Bears' 1-2 punch at running back is the Big 12's best entering the season. I don't know if I buy talk of them both hitting 1,000 yards this year, but they're going to be tough to handle all season.
Weakest position: Defensive tackle
Beau Blackshear
and
Javonte Magee
have potential, but both combined for just 1.5 tackles for loss in spot duty last season, and they'll be forced into starting duty this season. Neither of them have a career start, though reserve
Trevor Clemons-Valdez
made three last season before being passed up on the depth chart this spring. Baylor's had issues stopping the run, and though it should be better at safety and defensive end this year, that development won't look nearly quite as impressive if the teeth of the defense doesn't toughen up a bit.
The position isn't a huge weakness, but when you look at the rest of the Bears' roster, it pops out to me as the biggest question mark on a defense that should be improved.
March, 7, 2013
3/07/13
9:00
AM ET
We're moving on with a new series today looking at the players across the Big 12 who have to replace program legends. We might as well call this the
Nick Florence
Memorial team, but today we'll tackle his old team, the
Baylor Bears
.

Big shoes to fill: Baylor's defensive tackles
We've talked about filling Florence's shoes, and even those left behind by
Terrance Williams
and
Lanear Sampson
. We're looking a little closer at Baylor today, and I'm staring right at the front of Baylor's defense. Both defensive tackles,
Nick Johnson
and
Gary Mason Jr.
are gone, and Baylor's left with a hole in the front of the defense that only about 600 pounds can fill.
Smart money is on rising sophomore reserves
Beau Blackshear
and
Trevor Clemons-Valdez
stepping up to replace Mason and Johnson. Clemons-Valdez made four starts a year ago and should be a strong replacement, and the duo combined to make 21 tackles a season ago, including a tackle for loss from Blackshear and a fumble recovery from Clemons-Valdez. Baylor's trying to build its defense, but if it starts getting gashed up front, any development elsewhere will ultimately be for naught. Filling those emptied spots is paramount this spring.
See more shoes to fill.
August, 16, 2012
8/16/12
1:00
PM ET
It's time to officially unveil the Big 12's All-Name Team for 2012.
Any player on a current roster, regardless of role on the team, is eligible. The only requirement: Your name must be awesome.
These are, quite simply, the best names of players in the Big 12. Some are catchy. Some are fun to say. Some are just the best. I love all of these.
Here goes:
Coach:
Major Applewhite, OC, Texas
OFFENSE
QB:
Daxx Garman
, Oklahoma State
RB:
Lache Seastrunk
, Baylor
RB:
Brandon Bourbon
, Kansas
FB:
Glenn Gronkowski
, Kansas State
WR:
Sterling Shepard
, Oklahoma
WR:
Lynx Hawthorne
, Baylor
WR:
Kolby Listenbee
, TCU
TE:
Kurt Hammerschmidt
, Iowa State
OL:
Dylan Admire
, Kansas
OL:
Will Ash
, Kansas State
OL:
Cody Whitehair
, Kansas State
OL:
Blaize Foltz
, TCU
OL:
Le'Raven Clark
, Texas Tech
DEFENSE
DL:
Keba Agostinho
, Kansas
DL:
Beau Blackshear
, Baylor
DL:
Noble Nwachukwu
, West Virginia
DL:
Stansly Maponga
, TCU
LB/DE:
Toben Opurum
, Kansas
LB:
Curtis Smelley
, West Virginia
LB:
Shaq Petteway
, West Virginia
DB:
Yves Batoba
, Oklahoma State
DB:
Terrance Bullitt
, Texas Tech
DB:
Happiness Osunde
, Texas Tech
DB:
Kip Daily
, Kansas State
SPECIALISTS

K:
Bobby Stonebraker
, Oklahoma State
P:
Ryan Erxleben
, Texas Tech
Who's your MVP? Anybody get snubbed?
February, 23, 2011
2/23/11
9:00
AM ET
I love a good name. I hope you do, too. If you don't, you're going to hate this post.
Nevertheless, here we go. A couple hundred new players will be joining the Big 12 next year, and among them are players with great names.
You ought to know by now
, I love alliteration. That's one way to land on this team. Some share a name with someone notable. Some of them just roll off the tongue. All of them are unforgettable.
Here are the best:
Team MVP:
Steele Jantz, QB, Iowa State
: I mean ... obviously. I'm unsure of what a Jantz is, but if it's made of steel, you know your quarterback is in good shape.
Dreamius Smith, RB, Kansas:
His himself came true as soon as he signed his letter of intent. A strong, strong candidate for team MVP.
Boston Stiverson, OG, Kansas State:
We already have too many players in the Big 12 named for towns in Texas. It's time for expansion ... to the East Coast.
Floyd Raven, CB, Texas A&M and Le'Raven Clark, OT, Texas Tech:
Both are always good for a solid quoth.
Quandre Diggs, CB, Texas:
Mostly just awesome. Also, unique. It means "warrior" and if you Google "Quandre," results for Diggs are 10 of the first 11 that pop up.
Danzel Williams, RB, Oklahoma:
He got game. His spin move is nicknamed "The Hurricane." You won't forget this titan. He's unstoppable, and his teammates will find out when training day arrives this fall. Remember though, that's in Norman, not Philadelphia.
Spencer Drango, OT, Baylor:
The Bears' top recruit should be fine unless he's lined up against a defensive lineman named Rocky. Fortunately, Oklahoma linebacker Rocky Calmus (another all-name teamer, by the way) is long gone from the Big 12. Any 2012 recruits named Apollo: Beware.
Beau Blackshear, DE, Baylor:
Likely received a scholarship from every coach he introduced himself to.
JaQuarius Daniels, ATH, Iowa State:
His age is dawning.
Cody Whitehair, OT, Kansas State
: Name aside, he still has all four years of eligibility remaining. And ladies, he's a brunette.
Miketavious Jones, CB, Oklahoma State:
He's no
Barkevious Mingo
at LSU, but he's the closest thing to it.
Jaxon Shipley, WR, Texas:
The Shipley
name is nothing new
when it comes to Big 12 receivers, but he's certainly the only "Jaxon" I've ever seen. Points for the new-age spelling.
Anybody get snubbed? Who deserves to be on the list.
February, 3, 2011
2/03/11
1:30
PM ET

BAYLOR BEARS
The class
Signees
: 19 (five enrolled early, four junior college)
Top
prospects
: The Bears got a big-time offensive tackle in
Spencer Drango
, the nation's No. 14 prospect at the position.
Trevor Clemons-Valdez
(No. 32 defensive tackle) and Johnathan Lee (No. 48 receiver) are two other highly-rated prospects in the class.
Suleiman Masumbuko
and
Beau Blackshear
add more talent on the front line of the defense.
Needs met:
Baylor is set for 2011 at the skill positions; they have elite Big 12 talent at quarterback and receiver, and some talent with potential at running back. Where they needed help is on the offensive line and everywhere on defense, excluding the secondary, where they stocked up on talent in their 2010 class. The Bears got exactly what they needed. It's not a balanced class, but that's not what Art Briles wanted. He wanted big bodies up front, and nine of his 19 signees are offensive or defensive linemen. Defensive tackle Phil Taylor and offensive tackle Danny Watkins will be making big money in the NFL next year, and they need to be replaced. The Bears have done that. Jay Finley is gone, and Baylor signed three running backs in this class with a chance to replace him in 2011.
Analysis:
Baylor's location in central Texas helps so, so much in recruiting. The Bears can get in on a lot of talent that's overlooked by other programs, they don't have to worry about distance (18 of the 19 commits are from Texas) and have been able to grab an elite, top-tier recruit in recent years. Last year, it was Ahmad Dixon, a safety who was the nation's No. 15 overall prospect. Darius Jones, an ESPNU 150 prospect, signed in 2009. Kendall Wright has become one of the league's best receivers as the No. 112 overall prospect in 2008. This year, they don't have an elite prospect, but they've got a lot of quality talents to help fill what Baylor needs. They lost offensive tackle
Nila Kneubuhl
on signing day after the offensive tackle had been committed to the Bears for nearly a year, which has to be frustrating for Briles, but it's not a huge blow. New defensive coordinator Phil Bennett has been on the job less than a month. He'll have 11 new players with two possible ones at athlete, compared to just six offensive prospects. The class ranks eighth in the Big 12, but it's an acceptable group for the Bears, who have a lot of established talent already on campus.
ESPN recruiting grade:
C-plus
May, 20, 2010
5/20/10
4:35
PM ET
Recruiting's a little easier when your targets are only a few minutes away. Baylor coach Art Briles knows.
Cornerback
Ahmad Dixon
, an ESPNU 150 member and one of the best recruits in Bears history, signed with Baylor in February out of Midway High School in Waco, Texas. So did
Levi Norwood
, a 6-foot-2, 170-pound receiver that ESPNU ranked as the No. 93 receiver in the country.
Now, Briles has mined Midway once more, receiving a commitment from
Beau Blackshear
, a 6-foot-4, 260-pound defensive end.
"I wanted to go ahead and make my decision and not have to worry about it my senior year," Blackshear told the Waco Tribune-Herald. "I've had a good feeling about Baylor for a while. By staying close to home, my friends and family can see me play."
The commitment gave Briles seven pledges for his 2011 class.
Nebraska also added a commitment for defensive coordinator Carl Pelini's secondary.
Daimion Stafford, a 6-foot-1, 210-pound safety from Chaffey College in Rancho Cucamonga, Calif., committed to the Huskers on Wednesday.
Stafford is Nebraska's first junior college commit for 2011, and eighth overall commitment. Three of those commitments are members of the ESPNU 150, and the eight commits hail from seven different states, with Stafford becoming the second player from California to pledge to play for the Pelinis beginning in 2011.