August, 20, 2010
8/20/10
4:15
PM ET
Have a good weekend, everybody. There's a decent chance Texas Tech names its starting QB over the weekend, and if that happens, we'll have it here, so keep checking back.
Michael in Raytown, Mo., writes:
How long does MU give Pinkel if he continues to get beat down by OU and UT? I mean going to a bowl game every year is great and all, but I'm sick of us having good /very good years then getting slapped down by OU and UT. I know MU will probably never have the same level of talent overall as OU/UT but other inferior talent teams find a way to beat them--what gives?
David Ubben:
Gary Pinkel's struggles against Texas and Oklahoma aren't a deal breaker. His job security is as good as it's ever been, and nothing Texas or Oklahoma do is going to change that. Missouri fans sometimes forget where the program was before he came. The Tigers had two winning seasons from 1984 to 2000, when Pinkel arrived. He's guided them to five consecutive bowls and won an impressive 30 games in three seasons. Finally getting over the hump and beating Texas or Oklahoma would be a big step for the program, but it's foolish to suggest Pinkel's job depends on it.
---
Wes in Hampton, Va., writes:
There are plenty major games lined up for the Big XII this year. Do you see any teams with any major "snake in the grass" games? i.e. Nebraska @ Washington?
DU:
There are definitely quite a few. I'll define them as games that fans are counting as sure wins that they might warrant a second look.
1) Nebraska at Iowa State
-- For all the talk about turnovers, Iowa State still beat Nebraska in Lincoln without
Austen Arnaud
and
Alexander Robinson
, among others. It's foolish to think the Huskers over the Cyclones in Ames is a gimme.
2) Oklahoma at Cincinnati
-- Probably not viewed as a gimme, but Oklahoma fans see a team that lost its coach, Brian Kelly, and its two best offensive players, quarterback Tony Pike and receiver Mardy Gilyard. I see a team that went 2-5 away from Owen Field last year and still has to prove it can perform on the road, especially
Landry Jones
.
3) Texas A&M at Baylor
-- Baylor might be playing to end its bowl drought, and it'll be ready to go in Waco. The Aggies' defense can't play like it did most of last year against
Robert Griffin
and
Kendall Wright
this year. If it does, it'll leave with a frustrating loss.
---
Jess in Oklahoma asks:
What odds do you give Kenny Stills on being offensive newcomer of the year in the Big XII
DU:
As a true freshman, he'd be a "Freshman of the Year," rather than newcomer, which are two separate awards, but he's got a pretty good shot to win it. The opportunity in Oklahoma's receiving corps is there, and he's already impressed coaches in practice and fans in the spring game.
---
Roderick in Denver writes:
David, we've seen enough Top XX lists to make our eyes bleed this summer, but how about one more? What are your Top 10 Names in the Big 12? Could be cool, weird, just sounds like a football player, or a personal favorite. Here's a starter kit.
PK Zach Grossnickle of Colorado, DT Stephen Ruempolhamer of ISU, LB Blake Slaughter of KSU, CB Dijon Washington of Nebraska, DT Chris Littlehead of OSU, RB
Foswhitt Whittaker
of Texas, WR
Uzoma Nwachukwu
of A&M, RB's
Christine Michael
and Mister Jones of A&M.
DU:
That's a great list. I should mention, Baylor having two Robert Griffins might be my favorite name-related story in the Big 12 right now.
But here are a few additions, my favorite names across the conference:
Trevor Marrongelli
, OL, Kansas: As I mentioned in a video earlier this week, he's nothing to spread on toast. He's Kansas' starting right guard.
Oladipo Fajimolu
, DL, Kansas State: A native of Nigeria, Fajimolu did a lot in high school: Football, basketball, shot put, javelin, discus, soccer, badminton and table tennis.
Gahn McGaffie
, WR, Missouri: It's pronounced "John." As someone with an oft-butchered name, I can relate, and I imagine it's been pronounced correctly on the first attempt about 6 percent of the time. Him scoring a game-winning touchdown is screaming for a "He's Gahn" headline.
Forrest Shock
, WR, Missouri: Needed nickname: "Agent Orange" or "The Lumberjack."
Currenski Gilleylen
, WR, Nebraska: They say to never trust a man with two first names. I trust any man with two last names.
Yoshi Hardrick
, LT, Nebraska: Legitimately nicknamed after the dinosaur, and you won't find a better one in the Big 12.
Hubert Anyiam,
WR, Oklahoma State: Find me another player with three words in seven letters in one last name. In order. Fantastic. For reference, it's pronounced "ANNIE-ehm."
Jackson Jeffcoat
, DE, Texas: Alliteration is always good, and for more on why he's on the list, see Nebraska's first entry.
Tony Jerod-Eddie
, DL, Texas A&M: Does anyone know what you're supposed to do about guys with three first names?
Beau Blankenship
, RB, Iowa State: Boom. Sounds tough.
Bront Bird
, LB, Texas Tech: Anybody want to mess with him? I don't.
LeQuince McCall,
LB, Baylor: Four capital letters, one goal: cracking the Bears' depth chart.
Who'd I miss?
---
Brett in Kansas City asks:
Hey David, do you see K-State getting into a bowl this season and if so what bowl do you think it will be?
DU:
I like their chances a lot. You should look into the Pinstripe Bowl. Could be a nice trip.
June, 9, 2010
6/09/10
10:00
AM ET
You heard about Oklahoma's
Landry Jones
and his backup
earlier this morning
, but here are the most irreplaceable players for the rest of the conference.
Robert Griffin III, QB, Baylor:
This one's pretty simple. Griffin means more to his team than any player in the conference. The 2008 Big 12 Newcomer of the Year helped the Bears win their 2009 season opener at Wake Forest before a season-ending knee injury in the third game. He'll come back for 2010 still a sophomore. But his injury last season now means his backup,
Nick Florence
, is surprisingly experienced.
Alexander Robinson, RB, Iowa State:
Robinson rushed for 1,195 yards in 2009 and is by far the Cyclones' best player. His yards per carry average is almost 1.5 yards higher than his backup last season. This year, the battle for No. 2 is ongoing, with
Beau Blankenship
and freshmen
James White
and
Jeff Woody
trying to earn any spare carries not soaked up by Robinson.
Nate Solder, OT, Colorado:
This season will be Solder's third as starting left tackle, the key position on the offensive line. He's proven to be one of college football's premier linemen, but his durability and experience have meant very little playing time for backup Ryan Dannewitz, a redshirt freshman.
Jake Laptad, DE, Kansas:
Laptad is a force in the backfield and racked up 6.5 sacks and 12 tackles for loss last season. His backup is junior college transfer Quintin Woods, but with just four career tackles, there's a clear dropoff in both production and talent.
Blaine Gabbert, QB, Missouri:
In just his second year as starter, Gabbert could be poised for a big jump like his predecessor, Chase Daniel. The Tigers earned a North title in Daniel's second season and No. 1 ranking after the regular season. But Gabbert needs to stay healthy. His backup is former walk-on
Jimmy Costello
, who's never played a meaningful snap, but behind him are a group of untested freshmen with potential in
Ashton Glaser
,
James Franklin
and Gabbert's younger brother,
Tyler Gabbert
.
Eric Hagg, S/LB, Nebraska:
The central figure of the Huskers' Peso defensive scheme (Hey!
Remember that
?) gives the Husker defense the teeth that helped them nearly upset Texas and blow out Arizona. His backup is Austin Cassidy, who has plenty of on-field experience after appearing in all 13 games last season. Like Hagg, Cassidy has the ideal size for the position at 6-foot-1 and 210 pounds, and notched nine tackles as a sophomore in 2009.
Markelle Martin, S, Oklahoma State:
Martin's sophomore season was overshadowed by big-hitting senior Lucien Antoine, but he'll be one of the team's leaders as a junior in 2010. He's the team's leading returning tackler, and should join Orie Lemon and Ugo Chinasa as the anchors of a defense replacing its four leading tacklers from 2009. His backup, Mathies Long, played in the last six games of 2009, but has just three career tackles.
Sam Acho DE, Texas:
The better known of Texas' Acho brothers, he played in 24 games before taking over as starter last season. He notched 63 tackles and four fumble recoveries, tied for most in college football. He was also a semifinalist for the Lott Trophy. But at Texas, there's always a pretty narrow gap between starter and backup. Acho's backup should be either Russell Carter
or
Alex Okafor, who will also play behind opposite defensive end Eddie Jones. Carter played in nine games last season and notched five tackles. Okafor played in all 14 games last season and tallied 22 tackles.
Jerrod Johnson, QB, Texas A&M:
No backup will be able to reproduce Johnson's impressive numbers from 2009 (38 touchdowns, 4,085 total yards). But Johnson's backup
Ryan Tannehill
does have plenty of experience--at a different position. He got plenty of reps this spring with Johnson sidelined from live action after minor shoulder surgery, but he's the team's active leader in receiving, with 1,418 career yards. He's thrown just nine passes in two seasons with the Aggies.
Colby Whitlock, DT, Texas Tech:
Should assume the role of nose tackle in Tech's new 3-4 scheme under coach Tommy Tuberville and defensive coordinator James Willis. Though it's a new position, Whitlock's experience will be tough to replace. Of his 46 tackles in 2009, 8.5 came behind the line of scrimmage. His backup is a mountain of a man, Myles Wade. The 6-foot-2, 340-pound junior college transfer made just two tackles in limited action last season, but he still has two years of eligibility left, and could plug plenty of holes in the middle of the defense after Whitlock graduates.
(UPDATE 12:01 p.m: Kansas State's Daniel Thomas was mistakenly left off this list. I trust we can agree he belongs. He's really good at football. Read
more about him here.
)
April, 20, 2010
4/20/10
4:15
PM ET
What happened:
Running backs Jeff Woody and James White paced the offenses, and the Gold team won, 23-17.
Around 10,000 fans showed up on a sunny day in Ames. After the game, coach Paul Rhoads joked with the media: "It was a beautiful sun-drenched Jack Trice Stadium," he said. "I can write your opening."
What we learned:
Woody and White stole the show in making their case to back up Alexander Robinson. Woody ran for 70 yards on 14 carries. White ran for 94 yards on 17 carries. "I think Jeff Woody is close to the top of the heap of those three for the No. 2 spot at this point," Rhoads said. "He's the same guy every day. He's always working toward positive yards, but at the same time I heap praise on him, I liked James White's elusiveness and speed. "He has the ability to make guys miss. He can slip through small holes."
One of the running backs gunning for that No. 2 spot, Beau Blankenship, didn't play after suffering a minor MCL injury in practice on Thursday.
Rhoads said this morning he's skeptical of using the word "comfortable" with anything on defense, but he likes the depth he's developed at cornerback with Leonard Johnson, Ter'ran Benton, Jeremy Reeves and incoming juco transfer Anthony Young, who impressed in his first spring. "I think we've got four guys that are capable of playing," Rhoads said. "I think those four guys provide us depth and quality at the cornerback position, and if I was remotely comfortable anywhere, it would be there."
Jerome Tiller had a nice game, completing 21 of 32 passes for 200 yards, but Rhoads reiterated what he told me on my visit last week about the status of starter Austen Arnaud: "It is Arnaud's job, and I think Austen Arnaud is, without a doubt, the most improved player on our offensive football team and quite possibly the most improved player on our entire team as we finished up spring drills this Saturday," Rhoads said. For what it's worth, Arnaud completed 14 of 20 passes for 156 yards. Tiller is solid, and his time will come. But right now, it doesn't look like 2010 will be his chance.
They said it:
"We've got to play with better vision as a defensive football team. ... They have to play with bigger eyes."
-- Iowa State coach Paul Rhoads
(Hold your e-mails, Missouri fans. We'll be featuring the Tigers on the blog tomorrow, and the spring game recap will be part of that.)
April, 15, 2010
4/15/10
4:00
PM ET
AMES, Iowa --
Alexander Robinson
walks and speaks softly.
"I'm not the type of teammate that's going to get in your face and yell at you and scold you and tell you 'this is wrong, that's wrong,'" Robinson said. "What I'm going to try to do is go out there and try to work hard every day and lead by example."
[+] Enlarge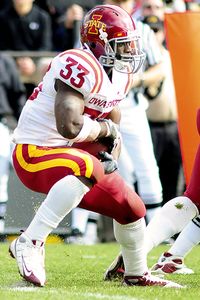 Icon SMIIowa State's Alexander Robinson rushed for 1,195 yards as a junior.
Robinson saves his intensity for the field and opposing linebackers. He rushed for 1,195 yards for the Cyclones as a junior last season, but Iowa State coach Paul Rhoads needs him to to step outside his comfort zone this spring and during his senior season.
"He's automatically a leader because of his production and his credibility with his teammates," Rhoads said. "So they'll look to him for that. He's got to provide verbalization to his teammates to give them that leadership."
Rhoads knows part of that is leading by example, a quality that comes natural to his running back. Even if he has to change how that example looks. Robinson's natural running style out of pads makes him look like what Rhoads called a "strider," and can sometimes give off the appearance that he isn't running full-speed during conditioning.
"I talked to him and said, 'this stuff is about quickness,'" Rhoads said. "You've got to show you're expending yourself [during workouts]. Out on the field, it's precision."
On the field, Robinson's progression has been rapid entering his final season, even since the Cyclones' bowl win over Minnesota. Rhoads has seen Robinson grow significantly quicker and faster, and with his experience last year, his vision and feel for finding holes in the defense could pay off next season.
"You combine that vision with the improved quickness, you've got quicker cuts, sharper lines," Rhoads said. "And it's hands on him instead of bodies on him."
One of the reasons for Robinson's breakout year was understanding how his talents fit into Rhoads' system.
"There are certain aiming points in the line we want, by doing that, he helps the O-line. It took him a little bit to understand that," Rhoads said.
This spring, he's passed on what he's learned to a clustered group of running backs behind him, including
Beau Blankenship
,
Jeff Woody
and
James White
.
"He's not going to make too many mental errors," White said. "If there's something I don't know, I'll ask A-Rob instead of Coach and he'll tell me."
April, 5, 2010
4/05/10
3:15
PM ET
Nebraska
Nebraska held a 150-play
scrimmage on Saturday
, but since it was also closed to the media, details are thin.
Offensive coordinator Shawn Watson praised all of his quarterbacks, not tipping his hand to how
Cody Green
,
Kody Spano
or
Taylor Martinez
have looked.
Zac Lee
, of course, isn't practicing this spring after surgery to repair a torn flexor tendon.
"I think all of them did a really good job; they had their moments out there today. I'd say that about all of them. I'd hate to single one out because they're all in the same spot," Watson said after the scrimmage. "They're all developing. You see them growing, you see them doing the things I want to see them doing in terms of managing us. So we're getting better at it, [but] we have a long way to go."
Iowa State
Leading rusher
Alexander Robinson
's action was limited in Iowa State's
scrimmage on Saturday
, but Paul Rhoads was pleased with running backs
Beau Blankenship
,
James White
and
Jeff Woody
's potential -- minus a few fumbles.
"I thought our young guys showed some potential," Rhoads said. "We still had a couple of guys put the ball on the ground today and that is unacceptable. Ultimately, we have demonstrated that we are doing a lot things better so far this spring."
Both the Cyclones and Huskers host their spring games on April 17.
Baylor
The Bears' Robert Griffin is bugging his coach, Art Briles, to
let him back into live action
, but he's getting nowhere while progressing with his comeback from knee surgery.
"He's itching to try to go team," Briles said of Griffin, "but we're being intelligent and not letting him go. He's doing everything except the team activities. You can look around and see that there's not a scoreboard. So what we're doing is just working on getting better and understanding how to react as a team right now."
Offensive lineman Robert Griffin was scheduled to have shoulder surgery on Friday, but the Bears' offensive line -- or its size, at least -- has its quarterback impressed.
"I know I haven't been in college very long, but it's the biggest offensive line I've had, ever," said Robert Griffin the quarterback. "They're huge."
January, 21, 2010
1/21/10
11:56
AM ET
By
Tim Griffin
| ESPN.com
Signing day is just around the corner, and each Big 12 team is doing what it can to keep together its class while adding a late upgrade in talent.
Here's a look at what immediate recruiting needs each North Division team must address first.
Colorado
Running back:
With the departure of
Darrell Scott
and
Demetrius Sumler
, Dan Hawkins needs to find some talent at running back. With only three scholarship backs on the roster, an immediate talent infusion is needed. Tony Jones is the only commitment and the Buffaloes could use size from a bigger back.
Tight end/H-back:
All of the positions are important in Kent Riddle's offense, and six players graduated from those positions in December. The only player who will return with experience includes junior tight end
Ryan Deehan
, so Hawkins needs players at the position who can help immediately.
Quarterback:
With
Tyler Hansen
set at quarterback and
Cody Hawkins
set to graduate after next season, the Buffaloes still would like to add some depth at the position. Nick Hirschman has enrolled early to get a head start on his development, and
Josh Moten
appears ready to enroll after failing to make his grades before last season.
Iowa State
Across the board talent infusion:
The Cyclones already have added 24 commitments for the upcoming season. Junior college players like massive offensive lineman Jon Caspers, defensive end Rony Nelson, wide receiver Anthony Young and tight end Ricky Howard should provide an immediate lift. And look for coach Paul Rhoads to add a couple of more to capitalize on the late momentum from the Insight Bowl victory.
Running back:
Preparing for the future will be important as
Alexander Robinson
will be entering his senior season. Freshmen
Beau Blankenship
still has some developing to do and
Jeremiah Schwartz
has left the program. The Cyclones have added depth with the addition of Duran Hollis and Shontrelle Johnson. Don't be surprised if Hollis moves positions once he comes to college if Johnson develops as expected.
Wide receiver:
The Cyclones had trouble making big plays and could use a talent boost at the position. Leading 2009 receiver
Marquis Hamilton
has graduated and
Jake Williams
will be a senior next season. Recruits Jarvis West and Chris Young appear to have addressed those needs.
Kansas
Defensive end:
The Jayhawks could use a talent upgrade here with occasional starters Jeff Wheeler and Maxwell Onyegbule graduated, and Jake Laptad and Quintin Woods entering their senior seasons in 2010. It became more of a need after Oklahoma beat out the Jayhawks for top defensive end prospect Geneo Grissom earlier this week.
Quarterback:
With unproven
Kale Pick
set to take over for
Todd Reesing
, the Jayhawks have added junior college transfer Quinn Mecham of Snow Junior College to immediately contend for playing time. Meacham threw for 3,091 yards and 40 touchdowns last season and has already captured the attention of new offensive coordinator Chuck Long because of his experience in the spread offense.
Secondary:
New coach Turner Gill also needs help in the secondary where starters Darrell Stuckey and Justin Thornton were seniors and Philip Strozier, Chris Harris and Calvin Rubles will be seniors next season.
Kansas State
Adjust time-held notions to recruiting:

Bill Snyder said recruiting seemed "out of kilter" in his first season back because of how teams now are in a hurry to link up with rising juniors. This strategy has caused Snyder to change his recruiting strategy, looking into signing more players earlier than in his previous coaching strategy.
Junior-college additions again will be critical in the trenches:
Snyder has attacked the junior colleges with his traditional fervor as he attempts to unearth a couple of under-recruited gems in the offensive line and defensive lines -- the Wildcats' two primary needs. Also, the Wildcats need some immediate help from the junior colleges after a recruiting imbalance during the last two seasons under Ron Prince that has left them with a need for immediate contributors. Snyder has estimated that up to 13 players will enroll at the semester break to contend immediately for playing time.
Quarterback:
Even with a crowded group of potential contenders at the position, Snyder is still considering another quarterback.
Carson Coffman
,
Sammuel Lamur
,
Collin Klein
and Oregon transfer
Chris Harper
all are in the mix at the position heading into spring practice.
Missouri
Wide receiver:
The Tigers have a lot of talent returning, but still will lose leading 2009 receiver
Danario Alexander
and
Jared Perry
. The opportunity for eventual playing time will be there for new arrivals, although
Jerrell Jackson
,
Brandon Gerau
,
T.J. Moe
and
Wes Kemp
will be back.
Nose tackle:
The graduation of Jaron Baston and Bart Coslet's senior-to-be status opens up a position for a contribution in the trenches for the Tigers.
Secondary:
All four of Missouri's projected starters next season -- cornerbacks Carl Gettis and Kevin Rutland and safety Jarrell Harrison and Jasper Simmons -- will be seniors. The Tigers need to restock depth at the position and perhaps move it forward from this class.
Nebraska
Defensive end:
The Cornhuskers could use an additional player with Barry Turner graduating and Pierre Allen set to enter his senior season in 2010. They are in the hunt with Oregon for Owamagbe Odighizuwa, a heralded speed rusher from Portland, Ore., who would be the crown jewel in the Cornhuskers' incoming class if he commits.
Wide receivers:
Many players are back, although the Cornhuskers could use an infusion of speed at the position. Niles Paul will be a senior and more talent is needed to make the Cornhuskers competitive with the athletic teams in the South Division like Texas, Oklahoma and Texas Tech.
Safety:
Starters Matt O'Hanlon and Larry Asante both will be graduating and Eric Hagg will be a senior in 2010. The Cornhuskers will need some help to join with youngsters Courtney Osborne, Austin Cassidy and P.J. Smith at the position.
July, 28, 2008
7/28/08
9:09
AM ET
By
Tim Griffin
| ESPN.com
Posted by ESPN.com's Tim Griffin
A ticking clock on the Waco Tribune-Herald's home page reminded me that football season is just around the corner. As of Monday morning, it's only 31 days and counting until the Big 12's openers on Aug. 28 when Wake Forest travels to Baylor and South Dakota State faces Iowa State.
I bet most of my readers are as excited as I am. As such, here's a few Big 12 links to feed their college football appetite on this fine Monday morning.
My take -- I basically agree with most of Tramel's rankings, although he might lean just a tad too much to tradition. Texas-Arkansas isn't going to be as good as he thinks -- unless Bobby Petrino is the second coming of Frank Broyles to the Ozarks.
My take -- An even bigger story is that Shatel's bosses at the Omaha World-Herald finally have jumped into the current century. Finally, they will allow his must-read columns about the Cornhuskers to be read for free by Internet viewers. Stop the presses!
My take -- Stoops remains the major reason why Oklahoma is the overwhelming favorite in the Big 12 in the eyes of most observers.
My take -- These fans better be careful what they ask for -- particularly if Nebraska's defense is torched for pinball-type numbers again this season.
My take -- Hey Nebraska fans. I can't wait for the season to begin, either.
My take -- Maybe the new surroundings will help Szymanski, who never seemed to recover from his ill-advised decision to enroll in college a year early. SMU sounds like a fresh start, but what does a kicker/punter really have to do around June Jones?
My take -- Gundy is right on this one. And maybe a slew of talented junior-college players might reduce how many freshmen have to play this season -- particularly on defense.
My take -- Backup Roy Helu Jr. must be a stud. Because I still think that Marlon Lucky is one of the most valuable players in the Big 12, even though he tends to mope more than my 3-year-old when things don't go his way.
My take -- Quite frankly, I'm surprised Callahan is even mentioned that much.
My take -- Bob Stoops better hope that Bradford didn't watch "Speed Racer."
My take - Was Calhoun reading my blog post about dream non-conference rivalries the other day? I only hope that DeLoss Dodds of Texas and Mike Garrett of USC were doing the same.
My take -- Iowa State coach Gene Chizik will make sure the 5-foot-8, 207-pound Blankenship's defensive forays are limited once he gets to college.
My take -- Considering Kivisto has only paid a quarter of his $12 million gift for the football center, Kansas athletic director Lew Perkins has got to be sweating just a little.
My take -- If Sherman is successful in Aggieland, they'll do more than just post his commercials on the Internet. More like naming buildings after him.