July, 27, 2011
7/27/11
4:00
PM ET
DALLAS -- One play could have changed the entire Big 12 landscape in 2010. Iowa State took a
Taylor Martinez
-less Nebraska team into overtime and scored what looked like a game-tying touchdown … until the Cyclones faked the extra point.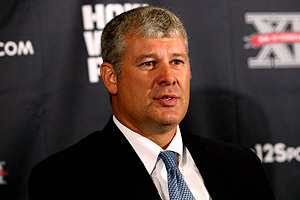 Kevin Jairaj/US PresswirePaul Rhoads and Iowa State were a play away from making noise in 2010.
Reserve punter Daniel Kuehl had a wide-open
Collin Franklin
, the Cyclones' leading receiver, in the back of the end zone, but short-armed the pass on a wind-swept November day in Ames, allowing Nebraska's Eric Hagg to come down with a game-clinching interception.
"It's a call that I relive and a play I relive every week," Iowa State coach Paul Rhoads said. "There's not a week that goes by that I don't think about the play and what it could have created for our football team and our football program."
And not just for the Cyclones, who would have been bowl-eligible with the win. It also would have put Iowa State in the Big 12 North Division drivers' seat and sent Nebraska to the Big Ten without so much as a share of the Big 12 North title. Instead, Missouri would have represented the conference against Oklahoma.
Rhoads, though, has repeatedly emphasized he'd do it all over again.
"And as the game went along, it was a play I studied and certainly was there," he said. "That's the name of the game, when it's a play like that, the final play of a game or the first play of the game, you have to execute to be successful."
Iowa State was playing with a limping quarterback, a limping top receiver and a center in Ben Lamaak who left the game twice with an injury. One play was the best way to decide it.
The Cyclones lost a game on that day, but Rhoads, perhaps the Big 12's most underrated coach, earned a whole new legion of fans with the gutsy call gone wrong.
"The fallout was positive," Rhoads said. "If anything, from players to fans to most people I talked to they thought it was a right call -- gutsy call, but the right call -- and would have given us an opportunity to really springboard our program, I feel."
December, 20, 2010
12/20/10
4:10
PM ET
Like it or not, the Big 12 will be without divisions after 2010, no matter how many legends or leaders made their mark in the league's short history as a two-part conference.
Over that history, the South has been dominant with a pair of national powers, Texas and Oklahoma who were consistently racking up big win totals over the last decade while the North has, more often than not, sent a significantly less impressive team to the title game. That's measurable in plenty of ways, but I'll settle for the 11-4 advantage in the championship game and a 13-4 advantage in BCS bowl game appearances.
But what about this year? The South is clearly the deeper division when you talk total teams, but then I got this e-mail, which got me wondering:
John in Omaha, Neb., wrote:
Bored at work, thought I'd give you a blog topic idea. If you had to pick two all star teams, one made entirely of B12 north players at each position and then a B12 south all star team at each position and then had them play a game. Who would win and who would be the players. Off the top of my head I'd say the south would but I bet it's pretty close once you break it down player by player.
My interest was piqued. We know
what the All-Big 12 team looks like
, but what if you broke it down by division? For reference, my All-Big 12 team had 11 players from the North and 15 from the South.
Here are my picks, when broken down by division:
Big 12 South
OFFENSE
QB:
Brandon Weeden
, Oklahoma State
RB:
Kendall Hunter
, Oklahoma State;
DeMarco Murray
, Oklahoma
WR:
Justin Blackmon
, Oklahoma State;
Ryan Broyles
, Oklahoma
TE/FB:
Bryant Ward
, Oklahoma State
OL:
Levy Adcock, Oklahoma State; Danny Watkins, Baylor; Eric Mensik, Oklahoma; Matt Allen, Texas A&M, Lonnie Edwards, Texas Tech
DEFENSE
DL:
Jeremy Beal, Oklahoma; Lucas Patterson, Texas A&M; Colby Whitlock, Texas Tech; Sam Acho, Texas
LB:
Von Miller, Texas A&M; Orie Lemon, Oklahoma State; Travis Lewis, Oklahoma
CB:
Andrew McGee, Oklahoma State; Jamell Fleming, Oklahoma
S:
Quinton Carter, Oklahoma; Byron Landor, Baylor
SPECIALISTS:
K:
Dan Bailey, Oklahoma State
P:
Quinn Sharp, Oklahoma State
KR:
Coryell Judie, Texas A&M
PR:
Ryan Broyles, Oklahoma
Big 12 North
OFFENSE
QB:
Blaine Gabbert
, Missouri
RB:
Rodney Stewart
, Colorado,
Daniel Thomas
, Kansas State
WR:
T.J. Moe
, Missouri;
Scotty McKnight
, Colorado
TE/FB:
Michael Egnew
, Missouri
OL:
Nate Solder, Colorado; Ricky Henry, Nebraska; Tim Barnes, Missouri; Zach Kendall, Kansas State, Ben Lamaak, Iowa State
DEFENSE
DL:
Jared Crick, Nebraska; Aldon Smith, Missouri; Brad Madison, Missouri; Pierre Allen, Nebraska
LB:
Lavonte David, Nebraska; Andrew Gachkar, Missouri; Jake Knott, Iowa State
CB:
Prince Amukamara, Nebraska; Alfonzo Dennard, Nebraska
S:
Eric Hagg, Nebraska; Ty Zimmerman, Kansas State
SPECIALISTS:
K:
Alex Henery, Nebraska
P:
Alex Henery, Nebraska
KR:
William Powell
, Kansas State
PR:
Niles Paul
, Nebraska
So, there are my teams. I'll offer some further observations, plus my pick in a post Tuesday. But for now ... who you got?
October, 3, 2010
10/03/10
12:24
AM ET
Here are the five (and a few more) guys who got it done this week:

Robert Griffin, QB, Baylor:
Griffin threw for a career-high 380 yards and three touchdowns. The best was his third quarter score to
Terrance Williams
. The ball was snapped over his head, but Griffin scooped it up, rolled to his left and threw across his body to Williams for an 11-yard touchdown that put Baylor up by 34 in the third quarter of
its 55-7 win over Kansas
. He also ran for 64 yards and a touchdown on eight carries.
Rodney Stewart, RB, Colorado:
The 5-foot-6, 175-pound running back they call "Speedy" averaged almost eight yards on his 19 carries, running for 149 yards and a touchdown in
Colorado's 29-27 win over Georgia
that put the Buffaloes at 3-1 heading into its conference opener against Missouri.
Dan Bailey, K, Oklahoma State:
He should probably share his sticker with receiver
Justin Blackmon
(10 rec., 127 yards, TD) and Shaun Lewis, who set him up with an interception in the final minute, but Bailey banged home a 40-yard field goal as time expired to
beat Texas A&M 38-35
on Thursday night.
Iowa State offensive line:
The big boys, headlined by center Ben Lamaak and left tackle Kelechi Osemele, paved the way for a pair of 100-yard rushers -- running backs
Shontrelle Johnson
and
Alexander Robinson
-- and gave quarterback
Austen Arnaud
time to throw four touchdown passes in the
Cyclones' 52-38 win over Texas Tech
. Arnaud was sacked just twice, on the same possession with the Cyclones up 24-7 in the second quarter.
DeMarco Murray, RB, Oklahoma:
Murray ran for 115 yards and two touchdowns against rival Texas to help pace Oklahoma to
a 28-20 win
. Here's
what I wrote about his day.
June, 22, 2010
6/22/10
1:45
PM ET
Nine players from the Big 12 were among the 63 on the preseason watch list for the Outland Trophy released on Monday. The award is given annually to the best interior lineman on either side of the ball. As the season progresses, players will be added or deleted from the list as necessary, until the finalists are named in November.
Ndamukong Suh won the award in 2009, giving Nebraska nine total winners, four more than any other school since the award's inception in 1946. The school had three consecutive winners from 1981-83 with Dave Rimington winning the trophy in 1981 and 1982 and Dean Steinkuhler winning in 1983. Steinkuhler's son, Baker Steinkuhler, is projected to start for the Huskers at defensive tackle in 2010.
Oklahoma has the second-most awards, with five. Jammal Brown in 2004 was the most recent Sooners' winner.
Texas is among four schools tied for fourth-most all-time with three winners, but hasn't had a winner since Brad Shearer in 1977.
Here's who made this year's list:
Sam Acho, DT, Texas
Tim Barnes, C Missouri
Cory Brandon, T, Oklahoma
Jared Crick, DT, Nebraska
Ben Habern, C, Oklahoma
Kyle Hix, T, Texas
Ben Lamaak, C, Iowa State
Ryan Miller, G, Colorado
Nate Solder, T, Colorado
Adrian Taylor, DT, Oklahoma
View the full list
.
April, 1, 2010
4/01/10
12:30
PM ET