August, 2, 2012
8/02/12
12:00
PM ET
By
ESPN.com staff
| ESPN.com
With camps opening, it's no surprise we've got a supersize load of links.
May, 8, 2012
5/08/12
4:32
PM ET
By
ESPN.com staff
| ESPN.com
Thanks for all your questions in today's chat. It was a fun one.
Here's the link to the full transcript
.
Have more to say?
Reach me here.
Time for a few highlights.
Daniel (Dodge City)
: What do you think of K-State this year? Is 8 or 9 wins just right or too much for them?
David Ubben
: If I had to guess, I'd say nine wins, but I do that with a lot of reservation. I'm not quite sure what to think. I'm certainly skeptical of their ability to duplicate last year's results, but I'm also very leery of doubting a Bill Snyder team that brings back as much talent as this 2012 squad does. Not sure I have a great feel for the Cats this year.
Nick (Ames)
: Do you think AJ Klein and
Jake Knott
will translate to good NFL linebackers? How much harder is it to get recognized by nfl scouts at a school like Iowa State compared to a tradionally power football school like Texas?
David Ubben
: These days, exposure isn't much of a problem. The only thing I question from those two is their speed and coverage ability. They're both sure tacklers and tough as nails. But is their athleticism up to par? I haven't talked to many scouts about them, but I'd like to get a sense of how NFL teams see them. Something for the future, I think.
Chris (Houston)
: What games does Texas lose this year? Why does Texas lose those games?
David Ubben
: Oklahoma. West Virginia. Kansas State. Not enough offense in the first two. Kansas State's spell over the Longhorns in the third.
chris sunny south alabama [via mobile]
: Hey Ubbs! I think the Texas Tech offense is going to be unstoppable this season. Neal Brown has added a few plays to the offense similar to the
Oregon Ducks
Offense. They are tryin to get the ball in the hands of the speedy guys like
Ben McRoy
and
Jakeem Grant
. Do you think this will make the offense better
David Ubben
: I don't know about unstoppable, but I do like Tech's idea of using running backs like Oregon has used guys like DeAnthony Thomas. Those jet sweeps and shovels are really tough to defend when you get the ball to speedsters.
andy (texas)
: 2 years ago it was justin blackmon, last year it was collin klein, who's this years break out player on offense?
David Ubben
: Nick Florence.
Chris (Dallas)
: David with the shift of power and the landscape in the conference, do you think it's safe to say that we wont see the same sort of dominance from the UT's and OU's of the world?
David Ubben
: I'll be writing about that tomorrow. Stay tuned. It's a big, big day on the blog on Wednesday, actually. That's all I'll say for now.
Nemo Cowbell (Pasture, TX)
: Do you think Bob Bowlsby was the wisest choice for Big 12 Commissioner?
David Ubben
: There's no way to know right now, but I like the move. He's proven himself in college athletics, though only John Swofford has a history as an AD among commissioners. He's a bright guy, but understanding the dynamics between schools might take a little bit of getting used to. Bringing in someone from the outside was the best move, but it's too early to get any real read on what will happen in his tenure.
Brent A. Carter (Victoria, TX)
: Do you agree with me that OSU is due for a massive letdown in 2012? They are a program that is barely .500 over the life of their program and I just believe in the law of averages.
David Ubben
: No. 8-9 wins with upside for 10-11 wins.
Kenny Little Rock [via mobile]
: Best special teams player in the conference? ,ost important?
David Ubben
: 1)
Quinn Sharp
by a mile. 2) Quinn Sharp by a mile.
Devon Shes. (Austin, TX)
: What penalties are on the horizon for Vaccaro, Okafor and Matthews after this past arrest on 6th St.?
David Ubben
: This deal sounds like a whole lot of nothing. Nothing worth legitimate punishment unless new information surfaces. Some extra running for letting it reach the point where cops had to be called, but take it and move on.
Ed (Houston)
: How long does the Big12 boycott last? Will Baylor break first? Is the money just too good?
David Ubben
: Now this is a great, great question. Ultimately, I think the money will be too much. Texas isn't like Nebraska. They're too close to everyone. I'd say the scheduling boycott ends with an announcement in five years. Games in 7-8 years with somebody in the Big 12.
Rob (Boise, ID)
: Regarding an earlier question, what boycott are you talking about? I hadn't heard anything about any boycott surrounding the Big12. Maybe you could write an article about it.
David Ubben
: It's not a "boycott" per se, but nobody from the Big 12 is real keen on scheduling A&M in football. That's basically what we're talking about.
September, 26, 2011
9/26/11
10:51
AM ET
The Big 12 has named its players of the week from over the weekend.
OFFENSE
Brandon Weeden, QB, Oklahoma State:
Weeden completed 47-of-60 passes for 438 yards -- all numbers were school records -- and two touchdowns in a 30-29 win over Texas A&M in College Station.
DEFENSE
Tre Walker, LB, Kansas State:
Walker made eight tackles in a win over Miami, but he had three consecutive tackles from Kansas State's two-yard line to preserve a 28-24 win over the Hurricanes with a last-minute, goal-line stand. He had four tackles on Miami's final seven plays.
SPECIAL TEAMS
Ben McRoy, RB/KR, Texas Tech:
McRoy returned seven kicks for 203 yards, both single-game school records, in Texas Tech's 35-34 win over Nevada.
June, 21, 2011
6/21/11
10:00
AM ET
Here's the next in our look at the Big 12 rankings by position: Running backs.
Last year's class was one of the best in recent history, but this year's class? Unassuming to begin the season. There are a few possible stars looming, but very, very little talent returning.
Cyrus Gray
ranked seventh in rushing yards last year (thanks to an insane finish), but he's the only player returning to the Big 12 from the conferences' top 10 rushers in 2010.
That's nuts.
The Aggies are the only team with a truly elite backfield tandem, though I could see Oklahoma and/or Oklahoma State joining that group by the end of the year.
The rest of the league? Every team has at least a couple of players to get excited about, and teams 5-10 are all pretty close. No one is really understaffed at the position, but obviously, they're fit to be ranked.
Here's where I have them:
1. Texas A&M
[+] Enlarge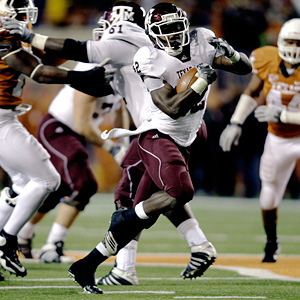 AP Photo/Eric GayCyrus Gray had at least 100 yards rushing in each of A&M's final seven games last season.
I wouldn't have been surprised if Cyrus Gray and
Christine Michael
were the Big 12's top leading returning rushers this year, but a midseason injury from Michael prevented it from happening. Regardless, his return gives Texas A&M by far the best tandem in the Big 12, and arguably the best in the country. When
Mister Jones
isn't cranking the Counting Crows on his stereo, he's a pretty good reserve, alongside
Ben Malena
, who
impressed me on my visit to College Station this spring
.
2. Oklahoma
Oklahoma will try and replace do-everything forever (or whatever) back DeMarco Murray with a platoon likely led by shifty Florida native
Roy Finch
. True freshman
Brandon Williams
made a big impact in spring camp, and
Brennan Clay
will likely earn a few touches, too. Health concerns raise questions about a pair of other OU backs' knees (
Jermie Calhoun
,
Jonathan Miller
), but walk-on
Dominique Whaley
led the team in rushing in the spring game
.
3. Oklahoma State
The Cowboys have a great pair in sophomores
Joseph Randle
and
Jeremy Smith
, and a nice set of backs to spell them if needed, too.
Kye Staley
, once a top-flight recruit, returned this spring after quitting the team following a severe knee injury, and might earn a few touches this spring. Also, Abilene, Texas, native and 2011 ESPNU 150 signee Herschel Sims arrives this fall and may jockey for time and the opportunity to shed a redshirt.
4. Missouri
What the Tigers lack in a truly elite back, they have in depth. Missouri has four backs who are all capable of being very good in the Big 12, even though neither of the four topped 600 yards a year ago. A big reason for that was none of the four got more than 100 carries, but with the carries they did get, every back averaged more than five yards per carry. The platoon approach works for Missouri, but senior
De'Vion Moore
and junior
Kendial Lawrence
will lead the way with sophomores
Henry Josey
and
Marcus Murphy
not far behind.
5. Kansas
[+] Enlarge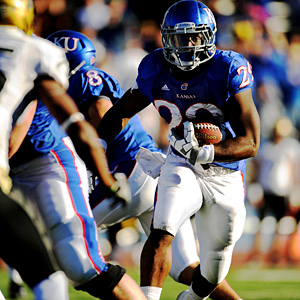 John Rieger/US PRESSWIREJames Sims is the No. 2 returning rusher in the Big 12 this season.
Running back will be a strength for Kansas next year, who might have found a second back this spring that perfectly complements power runner
James Sims
, a rising sophomore who racked up 742 yards last year after not playing in the opener. Believe it or not, he's the Big 12's No. 2 returning rusher, behind A&M's Gray. Darrian Miller burst onto the scene this spring, and figures to be a big part of the team in the fall. I see him being the Jayhawks' biggest home-run threat. DeShaun Sands and
Brandon Bourbon
offer even more depth at the position.
6. Texas Tech
The Red Raiders lose backfield constant Baron Batch, but have a good group lined up for 2011. Tommy Tuberville's effort to establish a more efficient running game is a realistic possibility with
Eric Stephens
as the likely feature back, and
Aaron Crawford
,
Ben McRoy
and
Harrison Jeffers
in the mix. True freshman Ronnie Daniels' strong spring likely earned him some time, too, rather than a redshirt.
7. Baylor
Baylor loses a 1,200-yard rusher in Jay Finley, and figures to use a thunder-and-lightning approach with 6-foot, 240-pound bowling ball
Terrance Ganaway
and shifty, 5-foot-9, 205-pound
Jarred Salubi
.
Glasco Martin
, a more balanced back, may earn a few carries, too. Regardless of who has the ball, life is good for Baylor backs, who get a bit more room from defenses that are forced to respect
Robert Griffin III
's legs.
8. Kansas State
The Wildcats' top two rushers, including two-time league rushing champ Daniel Thomas, are gone. Hopes are high for Wichita native and former blue-chip back
Bryce Brown
, but he's still entrenched in a position battle with
John Hubert
and
Robert Rose
heading into fall camp.
9. Texas
Texas brings back a pair of seniors in Fozzy Whittaker and
Cody Johnson
, but if the Longhorns are going to climb up this ladder by year's end (and they might) it's likely to be on the back of hyped incoming freshman
Malcolm Brown
, who is on campus and set to begin fall camp.
D.J. Monroe
might be the fastest player in the Big 12, but he'll have to master the nuances of pass blocking to get more than a few touches every game.
Jeremy Hills
can offer some depth at the position, too, after Tre Newton was forced to quit the game because of concussions.
10. Iowa State
Shontrelle Johnson
showed some flash last year, but he still brings just 35 career carries into his 2011 effort to replace
Alexander Robinson
.
Jeff Woody
and
James White
offer a bit more depth, too. Florida native DeVondrick Nealy might get into the mix if he can put together a strong fall camp.
April, 27, 2011
4/27/11
2:00
PM ET
By
ESPN.com staff
| ESPN.com
Wednesday, we wrap up our series looking at the strongest and weakest position for each team in the Big 12 with the
Texas Tech Red Raiders
.
Strongest position: Running back

Key returnees:
Eric Stephens
,
Aaron Crawford
,
Ben McRoy
,
Harrison Jeffers
Key losses:
Baron Batch
Analysis:
The Red Raiders may not have any big-time gamebreakers at the position, but they are deep, deep, deep. And hey, maybe Stephens' 86-yard touchdown run in the TicketCity Bowl was a sign of things to come, despite having just one run longer than 30 yards the rest of the season.
Texas Tech has a good mix of size and speed with the platoon, and Crawford should get a good share of carries along with Stephens. The offense also added Ronnie Daniels this spring, a 6-foot-2, 205-pound true freshman who became a starter at fullback by the end of the spring. McRoy is a Floridian, 5-foot-9, 160-pound scatback whose elusiveness could earn him a few touches. Jeffers' bowling-ball tendencies at 5-foot-7, 200 pounds could do the same.
Coach Tommy Tuberville plans to use a few more two-back sets, and it's clear that doing so is a good use of the talent he has on the team. Texas Tech should be solid at quarterback, running back and the offensive line, but running back is the team's deepest position heading into 2011.
Weakest position: Secondary
Key returnees:
Safeties Cody Davis, D.J. Johnson and Terrance Bullitt, cornerbacks Tre Porter, Jarvis Phillips, Derrick Mays
Key losses:
CB LaRon Moore, S Franklin Mitchem
Analysis
: Texas Tech has plenty of potential at the position heading into 2011, but there's no doubt it was the biggest weakness for the Red Raiders in 2010. Under the direction of a new defensive coordinator specializing in stingy secondaries, can that change right away? Chad Glasgow brought his 4-2-5 from TCU, and Texas Tech hopes success will follow after ranking last in the Big 12 in pass defense by 18 yards a game. Those 293 yards per game ranked 118th nationally, better than just Rice and Tulsa.
Injuries forced Texas Tech to play young players that weren't quite ready, but that rushed experienced could pay off soon. Porter and Mays started as freshmen last season, and should begin their sophomore years at the top of the depth chart. The Red Raiders trio of safeties need to prove they're fast enough to slow Big 12 offenses. Davis and converted corner Johnson will handle the traditional safety spots, while Bullitt will play more of a nickel back role close to the line of scrimmage to help the pass rush or stop the run. Texas Tech's offense might not be as potent as it was in 2010, but the defense has to be way, way better, or the Red Raiders won't do much better than this past season's eight wins.
More spring superlatives:
November, 22, 2010
11/22/10
2:00
PM ET
Best offensive player:
Cyrus Gray, RB, Texas A&M.
Other players had more yardage, but none had it against a tougher defense and in a more needed position than Gray. He racked up 202 yards of total offense in Texas A&M's 9-6 win over Nebraska, and is officially the first player to get this award from me without scoring a touchdown.
Honorable mention
:
Rodney Stewart
, Colorado.
[+] Enlarge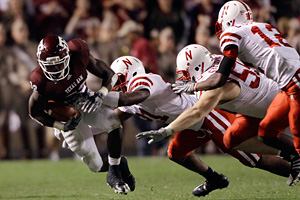 AP Photo/David J. PhillipCyrus Gray rushed 37 times for 137 yards in Texas A&M's upset of Nebraska.
Best defensive player:
Sam Acho, DT, Texas.
Sure, it was against Florida Atlantic, but Acho turned in one of the Big 12's best games of the year against the Owls. He had three sacks, four tackles for loss, forced a fumble, recovered a fumble and had four quarterback hurries. All six of his tackles were solo, as well.
Honorable mention
: Trent Hunter, Texas A&M
Best team performance:
Texas A&M.
The Aggies take home the award for the second week in a row after beating Nebraska 9-6 at home in one of the most physical games of the season.
Honorable mention:
Colorado.
Best offensive freshman:
Ben McRoy, RB, Texas Tech
. McRoy ran for 81 yards and scored a pair of touchdowns to help the Red Raiders get bowl eligible against Texas Tech.
Honorable mention:
Kenny Stills
, WR, Oklahoma.
Best defensive freshman:
Tom Wort, LB, Oklahoma.
Wort made eight tackles -- six solo -- and had a sack for a loss of 11 yards in the Sooners' win over Baylor.
Best game:
Texas A&M 9, Nebraska 6.
No doubt about this one. There are plenty of people who don't like defensive battles. I'm not one of them. Both defenses protected the end zones for 60 minutes, hit hard and didn't give up any back-breaking plays, while delivering plenty of hard shots. And of course, any game that comes down to the final possession is a good one.