March, 25, 2015
Mar 25
2:30
PM ET
WACO, Texas -- After backing up Bryce Petty the past two seasons, Seth Russell is ready to take over as Baylor's next starting quarterback.
After tossing four touchdowns in Baylor's Friday Night Lights scrimmage last week, Russell spoke with ESPN.com about what he learned from Petty, his talented supporting cast, and what Baylor coach Art Briles is like behind the scenes:
[+] Enlarge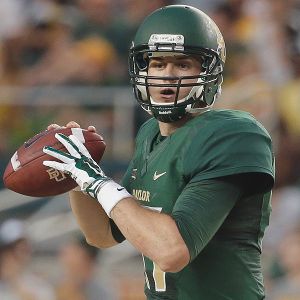 Tony Gutierrez/Associated PressSeth Russell on coach Art Briles: "He's a character. In the film room he gets down to business, but he'll throw a joke in there every once in awhile."
You have some big shoes to fill, not only in Petty, but everyone back to Robert Griffin III. How are you handling that?
I feel like I'm taking it a day at a time. If I look at the big picture too much it's overwhelming, just to look at all the stats, all the accomplishments of the other quarterbacks. I feel like if I do that, I'd be down on myself if I had a bad practice. I have to take it one step at a time and learn from it.
Speaking of learning, what did you learn from Petty?
He's a phenomenal quarterback. He studies the game, he knows the game forwards and backwards. I feel like watching him and his leadership, I can use that to my advantage on the field.
You are the heir-apparent, but there are a couple other talented quarterbacks in Chris Johnson and Jarrett Stidham pushing for the job, too. How is it different knowing the job wouldn't just be handed to you?
It pushes me, it makes me work that much harder. Because I know they're coming. They're on the backdoor. I love the competition. I have three brothers, we've competed our whole lives. It's nothing new to me. I feel like all it can do is make me better.
What's it like having K.D. Cannon at wideout on one side, and Corey Coleman on the other?
You can go either way. Any of the guys out there, I have two over here, two on the other side. All of them are pretty great to have.
When you look at the rest of the offense, you have an All-American in Spencer Drango protecting your blind side; Shock Linwood is a 1,000-yard rusher. How does all that help your comfort level running the offense?
They're top-notch guys. I feel like being on the field with them, it makes me that much more confident.
What would you say is the key to you guys winning a third straight Big 12 title?
Being on the same page. If I look at a receiver and they look at me and I give them a signal, I expect them to do it, and I know they're going to do it and I trust them to do it. I feel like that's something that we can do. As for the defense, they're going to going to do what they're going to do. They're phenomenal. Lot of returners. Lot of experience.
I hear you're a pretty good basketball player.
Depends on what day you catch me.
How would you describe your game?
In high school, I was a post. I liked to get rough a little bit. But I can play wherever.
Best local place to eat in Waco?
I'd have to say Chuy's, because me and my girlfriend go there every Friday night. It's a Friday night date deal.
What's something about Coach Briles people on the outside don't know?
He's a character. In the film room he gets down to business, but he'll throw a joke in there every once in awhile. He's serious, but he likes to make you laugh a little bit. He's a great guy to be around.
Which would be worse, taking a sack from defensive end Shawn Oakman, or attempting to tackle 400-pound tight end LaQuan McGowan?
I guess if it's a full-on hit from Shawn, that would be pretty tough. I feel like I could probably just chop down with Quan, but it may hurt a little bit.
January, 22, 2015
Jan 22
5:00
PM ET
After an eventful 2014 football season, Big 12 commissioner Bob Bowlsby recently conducted a lengthy phone interview with ESPN.com to discuss the state of the Big 12, the controversial co-champions rule and the possibility of expansion.
Part I of the interview ran Wednesday
. Part II is below:
What are the pros and cons of having a conference championship game?
[+] Enlarge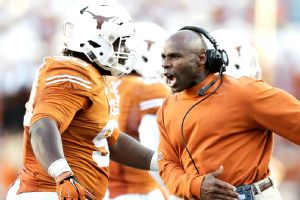 AP Photo/Eric GayBig 12 commissioner Bob Bowlsby expects traditional league powers such as Oklahoma and Charlie Strong's Texas to rebound from down years.
Bowlsby:
The pros are you have the same number of data points as everyone else, that is to say 13 games instead of 12 games. I suppose there is some revenue to be garnered from playing the 13th game. And I think it makes us look like everyone else. So I would say all those things would be favorable. On the unfavorable side, we play everybody already and the rule doesn't permit us to play a championship game under its current structure. The other thing is with a full round robin of the league, it's always going to be a regular-season rematch. So you could obviously ask the question, is it fair for the winning team to play the losing team again, and maybe lose out as a result of it. There are legitimate pros and cons on either side. Some years we'll be very glad we're not playing a playoff game, when we'll have to risk having our best team lose to another team. And other years, we'll wish we could play one more game in order to demonstrate that we belong there.
What about the pros and cons of expansion?
Bowlsby:
No, I'm not going into that at this point. Those are things that we evaluate, but I don't need to have that out there for public consumption.
You indicated during a radio interview last month that the league would be more apt to expand east than west. Why is that?
Bowlsby:
What I said was there are more likely candidates east than west. We don't have any candidate list. We have zero candidate list. We're at 10 now. We expect to be at 10 going forward. There are more people looking for a home, if you aggregate the list nationally of those that might be tempted to either change leagues or join a league, there are more of them in the eastern half of the United States than there are in the western half. Just like there are more institutions, more people, more everything in the eastern half.
Have the struggles of Texas and Oklahoma, especially in their bowl games, damaged the overall perception of the league?
Bowlsby:
OU and Texas both have storied football traditions. OU was picked in the top four in the country at the beginning of the year, so I'm sure they're disappointed. On the other hand, Texas has a new coach (Charlie Strong) who has done a great job and I think they made progress throughout the year. So they're on an upward trend. Those programs aspire to win national championships. So anytime they don't win national championships they want to get better.
With Oliver Luck leaving West Virginia, you guys have to submit a new representative to the playoff selection committee. How will that work?
Bowlsby:
It's my appointment. I appointed Oliver, and I'll appoint the next person. It will come from within our athletic directors and the meeting that is going to be held in early February is our board of directors meeting. And I notified Bill Hancock that I wanted to socialize my decision with them before I announced it publicly.
What traits will you be looking for?
Bowlsby:
Their ability to serve, their integrity, their football knowledge, their past participation perhaps, the esteem they're held in among their athletic director colleagues. What they have on their plate and their general willingness and ability to serve because it's a very time-consuming undertaking. All of those things.
January, 21, 2015
Jan 21
5:00
PM ET
After an eventful 2014 football season, Big 12 commissioner Bob Bowlsby recently conducted a lengthy phone interview with ESPN.com to discuss the state of the Big 12, the controversial co-champions rule and the possibility of expansion.

Part II of the interview will run on the Big 12 Blog tomorrow. Part I is below:

How would you characterize the state of the Big 12?

Bowlsby: Well, I don't think there's any question that, top to bottom, our league was very competitive. I think it's difficult to get to the end of the season with three teams with one loss like we had. And so we were fortunate we had some of our best teams playing each other on the last day of the season. Couple of things go different, we probably have two teams in the postseason instead of none. I think competitively our league is excellent. In the case of TCU and Baylor, they are both teams that are highly competitive at the national level. I think we saw a lot of our teams play exceedingly well during the season and compete well against other conferences. We lost a close of games in the postseason. We lost a couple that weren't very close. But I think generally speaking, we play football at a very high level. Our competition at a very high level. And I think there are no weeks off in the Big 12 Conference. You need to be buckled up and have your ankles taped every week. Because if you don't play well you'll get beat.

Considering the 2015 nonconference schedule of the league is not quite as strong as it was last year, has there been any discussion about implementing a scheduling mandate?

Bowlsby: I'm sure our athletic directors will discuss that. But scheduling is the province of the individual institutions. And they each have their own philosophy on how they want to go about making the preparations for playing in the conference. At the present time, we don't mandate that. And scheduling at most times in the past has been province of individual institutions nationwide. So conference wide scheduling principles are a relatively new thing, such as not playing FCS opponents. Or deciding every year there has to be an opponent from one of the other high visibility conferences. So I'm sure our athletic directors will talk about it, where they'll land on it is yet to be determined.

Did you feel misled in any way about the factors that would go into playoff inclusion?

Bowlsby: No. I don't think they misled me at all. I don't think the issue of a 13-game portfolio versus a 12-game portfolio had been discussed previously. But that was something that came out on the last day of the season. What was said was, Ohio State had the opportunity for a 13th game against a ranked opponent. Well, Baylor was higher ranked and played a higher ranked opponent than Ohio State did. And so, that was a little bit of a surprise to us. No, I don't feel like we were misled. It was a work in progress. I don't think anyone knew with certainly what the playoff committee was going to discuss.

If you could change anything about the playoff, what would it be?

Bowlsby: I have always advocated for less frequent polls. Originally I felt like ever other week starting the seventh or eighth week of the season was the right way to do it. We ended up with an every week poll. I think there would be less volatility and a higher quality outcome if the poll was done every other week. There would be more data points in between polls.

Did having co-champions cost the Big 12 a spot in the playoff?

Bowlsby: I don't think it cost either Baylor or TCU a spot in the playoff. I think Ohio State was impressive on the last day of the season. Obviously based upon their performance in the playoff, they demonstrated they deserved to be there. Now having said that, that's another element our athletic directors will talk about, as to whether we want to continue to have the co-champion policy.

It seems like people think you're like a totalitarian dictator who issues edicts ...

Bowlsby: The rules are made by our athletic directors and presidents and chancellors and once the rules are in place, we don't change them during the season. And so, the rule that we had was the rule that we had. And I'm sure they'll look at it and decide if they want to continue with co-champions or use a tiebreaker to determine the champion. And there can be cases made for each of those outcomes because an awful lot more people get to celebrate if you have co-champions. Interestingly enough, that police of co-champions was unanimously adopted by our athletic directors.

Baylor coach Art Briles seemed to be upset with you during the conference trophy presentation. Have you two spoken since then?

Bowlsby: I'm not going to get into it. I speak with our coaches regularly. I'm not going to get into the specifics of relationships with one coach.
October, 22, 2014
10/22/14
5:00
PM ET
We're not perfect here on the Big 12 blog. And Kansas linebacker
Ben Heeney
showed that we may have erred omitting him from our
midseason All-Big 12 team
. Days after our team came out, Heeney delivered a dominating performance with 21 tackles and a 37-yard interception return in Kansas'
34-21 loss
at Texas Tech last weekend.
Heeney now leads the Big 12 with 58 solo tackles.
Though we snubbed him, Heeney was a good sport, and agreed to talk with us about getting left off the midseason team, what it was like when Charlie Weis got fired and how to properly groom a beard:
[+] Enlarge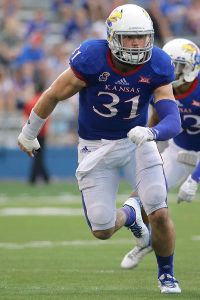 Charlie Riedel/AP PhotoLinebacker Ben Heeney says the Jayhawks have a goal in mind for coach Clint Bowen: "We have to win for him, because we all really like him and we want him to stay around as our head coach."
We think we might have made a mistake in leaving you off our midseason All-Big 12 team. Do you think we made a mistake?
Heeney:
Whatever you guys think. I think the guys you put ahead of me (Oklahoma's
Eric Striker
, Texas'
Jordan Hicks
and TCU's
Paul Dawson
) are great players also. But I did have to prove last week that you guys made a mistake.
So did it give you a little extra motivation against Tech?
Heeney:
Yeah, I guess a little bit. But more than anything, I was playing to win that game against Texas Tech.
You have tackled a bunch of guys over the past four years. Who has been the toughest to tackle?
Heeney:
I think Lache Seastrunk at Baylor was really hard. Tavon Austin at West Virginia my sophomore year was hard to tackle. And (former Kansas State QB) Collin Klein was hard to tackle. Those three guys stick out.
Why did you decide to go to Kansas?
Heeney:
It had always been my dream school. Both of my parents went to school here. My brother gradated from here in 2013. It's basically been a family school. I was born and raised in Kansas. It was my dream school since I was a little kid.
What's it been like having three head coaches?
Heeney:
It's tough. Especially with wondering where you stand. After Coach (Turner) Gill got fired after my freshman year, it was a whole new staff. You have to prove your worth again to a whole brand new staff. It was different when Coach Weis got fired. He was the only one let go. So it's been different every time. But it is pretty weird having three coaches in four years.
Did Weis getting fired in the middle of the season blindside you?
Heeney:
Yeah it did. It was really weird. After the Texas game, that next morning, that Sunday morning, I woke up to like 50 text messages from friends and random people asking if I had heard the news. I hadn't heard anything. Waking up to all that chaos was really crazy. It was something that I never thought would happen.
How did it make you guys feel Weis getting fired, and what's been different since Clint Bowen took over?
Heeney:
Coach Weis was always a good guy to me, a good coach. But we've moved on, and I don't think our team has skipped a beat. It almost has brought us closer as a team. Coach Bowen had been my position coach last two years. Me and him have a really good relationship. He's a player's coach. We love playing for him. We all want him to be our head coach. We want to win for Coach Bowen.
So you guys want to win games to give Bowen a chance at becoming the permanent head coach?
Heeney:
Yeah definitely. That's been kinda our goal. We have to win for him, because we all really like him and we want him to stay around as our head coach. That has been our goal, to win for him. It hasn't happened yet. But we definitely think it's going to. We're trying to get wins not only for ourselves, but for Coach Bowen.
What's the story with the beard?
Heeney:
I started growing it last year. Everyone really liked it. I shaved it off after football season, and I got crap for it. So this offseason I've brought it back to life. I've been growing it five-six months deep. It's become an image for me I guess now.
West Virginia punter Nick O'Toole has tips for grooming his mustache. Do you have tips for grooming a beard?
Heeney:
Yeah, I do. His mustache is awesome by the way. You have to shampoo it daily. You need it get a beard comb or beard brush, either of the two work fine. And then just take care of it, love it, nourish it. If you can grow a beard, you should, because not everyone can grow one. It's pretty special.
You a Royals fan?
Heeney:
Yes, big Royals fan. I've been watching the games. I had tickets to the game last Monday night, but it got rained out. We had practice Tuesday, so wasn't able to go. But I've been following them, definitely. I think we're going to win.
What's favorite local place to eat in Lawrence?
Heeney:
Jefferson's on Mass. Ave. It's a wing place. They have really good fried food.
Final question: Can you forgive us for leaving you off the midseason All-Big 12 team?
Heeney:
Yeah man, I'll forgive you guys this time. Just don't let it happen again, all right?
July, 9, 2014
7/09/14
10:30
AM ET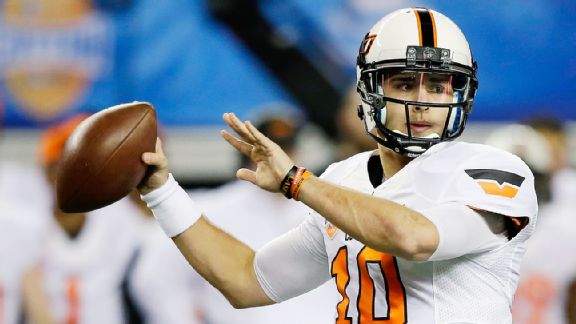 AP Photo/Tim SharpClint Chelf threw for 2,169 yards and 17 touchdowns for Oklahoma State last season.
Last season, Clint Chelf joined Brandon Weeden as the second Oklahoma State quarterback ever to earn all-conference recognition.
After losing his starting job to
J.W. Walsh
after the second series of the season opener, Chelf came roaring back to reclaim the starting position and fuel the Cowboys to a seven-game winning streak.
Despite watching nearly half the season from the sideline, Chelf finished eighth nationally in Adjusted QBR.
Chelf, who is currently working out in his hometown of Enid, Oklahoma, still hoping to get a shot in the NFL, spoke with ESPN.com this week about Mike Gundy, Oklahoma State's 2014 prospects and the time Boone Pickens danced in the locker room.
What did it mean to you to become the second quarterback in school history to earn All-Big 12 recognition?
Chelf:
It's really cool. That's something I was honored to hear. At the same time, it doesn't make me angry, but it makes me wonder what might have happened if I had gotten more snaps and gotten to play more games. But that's something you go down in history for, and I'm honored by it.
You guys were literally seconds away from winning the Big 12 championship, and you would have been the hero having led the offense to the late go-ahead touchdown. What was going through your mind when Jalen Saunders caught that touchdown pass for Oklahoma at the end?
Chelf:
Disappointment, I guess. I really felt like when we went down and scored, I thought, with the way our defense was playing all year, that we had won it. Unfortunately, they made some big plays. It was just overwhelming emotions after they scored. That's something I'll always remember, that was a tough loss for us, and for me especially. It was as opposite end of the spectrum as you can get in two minutes. We were ecstatic and thought we had just won the Big 12 to absolutely disappointed. It was really tough.
On the other side, what was your favorite moment from last season?
Chelf:
My favorite moment would probably be catching a pass against Baylor.
That whole Baylor game
obviously was a lot of fun. As a quarterback, that's something you don't get a chance to do. That was really a fun atmosphere.
What was it like playing under Coach Gundy?
Chelf:
It was really kind of surprising how it worked. My first year there, he was still involved in our offense. He was more hands on with us, so he got to be around us a lot. But the next couple of years we hired Dana (Holgorsen) and Coach (Todd) Monken, and (Gundy) was never around us. The two offensive coordinators were with us in meetings, on the field, and (Gundy) was kind of more on the defensive side. At the end of the Coach Monken era, Coach Gundy came back in the Heart of Dallas Bowl and he was around us again. He's an offensive-minded football coach. He's a good guy. He broke things down for us where all the guys in the room could understand. He relates to the guys well.
Everyone knows about his dancing
. It's fun. Guys see we have a coach that will act goofy with us and isn't afraid to be around us and let his hair down. That's just how he is. Around us, behind closed doors, he's a good guy, he's not afraid to have fun. I think that helps him relate to the guys.
So was he more around the offense again this past season?
Chelf:
Yeah, he was more around. Just with the dynamics of it, Dana and Coach Monken were older guys that had been around. Monken was from the NFL. Dana had been an offensive coordinator for a long time. Coach (Mike) Yurcich, it was his first time being at a big-time school in a big-time conference. So I think Coach Gundy, it's not like it was him coaching, it was Coach Yurcich, but Coach Gundy was around more than he was with the other two guys.
There has been some speculation that maybe Gundy and (former Oklahoma State offensive line coach) Joe Wickline were calling plays at times last season instead of Yurcich. Any truth to that?
Chelf:
I think as far as calling plays during the game, Coach Yurcich was calling plays. When we went in for adjustments, everybody would put in their ideas about what would work. Having guys like Coach Gundy, Coach Wickline, those are guys Coach Yurcich could look to and listen to when they had ideas. Those are people you listen to. They influenced (the offense), but they didn't try to take anything away from Coach Yurcich. I think it was a group effort. I think (Yurcich) called the plays, but they all gave suggestions.
Do you have any good Boone Pickens stories?
Chelf:
After we won the Big 12 championship in 2011, he came in and did a little Gundy impersonation, and showed us his moves. They were pretty cool for a 70-year-old billionaire. That was probably the funniest one that I can remember.
Who is the better dancer, Gundy or Boone?
Chelf:
I'd have to say Boone, for being the older guy. I think he had a little bit more rhythm.
Moving to this season, what is the key to Walsh playing more efficiently the way he did two years ago?
Chelf:
What's going to help him is having those athletes around him. I think they're going to be really deep at receiver this year. With J.W., everyone knows he can run and make plays with his legs. What helps him is if you can get him going early with quick passes and let him make some plays running to get his confidence up. I think that really helps him the whole entire game. Getting him going early is a big key for him.
The players all talk about Walsh's leadership. What is it that makes him a good leader?
Chelf:
He's really relatable to all those guys. He hangs out with all them. He's also a hard worker. I think that's probably his biggest asset. Those guys see him in the weight room. When they're running, he's always out in front. Guys respect guys like that and he gives the younger guys someone to look up to.
With so much turnover from last year, what are your thoughts on the Cowboys this season?
Chelf:
It's going to be tough. I think that's something everyone should be prepared for. Anytime you lose 28 seniors and guys that pretty much all played, that's going to be hard to replace. At the same time, I think they have a lot of talent at the skill positions, and with J-Dub, I think they're going to be fine. And then on defense, they're going to be young and have growing pains. But at the same time, Coach (Glenn) Spencer is one of the best defensive coaches I've ever been around. He has his guys prepared and ready to go. I think that's going to be huge for the defense, having him on their side. But it's also going to be a hard season, I think.
Some people probably don't know this, but you grew up in Enid with former Oklahoma linebacker Austin Box, who passed away suddenly in 2011. How tough was that and what do you remember about Austin?
Chelf:
It was really tough. I remember the day. I was sitting in the exact same spot I'm sitting in right now. I was one of the first ones to find out in my family. My brother was home, I went in there and told him and my mother. They were shell-shocked. That was one of my brother's best friends. They played everything together since they could walk. I was kind of the tagalong with them. It was a tough time. The one thing I remember about Austin, whenever he walked in the room, it didn't matter if there were a hundred people or 10, you could always hear him. He was always loud and charismatic and funny. I'll always remember that. He was a great guy, and someone I looked up to since I could walk. He's one of the reasons I wanted to play quarterback. Watching him do some of the things he did at Enid was inspiring. It was a tough loss. But we always remember how Austin was growing up. Kind-hearted and a great guy.
July, 2, 2014
7/02/14
10:30
AM ET
Oliver Luck is going to be watching a lot of football this fall. On top of following his Mountaineers, the West Virginia athletic director will be a part of the first College Football Playoff committee. On top of all that, his son, Andrew, will be quarterbacking the Indianapolis Colts on Sundays.
"I'm sure I'll be sitting there watching the Colts game on Sunday with college football on my iPad," Luck said.
Luck spoke with ESPN.com at length a couple of weeks ago about an array of topics, including the
College Football Playoff
, the
future of the program
and coach Dana Holgorsen and the possibility of placing Pitt
back on the schedule
, which led to stories that have already been published.
Below are a few highlights from the rest of that interview, in which Luck discusses his football scheduling method, Big 12 expansion and how he thinks the league will fare in the playoff era:
Do
you feel like the nine conference games will enhance the Big 12 in the playoff era, and conversely, not having a championship game, could that hurt the league?
Luck:
Number one, I think the Big 12 schedule with 10 is ideal. I think it's perfect, quite honestly. You play everybody. That's a tough schedule, because it's a tough conference. Number two, one of our factors is there is value in being a conference champion. Sometimes people mistake that for a conference championship game. Whoever comes out of the Big Ten conference championship game should get the same value for being a conference champ as the Big 12 conference champ. It's a different mechanism clearly. I like the nine games, some other conferences do it. The Pac-12 is doing it, largely because they had so much success with nine conference games when they were at 10. They recognize the value of it. Others aren't doing it. Everyone is going to watch and see the first two-three years of the playoff to see what makes the most sense. I think it's a great experiment to see which of these five conferences are better off come Year 3 or 4.
As you told ESPN.com, there's been no discussion among Big 12 officials about expanding. But let's say the Big 12 didn't get a team in the playoff over three years. Would that be the impetus that would get the league to rethink expansion?
Luck:
It's a good question. If a Big 12 team doesn't get in the four over a three- or four-year period, I think you have to look and see why. Is it because you don't have a conference championship game? Is it because somebody keeps getting knocked off? I think we'll have to wait and see. But I'm not sure I can answer that question. I think 10 is a good number. I think our football and men's and women's basketball schedules are perfect, because you play everyone. I think that's strong, I really do. I love the "One True Champion" mantra the conference is using because it's true. One of the challenges will be not to overreact in Year 1 or 2. You want to make sure the sample size is big enough before you make any serious changes.
With Alabama and Maryland on the slate, do you feel like strength of schedule in the nonconference is going to be an important component of the playoff?
Luck:
It's a tough schedule. I would say this, it's sort of an honor to play Alabama nonconference. Not many people have that opportunity. Nick Saban, a native West Virginian. That was something we jumped at because it's fun. Our kids love playing in pro stadiums, and it's kind of a different thing. I'm looking forward to that. It's a tall task. But it's also part of the overall change of trying to upgrade our nonconference schedule. I think that's going to be important. That's one of the first things we'll look at as a committee. Maryland is good, they thumped us last year in a rainstorm. Towson was the FCS national title runner-up. They're a quality team. But I really think the college schedules across the country are all going to be strengthened. TV likes that. We certainly can't ignore TV because it's an important factor in all the things we do. It's going to be important in the playoff. Imagine two 13-0 teams. SEC champ, Big Ten champ, gone through a tough schedule. The first thing I'll think to look at is strength of schedule, what's your signature victory, was it a road victory? I think those things will very possibly matter significantly at the end of the year when we'll be making these decisions.
One thing Holgorsen mentioned after last season was he wanted to see the facilities improved. Do you have any update on ways West Virginia is planning to improve its facilities?
Luck:
He is very interested, as he should be, in the facilities that affect players. The things that affect student athletes. We had a team room, that was the original team room, it didn't seat everybody, which is a challenge when you have a team of a 110 and there are only 90-95 seats. It needed a serious upgrade. So we're building a new team room. We've raised about $5 million. We will soon start construction at some point this summer. That was very important to Dana. We're taking the old team room and creating some additional office space. We had some coaches meeting rooms, position meeting rooms that quite honestly were as small as closets. We're changing that. We finished a pretty substantial $2-and-half million or so weight room renovation about a year ago, so that's all up-and-running. There's a bunch of other stuff we're doing at the football stadium, but that's more in the concourse area, concessions, restrooms, things that really won't affect the team that much. Our facilities are good, but just as the Big 12 competition is stiff on the field and on the court, there's also some stiff competition in terms of facilities. So I think as we got into the conference, and this is true of all the sports as much as football, we looked around at what Oklahoma or Texas or Oklahoma State or Texas Tech or whatever have been doing or are doing or already have in place, and we realize we have some things to work on there as well. We've overall announced about a $100 million worth of capital investment, and the majority of that will go into the stadium and the coliseum. But a not insignificant portion of that will be put into the Puskar building, which is where the football team operates.
May, 28, 2014
5/28/14
10:30
AM ET
Shaquille Riddick
was one of the best defensive ends in the FCS last season. This season for the Mountaineers, he has the goal of being among the best in the FBS.
Two weeks ago, Riddick announced
he would be transferring
from Gardner-Webb to West Virginia for his final college season.
Despite coming from the FCS, Riddick could be a playmaker for a Mountaineers defense that ranked ninth in the Big 12 last year in sacks.

An FCS All-American, Riddick finished with 19 tackles for loss and 8.5 sacks last season, finishing fifth in the voting for the Buck Buchanan Award, given annually to the top defensive player in the FCS.
As he prepares to move to Morgantown in July, Riddick spoke with ESPN.com about how he ended up at West Virginia, his thoughts on new defensive coordinator Tony Gibson and the impact he thinks can make despite the classification bump:
How did this all come about, going from Gardner-Webb to West Virginia?
Riddick:
Well basically, I was scheduled to graduate this upcoming fall after the football season, when I found out I could graduate sooner. So that's when the chance of playing at the FBS level came along.
When did you first starting thinking, "Hey, I can play at the FBS level?"
Riddick:
Honestly, I've always felt that way. I knew straight out of high school I could play at the FBS level. I was just 6-6, 6-7, 175 pounds playing D-line. So no big school would take a chance on me. They didn't think I could gain weight to the point I could be 245-250. So I never had an official visit, or a Division I scholarship offer. I went to Gardner-Webb, I started grinding, I was eating a lot in the (cafeteria), doing the things I needed to do. And that's how I ended up 6-6, about 250 give or take.
What was the process of going from Gardner-Webb to West Virginia?
Riddick:
Once I got my release, that's when I started contacting different schools, and schools began finding out about me. I had to send (Gardner-Webb) a list of schools I was considering, then the coach had to approve those schools. I basically had every MAC school on there. I had Purdue and a couple other schools on there, too. West Virginia I guess found out, and they asked them for my release. And they gave them my release. I think Ohio State and UCLA, too. Ohio State, I think, wanted to offer me, but I didn't talk to them before I committed to West Virginia.
So you basically listed a bunch of MAC schools, since you're from Akron, and West Virginia -- and Ohio State and UCLA, too -- hears about this and calls Gardner-Webb to see if you can get released there?
Riddick:
Exactly. Ohio State called a couple times for me. I actually didn't talk to them. I probably would've talked to them that week I committed, but I was already satisfied with West Virginia. And I got an offer from UCLA the night before I decided to commit to West Virginia.
So West Virginia getting on it quickly gave them an advantage in ultimately getting you to Morgantown?
Riddick:
Yes, basically that's exactly what happened. This is my senior year, and I knew the urgency of this whole process. I didn't have time to wait and visit a whole bunch of places before I made a decision. Because I needed to get started at that program and get acclimated with that playbook and everything else, so I can come in and take a dominating role in the fall. So I wasn't going to waste a bunch of time to make this decision. West Virginia was the first big school to come at me, so they kinda had the upper hand. And they got me on campus, and I liked the scheme the defense ran. I felt like I could make a lot of plays in it with Coach Gibson's new touch to the 3-4 that they have.
[+] Enlarge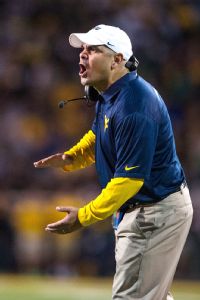 Jerome Miron/USA TODAY SportsTony Gibson's version of the 3-4 and his ability to bond with Shaquille Riddick is a big reason the FCS All-American DE ended up at WVU.
What does "new touch to the 3-4" mean exactly?
Riddick:
Well, it's not the same system as last year. It's still a 3-4. But I'm gonna be on the edge more, on the side where the tight end is not. I'm going to be in a cocked stance, instead of being head up with the tackle like they did last year a lot.
So basically the idea is this defense is going to be geared more toward getting after the passer, correct?
Riddick:
Exactly. So I feel like I can come in and dominate the Big 12 with this system. It just felt like the right fit.
What did you think of Coach Gibson?
Riddick:
I actually talked to Coach Gibson a whole lot, the whole time I was there. Me and him clicked and got a good relationship. He's very straight forward. He tells me how it is, how it's gonna be. And I'm just ready to get started and get to work with him.
Did you get to talk with Coach (Tom) Bradley, as well?
Riddick:
I talked to Coach Bradley for a long time, too. He's an amazing guy. He has a lot of experience at a high level. He was at Penn State longer than anyone except [Joe Paterno]. They know what they're doing when it comes to the position I play.
West Virginia opens up with Alabama -- how pumped are you about being on that stage?
Riddick:
Oh yeah, I'm beyond excited. Since I made this decision, or was even considering West Virginia as a landing place for me, I've been excited. I know if I dominate in that game alone, I could instantly be the next big end that comes out.
Staying at Gardner Webb, I think I could still make it to the NFL. But something inside of me, you know I never played on that big stage, and the opportunity to play on the bigger stage and play closer to my mom and my family is something I've always wanted. I had a real good season at the FCS last year. And I honestly believe I was the best defensive end in the FCS last year. I actually got the FCS award for that. I just want to take that to the FBS level, and show I can dominate the exact same way. I firmly believe there's no defensive end in the country that's better than me. I don't think there's anybody out there that can do what I can do on the field. So I'm confident, or I wouldn't have decided to go to this level.
April, 23, 2014
4/23/14
10:30
AM ET
B.J. Finney
epitomizes the
Kansas State
era under coach Bill Snyder.
Finney arrived in Manhattan, Kan., as a walk-on, earned a scholarship, then started 39 games at center for the Wildcats while becoming a first-team All-Big 12 performer. Finney, who will anchor the K-State offensive line next season as a senior, talked with ESPN.com on a range of topics as the Wildcats prepare for this weekend's spring game:
What is the confidence level of this team after the way you finished last season?
BF:
I would say our confidence is high in the fact we know we can be a great team. It's about how hard we're willing to work to be that great team. We have that athletic ability to make great plays. It's about playing consistent and working to be that great team.
[+] Enlarge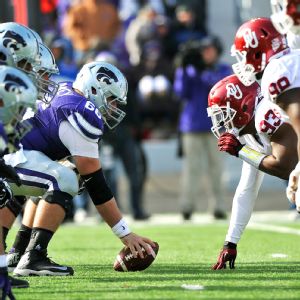 Peter G. Aiken/Getty ImagesB.J. Finney will again anchor Kansas State's offensive line in 2014.
What was the difference between the first half of the season and the second when you played so well?
BF:
I think the main thing was we took our performance for granted as a team. There wasn't a whole lot of change from the coaches standpoint, the routine was the same as far as practices, meetings; we had the same game plan. We just didn't play well enough. We felt like we would play well, but we weren't doing the things necessary during the week to play well.
How would you compare this team right now to the one that eventually captured the Big 12 title in 2012?
BF:
There's a lot of the same characteristics. Just different personnel. We have the guys that can make the big plays. It all boils down to working hard, staying focused and not taking anything for granted. That team was the hardest working team I'd been around as a whole. In terms of staying focused, developing, improving. We had the belief we could be great, and the only thing standing in the way was ourselves and how bad wanted it. Everything was in place for that season to take place. It just took the hard work to make it happen.
What have you seen from Jake Waters over the last year?
BF:
Jake has grown into his own. He's more comfortable, more confident. He's stepped into a leadership role. The guys look to him. He fits in with the team very well, the brotherhood. All he wants to do is win, which makes him a perfect fit here.
Who has impressed you this spring?
BF:
I would say team has as a whole. We've gone back and forth in the scrimmages. The offense wins one day, the defense the next.
Has anyone specific caught your eye?
BF:
Honestly, I can't answer that. Coach (Snyder) says to refrain from answering those kind of questions.
What are your thoughts on the Auburn game? I know you guys have a couple tough games before that, but that would seem to be a springboard opportunity for this team going up against the defending national runner-up?
BF:
It's a great opportunity that sits in front of us. We have a tough schedule, the game before that we're playing Iowa State at Iowa State, and that early on in the season, that's going to be a tough game, too.
What was it like growing up in Andale, Kan., which has a population under 1,000?
BF:
I actually grew up in Clearwater (Kan.) and moved to Andale the summer before high school. Clearwater is 30 minutes outside of Wichita. But both were small-town farming communities. It was awesome. Everyone knew everybody. All your friends were in town. When people think of small-town America, those are the towns they think of. Everyone was always willing to help out. It was a blessing to have a community like that growing up.
Did you grow up on a farm?
BF:
I actually didn't, but I grew up working on a family friend's farm. We did it all. We moved cattle from pasture to pen. We worked the harvest, worked the garden. We bottle-fed the calves.
What was your favorite thing to do on the farm?
BF:
Probably bottle-feeding the calves. Getting out and making sure the calves were doing all right. Bottle-feeding was always the last chore of the evening. It took almost an hour-and-half to do all the calves. Doing that with my best friend and his brothers, it was a fun time.
I read you're a history major. What history is your focus?
BF:
I mainly focus on history of the United States. I want to be a high school history teacher and a football coach.
I've studied everything, Imperial Germany to the Aztecs and Mayans to China in 1,200 B.C.
What is your favorite subject?
BF:
I would say anything war-related. The Civil War, the First World War, World War II, Revolutionary War, the War of 1812, the Seven Years War. Anything war related. I like learning how tactics, weaponry, technology changed how everything was won. What caused victories and defeat in battle.
When you become a football coach and history teacher, will you farm again, too?
BF:
I would say more of those days in front of me.
April, 16, 2014
4/16/14
10:30
AM ET
LUBBOCK, Texas -- Few assistants in college football have soared up the coaching ladder faster than
Texas Tech
offensive coordinator Eric Morris.
The 28-year-old Morris, who was a key receiver on Mike Leach's 11-win team at Texas Tech in 2008, finished his playing career with 184 receptions. After coaching stints at Houston under Kevin Sumlin and Washington State under Leach, Morris returned to his alma mater last year to be Kliff Kingsbury's inside receivers coach and co-offensive coordinator. This offseason after Sonny Cumbie bolted for a job at TCU, Kingsbury (who is the primary playcaller) promoted Morris to offensive coordinator and coach of the entire receiving corps.
Morris took time to chat with ESPN.com on a range of topics, including the similarities and differences between Kingsbury and Leach, how Kingsbury has grown as a coach over his first year and the benefits and challenges of Texas Tech having such a young staff:
You've coached with Kliff, you've coached with Leach, how would you compare and contrast the two?
[+] Enlarge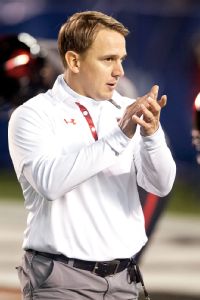 Orlando Ramirez/Icon SMIEric Morris sees several advantages in coming back to coach at his alma mater.
Morris:
You know, I think coach Leach is, for lack of a better term, really set in his ways, which has really been a positive thing. He really believes in what he does. You're not adding and trying to game plan every week. You just have this certain amount of set plays and you get really good at them and that's what you do, and the quarterback has to trust them. Whereas Kliff likes to cater a little bit more to the athletes he has. He likes to sit in there with the whiteboard and think of things, different formations, motions, but he still keeps the quarterbacks' reads pretty much similar for the most part. Kliff does a great job finding, catering to the athletes on his team, finding a way to get them the ball in space. Those are two things, but they're really similar as far as running the organization day-to-day. Mike is a really late guy, he'll stay up all hours of the night. Kliff is a really early guy, he'll be up here at 4 a.m. pretty much every single morning. That's a little bit of a difference. Kliff's dad with his military background and coaching background, what surprised me so far, [is the] discipline and the way he runs a tight ship with the players. And they really respect that. But Coach Leach did the same thing.
Where has Kliff really found his stride as a coach? Where has he improved over the last year?
Morris:
He's always been really good with the players. The players love him, he relates really well to them. Him sitting in a team meeting is like cake to him. The kids really understand where he's coming from. He uses young terminology, which they appreciate. I would say outside of that, learning how to deal with the media with the instant success with people in and out. With interviews, he's night and day better from last year speaking in public. He does a great job handling all the girls that want to take photos with him, that want to take selfies with him. He definitely has a lot of patience, he's not the most patient guy I've ever known, but he's learned how to have patience.
So he's gotten better dealing with the donors and the dinners and those things?
Morris:
Night and day. When we go speak at recruiting dinners or with a lot of our donors, he's a lot more relaxed, comfortable, himself up there. And just comfortable in his own skin and not trying to impress all these guys. Just being himself, which is good.
This has been written about before, but with five Texas Tech alums on the coaching staff (Kingsbury, Morris, Trey Haverty, Mike Smith and Kevin Curtis), what benefit does that give you guys?
Morris:
Yeah, absolutely. It means a little more to us to put on the Double T and represent that. We've put in so many hours, blood, sweat, tears in the uniform. So that symbol and putting on that uniform means more to us, because we are so much more vested in it. One, I think it helps as far as recruiting, people see that, the energy, the passion we have for this place. And two, I think it helps with our current players. It's funny we'll be in an academic meeting, and they'll say, 'Oh, I have Dr. Timmons,' and I'll go, 'I had Dr. Timmons six years ago in the same anatomy class.' We can relate to them. We passed all the classes. We know what to do and what not to do around town, on campus, with our academic staff. We can just relate on a different level.
[+] Enlarge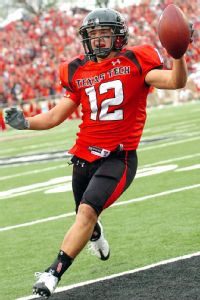 AP Photo/Lubbock Avalanche-Journal/John A. BowersmithEric Morris was a key receiver for Texas Tech in 2008.
Because most of you all on this staff are relatively young, how do you balance connecting to the kids with still being authority figures to them?
Morris:
The worst thing ever is if you mistake our kindness for weakness. It's definitely a case where we have to pull on the reins a little bit more at times. And Coach does an incredible job of really teaching these guys about how to be respectful to women, to people that are trying to help this program, to donors, to people that serve us food at the training table and things of that nature. And if they don't, there's punishment for it. He's done an awesome job of not letting things go, even though they have excuses. If they mess up, there's going to be a cost to pay. That's one thing they know, and you can ask any player right now, if they're not going to class, if they're not doing the right things, then there's going to be a price to pay.
What's one thing about Kliff that's interesting that people don't know about him?
Morris:
Well, he's a health freak. He eats extremely healthy. I lived with him for a couple years when we were at Houston and usually you'd hear the cereal bowl get filled at 3:45 a.m. He'd eat cereal every morning, then go work out. And then protein and all of his shakes and supplements that he takes. Then snacks nuts and little snacks throughout the day. Then you'd go to lunch and it's always grilled chicken, some kind of salad, something like that. He works hard at it and he's pretty disciplined. That's really impressive to me, how he stays on the straight and narrow with that.
I think his way of relieving stress is working out. But it has been funny. Because Coach Leach used to always call me late to ask questions about the program. And this semester, Kliff has started to do that. You can tell he's up late at night, thinking about the program. And so I'm getting more phone calls at night again asking hypothetical questions and recruiting questions, 'What do you think we need to do here? Do you think I was too hard on them? Do you think I should have called that play?' It's definitely on his mind 24/7, he's definitely infatuated about making this place really good. I think still there's a doubt in people's mind and there's a lot of people we lost to last year that Kliff -- I don't think he'll ever stop until he gets to the top of this thing. And so losing always pushes him. He hates to lose, and that drives him every single day, to see these kids be successful and win a lot of football games at Texas Tech.