September, 14, 2012
9/14/12
3:00
PM ET
Big 12 commissioner Bob Bowlsby took some time today to talk with ESPN.com.
Read Part 1 of his Q&A today
to see his thoughts on Notre Dame's move to the ACC, the Big 12's current attitude toward expansion, and more.
Here's the rest of what he had to say.
I haven't seen the physical TV contract the Big 12 just signed with Fox and ABC/ESPN for $2.6 billion over 13 years, but does it give you the flexibility to renegotiate for more money if you were to expand at some point?
Yes. It certainly accomodates that. It also references departures. That's just good business on our part, and good business on the part of Fox and ESPN.
We've heard so much from you and others about how much this league loves the 10-member set up and round-robin scheduling in football, but what's the chief argument you've heard against having an 11 or 12-member league?
One of the things we've committed to is playing a nine-game league schedule. With 10 members, it's a round-robin, but a nine-game league schedule goes right to the heart of our agreements with ESPN and Fox. We have promised them that we would have the inventory that's available with a nine-game season. One way or the other we would have to do that, and it's mathematically impossible to play a nine-game schedule with 11 members over the number of weeks that we have during the fall. You end up with multiple byes during the course of the season.
Statistically, that's just not feasible.
Going to 12 certainly gives you the opportunity to have a postseason football championship game and playing in divisions, but given what we're doing with the BCS right now, or whatever it's successor organization is called, the opportunity to mow through to one of those four slots without playing a postseason championship game, we think, is a better path to the national championship.
As far as 10 vs. 12 talk, is the league unanimous on wanting to stay at 10 right now?
I haven't had anybody come to me and say, "I know this is a minority position, but we need to keep thinking about expansion." I know it's a majority, if it came to a vote, that would say "We'd like to stay where we're at." Would there be some institution that would say, "Ah, I might consider expansion?" There could be. They haven't expressed it to me.
You've already acknowledged talks between the Big 12 and Notre Dame. How would you describe how close Notre Dame was to coming to your league, vs. the ACC?
We never got to the point of any negotiations at all. We talked conceptually about it, and agreed that it was going to be very difficult for us to do anything until after our television contract was put to bed.
We haven't heard much from the Big 12 about it, but people from Florida State and Clemson at least addressed the possibility of Big 12 membership on the record. What was your reaction to the ACC's new exit fees of $50 million?
I don't know enough about it to comment on it.
What would you tell fans who believe the Big 12 missed out on adding Notre Dame or an ACC power to the league?
I think our strategy is sound. I think the thinking of our presidents and athletic directors is unified, and I'm convinced that larger is not better than status quo.
We've already seen Texas Tech, TCU and Oklahoma all announce individual third-tier media deals with Fox. More could be coming. Can you explain to fans what's going to change for their school and what they can expect from these endeavors?
It varies from place to place and from contract to contract. But, generally speaking, the amount of exposure, the ease of access and the frequency of being able to get access to non-football, men's and women's basketball programming is going to be greatly enhanced. Institutions will have up to eight basketball games, including exhibition games, that could be available.
As a general statement, the exposure of each of those programs will be significantly enhanced.
September, 14, 2012
9/14/12
2:00
PM ET
Big 12 commissioner Bob Bowlsby will be making his way to Lawrence, Kan. this week for new member TCU's first Big 12 conference game.
He's visited three campuses in each of the past two weeks, and has been to all 10 campus since July 1, but finally had some time back in the office this week.
Before heading north to KU, Bowlsby took some time with ESPN.com to talk Notre Dame, expansion, his conference's new individual school media deals with Fox, the Champions Bowl, and more. Be sure to check out part 2 of his Q&A this afternoon.
[+] Enlarge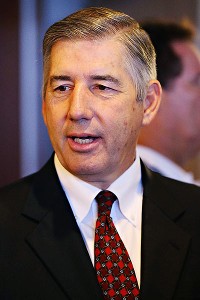 Kevin Jairaj/US PresswireBob Bowlsby says the Big 12's new television contract has provided a sense of relief around the conference.
Note: Parts of this interview were edited for length.
What were some of your major takeaways from this recent tour across the Big 12?
I think there are a lot of projects going on on campus, so I think the administrations are making good use of the revenue that we're going to be generating. I found a feeling of tremendous optimism and probably, in fairness, some relief that things have calmed down. Now, with the completion of the television contract and the grant of rights, it gives people a little more confidence that the 10 of us are moving forward together. It gets everyone thinking innovatively about what the future looks like.
You're getting together soon with (SEC commissioner) Mike Slive to talk about the Champions Bowl, right?
We've got a call on the TV deal on Monday and the following week, we're getting together in person. And it's not just Mike and myself. It's several staff members and lawyers on both sides. But we're progressing well on it.
Do you feel like it's something that needs to be in the Big 12 footprint?
No, I don't come into it with any preconceived notions as to where it's going to end up. We sent out 11 requests for (site) proposals. We got five returned, which is kind of what we thought we would get. I think all of the submissions are viable. There are three in the Big 12 footprint [Arlington, Houston, San Antonio] and two in the SEC footprint [New Orleans, Atlanta] and until we get in the room together, it's hard to know where we're headed with it. I think Mike is open-minded about where it can end up, and so am I.
When did you know Notre Dame intended to leave for the ACC?
I found out through media reports, whatever morning that was. I was certainly aware that the folks at Notre Dame and the ACC were having conversations.
What did you think when you first heard it?
I think it's a good fit for them, because of the private schools that are in the league, their past relationships with some of the personnel in the league, the fact they were aligned in the Big East with Pitt and Syracuse and BC and Miami. Those are all things I think that probably made it a little easier to grease the skids for this to happen, so I think it's a good thing for Notre Dame and a good thing for the ACC.
How does that move affect the Big 12's attitude toward possible future expansion?
Well, I think whenever we talked about it within our league, we looked at Notre Dame as being different than others, mostly because they made it clear that they weren't prepared to bring their football program into our conference or any other conference. We didn't consider them in the same offer with anybody else that may have expressed interest. I am unconvinced at this point -- and I can change my mind on it, especially if our members change their thinking on it -- but I'm unconvinced at this point that larger is better. I think there are situations where you could add members where you could get more than pro rata increases in revenue, but there aren't very many that will do that.
In the end, our various business relationships are intended to drive revenue for our members. We're distributing more than $20 million a year right now to each team in the Big 12, and with the Champions Bowl, and some of the other things we have going on, that revenue is going to do nothing but climb, so we feel very good about where we are right now.
More from Bowlsby on the possibility of ACC members jumping to the Big 12, the Big 12's new media deals (both individual and as a conference) and more Notre Dame talk in part 2 of Bowlsby's Q&A.
BIG 12 SCOREBOARD
Saturday, 12/20
Monday, 12/22
Tuesday, 12/23
Wednesday, 12/24
Friday, 12/26
Saturday, 12/27
Monday, 12/29
Tuesday, 12/30
Wednesday, 12/31
Thursday, 1/1
Friday, 1/2
Saturday, 1/3
Sunday, 1/4
Monday, 1/12
Tweets from https://twitter.com/ESPNCFB/lists/big12