February, 13, 2012
2/13/12
10:00
AM ET
By
ESPN.com staff
| ESPN.com
So, what'd you do Sunday?

Bob Stoops played one of the nation's finest golf courses and finished fourth in the biggest pro-am event in golf.

The Sooners coach teamed up with Hunter Haas and finished fourth in the AT&T Pebble Beach National Pro-Am after firing off a 62 on Sunday.

Not too shabby, guys.

One group ahead of Stoops? New England Patriots' coach Bill Belichick, who teamed with Ricky Barnes for a third-place finish.

Stoops and Haas shot a 255 (68-65-60-62) and finished four shots back of the winners, Brian Harman and Gregg Ontiveros.

No, I don't know which one of those is the pro and which one is the amateur.

Either way, Stoops made quite the impression with a strong outing at Pebble. His team finished eight shots ahead of 17th-place Tiger Woods and Tony Romo.
December, 8, 2011
12/08/11
6:24
PM ET
Kansas? Well, it's not Notre Dame.
The disadvantages of each are unique, as are the advantages. Different programs require different fits.
Kansas hopes former Notre Dame coach and Florida offensive coordinator
Charlie Weis is the right fit.
[+] Enlarge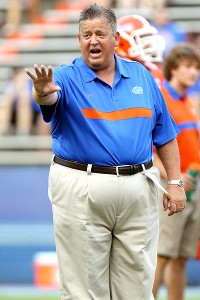 Kim Klement/US PresswireCharlie Weis spent last season as the offensive coordinator at Florida.
Weis brings Kansas the one thing the Jayhawks have craved since a 5-0 season in 2009 crashed to earth with a seven game losing streak. Since that start, Kansas has lost 23 of 24 Big 12 games. That losing streak has brought with it paralyzing irrelevance.
Consider that problem fixed.
Who else could Kansas have hired that would have everyone buzzing (
even Dick Vitale
!) about the new head Jayhawk?
Maybe you want to laugh about Weis, a bizarre hire who didn't work out at Notre Dame. After two BCS bowl appearances in his first two years, he finished above .500 just once in his final three seasons in South Bend.
Maybe you want to ask, "Why the heck are they doing that?"
But you're paying attention.
For all of Turner Gill's character and good intentions, he didn't offer much in the arena of intrigue.
Weis does. And he gets a fresh start at Kansas free of the intense scrutiny from fans, boosters and media. The sky-high expectations at Notre Dame are a bit more measured in Lawrence.
Why can't that be a recipe for success?
Maybe this hire is a disaster. Maybe it's a godsend, the man that finally gets Kansas back into the BCS. (Yes, believe it or not, three years and 11 months ago, Kansas won an Orange Bowl.)
Either way, mastery or failure, people will be watching.
For Kansas, that's a step in the right direction.
The college game, where Weis has spent just six total years, is obviously different from the NFL, where Weis coached for 16 years.
Recruiting is a unique game in which it's difficult to develop proficiency. Weis has a master recruiter, Reggie Mitchell, already on his staff.
Kansas has lots of young talent, especially on offense, but it needs more.
Like Gill, that's objective No. 1 for Weis.
Objective No. 2 is fixing a defense that was among the worst in college football history this season. As an offensive mind, Weis will likely need to make a strong, calculated hire as his defensive coordinator to fix that problem, which he struggled with at Notre Dame.
Gill didn't win and didn't fill seats. There were just over 35,000 fans in 50,000-seat Memorial Stadium for the final home game.
Weis, by name alone, probably won't fill seats. Losses will peck away at that attendance number, but Weis will produce record amounts of intrigue and skepticism that with one contract signature, landed Kansas back on the college football map.
He's a smart guy. Ask Bill Belichick. Why can't Weis learn from the mistakes made at Notre Dame and win at Kansas?
Win or lose, it'll be fun to watch.
And unlike much of the Gill Era, it will be watched.
December, 22, 2009
12/22/09
4:03
PM ET
By
Tim Griffin
| ESPN.com
AUSTIN, Texas -- Will Muschamp wanted to get out of his house for a few hours while visiting relatives in Atlanta on Christmas Day 2000, figuring that meeting a few old coaching friends would provide a calming respite.
[+] Enlarge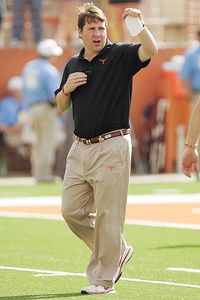 Brian Bahr/Getty ImagesTexas defensive coordinator Will Muschamp attributes some of his success to what he learned under Nick Saban.
He called some old friends on the LSU staff that morning with hopes of watching the Tigers practice for their Peach Bowl game a few days later.
While there, Muschamp met first-year LSU coach Nick Saban. Both of their lives changed from that moment.
The then-Valdosta State defensive coordinator was hired to join Saban's staff three weeks later as a linebackers coach after a vacancy appeared on the staff.
"He wanted somebody young, from the South and who had ties with people on the staff," Muschamp said. "They brought me in for an interview and we talked that day. That night, he offered me the job."
LSU won a BCS championship barely four years later. Muschamp then followed Saban to the Miami Dolphins, where at 34, he was one of the youngest defensive coordinators in recent NFL history.
Later, Saban returned to Alabama and Muschamp became the defensive coordinator at Auburn. Muschamp eventually was hired at Texas, where his strong work has earned him the designation of Mack Brown's successor when he leaves coaching.
Back in the LSU days, Saban had a reputation as a taskmaster who was difficult for many assistants to work for.
But in Muschamp, he found a kindred spirit who enjoyed grinding away at the job as much as he did.
"Nick never asked me to do anything he wasn't doing himself," Muschamp said. "From a work standpoint, a recruiting standpoint or a coaching standpoint, if you didn't want to work it wasn't a good place to be. But I enjoyed work and I like coaching football.
"I like evaluation and I like recruiting and that's why we got along philosophically and schematically. We believe the same way in coaching and motivating. I think that's why we got along."
Today, Muschamp's players say the apple hasn't fallen too far from the tree in terms of Muschamp's dedication for work.
"I always want to try to beat him into the office," Texas defensive tackle Kheeston Randall said. "But it's hard to do. He's the first one there a lot and the last one to leave. You look out and see (Muschamp's) that white truck out there all the time."
Saban is proud of Muschamp's ascension in coaching like the development of former assistants like Michigan State head coach Mark D'Antonio, incoming Florida State coach Jimbo Fisher or Louisiana Tech head coach Derek Dooley.
"To put it into perspective, (it's like) when one of your children does something that makes you proud," Saban said. "That's how you feel when coaches on your staff go on and do bigger and better things and have success in what they do. I'm really proud and want to see them all do extremely well."
Because of their dedication to coaching, Muschamp estimates that he and Saban talk less than once a month. They haven't exchanged pleasantries since the Texas-Alabama matchup was set when Texas beat Nebraska in the Big 12 championship game and Alabama defeated Florida in the Southeastern Conference title game earlier that day.
"It's tough during the season," Muschamp said. "He knows they are playing us and I know we're playing them. He's busy and I am, too."
Both coaching staffs have a lot of connections other than the Saban-Muschamp association. Current Alabama defensive coordinator Kirby Smart was Muschamp's secondary coach at Valdosta State when Muschamp was hired at LSU. Alabama associate head coach/linebackers coach James Willis worked as Muschamp's linebackers coach at Auburn. And Texas running backs coach Major Applewhite worked on Saban's staff as his offensive coordinator and quarterbacks coach in 2007.
Saban faced a similar challenge at Miami when he faced his old mentor, Bill Belichick, when he was coaching the New England Patriots.
"I'm really proud and want to see them all do extremely well," Saban said. "We're good friends and you compete and play against each other, but you don't dislike each other and it's not you don't have the same amount of respect and admiration for them.
"You want to be helpful to those guys if you can. And even if you compete against somebody in that moment in time, you're trying to do the best you can for your team."
Muschamp learned a lot during his time with Saban. While he jokes there will be a lot of "wasted ink" written bout their relationship over the next few weeks, he remains grateful for the opportunity to join Saban's staff nine years ago.
"When you get there and get exposed to a lot schematically, that appealed to me," Muschamp said. "And that's obviously where I formed my ideas about how you play and the things you needed to do to be successful."
January, 8, 2009
1/08/09
7:40
PM ET
By
Tim Griffin
| ESPN.com
Posted by ESPN.com's Tim Griffin
MIAMI -- I just wandered briefly among the clutter of people along the Oklahoma sideline at Dolphin Stadium. The stadium is still less than half full and appears to be about 80 percent Florida fans so far.
There seems to be definite electricity surging through the stadium, no different from any of the nine previous national championship games I've covered. You can tell this one is a little extra special, though.
I got a chance to see celebrities like New England coach Bill Belichick and team owner Robert Kraft sizing up the talent on the field. I also watched Florida running back/wide receiver Percy Harvin run a couple of pass patterns without too much pain, despite pregame reports of a tweaked ankle suffered in practice earlier this week.
The Sooners look loose and prepared. There were no pregame incidents involving either team, despite some beefed-up security because of some of the things said earlier in the week.
Here are a couple of other last-minute factors to watch:
Weather: It's currently 74 degrees with 50 percent humidity and hardly any wind. I can't imagine conditions being any more ideal. Temperatures are expected to drop into the high 60s as the game continues with no chance of rain.
Injuries: The Sooners are in pretty good shape with the exception of missing two key players. Running back DeMarco Murray, the Sooners' leading breakaway threat and top kick returner, will miss the game with a torn hamstring sustained in the Big 12 championship game. It means that Chris Brown will get most of the carries with Mossis Madu filling in at times as well. Both of the backs rushed for 100 yards and scored three touchdowns against Missouri.
Backup defensive tackle Demarcus Granger will miss the game after undergoing back surgery. Granger contributed 20 tackles and will be replaced in the rotation by Cory Bennett.
Mike Balogun will be starting at middle linebacker, although Austin Box said earlier this week he is nearly 100 percent and should be ready to play. Look for Oklahoma coach Bob Stoops to play Balogun until he makes a bust. Then, it wouldn't surprise me to see Box play.
BIG 12 SCOREBOARD
Saturday, 12/20
Monday, 12/22
Tuesday, 12/23
Wednesday, 12/24
Friday, 12/26
Saturday, 12/27
Monday, 12/29
Tuesday, 12/30
Wednesday, 12/31
Thursday, 1/1
Friday, 1/2
Saturday, 1/3
Sunday, 1/4
Monday, 1/12
Tweets from https://twitter.com/ESPNCFB/lists/big12