May, 29, 2012
5/29/12
4:00
PM ET
Sometimes, emails deserve their own post, and not a spot in the mailbag. This is one of those days.
Here's a note from
David in Austin:
You previously listed the Big 12 players you felt would be part of the All-Big 12 BBall team. In the spirit of the ongoing NBA Playoffs and considering Durantula is still going strong and representing Texas on his van, what about reversing the scenario? Which former Big 12 BBall players could make the transition to football like Antonio Gates? Durant would obviously play WR, maybe even QB, or one helluva kicker.
Oh my, great question. I love the NBA, and truthfully, I don't understand folks that love basketball and don't love the NBA. Either way, it's time to look at a few players who made names for themselves in the Big 12 that I'd love to see hit the field. Durant is clearly a receiver. Good call there. But let's move on.
Blake Griffin, TE, Oklahoma:
No question about this one. Griffin is a man-child who has no regard for his body. Have you seen him run in the open floor? I'm tempted to use Griffin as a running back, but I've got to maximize his jumping ability, especially in the red zone. Griffin is my tight end who could play some receiver. He'll be getting lots of bubble passes, daring defensive backs to tackle him.
DeMarre Carroll, DE, Missouri:
Carroll's nickname is the "Junkyard Dog," and for good reason. He's nasty, and he's got a motor that never stops. Sound familiar? Put him on the defensive line and let him loose.
[+] Enlarge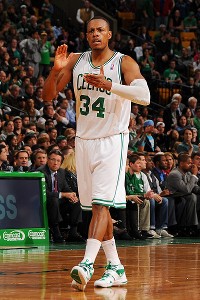 Steve Babineau/NBAE/Getty ImagesPaul Pierce is the type of veteran leader every team needs at QB.
Paul Pierce, QB, Kansas:
Pierce has been around the block for something like 83 years. He's got experience. He's got toughness. He's got a championship ring. Pierce is a smart, heady player who's exactly the type of guy you'd want with the ball in his hands. He's not the quickest guy in the world, but he's a gunner from three, too. Accuracy, homes.
DeAndre Jordan, WR, Texas A&M:
Jordan's is Griffin's teammate on the Clippers, and they're both high flyers. Jordan doesn't have the strength or mass that Griffin does, so I'd use him more as a big target. At 6-foot-11 and 250 pounds, he's as big as they come.
Tony Allen, CB, Oklahoma State:
Allen's still one of the league's toughest defenders, and his job is to stay in front of some of the best offensive players in the NBA. Sounds like a heck of a cornerback to me. He'll get in opposing offenses' heads.
Mario Chalmers, K, Kansas:
Chalmers can hit from long range, and proved he can make the big shot when he helped Kansas win a national title. What more could you ask from a kicker?
Dexter Pittman, OL, Texas:
Because ...
obviously
. Pittman checks in at 285 pounds these days, and he's
not afraid to get physical.
Let's just keep the elbows to the throat at a minimum. Deal?
Jamaal Tinsley, RB, Iowa State:
Tinsley's experienced, and his straight-line speed isn't the fastest, but he's got a great feel for space on the floor, and he's willing to do what it takes for his team to succeed. He'll spend a lot of time pass-blocking in this system, but he can make big plays if he gets space.
Marcus and Markieff Morris, LBs, Kansas:
Those two know how to communicate and how to dominate a tight space, i.e., the paint. They're tough, too,
maybe to a fault sometimes
. Either way, toughness and unity? Good footwork? Each checks in at about 240 pounds? Give me that at linebacker.
Who would you put on the team? Plenty of other great players I couldn't find a place for.
Michael Beasley
?
LaMarcus Aldridge
?
Nick Collison
? John Lucas?
Ekpe Udoh
? Where would you put them?
Spurs-Thunder, Game 2 tonight. Get after it.
January, 31, 2012
1/31/12
4:45
PM ET
Thanks for all the questions today.
Here's the full transcript
, and here's
where you can reach me.
Time for a few highlights from today's chat.
JimmyMac (you tell me...)
: Dear NostraDubben, Love your predictions. What is your forecast on the top 3-4 point scoring teams in Big12 next year in order? Also, Will Blake Griffin ever outdo last night's dunk?
David Ubben
: I'm gonna go with Oklahoma, West Virginia, Oklahoma State and ...wait for it ... Baylor. Glad you enjoyed my predictions. Here's another: Yes, Griffin will top that before the season is done.
Chris Alabama [via mobile]
: I see Texas Tech winning 8 to 10 games this upcoming season because of they have experience & have added some depth on both sides of the ball. I also expect seth Doege to be even better with his decision making & will be the leader of a Top-5 offense in FBS. Is this possible?
David Ubben
: I don't quite buy the 10-win idea, but I'd be absolutely shocked if Tech, which brings back basically all of last year's team, which was a little snakebit, didn't make a bowl. I'd probably put the over/under on wins at 7.5.
Grant (OKC)
: Do you think Mike Stoops will have an immediate impact on the Sooners' D, especially by eliminating giving up the big play?
David Ubben
: I do. There's no guarantee, and it's unrealistic to expect them to go back to Steel Curtain-type defenses from the early 2000s, but Stoops is a big upgrade. He never quite got it going on defense at Arizona, but he'll have a whole new brand of athlete at OU. No excuse if Oklahoma's not one of the best defensive teams in the league next year.
Matt (Mansfield TX)
: What does Texas have to do to be successful in 2012? Not just 7-6, more like 9-3 or 10-2?
David Ubben
: Become a legitimate passing threat. Right now, UT's got the worst passing attack in the entire league. That won't cut it if you want to win big. They need a QB that can be consistently accurate, and receivers who can make plays with the ball in their hands after the catch. The running game is solid and going to get better fast. The passing game is holding UT back.
Kyle (St Louis)
: Do you see Mizzou competing for the SEC East next year? Also, how has there recruiting changed? Have they been able to get into SEC territory or does that usually happen after they have played some games and competed in the conference? Thanks!
David Ubben
: Yeah, I do. Mizzou should be solid in Year 1 over yonder. USC and UGA will be better teams, but teams Mizzou can beat. They'll be in the conversation to win the East. I wouldn't pick the Tigers to win, but it could definitely happen. Just have to handle the transition. As for recruiting, they've grabbed a couple Florida guys this year, but the Tigers will get deeper into FL and ATL as time goes on.
L. Edgar (Las Vegas)
: David: One of the big questions in conference realignment was the effect leaving the Big 12 would have on recruiting in Texas. With a year being in the books tomorrow and more to come, how have the schools that left the Big 12 done? Nebraska and Colorado last year, Mizzou and A&M this year. Did any of those schools lose or win big time in the current recruiting battle? Thanks.
David Ubben
: Well, A&M will be fine in Texas. Recruiting there could boom or slide with the SEC. I think it will trend toward the latter as A&M struggles in the SEC West early, but over time, we'll see. Nebraska's recruiting in Texas was really minuscule this year, but it also had a small class. Colorado never quite established itself in Texas like the other Big 12 teams did. Missouri's got another big class in Texas this year, but I expect that to shrink a bit as the years go by in the SEC. A&M won big this year among teams that switched leagues, but this class has been loaded since the summer. I don't think the SEC had all that much to do with that.
wade (san diego)
: If WVU can't be in the Big12 next year, what are the teams goin go to do to get another team scheduled. Don't most FBS teams have their scheds already filled out for next year? Would hate to see Texas play a FCS school.
David Ubben
: First off, everyone seems convinced that WVU is in the Big 12 next year. No guarantees, but WVU sounds willing to pay whatever it takes. If they can't though, yeah, you're going to see a lot of awful paycheck games next year.
Joel (College Station)
: Do you think with all the recent de-commits that A&M's 2012 recruiting class turns into one we would rather forget than remember?
David Ubben
: Meh. No one cares about that stuff, save a few exceptions, in a couple years. If a couple guys from any class become All-Americans or even all-conference guys, that's pretty good. You need lots of contributors. This class should be great for the Aggies.
Peter (London)
: David, I have heard a lot of confidence around the blogosphere about next years horns; Blogger's whose analysis tends to be fairly objective and accurate. They have the horns as a potential top 10 next year, with a bone crunching Defence and a competent offense. You seems to be a little bit more cautious. Is your reservation purely based on Ash or is it more fundamental.
David Ubben
: Yeah, I'm a little more tentative. I was 100 percent against giving UT a preseason top 25 nod last year. This year, they've earned it. Anywhere around 18-22 seems right to me. They'll have the potential to be much better, but I don't see Texas finishing the year in the top 15 unless
David Ash
shows a ton of development and Texas' receivers mature a bit.
MoTexan (Missery)
: I agree with you in that Texas' passing game needs to improve. Will it be better next year? You obviously cant compete in the B-12 without a solid pass capability.
David Ubben
: The potential is there. I totally buy the idea that a) David Ash's growth was stunted in the offseason because he was so far down the depth chart, and Garrett Gilbert was the guy and b) HE WAS A TRUE FRESHMAN. He didn't show a lot of flashes, but he doesn't need to be great. He just needs to be good when he's got the support of that defense and what will be a scary-good running game.
Beudreaux (San Antonio, Texas)
: DU, Griffins gone, Gannaway, and Wright as well...
Nick Florence
showed servicability, but do you think the
Baylor Bears
have the Skill players to fill those shoes and get to 10 wins again??? That is of course if the defense gets better.
David Ubben
: Yeah, I think so. QB is a question. I think Florence will be a bit above average. Not much above that. Seastrunk and the receiving corps will be really good, though. Maybe a little underrated in the receivers because they don't have any real household names now that Wright's gone.
Will (Morgantown, WV)
: While I don't know if you have personal experience in Morgantown, I'm sure you've seen Mountaineer Field and the Coliseum on TV at some point. Based on that, where would you rank our football venue heading into the Big 12 (Obviously the competition in the Big 12 is much stiffer than the Big East, where a state of less than 2 million people had the largest fan base).
David Ubben
: I've never been, but I'm really, really excited to get out there this spring, or whenever the Mountaineers get invited. I'll post some observations and where they rank, too.
wade (san diego)
: With Missouri and A&M going to the SEC, will they be able to claim all of the previous SEC championships as their own like all SEC teams or will they have to wait for the ones that are won while they are in the conference?
David Ubben
: I think we all know the answer to that question.
May, 5, 2011
5/05/11
11:00
AM ET
It's been a good couple months for Oklahoma. Just before the Super Bowl, former Heisman winner Sam Bradford was named the NFL's Offensive Rookie of the Year.

On Wednesday, former Oklahoma star Blake Griffin was named the NBA's Rookie of the Year after sitting out a season with a knee injury.
Both were taken No. 1 in their respective drafts, and early in their careers, have made sure their franchise's investments in them have paid off.
Griffin became a household name in the NBA almost overnight with his violent dunks, constant appearances on SportsCenter's Top 10 and an NBA Dunk Contest title.
In his first year, Bradford broke Peyton Manning's record for completions (354) and attempts (590), despite having an average at best receiving corps.
Both Bradford and Griffin, a year apart, didn't hold the distinction that Utah did, when NBA center Andrew Bogut and quarterback Alex Smith both went No. 1 in their drafts in the same year. Those two, though, haven't enjoyed the early success of the Sooners.
Folks from Oklahoma have to enjoy seeing their stars have the kind of success at the next level they've enjoyed so far.