February, 5, 2010
2/05/10
12:10
PM ET
By
Tim Griffin
| ESPN.com
Former Nebraska running back Roger Craig is among the finalists whose credentials have been studied and analyzed before the new class of the Pro Football Hall of Fame is announced on Saturday.
[+] Enlarge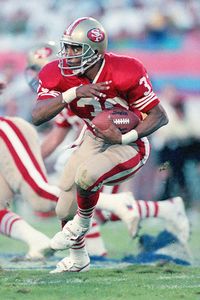 US PresswireDuring an 11 season career, Roger Craig compiled 8,189 rushing yards and 4,911 receiving yards.
Craig is the only product from a Big 12 school among the group of 17 finalists. Others who made the final cut include Tim Brown, Cris Carter, Don Coryell, Dermontti Dawson, Richard Dent, Russ Grimm, Charles Haley, Rickey Jackson, Cortez Kennedy, Dick LeBeau, Floyd Little, John Randle, Andre Reed, Jerry Rice, Shannon Sharpe and Emmitt Smith.
Craig's candidacy appears to be strong. He was a member of three Super Bowl championship teams with the San Francisco 49ers. He was a four-time Pro Bowler who led the league in receptions in 1985 and ranked among the top seven receivers during four consecutive seasons from 1985 to 1988. He also finished in the top 10 in rushing for three straight seasons from 1987 to 1989.
His numbers appear strong, but he likely will be hurt by two "no brainer" selections. Smith and Rice have to be picked in their first seasons of eligibility. Smith was the greatest running back of his generation and Craig pales compared to him. And I'm thinking if voters choose to reward a player from the San Francisco dynasty of the late 1980s, it will be Rice.
The Big 12 is underrepresented in the Pro Football Hall of Fame. There hasn't been an alumnus from the conference selected since Thurman Thomas and Roger Wehrli in 2007.
Here's a look at the Big 12 schools and their alumni chosen for the Pro Football Hall of Fame.
Baylor:
LB Mike Singletary (1998)
Colorado:
None.
Iowa State:
None.
Kansas:
T Mike McCormack (1984), RB John Riggins (1992), RB Gale Sayers (1977).
Kansas State:
None.
Missouri:
CB Roger Wehrli (2007), TE Kellen Winslow (1995).
Nebraska:
T Bob Brown (2004), E/coach Guy Chamberlin (1965), T William "Link" Lyman (1964).
Oklahoma:
QB Troy Aikman (later finished at UCLA/2006), WR Tommy McDonald (1998), DE Lee Roy Selmon (1995).
Oklahoma State:
RB Barry Sanders (2004), RB Thurman Thomas (2007).
Texas:
RB Earl Campbell (1991), DB/coach Tom Landry (1990), QB Bobby Layne (1967), administrator Tex Schramm (1991).
Texas A&M:
DB/P Yale Lary (1979).
Texas Tech:
None.
How about it, readers? Are there any Big 12 products either retired or playing today in the NFL who deserve a slot in Canton for their deeds in the NFL?
I think an argument can definitely be made for Craig and for former players Tommy Nobis (Texas) and Lester Hayes (Texas A&M). I can also see recently retired players like Zach Thomas (Texas Tech) making it one day. And it also wouldn't surprise me to see Adrian Peterson (Oklahoma) and Wes Welker (Texas Tech) there if they can keep progressing in their careers.
What do you think?
May, 29, 2009
5/29/09
2:00
PM ET
By
Tim Griffin
| ESPN.com
Posted by ESPN.com's Tim Griffin
As anybody who reads this blog on a regular basis understands by now, I see numbers and statistics as a way of explaining a lot of things about sports.
A whole generation of analysts has constructed brand new ideas in baseball because of the work of sabermetricians like former Kansas student Bill James.
Football doesn't quiet have that wealth of study, mainly because there aren't as many numbers available.
But there are a growing segment of analysts out there doing more and more work on football analysis.
My wife got me a book over the weekend which I read while I was down at the beach over Memorial Day. Sean Lahman's "The Pro Football Historical Abstract" used some Jamesian methodology to rank the top pro players in history at their positions, among other things.
And bringing some of Lahman's study into closer focus, I was particularly interested in how players from Big 12 schools ranked among his career lists at various positions.
Here's a position-by-position glance at the top Big 12 players in NFL history, according to Lahman's rankings.

Quarterbacks
12. Bobby Layne (Texas)
27. Troy Aikman (started at Oklahoma, UCLA)
28. John Hadl (Kansas)
62. Steve Grogan (Kansas State)
63. Kordell Stewart (Colorado)
100. Bernie Masterson (Nebraska)
Running backs
2. Barry Sanders (Oklahoma State)
5. Thurman Thomas (Oklahoma State)
21. Earl Campbell (Texas)
30. Roger Craig (Nebraska)
32. John Riggins (Kansas)
38. Priest Holmes (Texas)
45. Ahman Green (Nebraska)
54. Larry Brown (Kansas State)
98. Gale Sayers (Kansas)
99. James Wilder (Missouri)
Wide receivers
17. Cliff Branch (Colorado)
27. Del Shofner (Baylor)
47. Irving Fryar (Nebraska)
48. Mel Gray (Missouri)
49. Dave Parks (Texas Tech)
Tight Ends
6. Kellen Winslow (Missouri)
14. Keith Jackson (Oklahoma)
34. Henry Childs (Kansas State)
49. Paul Coffman (Kansas State)
Offensive linemen
7. Will Shields (Nebraska)
32. Richmond Webb (Texas A&M)
34. Bob Brown (Nebraska)
39. Bob Young (Started at Howard Payne, Texas, Texas State)
46. John Wooten (Colorado)

Defensive linemen
18. Ron McDole (Nebraska)
19. Steve McMichael (Texas)
43. Ray Childress (Texas A&M)
Linebackers
2. Mike Singletary (Baylor)
26. Andy Russell (Missouri)
28. Jack Pardee (Texas A&M)
29. Zach Thomas (Texas Tech)
30. Leslie O'Neal (Oklahoma State)
Defensive backs
16. Yale Lary (Texas A&M)
21. Pat Fischer (Nebraska)
36. Roger Wehrli (Missouri)
Kickers
20. Bobby Layne (Texas)
Kickoff returners
2. Glyn Milburn (Started at Oklahoma, Stanford)
4. Dante Hall (Texas A&M)
7. Tyrone Hughes (Nebraska)
10. Gale Sayers (Kansas)
Punt returners
5. Eric Metcalf (Texas)
12. Glyn Milburn (Oklahoma, Stanford)
Combined kick returners
11. Dante Hall (Texas A&M)
14. Mike Nelms (Started at Baylor, Sam Houston State)
24. Dick Todd (Texas A&M)
TWO-WAY ERA PLAYERS
Backs
5. Verne Lewellen (Nebraska)
7. Glenn Presnell (Nebraska)

Ends
10. Guy Chamberlin (Started at Nebraska Wesleyan, Nebraska)
Tackles
1. Link Lyman (Nebraska)
Guards
3. Ox Emerson (Texas)
Centers
5. Charley Brock (Nebraska)
6. Frank Bausch (Kansas)
Coaches
4. Tom Landry (Texas)
53. Jack Pardee (Texas A&M)
72. Guy Chamberlin (Nebraska Wesleyan, Nebraska)

I had a chance to see many of these players as my frame of reference for the NFL goes back to about 1964, when I was 5 years old. The only one that really shocked me was how low Gale Sayers was ranked among running backs. I grew up watching the Chicago Bears and saw almost every one of Sayers' pro games. I find it hard to believe there were 97 better running backs in NFL history than him.
One fact that was interesting from this list was the number of running backs and linemen that were Big 12 products, in comparison with quarterbacks and receivers. In the old days, the Big Eight and Southwest conferences always had reputations based on stout running games. I think that will change in the future because of the conference's growing aerial status.
Obviously, there will be other Big 12 players who will be able to make the list in the future. It would be a shock if we don't see Adrian Peterson charging into the best backs in NFL history. It wouldn't surprise me if Michael Crabtree was able to be that kind of player. Maybe Jason Smith, too.
But it's always interesting to me to see the kind of work that Lahman has developed on a grand scale for the NFL and compare it to the Big 12 schools.
I just wish some other researchers would feel as passionate about college football history, too.