March, 23, 2011
3/23/11
3:00
PM ET
We'll kick off a series today looking at the weakest and strongest positions for each team in the Big 12. First up: the
Baylor Bears
.

Strongest position: Wide receiver
Key returnees:
Kendall Wright
,
Josh Gordon
,
Terrance Williams
,
Tevin Reese
,
Lanear Sampson
Key losses:
None, although tight end
Brad Taylor
graduated after catching 20 passes for 269 yards last year.
Analysis:
Quarterback
Robert Griffin III
keys Baylor's offense, but he's got plenty of targets to throw to, and last year he distributed the ball well. All five of his top receivers had at least 40 receptions and 390 yards, and Wright led the group with 79 receptions for 952 yards and seven scores. Wright is already one of the Big 12's best receivers. Gordon could become one this year after emerging as a big red-zone target at 6-foot-4 and 220 pounds. Former blue-chip recruit
Darius Jones
also looked impressive during my visit to Waco for spring practice last week. Because Griffin has so many targets and isn't forced to rely on just one, none of the five may ascend to the Big 12's absolute elite, but Gordon and Wright both have that potential. At worst, all five will be solid and keep Baylor's passing game a huge boost to the Bears hopes at being a Big 12 title contender.
Weakest position: Linebacker
Key returnees:
Elliot Coffey, Chris McAllister
Key losses:
Antonio Johnson, Chris Francis, Earl Patin
Analysis
: Baylor already ranked ninth in the Big 12 in rush defense last season, and loses Francis and Johnson, two of four Bears to make at least 70 tackles last season. Johnson was also one of the defense's leaders. The Bears' D has had problems stopping the run early in spring practice, and needs someone to help solidify the defense's second line. McAllister has plenty of potential after a strong freshman season in 2010, but he'll need to turn that potential into production to help the linebackers eliminate their status as a weakness before the season. Baylor loses both safeties -- the team's two leading tacklers from last season. Though the depth chart is still very much in flux, there's plenty of talent on the back line, as Ahmad Dixon and Mike Hicks that could be ready to replace Tim Atchison and Byron Landor.
September, 5, 2010
9/05/10
10:00
AM ET
1. The league's top defenses still have a lot to prove.
Texas and Oklahoma were wholly unimpressive in their debuts, although Texas' mistakes weren't nearly as costly. Of the three supposedly elite defenses in the Big 12, Oklahoma looked the worst, giving up 341 yards and two touchdowns through the air to Utah State's
Diondre Borel
. Meanwhile, Nebraska gave up 179 yards on the ground to Western Kentucky in a performance coach Bo Pelini called "an absolute embarrassment." Texas wasn't gashed as badly against Rice, and gave up just 219 total yards, but the Longhorns' defensive backs missed a handful of big plays. All three have to get a lot better to equal either of their 2009 editions.
[+] Enlarge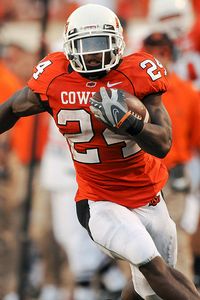 AP Photo/Brody SchmidtKendall Hunter found the end zone four times in Oklahoma State's win over Washington State.
2. The most impressive team in Week 1: Oklahoma State.
Dana Holgorsen's Air Raid went nuts on Saturday night, racing all over the field at Boone Pickens Stadium for 544 yards and 65 points -- 38 in the first half.
Kendall Hunter
ran for four touchdowns and the Cowboys won the turnover battle 2-0. The Cowboys made fans a little nervous after letting Washington State inch to within 17-10 from an early 17-0 deficit, but Oklahoma State answered with the game's next five touchdowns to put the game ... uh ... out of reach.
3. He's baaa-aack.
Baylor quarterback
Robert Griffin
once again showcased his big-play capability, rushing for a 30-yard touchdown and throwing for two more -- a 68-yarder to
Brad Taylor
and a 23-yarder to
Terrance Williams
. He completed 19 of 36 passes for 242 yards and ran for 59 yards on six carries, a 9.8 yard average.
4. Kansas? Well, the Jayhawks are just not very good.
Hard to envision a worse start for Turner Gill at Kansas. At least Ole Miss' 49-48 loss to an FCS team in double overtime was fun to watch. The Jayhawks' 6-3 debacle had to be painful for fans watching at home and even more so for those in attendance. It's hard to find many positives from a mistake-laden performance at home against the Bison, who went 3-8 last season. I'll try: My
preseason prediction of the Jayhawks as the Big 12's most improved team
at season's end is looking pretty good. There's nowhere to go but up, but it's still hard to believe how far Kansas has fallen since a BCS bowl win in 2007. I got a few complaints
after I pegged the Jayhawks at No. 12 in my preseason power rankings
. I doubt I'll get any when they're right back there again on Tuesday morning. When Kansas suits up next weekend against No. 19 Georgia Tech, it will have been more than 11 months (Oct. 10, 2009 vs. Iowa State) since the program has recorded a win.
5. I was 100 percent wrong about Kendall Hunter.
It's easy to forget how good a guy can be when he struggles as long as Hunter did last season. The ankle injury must have affected him longer and more than anyone thought. You heard all spring and preseason about how Holgorsen thought Hunter was even better than he had been told, and Hunter validated all of that on Saturday night. Dominant, unstoppable, whatever. Use all the hyperbolic terms you want. Kendall Hunter was all of them, topping 200 yards in the first half. He should have been
higher on my top 25 list
, and he should have been higher on
my ranking of the Big 12's running backs
. He's better than
Alexander Robinson
at Iowa State. He's better than
Roy Helu
at Nebraska. Neither is capable of putting on the show Hunter did on Saturday night. Oklahoma's
DeMarco Murray
and Kansas State's
Daniel Thomas
? We'll find out over the next three months. All three topped 200 yards in impressive debuts.
September, 4, 2010
9/04/10
7:58
PM ET
By
ESPN.com staff
| ESPN.com
Still have questions about
Robert Griffin
's knee? What about his arm?
He did his best to answer both with big plays in the first quarter of Baylor's game against Sam Houston State to put the Bears up, 14-0.
He completed a 68-yard pass to
Brad Taylor
on Baylor's second drive before running for a 30-yard score on the next.
After the first quarter, Griffin is 9-of-14 for 154 yards, with two carries for 45 yards.
May, 24, 2010
5/24/10
8:47
AM ET
By
ESPN.com staff
| ESPN.com
I love fantasy football. For the NFL, that is. It's a little depressing at how bad my friends from high school and I are at waiting to renew our league annually, officially christening our new league page for the coming year.
Last year, we made it to June.
I don't play college fantasy football. Never have. But
these guys do.
And they run CollegeFantasyFootballInsider.com, apparently for people like me. They recently released their fantasy rankings, and it's definitely an interesting take on the conference. Remember, these aren't based on skill necessarily, but more of a forecast of production.
In case you didn't know, generally a point is given for every 10 yards receiving or rushing and six for touchdowns. In some leagues, quarterbacks receive only four points for touchdowns. In some leagues, receivers earn a point or a fraction of a point for each reception as well.
Here's how they rank the Big 12's offensive talent:
Quarterbacks (overall position ranking):
3.
Jerrod Johnson
, Texas A&M
7.
Robert Griffin III
, Baylor
8.
Blaine Gabbert
, Missouri
11.
Brandon Weeden
, Oklahoma State
20.
Steven Sheffield
, Texas Tech
21.
Taylor Potts
, Texas Tech
24.
Landry Jones
, Oklahoma
25.
Garrett Gilbert
, Texas
37.
Austen Arnaud
, Iowa State
50.
Tyler Hansen
, Colorado
Running backs:
6.
Daniel Thomas
, Kansas State
8.
Kendall Hunter
, Oklahoma State
18.
DeMarco Murray
, Oklahoma
19.
Baron Batch
, Texas Tech
25.
Derrick Washington
, Missouri
27.
Alexander Robinson
, Iowa State
31.
Toben Opurum
, Kansas
37.
Rodney Stewart
, Colorado
Wide receivers:
5.
Ryan Broyles
, Oklahoma
6.
Jeff Fuller
, Texas A&M
25.
Hubert Anyiam
, Oklahoma State
27.
Jerrell Jackson
, Missouri
30. Alex Torres, Texas Tech
31.
Detron Lewis
, Texas Tech
34.
Kendall Wright
, Baylor
39.
Scotty McKnight
, Colorado
50.
Uzoma Nwachukwu
, Texas A&M
Tight ends
10.
Mike McNeill
, Nebraska (The next Marques Colston, circa 2006? Fantasy geeks, you're with me on this one.)
26.
Tim Biere
, Kansas
38.
Barrett Matthews
, Texas
42.
Brad Taylor
, Baylor
43.
Andrew Jones
, Missouri
Kickers
2. Grant Ressel, Missouri
12. Alex Henery, Nebraska
19. Dan Bailey, Oklahoma State
20. Matt Williams, Texas Tech
33. Justin Tucker, Texas
41. Randy Bullock, Texas A&M
Team defense:
4. Nebraska
6. Texas
9. Oklahoma
44. Missouri
45. Texas A&M
47. Texas Tech
April, 2, 2009
4/02/09
10:38
PM ET
By
Tim Griffin
| ESPN.com
Posted by ESPN.com's Tim Griffin
Baylor sophomore quarterback Robert Griffin passed for 310 yards and three touchdowns to highlight Baylor's 130-play scrimmage that culminated spring practice for the Bears.
Griffin played about half the scrimmage Thursday afternoon and also added a 1-yard TD run. He had a hand in four of Baylor's five touchdowns during the scrimmage.
Griffin connected with three different receivers on his scoring strike, starting with a 60-yard screen pass for a score to Jay Finley on the third play of the scrimmage for the first-teamers. Griffin also hooked with Justin Akers on a 35-yard TD pass and Brad Taylor on a 43-yard TD aerial.
Baylor coach Art Briles was pleased with his team's work, culminated his second season of spring practices.
"We weren't trying to set any records or create new opportunities for people," Briles said. "We are just trying to get in and get out and stay injury free with a little bit of production and I think we did that.
"We really feel good about the direction we are going and about how we are going to get there. What we have to do is turn it into reality on the field, but that is going to happen and we are very confident of that."
Senior backup quarterback Blake Szymanski passed for 113 yards by completing 17 of 29 passes.
Andrew Pierce produced a scrimmage-high 52 rushing yards, punctuating his efforts with a 48-yard TD run.
Baylor receivers accounted for 458 yards in receiving yards, led by Kendall Wright's five grabs for 68 yards. Wright participated in only the final two weeks of spring practice after spending most of spring practice as a member of Baylor basketball team.
Seniro safety Jeremy Williams led the defense with eight tackles, while linebacker Rodney Chadwick produced six tackles and linebackers Earl Patin and Antonio Johnson notched five stops apiece. Cornerback Michael Williams produced the lone turnover of the scrimmage when he intercepted Griffin inside the 5 yard line.
Baylor will return for summer practice on Aug 5 and start practicing the following day. The Bears open their season Sept. 5 at Wake Forest.
BIG 12 SCOREBOARD
Saturday, 12/20
Monday, 12/22
Tuesday, 12/23
Wednesday, 12/24
Friday, 12/26
Saturday, 12/27
Monday, 12/29
Tuesday, 12/30
Wednesday, 12/31
Thursday, 1/1
Friday, 1/2
Saturday, 1/3
Sunday, 1/4
Monday, 1/12
Tweets from https://twitter.com/ESPNCFB/lists/big12