December, 3, 2012
12/03/12
11:00
AM ET
The USA Today coaches' top 25 poll is private all season, until the final week. Every year, the final ballot is made public. Last year, Missouri coach Gary Pinkel made waves by voting Oklahoma State No. 4, instead of No. 3, which would possibly give Alabama the edge in the BCS race with Oklahoma State for the right to play LSU for the title.
So, what happened this year? Half the nation's coaches have a vote, and it rotates each year. I'll go through this starting with the Big 12 coaches' individual ballots, and then we'll look at how each Big 12 team looked on various coaches' ballots. You can
see all the ballots in their entirety with this great graph
from USA Today.
Let's get started:
Art Briles, Baylor
Briles had Oklahoma very high, at No. 6. He also voted Kansas State at No. 4. The Sooners finished No. 11 in the coaches poll, and K-State was at No. 6. Only two other coaches (You might recognize them, we'll touch on it later) had Oklahoma at No. 6.
Most coaches typically do have teams in their league higher than others, but aside from that, not much else about Briles' ballot was notable.
Paul Rhoads, Iowa State
Rhoads was the second voter who had Oklahoma at No. 6, joining Briles in voting OU higher than any other voter. We'll talk about the third and final voter to do so later.
He cast his vote for K-State at No. 3, behind national title participants Notre Dame and Alabama at No. 1 and No. 2.
Rhoads threw Texas a bone, but he was one of just two Big 12 coaches of the five voters to do so. He had the Longhorns at No. 22.
Dana Holgorsen, West Virginia
Holgorsen slotted K-State at No. 4 and Oklahoma at No. 9. He also included Texas at No. 25. He also gave his old friends in the C-USA, league champion Tulsa, a nod at No. 22. Only one coach had the Golden Hurricane higher. They finished at No. 29 in receiving votes.
Bob Stoops, Oklahoma
Stoops had his Sooners at No. 6, joining Briles and Rhoads as the voters who had Oklahoma higher than anyone. Stoops also clearly knew what was going on with Northern Illinois, voting NIU at No. 24, lower than all but one voter in the entire poll. Only one other voter among the 59 had NIU at 24th or lower.
Stoops also slotted K-State at No. 3, and didn't include Texas on his ballot.
Tommy Tuberville, Texas Tech
He was the only Big 12 coach to put Alabama at No. 1 instead of undefeated Notre Dame, who the Tide will face in the national title game.
He had Oklahoma down at No. 11, right where the Sooners finished in the poll. He also had K-State at No. 7, the only Big 12 coach to place the Wildcats below where they finished, at No. 6. Tuberville also left No. 25 Texas off his ballot.
All in all, mostly decent ballots from the Big 12 coaches. So, how did the Big 12 teams receiving votes do?
KANSAS STATE
We mentioned those two Big 12 coaches that had K-State at No. 3, but they were joined by a third. It won't surprise you. It's Miami coach Al Golden, whose Hurricanes lost in Manhattan in September, 52-13.
Fresno State's Tim DeRuyter (DC at Texas A&M last season) and Vanderbilt coach James Franklin had Kansas State all the way down at No. 9, but Kentucky coach Joker Phillips was all alone with the Wildcats at No. 11. Ouch.
Franklin, however, did have three SEC teams ahead of Notre Dame on his ballot.
OKLAHOMA
You already heard about the three coaches (all from the Big 12, and only the Big 12) that had Oklahoma at No. 6.
Not a single coach had OU at No. 7, but Michigan State's Mark Dantonio had the Sooners at No. 8. No other coach had the Sooners below 13.
TEXAS
Brady Hoke of Michigan and Kent State's Darrell Hazell love them some Longhorns. Both had No. 25 Texas at No. 16, despite the two losses to close the season and an 8-4 record. Only two other coaches (Jim Grobe, Wake Forest; Mike Riley, Oregon State) had Texas higher than No. 21. It would seem the Horns have not convinced many in the Big 12 that they're world-beaters.
Texas appeared on 27 of 59 ballots.
No other Big 12 teams received votes.
December, 15, 2011
12/15/11
3:08
PM ET
Oklahoma State coach Mike Gundy has been voted the Eddie Robinson Coach of the Year by the 1,200-member Football Writers Association of America.

Gundy beat out LSU's Les Miles, Kansas State's Bill Snyder, Michigan's Brady Hoke and Clemson's Dabo Swinney to win.

He led the Cowboys to an 11-1 season and the school's first Big 12 title, as well as its first BCS bowl bid.

The 11 wins equaled a school record set in 2010, when Gundy was a finalist for the award.

"It's a testament to our players and our coaching staff that we are in the position that we are in," Gundy said in a release. "I want to thank the Football Writers Association of America for recognizing our team in this way."

Former Kansas coach Mark Mangino was the last Big 12 coach to win the award in 2007. Oklahoma's Bob Stoops also won in 2000.

Gary Patterson won the award at TCU in 2009.
December, 5, 2011
12/05/11
3:15
PM ET
By
ESPN.com staff
| ESPN.com
Kansas State coach Bill Snyder and Oklahoma State coach Mike Gundy are two of five finalists for the Eddie Robinson Award, given annually to the best coach in college football.

Snyder and Gundy join Brady Hoke of Michigan, Les Miles of LSU and Dabo Swinney of Clemson as finalists.

From my perspective, Snyder and Miles are 1a and 1b for this award, but as the nation's only undefeated team, Miles may get the nod. The distractions LSU has played through all season, though most dealt with discipline issues, were remarkable. The Tigers never lost a beat and strung together one of the best regular seasons ever, beating the Pac-12 champion and Big East champion away from home, as well as beating Alabama in Tuscaloosa.

Snyder's Wildcats went from No. 8 in the Big 12 preseason poll to No. 8 in the BCS at the end of the regular season, and second in the Big 12.

Definitely wow-worthy.

This should be an interesting award race.
June, 2, 2011
6/02/11
10:30
AM ET
Ohio State won't officially be looking for a coach for at least a few months, as interim coach Luke Fickell undergoes an audition during the 2011 season.
But that won't stop speculation, and Missouri coach Gary Pinkel -- an Akron, Ohio, native -- has
made a few cameos on candidate lists
since former Buckeyes coach Jim Tressel resigned on Monday.
[+] Enlarge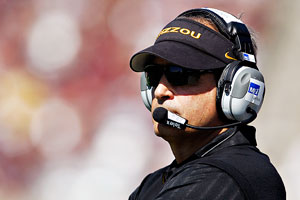 Aaron M. Sprecher/Getty ImagesWhen asked about the Ohio State opening, Tigers coach Gary Pinkel said he isn't looking to leave Missouri.
Pinkel, though --in Springfield, Mo., for a Tigers football camp --
told the St. Louis Post-Dispatch
that Ohio State will have to look elsewhere for a coach.
"There's 5,000 names probably up for that. I grew up in Ohio and I have great respect for Jim Tressel, too. It's very unfortunate what happened and how everything came down. I'm the head football coach at the University of Missouri and I'm committed to trying to continue to build the program and make it better and better. And that's what I intend to do."

Then, Pinkel was asked If Ohio State came offering,

"I would suggest that that's what I would say," Pinkel said.
Pinkel, 59, would hardly be at the top of Ohio State's list, but would be a strong candidate if he wanted the job. His stance, though, shouldn't be a surprise.
At a coaching convention in January in Dallas (one I ran into Pinkel during, coincidentally enough) Pinkel declined an interview with Michigan, who eventually hired Brady Hoke from San Diego State.
He's built a solid program during his decade at Missouri, winning at least a share of the Big 12 North in three of the past four seasons, and winning 40 games during that span, one of the best stretches in Missouri football history.
Pinkel can say he sees himself retiring at Missouri as many times as he wants, but when reports of actions (like not talking with Michigan) surface, it's obvious that he means them.
November, 16, 2009
11/16/09
7:00
PM ET
By
Tim Griffin
| ESPN.com
Iowa State coach Paul Rhoads and Kansas State coach Bill Snyder both will receive a lot of mention for Coach of the Year honors in the Big 12.

That honor is understandable, considering what the conference's first-year coaches have been able to accomplish.

Rhoads leads all first-year coaches in win improvement from last season. And Snyder is tied for fifth.



Interestingly, three of the coaches on the list have associations with the Big 12. Gene Chizik was the head coach at Iowa State who preceded Rhoads. Dave Christensen served as the offensive coordinator at Missouri before accepting the Wyoming job. And Tim Beckman was the defensive coordinator at Oklahoma State before taking the Toledo head job.
December, 22, 2008
12/22/08
4:32
PM ET
By
Tim Griffin
| ESPN.com
Posted by ESPN.com's Tim Griffin
It's good to see Stan Parrish receive another opportunity as a head coach.
The Ball State offensive coordinator was elevated Thursday to replace Brady Hoke as the Cardinals' head coach. It was as much his strong work with quarterback Nate Davis that got him his shot as anything else.
Parrish, 62, signed a four-year, $1.4 million contract to coach the Cardinals after turning down a chance to join Hoke's new staff at San Diego State. He will be on the sidelines as the Cardinals' coach Jan. 6 when they meet Tulsa in the GMAC Bowl in Mobile, Ala.
The reason I find this Parrish's hiring so refreshing is that it proves that you can overcome just about anything if you are resilient enough.
Remember that Parrish was the coach before Bill Snyder arrived at Kansas State in 1988 to orchestrate "The Manhattan Miracle" in the Wildcats' dramatic turnaround. Parrish was 2-30-1 in his three-season stint at Kansas State, finishing with a 27-game winless streak with 11 of those losses by at least 30 points.
Before then, Parrish was a proven winner with successful stints at Division III Wabash and Marshall. His winning record before coming to Kansas State was 55-11-2, including a Jim Tressel-like 42-3-1 record at Wabash in his first five seasons as a head coach.
If nothing else, his resurgence proves his strong coach wiles during a 38-season coaching career that many thought had ended after his struggles at Kansas State. Or at least as a head coach.
From Kansas State, he bounced to Rutgers and then coached at Michigan for six seasons, including two seasons as an offensive coordinator. While there, he coached Tom Brady and served as a quarterbacks coach of Lloyd Carr's staff that earned a share of the national championship in 1997.
And from there, he coached two years with Tampa Bay in the NFL, serving as quarterbacks coach of Brad Johnson on the 2002 team that won the Super Bowl.
Even with those huge titles he helped his team win, I'm sure that Parish has been waiting for his chance to serve as a head coach again.
And something tells me his first win as a head coach again will be particularly sweet after the way his Kansas State tenure finished up.