August, 19, 2011
8/19/11
10:00
AM ET
COLLEGE STATION, Texas -- Mike Sherman just finished watching his top-10 team scrimmage on its home field for two hours. He's concerned.
"We're still looking for that third running back," the Aggies coach says without a hint of sarcasm.
Safety Trent Hunter has worries of his own, and encounters it every time he steps on the practice field.
"Our receivers right now, I'd put up against any team in the nation," the senior says.
Life is good for the Texas A&M offense in preseason camp, which is stocked with perhaps the best collection of skill-position talent in the Big 12.
There are plenty of reasons for the Aggies faithful to lose a little sleep these days. Will a move to the SEC eventually happen? Does Texas A&M have what it takes to win in Norman against an Oklahoma team that might carry a No. 1 ranking into the matchup?
One question that doesn't need an answer: Will the Aggies be able to put points on the board?
Why is Sherman searching for a third running back?
That's the problem a coach discovers when
he has the top two running backs in his conference
.
Christine Michael
rushed for 844 yards as a freshman in 2009 and looked headed for his first 1,000-yard season as a sophomore in 2010 (631 yards in just over seven games) before breaking his leg and missing the rest of the season.
[+] Enlarge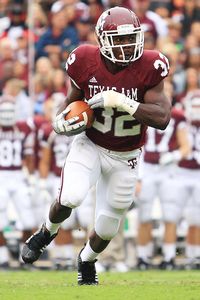 Thomas Campbell/US PresswireCyrus Gray piled up 938 yards and 10 touchdowns over the season's final seven games.
That's when
Cyrus Gray
took over, rushing for 938 yards and 10 touchdowns in the season's final seven games.
Both return. And that third running back? Whoever ends up earning the spot (this blogger casts his vote for
Mister Jones
), he'll have a lot to live up to.
Quarterback
Ryan Tannehill
has just six career starts, but he won five of them (all conference games, including wins over Nebraska and Oklahoma) and is throwing to one of the deepest receiving corps in the game today. Tannehill began his A&M career as a receiver and actually led the group in receiving in 2008 and 2009 before ceding to
Jeff Fuller
, who emerged as one of the nation's top receivers in 2010 with the first 1,000-yard season in Aggies history.
"He's on another level," Hunter said of Fuller's fall camp performance. "All of our receivers are."
Slot man
Ryan Swope
equaled Fuller's 72 receptions, amassing 825 yards and four touchdowns.
Uzoma Nwachukwu
, affectionately known as "Eazy," caught 36 passes for 407 yards and four scores.
Others such as
Kenric McNeal
and
Brandal Jackson
could be poised for big years and add even more depth to the squad.
"They're just multitalented guys. You can put them anywhere. You can put Jeff at the slot. You can put Ryan outside. Eazy. All our skill guys right now our interchangeable," Hunter said. "All our guys did punt returns and kick returns in high school, played quarterback or running back, and they all played so many different positions, that their skill sets aren't trapped at one position right now. They're interchangeable and can go at any position."
And for guys like Hunter, the additional plus for the Aggies is obvious.
"Playing in the Big 12 this year, they have a lot of talent year in and year out, and going against guys that can compete with the best of them will really help us this year," he said. "Especially as a secondary going against receivers like we have."
"They're so balanced," Hunter said. "I really can't even pinpoint one thing they do best. They just do everything so well."
June, 22, 2011
6/22/11
9:00
AM ET
The Big 12 might be weak at the top of the running back heap, but it's definitely not at receiver. The conference has at least three of the top five receivers in the country, and the top two. They highlight a very strong group of receivers across the league, and I continue our position rankings with receivers today.
Remember that depth plays a big part of these rankings. We'll be ranking the top 10 individuals at each position later on before the season begins.
Other position rankings:
1. Oklahoma
[+] Enlarge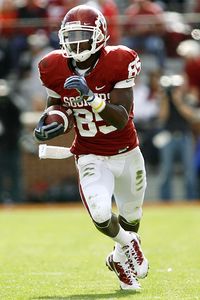 J.P. Wilson/Icon SMIRyan Broyles finished the 2010 season with 131 catches for 1,622 yards and 14 touchdowns.
The Sooners have the nation's No. 2 receiver,
Ryan Broyles
, but found a handful of others to surround him in 2010 and should have a couple more in 2011. Sophomore
Kenny Stills
broke Broyles' freshman receiving record and looks like a budding star.
Dejuan Miller
came on strong before a season-ending knee injury, but he's back. The Sooners lose
Cameron Kenney
, but
Trey Franks
had a strong freshman campaign, and freshmen
Justin McCay
(redshirt) and Trey Metoyer could provide even more playmakers.
2. Oklahoma State
The Cowboys boast the returning Biletnikoff Award winner and 2011 favorite,
Justin Blackmon
, with a great group around him, too. Slot machine
Josh Cooper
returns for his senior year, and fellow senior
Hubert Anyiam
(the team's leading receiver in 2009) is hoping to return to form after being slowed by an ankle injury in 2010.
Isaiah Anderson
is a shifty speedster, while
Michael Harrison
and
Tracy Moore
offer a more aerial approach to receiving.
3. Texas A&M
The Aggies have the Big 12's No. 3 receiver,
Jeff Fuller
, who is arguably one of the top-five in the college game. But they also have the Big 12's most experienced receiving unit, with guys who won't be surprised by anything they see in Big 12 play. Juniors
Ryan Swope
and
Uzoma Nwachukwu
are the team's second and third options, but fellow juniors
Kenric McNeal
and
Brandal Jackson
could be bigger pieces of the offense in 2011. Tight end
Nehemiah Hicks
should see his profile rise in his coming sophomore year.
4. Baylor
Top target
Kendall Wright
will likely end his career as the Bears' leading receiver for all four of his seasons on the field, and 6-foot-4, 220-pound junior
Josh Gordon
looks like the new Jeff Fuller.
Terrance Williams
,
Lanear Sampson
and Tevin Reese round out the Bears' top five, who all had at least 40 catches last season, and all return.
5. Missouri
Missouri still lacks a proven big-play threat, but has two pass-catchers who have some of the best hands in the game. Receiver
T.J. Moe
and tight end
Michael Egnew
won't drop many passes, and combined to catch 182 for 1,807 yards and 11 touchdowns.
Wes Kemp
and
Jerrell Jackson
bring a lot of experience and both had at least 39 catches last season. If
Marcus Lucas
or
Rolandis Woodland
can become a consistent downfield threat, Missouri will rise up these rankings by season's end.
6. Texas Tech
Tech's top two receivers,
Lyle Leong
and
Detron Lewis
, must be replaced, but the Red Raiders have a few solid candidates to do it. Junior
Alex Torres
will likely lead the group, but fellow junior
Austin Zouzalik
and seniors
Jacoby Franks
and
Tramain Swindall
will be counted on for more production. Dark horse/juco newcomer Marcus Kennard could blossom into a household name across the Big 12 by season's end.
7. Texas
Sophomore
Mike Davis
and redshirt freshman
Darius White
are loaded with potential, but two of the team's top three receivers (
James Kirkendoll
,
John Chiles
) are gone, and no Texas receiver caught more than two touchdowns last season.
Malcolm Williams
and
Marquise Goodwin
are as different as two receivers could be, but both need to break out to help whoever becomes the Longhorns quarterback next fall.
8. Kansas State
Brodrick Smith
will be back this season after breaking his leg in a loss to Nebraska. But two of the team's top three receivers are gone, leaving converted quarterback
Chris Harper
as the leading returner, though Smith might have held that title if he'd stayed healthy. Sophomore speedster
Tramaine Thompson
can make plays if he gets the ball with some space.
9. Iowa State
The Cyclones will be breaking in a new quarterback this season and they will need a playmaker to step up. Tight end
Collin Franklin
led team in receiving last season but he is now gone.
Darius Reynolds
looks like a possible candidate to fill the role, although incoming slot receiver Aaron Horne might rack up a few catches in space.
Darius Darks
and
Josh Lenz
should earn some more targets too.
10. Kansas
Converted defensive back Daymond Patterson is the team's top receiver, but the team's No. 3 receiver junior
Bradley McDougald
, moved to safety in the middle of the season. Tight end
Tim Biere
is one of the Big 12's best and led the team with four touchdowns last season.
Chris Omigie
and
D.J. Beshears
have some potential, and converted quarterback
Christian Matthews
keeps showing up in spring games. But all three, along with the rest of the group, would benefit from some consistency at the quarterback spot.
February, 11, 2011
2/11/11
4:00
PM ET
By
ESPN.com staff
| ESPN.com
Thanks for all the questions, as always.
Ben in Lincoln, Neb., asks:
David, After reading your
interview with Dan Beebe
, I was wondering what your initial thoughts were after it concluded. It seemed that he beat around the bush with almost every question and showed a true lack of any sort of plan. Also, as a fan of the Big 12 I am concerned that while there is so much talk about the conference aligning together, Texas and Oklahoma seem to be drifting farther and farther away. Did you get a sense of any confidence from the commissioner that this will work out, or do you share these same concerns?
David Ubben:
I would disagree with that assessment. I just think it's what he said it was: still in flux with an aim toward being decided in June. I didn't think he was evasive toward any questions, really.
The decision about what to do when it comes to high school games is an important one, but it'll be interesting to see what the decision-makers at Texas say about what they want to happen with it. My guess is this is one place the Longhorns will flex their muscles and get what they want. That's not going to help them gain any goodwill toward their conference brethren, but that's how I see it playing out. Getting high school games on their network isn't that important for football, in my opinion, but it would be enormous for the other sports.
As for the other decisions being made, the Big 12 needs to keep its name but get a new logo and re-brand itself a bit. And no, it
can't use this one
. And for the love, stay away from
anything that looks like this
. If it can come
anywhere near this
, it'll be a success.
---
Brian in Omaha, Neb., writes:
Nebraska supporters
against the move to the Big 10
? Really? And "supposedly" you have your finger on the pulse of the Big 12? Dave Ubben = Ubber ignorant. I suggest you quit making foolish comments on your blog, and stick with the real story.
DU:
Let me clarify that comment. I
tweeted about it yesterday
, but there was definitely a misunderstanding. In
our Q&A on the blog yesterday
, Adam asked me what
my reaction to the Huskers leaving
was. My response was that it was an unpopular one. By "it," I meant my reaction, not the Huskers' decision to leave. In hindsight, the way I worded it was a bit confusing, but clearly, just about everyone from Nebraska was strongly in favor of leaving for the Big Ten. I agree, though: You'd have to be ignorant to believe otherwise.
---
Travis in Murrieta, Calif., asks:
I know you get sick of possible expansion scenarios, too bad! With the success of the Texas franchise and ESPN do you think the conference will market that as a positive for future league memberships? Does it depend on what the other schools are able to muster? It seems to me that schools that already have a national following wanting to pursue individual media rights might look at the Big XII as attractive. For example, could you see Notre Dame and BYU taking advantage of the marketing, time zone, and scheduling opportunities?
DU:
That's actually an interesting sentiment regarding future expansion. Notre Dame has always been basically a pipe dream for the Big 12, but I wonder if the ability to make its own network, something the Big Ten Network wouldn't provide, is attractive at all. BYU already has one, of course, but it sounds like it's wanting to try this independence thing for awhile. Texas' new network could change a lot of things, and if it's wildly successful, it'll be fascinating to see what that does to the way Notre Dame sees its future if/when the realignment issue surfaces again.
---
Chris J in Houston, Texas, asks:
Mr. Ubben, I'm pretty jacked up about the football season for the Longhorns, with the new blood on the coaching staff and the talent that is returning and that has yet to be used and seeing how quickly the basketball program has turned it around, I see good things for 2011, am I being a little to optimistic and looking through burnt orange sun glasses?
DU:
It should definitely be a better year than 2010, but basketball isn't a great comparison. For one, Texas was still pretty good in 2009, and in hoops, it doesn't take nearly as many players to get the improvement it saw this year. Two guys don't change much on the football field. Everybody has to be better. I don't see Texas winning the Big 12 this year, but I do think it'll be a lot better and win somewhere between 8-10 games. We'll see once the Longhorns start up spring practice and progress to the fall. It's a bit too hard to tell right now before we see anything from the new coordinators and position coaches.
---
Jeremiah Godssavingpower in Gretna, Neb., asks:
How come you removed Nebraska from the side bar selection area?! Why do you hate Nebraska so much!
DU:
I'm not sure, but are you related to
Godspower Offor
?
---
GT Cat in Tonganoxie, Kan., asks:
Ubbs, without all of the Nebraska fans flooding your inbox, what are you going to do with all of your spare time? Create a 10 for 10 documentary on the remaining Big 12 teams? EMAW!
DU:
How did you find out about that? Quite the opposite, in fact. My latest film, Big Red Sea: Celebrating 100 years of Nebraska and its fans, should be in theaters later this year.
I can't let go!
---
Richard in Pensacola, Fla., asks:
With whom did Barry Sanders Jr. sign a letter of intent? Or was he even a HS senior this year? I know Ohio State was recruiting him.
DU:
He was actually a junior this year, but his recruitment should be an interesting story throughout 2011. He's one of the top running backs in the nation in the 2012 class, and Oklahoma State is the only school in the Big 12 still in his final four as of October. He's also reportedly narrowed it down to Alabama, Florida State and UCLA, but he said in December that nothing's set in stone.
---
Dave in Temple, Texas, asks:
Hi David,Do you think A&M QB recruit Johnny Manziel can contribute as a freshman (next year or a redshirt) in a WR role a la Tannehil? He only runs a 4.5, but he's got a sub-4 shuttle and he's smart (scored a 1550 on the SAT). At 6-1, 190, he's a little smaller than Tannehil, but he could be one of those crafty, shifty slot guys. Your thoughts?
DU:
That's an interesting sentiment, and it's one that Mike Sherman should be open to. Manziel, though, would benefit from it more than Texas A&M would. They have plenty of playmakers in the passing game and the running game, of course, so Manziel would have to outplay somebody like a
Brandal Jackson
, a guy with some experience, to see the field. You don't play him just to play him. He has to prove it and earn it, and show he's adjusted to the speed of the game. Tannehill, in addition to being the backup quarterback, was one of the Aggies' best receivers, too. Manziel hasn't proved anything yet. Whether he sees the field this year will probably be up to him, but he'll probably be in the quarterback competition in 2012 with
Jameill Showers
and
Matt Joeckel
.
---
Rob in Augusta, Ga., asks:
Love the blog, Mr. Ubben. But I wonder if you really buy the claim that
Collin Klein
is already out of the QB race at K-State and back at WR? Klein was impressive in the option & zone-read last season, and he brings good size and explosiveness (things you just can't coach) to the backfield, not to mention a huge head start on understanding the offense, so why wouldn't Snyder at least give him a chance to compete for the starting QB job this spring? Thanks! Rob
DU:
I'm not sure if I buy it 100 percent just yet, but it completely makes sense if it's true. Klein has pretty good athleticism and a nice ball fake on the zone read, but is he necessarily wowing anyone with his speed or elusiveness? I say no. Grading on the curve of mobile quarterbacks, it's pretty average if you ask me. Comparing him to
Carson Coffman
obviously meant he deserved some time to get on the field as a change of pace. As a passer, he didn't inspire a lot of confidence. That experience is nice, but you don't bring in junior college quarterbacks to be your backup. That's just unwise and not a great use of a scholarship, even if you do bring in juco guys by the busload like K-State.
If he has moved, my guess is it was a somewhat mutual decision at least. This way, he can become a better receiver and get work there for a unit that needs it. What if he spent all spring and fall camps competing for the job and then lost it? He'd have almost no work at receiver if he tried to switch positions. Seems like a bit of a waste, no?
October, 16, 2010
10/16/10
1:25
PM ET
COLLEGE STATION, Texas -- No breaking news here, but teams that convert third downs will score more often than those that don't. Neither team had one in the first quarter, but Missouri converted a pair on its latest scoring drive, a 12-play, 77-yard march to take a
13-0
lead.
Kicker Grant Ressel's first extra-point attempt was blocked.
Missouri converted the first third down with a nice catch by tight end
Michael Egnew
--his sixth of the day -- on third-and-1.
The Tigers gave themselves another third-and-1 later in the drive and running back
Kendial Lawrence
ran for four yards.
Missouri has outgained the Aggies 206-102, after a 28-yard completion from
Jerrod Johnson
to
Brandal Jackson
.
Johnson scrambled for a 15-yard gain in the first quarter that served as the longest run of the day for Texas A&M.
Christine Michael
has carried six times for 20 yards.
The Tigers' great start is exactly what they needed to try and snatch a Big 12 road win and move to 6-0.
Blaine Gabbert
is 18-of-25 for 172 yards and a score.
A&M reached Missouri territory with a lengthy drive highlighted by the Jackson catch, but the Tigers forced a punt with a timely third-down sack on Johnson that moved the Aggies to 2-of-8 on third down. Johnson is 5-of-16 for 67 yards.