October, 30, 2013
10/30/13
1:00
PM ET
NORMAN, Okla. -- The look of despair and disappointment on the face of Oklahoma center
Gabe Ikard
spoke volumes.
It's rare that a win over a Top 10 team feels so bittersweet.
[+] Enlarge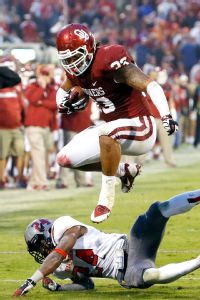 AP Photo/Sue OgrockiTrey Millard, who has played running back, fullback and tight end in his time at Oklahoma, has 13 career touchdowns.
Ikard was excited his team had just knocked off then-No. 10 Texas Tech, 38-30, last Saturday, yet the entire mood of the conversation changed when the senior was asked about the
season-ending injury
to fellow senior
Trey Millard
, who tore two knee ligaments -- including his ACL -- on special teams.
"My heart is just broken for him," Ikard said. "He's one of those guys who just loves the game, and for it to happen on something like getting rolled up on a kickoff, that's tough to swallow for everyone on this team."
It's heartbreaking because Millard returned for his senior season to finish his career with his teammates as a critical cog in the OU machine. His numbers --17 carries for 97 yards, 11 receptions for 78 yards and two touchdowns -- don't come close to representing his value. Millard often paved the way for an OU rushing offense that averages 234 rushing yards per game, and he has been the Sooners' top special teams player for the past three seasons, according to coach Bob Stoops.
"He's the best player on our football team," Ikard said. "He's the most versatile person on our football team. He's the heart and soul of this team, and he's one of the leaders."
Millard, who has played 48 career games for OU, had the ability to line up at fullback or tight end and excel during his four-year career.
"All you can say about Trey is he is the best in the country in doing what he does," offensive coordinator Josh Heupel said. "It's been that way for a long time. We're going to miss him. Other guys are going to have to step up and play well."
As the Sooners strive to play without Millard it will be like trying to hang a picture without a hammer. It's still doable but you'll have to get creative to find a way to get the job done and your task just got much more difficult.
One player won't be able to replace Millard. Tight end
Brannon Green
and fullback
Aaron Ripkowski
will be asked to fill the void on offense, with several candidates likely to fill his role on special teams. A huge portion of Millard's value was in his ability to do so many things, thus allowing the Sooners to adapt without changing personnel.
And, with Baylor looming next on OU's schedule, Millard's injury couldn't come at a worst time. The Sooners will undoubtedly try to control the ball against the Bears, leaning on its running game to help stop Baylor's high-powered attack by keeping
Bryce Petty
and
Lache Seastrunk
on the sidelines.
"We're going to miss him a lot," Ikard said. "We're going to have to make some serious adjustments on the offensive side of the football without No. 33 out there."
The Sooners have used two tight end formations, featuring Millard and Ripkowski, to have running success this season. After Millard was injured early in the fourth quarter, OU used Green and Ripkowski in those two tight end formations and had success with 16 fourth-quarter rushes for 81 yards (5.06 yards per carry) against the Red Raiders.
Even with that success, Stoops isn't looking forward to the task of replacing Millard.
"That's tough because Trey is so versatile," Stoops said. "We don't have anybody else like that nor does anybody else. He's pretty unique."
May, 13, 2013
5/13/13
11:00
AM ET
NORMAN, Okla. -- In Bob Stoops' first season in 1999, Oklahoma spread everyone out and threw it around.
In 2004, the Sooners put Jason White under center and handed off to Adrian Peterson.
As Stoops pointed out last week, the Sooners have often "played to their personnel." That includes last season, when, after it became abundantly clear the Sooners' fourth-best receiver was better than any tight end, OU went almost exclusively with four-wide formations.
[+] Enlarge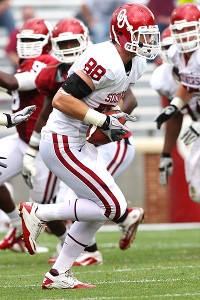 J.P. Wilson/Icon SMIThe Sooners need redshirt freshman Taylor McNamara to become a passing-game threat in 2013.
"We had some young [tight ends], a new guy from junior college," Stoops said. "We weren't the same with them on the field. Our best grouping was with wide receivers, which was quite obvious to anybody who watched us."
In recent weeks, the Sooners have taken criticism from ESPN analysts Trent Dilfer and Jon Gruden for not using tight ends. They say it put too much pressure on quarterback Landry Jones to throw the ball downfield.
In several OU victories, Jones' arm was good enough to overcome the limitations of not having a tight end checking off a route underneath the coverage, streaking down the middle of the field or helping to block in the run game.
But in the Sooners' three 2012 losses, not having a tight end came back to haunt them, as OU was unable to maintain balance with the run or attack the Kansas State, Notre Dame and Texas A&M defenses off play-action.
The OU coaching staff recognized this liability and tried to lure another junior-college tight end to Norman before signing day. But after losing out on
Beau Sandland
and
Emmanuel Bibbs
-- the two juco tight ends they thought could provide an immediate impact -- the Sooners were forced to go with what they have.
Only this time, they won't have Jones' arm to fall back on. To be successful in 2013, the Sooners will have to run the ball with better efficiency. And they'll have to also be lethal with play-action. Which means
Sam Grant
,
Taylor McNamara
and
Brannon Green
, whom the Sooners deemed weren't ready last year, had better be ready to play this time around.
"I feel much better about it," Stoops said. "The two freshmen [Grant and McNamara] have come along, are stronger blockers, have a stronger presence about what they're trying to do. Same thing with Brannon Green, more experience in what we want him to do.
"I believe they'll have more opportunities."
Despite losing Kenny Stills and Justin Brown, the Sooners figure to be strong at wideout again.
Jalen Saunders
and
Sterling Shepard
should be prolific, and
Trey Metoyer
,
Durron Neal
,
Dannon Cavil
,
Jaz Reynolds
and others have big-play ability. But as OU transitions to an offense more reliant on the ground game -- as well as the running ability of its inexperienced quarterbacks -- tight end play will be paramount.
It's no coincidence that when the Sooners have run the ball best, they've had stellar tight end play.
Quentin Griffin
had
Trent Smith
.
Chris Brown and
DeMarco Murray
had
Brody Eldridge
and
Jermaine Gresham
.
Even
Adrian Peterson
had James "Bubba" Moses and Joe Jon Finley.
Stoops says he likes what he saw from the tight ends in the spring. After redshirting last year, Grant showed promise as a blocking specialist. McNamara has put on weight and is finally healthy after undergoing shoulder surgery last season, then tweaking a hamstring after being cleared for spring ball. Green has come along, too.
They'll never be confused with the 2007 tight end grouping of Gresham, Eldridge and Finley. But if they can be just solid enough to be used, that might be adequate.
The Sooners are always going to play to their personnel. But OU has always been better when the tight ends are included.
January, 15, 2013
1/15/13
1:00
PM ET
We're grading each Big 12 team's season right now, and we'll move on to the next team on the list: The
Oklahoma Sooners
.

OFFENSE:
The year got off to a rocky start out in El Paso, with the Sooners needing late touchdowns from
Brannon Green
and
Damien Williams
to break away from a near upset to the Miners. After another ugly game against Kansas State full of costly turnovers, the Sooners hit their stride. It all started with 41 points on the road against Texas Tech in a stadium the Sooners historically struggled in, but a 63-point outburst in the Red River Rivalry had Oklahoma fans thinking big again.
Landry Jones
was still continually unappreciated, but he helped win shootouts down the stretch against Baylor, Oklahoma State and West Virginia, and carried the Sooners in a tough game against TCU. The streakiness hit a bad spot in the Cotton Bowl loss to Texas A&M, which costs them in my grade. The running game was OK, but not outstanding outside of some long runs from Williams, but credit Jones for developing chemistry with a whole new unit of receivers. This was a gutsy finish from the offensive line, too, which dealt with a ton of injuries this year.
Lane Johnson
,
Gabe Ikard
and
Ty Darlington
all played well down the stretch.
GRADE: A-
DEFENSE:
The memories of 500-yard outings from
Tavon Austin
and
Johnny Manziel
are fresh in their minds, but this defense wasn't as awful as some believed. The linebackers were quiet this year in Mike Stoops' well-publicized scheme that stressed gap responsibility and freed up
Tony Jefferson
to make well over 100 tackles and leave for the NFL. Before Nov. 10, Oklahoma had given up more than 24 points just one time, and that team (Notre Dame) played for the national title. The end of the season wasn't as rosy, and the Sooners gave up 34, 49, 48 and 41 points. It was a bad finish, but Oklahoma did fix its problems stopping the deep ball from last year. That's something, and it helped Oklahoma win eight consecutive Big 12 games, which is no small feat.
GRADE: B
OVERALL:
Bob Stoops has gone a postseason crusade making it clear mediocrity isn't enough, but this really is a tough balance. Oklahoma's won 10 games in three consecutive seasons after a disappointing eight-win campaign in 2009, and won at least a share of a Big 12 title in two of the last three seasons. Oklahoma hasn't been to the BCS since the 2010 season, but they've won a whole bunch of games, just not enough to come anywhere close to the national championship game, which Stoops set as a standard early in his coaching tenure in Norman. Oklahoma's season ended ugly, but all three losses were to teams in the top 11 this year, and A&M might have been the hottest team in the country to close the year. This was an unsatisfying year in Norman, but how unsatisfied can you really be with a share of the Big 12 title?
GRADE: B+
More Big 12 report cards:
September, 6, 2012
9/06/12
12:00
PM ET
Except Hurricanes
are
real, muchacho.
April, 12, 2012
4/12/12
11:05
AM ET
There were times last December when it appeared Oklahoma might have to run four- or five-receiver sets for the majority of the 2012 season.
The Sooners' tight end depth had been crippled during the 2011 season. James Hanna and Trent Ratterree were about to complete their eligibility in the Insight Bowl, Austin Haywood had left the team, and an injury forced Max Stevenson to leave the program. Those departures left no scholarship tight ends on the roster.
Now, heading into the spring game, there's depth and optimism at the position.
[+] Enlarge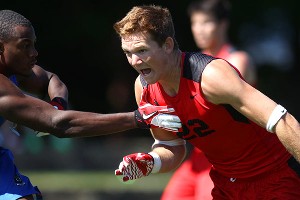 Tom Hauck for ESPN.comFreshman tight end Taylor McNamara should be a contributor for the Sooners in the fall.
Tight ends
Brannon "Moose" Green
and
Taylor MaNamara
appear poised to help the Sooners this fall after enrolling in January.
"For both of them to be here for a few months, they've done a wonderful job," safety Tony Jefferson said. "They both have phenomenal hands."
Green, a junior college transfer, has made the easiest transition into the program because of his experience at Fort Scott (Kan.) Community College. The best blocker of the two, at 6-foot-4, 260 pounds, Green should make an immediate impact in short-yardage and goal-line situations.
"He's more of the physical, edge-presence guy," tight ends coach Bruce Kittle said. "He's not quite as fluid as Taylor is, but he has a great set of hands. He's very predicable with his routes, he runs pretty good routes, and when he does get open, he catches the ball."
While Green has proven to be more experienced and ready to play this spring, McNamara has the potential to be a factor in OU's passing attack if he continues to improve.
"He's got a ways to mature," Kittle said. "It's hard. You get punched in the face twice, on separate plays, and thrown on your back by David King ... the world is not a very nice place here some days. But you have to pick yourself up and fight through that. He keeps responding, keeps coming back."
It's been a rough transition for McNamara as homesickness and getting used to college life has been difficult. The early enrollee was a four-star recruit on ESPN after starring at San Diego, Calif./Westview, and picked the Sooners because he recognized the opportunity to play early and compete for championships.
"It's quite an adjustment moving from San Diego," Kittle said. "A couple of weeks ago he came in and said, 'You know, I finally stopped hating OU this week.' I didn't know he hated it, but I knew it was pretty overwhelming for him."
Homesickness aside, McNamara has shown flashes of the pass-catching ability that made him one of the top prep tight ends in the nation last season.
"He's very fluid in open space, he's a very good athlete," Kittle said. "He's holding his own."
Kittle hopes McNamara can gain 10 pounds -- "he needs to get stronger," the coach says -- during the summer so he can enter fall camp at 6-foot-5, 245 pounds. Even though he has struggled with the transition to college football, McNamara has shown enough talent to make an impact in 2012.
"He was a guy who was committed to coming in early and trying to give himself an advantage," Kittle said. "It's important to him, he wants to play and he's going to be one of the guys in the rotation, playing for us this fall."
March, 5, 2012
3/05/12
11:00
AM ET
Oklahoma will be the fourth Big 12 team (TCU, Texas, Texas Tech) to open spring camp when practice begins later Monday.
Here's a closer look and an idea of what to watch for.

Schedule:
Oklahoma kicks off the first of its NCAA-allowed 15 practices Monday, leading up to the spring game on April 14. Practices are closed to fans and media.
What's new:
The Sooners made the biggest Big 12 offseason acquisition when they brought back Mike Stoops as co-defensive coordinator. He dropped the "co-" after longtime coordinator Brent Venables took the DC job at Clemson after 13 years on Bob Stoops' staff in Norman. The Sooners will miss his presence, but hopes are high that Stoops can revitalize an Oklahoma defense that paved the way for the Sooners' last national title back in 2000, coordinated by none other than Stoops. He was fired by Arizona in the middle of the 2011 season, his eighth at Arizona.
New faces:
Stoops is obvious, but Oklahoma is also welcoming six freshman or junior college transfers this spring to get practice time in before the 2012 season. Tight end Taylor McNamara and 2011 signee
Trey Metoyer
highlight the group. McNamara was the nation's No. 2 tight end and Metoyer was the nation's No. 8 receiver and No. 51 overall prospect in the 2011 class. He enrolled in military school after failing to qualify last fall, and could help boost a receiving corps in need of reinforcements. Junior college transfers Kass (pronounced "KAHss") Everett, Brannon Green and Chaz Nelson join 2011 signee Jordan Wade on campus this spring, too. Tight ends McNamara and Green should have some impact. Oklahoma returns no tight ends from its 2011 team, thanks to injuries and player exits.
Big shoes to fill:
Kenny Stills
.
Ryan Broyles
tore his ACL late last season, and the Sooners' receivers disappointed in the absence of the FBS all-time leader for receptions. The offense was punchless in an embarrassing blowout loss to Oklahoma State with the Big 12 title on the line. Especially without Jaz Reynolds (kidney) this spring, Stills need to prove he can be a reliable, top-tier receiver for Oklahoma's Big 12 title dreams to come true in 2012.
On the move:
Safety
Tony Jefferson
. How will Jefferson be used in Stoops' defensive scheme? It's a big question for the Sooners. Jefferson's one of the team's most talented players, but he moved around a lot in 2011, seeing time at nickel back and moving to traditional safety after
Javon Harris
had some high-profile struggles in the loss to Baylor. Jefferson can play and excel at both spots. What the rest of OU's defense looks like depends on where he plays.
Question marks:
What does OU's running back spot look like?
Dominique Whaley
is still rehabbing after breaking his ankle midseason, an injury that birthed the Belldozer formation. Backup quarterback
Blake Bell
rushed for 13 touchdowns in the second half of the season, but look for Oklahoma to try and find a way to run between the tackles more traditionally this spring. Who can be the man?
Brennan Clay
,
Roy Finch
and
Danzel Williams
are the only healthy scholarship running backs for the Sooners. Will we see fullback
Trey Millard
get some run, too?
All eyes on:
The defense. Quarterback
Landry Jones
actually played well in a loss to Baylor, but Oklahoma's defense was clearly the weak link in losses to Texas Tech, Baylor and Oklahoma State that turned a year with national title aspirations into an average 10-3 season that finished in the Insight Bowl. The defense played well in the bowl win over Iowa, but Iowa's offense is nothing like what awaits the Sooners in the always-dangerous Big 12. Mike Stoops' work is cut out for him.