February, 5, 2015
Feb 5
4:00
PM ET
Evaluating recruits is an inexact science. From every class, five-star prospects become busts; two-star signees turn into All-Americans.
But as an exercise, I've compiled below what an All-Big 12 team would look like based solely on ESPN RecruitingNation rankings -- even though the actual All-Big 12 teams down the road are sure to look very different (jucos not included):
OFFENSE
QB:
Jarrett Stidham
, Baylor (No. 2 QB-DT)
RB:
Chris Warren, Texas (No. 9 RB)
RB:
Tristian Houston
, Texas (No. 20 RB)
WR:
Jovon Durante
, West Virginia (No. 13 WR)
WR:
Ryan Newsome
, Texas (No. 22 WR)
WR:
John Humphrey
, Oklahoma (No. 23 WR)
TE:
Devonaire Clarington
, Texas (No. 1 TE-H)
OT:
Bobby Evans
, Oklahoma (No. 16 OT)
OG:
Patrick Vahe
, Texas (No. 12 OG)
C:
Jozie Milton
, TCU (No. 8 C)
OG:
Conner Dyer
, Texas Tech (No. 31 OG)
OT:
Madison Akamnonu
, Texas Tech (No. 28 OT)
AP:
DeAndre McNeal
, Texas (No. 28 ATH)
DEFENSE
DE:
Ricky DeBerry
, Oklahoma (No. 14 DE)
DT:
Breiden Fehoko
, Texas Tech (No. 10 DT)
DT:
Neville Gallimore
, Oklahoma (No. 16 DT)
DE:
Louis Brown
, Oklahoma State (No. 23 ATH)
OLB:
Malik Jefferson
, Texas (No. 3 OLB)
ILB:
Anthony Wheeler
, Texas (No. 3 ILB)
ILB:
De'Amontae Jackson
, Iowa State (No. 19 ILB)
OLB:
Cameron Townsend
, Texas (No. 17 OLB)
CB:
P.J. Mbanasor
, Oklahoma (No. 6 CB)
CB:
Holton Hill
, Texas (No. 14 CB)
S:
DeShon Elliott
, Texas (No. 5 S)
S:
Will Sunderland
, Oklahoma (No. 17 S)
Best players at each position who didn't make the cut:
QB:
John Kolar
, Oklahoma State (No. 3 QB-PP)
RB:
Ja'Mycal Hasty
, Baylor (No. 21 RB)
WR:
John Burt
, Texas (No. 25 WR)
TE:
Stone Wolfley
, West Virginia (No. 16 TE-Y)
OT:
Johnny Wilson
, Oklahoma State (No. 34 OT)
OG:
Vaimoe Sekona
, Oklahoma State (No. 37 OG)
C:
Cody Wheeler
, Texas Tech (No. 14 C)
AP:
Blake Lynch
, Baylor (No. 30 ATH)
DE:
Gabriel Campbell, Oklahoma (No. 27 DE)
DT:
Marquise Overton
, Oklahoma (No. 20 DT)
OLB:
Reggie Walker
, Kansas State (No. 54 OLB)
ILB:
Cecil Cherry
, Texas (No. 20 ILB)
CB:
Tyrek Cole
, West Virginia (No. 19 CB)
S:
Jamile Johnson
, Texas Tech (No. 19 S)
A few observations:
Everyone relax. Again, this is not a personal projection. It's based solely on the ESPN RecruitingNation evaluations and rankings. Some will be right. Some will be wrong. OK, you can all breathe again.
The teams above underscore how dominant the defensive classes from Texas and Oklahoma were. The Longhorns landed the league's two best linebackers in Malik Jefferson and Anthony Wheeler, and its best safety in DeShon Elliott. Bob Stoops, meanwhile, called this the best secondary class the Sooners had signed in his tenure, and it's difficult to argue with Oklahoma bringing in a pair of blue-chippers in P.J. Mbanasor and Will Sunderland. Both Red River rivals have difference-makers coming in at every level. It will be interesting to watch how they all develop.
Oklahoma State and Texas Tech quietly put together a pair of noteworthy classes up front. Besides loading up on transfer offensive linemen, the Cowboys signed two of the Big 12's best high school blockers in Johnny Wilson and Vaimoe Sekona. On the other side, Louis Brown is a little raw, but he has the athleticism to be a big-time playmaking defensive end down the line. In Lubbock, Madison Akamnonu and Conner Dyer have the chance to be cornerstones for future Tech offensive lines. The Red Raiders also scored a potential stud up front defensively in tackle Breiden Fehoko. Both the Cowboys and Red Raiders successfully beefed up their trenches, after enduring major struggles last year (OSU offensively, Tech defensively).
Once again, Baylor and West Virginia are two of the leaders in incoming skill talent. Jovon Durante is top-rated receiving coming into the Big 12 and has a chance to help the Mountaineers in 2015 at a position of need. Also watch out for his Miramar, Florida, cohort, cornerback Tyrek Cole, who will be joining a potentially loaded West Virginia secondary. Baylor signed the league's top QB in Jarrett Stidham, one of its top-three running backs in Ja'Mycal Hasty and a dynamic receiver in Blake Lynch. Once again, neither the Bears nor the Mountaineers will be lacking firepower.
TCU doesn't show up much on the above teams, but last season's 12-1 record will have a much bigger effect on the Class of 2016. In fact, it already has. The Horned Frogs are off to a phenomenal start on next year's class with eight 2016 commits already on board, including four in the ESPN Junior 300.
February, 3, 2015
Feb 3
11:00
AM ET
Every signing day there are recruits that are overshadowed by other members of their recruiting class for various reasons. Some prospects unshaken commitments to their schools keeps them off the radar while other prospects are overlooked because of the other talent on their school's commit list or other headline names in the region.
Here's a look at five overlooked commitments who could end up outshining the recruits who will be the talk of the town on Wednesday.
Norman (Oklahoma) North quarterback John Kolar
Committed to Oklahoma State
Rank:
No. 72 in ESPN 300
Why he's overshadowed:
Because he wants to be. Kolar didn't make an event out of his recruitment. He picked OSU in March and went through the remainder of the recruiting cycle without even a murmur about any indecision.
Why he could make a big impact:
With sophomore-to-be
Mason Rudolph
standing between him and major playing time, an immediate impact from Kolar is unlikely. Yet, he's the No. 3-ranked pocket passer in the nation with the ability to become a star in the Cowboys offense. Other ESPN 300 prospects like Baylor signee
Jarrett Stidham
and Texas signee
Malik Jefferson
have gotten the headlines, but Kolar could have as big an impact during his career as any player in the Class of 2015.
Longview (Texas) running back Ja'Mycal Hasty
Committed to Baylor
Rank:
No. 262 in ESPN 300
Why he's overshadowed:
Hasty is looking up at 20 running backs in the RecruitingNation rankings, yet he has the potential to be as productive as any of those higher-ranked players, particularly in Art Briles' offense. In addition, Hasty picked Baylor early in the recruiting cycle while other in-state running backs became household names while taking their time making a choice.
Why he could make a big impact:
Hasty combines terrific open-field ability with excellent speed. He could be a major headache when combined with the Bears' exceptional receivers and talented quarterbacks with his quickness and big-play ability.
Honolulu (Hawaii) Farrington defensive tackle Breiden Fehoko
Signed with Texas Tech
Rank:
No. 51 in ESPN 300
Why he's overshadowed:
Fehoko would have been a household name if he played his high school football in Texas, and his unwavering commitment to Texas Tech didn't spark the speculation that makes elite prospects become "program saviors" in the eyes of fan bases. He's highly-regarded by recruiting analysts and college programs alike, but he hasn't gotten the attention of other ESPN 300 recruits like Texas'
Malik Jefferson
or Oklahoma's
PJ Mbanasor
.
Why he could make a big impact:
His talent is unquestioned, and the Red Raiders would love to have an anchor to build their revamped defense around. It wouldn't be a shock to see Fehoko become one of the Big 12's top defenders, and Tech needs that type of impact defender if the Red Raiders hope to turn things around under Kliff Kingsbury.
Lakeland (Florida) Victory Christian linebacker Cecil Cherry
Committed to Texas
Rank:
No. 20 inside linebacker, No. 105 in Florida
Why he's overshadowed:
The Longhorns have three ESPN 300 linebackers on their commit list, making it easy to overlook Cherry. Alabama, Ohio State and Auburn join Texas on his offer list, a sign of his supreme talent. But Jefferson,
Cameron Townsend
and
Anthony Wheeler
will garner the bulk of the headlines on Wednesday.
Why he could make a big impact:
Cherry looks like a ideal prospect for Charlie Strong's defense. He's athletic, aggressive and will bring a physical presence to the field. Cherry has the talent to end up being as good as any Big 12 linebacker signed on Wednesday.
Stone Mountain (Georgia) Stephenson receiver Isaiah Zuber
Committed to Kansas State
Rank:
No. 124 in Georgia, No. 161 receiver
Why he's overshadowed:
Georgia is a talent-rich state, making it easy for a talent like Zuber to be overlooked. A three-star prospect who picked KSU over offers from Virginia Tech, Boston College and others, Zuber could become a key playmaker in the Wildcats' offense.
Why he could make a big impact:
Zuber doesn't bring exceptional size or blazing speed to the table. But his quickness is a major asset, and the Wildcats have a habit of finding quality receiving prospects who might not have the ideal measurable, but can be developed into productive playmakers.
February, 3, 2015
Feb 3
10:00
AM ET
National signing day is almost nigh. A day for college football fans to get excited.
With that in mind, below is a breakdown of the most exciting piece of each Big 12 recruiting class heading into the big day:
Baylor
What to get excited about
: A stud quarterback
The player
: QB
Jarrett Stidham
The skinny
: Stidham is the No. 2 dual-threat quarterback in the country, who originally committed to Texas Tech before signing with the Bears. He is already on campus and primed to challenge
Seth Russell
for the starting job vacated by
Bryce Petty
. Either way, Art Briles has yet another quarterback prospect who could be special in time.
Iowa State
What to get excited about
: Juco defensive reinforcements
The players
: DT
Demond Tucker
, CB Jomal Wiltz, S Jarnor Jones, DT Bobby Leath
The skinny
: After ranking 128th out of 128 teams this past season in total defense, the Cyclones went out and picked up a quartet of junior-college defenders who could step in and help right away. Tucker, an ESPN Junior College 50 prospect, and Wiltz are already on campus and could secure starting jobs before the end of the spring. Once he arrives, Leath could team with Tucker to solidfy a tackle rotation that was undermanned last season.
Kansas
What to get excited about
: The Lone Star State influx
The players
: DE Dorance Armstrong, WR Jeremiah Booker, OG
Aaron Garza
, WR Emmanuel Moore, WR Steven Sims, CB Shaquille Richmond, RB
Taylor Martin
, WR Chase Harrell, CB Shola Ayinde, OLB Osaze Ogbebor
The skinny
: The Jayhawks hired David Beaty in part because of his recruiting ties to the state of Texas. Beaty wasted no time putting those connections into play, giving the Jayhawks 10 commitments from high school Texans heading into signing day. Beaty also signed six more junior-college players from the Lone Star State. If he can keep those Texas waves coming, Kansas' talent pool has a chance to rapidly improve.
Kansas State
What to get excited about
: The potential backfield of the future
The players
: RB Alex Barnes, QB
Alex Delton
The skinny
: Barnes, the No. 2 prospect from the Sunflower State, rushed for more than 2,300 rushing yards and 36 touchdowns as a high school senior. Delton, a three-star dual-threat quarterback, was the first to commit to this K-State class. The Wildcats have holes at both quarterback and running back heading into the spring, and the two are already on campus and set to participate. Even if they don't contribute immediately, Delton and Barnes could become the heart and soul of the K-State backfield in time.
Oklahoma
What to get excited about
: Wide receiver help
The players
: WR
John Humphrey Jr
., WR
DeDe Westbrook
The skinny
: Oklahoma's passing attack went downhill after
Sterling Shepard
suffered a groin injury that hampered him the second half of the season. Shepard could have more help in 2015 with the arrival of Humphrey and Westbrook, who are already in Norman. Westbrook, an ESPN JC 50 signee, is reportedly already turning heads. Humphrey is an ESPN 300 prospect who picked the Sooners over Notre Dame. Both receivers could elevate Oklahoma's receiving corps and ease the pressure off Shepard as the Sooners transition into Lincoln Riley's air raid offense.
Oklahoma State
What to get excited about
: The defensive linemen
The players
: DE
Louis Brown
, DT
Darrion Daniels
, DT Motekiai Maile, DT Taaj Bakari
The skinny
: Last year, the Cowboys loaded up with a strong linebacker class. This year, Oklahoma State successfully focused its efforts up front. Daniels, a four-star pickup, and Maile, an ESPN JC 50 prospect, offer immediate impact in the middle, which the Cowboys need with
James Castleman
and
Ofa Hautau
both graduating. Brown, an ESPN 300 commit, has the range and athleticism to develop into a playmaking end. The combination of the last two classes could translate into Oklahoma State becoming a load up front defensively for years to come.
TCU
What to get excited about
: A shutdown corner
The player
: CB
DeShawn Raymond
The skinny
: From
Jason Verrett
to
Kevin White
, the Horned Frogs have featured some of the best cornerbacks in the Big 12 since joining the conference. They could have another lock-down pass-defender on the way in Raymond, a four-star addition who had offers from Florida State, Georgia and LSU. TCU has other replacement options for White. But Raymond has the ability to be a factor for the Frogs in 2015, and certainly beyond.
Texas
What to get excited about
: The defensive star power
The players
: OLB
Malik Jefferson
, ILB
Anthony Wheeler
, S
DeShon Elliott
, CB
Holton Hill
, CB
Kris Boyd
, OLB
Cameron Townsend
, S
Davante Davis
The skinny
: Charlie Strong has put together one of the strongest defensive classes in the country with seven ESPN 300 recruits on that side of the ball alone. The Longhorns might not be done, either, with five-star defensive tackle
Daylon Mack
still strongly considering signing with Texas. This class could be the foundation of a future fearsome Texas defense.
Texas Tech
What to get excited about
: A big-time defensive tackle
The player
: DT
Breiden Fehoko
The skinny
: The Red Raiders had one of the worst run defenses in the country last year, but help is on the way in Fehoko, who as the No. 51 overall recruit in the country chose Tech over the likes of Oregon and Alabama. At 6-foot-3, 290 pounds, Fehoko has physical maturity already to impact the Red Raiders in 2015, and develop into a game-changing defensive lineman down the line.
West Virginia
What to get excited about
: The Miramar trio
The players
: WR
Jovon Durante
, CB
Tyrek Cole
, WR
Kahlil Lewis
The skinny
: Miramar (Fla.) High School is the West Virginia pipeline that keeps giving. The same school that sent
Geno Smith
and
Stedman Bailey
to West Virginia is sending three more blue-chippers to Morgantown. Durante and Cole are ESPN 300 prospects. Lewis was hotly pursued, too, with offers from Miami, Ohio State and Nebraska. All three have a chance to help the Mountaineers as soon as next season.
January, 14, 2015
Jan 14
10:45
AM ET
Big 12 programs have always been big believers of using players that can enroll at midterm and can make a big impact in their program, starting in spring practices. Whether it be through the junior-college ranks or through high school players that are ready to step on the field from Day 1, there will be plenty of fresh faces that do big things in the league early on. Here is a look at five Big 12 early enrollees:


January, 14, 2015
Jan 14
9:00
AM ET
With signing day a few weeks away, early enrollees already on campus and the national championship game in the books, which teams are reloading with talent that can hit the field and make an immediate impact?
Here are 10 committed prospect who have the chance to contribute early and often in the 2015 season:
To continue reading this article you must be an Insider
November, 17, 2014
11/17/14
1:00
PM ET
Here is what's happening on the recruiting trail around the Big 12 this week:
BAYLOR
Total commits:
12
ESPN 300 commits:
3
The latest:
As if Wide Receiver U needed any more help, the Bears appear to have found a stud for their 2016 class. Navasota (Texas) junior receiver
Tren'Davian Dickson
, who committed to Baylor in July, recorded 230 receiving yards and four touchdown receptions this weekend, extending his season TD total to 28.
IOWA STATE
Total commits:
11
ESPN 300 commits:
0
The latest:
It's been a tough month so far for the Cyclones' recruiting class after junior college recruits
Xavier Pegues
,
Tristan Nickelson
and
Larry Jefferson
each backed out of their pledges. Those departures don't mean this class is falling apart, but it's a reminder that Iowa State might have to fight to keep some of its recruits who could be hearing from other schools.
KANSAS
Total commits:
14
ESPN 300 commits:
0
The latest:
Junior college athlete
Cory Butler
flipped from Utah to Kansas this summer. He went back to Utah last week, committing to the Utes after taking an official visit. Butler could've been a receiver or defensive back for Kansas out of Los Angeles Harbor College, but he says he'll play cornerback at Utah.
KANSAS STATE
Total commits
: 13
ESPN 300 commits:
0
The latest:
Kansas State is one of the many programs lining up to get an official visit from big-time junior college receiver
Dede Westbrook
. He visited Oklahoma State on Saturday, says he'll be at Oklahoma this upcoming weekend and is scheduled to visit Manhattan on Nov. 28.
OKLAHOMA
Total commits:
14
ESPN 300 commits:
6
The latest:
Oklahoma is one of the many schools pushing to land ESPN 300 linebacker
Darrin Kirkland Jr
. after he decommitted from Michigan this month. After taking his official visit to Norman last week, his next trip is expected to be to Tennessee. Getting the linebacker from Indianapolis on campus was huge, but Oklahoma is in for a fight to land him.
OKLAHOMA STATE
Total commits:
15
ESPN 300 commits:
4
The latest
: Oklahoma State's brutal offensive line play has a lot to do with its current four-game losing streak, but the good news is help is on the way. The Pokes still have five offensive linemen committed for 2015, including juco tackles
Brandon Pertile
and
Deya Mhiesen
, who could help immediately. And despite their slide on the field this season, Oklahoma State has yet to take any hits to its recruiting class.
TCU
Total commits:
17
ESPN 300 commits:
0
The latest:
The Horned Frogs are making an effort to get back in the mix with ESPN 300 receiver
Ryan Newsome
. The 5-foot-8 speedster and elite returner has taken visits to Ole Miss, Tennessee, Oklahoma and UCLA recently, but is still considering Texas and the possibility to staying close to home.
TEXAS
Total commits:
18
ESPN 300 commits:
9
The latest:
Three big-time commits --
Toby Weathersby
,
DeShon Elliott
and
Du'Vonta Lampkin
-- took a visit to Texas A&M this weekend, but they remain committed to Texas. The Longhorns' top recruiting target,
Malik Jefferson
, was also on an official visit to watch A&M's rain-drenched 34-27 loss to Missouri.
TEXAS TECH
Total commits:
14
ESPN 300 commits
: 5
The latest:
Despite the loss to Oklahoma, Texas Tech had a big-time recruiting weekend for its home finale. Early signee
Breiden Fehoko
made the trip from Hawaii along with ESPN 300 guard
Fred Ulu-Perry Jr
., a UCLA commit. The Red Raiders also got the final official visit of four-star safety
Kahlil Haughton
.
WEST VIRGINIA
Total commits:
22
ESPN 300 commits
: 3
The latest:
The Mountaineers get a great opportunity to win over some recruits with their home game Thursday night against Kansas State. Two ESPN Junior 300 recruits, defensive end
Rahshaun Smith
receiver
Steven Smothers
, are expected to be in attendance. Considering how critical the state of Maryland is to West Virginia's recruiting efforts, getting two of that state's best for 2016 in town would be huge.
August, 28, 2014
8/28/14
9:30
AM ET
LUBBOCK, Texas -- One of Lubbock's most popular families walked around the Jones AT&T Stadium field in April like they'd been there forever. But this was their first time back in almost three years.
The leaders of the Fehoko clan, Vili and Linda, passed out prizes from stuffed-full bags: Hand-woven headbands made of coconut leaves -- from their culture's "tree of life" -- for each and every Texas Tech player after the spring game. Then fans started lining to snag one of the more than 150 headpieces, even offering to pay.
You can't put a price on what the Fehokos were bringing back to Lubbock that day.
[+] Enlarge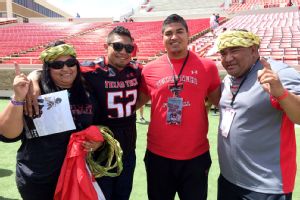 Max Olson/ESPNThe Fehoko family -- Linda, Sam, Breiden and Vili -- are back rooting for Texas Tech.
Their son Sam Fehoko, a Mike Leach-era linebacker known for his fiery spirit and game day war paint, had made the family from Honolulu a fan favorite. Now they're back, and they'll be Lubbock regulars for the next few years.
Sam's brother, V.J. Fehoko, transferred from Utah for his senior year and will start at Will linebacker for Tech. And their youngest brother,
Breiden Fehoko
, is an ESPN 300 recruit who recently signed financial aid papers to officially join the Red Raiders in January.
"The people around here welcome you with open arms, just like the people of Hawaii do," Sam Fehoko said. "It's amazing to me. That's why I came here. I love the city of Lubbock, and I know the city loves the Fehokos."
For Sam, a homecoming was overdue. He left the program early in his senior season of 2011, during ex-coach Tommy Tuberville's first year, and tried to make it in the NFL. After two years away, he returned to Tech last fall to finish his undergrad degree.
"From the time I set foot back here in Lubbock, it was amazing," he said. "With Coach Kliff Kingsbury here, he knows exactly how to relate to people. He's such a people person. You feel this energy come off of him. I was watching the team and watching the culture and this new Texas Tech brand. I fell in love with it again. I fell in love with Texas Tech."
V.J. took notice. He won't discuss why he left Utah, but he hadn't forgotten about Tech. He'd given a silent commitment to Leach during his recruitment in 2009 but had to change plans upon the coach's firing.
"Coming back was kind of destiny, in a way," V.J. Fehoko said. "It's sort of full circle."
When he joined Sam in Lubbock this January, V.J. asked his brother for a crash course on Big 12 defense. The Pac-12 prepared him for high-speed offenses, but he's still learned plenty in the past eight months. Like Sam, he quickly took a liking to the Red Raiders' new leader.
"My goodness, man, Kliff Kingsbury, you can quote me on this: Best head coach in college football," V.J. said. "He's sort of like an older brother to you."
[+] Enlarge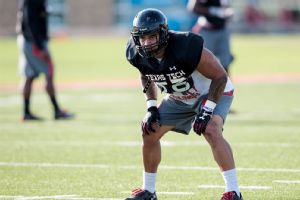 Courtesy of Texas Tech Athletics V.J. Fehoko, who transferred from Utah for his senior year, will start at Will linebacker for Tech.
For Kingsbury, who's adopted "Family Over Everything" as one of his program's mottos, embracing the Fehokos and welcoming them back made too much sense.
"That's been a great relationship," Kingsbury said. "Their entire family, through and through, are big-time Red Raiders, obviously. They bring a lot of passion, a lot of energy to the football field."
He's seen that trademark passion in Sam, who's working with program again as an off-field defensive intern, as well as in V.J., a backup for the Utes last year who's already making Texas Tech's defense better.
"Every day he's yelling, screaming, hopping around and excited to be out there," Kingsbury said. "That's contagious to his teammates."
What made Tech a natural fit for this family from 3,500 miles away? Sam says the seclusion of Lubbock out in West Texas -- "almost like you're on an island, you know?" -- suits their dedication. No distractions, he says. Just football and school. That was enough to sway their youngest brother.
And if you ask the elder Fehoko brothers, the best is yet to come. Breiden, a defensive tackle at Farrington High in Honolulu, is ranked No. 56 in the ESPN 300 and committed soon after attending Tech's spring game.
The 6-foot-2, 285-pound lineman already maxes out a 45 reps of 225 pounds on the bench press and 585 pounds on squats. After growing up in the shadow of three brothers, he's developed into a freak athlete -- Sam calls him a "rare breed," V.J. says he's a "whole 'nother species" -- with a deep admiration for what his family has started.
"Tradition meant a lot to me. Carrying on a legacy meant a lot to me," Fehoko said of his recruitment. "To have the Fehoko name as a household name in Lubbock, it only makes sense to continue it. Why go somewhere else? People there, with that West Texas hospitality, they took us in and treated us like their own."
When Breiden made his commitment on April 14, his future head coach
took to Twitter
to celebrate. Now that Breiden has signed financial aid papers, Tech coaches can call, text and even visit as much as they want. He's in the family.
"Whenever Kliff comes to Hawaii, I'll be taking him out for surf lessons," Breiden said. "Whatever he wants to do. Maybe a Hawaiian luau. You know, he's single, he'll probably want to go see all the Hula girls over here."
Another tradition they're bringing back: The Haka. In 2010, the three brothers and their father
led a Maori war dance
before the spring game. Vili and Breiden did another rendition at this year's game and should be back for more this season.
The ritual, meant to invoke a warrior's spirit, isn't just an expression of the Fehoko family's culture. For the brothers, it's also a tribute to the parents who got them this far.
"We were raised tough," V.J. said. "We had six members of our family and we grew up in a one-bedroom house. Mom worked two jobs. Dad, with his health, was unemployed at times. We grew up in the struggle.
"We looked at each other and told each other we were going to make it out for our parents."
For a family that didn't come from much, the Fehokos can't wait to bring a whole lot back to Texas Tech.
July, 7, 2014
7/07/14
1:30
PM ET
With the dead period hitting last week and coaches taking much-needed vacations, the recruiting trail is as quiet as it gets during the year during the next week or so. Here's the latest in recruiting around the Big 12:

BAYLOR
Total commits:
10
ESPN 300 commits:
3
The latest:
The Bears have had a couple of decommits in recent weeks but are still in terrific shape at the skill positions. Adding some beef up front, particularly along the offensive line, will be key for Baylor as this recruiting cycle progresses.

IOWA STATE
Total commits:
6
ESPN 300 commits:
0
The latest:
The Cyclones' recruiting class looks much better today than it did early last month with Paul Rhoads' program landing five commitments in June including Austin (Texas) Westlake quarterback Dominic DeLira. It will be important for the Cyclones to hold off other suitors for DeLira and build this class around him now that he is on their commit list.

KANSAS
Total commits:
10
ESPN 300 commits:
0
The latest:
The Jayhawks added another junior college commitment when Trinity Valley Community College (Texas) defensive back L.B. Bates picked KU on June 29. Bates is a 6-foot, 175-pounder who is originally from Allen, Texas, and can play cornerback or safety.

KANSAS STATE
Total commits:
6
ESPN 300 commits:
0
The latest:
K-State has two commitments from Georgia -- running back
Kalin Heath
and Isaiah Zuber -- among their six total commitments. Bill Snyder's program is one of many Big 12 schools that have recognized the opportunity to land overlooked hidden gems in SEC country.

OKLAHOMA
Total commits:
7
ESPN 300 commits:
5
The latest:
OU added alternate uniforms last week, with an eye on giving its recruiting a boost while maintaining its tradition. Several recruits liked the move, which had been in the works since last year with the help of former players Trey Millard, Aaron Colvin and Gabe Ikard contributing to the design.

OKLAHOMA STATE
Total commits:
8
ESPN 300 commits:
3
The latest:
The Cowboys are off to a solid start on the recruiting trail, particularly at the skill positions. Nacogdoches (Texas) cornerback
Jaylon Lane
, a current Cowboys commit, is at The Opening this week and is considered one of the top cornerbacks in the nation.

TCU
Total commits:
16
ESPN 300 commits:
0
The latest:
The Horned Frogs might be in the best shape of any Big 12 school with more than half of its recruiting class already secured. TCU, which doesn't have a ESPN300 member on its commit list, can now focus on rounding out its class with elite signees.

TEXAS
Total commits:
10
ESPN 300 commits:
5
The latest:
The Longhorns are in solid shape along the offensive front with three offensive linemen on their commit list including ESPN300 members Toby Weathersby of Houston, Texas/Westfield and Patrick Vahe of Euless, Texas/Trinity.

TEXAS TECH
Total commits:
7
ESPN 300 commits:
2
The latest:
Kliff Kingsbury's program got terrific news last week when ESPN300 defensive tackle Breiden Fehoko of Honolulu, Hawaii/Farrington decided he would not take any more recruiting trips and is 100 percent committed to the Red Raiders. He will also take part in The Opening this week.

WEST VIRGINIA
Total commits:
11
ESPN 300 commits:
2
The latest:
The Mountaineers are late to the party but WVU threw its hat into the mix in the race to sign elite Class of 2017 prospect
Anthony Hines III
of Plano, Texas/East. Hines has 43 total offers but has been committed to Mississippi State since Oct. 13.
April, 16, 2014
4/16/14
1:30
PM ET
Today is a minor holiday for recruitniks: The newest edition of the ESPN 300 recruiting rankings have been released, along with a slew of other grades and evaluations.

It's always a big-time endeavor for the ESPN crew of scouts, so be sure to
click HERE for the ESPN 300
rankings.
Several of today's updates to the ESPN 300 affect the Big 12. Here's a closer look at what you should take away from the rankings: