December, 11, 2010
12/11/10
10:20
PM ET
Will Muschamp was done being a coordinator anywhere but Texas. That was obvious.
But as a "coach-in-waiting" for one of the most plum college coaching jobs in America, there weren't many places that could convince him to leave Texas.
Florida was one of them.
Muschamp has a reputation as arguably the best defensive coordinator in college football and one of its best recruiters. He could have taken a head coaching job at any number of schools before Florida, but his wait and consistent excellence on the field and the recruiting trail have landed him a job just as prestigious as Texas.
And it comes without a wait. More than anything, that's what prompted Muschamp to make the move. Despite Texas' struggles, a renewed and invigorated Mack Brown was reigning over the Longhorns in 2010.
[+] Enlarge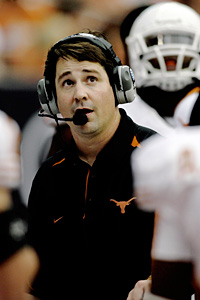 Brett Davis/US PRESSWIREWill Muschamp, who had been the head-coach-in-waiting at Texas, will replace Urban Meyer as the coach of Florida.
Brown had knee surgery in 2006 and told reporters at Big 12 media days in July that he felt "better than I've felt in years." Muschamp was still a handful of seasons or more from removing the "in-waiting" from his title.
Muschamp's contract didn't have a buyout, and the "coach-in-waiting" title was more to keep him in Austin than to keep others from taking him. The promise to hand over the reins was enough to keep him from hopping to jobs at schools like Pitt, Louisville, Miami or a number of other openings in the SEC.
There was little that would have kept him from saying yes to the Gators.
Florida athletic director Jeremy Foley clearly feels strongly about Muschamp.
"Coach Muschamp is someone we targeted from the beginning and he is the guy we wanted. He is the only person we met with and the only person we offered the job to," he said.
Florida will be getting everything it wanted in a coach. As a recruiter, look no further than Texas' 2011 class, which ranks No. 1 nationally and has four defensive members of the ESPNU150 currently committed. The recruiting pool will be just as deep in Florida.
It wanted a high-energy guy whom fans could get behind and be excited about.
Uh, check.
It takes only a short YouTube search to figure out the origin of Muschamp's nickname, "Coach Boom." And the Georgia alum fits Florida's final criteria: a coach who knows the SEC.
Muschamp gained his reputation while coordinating defenses at LSU and Auburn earlier this decade, sandwiched around a short stint with the Miami Dolphins.
Florida took a leap of faith by hiring the 39-year-old first-time head coach, but there may not be a coordinator in the country more ready for his first stint, even if it's at Florida. Remember, Oklahoma took a chance once, too. In 1999, it took a leap of faith on some 39-year-old guy named Bob Stoops who was coordinating the defense at Florida and had never been a head coach, either.
For Texas, a program already in relative unrest will find even more turbulence. Offensive coordinator Greg Davis resigned earlier this week, and the Longhorns lost a pair of position coaches and their special teams coordinator to retirement.
That leaves Brown without anyone to run his offense or defense, and Muschamp could take any number of coaches with him to Gainesville, including running backs coach Major Applewhite, who was on Texas' short list to succeed Davis as offensive coordinator.
"Our commitment remains that we will build the best coaching staff in the country and we will begin a nationwide search immediately for a new defensive coordinator," Brown said.
The Longhorns could go in any number of directions, but don't expect Brown to settle for promoting from within. The amount of talent on defense at Muschamp's disposal will go to the next guy, and there are plenty of coordinators who would jump at the chance to coach players like Keenan Robinson and Emmanuel Acho, both set to be seniors in 2011.
Brown said after his first round of coaches left that he has no plans to name replacements until after bowl season. If there was ever a year in which Texas is lucky not to be preparing for a bowl game, it's this one. Brown can focus now on his somewhat daunting coaching search(es) without worrying about a bowl flop.
As for losing some of those 23 commitments, Brown won't have much to worry about. Only two of those don't hail from Texas. The vast majority of high school players in Texas don't grow up dreaming of playing for Will Muschamp, Greg Davis or even Mack Brown. They dream of wearing the burnt orange.
The Longhorns might lose a few -- maybe even one or two to Florida -- but don't look for a mass exodus.
Texas will probably emerge out of this offseason in good shape. Top-notch facilities, talent, location and a winning tradition offer at least some assurance of that.
The next few weeks are crucial for Texas. There aren't many Will Muschamps left out there to be a coordinator. Brown, ideally, would like to find the next one.
But with so many other coaches leaving vacancies on Brown's staff, the only thing we know for sure is we'll see a different-looking Longhorns team when spring football opens in a few months.
November, 13, 2008
11/13/08
1:56
PM ET
By
Tim Griffin
| ESPN.com
Posted by ESPN.com's Tim Griffin
Growing up, Kansas quarterback Todd Reesing always was mesmerized by the Texas Longhorns.
Trips to Darrell K. Royal/Texas Memorial Stadium served as a unifying link between Reesing and his father, Steve, a Texas graduate. Those fall afternoons gave father and son a chance to bond as they watched their favorite players like Ricky Williams and Major Applewhite.
Those memories will make Reesing's game against Texas on Saturday even more meaningful for him and his family.
"I grew up in Austin and I obviously watched the Longhorns," Reesing said. "So I'd be lying to you if this game wasn't just a little bit bigger for me. You've got to try not to make it too big. But this is going to be fun for me."
Reesing didn't get a sniff from Texas or most Big 12 schools because of his stature, which is generously listed at 5-foot-11 and 200 pounds. But he's been repeatedly proving those doubters wrong during a career that was capped last week when he became the Jayhawks' career passing leader.
Despite his height, Reesing has been universally praised around the conference. Nebraska coach Bo Pelini likened him to a smaller version of Brett Favre because of toughness, with a dash of Fran Tarkenton and Doug Flutie thrown in because of his improvisational skills.

Reesing blossomed last season after winning the starting job from Kerry Meier. The Jayhawks came from out of nowhere as Reesing directed the team to 11 straight victories, a share of the Big 12 North title, a 12-1 record and the first BCS bowl berth in school history. His season included a school-record 33 touchdown passes.
With a less talented supporting cast and facing a tougher South Division schedule this season, Reesing hasn't matched those statistics during a 6-4 season. But he's still set 32 school records in 26 career games and ranks in the top 10 nationally in completions, passing yards and total offense.
In another conference, it might have earned him all-conference status. But with the Big 12's talented group of quarterbacks, it's almost left him as an afterthought.
The Jayhawks still have slim North Division title hopes. They must sweep remaining games against Texas and Missouri and hope that Nebraska loses one of its remaining two games in order to win a tiebreaker.
But in order to do that, the Jayhawks will have to markedly improve after last week. Reesing was sacked five times as Nebraska convincingly beat them in a 45-35 victory in Lincoln.
"It gets tough at the end of the year," said Reesing, who played most of the second half last week against the Cornhuskers with a noticeable limp. "It becomes a grind at the end of the year and tough to stay healthy. But you've got to be able to do it and finish strong. We've just got to keep fighting."
The Jayhawks are already in place to make back-to-back bowl trips for the first time in school history. But Reesing hopes for a memorable finish, particularly because of who he will be playing against on Saturday.
"I've got a lot of friends and family who will be coming up for the game," Reesing said. "And to get to play them is halfway to the dream I would have had as a kid. As good as they are this year and maybe pulling off an upset would be special for me."
BIG 12 SCOREBOARD
Saturday, 12/27
Saturday, 12/20
Monday, 12/22
Tuesday, 12/23
Wednesday, 12/24
Friday, 12/26
Monday, 12/29
Tuesday, 12/30
Wednesday, 12/31
Thursday, 1/1
Friday, 1/2
Saturday, 1/3
Sunday, 1/4
Monday, 1/12
Tweets from https://twitter.com/ESPNCFB/lists/big12