April, 2, 2012
4/02/12
12:00
PM ET
By
ESPN.com staff
| ESPN.com
What's the bigger upset? KU winning the Big 12, considering its roster to start the season? Or KU winning tonight?
March, 20, 2012
3/20/12
3:00
PM ET
By
ESPN.com staff
| ESPN.com
WACO, Texas -- Baylor's football team enjoyed its second 10-win season in school history, but it also boasts two basketball teams in the Sweet 16 of the NCAA Tournament, too, after a pair of wins over the weekend.

Add all that up, and Baylor's got an athletic director in contention for the Sports Business Journal's Athletic Director of the Year, too.

It's a banner year in Waco.

"I don't know how you say Day of the Bear, what is it, 'Dia De Oso?' But how do you say year? That's what we need to learn how to say," Briles joked before Monday's practice.

Aņo de la Oso indeed. This has been the Year of the Bear in college sports. The Bears are in the beginning stages of getting fundraising for a new stadium they hope opens in 2014 and couldn't ask for a better team.

It's not every year you have a reigning Heisman winner roaming campus. Before December, it wasn't any year.

But it's March, and Briles is enjoying the ride the hoops teams are taking the Baylor community on for the last week and beyond.

Coach Kim Mulkey and superstar Brittney Griner has the Lady Bears undefeated and the favorites to win their first national title since 2005.

The men's team advanced to a second consecutive Sweet 16 and played in the Big 12 Championship game last week, boasting a star of their own in Perry Jones III who'll be a likely lottery pick in this summer's NBA Draft.

"It's amazing. They're doing an outstanding job. Both teams look focused and energized. It's terrific," he said. "It's been a lot of fun, we've got to keep it going."

Is Briles watching?

"Shoot, yeah," he said. "We've all got the same first name, and that's Baylor. So, we're all just happy for what's going on. It's great for our university and great for the individual programs that are playing ball."
December, 1, 2011
12/01/11
4:15
PM ET
By
ESPN.com staff
| ESPN.com
Grantland's Derek Haas went to Baylor and is a Baylor fan. It's ... well, it's been a rough run in Bear Country for quite some time.
Not anymore.
The Bears' trio of coaches -- Art Briles, Scott Drew and Kim Mulkey -- have finally paired with a trio of players -- Robert Griffin III, Perry Jones III and Brittney Griner -- and ushered in a new era of Baylor athletics.
Haas can finally be proud to be a Baylor fan.
When you turned on ESPN or cracked Sports Illustrated, you would flinch like a battered spouse. Locked in the basement of the Big 12 South, Baylor became the school other teams clamored to schedule for our homecoming. Teams would hang half-a-hundred on us and it would hurt their rankings. We were Boo Radley, except none of the neighborhood kids were scared to run on to our porch. ...

No one told them they had to remain the Big 12's doormat. No one told them recruits wouldn't come to Waco, Texas. No one told them Baylor was the perennial punch line to a stale joke.

Or maybe they did. These three just refused to laugh.
Good stuff from a voice inside a fanbase that's riding high entering Saturday's game against Texas. Check out
the full story
.
April, 1, 2011
4/01/11
10:30
AM ET
COLLEGE STATION, Texas -- It's tough to plan around which practices I'll get to see when I come to campuses during the spring or preseason camp, but it was a pretty ideal situation at Texas A&M on Wednesday. The team was in full pads, practiced for about an hour and a half, and the vast majority of it was 11-on-11 team drills.
Texas A&M's practices are open to the public, something that's increasingly rare in college football, but there were probably 70-80 fans who made it to the afternoon workout on a gorgeous day for spring football. To my knowledge, the only teams in the new Big 12 that open up spring practice to fans are Texas A&M, Missouri and Baylor.
Additionally, it takes a lot for women's hoops to generate buzz, but there was definitely a bit out at practice. The Aggies beat rival Baylor, featuring arguably the game's biggest star, 6-foot-8 Brittney Griner, in Dallas earlier this week to reach the first Final Four in school history. I'm sure there will be plenty of maroon in the stands in Indianapolis this weekend. (
More on that here
from colleague Mechelle Voepel.)
But back to football.
A few thoughts and observations from practice:
Two guys a bit under the radar who had great days: Receiver
Kenric McNeal
and running back
Ben Malena
. With all the skill-position talent at Texas A&M, both get a bit overshadowed, but Malena, at least for one day, looked every bit as good a runner as the backs ahead of him on the depth chart,
Christine Michael
and
Cyrus Gray
. He has a lot of development to do in things like feeling creases in the line but when he got a chance to get to the second level and let his instincts take over, he was giving the defense fits. He looked solid in the open field.
Additionally, McNeal has a reputation as a shifty slot receiver who works best underneath, but he was stretching the field on Thursday like I hadn't seen from him before. His two longest plays of the year (27 and 32 yards) came late last season, but he had a couple of deep catches in the end zone after slipping past the safeties and bringing it in behind the defense. He got open a few more times, and quarterback
Ryan Tannehill
missed a couple of deep balls to him, but it has to be encouraging for the offense to see him break a few off like that.
Michael looking confident on healed leg
[+] Enlarge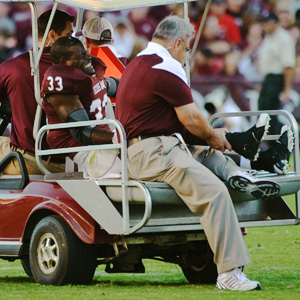 AP Photo/Dave EinselChristine Michael is working his way back from a broken tibia he suffered against Texas Tech.
Michael was one guy I wanted to see, and it was tough to get a read on his mobility -- he didn't get into the open field very much. But one encouraging sign was he didn't look like he was shying away from contact at all. That's exactly what A&M wants to see. Michael brings a mean running style that no other back on the roster can provide. Early in the conference season last year, he was running over plenty of linebackers. He looks like he wants to get back to doing exactly that, and he did it on Thursday, dragging a couple of defenders at times.
I don't think the mental side of returning from the injury will be an issue. He's never been quite as shifty as Cyrus Gray, but he runs with power that you won't find anywhere else in the Big 12, and considering how the rest of the league defended the run during the bowl season -- especially power runners -- the Aggies will once again be glad he's on their team this fall.
Wrecking Crew missing a few members
Diehard A&M fans are surely already aware, but the Aggies' defense is missing quite a few key pieces this spring, especially in the back seven. Defensive backs Terrance Frederick and Coryell Judie are both sidelined after offseason shoulder surgery and linebacker Sean Porter is out with an injury to his left foot from earlier in spring practice.
Lionel Smith is also out for spring ball.
Former Aggies on hand
It's always good to see alums and former coaches on hand for spring practice. Former Aggies linebacker Michael Hodges was milling around the practice field. He's one of just three defensive starters (Von Miller, Lucas Patterson) the Aggies have to replace this spring.
Additionally, former Aggies coach R.C. Slocum was in attendance.
March, 17, 2011
3/17/11
11:00
AM ET
By
ESPN.com staff
| ESPN.com
Maybe I'm the only one like this, but today is very much a holiday for me. A celebration of college hoops highlighted by an all-day hardwood binge. But of course, we're a football-only zone here.
P.S. If you've been dragging your feet, there's still time to
enter the Big 12 Blog's bracket pool.
That said, we've always got room for a little roundball, especially when the best basketball tournament in the world is just an hour or so from
really
tipping off. (Sorry, "First Four.")
So, if I'm putting together a Big 12 hoops team made solely of footballers, here's who I'm putting on it. Only players with remaining eligibility were considered.
F -- Michael Egnew, TE, Missouri
Football players don't get very tall outside of departed, 6-foot-9 Colorado lineman Nate Solder, but Egnew is one of the tallest in the league at 6-foot-6 and 240 pounds. He also played hoops in high school, so give me the big man down low.
F -- Jeff Fuller, WR, Texas A&M
Following the Egnew mold, give me the 6-foot-4 Fuller, who has established himself as the league's best jump ball receiver. I assume that carries over to jump balls at the start of a basketball game. He's a high-flyer, so look out for the alley-oop.
G -- Robert Griffin III, QB, Baylor
Bears coach Scott Drew supposedly hounds Griffin about coming out for hoops, but he never has. Griffin also says he can take on women's star Brittney Griner one-on-one, but we're still waiting on the dunk contest to go down. Please let it happen. But RG3 gets the nod as the swingman on my team.
G -- Justin Blackmon, WR, Oklahoma State
Blackmon is another player who stood out in both sports in high school, and actually had offers from Colorado and Missouri to play basketball. I've heard good things
about his quarterback
Brandon Weeden
's jump shot, but I'll take a leap of faith in Blackmon as a gunner, too. He's already one of the Big 12's best pure athletes, and the 6-foot-1, 211-pounder would probably look pretty good on the floor instead of the field. Weeden can be the sixth man, I guess.
G -- Roy Finch, RB, Oklahoma
Dare I say Finch is the Big 12's best when it comes to lateral movement? That makes for a heck of a defender for sure, and if he's got handles, a pretty great point guard. He's only 5-foot-8 and 180 pounds, but if he can knock down the occasional jumper, he'll get plenty of minutes for me. I'll make sure he knows his role is primarily a distributor, though.
That's my Cinderella squad.
Who's on your team this year?
BIG 12 SCOREBOARD
Saturday, 12/20
Monday, 12/22
Tuesday, 12/23
Wednesday, 12/24
Friday, 12/26
Saturday, 12/27
Monday, 12/29
Tuesday, 12/30
Wednesday, 12/31
Thursday, 1/1
Friday, 1/2
Saturday, 1/3
Sunday, 1/4
Monday, 1/12
Tweets from https://twitter.com/ESPNCFB/lists/big12