Big 12:

Brock Christopher
October, 24, 2010
10/24/10
2:11
AM ET
COLUMBIA, Mo. -- Tim Barnes remembers well. He should, he was there.
Missouri's senior center had -- in the most frustrating sense -- a front-row seat to Oklahoma's dominance on the line of scrimmage in three victories over the Tigers in 2007 and 2008.
Missouri left as losers, never coming within single digits of the Sooners, who celebrated a pair of Big 12 titles and a national championship appearance at the Tigers' expense.
"They pretty much handled us up front," Barnes said.
The quiet flights home from Norman and later San Antonio in 2007. A year later, the bus from Kansas City.
[+] Enlarge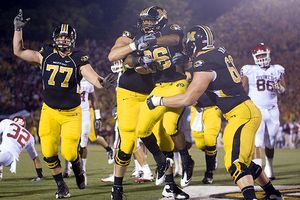 AP Photo/L.G. PattersonDe'Vion Moore celebrates one of Missouri's two rushing TDs against Oklahoma. The Tigers rushed for 178 yards against the nation's No. 1 team.
There wasn't much silence in Columbia, Mo., on Saturday night and into Sunday morning, following the Tigers'
36-27 win
over No. 1 Oklahoma -- and there won't be in this midwestern college town for some time.
The Tigers' linemen on both sides of the ball are to thank.
"Our ability to run the football for 178 yards was huge. The offensive line played very, very well," said Missouri coach Gary Pinkel, who earned his first-ever win over Oklahoma and the program's first-ever win over a No. 1 team.
Blaine Gabbert
completed 30 of 42 passes for 300 yards and a touchdown. Why? Well, it was obvious.
"He got a lot of time to throw," Pinkel said.
Way more than Chase Daniel got. The holes were bigger than the ones former backs Tony Temple and
Derrick Washington
tried to fit through. These Tigers won, and they did it by imposing their will on two Sooner lines filled with piles of recruiting stars that couldn't do anything about it.
This was a win over a No. 1 team, and it was a win over one of the Big 12 bullies that have tormented the Tigers, beating Pinkel 11 consecutive times before tonight.
It was a win for the program, and those players from the recent past were there to celebrate. Former receiver Tommy Saunders smiled amidst the sea of students on the turf, looking for someone to hug. Former linebacker Brock Christopher found one of his old teammates, defensive lineman Bart Coslet, and welcomed him with a huge, congratulatory hug.
There's no ceiling for Mizzou anymore. It left Faurot Field with the students carrying the goalposts to Harpo's downtown, celebrating through the steady rain. Players like Saunders, Washington, Christopher, Daniel and Temple helped Missouri reach that ceiling.
A new generation of players like Gabbert, Aldon Smith,
T.J. Moe
,
Jerrell Jackson
and
Henry Josey
helped shatter it.
"We wanted to come out there and prove to everyone that this year," Barnes said, "it was going to be a little different."
[+] Enlarge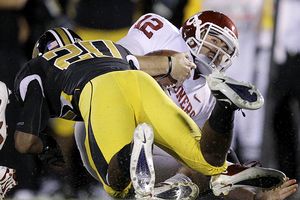 AP Photo/Jeff RobersonKevin Rutland and the Missouri defense disrupted the Oklahoma offense -- forcing two interceptions and holding the Sooners to just 99 yards rushing.
Message received. The defense held the Sooners to just 99 yards rushing.
Missouri knew this would be different early. The first time a Tiger touched the ball,
Gahn McGaffie
raced into the end zone on an 86-yard kickoff return. The first run from scrimmage: 20 yards by
De'Vion Moore
, longer than any other carry by a tailback in any of those three games in which Missouri failed to take its next big step as a program.
"We have a lot more experience and guys are getting better," Barnes said. "We wanted it so bad. I know for the linemen, it's just a little different for us."
It's different for Mizzou as a whole now, too, and Gabbert left no doubt as to what "it" was.
"I give all the credit in the world to our offensive line. They did an extremely good job winning the battle in the trenches," he said, "and that's why we were successful tonight."
The defensive line played just as well, pressuring the Sooners and hurrying Oklahoma quarterback
Landry Jones
.
The only thing the Missouri defense seemed to do wrong all night was fail to take an interception return into the end zone, a pick only created by Aldon Smith's pressure on Jones. Smith tipped the ball to himself and had to settle for a 58-yard return into Oklahoma territory, swinging the game's momentum and setting up a touchdown that put Missouri ahead 14-7 early.
"We'll talk about that later," Gabbert said of the return with a wide smile.
Pinkel couldn't help but crack a joke at the weaving return, too: "He's always talking about playing tight end," he said.
Smith's return to the field -- one he later said he had to make against the No. 1 Sooners -- from a broken fibula, helped spur a line that disrupted Oklahoma's passing attack, limiting them to just 60 yards passing in the second half after 248 in the first. None of Jones' final seven passes found their receivers; one found Missouri linebacker Zaviar Gooden deep in Oklahoma territory, which set up a field goal that put Missouri up 29-21.
"Our defensive line did really, really well, and that tempo of offense is very, very difficult," Pinkel said of the Sooners' high-speed attack. "When you win games like this, generally you go to the line of scrimmage and that tells the story."
It was a different ending this time for the Tigers, a story in Missouri's history that will be retold for decades. But after Saturday's celebration late into the night, they'll wake up on Sunday knowing that what happened on Faurot Field on Oct. 23, 2010, is exactly that: history. And that story's ending has yet to be written.
"We play Nebraska next week," Pinkel said. "This isn't the national championship."
January, 20, 2010
1/20/10
12:04
PM ET
By
Tim Griffin
| ESPN.com
After sputtering in the early part of the decade, the Tigers became consistent winners in the latter part of the decade, soaring as high as No. 1 nationally in the week before the 2007 Big 12 title game.
The Tigers are still looking for their first Big 12 title, but they've had many memorable players dot their rosters over the decade.
Here's a look at the best of them. The toughest decision was to leave Justin Gage off the team at wide receiver, although I opted to go with an alignment much like offensive coordinator David Yost preferred, with one running back, two wide receivers and two tight ends. My team is reflected with that strategy.
OFFENSE
QB: Chase Daniel
RB: Zack Abron
WR: Jeremy Maclin
WR:
Danario Alexander
TE: Chase Coffman
TE: Martin Rucker
OL: Joel Clinger
OL: Tony Palmer
OL: Kurtis Gregory
OL: Rob Droege
C: Adam Spieker
DEFENSE
DL: Justin Smith
DL: Atiyyah Ellison
DL: Lorenzo Williams
DL: Ziggy Hood
LB: Sean Weatherspoon
LB: Marcus Bacon
LB: Brock Christopher
DB: William Moore
DB: Pig Brown
DB: David Overstreet
DB: Shirdonya Mitchell
K: Jeff Wolfert
P: Jake Harry
KR: Jeremy Maclin
Offensive player of the decade:
QB Chase Daniel. Orchestrated the Tigers' back-to-back North Division championship teams in 2007-08, finishing fourth in the Heisman race in 2007 and setting the school's career total offense and passing records as a senior.
Defensive player of the decade:
LB Sean Weatherspoon. Lightly recruited player who emerged to become the dominant defensive player for the Tigers during his three-season career as a starter, leading the team in tackles each season.
Coach of the decade:
Gary Pinkel. After struggling in his first two seasons, has taken the Tigers to a bowl game in every season except one, including two Big 12 title games and a No. 4 finish in the 2007 season.
Memory of the decade:
Missouri's 36-28 victory over Kansas in a 2007 showdown for the Big 12 North title pushed the Tigers to their first Big 12 championship game appearance. Daniel completed 40 of 49 passes for 361 yards and three touchdowns, but the game wasn't settled until Lorenzo Williams sacked
Todd Reesing
for a safety to ice the victory.
April, 27, 2009
4/27/09
6:44
PM ET
By
Tim Griffin
| ESPN.com
Posted by ESPN.com's Tim Griffin
I've gotten a couple of messages today wondering where all of the Big 12's free agents have ended up.
The most complete and accurate listing I've found is on the fine website nepatriotsdraft.com. (Hat tip to The Ralphie Report.com). Here's what they have as of late Monday afternoon.
November, 3, 2008
11/03/08
10:10
AM ET
By
Tim Griffin
| ESPN.com
Posted by ESPN.com's Tim Griffin
Here are my rankings for this week:
1. Texas Tech -- Clear path to the national title game if it keeps winning. But that's a big if considering the Red Raiders' difficult closing schedule.
2. Texas -- Will Blake Gideon go down in history as this generation's Craig Curry after his critical dropped interception against Tech?
3. Oklahoma -- Not a good sign for the Sooners when they beat Nebraska by 34 points and still fall two places in the BCS standings.
4. Oklahoma State -- Haven't beaten Tech in Lubbock since 1944, although Cowboys did notch ties there in 1954 and 1956.
5. Missouri -- Near catastrophe in Waco averted by big defensive play by Brock Christopher. The Tigers still have the clearest path to the Big 12 title game among North contenders.
6. Kansas -- Jayhawks' North Division title hopes will depend on getting their first victory in Lincoln since 1968. This is probably the best Kansas team in recent memory to go there -- but that's some serious historical baggage.
7. Nebraska -- Uncharacteristic mistakes from Joe Ganz doomed the Cornhuskers early in Norman. But their bowl hopes remain strong -- particularly if they can knock off Kansas this week.
8. Texas A&M -- Modest two-game winning streak heading into game against Oklahoma. The Aggies have always played Bob Stoops closely there with all games settled by a touchdown or less since 2000.
9. Colorado -- Offensively-challenged Buffaloes have scored only 31 points in their last three games. And it won't get any easier with Rodney Stewart out for the regular season with a broken leg.
10. Baylor -- Two near-misses against Nebraska and Missouri probably won't prepare them much for a trip to an angry Texas team this week in Austin.
11. Kansas State -- It will be interesting if those "Save Ron Prince" chants that echoed through Memorial Stadium last week are heeded by the KSU administrators who will decide his job.
12. Iowa State -- Leonard Johnson's record-breaking kick-return performance at Oklahoma State was the lone bright spot in Cyclones' blowout loss. And he did have nine returns.
November, 1, 2008
11/01/08
6:45
PM ET
By
Tim Griffin
| ESPN.com
Posted by ESPN.com's Tim Griffin
Baylor freshman Robert Griffin picked a bad time to throw his first interception.
Brock Christopher's interception with 1:40 left snapped Griffin's string of 210 passes without a pick and enabled the Tigers to escape with a tight 31-28 victory in Waco.
Jeff Wolfert's 34-yard field goal with 2:31 left provided the margin of victory. On the play preceding Wolfert's kick, Baylor safety Jordan Lake dropped a potential interception that would have given the Bears possession.
The victory is significant for a couple of reasons. It enables Missouri to keep pace with Kansas for the North Division lead. It also proves that Griffin and the Bears will be a tough challenge during the rest of the season and especially in the future.
August, 12, 2008
8/12/08
5:48
PM ET
By
Tim Griffin
| ESPN.com
Posted by ESPN.com's Tim Griffin
| | |
| --- | --- |
| | |
| | Brett Davis/US Presswire |
| | Kansas LB Joe Mortensen had 15 tackles for a loss last season. |
There aren't many national standout linebackers in the Big 12 this season. The conference's proud history featuring key players like Derrick Johnson, Dat Nguyen and Mark Simoneau that dominated action from the position seems a long way away.
Part of that is because of the preponderance of spread offenses that have diminished some of the effectiveness of linebackers throughout college football. And good linebackers are becoming increasingly hard to find.
But there are still a few good ones left. Here are the players I think are the Big 12's top linebackers this season.
1. Joe Mortensen, Kansas -- Thrived after moving inside to middle linebacker to key Jayhawks' defense. He led the conference with 15 tackles for losses last season.
2. Sean Weatherspoon, Missouri -- Lightly regarded product from Jasper, Texas, has blossomed into one of conference's most consistent defensive playmakers. His 127 tackles led all of the Big 12's returning defensive players.
3. Mike Rivera, Kansas -- Produced three sacks, 7.5 tackles for a loss last season in first as starter outside.
4. Ryan Reynolds, Oklahoma -- If he's healthy, he could blossom into one of OU's dominating middle linebackers like Curtis Lofton and Rufus Alexander before him.
5. Patrick Lavine, Oklahoma State -- Consistent producer who leads all Oklahoma State returnees with 81 tackles from last season. Oklahoma State defensive coordinator Tim Beckman hopes he will emerge as the Cowboys' key defender this season.
6. Marlon Williams, Texas Tech -- It will be interesting to see if his tackle numbers remain strong with the increasing defensive talent around him.
7. Joe Pawelek, Baylor -- Most valuable player on Bears' defensive team will be starting for his third-straight season.
8. James Holt, Kansas -- Underrated because he's sometimes overshadowed by Mortensen and Rivera on his own team.
9. Brock Christopher, Missouri -- Space-eating MLB who always seems to be around the ball.
10. Rashad Bobino, Texas -- Bruising 238-pounder will be counted for senior leadership and his hitting ability by new coordinator Will Muschamp.