April, 26, 2012
4/26/12
2:00
PM ET
By
ESPN.com staff
| ESPN.com
Tonight, it's almost certain that
Andrew Luck
and
Robert Griffin III
, both quarterbacks, will be the first two names called in the NFL draft.
Shortly after, Texas A&M's
Ryan Tannehill
will hear his name called. But what about later on in the draft?
Who will be the fourth quarterback taken?
Mel Kiper and Todd McShay
took to a debate
between Oklahoma State's
Brandon Weeden
and Arizona State's
Brock Osweiler
.
It's an interesting read.
Kiper writes:
"... a franchise quarterback doesn't need to be a 15-year starter. We're looking too much at the exceptions and not enough at the reality. Those players are not something you can really plan for. You can't assume one starter will span three or four coaches, several general managers and multitudes of new players.

Weeden is an older player (he'll be 29 this fall) but one who, if he were 22, might be the second quarterback off the draft board. He really is that good, but his age is holding him back. Still, were he to get starts early in his NFL career -- and succeed -- you would be looking at a player who could easily give a franchise seven or eight very good years.

Is that something to scoff at?"
McShay, though, says Osweiler's worth looking at.
"Weeden (maturity, leadership), Foles (pure pocket passer) and Cousins (best intangibles) all have impressive traits. Osweiler is the least NFL-ready right now, but he is the most gifted and has the best chance to be a long-term, successful NFL starter.

It's easy to write Osweiler off if you look only at his 15 career starts, Arizona State's five-game losing streak to end 2011 and his performance in a blowout bowl loss to Boise State. However, there's a lot more to this guy than what's on the surface."
Who would you take? The biggest QB or the oldest QB?
October, 20, 2011
10/20/11
2:30
PM ET
Missouri's first two major defensive tests?
Perhaps not failures, but far from successes.
Arizona State's
Brock Osweiler
threw for three touchdowns and 353 yards and the
Sun Devils racked up
just under 500 yards of offense.
[+] Enlarge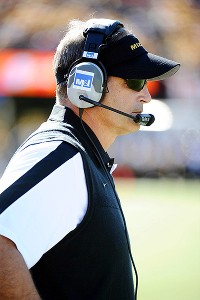 Dak DillonAfter back-to-back solid efforts, coach Gary Pinkel's Missouri defense faces another stiff test in Oklahoma State.
Two weeks later, Oklahoma's
Landry Jones
threw for three more touchdowns and 448 yards. Oklahoma beat the Tigers
38-28
and had almost 600 yards of offense.
Lesser offenses followed, and the Tigers responded, holding Kansas State and Iowa State to a combined 298 yards passing. Iowa State didn't reach
400 yards of offense
. Kansas State had
fewer than 300
.
"We've been pretty aggressive. There's some things we need to learn, but I think experience within the group is improving during the season so far," said linebacker Luke Lambert.
This week?
"We're going to certainly get tested this week against maybe the best offense in the nation," coach Gary Pinkel said of No. 4 Oklahoma State, "so we'll see where we go here, but certainly the consistency of play is the thing I'm maybe most concerned about."
He's not exaggerating. The Cowboys, who didn't meet Mizzou last year, come to Columbia rolling up points and yardage just as quickly as they did during last year's 11-win season.
OSU ranks second nationally with more than 550 yards a game and scores an average of 49.2 points a game, more than every team in the FBS but Wisconsin.
That improving Missouri defense meets another big challenge. We'll see Saturday how it measures up.
"I think we've done a great job, especially this last week, of when we're put in a bad situation, how the defense reacts to it," Lambert said. "We don't pout or have a bad attitude. We can stop people. The first part of the season, maybe we didn't do so well, but it's something we've definitely built on."
Last year's defensive line was arguably the league's best, and returned every starter. The team's top defensive tackle, Dominique Hamilton, returned after a broken ankle and the line was bolstered by the addition of hyped juco recruit Sheldon Richardson. Sophomore Michael Sam and Kony Ealy figured to offer solid depth to a line looking to help out a new set of cornerbacks.
Missouri is tied for fourth in the Big 12 in sacks but is just one tackle-for-loss behind leader Oklahoma, at 47.
But 3-3 isn't where Missouri envisioned itself at the season's midpoint. For Pinkel, it circles back to the search for consistency.
"If I had an answer for that, I'd fix it. We've shuffled some players in and out," he said. "Statistically, we're pretty decent in relationship to the league in the three games league-wise. We have to coach better and play better."
There won't be any hiding from an offense that will test every bit of the Tigers' improvement on Saturday. Be solid, or be exposed. A climb back above .500 depends on it.
"Plays will happen if everybody's [focused and emotionally invested], and this last week kind of showed that," Lambert said. "Hopefully, we can build on what we started."
September, 10, 2011
9/10/11
2:30
AM ET
Ouch. Those are the losses that hurt the most for fans.
Missouri stormed back from a 14-point deficit in the fourth-quarter, but settled for a deep field-goal attempt late in the fourth quarter and -- in what's sure to be a controversial decision -- iced its own kicker.


Grant Ressel missed the 48-yard kick and the game went into overtime, where Missouri couldn't match Arizona State's touchdown and lost,
37-30
.
Let's start with the nasty stuff.
THE BAD
Argue the statistics surrounding icing kickers all you'd like. It's dubious if not counterproductive. But I've never seen a coach ice his own kicker, and unless Ressel explicitly asked for Pinkel to do it, I don't see the benefit. Additionally, Missouri went superconservative offensively once it was in field goal range, instead of fighting to get an easier attempt. Both of those decisions are ripe for second-guessing, and will be digested to no end throughout the week for the black-and-gold inclined. Outside of being embarrassingly unconventional, I don't see the huge harm of the kicker icing. I do think the Tigers needed to keep running their usual offense and ride the wave of momentum that got them there, rather than settle for a big kick from Ressel, who is usually reliable and a legitimate Lou Groza Award candidate.
Ouch, secondary. It was out of position a lot throughout the night, and failed to make plays when it was in position several times. E.J. Gaines especially had a rough night, getting burned twice for scores by Aaron Pflugrad, who finished with eight catches for 180 yards. The secondary solidified late in the game, which was good to see, but Missouri took a huge step defensively under coordinator Dave Steckel last season. It looks like this year, with young corners, it may take a step back. There's lots of room for growth, sure, but the Tigers better do it fast. There are a lot better offenses than Arizona State waiting for the Tigers in the Big 12. Osweiler would probably be the fifth or sixth best QB in the Big 12, and he finished with 353 yards, three TDs, no turnovers and completed 24 of 32 (77 percent) passes. Not good.
The flip side of those secondary struggles? Where was the defensive line? The Tigers are the most talented in the Big 12, but didn't look like it on Friday. It didn't reach Osweiler often, and where was top pass-rusher Brad Madison? His spin move wasn't working and he was quiet when Missouri needed him to step up. The defense was much better late when momentum turned, but Osweiler picked apart the defense for the better part of the night, in part because of the lack of pressure up front.
Awful luck for Missouri at running back. Henry Josey was great (9 carries for 94 yards), but we'll see how long De'Vion Moore is out. He injured his ankle on the opening drive and didn't return. Missouri had four great backs to begin fall camp. Now, with starter Kendial Lawrence sidelined with a broken fibula, Moore out and Marcus Murphy likely done for the season with shoulder surgery, Josey may be leaned on a whole lot more. Those guys combined for 1,557 yards and 19 TDs last year, but two games into the season, only one is standing. Josey accounted for 437 yards, five scores and 76 carries as a freshman in 2010.
Arizona's penalties stole the show, but Missouri was undisciplined, too. The Tigers had 11 for 114 yards, compared to Arizona State's 12 for 110 yards. Bad, bad, bad.
THE GOOD
What a difference a week makes for James Franklin. He's going to be sporadic all year, but he's going to improve fast, too. He had some awful throws, yes, but he had a lot more good ones, and kept Missouri alive with a handful of high-pressure passes in big positions. It's a loss, and he didn't make a play in OT when Mizzou needed it most, but you've got to feel good about the future behind Franklin. His mechanics looked better, he was more accurate, and did a decent job of running when he needed to. Very good signs.
Missouri needed more receivers to show up and help out T.J. Moe and Michael Egnew with a banged-up Jerrell Jackson in uniform, and they answered. Marcus Lucas had a huge catch in the fourth quarter to get the Tigers into scoring position, and finished with four catches for 87 yards. L'Damian Washington also had a big catch in traffic on a beautiful throw from Franklin to cut the lead to 30-23 in the fourth quarter. He finished with three catches for 39 yards. Six different receivers had at least two receptions, and Josey caught two for 51 yards. All good things for Missouri's offense.
The offensive line looked rough late in the game, but without left tackle Elvis Fisher and center Travis Ruth, the patchwork line had a pretty good game, especially against a good front seven. Vontaze Burfict wasn't running wild, which is a nice start. The offensive line didn't play so well in overtime, but Franklin had room to operate for most of the game and wasn't rushed too often. Not great, but good. Like Franklin, they'll get better as they move along without Fisher for the season and whenever Ruth returns from his sprained knee.
September, 9, 2011
9/09/11
11:54
PM ET
Let's take a look inside that first half out in Tempe, Ariz., where Missouri trails Arizona State, 16-10.
Turning point:
Arizona State quarterback
Brock Osweiler
, who, if you haven't heard, is 6-foot-8, connected with
Aaron Pflugrad
on a gorgeous 60-yard rainbow down the right side of the field to give Arizona State its halftime lead. The momentum had shifted toward the Tigers, who scored on the previous drive, but Osweiler's deep ball gave ASU points on its first play of the ensuing possession and control of the game once again.
Turning point II:
Missouri lost
De'Vion Moore
early on with an ankle injury and he won't return. Missouri had four reliable backs to begin the season, but for tonight and perhaps a bit into the future, it's down to just one.
Henry Josey
is the only healthy back left from a group that included Moore,
Marcus Murphy
(shoulder surgery) and
Kendial Lawrence
(broken fibula) and rushed for 1,557 yards and 19 touchdowns last season. Missouri already entered tonight's game missing six starters due to injury just a week into the season. Moore was a new starter, so it's still six, but still.
Stat of the half:
Osweiler and Missouri's
James Franklin
have combined to complete 23-of-29 passes. It's been a pretty clean-looking game so far with both quarterbacks dealing.
Best player in the half:
Osweiler. He's been outstanding, connecting on throws at every level of the defense and really making the Tigers' defense work. In the first half, he was 11-of-14 for 229 yards and two touchdowns. He also swung the game on a huge throw to Pflugrad that earned our turning point of the half.
Second guessing:
On Missouri's opening drive, Gary Pinkel elected to kick a 24-yard field goal on fourth-and-short in the red zone, rather than try and tie the game at 7 after Arizona State scored on its first drive. The Tigers have the perfect quarterback to make those kinds of plays, and OC David Yost has lauded Franklin's ability to push a pile. However, coach Gary Pinkel didn't give him the opportunity. Somewhat reminiscent of a similar decision early on against Oklahoma State in 2008, a game in which top 10 Missouri was upset on its home field.
What Missouri needs to do:
Get in the backfield. Missouri's defensive line is strong, but it has been quiet in the first half. The Tigers have been unable to pressure Osweiler with any consistency, but the Tigers' cornerbacks need help. E.J. Gaines and Kip Edwards have both been burnt already, and two of Missouri's defensive backs somehow whiffed on the first touchdown pass. How did it happen, though? Osweiler had lots of time and receivers were able to find open space in the secondary.