June, 21, 2013
6/21/13
10:30
AM ET
Far too often, players enter the season with a profile that doesn't quite match his worth to the team.
In other words, they're coming in under the radar. We'll start a new series today looking at those guys who should get more respect and attention than they have this offseason.

First up: West Virginia.
Under the radar: CB Nana Kyeremeh
By the end of the 2012 season, West Virginia fans weren't real happy with the play at cornerback, but experienced starter
Brodrick Jenkins
returns while Kyremeh is likely to slide into the field corner spot to fill
Pat Miller
's absence. Miller had a rough 2012 season, but Kyremeh presents some hope for the position in a secondary stacked with talent and experience.
Darwin Cook
and
Karl Joseph
are solid at safety and Jenkins is beginning his second season as a full-time starter.
Kyeremeh beat out more experienced players to win the starting job in the spring, and working with first-teamers in a high-powered offense during the fall should continue to pay dividends. Kyeremeh is a blazer who should provide some much-needed speed to the Mountaineers' defense and made 15 tackles with two pass breakups in limited duty as a true freshman a year ago. The 5-foot-10, 180-pounder is a shoe-in for the Big 12's All-Name team, but already logged a start in his first season on the field. He'll get a whole lot of them this year, and though he's far from an elite-level cornerback, he could provide a boost for a WVU defense badly in need of one.
May, 1, 2013
5/01/13
7:00
AM ET
2012 record:
7-6
2012 Big 12 record:
4-5
Returning starters:
Offense: 3; defense: 6; kicker/punter: 0

Top returners:
S
Karl Joseph
, LB
Isaiah Bruce
, OL
Quinton Spain
, RB
Andrew Buie
, RB
Dustin Garrison
, DL
Will Clarke
, S
Darwin Cook
Key losses:
WR Tavon Austin, QB
Geno Smith
, WR Stedman Bailey, C Joe Madsen, LB
Terence Garvin
, LB
Josh Francis
, OG
Jeff Braun
2012 statistical leaders (*returners)
Passing:
Geno Smith (4,198 yards)
Rushing:
Andrew Buie* (850 yards)
Receiving:
Stedman Bailey (1,627 yards)
Tackles:
Karl Joseph* (102)
Sacks:
Terence Garvin (6)
Interceptions:
Karl Joseph*, Isaiah Bruce* (2)
Spring answers:
1. Passing weapons found.
The Mountaineers sorted out their receivers and found some solid replacements for Tavon Austin and Stedman Bailey to help ease the transition to a new quarterback. K.J. Myers and
Connor Arlia
had solid springs, along with newcomer
Kevin White
, a junior college transfer.
Jordan Thompson
closed with a big spring game, but he has to prove he can do it in a real game.
2. Corners hit the reset button.
Cornerbacks coach Daron Roberts is gone, replaced by Brian Mitchell.
Pat Miller
graduated, but the corners are strating from scratch this spring.
Brodrick Jenkins
reclaimed his starting spot, and a pair of young players in
Nana Kyeremeh
and Brandon Napolean should be in the rotation on the opposite side, too. This was the biggest problem area for the defense last season, which looked completely overmatched against Big 12 offenses.
3. Strength in (backfield) numbers.
Dana Holgorsen has a reputation as a guy who wants to throw it all around the yard, but that's not necessarily true. This year, he may prove it. WVU will throw it plenty, but running back may be this team's biggest strength. Dustin Garrison is finally healthy and 2012 leading rusher Andrew Buie returns. Juco transfer Dreamius Smith provides even more help at the position. WVU couldn't run the ball consistently last season, but look for them to do it often in the fall.
Fall questions
1. Who's the quarterback?
The spring closed with a quarterback competition coach Dana Holgorsen described as "wide open." Texas natives
Paul Millard
and
Ford Childress
are neck and neck, and that competition will extend into the fall. Millard has more experience. Childress has more arm strength. This one will be unpredictable going into fall. Anything could happen.
2. Is the defense adjusting?
All the leadership and experience this season is on the defensive side of the ball, a stark change from last year's team, where the components of the passing game were better than just about anyone in the Big 12. The new league's offenses got the best of WVU's defense last season, but can they prove they learned from those bumps in the road? No guarantees on that one.
3. Sorting out the offensive line.
Joe Madsen leaves a big hole at center for the Mountaineers, and just two starters return from last year's unit. Ron Crook came from Stanford to replace departed OL coach Bill Bedenbaugh and the battle to replace Madsen at center is one of the most interesting. Senior
Pat Eger
closed the spring as the starter, beating out redshirt freshman
Tyler Orlosky
, but juco transfer Stone Underwood will muddy up that race come fall.
March, 26, 2013
3/26/13
2:30
PM ET
We'll take a look at some of the Big 12's breakout stars this spring, but we'll move forward with a series looking at guys who will be stepping into bigger roles this season and what they have to provide. Some are going from being role players to starters. Some are going from starter to star. Some from stars to bona fide superstars.
Let's finish up with West Virginia.
West Virginia's spring steps forward: Cornerback Brodrick Jenkins

West Virginia's defense had a whole bunch of issues last season, but cornerback was definitely one of the biggest. In fairness, WVU didn't manage much of a pass rush, but the secondary's cover skills left a lot to be desired in a league with receiver talent that absolutely demands it.
Jenkins will be a senior this season and the Mountaineers' lone returning starter at cornerback with
Pat Miller
gone. Position coach Daron Roberts was fired at the end of last season and replaced with Brian Mitchell, but West Virginia's secondary has a chance to become something of a strength in 2013. Safeties
Karl Joseph
and
Darwin Cook
return, and Joseph was the defense's best overall player last season. They'll be much less effective if the cornerback play doesn't improve, however. That's got to start with Jenkins, who made 31 tackles last season but intercepted just one pass, breaking up only two more.
He's got to be better. This isn't the Big East anymore. Any deficiencies in the secondary will be found and exposed by the Big 12's offenses, both in scheme and talent. Offenses in this league make you cover the whole field, and players in the secondary obviously cover the most ground. If you're strong there in the Big 12, you can definitely make an impact. If you're not, even with the best offensive skill talent in the league, you'll be spinning your wheels. West Virginia experienced that firsthand last season.
The cornerbacks were a frustration last season, but WVU's defense can make moves in the right direction if Jenkins closes his career with a strong 2013, his second season as a full-time starter.
See more Big 12 spring steps forward.
March, 20, 2013
3/20/13
1:00
PM ET
West Virginia is only a handful of practices into its spring workouts, and thus far, there hasn't been much separation between quarterbacks
Ford Childress
and
Paul Millard
, who are competing to replace
Geno Smith
. It doesn't sound like incoming talents
Logan Moore
and Chavas Rawlins have found their way into the competition, either.

"They are letting Ford and I go at it right now," Millard told reporters after Tuesday's practice. We are taking half and half with the reps, so it is all 50/50 right now, and we are just going out and trying to get better each and every day."
The race certainly felt like a 50/50 shot heading into practice, so it's good to see the reps are being split accordingly. It's a little early to expect much separation, but that will come with scrimmages throughout spring.
Ultimately, West Virginia's offense will be fine. The focus this spring has been on a defense playing under new leadership in Keith Patterson, who took over play-calling duties from Joe DeForest after the Mountaineers finished last in the Big 12 in scoring defense.
"With coach Patterson, we got to touch on it during the bowl game. He gave us an insight of what it is going to be and what we have to look forward to. Now that we have seen it, he is just an old-fashioned coach that wants you to run to the ball and give effort and everything else will take care of itself," cornerback
Brodrick Jenkins
said.
Plenty has been written and said about West Virginia's struggling defense, which gave up more than 43 points a game in conference play and surrendered 78 plays longer than 20 yards in 2012, both worst in the league. The Mountaineers need help to see major improvement from those numbers, but they're apparently using some of that criticism as fuel.
"Last summer before camp, (defensive line) coach (Erik) Slaughter was telling us how the media was saying that the D-line was going to be the worst and it is going to be our fault that we lose every game. We took it personally, to be honest. Coach Slaughter said it to us every day -- 'you guys are the worst and you want to be first.' That is what they are preaching now," defensive lineman
Shaq Rowell
said. "Our defense as a total was eighth in the Big 12. I thought we were 10th with the way we played. It was discouraging to see how we played last year. This year we are just working hard and training hard for spring ball, and we are just looking forward to better things this year."
August, 1, 2012
8/01/12
10:30
AM ET
To begin the season, I see six teams with a legitimate chance to win the Big 12. Today we'll continue our series looking at why each team will or will not win the league. Next up: Newcomer West Virginia.
More contenders:
Why the Mountaineers will win the Big 12
[+] Enlarge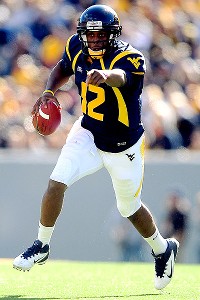 Andrew Weber/US PresswireWest Virginia's Geno Smith passed for 4,385 yards and 31 touchdowns last season.
1. They have the most explosive offense.
Nobody's got a better, more experienced pass-catch combo than Big 12 Preseason Player of the Year
Geno Smith
and his top two targets, receivers
Tavon Austin
and
Stedman Bailey
. The running game with
Dustin Garrison
and
Shawne Alston
isn't going to scare too many folks, but it's definitely good enough to make defenses respect it, and it benefits from the play of Smith, Austin and Bailey. WVU is entering Year 2 with Dana Holgorsen, and there's not a lot of reason to believe the trio won't be even better in 2012.
2. They've got plenty of inside knowledge.
Dana Holgorsen's been in the Big 12 for nine of the past 12 seasons, and his new defensive coordinator, Joe DeForest, spent more than a decade at Oklahoma State. Running backs coach Robert Gillespie and new graduate assistant Andrew McGee, a former OSU cornerback, can help provide some insight into what the Mountaineers will expect on the field in the pregame preparation.
3. They're an unknown entity.
Oklahoma has to make a trip to West Virginia on Nov. 17 in a game that may decide the league title. Nobody in the Big 12 has ever played this band of Mountaineers, and WVU can perhaps use that to their advantage. Big 12 defensive coordinators are familiar with Holgorsen's schemes, but nobody was really able to stop it when he was at Oklahoma State. Don't expect that to change with WVU this year, especially with the kind of talent he's fielding offensively.
Why the Mountaineers will not win the Big 12
1. Where's the defense?
West Virginia lost essentially its entire pass rush from last year's team, which ranked essentially in the middle of the pack in the offensively-challenged Big East. It's a whole new world in the Big 12. Defensive backs
Darwin Cook
and
Terence Garvin
return, along with defensive lineman
Will Clarke
and cornerback
Brodrick Jenkins
, but this isn't the Big East, and WVU is changing schemes from Jeff Casteel's 3-3-5 to a 3-4 with Joe DeForest and Keith Patterson. There could be a rough road ahead of the Mountaineers when it comes to trying to stop Big 12 offenses, which are in another stratosphere compared to what WVU traditionally sees on game day. The one advantage? They've gotten plenty of work in practice this offseason.
2. The Nebraska Effect: They've got too much to learn.
Nebraska was picked by plenty of folks to win the Legends Division in its first year in the Big Ten. The Huskers had the talent, but instead, went 5-3 and finished third in the division behind Michigan and Michigan State. West Virginia has the talent to win the Big 12, but has to study up on nine new teams. The rest of the Big 12 only has to adjust to two new teams. NU got rocked by Wisconsin and Michigan, teams that weren't nearly as good as Nebraska's inexperience in the league made them look. WVU may see the same fate against unfamiliar opponents.
3. The inconsistency will catch up to the Mountaineers.
Everybody remembers that nationally-televised bludgeoning WVU handed out to ACC champion Clemson. Doesn't seem like enough people remember a 26-point blowout loss to five-win Syracuse, or narrow wins over sub-.500 teams like Pitt and South Florida. West Virginia wasn't as impressive on a week-to-week basis as they were in their most prominent game in 2011. Even coach Dana Holgorsen admits that game has plenty of people thinking his team is better than it actually is. Will they improve enough between January and September to be a consistent team capable of winning a much tougher league? We'll find out soon.
June, 27, 2012
6/27/12
4:00
PM ET
By
ESPN.com staff
| ESPN.com
Time for the final team in our series examining one player at each Big 12 school who will enter 2012 with a profile that doesn't quite match his worth.
In other words, they're coming in under the radar.
Click here for more players under the radar
.
Next up: the
West Virginia Mountaineers
.

Under the radar: Cornerback Brodrick Jenkins
In West Virginia, all the attention is on the offense this offseason, but don't forget about the 11 guys on the other side of the ball. Looking for a guy whose name has almost zero recognition across the Big 12? Look no further than Jenkins.
The 5-foot-10, 186-pounder was one of five West Virginia defenders with two or more interceptions, but Jenkins also broke up eight passes, four more than any returning Mountaineer defender. The first-year starter had a strong sophomore campaign, but he's due to be tested much further in the Big 12, a league where the offensive talent dwarfs that of the Big East.
West Virginia won the Big East last year, but the Mountaineers ranked second in the Big East in pass defense, giving up just over 203 yards a game. That number is bound to grow in the pass-happy Big 12 in 2012, but the physical Jenkins will be a big factor in trying to keep it as low as possible. The Mountaineers gave up 24 fewer yards per game than the third-best pass defense in the Big East, but Texas led the Big 12 by giving up just under 210 yards per game through the air.
Nobody in the league would make the argument that West Virginia's corners are on the level of Texas', but Jenkins is a strong player with a lot of upside. He'll get lots and lots (and lots) more chances to prove himself in 2012. WVU faced just 448 passes in 2011, more than all but one Big East team. Seven Big 12 teams defended more than 448 passes last season.
Time for Jenkins to shine.
April, 12, 2012
4/12/12
12:00
PM ET
By
ESPN.com staff
| ESPN.com
March, 29, 2012
3/29/12
12:00
PM ET
By
ESPN.com staff
| ESPN.com
Do you know what's illegal in Europe? Nothing. You're going to college.
February, 15, 2012
2/15/12
10:00
AM ET
We're back, and the kindly introduction is over. It's time to get to know the real West Virginia.
How will the Mountaineers handle the transition? Big 12 blogger David Ubben and Big East blogger Andrea Adelson debated the issue.
David Ubben:
TCU's jump would seem to be a lot bigger, but the Big East has had its well-chronicled struggles the past few years. The Mountaineers left the league with a convincing Orange Bowl win against Clemson, scoring 70 points in the process. Talk about endearing yourself to your new offensive-minded friends, huh? You've seen this team up close lately, though. What, if anything, do you think WVU will have to change to get back to the BCS as a Big-12 member?
[+] Enlarge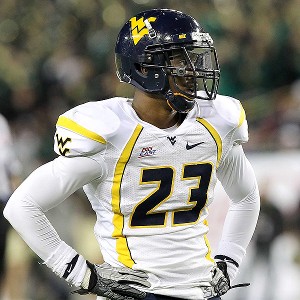 Kim Klement/US PresswireBrodrick Jenkins, an up-and-coming cornerback, will lead the Mountaineers into Big 12 play next season.
Andrea Adelson:
Well, one thing that definitely is going to change is the way West Virginia plays defense. Long-time defensive coordinator Jeff Casteel is out, and so is the odd 3-3-5 stack defense. The Mountaineers are going to go with a 3-4 base set under former Oklahoma State assistant Joe DeForest. This should help ease the transition from the stack, as West Virginia does not have the type of players on the roster to go with four down linemen.
In addition to the new scheme, West Virginia is losing its two best pass-rushers in
Bruce Irvin
and
Julian Miller
, perhaps its best defensive player in linebacker
Najee Goode
, and its best cover corner in
Keith Tandy
. There were times last season when the Mountaineers got beat deep in pass coverage, which will not bode well in Big 12 play.
However, cornerback
Brodrick Jenkins
has the potential to be truly terrific in 2012. He showed flashes late last season. As for the offense, coach Dana Holgorsen is looking for perfection. That means more consistent play out of an offensive line that was mediocre at times last season, and more explosion out of the run game. Starting running back
Dustin Garrison
is coming off ACL surgery, so it will be interesting to see whether he will be the same back come August.
Say what you will about the Holgorsen passing offense, but he definitely wants a running back to complement
Geno Smith
the way Kendall Hunter did with
Brandon Weeden
at Oklahoma State in 2010. How do you think West Virginia will fit in to its new conference home?
DU:
WVU is a good fit on the field. Geographically, not so much, but the Big 12 teams have to like that. There's a lot of uneasiness with TCU entering the league. That could shake up recruiting a lot and cut into the share of teams like Oklahoma State and Texas Tech.
But West Virginia's clearly a strong brand. This is a team that could just as easily have been in the SEC. Instead, it's in the Big 12. The three BCS wins are a big deal, as was the Orange Bowl win. That's endeared the Mountaineers to their new opponents in the Big 12. To win like that on that kind of stage says a lot about where the program is and where it's headed. Having a coach like Holgorsen, who has lots of ties to Texas, will help them grab a few players in Texas, too. The difference between WVU and Mizzou isn't much when you think about recruiting in Texas. I could see WVU being the biggest threat to Missouri recruiting in Texas.
But like TCU, winning games gets people excited. Big 12 fans are psyched about the Mountaineers, who seem like a fun group.
How do you think WVU's transition will compare to TCU's?
AA:
Watching a team put up 70 points is always fun! Hearing a guy like Holgorsen talk is always fun because you never know what he is going to say.
But on to your question: I think West Virginia will have a much smoother transition than TCU because it has played in an AQ conference already. Yeah, OK enter your Big Least jokes in here. But West Virginia has been a solid program throughout the course of its history. Note that the Mountaineers are one of just 14 schools to have 700 program victories -- joining Texas and Oklahoma from the Big 12.
West Virginia is one of just three schools to have at least nine wins in seven straight seasons. That doesn't happen by accident. And it's also important to note West Virginia is not exactly in a recruiting hotbed. Talent does not come pouring out of the state the way it does in Texas. The Mountaineers have built pipelines into Florida -- Geno Smith and
Stedman Bailey
being two notable examples on the squad -- and try to mine talent in Baltimore, Virginia and Washington, D.C. So I do think there will be inroads made into Texas with the Big 12 affiliation.
Already on the roster from the state are starting running back Dustin Garrison and quarterback Ford Childress, an ESPNU 150 player in the class of 2012. I respect the job Gary Patterson has done in building TCU, but I simply think there is going to be much more of a growing curve for a team transitioning to an automatic qualifying conference. What do you think?
DU:
I'd agree. The Big East has been weak, but there aren't any teams like New Mexico and UNLV in that league, who are little more than a week off for teams as talented as TCU has been the past few years. Show up and you win.
Last year, even Kansas beat the MAC champions, Northern Illinois, before losing its final 10 games of 2011. Big 12 champion Oklahoma State lost to 6-7 Iowa State, too. This league is so, so deep. You have to show up and play well every week, and even then, you might not win. In 2010, 11 of the league's 12 teams had five wins and at least played a game with a chance to win six and qualify for a bowl game.
This year, nine of the 10 teams did that. It's got elite teams, too. Texas and OU played for titles in 2008 and 2009 and OSU was barely shut out of the title game this year.
The depth of the Big 12 is what TCU will have to get used to. In that sense, WVU will have to adjust much less. Of course, you never know for sure. We'll find out next year. WVU had some head-scratching losses, too. Losing to Syracuse by 26 points? Really? Sheesh.
Both of these teams are built to win in 2012, and I think they'll do it. But winning a Big 12 title requires you to show up every week and play well. In the Big East, which sent an eight-win team to the BCS in 2010, that hasn't necessarily been true.
In the Big 12, Texas or OU has basically run through the year with 0-2 losses every single season. If WVU wants to win this league, they'll have to do that.
When do you think WVU will win its first title? Will it win one?
[+] Enlarge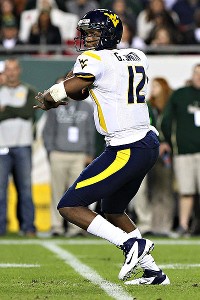 Kim Klement/US PresswireGeno Smith will enter the Big 12 in his third season as West Virginia's starting quarterback.
AA:
It is tough to put a time frame on when West Virginia will win a league title. As crazy as it might sound, I think this team is built to contend in 2012. The Mountaineers dropped FSU from the nonconference schedule, so you could consider Kansas as filling that void. I am sure West Virginia takes that.
Oklahoma is going to be a preseason national favorite, but after that, every single team returning has major question marks. Is Texas going to be Texas? What does Baylor do without RG3? What does Oklahoma State do without Weeden and
Justin Blackmon
?
You bring up a good point about the head-scratching losses. There have been a bunch of those over the last several seasons -- including TWO in a row to Syracuse. This is a team that has simply been inconsistent. It didn't put together a full game against Clemson. But I think Geno Smith,
Tavon Austin
and Stedman Bailey are going to be a handful for teams to stop, so I wouldn't be surprised if the Mountaineers were a surprise contender in 2012. Are you buying or selling?
DU:
I'd generally agree. Year 1 seems to be their best chance. It's a wide-open year in the Big 12, and I think Oklahoma's a bit overrated heading into next year, though the potential for a national title run is there. Texas looks like it's on its way back up, but next year won't be the year.
If it doesn't happen next year, though, I don't think WVU will win a Big 12 title in the next decade. It's a solid program that I think could get into the BCS, but win the Big 12?
With the stability, metroplex location and winning tradition, I like TCU's upside a whole lot more, and its ability to win a Big 12 title in the future. I'm buying a Horned Frogs Big 12 title in the next decade. Not so much on WVU.
Time to put you on the spot: What's WVU's record next year and Big 12 finish?
AA:
I can see the hate mail trickling into the Big 12 mailbag over that one, Mr. Ubben!
I am going to say West Virginia goes 10-2 and finishes second in the Big 12. What say you?
DU:
Maybe so. But hey, that's how we do things on the Big 12 Blog. I call it like I see it. And I see more potential for the Froggies, though I think the Mountaineers will be a solid, solid program. I wouldn't be that surprised if they won the league, but I'm not betting on it.
This is a league built around the state of Texas, and the location's going to make it tough for them to consistently field teams that can win 11-12 games consistently.
Next year, I'll take 9-3 for the Mountaineers, but a tie for third place.
February, 15, 2012
2/15/12
9:00
AM ET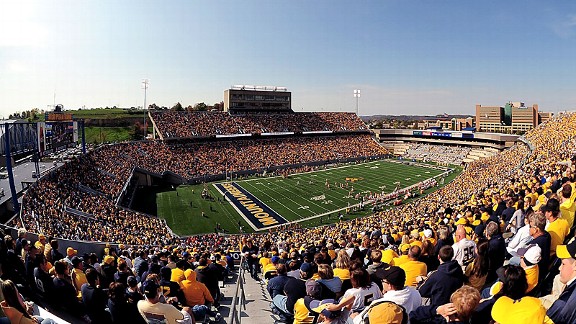 Andrew Weber/US PresswireWest Virginia's Milan Puskar Stadium offers new experiences for Big 12 fans.
After a bit of a delay, thanks to some legal wrangling,
West Virginia is finally free
.
The Big East and the Mountaineers have settled their lawsuit, and West Virginia is officially on its way to the Big 12 for 2012.
That means it's off the Big East blog and onto the Big 12 blog, too.
To help the Big 12 get to know its newest member, Big 12 blogger David Ubben asked Big East blogger Andrea Adelson for her thoughts.
David Ubben:
AA, Les Miles had my favorite quote of the 2011 season in relation to West Virginia. "They were having a football party and invited us. I knew our guys would show up."
You were there, Andrea. What can Big 12 fans expect when they go to Morgantown? Is it a football party every weekend?
Andrea Adelson:
Define "every weekend." West Virginia fans show up for the super gigantic games against teams like LSU and Pitt, but there has been concern that the fan base is "fair weather." Note -- 46,000 fans came out to watch Bowling Green. Now, the truth is, no fan in America gets up for the cupcake patsy schedule. But this rubbed Dana Holgorsen the wrong way,
and he ripped on the fans after that game:
"All I heard about was how much this meant to everybody across the state of West Virginia. This was the NFL team in town and we're going to be here to support you. Well, having 40,000 people at a game isn't doing that. ... We do our best every week to fix what the problems are offensively, defensively and special teams wise. Well, what's everybody across the state of West Virginia, including the student body, doing to fix the fact that our players had to play in front of 40,000 people?"
Now, you remember Holgy from his days at Oklahoma State. OK maybe not, since there were not many of them. But he likes stirring the pot, and I firmly believe he did that to motivate a fan base that had become dispassionate with good ol' Bill Stewart "I never met a punt I didn't like" in charge. The fact is that West Virginia has the most spirited fan base in the Big East and averaged 8,000 more fans than Louisville, which ranked No. 2 in the league in attendance in 2011. The atmosphere is fun, and was absolutely electric against LSU.
I anticipate many more crowds like that with teams like Texas and Oklahoma appearing on the schedule. West Virginia fans have gotten a bad rap nationally because of the couch burning and rowdiness. But in the two games I attended last season, I thought everybody behaved themselves accordingly.
And hey, they now serve alcohol in the stadium. I'm sure Big 12 fans can drink to that.
DU:
No doubt about the couch burning. Apparently West Virginia passed some legislation to make it stop, but I always found it sort of endearing and mostly harmless, albeit destructive. Maybe that's just me.
Holgorsen definitely speaks his mind, and I know fans will be fired up about alcohol sales in the stadium. What about once fans get to the stadium? Any in-game traditions they should be prepared for? Remember, this is the same league that had Texas A&M for its entirety. Visiting fans are prepared for a little weirdness.
AA:
You mean weirder than couch burning?
Well, the Mountaineers mascot runs onto the field with the team toting a real rifle. Each year his costume is tailored to fit just him. But my favorite tradition has to be the playing of "Country Roads" at the end of each home victory. Fans stay in the stands and join the team in signing the song, which became a tradition in 1980 after John Denver dedicated Mountaineer Field with the song.