November, 6, 2013
Nov 6
1:00
PM ET
NORMAN, Okla. -- Just the thought of his defense spending the majority of the game on the field makes Mike Stoops uncomfortable.
"If we play 90 to 100 snaps, it's not good," the Oklahoma defensive coordinator said. "You can't win a game against Baylor playing 90 to 100 snaps. That's not a game you want to be in."
[+] Enlarge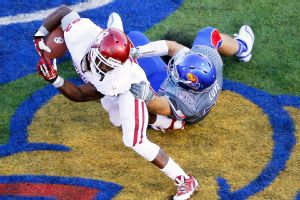 AP Photo/Orlin WagnerRoy Finch and the Oklahoma offense must stay on the field to keep Baylor's high-powered offense on the sidelines.
Oklahoma's offense could be its best defense when it meets Baylor at Floyd Casey Stadium on Thursday. By running the ball, controlling the tempo and keeping the Bears' offense on the sideline, the Sooners' offense could be the difference.
"You hope that your offense can control the football and that you can control the tempo of the game," Stoops said.
It's a formula that has worked before against the Bears. Kansas State held BU to 58 offensive plays in its 35-25 loss to the Bears on Oct. 12. Not surprisingly, the Wildcats held the Bears to season lows in plays (58), yards (446), touchdowns (5) and plays of 10 yards or more (12).
Giving
Bryce Petty
,
Lache Seastrunk
,
Antwan Goodley
and the rest of the Baylor playmakers too many opportunities to make plays will result in big plays and plenty of points. It's simply unavoidable. But limiting their offensive plays and opportunities can make their offense look human and make the ultimate goal of winning the game within reach.
Fortunately for the Sooners, this game plan fits right in line with the approach that has carried them to a 7-1 record. Opponents average 63.8 offensive plays against the Sooners this season, five plays per game less than any other Big 12 team. It's a big reason why OU sits atop the conference in yards allowed per game (314.3) and ranks second behind the Bears in points allowed (18.8).
The Sooners average 234 rushing yards per game and have leaned on that running game to carry the offense this season while their passing game has been inconsistent. Running the ball, controlling the clock and converting on third downs is a formula the Sooners used to defeat Texas Tech, 38-30, in their last game.
"If we can limit the opportunities they get by not turning it over and converting on third downs we help our cause," OU co-offensive coordinator Jay Norvell said. "It's not a complicated formula, but it's important that we get the type of execution we had a week ago."
Ideally, OU will have to find a way to get a lead then use its running game and short-passing game to run out the clock while Petty and company helplessly watch from the bench. The approach has been widely discussed in the halls of the Switzer Center over the past week as the Sooners know their offense and defense must work as one unit to slow the Bears' explosive attack.
"The short passes have to be like runs," Norvell said. "They've [OU receivers] got to be catch the ball no nonsense and get up the field, no dancing, and that's the mentality we have to play with. We've got to make a three-yard catch eight yards and a six-yard catch nine yards. We've got to get the first down first and then worry about making something flashy happen."
OU is converting just 40.7 percent of its third down conversion attempts, ranking fifth in the conference. But the Sooners have improved in recent weeks, converting 14 of 28 attempts combined against Texas Tech and Kansas in back-to-back weeks. Like any big game, making key plays in key moments will decide the outcome.
"It's critical that we stay ahead of the chains, not get in third and long," quarterback
Blake Bell
said.
In its lone loss to Texas, on third down OU had to gain six or more yards on 50 of its 59 plays against the Longhorns. It averaged -0.31 yards per play on third down. Quite simply, the Sooners won't win if they have another performance like they did against the Longhorns.
"Staying on the field obviously comes down to your first- and second-down plays," guard
Bronson Irwin
said. "I think getting yards on those plays puts you at third-and-manageable, whereas if you're at third-and-long your percentages for staying on the field are going to be a little lower. I think being effective and efficient on first and second downs is going to be a huge part of this game."
The moral of the story? OU wants to make this game ugly because its not sure it can win pretty. It's an approach that has been pushed upon them by the struggles of its passing game but one the Sooners have grown to embrace.
"That's kind of the mentality we have," Norvell said. "This team has become a blue collar team. We kind of felt that way in the spring, and we've got a fighter's mentality. We're going to pound on you for four quarters and then try to win it in the fourth. That's the way we've got to be, and that's okay. It doesn't matter how pretty it is. If we end up on the right side of the ledger that's really all that matters."
May, 10, 2013
May 10
12:00
PM ET
Stay away from the darkest timeline, folks.
March, 25, 2013
Mar 25
11:00
AM ET
Turnover is an annual tradition in college football, but with that, teams' strengths and weaknesses constantly shift, too. Today, we'll continue our look at the biggest strengths and weaknesses for each Big 12 team.
Next up: Oklahoma.

Strongest position: Offensive line.
Don't discount
Landry Jones
' experience and decision-making, but Oklahoma threw the ball 571 times last year -- more than everyone in the Big 12 but Texas Tech -- and gave up just 15 sacks, third-fewest in the Big 12. The Sooners have good depth at running back but not a true gamebreaker, and the offense still averaged 4.85 yards a carry, third-most in the Big 12. Oklahoma dealt with a ton of injuries on the offensive line and at the end of the season, was basically reduced to five guys who could play and depended on true freshman
Ty Darlington
at times, too. The unit loses tackle
Lane Johnson
, but
Gabe Ikard
is the Big 12's best offensive lineman and returns alongside
Adam Shead
,
Bronson Irwin
and
Tyrus Thompson
. This unit perhaps could have been better than it was in 2011, which is part of the reason you saw position coach James Patton shown the door in favor of WVU's Bill Bedenbaugh, but it should be a big strength yet again in 2013. I'd say it's definitely the Sooners' best overall position. The Sooners fought through the loss of center Ben Habern and guard
Tyler Evans
in preseason camp last year, and Evans is out again after injuring his knee this spring. Here's betting Oklahoma fills the void yet again.
Weakest position: Defensive line
If you watched the Cotton Bowl, you know all you need to know about this position for the Sooners. Texas A&M had arguably the nation's best offensive line, but the Sooners D-line looked like a bunch of high schoolers for much of the game, applying zero pressure to
Johnny Manziel
and letting him get loose for a record-breaking game in a blowout loss. The Sooners lose four seniors along the line, leaving behind just
Chuka Ndulue
,
Jordan Phillips
and
Mike Onuoha
as contributors from last year's D-line that helped Oklahoma rank just 108th nationally in tackles for loss and 94th nationally in run defense. Oklahoma needs a big upgrade at this position to return to prominence, and I'm not sure the answer to the Sooners being as good along the front line of the defense is coming anywhere but on the recruiting trail.
More Weak and Strong
.
October, 10, 2012
10/10/12
12:00
PM ET
Just remember, when you control the mail, you control ... information.
August, 30, 2012
8/30/12
11:00
AM ET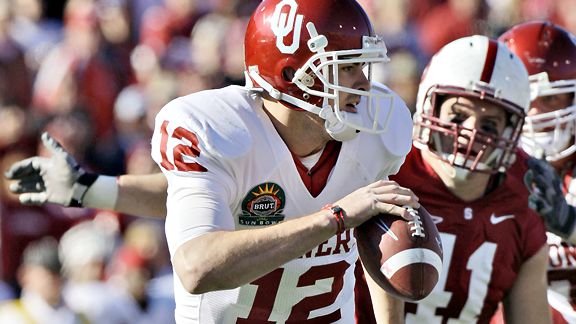 AP Photo/LM OteroLandry Jones enjoyed a breakout game against Stanford in the 2009 Sun Bowl, throwing for 418 yards in the win.
Landry Jones
planned on standing on the sidelines and learning from the best in 2009. He was going to watch how a Heisman winner went about his business.
Less than 30 minutes into Jones' redshirt freshman season, the plan changed.
Sam Bradford's shoulder was planted into the turf and the first chapter of Jones' Oklahoma story was began. It wasn't a happy one, ending what the Sooners hoped was a return to the national title game with a 13-12 loss to BYU in the season opener.
There were other bumps in the road during Jones' first season, like a five-interception outing against Nebraska and an embarrassing blowout loss to Texas Tech in Lubbock.
By the bowl game, though, Jones looked like a different quarterback.
He rolled over Stanford's defense in the Sun Bowl, throwing for a then-career high 418 yards, three scores and completing nearly 60 percent of his passes in the 31-27 win.
"It was a starting point for sure," Jones said. "I grew up a lot in that game."
Almost three years later, he'll begin his final season in the same stadium. This time, Texas-El Paso awaits.
His freshman season ended with a career game. Jones passed up NFL money and a likely first-round selection to come back to Oklahoma for his senior season, which somehow disappointed at least a few Oklahoma fans.
Saturday, Jones will have a chance to remind most everyone of what he can do.
"I believe I'll see more consistency," Oklahoma coach Bob Stoops said. "I believe he's a better player. More mobile, throwing a great ball. I believe the players around him will be more consistent. That position needs support."
Jones watched more film leading up to that Stanford win than he'd ever watched on an opponent before. He saw the results on the field, and his career's never been the same.
Being consistent has always been a struggle for Jones, and part of that has been decision-making and accuracy outside the pocket.
"Moving around in the pocket for sure, that's one area that I wanted to grow in, one area I wanted to get better at," Jones said.
It was an emphasis all offseason for Jones, who also paid a visit to QB guru George Whitfield in California over spring break to work on his mechanics.
"Moving and throwing, that's one thing that was big for me," Jones said, "and sliding around in the pocket and making throws whenever I was sliding."
Jones might need to be on the move a little more this year behind an offensive line struggling with depth. The Sooners lost a pair of three-year starters in Ben Habern (neck, back) and
Tyler Evans
(knee), who were both with Jones for his rocky freshman season.
Jones noted he has a lot of confidence in players like
Adam Shead
and
Bronson Irwin
, big talents sliding up into bigger roles, but Jones' senior debut will be Step 1 in proving he can be at his best for every week in a given season.
"I expect nothing but the best for myself," Jones said. "I expect to play really well and play winning football every game. That's what I expect and that's what I'm shooting for."
August, 24, 2012
8/24/12
10:00
AM ET
Today we continue our look across the league at few players from each team who had low profiles last year, but you'd better get to know before 2012. They just might be household names by season's end.
More fresh faces:

Next up: Oklahoma.
Bronson Irwin, OG:
Those high-profile injuries along the offensive line? Get to know the guys stepping in to help. Guard Gabe Ikard slid over to center to replace the retired Ben Habern, but Irwin will be the man who replaces Tyler Evans, out for the season with a knee injury. Irwin won't be a slouch. He was already pushing for playing time in camp, and now he's earned it, even though the circumstances are far from ideal. Irwin, a 6-foot-5, 307-pound
lifelong Sooner fan
, played in every game last year and had 14 knockdowns in just 127 total snaps.
Geneo Grissom, TE:
Oklahoma suffered big-time attrition at tight end over the offseason when two players left the team and two more graduated. The Sooners were likely to depend on juco transfers and freshmen, but Grissom's come out of nowhere to have a shot at earning the starting spot. His progress at defensive end had been slowed by injuries, and the Kansas native was stuck at third on the depth chart at the position, making just five career tackles. Then, he saw opportunity. He's making the most of it now, and even if he doesn't start, you have to figure the 6-foot-4, 247-pounder will find a way to make an impact at his new position.
Chuka Ndulue, DE:
Ndulue's emerged this offseason as a major player on the defensive line, but like Irwin, his opportunity has come from poor circumstances. Oklahoma hasn't released its preseason depth chart yet, but Ndulue figures to be a big part of it if not a starter at defensive end. Starting tackle Stacy McGee is suspended, forcing end David King to move inside, and allowing Ndulue to move up the depth chart. The Dallas native hasn't played much, making just three tackles in seven games last year, but we'll see that the 6-foot-3, 256-pounder is made of in his first real action this season as a third-year sophomore. His name, by the way, is pronounced "N-duel-E."
August, 16, 2012
8/16/12
12:00
PM ET
There are two specific kinds of people in this world: People who own houses, and people who own condos.
August, 14, 2012
8/14/12
5:00
PM ET
NORMAN, Okla. -- Oklahoma offensive linemen
Austin Woods
and
Bronson Irwin
have been roommates ever since they enrolled early at OU. When Irwin heard his friend was diagnosed with Hodgkin's lymphoma in the spring, it shocked him. What hasn't shocked him is Woods' mentality during the process.
"That's the way he has been and that's the way he will always be," Irwin said. "It's a fighter's mentality. It's a 12-round prize fight and Austin will be there the whole time."
[+] Enlarge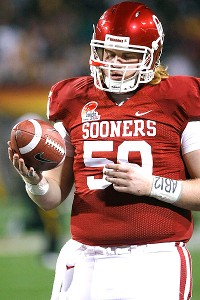 Rick Scuteri/AP ImagesAustin Woods, Oklahoma's deep snapper on field goals and a backup center, was diagnosed with Hodgkin's lymphoma in the spring.
Woods, OU's deep snapper on field goals, was diagnosed a week after spring football but hasn't missed a beat. He only missed two summer workouts and has been cleared to play this season.
Following Tuesday's practice, Woods spoke to the media for the first time since his diagnosis:
SoonerNation
: Talking to all your teammates, every single one of them mentions you as an inspiration. What does it mean to you to hear things like that from your teammates?
Austin Woods
: It means a lot that they say that about me. We're all brothers on this team. I knew no matter what I wanted to be there for them. It could always be worse. As bad as you think you are, you're not as bad as some other people. No matter what you're going through, we can get through this together.
SN
: When did you first notice there might be something wrong?
AW
: All spring I had a sore throat and swollen glands. I went to trainer Scott Anderson and showed him and asked if that was normal, he said no, not really. I saw multiple doctors and was finally diagnosed with it. It wasn't [mononucleosis], wasn't strep throat but nobody was really talking cancer. Went to an oncologist and thought maybe this is cancer. If that's the case, (I've) got to let my family know. Got to have my coaches and teammates know and be ready to fight this thing.
August, 9, 2012
8/09/12
1:00
PM ET
Camp is open up in Norman. Before we get too deep in sweltering hot practices, I'll offer up a quick preview of what you need to know heading into the season.
See
more fall camp previews.
Next up: Oklahoma
Media's predicted finish:
First.

Biggest story line:
Is Oklahoma, fresh off a disappointing end to 2011, good enough to bounce back and ascend back into the BCS in 2012 as Big 12 champs? The Sooners are the favorites, and have a decent shot at winning a national title if they stay healthy. This year, they don't have to deal with the crushing pressure of the preseason No. 1 and the expectation of a national title. Even QB
Landry Jones
admitted to me this preseason that wins last year felt mostly like relief, the calm after holding their breath for 60 minutes. This year should be much more relaxing, with wins feeling more like accomplishments. Will the results show up on the field?
Biggest question mark:
Receivers. There's tons of potential here, especially with the addition of Penn State transfer
Justin Brown
, who'll contribute on punt returns, too.
Kenny Stills
returns, but offseason suspensions means Brown and Stills will be the only Sooners on the roster who have played a down of college football when the season begins.
Trey Metoyer
looks likely to emerge as an impact player, but he's got to prove it. Can
Sterling Shepard
and
Durron Neal
get in the mix while Jaz Reynolds and Trey Franks sit out with multiple game suspensions?
Biggest addition:
Defensive coordinator Mike Stoops is in after nearly a decade in charge of the Arizona program. He'll coach the defensive backs and replace Brent Venables, who left for Clemson after being forced into a co-defensive coordinator role with Stoops.
Who needs to step up:
The rest of the offensive line. Oklahoma's camp has gotten off to an awful start. Center Ben Habern left football after lingering neck and back issues, and guard
Tyler Evans
is out with a torn ACL. That's a pair of three-year starters. Guard
Gabe Ikard
, the team's most talented lineman, is moving to center, but the Sooners are officially strapped for depth. It's time for junior
Bronson Irwin
to slide into Evans' spot, and he'll have to be great if OU is going to win another Big 12 or national title.
On the mend:
Dominique Whaley
. The Sooners' RB suffered a nasty broken ankle last season against Kansas State, but he's back and ready to compete with
Roy Finch
and
Brennan Clay
for carries in a crowded backfield.
Don't forget about:
S
Tony Jefferson
. He's moving from the nickel back spot (Joe Ibiloye is expected to take over) back to free safety across from
Javon Harris
as strong safety, but don't be surprised if Jefferson makes a run at the Big 12 Defensive Player of the Year award by season's end. He's got the physical talent and his instincts are almost unmatched in this league. At a more natural spot, could he emerge as an All-American, or more?
August, 2, 2012
8/02/12
3:15
PM ET
As Oklahoma kicks off football practice this week, here are five storylines to watch this preseason:
1.
How does Whaley look in pads?
The injury to Ryan Broyles overshadowed the impact of the loss of
Dominique Whaley
, who suffered a season-ending ankle injury midway through the 2012 season. Whaley has been cleared to practice, but even Bob Stoops admitted the Sooners won't know how Whaley will handle cutting and contact until the team practices in pads. The Sooners have other options at running back, but Whaley is the most proven of any of them.
2.
How will the offensive adjust to life without Habern?
[+] Enlarge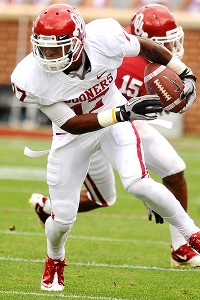 Mark D. Smith/US PresswireFreshman receiver Trey Metoyer is already penciled in as an opening-day starter for the Sooners.
Stoops said this week that the offensive line will be ready to deal with the loss of center
Ben Habern
, who has
given up football
because of issues with his neck and back. The Sooners made a seamless transition for six games without Habern last season, sliding
Gabe Ikard
to center, and inserting
Adam Shead
in at guard. The Sooners shouldn't miss much of a beat without Habern, but the line is a lot thinner than it was a week ago. Others like guard
Bronson Irwin
must step up.
3.
Does
Trey Metoyer
build off his spring?
Other than
Landry Jones
, Metoyer was OU's best offensive playmaker of the spring. Can the freshman phenom keep it going? By all accounts, Metoyer has busted it over the summer. So there's little reason to doubt he won't lock down a starting job before September.
4.
Which other newcomer receivers will emerge?
With
Jaz Reynolds
and
Trey Franks
expected to serve long suspensions, and Kameel Jackson still working on academics, OU will need wideouts other than Metoyer to emerge.
Durron Neal
has been slowed by a knee injury this summer,
LaColtan Bester
just got to campus and
Courtney Gardner
was unable to qualify. That leaves freshman slot receiver
Sterling Shepard
as the most likely to step into a prominent role. Shepard has wowed his teammates with his work ethic this summer.
5.
Will the secondary regain some of its swagger?
The confidence of the defensive backfield was shaken the second half of the season following porous performances against Texas Tech and Baylor. The group even dropped its "Sharks" nickname. But the return of Mike Stoops has the secondary primed for a bounce-back season. A change of scenery could do wonders for
Javon Harris
and
Gabe Lynn
, who both figure to open the season in the starting lineup. If they hold up, the secondary could be awesome, with stars
Tony Jefferson
,
Aaron Colvin
and
Demontre Hurst
manning the rest of the unit.
August, 24, 2010
8/24/10
11:00
AM ET
Oklahoma coach Bob Stoops released his latest depth chart on Monday, and likely inspired some double takes from some. Of the 44 spots on the offensive and defensive two-deep, seven are occupied by true freshmen, signees from the 2010 class who arrived on campus just this summer.
Two have established themselves as starters just weeks into their first fall camps.

Kenny Stills
, a freshman receiver from San Diego, has earned a starting spot over senior
Brandon Caleb
at one of the three receiver positions. Elsewhere,
Trey Millard
, a freshman fullback who played tight end back home in Columbia, Mo., has taken the starting spot away from 241-pound redshirt freshman
Marshall Musil
, who rumbled for 92 yards in the spring game.
Stills is hardly a surprise. He was one of the spring standouts for a receiving corps that struggled outside of
Ryan Broyles
in 2009, and Stills finished with six catches for 84 yards in the spring game.
Elsewhere, two more freshmen cracked the two deep on offense.
Joe Powell will back up
Ryan Broyles
at the SL receiver position and
Bronson Irwin
, who joined Stills as an early enrollee this spring, will step in behind Tyler Evans at right guard.
Three showed up on defense.
Safety
Tony Jefferson
, a 5-foot-11, 198-pounder who is competing to start as the Sooners' situational hybrid safety/linebacker spot, is listed as a co-No. 2 behind Jonathan Nelson at strong safety.
Nelson's move from cornerback to safety -- a formality for some time -- freed up a spot for
Aaron Colvin
behind Demontre Hurst at one of Oklahoma's two cornerback spots.
And
Corey Nelson
-- the nation's No. 3 linebacker and No. 62 on the ESPNU 150 -- who Oklahoma ripped from Texas A&M shortly before signing day, is behind one of the conference's best linebackers in Travis Lewis, who told local reporters last week that Nelson would eventually become better than him.
That's significantly more freshmen than you'd usually find on Oklahoma's depth chart this time of year. If any of the backups are forced to play, Oklahoma would surely deal with the inconsistencies that come with relying on freshmen, but Stoops also has to be encouraged by the potential his young talent has shown early in camp.
Each freshman should see at least some spot duty in relief of the starters, and any experience should make the future look even brighter than it already does for Oklahoma, who also
currently has the No. 3 recruiting class for 2011
, based on current commitments.
May, 11, 2010
5/11/10
2:30
PM ET
Here, we'll take a look at a couple of key players going, staying and coming for each team in the Big 12.
Going:
Trent Williams, OT
Before last season, offensive coordinator Kevin Wilson called Williams the best lineman he'd ever coached. Even though the offensive line heard plenty of criticism during last season, Williams parlayed his performance into a top-five selection in the NFL draft. He and Gerald McCoy were the only ones among Oklahoma's Big Four who came back after a national runner-up season in 2008 that didn't suffer a serious injury. The first-team All-American showed he was the nation's best offensive tackle last season, which was confirmed in April's draft.
Gerald McCoy, DT
McCoy was the heart of Oklahoma's top-10 defense in 2009 and stayed healthy throughout the season, unlike fellow first-round draft picks Sam Bradford and Jermaine Gresham. McCoy was drafted No. 3 in last month's draft after starting every game for three seasons and notching 15.5 tackles for loss in 2009.
---
Staying:
Ryan Broyles, WR
Broyles enters his junior season as the top returning receiver in the conference. His 1,120 receiving yards on 89 catches helped spur
Landry Jones
' development, and he did it while missing almost two full games and playing with a still-healing fractured shoulder blade against Texas. The speedy, 5-foot-11 Broyles is one of the most dangerous players in the conference after the catch and in the open field, and could continue his punt-returning duties (first-team All-Big 12) in what should be another big year in 2010.
Travis Lewis, LB
Lewis embraced his role as the new voice and leader of the Sooners defense this spring, gearing up for a season alongside two newcomers at linebacker. Lewis led the team in tackles as a freshman (144) and sophomore (109) and could do it again in 2010. Lewis was named to the All-Big 12 first team in both seasons and it'd be surprising to not see him there again this season.
---
Coming:
Kenny Stills, WR
Stills could help bolster a unit that, outside of Broyles, struggled in 2009. The Sooners worked all season to find a second target opposite Broyles, and may have done it in junior
Dejuan Miller
, but Stills showed he had potential to be an impact player as a true freshman. The early enrolling freshman came to Oklahoma as the No. 36 receiver in his class, according to Scouts Inc., but he could end up being the No. 2 receiver for the Sooners. He led all receivers in the spring game with 84 yards and a touchdown on six catches.
Bronson Irwin, OL
Oklahoma's offensive line was forced to enlist the services of walk-on Brian Lepak late last season. Irwin, who also enrolled early, could give the line the additional depth it could have used last season, but might need to use this season. The 6-foot-5, 322-pound Mustang, Okla., native came to Norman as the nation's No. 22 offensive tackle prospect, and got a jump start on his fellow incoming linemen with his work this spring.
More Revolving Door:
March, 18, 2010
3/18/10
11:30
AM ET
Weak: Offensive line
The only thing the 2009 Oklahoma offensive line did more than get penalized was get injured.

In a season filled with disappointment, the offensive line began the season as a concern, and remained one throughout. Thinning numbers at nearly every position didn't help, and after Trent Williams suffered a concussion before the season finale, Oklahoma was forced to start walk-on Brian Lepak, though he did perform well.
But the struggling line will lose its three best blockers from last season: Williams, Brian Simmons and Brody Eldridge.
For improvement, the Sooners need players like junior Stephen Good and sophomore Tyler Evans to fulfill their potential. Freshman Bronson Irwin enrolled early and will be in spring camp for the Sooners, and junior Donald Stephenson returns from a year-long suspension. He's drawn praise from Bob Stoops for his early work.
Strong: Defensive end
Oklahoma could once again contend for the best defensive line in college football, but its real strength is on the ends.
Senior Jeremy Beal had 11 sacks (fourth-most in school history) last season after grabbing 8.5 as a sophomore. Now, his senior season will be his third as starter after two consecutive appearances on the All-Big 12 first team.
Frank Alexander played extensively (nine starts) in his first two seasons and likely assumes a permanent starting role as a junior. Seven of his 23 tackles last season were for a loss and he also notched 1.5 sacks.
As a freshman, Alexander was named an All-Big 12 honorable mention performer and had five tackles as a starter in the national title game.
More Weak & Strong: