January, 4, 2012
1/04/12
10:30
AM ET
By
ESPN.com staff
| ESPN.com
Kansas' coach Charlie Weis looks like he's putting together a staff composed of his former assistants and Turner Gill's leftover staff in Lawrence.

He's hired former Akron head coach Rob Ianello to coach wide receivers and serve as the team's recruiting coordinator. He was with Weis for all five seasons at Notre Dame as receivers coach and in the final season, an assistant head coach, serving as recruiting coordinator throughout his tenure.

He'll replace Reggie Mitchell in that role at Kansas, but Mitchell has been retained to coach running backs.

Weis also retained Buddy Wyatt from Gill's staff to coach the defensive line. Wyatt previously coached at Oklahoma State, Texas A&M, TCU, Alabama, Nebraska and others.

Ianello also has experience at Wisconsin, Alabama and Arizona.
June, 6, 2011
6/06/11
9:00
AM ET
By
ESPN.com staff
| ESPN.com
Here's what happened around the Big 12 while its baseball teams were getting KO'd in the NCAA tournament over the weekend:
Kansas hires its linebackers coach
Turner Gill needed a linebackers coach and said he wanted to get one by the end of the week. He delivered.

The Jayhawks brought in Vantz Singletary, the nephew of Hall of Fame linebacker Mike Singletary, a Baylor alum. Vantz has spent the past two seasons coaching inside linebackers for the San Francisco 49ers and worked on Gill's staff at Buffalo in 2008, when the Bulls won the MAC.
"Vantz is a not only a great teacher and recruiter, but also a tremendous person," Gill said in a release, adding that he would "bring great ideas on pass-rushing skills to our linebackers."
Singletary graduated from Kansas State, but this will be the first stop at a BCS conference school in his 20 seasons of coaching.
The Jayhawks needed a replacement after defensive coordinator/linebackers coach Carl Torbush was diagnosed with low grade prostate cancer last week and retired. Gill promoted cornerbacks coach Vic Shealy to defensive coordinator. Defensive line coach Buddy Wyatt will serve as co-defensive coordinator.
Aggies' Damontre Moore arrested
Expectations are high
for the man likely pegged to replace Von Miller, but Damontre Moore's summer got off to a rough start.

The 6-foot-6, 290-pounder was arrested on Friday morning and accused of possessing less than two ounces of marijuana.
Coach Mike Sherman declined comment, but Texas A&M spokesman Alan Cannon
told the San Antonio Express-News
"Historically, Coach Sherman has handled the discipline of his players, and there are consequences for poor choices."
Not much more to say about this. I'm sure Moore and the rest of A&M don't need me to inform them that it's a pretty stupid mistake, and suggests a series of decisions inconsistent with what the Aggies would like to see from their players. Sherman will handle it, but Moore's future now depends on him getting better at making off-field decisions more so than anything he does on the field.
February, 16, 2010
2/16/10
3:30
PM ET
Desperation or improvement?
That's the question Texas A&M football fans have to be asking themselves after Aggies coach Mike Sherman
rebuilt his coaching staff
after only two seasons. After the Aggies finished 6-7 in 2009, dropping Sherman's record to 10-15 in two seasons in College Station, he completely overhauled his staff. All but one defensive assistant was replaced, and former Louisville coach Steve Kragthorpe was hired to coach wide receivers.
There's really no way to sugarcoat it: If Texas A&M's defense and special teams are as bad as they were in each of the past two seasons, Sherman will be the coach looking for a job in 2011.
[+] Enlarge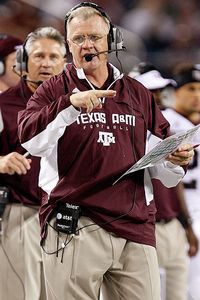 Ronald Martinez/Getty ImagesMike Sherman has posted a 10-15 record in two seasons at Texas A&M.
The A&M defense can't possibly be any worse, after it finished 106th among FBS teams in pass defense (254.7 yards per game), 105th in total defense (426.3 yards) and scoring defense (33.5 points per game) and 90th in rushing defense (171.6 yards).
After the Aggies allowed 30 points or more in nine games last season, defensive coordinator Joe Kines retired. Defensive line coach Buddy Wyatt left for Kansas and defensive backs coach Van Malone departed for Tulsa.
Sherman is betting that former Air Force defensive coordinator Tim DeRuyter can shore up his defense quickly. DeRuyter runs an aggressive 3-4 scheme, which helped the Falcons lead the country in turnover margin (plus-1.69 turnovers per game) and finish fifth in passing defense (154.3 yards per game), 10th in scoring defense (15.7 points) and 11th in total defense (288.3 yards) in '09.
The good news for DeRuyter? The Aggies will bring back 10 defensive starters, including pass-rushing specialist Von Miller. DeRuyter's chore is to make the Aggies more aggressive and disciplined.
Sherman hired former Texas A&M All-American Dat Nguyen as inside linebackers coach, which is a very smart move. Bringing back one of the school's most-decorated players is always a public relations coup with alumni and fans. The fact that Nguyen worked the past three seasons as an assistant linebackers coach with the Dallas Cowboys shows he's more than just a big name, too.
Sherman lured Purdue defensive line coach Terrell Williams to College Station and hired Nick Toth as his team's outside linebackers coach. Toth worked last season as defensive backs and special teams coach at The Citadel. Toth played and coached under DeRuyter at Ohio and is well-versed in coaching the 3-4 scheme.
Toth also will be asked to help fix Texas A&M's special-teams woes. Last season, the Aggies finished 104th in net punting (32.9 yards), 98th in kickoff return defense (23.1 yards) and 49th in kickoff returns (22.3 yards).
The special-teams miscues were never more evident than during Texas A&M's 44-20 loss to Georgia in the Independence Bowl. The Aggies allowed a kickoff return for a touchdown, had a field goal and punt blocked and snapped the ball over the punter's head.
Kragthorpe, who was fired after compiling a 15-21 record in three seasons at Louisville, replaces former A&M wide receivers coach Nolan Cromwell, who left for the same position with the NFL's St. Louis Rams. Kragthorpe previously worked as offensive coordinator at A&M from 1998-2000, helping lead the Aggies to their lone Big 12 title in 1998.
With Big 12 powers like Oklahoma and Texas having to replace several star players, and programs such as Kansas and Texas Tech undergoing major renovations, the Aggies might be well positioned to move up the league's ladder this coming season.
If they don't, Sherman's job might be on the line.
February, 5, 2010
2/05/10
11:14
AM ET
By
Tim Griffin
| ESPN.com
The eight members of Turner Gill's new coaching staff at Kansas will earn significantly more than Mark Mangino's 2009 staff did.
The Lawrence Journal-World reports that Gill's staff will earn
$2,059,999.96 this season
. That figure is up 16.61 percent from the $1.766,500 that Mangino's staff pocketed for their work last season.
Here's a look at Gill's staff and what it will make.
Chuck Long, offensive coordinator: $350,000
Carl Torbush, defensive coordinator: $350,000
John Grimes, offensive line coach: $250,000
Darrell Wyatt, wide receivers coach: $249,999.96
Reggie Mitchell, running backs coach/recruiting coordinator: $240,000
Buddy Wyatt, defensive line coach: $200,000
Vic Shealy, cornerbacks coach: $150,000
Aaron Stamm, tight ends coach/special teams coordinator: $150,000
Robert Wimberly Jr., safeties coach: $120,000
On Mangino's 2009 staff, former offensive coordinator Ed Warinner was the highest-paid member at $300,000, while defensive coordinator Clint Bowen's base salary of $260,000 was second. None of the members of the old staff were carried over by Gill onto his new staff.
Much has been made about Gill's experienced staff, which will feature former FBS head coaches in Long and Torbush and a couple of the nation's top recruiters in Wyatt and Mitchell. It's obvious that Kansas isn't paying lip service to the cost of assembling a top staff when these salaries are analyzed.
And Gill's starting salary of $2 million per year on a five-year contract is the highest salary that Kansas has ever started a football coach when he begins his work with the Jayhawks.
February, 1, 2010
2/01/10
7:39
PM ET
By
Tim Griffin
| ESPN.com
Texas A&M has
hired former Purdue assistant coach Terrell Williams
as Mike Sherman's new defensive line coach.
It fills a position created when former defensive line coach Buddy Wyatt resigned to accept the position at Kansas on Turner Gill's new staff, the San Antonio Express-News reports. It was the first hiring by new Texas A&M defensive coordinator Tim DeRuyter.
Williams, 35, has come to A&M after four seasons coaching the Boilermakers' defensive linemen. He comes with a strong reputation for developing individual talents such as Anthony Spencer, Cliff Avril, Alex Magee, Mike Neal and Ryan Kerrigan.
The Boilermakers ranked fourth in the Big Ten and 22nd nationally in 2009 as they averaged 2.67 sacks per game. Kerrigan was third nationally with an average of 1.08 sacks per game.
But the Boilermakers struggled mightily against the run, ranking 94th nationally and last in the Big Ten conference against the run. Purdue was gashed for at least 200 yards rushing in four different games during its 5-7 season. Additionally, the Boilermakers yielded 26 rushing touchdowns to rank tied for 100th nationally and in front of only Florida State (27 rushing touchdowns allowed), A&M (29 rushing touchdowns allowed) and Washington State (35 touchdowns allowed) among schools in conferences with automatic BCS berths.
A&M fans continue to hope that legendary former A&M player Dat Nguyen eventually will end up on DeRuyter's staff. Kines coached linebackers in addition to being the defensive coordinator. DeRuyter had no specific positional duties at the Air Force Academy and may be inclined to head to that position on his new staff, freeing up a spot for the former Lombardi and Bednarik award winner on his staff.
January, 29, 2010
1/29/10
12:32
PM ET
By
Tim Griffin
| ESPN.com
Dat Nguyen might be the most recognizable Texas A&M football product of the Big 12 era.
Along with Aggie icons like John David Crow, John Kimbrough and yes, even original 12th man E. King Gill, Nguyen made a legendary mark on the school through his time with the football program.
Now, it seems to be a no-brainer for A&M coach Mike Sherman to bring the most decorated Aggie in recent history back into the fold. The Aggies have a vacancy on their defensive staff after Buddy Wyatt left for Turner Gill's new staff at Kansas.
Nguyen quit his work with the Dallas Cowboys earlier this week after being offered a two-year contract extension to continue as the NFL team's assistant linebackers coach and a quality control assistant.
That job was more clerical in nature than Nguyen really wanted. And
it's why he decided to quit
after spending three years as a coach for his old professional team.
"I want to grow as a coach," Nguyen told the San Antonio Express-News. "I want to be more hands-on, and be more accountable to players.
"I didn't think I'd have the chance to grow like I had envisioned as a young coach. They offered me an extension. I just didn't see where staying with the Cowboys was going to help me accomplish what I want to accomplish."
Coming back to his old school might do just that.
"I definitely want to be in coaching; it's a part of my life," Nguyen said. "I want to make differences in kids' lives."
It's hard to imagine a more positive role model the Aggies could add to help revamp a struggling defense that ranked among the bottom 16 teams in total defense, scoring defense and pass defense in 2009.
Obviously, Nguyen has never coached in college or been involved in recruiting. But his name still resonates with Aggies everywhere and would likely do the same in any household of nearly any recruit in Texas.
"People think I'm crazy to not have signed that extension, that I should keep coaching for the Dallas Cowboys," he said. "But I've never done anything because of money. I understand what I gave up. I understand that I left an NFL job without a job at hand. I took that risk.
"I have faith, and as long as I have my wife and our two kids, I'm fine. I don't know where the Lord is going to take me. It's in his hands."
Sherman is battling as he tries to build his program after losing 15 of his first 25 games as coach, capped by a 44-20 loss to Georgia in the Independence Bowl.
His defense struggled with former coordinator Joe Kines in charge, allowing at least 40 points in 12 of those games. The Aggies ranked 114th and 105th nationally in total defense in the last two seasons.
The hiring new coordinator Tim DeRuyter was a wildly popular move among Aggie fans, prompting a standing ovation for the new coach when he was introduced at the A&M basketball game against Colorado last week.
Bringing Nguyen back into the program would only continue that excitement for a defense that has looked little like the "Wrecking Crew" defenses of which he was such a prominent part during his playing career.
January, 14, 2010
1/14/10
12:30
PM ET
By
Tim Griffin
| ESPN.com
Here are some Big 12 lunch links.
Grab them while they are hot -- just like Will Muschamp's persona among those fans who sing "Rocky Top" Saturday afternoons during the fall.
January, 5, 2010
1/05/10
2:02
PM ET
By
Tim Griffin
| ESPN.com
New Kansas football coach Turner Gill has finished the hiring of his coaching staff with the announcement of six new coaches.

Joining Gill's staff are offensive line coach J.B. Grimes, running backs coach/recruiting coordinator Reggie Mitchell, cornerbacks coach Vic Shealy, safeties coach Robert Wimberly, defensive line coach Buddy Wyatt and co-offensive coordinator/wide receivers coach Darrell Wyatt.

Mitchell and Darrell Wyatt both coached previously at Kansas.

Gill previously had hired co-offensive coordinator/quarterbacks coach Chuck Long, defensive coordinator Carl Torbush and tight ends/special teams coordinator Aaron Stamm.

Considering the circumstances of throwing the staff together quickly, Gill did an admirable job in cobbling together a respected staff that is loaded with recruiting ties throughout the Big 12 area.

The 10 full-time staff members, including Gill, have combined to coach 213 seasons and 72 bowl games at the collegiate level. Four members of the staff -- Long, Torbush, Gill and Shealy -- have spent a combined 15 years as a college head coach.