June, 1, 2012
6/01/12
9:00
AM ET
The Big 12's second day of spring meetings came and went on Thursday in Kansas City, Mo., with no real news after the conference reaffirmed its commitment to 10 members on Wednesday.
Until the new configuration of the BCS is settled (i.e., what form will a four-team playoff take?), the Big 12 won't be taking much action, if any. Outgoing commissioner Chuck Neinas confirmed at least that much. Neinas also said he might stay on through July to relieve new commissioner Bob Bowlsby, who has other obligations on the United States Olympics Committee's board of directors. Bowlsby would still come aboard June 15, but there would be a period of overlapping commissioners.
"It was great to see Bob and Chuck together today at the head table, talking about things," Oklahoma State president Burns Hargis
told reporters Thursday
. "I think the transition will be smooth."
The league's presidents were in attendance Thursday and reaffirmed the athletic directors' stance on expansion.
[+] Enlarge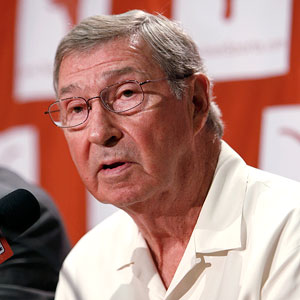 Erich Schlegel/Getty ImagesTexas athletic director DeLoss Dodds lit into the SEC and Big East during the Big 12 meetings.
"We're all very satisfied with 10 teams," Hargis said. "We're not shutting the door to any opportunity that might arrive. We're not in the market, we're not receiving applications. Our expansion committee is inactive."
To my knowledge, that's the first public confirmation that the expansion committee is indeed inactive. Interesting stuff. If Notre Dame becomes a possibility, it's clear the Big 12 would listen, and I'd assume that Florida State would engender a similar reaction, to a lesser extent. For now, though, the Big 12 maintains it's sitting at 10, even if no one (yours truly included) really believes it.
With Florida State officials expressing conflicting messages about the school's future conference affiliation, and the future of the Big East very much in flux, how could you?
A few other quick notes:
Texas AD DeLoss Dodds came out firing on Thursday, tossing barbs just about everyone's way. The SEC has Texas in its footprint? "They have a sliver of the east side," he told reporters. On the Big East? "I don't know if they qualify as a BCS [conference]. They've lost a lot of strength."

Neinas, on the league extending its six-year grant of media rights agreement, which is in progress, but not a done deal? "I don't believe the membership feels it's a gun-at-the-head arrangement. It's just a step forward moving together."

The league membership also didn't sound very fired up about re-instituting a championship game in the new iteration of the BCS. Reports John Hoover of the Tulsa World: "We have come to really appreciate the position we're in right now by not having a championship game," said Iowa State's Jamie Pollard, chairman of the Big 12 athletic directors. Said Dodds: "If this all happens the way we're visualizing today, I think there are some football coaches out there that will say, 'Well, what are we doing? We're 12-0, we've got to go into play a team that's 9-3, we've got a shot at getting beat.' Or, 'We win the game, it's a struggle, we get two kids hurt' -- I mean, those kinds of things are gonna be the reality of it."
Dodds might not have been making many friends Thursday, but he did make some among the league's coaches with that comment for sure.
Friday is the final day of meetings, but it's been a quiet week compared to the past two years at Big 12 spring meetings. For now, it's mostly just been the league's members drawing battle lines on where they stand in relation to the playoff and expansion.
May, 3, 2012
5/03/12
6:50
PM ET
The Big 12 made it official on Thursday afternoon: Stanford AD Bob Bowlsby is
the new man in charge of the Big 12
. He'll be introduced as commissioner at a press conference on Friday morning.

I'll be there at the Big 12 offices in Irving, Texas, for sure, so be sure to check the Big 12 blog for coverage.
Bowlsby will take over for interim commissioner Chuck Neinas on June 15. Neinas replaced fired commissioner Dan Beebe in September 2011.
"I am proud to have been selected to lead the Big 12 Conference as its Commissioner. The member institutions represent the best in competitive intercollegiate athletics and they occupy a prominent place in the history of sports in America," Bowlsby said in a statement. "I am excited to work with a very talented and committed group of Presidents and Chancellors to advance the Conference on the national sports landscape. Additionally, the directors of athletics, senior woman's administrators, faculty athletics representatives, coaches and conference office staff are among the very best in the country. The future is exceedingly bright and I look forward to engaging with my colleagues to achieve great things in the years ahead."
In a tweet, Kansas State AD John Currie said the league's presidents and search committee "hit a home run" with the hire.
"Bob Bowlsby is a highly respected and experienced college athletics administrator who has a reputation for integrity and excellence. His vision will be shaped by successful experiences at leading institutions in other BCS conferences which will serve the Big 12 very well as he leads us into a bright future," Baylor athletic director Ian McCaw said in a statement.
Oklahoma president David Boren also lauded the selection.
"His combination of skills makes him the ideal selection," Boren said in a statement.
Oklahoma State president Burns Hargis explained those skills in the Big 12's announcement of the Bowlsby hire.
"The institutions of the Big 12 wanted a Commissioner that could take us to the next era as a conference with the addition of TCU and WVU, and we unanimously agreed Bob is that leader," Hargis said. "The search committee looked for a candidate that has a vision for the next generation of college athletics, and his credentials and ideas exceeded this. He understands enhancing athletic competition among conference schools, the challenge of balancing academics and athletics for our student-athletes, and working with our broadcast and bowl partners."
October, 5, 2011
10/05/11
12:00
PM ET
By
ESPN.com staff
| ESPN.com
So, wait ... there's a new Footloose remake, and this is ... not an SNL skit? Correct?
October, 3, 2011
10/03/11
2:30
PM ET
By
ESPN.com staff
| ESPN.com
Big 12 interim commissioner Chuck Neinas met with the media on Monday via teleconference for 25 minutes to discuss the future of the league and
its decision to share Tier 1 and Tier 2 revenue equally
, pending a commitment of each school's media rights to the conference.
"I'm not objective on this, but in an objective view, I think this should be a positive sign for Missouri," Neinas said. "I do think that they'll consider what we're doing. We have some things in mind that I'm not prepared to reveal at this point, but we're working in a very positive way toward improving what is already a good conference.
Neinas continues to be confident Missouri will stay, but the school's board of curators has scheduled a meeting for Tuesday in St. Louis, and will speak with the media following its conclusion. The SEC's presidents will meet on Wednesday.
Neinas will travel to Missouri's campus later this week to speak with officials from Missouri.
"They have to look at not only what the future best interests are for the University of Missouri but for the state of Missouri. There's a lot to be considered, not only for the institution, but for the state," Neinas said.
He cited the school's rivalry with Kansas, which has stretched longer than a century. He also added that Kansas City, a home for many Missouri alums, is the home of the Big 12 Conference basketball tournament. He also expressed worry that Missouri fans' traditions of driving to games in the Big 12 would end if it left to play games in locales like Gainesville, Fla., Tuscaloosa, Ala. and Columbia, S.C.
"Missouri is Midwestern, not Southern," he said.
Missouri balancing both sides?
Despite rumors to the contrary last week, Missouri chancellor Brady Deaton remains chair of the Big 12 board of directors and is on the five-man expansion committee along with Kansas State president Kirk Schulz, who serves as the chair. Texas athletic director DeLoss Dodds, Oklahoma athletic director Joe Castiglione and Oklahoma State president Burns Hargis fill the committee.
On Sunday's conference call between the board of directors, though, Deaton recused himself from a part of the meeting at the advice of his legal counsel.
Neinas declined to detail the part of the meeting in which Deaton did not participate.
Expansion committee moves forward
The expansion committee has been reactivated after the drama surrounding Texas A&M's exit subsided, and will meet later this week.
Does Neinas have a sense that his conference knows who is on board and could make offers to others?
"That's a good question, and I think the answer is yes," he said.
The problem, though, seems to be that there is no consensus on how the Big 12 should expand. Neinas said there is still no strong sense of if the Big 12 should remain at nine, add one member to reach 10 or more to have 12, 14 or even 16 members.
Presumably, finding that consensus and recommending a move to the rest of the league's presidents is part of the expansion committee's job description.
Missouri's stance on Big 12 future
Missouri still hasn't said definitively what its plans are, but Neinas clarified a few stances on Monday.
The equal revenue sharing for Tier 1 and Tier 2 rights passed unanimously and had been something Missouri supported.
Neinas reiterated that the Tier 3 money will not be shared equally and didn't envision that changing.
"I don't know that there were specific changes that were put forward by Missouri," Neinas said. "Items regarding revenue sharing were on the agenda before I came. They're just being acted on."
September, 19, 2011
9/19/11
2:05
PM ET
Oklahoma's board of regents is scheduled to meet today, but Oklahoma State's board
will meet about 48 hours later, on Wednesday.
It's a special meeting scheduled to "consider matters relating to athletic conference membership."
University president Burns Hargis says the Cowboys have "attractive options" and are working closely with Oklahoma to make sure the "best interests of both institutions" are achieved.

He says the regents want to resolve the issue as soon as possible.
The Big 12 looks like it might be on its last legs, but we might get some concrete action for the first time in awhile when Oklahoma's regents adjourn today and Oklahoma State does the same on Wednesday.
September, 3, 2011
9/03/11
4:16
PM ET
By
ESPN.com staff
| ESPN.com
Oklahoma president David Boren made waves with his admission on Friday that
Oklahoma was working toward a decision regarding its future conference affiliation.
On Saturday, Missouri athletic director Mike Alden
expressed concern about Boren's comments.
"A comment comes out like that, it is a concern," Mike Alden said Saturday.

Alden said Missouri remains focused on keeping the conference intact while continuing to strengthen the school's profile. Though Missouri is more concerned than a few days ago, he said the school will do well whatever happens.

"I think Mizzou's on solid ground," Alden said. "I think we don't have to necessarily land on our feet, we are on our feet. I think our leadership has done a good job."

While committed to the Big 12, Alden said Missouri would do everything possible to raise its profile.

"We're keeping improving Mizzou's brand every day, that's what we do," Alden said, speaking before No. 21 Missouri's opener against Miami of Ohio. "We've done that aggressively."
Alden admitted that Boren's comments surprised him. Missouri chancellor Brady Deaton is also chairman of the league's board of directors.
"It's somewhat surprising that comment came out because I know everybody's been working together," Alden said. "You put something like that out there and it just reinforces that image of being unstable.

"How do you recover from that? I don't know."

Alden wouldn't say whether Missouri had been in contact with other conferences, adding he's consistently had no comment on such matters.
Additionally, Oklahoma State president Burns Hargis released a statement on Saturday.
"We want to be clear that we worked actively to encourage Texas A&M to remain in the Big 12 Conference and regret they decided to leave. We are moving ahead," Hargis said. "Oklahoma State University's athletic program has never been stronger from top to bottom, putting us in a position to explore and pursue options, including the possible expansion of our current conference. We are in close communications with our colleagues at the University of Oklahoma and expect a decision soon that will be in the best interest of our institutions and the state of Oklahoma."
June, 14, 2011
6/14/11
1:00
PM ET
By
ESPN.com staff
| ESPN.com
For the Big 12's entire 15-year history, it divvied up 57 percent of the conference's cash equally. The other 43 percent, however, was handed out according to a number of factors, most notably a program's television appearances.
However, at the end of the Big 12's annual meetings, a year after losing two members, it announced that 76 percent of its conference revenue would now be shared equally. (More on
what that means here
.)
Beebe isn't ready, considering the numerous variables, to venture a guess as to how far the gap will be from the top-earning to the bottom-earning team, but while the percentage of revenue shared equally rises, I'd expect the difference in actual dollars to remain somewhat constant.
So, instead of the $12 million versus $8 million we've seen in recent years, think somewhere along the lines of $22 million versus $17 million or more in the future.
"We're going to have to see," Beebe told ESPN.com in a recent interview.
Now that all of the Big 12 home games will be televised, bonuses (or unit values, Beebe called them) will be given to teams who earn appearances on over-the-air television, like games on ABC or Fox versus Fox Sports Net, ESPN or FX.
"There were a number of appearances that Nebraska and Colorado had on ABC and where those appearances go will be interesting," he said. "Some schools like Texas and Oklahoma have already maxed out on the appearances, so they're going to have to go to somewhere else, and those are the games that we pay, that we provide some money, some unit values, for getting on the broadcast."
The idea to amend the Big 12's policy began when the television negotiating committee recommended it to the rest of the conference. That group, which helped negotiate the recent contract with Fox, was made up of two presidents and three athletic directors across the Big 12. The committee members:
Iowa State president Greg Geoffroy
Oklahoma State president Burns Hargis
Missouri AD Mike Alden
Oklahoma AD Joe Castiglione
Texas AD DeLoss Dodds
With a whole lot more money on the way, the league chose to reassess how it distributed its revenue.
"[The league's members] looked at all different models and decided this was the one that would best accommodate the conference," Beebe said.
The gap will be hard to project, specifically because nonconference schedules fluctuate from year to year, and some broadcasts aren't selected until the season begins, and are tallied up after the year.
Bowl expense reimbursements can also factor into the gap between the highest- and lowest-earning teams in the Big 12, Beebe said.
"It was unanimous; it sailed through pretty easily," Beebe said. "It's another demonstration, like we've said about our television agreement and other things that we're doing, of how solid this conference is, and how much their probably hasn't been in the history of the conference, this type of unity and appreciation for each other."
BIG 12 SCOREBOARD
Saturday, 12/20
Monday, 12/22
Tuesday, 12/23
Wednesday, 12/24
Friday, 12/26
Saturday, 12/27
Monday, 12/29
Tuesday, 12/30
Wednesday, 12/31
Thursday, 1/1
Friday, 1/2
Saturday, 1/3
Sunday, 1/4
Monday, 1/12
Tweets from https://twitter.com/ESPNCFB/lists/big12