April, 4, 2014
Apr 4
9:00
AM ET
WACO, Texas -- Spend an hour in the office of Phil Bennett and you're likely to hear the term "football playin' fool" thrown around a few times. For the
Baylor
defensive coordinator, that's high praise.
He had a bunch of them last season, at every level of his Bears defense. Freaky athletes, experienced studs, players who exceeded expectations. They're ultimately the reason why Baylor won the Big 12.
Those players had been building toward that breakthrough season for years. Now Bennett has to repeat it, and do so without 10 seniors from last season's two-deep.
"To get back," he said, "we've got to have those guys play at a level we played last year."
As Baylor wraps up its final week of spring ball, Bennett sees plenty of reason for optimism all over his roster. Replacing leaders such as
Ahmad Dixon
,
Eddie Lackey
,
Sam Holl
and
Chris McAllister
will be a tall task, but the cupboard is far from empty.
[+] Enlarge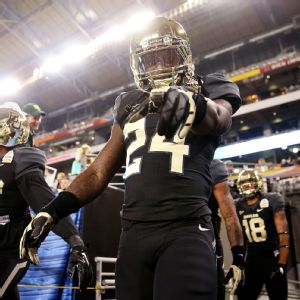 Christian Petersen/Getty ImagesBaylor and cornerback Terrence Singleton don't plan to slip from the championship level the Bears achieved in 2013.
In fact, Bennett is a bit offended by the implication this Baylor defense is starting over. Defensive ends
Shawn Oakman
and
Jamal Palmer
played as many snaps as the starters in 2013, and often more than them. Defensive tackles
Andrew Billings
and
Byron Bonds
were virtually starters, too, as true freshmen.
Defensive backs
Xavien Howard
and
Orion Stewart
received major playing time. Linebacker
Bryce Hager
and safety
Terrell Burt
, both out for the spring, are trusted starters. The pieces are in place to maintain Baylor's production level on defense.
But that's just the core of the defense, and Bennett is just as excited about the more unknown commodities.
Coach Art Briles and Bennett both speak highly of Howard, a big, 6-foot-2 sophomore corner who shined in a small role last season, and defensive lineman
Javonte Magee
, a big-time talent playing end and tackle this spring after sitting out 2013.
Bennett says he's "tickled" by the comeback that
Terrence Singleton
has made at corner after several injury setbacks. He has been impressed by the impact senior walk-on
Collin Brence
is making in the "Bear" nickel role that Holl played.
Linebacker
Aiavion Edwards
, forced to start late last season when Hager went down, has had a strong spring. Junior college transfer
Grant Campbell
is catching on quickly.
And Bennett has found another one of those so-called football playin' fools in redshirt freshman linebacker
Taylor Young
.
"Whatever the 'it' factor is, he has it. He's 5-foot-9½, 225 pounds, runs a 4.5 [40-yard dash] and he finds the ball," Bennett said.
And more help is on the way this summer. Bennett already has his eye on a few three-star signees who could surprise, including defensive backs
Jourdan Blake
and
Verkedric Vaughns
.
Never heard of these guys? You'll get familiar this fall. Bennett and Briles see no reason why Baylor should take a step backward on defense, even with so many top players being replaced.
That's because the Bears understand their mission on defense. Bennett swears that his time working with Briles has changed his entire perspective.
[+] Enlarge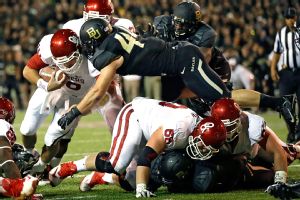 AP Photo/Tony GutierrezThought linebacker Bryce Hager is out for the spring, he will anchor the Bears' defense in 2014.
His goal, quite simply, is to complement Baylor's high-powered offense. Get the ball back to quarterback
Bryce Petty
and all his weapons as fast as they can, in the best possible position. Stops and turnovers and punts lead to points.
"That was our plan when I came here," Bennett said. "Get two sides of the ball that could complement each other, and if need be, carry each other. We're getting closer to that.
"The yardage deal, I can give a rat's ass. It's takeaways, it's red zone, it's three-and-outs and it's scoring. Get them the ball."
Baylor was about as good as it gets on those fronts last season. This was a top-10 defense in points per drive that forced 29 takeaways, second-most in the Big 12. No team in the nation forced more three-and-out drives (63) than the Bears.
Those are the ambitions Bennett and his players aim to replicate. When they trot out of the football facility and smack the white "BE THE STANDARD" sign hanging on the chain-link fence on their way to the practice field, this is the standard to which they refer.
After years of struggles, Baylor's defense set the bar high in 2013. The next step is exceeding it every season, no matter which football playin' fools Bennett plugs in.
"I don't want to say tradition," Bennett said, "but we've started building expectancy."
March, 5, 2014
Mar 5
9:00
AM ET
WACO, Texas -- Defense won the Big 12. Great defense. Art Briles believes that's why his Bears won the league in 2013, and he knows he'll need another stellar unit to repeat.
If you listen carefully to Briles, now entering his seventh year at
Baylor
, you'll notice he isn't wasting a second pondering whether his next defense can replace eight starters and still thrive.
[+] Enlarge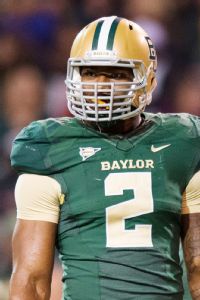 Cooper Neill/Getty ImagesSix-foot-nine defensive end Shawn Oakman will take on a bigger role for the Bears in 2014.
"We've got good people to be the next person up," Briles said. "That's what's encouraging. It's not like we're going out and trying to hustle somebody up off the street."
Gone are senior defensive ends
Chris McAllister
and
Terrance Lloyd
, linebackers
Eddie Lackey
and
Brody Trahan
and defensive backs
Ahmad Dixon
,
Sam Holl
,
K.J. Morton
and
Demetri Goodson
.
The offense gets all the publicity, but Baylor wouldn't be where it is today without those guys. So why isn't Briles worried?
"We've been recruiting, we've got good guys, we've got seven guys in at midterm that we'll look at," he said. "That's why you coach and why you play; we'll find guys. We're not going to take a step backwards anywhere."
The cupboard certainly isn't empty for defensive coordinator Phil Bennett. There are questions in the secondary and at linebacker, that much seems obvious.
And this should be perfectly clear, too: Baylor has a chance to field a killer defensive line in 2014.
Shawn Oakman
wants to be the leader of that group. The monstrous junior end checks in at 6-foot-9 and 270 pounds these days and believes his debut season was the just the beginning of big things.
As a backup, he racked up 12.5 tackles for loss and two sacks off the edge. He says he was just a "free-wheeler" last fall, sent in to pass rush and cause hell.
"It wasn't a bad role to play," he said. "It was fun. But this year, I've got to take a bigger role and I've got to be able to play every down and every snap."
The former Penn State transfer learned quickly that, in his opinion, this Big 12 is "10 times faster" than what he'd prepared for in the Big Ten. There was a lot of learning last season behind McAllister and Lloyd. Now it's Oakman's turn.
He's on a mission to surpass the bar he and his teammates set in 2013. Oakman has no personal goals in 2014, just this team goal: "Best defense in the country, hands down.
"No one should be better than us," he said. "We should lead the Big 12 and the nation in tackles for loss and sacks."
He should get plenty of help from
Andrew Billings
. The second-year defensive tackle, a Waco native, chipped in 30 tackles and four TFLs as a true freshman.
He also happens to be arguably one of the strongest players in the conference, a former state powerlifting champ who says he squatted 600 pounds five times this winter. He was more proud of his gains in the hang clean, where he can now knock out 340 pounds five times.
"

No one should be better than us. We should lead the Big 12 and the nation in tackles for loss and sacks.

"

End Shawn Oakman on the Bears' defensive line.
He and fellow sophomore
Byron Bonds
were asked to contribute right away last season. Those opportunities to play in big games will prove invaluable this spring.
"Last year, we were really just learning how to play football," Billings said. "It was different in college than in high school and there was a lot we didn't know."
Throw in
Jamal Palmer
,
Beau Blackshear
,
Suleiman Masumbuko
and the Bears have a core of experienced linemen that, they hope, can lead the charge while the rest of the new starters get comfortable.
"The leadership is going to have to start coming toward the D-line," Billings said. "We need to help them out."
And Briles is just as excited about the return of
Javonte Magee
. The 6-foot-5, 275-pound lineman played as a true freshman in 2012 but left the program and didn't play in a game last season due to personal problems.
He's back on the practice field and trying to get back on track. Can Magee help this defensive line?
"Immediately, yes," Briles said. "Slow guys don't get fast and fast guys don't get slow. Great athletes are great athletes. He's a great athlete that's come back with a great dedication, and it's really heartwarming to see somebody have vision, have focus, have dreams and fulfill them. That's what he's got."
Baylor has more than a few of those driven players back to lead its defensive line. McAllister and Lloyd started a combined 64 consecutive games before departing, and they helped build a foundation. They helped establish the standard.
Their successors -- like their head coach -- are just as confident the new guys can be even better.
"We're going to cause a lot of havoc," Oakman said.
BIG 12 SCOREBOARD
Wednesday, 12/24
Saturday, 12/20
Monday, 12/22
Tuesday, 12/23
Friday, 12/26
Saturday, 12/27
Monday, 12/29
Tuesday, 12/30
Wednesday, 12/31
Thursday, 1/1
Friday, 1/2
Saturday, 1/3
Sunday, 1/4
Monday, 1/12
Tweets from https://twitter.com/ESPNCFB/lists/big12