December, 26, 2012
12/26/12
10:00
AM ET
It happens every year. With a month between bowl games and a week of activity in a new city, suspensions drop and impact players miss bowls.
This year won't be the exception.
Oklahoma defensive tackle
Stacy McGee
is likely to miss the Cotton Bowl after being arrested on Monday for driving under the influence and driving with a suspended license.
From SoonerNation
:
McGee was suspended for Oklahoma's first six games after violating university rules during the preseason. But he had returned to the Sooners mid-season and become a regular part of the defensive tackle rotation along with Jamarkus McFarland and Casey Walker. If McGee does not play in the Cotton Bowl, the Sooners could turn to freshman Jordan Phillips, who has played sparingly as OU's fourth defensive tackle this season.
There's been no official word from the Sooners, but McGee, a senior, will likely never suit up again in a Sooner uniform.
Over at Texas Tech, however, interim coach Chris Thomsen is taking his new responsibility seriously. Between Tommy Tuberville's exit and Kliff Kingsbury's arrival, this is his team, and three of his players have no confusion about that.
From our news story
:
A Texas Tech official says three Red Raiders won't be playing against Minnesota in Friday's Meineke Car Care Bowl because they violated team rules.

Football program spokesman Blayne Beal on Monday would not divulge the rules violated. He says Red Raiders starting defensive back Cornelius Douglas, Chris Payne, a linebacker who played mostly on Texas Tech's special teams, and backup defensive tackle Leon Mackey won't play in the bowl game.
Douglas is by far the biggest piece missing there, though Mackey could have made some impact, too. Douglas, a senior had a pair of interceptions and four tackles for loss this year, and returned against Baylor from a knee injury that cost him almost six games.
The Lubbock Avalanche-Journal reported that Thomsen said two players missed practices in December in Lubbock without notifying coaches but wouldn't discuss the third player because of privacy laws.
March, 29, 2012
3/29/12
2:30
PM ET
By
ESPN.com staff
| ESPN.com
Texas Tech needed help.
The team's top two running backs,
Eric Stephens
and
DeAndre Washington
, suffered major knee injuries during the 2011 season and the status of each for 2012 was in doubt.
There were talented freshmen behind them, but depth was needed whether
Ronnie Daniels
,
Kenny Williams
or
Bradley Marquez
were ready to contribute or not.
Daniels was suspended in January, then permanently removed from the team Tuesday.
Enter SaDale Foster.
[+] Enlarge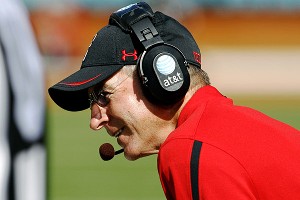 AP Photo/Eric GayTexas Tech coach Tommy Tuberville came away encouraged with spring practice despite having to deal with numerous injuries.
"We didn't know the situation at running back," Red Raiders coach Tommy Tuberville said. "We went out and took a chance on SaDale Foster, and man he's been a blessing."
Marquez was moved to receiver; Williams is in limbo
while legal issues surrounding an arrest earlier this month
are sorted out.
Foster was needed, and he has excelled. Williams and Daniels practiced throughout the spring, but it is Foster, the newcomer, who tops the depth chart until Stephens and Washington prove they're healthy and can be more productive than the juco transfer.
"He can really play in this league. He can play in any league," Tuberville said. "He's really going to help us."
Not only has he shown up and made an impact this spring, but the Red Raiders also stumbled upon their new top linebacker while recruiting him.
Tuberville and his coaches were eyeing Foster at Riverside (Calif.) Community College, but Will Smith, a 6-foot-3, 220-pounder, caught their attention, too.
"We were so short in depth in both of those positions, at linebacker and running back, we just hadn't been very good. Bront Bird left and he was really the only true linebacker left on the team," Tuberville said. "We've gone out and recruited some guys, but they were so young. We needed immediate help. Your linebacker position is your quarterback on your defense. They've got to understand what's going on at every position, get people lined up."
Smith stepped on campus in the winter, and by the end of Saturday's spring game, had proven himself to be the Raiders' best linebacker. Coaches originally played him outside, but knew that on passing downs, he'd be taken off the field for additional defensive backs.
The solution: Make him the team's starting middle linebacker.
"In this conference you've got to have people who can tackle in the open field. Most teams in this league run the spread, the short passing game," Tuberville said. "They get it to the quick receivers and if you don't have quick linebackers who can tackle, you've got no chance."
Tuberville hopes Smith gives him that chance. The same is true of safety Chris Payne, who came to Texas Tech out of junior college, too. He's made an impact years after being recruited by Tuberville at Auburn, signing with South Carolina but taking the junior-college route to major college football after not making grades.
"That was kind of a no-brainer for me," Tuberville said. "I've coached linebackers most of my life and I knew he could play."
But Smith? Smith was a surprise, and one that brings a smile to his new coach's face.
"Will Smith has been kind of the find you always hope to run into. People slow-played him for some reason," Tuberville said. "We watched him, looked at him, and he fit the criteria of exactly what we needed. A smart guy, he's a 3.0 student. He can change directions. He loves football and has great football instincts, but you don't know that until you get on the team. And so, we just said, 'Hey, this guy looks the part, so let's sign him, bring him in and we'll see if he fits the part.' And he's done that."
So did Foster. And come fall, Texas Tech will be cashing in on two quick fixes who could also be big fixes for the two positions of greatest need in Lubbock.
March, 29, 2012
3/29/12
9:00
AM ET
Texas Tech's record stood at 5-2, but its hopes were much higher.
The Red Raiders had seen a close loss to what would be a 10-win Kansas State team and a five-point loss to top-25 Texas A&M, but bounced back for a season-making upset at No. 1 Oklahoma on Oct. 22.
The Sooners hadn't lost in Owen Field to a Big 12 team in 10 years, but Texas Tech did it, and the Red Raiders flew back home to Lubbock with smiles on their faces.
Those would be the last postgame smiles for the season's remainder. The Red Raiders didn't win again. What happened?
"I thought we were a decent team," coach Tommy Tuberville told ESPN.com this week. "and then the bottom fell out on injuries."
The bottom line about that bottom falling out? Texas Tech lacked the necessary depth for a Big 12 season — and it showed.
"When you don't have depth, that's when it starts showing up — when you have injuries," Tuberville said. "If we hadn't had injuries, we probably would have been a little bit better team, but those are things you can't control."
No side of the ball was spared. In the Texas A&M loss, the Red Raiders lost their leading rusher and best pass blocker, Eric Stephens to a serious knee injury. His backup, DeAndre Washington, suffered the same fate weeks later in a loss to Missouri. Receivers Marcus Kennard and Darrin Moore were hampered by various injuries throughout the season.
"There was one time last year we started five kids on defense that weren't on scholarship," Tuberville said. "We just didn't have them here. They hadn't been recruited."
There's no time to complain. Texas Tech had its first losing season in two decades, finishing 5-7 and sitting at home while half of college football prepped for bowl games.
This spring, the main goal was clear: Develop depth by any means necessary.
The Red Raiders signed nine junior-college prospects and half enrolled in the spring.
[+] Enlarge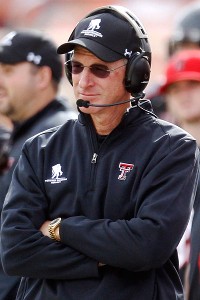 Sue Ogrocki/AP PhotoTommy Tuberville tapped the juco ranks for depth after Texas Tech unravelled last season.
"At our position as coaches, that's a coaching move, in terms of going out and finding not just starters, but depth players, and that's the reason we went out and took some junior-college guys," Tuberville said. "We had to have immediate help at some positions, whether it was starter or backup or third team. So, our depth chart looks better. I think 17 or 18 true freshmen coming in in June will enhance it."
The Red Raiders got help at running back in SaDale Foster, who finished atop the depth chart for Tech's depleted running back corps at the end of spring.
Linebackers Chris Payne and Will Smith established themselves as contributors; Smith was the team's best linebacker when spring practice concluded Saturday. Rashad Fortenberry, another junior-college signee from Mississippi, adds a solid tackle to an offensive line in need of help.
"Defensively, whatever we do is going to be better. We didn't coach, we didn't play, we didn't act like a good defense last year. We looked like we were in shell shock all year long in terms of playing against teams that had great players. This conference last year, offensively, was unbelievable from top to bottom," Tuberville said. "We knew we were going to be very short defensively experience-wise, and then we get people hurt. And then we're playing against some of the better players to play in this conference. I think we're going to be better in matchups. That's what you look for, is matchups in college football."
Tech hopes strategic decisions during a trying 2011 season pay off down the line.
"We didn't take the redshirt off a few guys because they probably wouldn't have been any better. But they've got the talent. We redshirted them and we saved them, and now they've got four years to play," he said. "It's going to help us in the long run. It didn't help us in the immediate future, but it'll help us in the long run. That's what we're building for. We're building to make this team start to be strong at a certain point."
That point hasn't arrived, but Tech should be well ahead of where it was in 2011 after top-25 recruiting classes in 2011 and 2012, combined with the quick-fix juco signings.
"We've just been a disaster in terms of depth. The parts hadn't been there to work with," Tuberville said.
He says Texas Tech is still one more recruiting class away from being where it needs to be in terms of athletic ability, but the talent necessary to win is on campus now.
The goal for fall is to develop the depth Tuberville and his staff have established.
"Are we ready to compete for a championship? No, not really, just because of inexperience. I think we're going to have some talent that can make some plays on both sides of the ball that we haven't had in the last couple of years," Tuberville said. "I think we're going to be much more competitive in terms of each position with a little bit more depth."
March, 7, 2012
3/07/12
2:00
PM ET
By
ESPN.com staff
| ESPN.com
Texas Tech finished the 2011 season at
the bottom of our linebacker rankings
, but the Red Raiders may have gotten a big boost at the position this spring.

Coach Tommy Tuberville's raved about junior transfer Will Smith since practice began, but his words have become action now.
Tuberville moved the newcomer from the outside to middle linebacker, with one main purpose in mind: keeping him on the field.
From
the Lubbock Avalanche-Journal:
"If you play him at an outside linebacker position, there's going to be some games you might not get 20 snaps," Tuberville said, "because a defensive back's going to take your spot (against passing teams).

"After watching the first eight practices and two scrimmages, there's no doubt he's going to be one of our better linebackers, maybe the best."

With Smith moving inside, Sam Eguavoen moved from the middle to the outside. Blake Dees and Zach Winbush patrolled the middle Tuesday in addition to Smith.

Eguavoen, Justin Cooper and Pete Robertson worked strong side, and Daniel Cobb and Chris Payne worked weak side.
Strong words from a man who has shown over the course of his career that he knows a thing or two about defense. It also goes to show you: As well as Texas Tech has recruited under Tuberville, you never know where impact players can come from. It's a little early to toss that designation on Smith, but it's clear he's been one of the league's breakout players this spring.
He began his career at Northwood University, a Division II school in Michigan before transferring to Riverside Community College in California. He helped Riverside go 11-0 last season and was second on the team with 36 solo tackles and 13 tackles for loss. He also added three interceptions.
Now, a few months later, he's making a strong push to start at middle linebacker for a Big 12 team. Quite the story, and quite the needed development for a defense that's struggled the past two seasons.
BIG 12 SCOREBOARD
Saturday, 12/20
Monday, 12/22
Tuesday, 12/23
Wednesday, 12/24
Friday, 12/26
Saturday, 12/27
Monday, 12/29
Tuesday, 12/30
Wednesday, 12/31
Thursday, 1/1
Friday, 1/2
Saturday, 1/3
Sunday, 1/4
Monday, 1/12
Tweets from https://twitter.com/ESPNCFB/lists/big12