December, 30, 2011
12/30/11
12:54
AM ET
That was what we thought it would be, at least in the sense of an offensive explosion.
As
Robert Griffin III
said after the game, this had to be one of the most-watched games ever. Tons of entertainment, and Baylor gets a
67-56 win
in a crazy night in San Antonio for the Valero Alamo Bowl.


How the game was won:
Just when you thought defensive stops were an endangered species, Baylor dug one out of the depths of the Alamodome. Facing a 4th-and-8 at the Baylor 39 with just more than three minutes to play, the Bears rushed Washington quarterback
Keith Price
and forced an incompletion to get the ball back and ice the game.
Turning point:
Chris Polk
's fumble at the Baylor 11-yard line with 8:40 to play in the third quarter. Washington led 42-31 and forced a three-and-out, returning the punt 46 yards to Baylor's 17-yard line. On the next play, though, Polk coughed it up and Baylor recovered. On the next play, Baylor running back
Terrance Ganaway
ran 89 yards for a touchdown to get the Bears back in it. RG3 capped the score with a two-point conversion on a ... wait for it ... jump pass. What could have been an 18-point lead became a three-point lead in a flash, and Baylor turned a possible blowout into a win.
Stat of the game:
This was easily the highest scoring Alamo Bowl ever, and broke the FBS record for total offense in a bowl game, with almost 1,400 yards. A whole lot of fun to watch, too. Baylor topped 400 yards rushing and Washington topped 400 yards passing. It surpassed the 2005 Insight Bowl between Arizona State vs. Rutgers. It was two points short of the bowl record for points. Marshall beat East Carolina 64-61 in the 2001 GMAC Bowl.
Player of the game:
Keith Price, QB, Washington. Baylor's safety play was poor, but you still have to make the throws. Price made all of them, and then some. And then ran some more. He accounted for seven touchdowns, and didn't have a turnover. He threw for 438 yards and ran for 39 more. Did we just see the beginning stages of a 2012 Heisman campaign? Don't rule it out. A huge game for the impressive first-year starter. Not a bad replacement for Jake Locker, eh?
Unsung hero of the game:
Baylor's offensive line. The big uglies up front cleared the way for a huge night on the ground that powered Baylor's offense. Bears quarterback and Heisman winner Robert Griffin III was good, but the running game paced the offense on this night in a lot of different ways. The Bears had three 100-yard rushers and RG3 wasn't one of them. Ganaway had 200 yards and five touchdowns.
Jarred Salubi
and
Tevin Reese
both had 101 yards and Salubi scored twice. Not a bad night on the ground.
Jeers to:
Both defenses. These were two very good offenses. Let's be clear about that. But the defenses tonight? Good grief. The effort wasn't there. Receivers ran wide open all night. Holes for running backs were enormous. The tackling for both sides was atrocious and undisciplined. This wasn't necessarily more of one than the other, but there was a ton of great offense in this game and an equal amount of awful defense. One bright side: Washington had one penalty all night for 15 yards. Hard to get penalized when nobody hits anyone.
What it means:
No defense is a whole lot of fun to watch. This was the most entertaining bowl game of the season so far, even if the defense was at times laughable.
Baylor also earned the program's first bowl win since 1992. Will RG3 return in 2012 for another run? He says he's undecided, but he'll have until Jan. 15 to decide whether or not he'll return for his senior season. Whether he stays or goes, he's done amazing things. He gave Baylor the school's first Heisman winner, and won 10 games in a loaded Big 12, giving the Bears their second 10-win season in school history, and first since 1980.
December, 29, 2011
12/29/11
10:30
AM ET
We previewed the Valero Alamo Bowl earlier today, and here are three keys for Baylor to win tonight's game, which kicks off at 9 p.m. ET on ESPN.


1. Win first down on defense.
Baylor's got to get off the field, and this is the best way to do it. If Washington can, it'd love to pound the ball with
Chris Polk
. Getting the Huskies into a lot of second-and-8s and second-and-12s can make sure that doesn't happen. But second-and-5? Not good. Worst-case scenario for the Bears. Bottom line: Washington's defense isn't equipped to slow Baylor's offense. It has to keep the offense off the field. Running the ball and milking the clock is the best way to do that. This is up to the Bears' front seven.
2. Keep the playbook wide open.
This is what Baylor does. It can't stop. Let RG3 do what he does. It opened the game with a double pass for a touchdown against TCU to open the season, and beat Oklahoma with a barrage of deep balls. The Bears have had a month off. A lot's happened since then. None of it can change Baylor's approach. Break out the trick plays. Chuck it deep. This is what Baylor's offense is built to do.
3. Start strong.
That'll be important in this one. Baylor's playing in San Antonio, and expect a heavily pro-Bears crowd in this one, as well as a crowd rooting on RG3. Look for some big play calls early and big plays to get the crowd involved. Baylor hasn't won a bowl game since 1992, and didn't come close last year, being shut out in the first half of a lopsided loss to Illinois in the Texas Bowl. Baylor's offense is a lot better this time around, and it's got to use it to build some early momentum.
December, 29, 2011
12/29/11
9:00
AM ET
Baylor will play the role of favorite and take on Washington in the Valero Alamo Bowl in nearby San Antonio on Thursday. Kickoff is set for 9 p.m. ET in the Alamodome. Here's what to expect.


WHO TO WATCH:
Robert Griffin III
, QB, Baylor. Obviously. He's the game's most electrifying player and the Heisman winner, which you don't see very often outside the BCS. He's been must-see TV for most of the season, engineering huge upsets of TCU on the season-opening weekend, leading the program's first win over Oklahoma and knocking off Texas to win the Heisman on the season's final weekend. He's the nation's leader in passing efficiency, and, if you haven't watched, he's more than able to make plenty of big plays with his feet, too.
WHAT TO WATCH:
Baylor's rush defense vs.
Chris Polk
. Baylor is a nine-point favorite, but if the Bears lose this game, it'll be because they lose this matchup in convincing fashion. It's been a weakness all year for the Bears, who rank 102nd nationally in rush defense. Washington did it to Nebraska last year, and Polk enters this game with 1,341 yards and 11 touchdowns. The best part for Washington about winning this battle is it would keep a dangerous Baylor offense, which Washington is ill-equipped to stop, off the field. This is the best way for the Huskies to do it.
WHY TO WATCH:
You like points, don't you? If you're reading this, you probably have a certain fondness for the Big 12, and I'd like to think a fondness for scoring is implied there. There will be lots of that in this one. Washington's Polk and quarterback
Keith Price
are dangerous, but Baylor's RG3 is flanked by
Kendall Wright
and
Terrance Ganaway
, the Big 12's leading receiver and leading rusher. Add to that each team's ranking in scoring defense (Washington ranks 98th, Baylor 109th) and you'll see why there's reason to believe we'll see fireworks.
PREDICTION:
No. 12 Baylor 47, Washington 31: RG3 doesn't give many clues as to his future plans, but he'll look the part of an NFL quarterback in this one, sending Wright into the NFL with a big day. We expect plenty of offense in this one, and both teams should deliver. Polk will rack up big yardage on a suspect Baylor defense, but the Bears will pull away late.
December, 26, 2011
12/26/11
11:00
AM ET
By
ESPN.com staff
| ESPN.com
Time to dish out a few predictions for the Big 12's non-BCS bowls.
I notched perfection in the season's final weekend, but bowl picks are always tough.
For the curious, here's
how I've done predicting each team's games this year
. You guys gave me a solid B. I'll take it.
Last week:
3-0
Overall:
57-18 (.760)
Today
Missouri 34, North Carolina 28:
The Tigers match up pretty well with UNC, and take care of business with a solid performance from
James Franklin
, who tops 125 yards rushing and throws for 225, accounting for four touchdowns. The Tigers head to the SEC on the right note.
Dec. 28
No. 24 Texas 20, California 17:
The Longhorns suffocate another offense in this one, quieting
Keenan Allen
and
Zach Maynard
. Texas has seen better offenses and played well. They take care of business out in San Diego to notch a Holiday Bowl win. A healthy backfield of
Malcolm Brown
and
Joe Bergeron
get back down to business and build toward a big sophomore year.
Dec. 29
No. 12 Baylor 47, Washington 31:
RG3 doesn't give many clues as to his future plans, but he looks the part of an NFL quarterback in this one, sending
Kendall Wright
into the NFL with a big day. We expected plenty of offense in this one, and both teams delivered.
Chris Polk
racks up big yardage on a suspect Baylor defense, but the Bears pull away late.
Dec. 30
Iowa State 24, Rutgers 21:
Doubt Paul Rhoads' teams in bowl games at your own risk. They say the team that wants to be in bowl games the most wins them, and games like these are huge for the Cyclones. They'll be ready to go against a mediocre Rutgers team. It should be interesting to see what
Jared Barnett
looks like with a month to prepare, and I'm betting he looks pretty good.
No. 14 Oklahoma 23, Iowa 21:
On the flip side of the "Bet who wants to be here more" coin is Oklahoma, whose trip to the Insight Bowl is far from what they'd hoped in a season that began with national title hopes. The Sooners are banged up and dealing with player exits, but they're still significantly better than Iowa. We see a pretty lackluster performance from the Sooners, but they survive. Iowa is, after all, a team that lost to Iowa State, Minnesota and Penn State, and is playing without its top two running backs.
Dec. 31
Texas A&M 31, Northwestern 21:
The Aggies are shaken up, too, with one coach (Mike Sherman) fired and its interim coach (Tim DeRuyter) getting ready to take over at Fresno State. The Aggies talent takes over in this one, and
Cyrus Gray
is expected to return. The Wildcats rebounded later in the season to reach a bowl game, but have only one quality win all season: Nebraska. Texas A&M's talent takes over this big lead is safe.
Jan. 6
No. 6 Arkansas 24, No. 8 Kansas State 23:
This could be a classic. The Wildcats win the time of possession game (they always do. K-State ranks fourth nationally in the stat) and suffocates Arkansas' offense, which has struggled running the ball all year, ranking ninth in the SEC. K-State finally loses a close game, though, and like the loss to Oklahoma State, a late drive comes up short. A strong performance from the defense though, and K-State enters 2012 as one of the Big 12 favorites.
December, 19, 2011
12/19/11
9:00
AM ET
The Pac-10 and Big 12 nearly got married last year, but only Colorado ended up eloping with the now-Pac-12.
You know: The conference that can count!
But the Pac-12, which has, yes, 12 teams, and the Big 12, which has 10 teams (though it's often hard to keep up with which ones), play each other in three bowl games this holiday season.
Joy to the world.


So it seemed like a good time for the Pac-12 and Big 12 bloggers -- Ted Miller and David Ubben -- to say howdy and discuss all the coming fun.
Ted Miller
: Ah, David, the bowl season. Pure bliss. Unless you're the Pac-12, which is expected to get a whipping from your conference over the holidays. We have three Pac-12-Big 12 bowl games with the Tostitos Fiesta Bowl between Stanford and Oklahoma State, the Valero Alamo with Baylor and Washington, and the Bridgepoint Education Holiday matching California and Texas. And the Big 12 is favored in all three!
Poor ole West Coast teams. What are we to do? It's almost like the Big 12 is the SEC or something. Speaking of which, how are things with your Cowboys? Are they over not getting a shot at LSU for the national title? Are they excited about getting a shot at
Andrew Luck
and Stanford? We might as well start with that outstanding matchup in Glendale.
David Ubben
: You know, I was actually a little surprised. I stuck around Stillwater for the BCS bowl selection show announcement, and the players took the news pretty well. They found out an hour before, but there wasn't a ton of down-in-the-dumpiness from the Pokes. When you've never been to this point before, it's a bit difficult to develop a sense of entitlement. If Oklahoma had OSU's record and was passed over by Alabama and sent to the Fiesta Bowl for the 17th time in the past six years, you might have had a different reaction.
But Oklahoma State's first trip to the BCS and first Big 12 title aren't being overlooked. These players are looking forward to this game. There's no doubt about that.
I know the Big 12 seems like the SEC, but I have a confession, Ted. I wasn't supposed to tell anybody, but I can't hold it in anymore. When the Big 12 began back in 1996 ... wow, I'm really going to do this ... then-SEC commissioner Roy Kramer graciously allowed the league to keep two of his teams. The league made a similar arrangement with the Big Eight a century ago, and the Southwest Conference around the same time. Missouri and Texas A&M are really wolves in sheep's clothing: SEC teams just pretending to be in other leagues. So, that might explain the Big 12's recent dominance.
These should all be fun games, though. I ranked two of the matchups among the top three in my bowl rankings.
As for the big one, they say you learn more by losing than by winning. Stanford got its first BCS win. How do you think that experience plays into this year's game? I hate to ruin the surprise, but Oklahoma State's a bit better than the Virginia Tech team Stanford beat last season. OSU's loss to Iowa State this season is bad, but it's nothing like the Hokies' loss to James Madison last season.
[+] Enlarge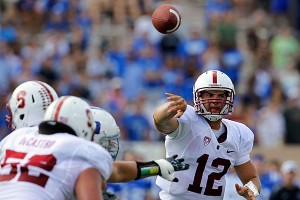 AP Photo/Gerry BroomeQuarterback Andrew Luck leads Stanford into its second consecutive BCS bowl, this season against Oklahoma State in the Fiesta Bowl.
Ted Miller
: Not only is Oklahoma State better than Virginia Tech, it's still questionable whether this Stanford team is better than last year's. Since we're going all crazy and whispering about the SEC, there was a feeling out West that by the end of the 2010 season the Cardinal might not only be the best team in the Pac-12 but also in the nation. They were big and physical and quarterback Luck actually had a solid receiving corps with which to work. After a loss to Oregon in the fifth game, they didn't lose again until playing, er, Oregon in this year's 10th game. If we could go back in time and have the Cardinal play Auburn, I think Stanford would have won the national title.
But that's 2010. The difference this year is the season-ending knee injury to middle linebacker Shayne Skov, who was an All-American candidate, a slight step back on the offensive line and a lack of top-flight receivers. But if Oklahoma State fans are looking for something to worry about it is this: Stanford's running game.
The Pokes are bad against the run, and they haven't faced a team that is as physical and creative in the running game as Stanford. As much as folks talk about Luck's passing, it's his run checks that often ruin a defense's evening.
The Fiesta Bowl matchup looks like a great one, perhaps the best of the bowl season. But I'm excited to see Mr. Excitement
Robert Griffin III
in the Alamo Bowl against Washington. Of course, I'm not sure that the Huskies, their fans and embattled Huskies defensive coordinator
Nick Holt
are as thrilled. First, tell us about what Washington should be most worried about with Griffin. Then tell us about Baylor in general. Such as: Can the Bears stop anyone?
David Ubben
: Nope. Not really.
Oklahoma State's defense unfairly gets a bad rap. Baylor's bad rap is earned. This is the same team that won five consecutive games late in the season -- but became the first team ever to win four consecutive in a single season while giving up 30 points in each.
[+] Enlarge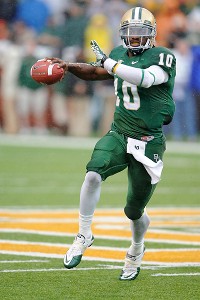 Jerome Miron/US PresswireBaylor's Robert Griffin III will try to make it three straight bowl victories by Heisman Trophy winners.
Which, if you ask me, says plenty about both the defense and the power of RG3. They've got a lot of athletes on the defense, but when four of your top five tacklers are defensive backs, well, you need a guy like RG3 to go 9-3.
The man is a nightmare. Top to bottom, he's the most accurate passer in a quarterback-driven league. Then, you add in his athleticism, which he doesn't even really need to be extremely productive. It sets him apart, though, and forces defenses to account for it, and it buys him time in the pocket. How many guys break a 20-plus yard run before hitting a receiver for a game-winning 39-yard score to beat a team like Oklahoma for the first time?
How do you think Washington will try to slow him down? What has to happen for them to have some success?
Ted Miller
: This game matches the 99th (Washington) and 109th (Baylor) scoring defenses. It has a 78-point over-under, the biggest of any bowl game. The offenses are going to score plenty, at least that's the conventional wisdom.
How does Washington stop RGIII? His name is
Chris Polk
. He's a running back. Baylor gives up 199 yards rushing per game. Polk right, left and up the middle is a good way to contain Griffin. The Huskies' best hope is to reduce Griffin's touches with ball control. It also needs to convert touchdowns, not field goals, in the redzone. The Huskies are pretty good at that, scoring 36 TDs in 45 visits to the red zone.
The Huskies also have a pretty good quarterback in
Keith Price
, who set a school record with 29 touchdown passes this year. He and a solid crew of receivers have prevented teams from ganging up against Polk. But Polk is the guy who burns the clock.
Should be a fun game. As should, by the way, the Holiday Bowl. David, Cal fans are
still
mad at Texas coach Mack Brown and his politicking the Longhorns into the Rose Bowl in 2004. Every team wants to win its bowl game, but the Old Blues really want to beat Brown.
Of course, neither team is what it was in 2004. Cal has an excuse. It's not a college football superpower. Sure you've been asked this before, but give me the CliffsNotes version of why the Longhorns have fallen so hard since playing for the national title in 2009.
David Ubben
: Cal fans are still mad? Really? I'd suggest they get over themselves. What's anybody on that Cal team ever done anyway? It's not like the best player in the NFL missed out on a chance to play in the Rose Bowl. Now, if that were the case, we might have a problem. But honestly, I don't think Tim Tebow cares all that much about the Rose Bowl.
As for Texas' struggles?
The easy answer is quarterback play. Texas relied on Colt McCoy and Jordan Shipley more than anyone realized. When they were gone, Texas couldn't run the ball, and quarterback Garrett Gilbert never made it happen. Two seasons later, the Longhorns still don't have a quarterback.
The other big answer last season was turnover margin. Gilbert threw 17 interceptions and the Longhorns were minus-12 in turnovers, which ranked 115th nationally.
They were still only 90th this year, and without solid quarterback play in a Big 12 dominated by passers, they scored five, 13 and 17 points in three of their five losses. Texas keeps people from moving the ball and runs the ball better this year, but without a solid passing game and a defense that changes games, it's tough to rack up wins in the Big 12.
It's been awhile since Cal was in the mix for the BCS, even as USC has fallen. Oregon answered the call and rose, but what has prevented Cal from winning the Pac-10 and Super Pac-10 since the Trojans' swoon?
Ted Miller
: You mention quarterback play. Cal fans ... any thoughts? You mention Aaron Rodgers. Cal fans? Oh, well, that's not very nice during this festive time of the year.
Cal has become a solid defensive team, but it's lost its offensive mojo, and that can be traced to a drop in quarterback play since Rodgers departed. The latest Bears quarterback,
Zach Maynard
, started fairly well, stumbled, but then seemed to catch on late in the season. It's reasonable to believe the team that gets better quarterback play -- mistake-free quarterback play -- is going to win this game.
Nice to cover a conference where quarterback play matters, eh David?
Speaking of quarterback play and winning, let's wind it up. Our specific predictions aren't coming on these games until after Christmas. But we can handicap the Big 12-Pac-12 side of things. We have a three-game series this bowl seasons.
I say the Pac-12, underdogs in all three games, goes 1-2. What say you?
David Ubben
: And to think, before the season, all I heard was the Pac-12 had surpassed the Big 12 in quarterback play. Did somebody petition the NCAA for another year of eligibility for Jake Locker and/or clone
Matt Barkley
? You West Coast folk are geniuses; I figured you'd find a way. We can't all be Stanford alums ...
Clearing out all the tumbleweeds here in middle America, I'll go out on a limb for the Big 12 in this one. Every matchup is a good one, and I don't think Cal has seen a defense like Texas' and Washington hasn't seen an offense like Baylor's. People forget that, yeah, RG3 is outstanding, but the Bears also have the league's leading receiver and leading rusher.
Stanford-OSU is a toss-up, but I'll go with a perfect sweep for the Big 12. The Cowboys haven't played poorly on the big stage yet, so I'll give them the benefit of the doubt in this one, and they clean up for the Big 12 against what was almost its new conference this fall.
Oh, what could have been. Ubben and Miller on the same blog? Divided ultimately by a little thing we call the Rockies.
December, 12, 2011
12/12/11
1:00
PM ET
Bowl season approacheth. Two games featuring Big 12 teams will be as good as any this postseason, especially with the impending rugby match that we'll tentatively call the BCS National Championship.
Here's how the Big 12 games rank from top to bottom.
[+] Enlarge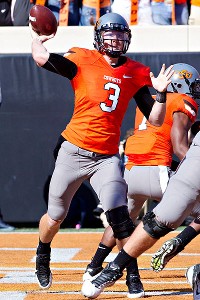 Richard Rowe/US PresswireOklahoma State QB Brandon Weeden could be a second-round pick in the upcoming NFL draft.
1. Tostitos Fiesta Bowl, Jan. 2: No. 3 Oklahoma State vs. No. 4 Stanford
- Just imagine if the opponents were switched and these two took on SEC opponents in national semifinals as part of the college football Final Four. Oh, what could have been. Either way,
Brandon Weeden
and
Andrew Luck
assure us that this will be a tight, cleanly played game with two of college football's best passers. Outside of the SEC rematch for the title, this is the best bowl game of them all.
2. AT&T Cotton Bowl, Jan. 6: No. 8 Kansas State vs. No. 6 Arkansas
- The Wildcats have played heart-stoppers in what seems like every week. They're 8-1 in games decided by fewer than seven points. Why change now? This will be just the second Big 12 vs. SEC matchup this year, and both games have been in Cowboys Stadium. Texas A&M allowed a Hogs comeback, but Arkansas' potent offense will be nothing new for Kansas State, which has been compensating for them all year. The Wildcats nearly beat OSU and beat Baylor this year. Expect a wild finish.
3. Valero Alamo Bowl, Dec. 29: No. 12 Baylor vs. Washington
- Beware of fireworks. Baylor's first Heisman winner,
Robert Griffin III
, will take the field for perhaps the final time, and expect tons of points in this one. The Huskies and Bears combine to average 75 points and give up an average of 69 points. QB
Keith Price
keys a good Washington attack with running back
Chris Polk
, who burned Nebraska for 177 yards in the Holiday Bowl last season.
4. Insight Bowl, Dec. 30: No. 14 Oklahoma vs. Iowa
- The storylines are rich in this rare Big Ten meeting for the Sooners. Last year, Stoops cheered on the Hawkeyes in the Insight Bowl against Mizzou. Oklahoma will take on Stoops' alma mater this year in the warmup game for the Fiesta Bowl in Arizona. The Sooners will be without receivers
Jaz Reynolds
and
Ryan Broyles
, but
Landry Jones
will try and bounce back from a Bedlam blowout.
5. Meineke Car Care Bowl of Texas: Texas A&M vs. Northwestern -
The Aggies will take on QB
Dan Persa
and the Wildcats in nearby Houston, where the crowd should be heavily maroon. Running back
Cyrus Gray
is questionable, but it'll be interesting to see how A&M looks without coach Mike Sherman and a new man running the offense. Defensive coordinator Tim DeRuyter will serve as interim coach, and this will be the last time
Ryan Tannehill
throws to receivers
Jeff Fuller
and
Ryan Swope
.
6. Bridgepoint Education Holiday Bowl, Dec. 28: No. 24 Texas vs. California
- Texas should be mostly healthy by the time this one kicks off, and running back
Malcolm Brown
could carry some nice momentum into his sophomore season with a big day. After numerous bowl practices leading into this one, it'll be interesting to see what Texas does at quarterback, too.
7. New Era Pinstripe Bowl, Dec. 30: Iowa State vs. Rutgers -
Last year's Bronx Salute was an ugly end to a classic, but the picturesque setting in Yankee Stadium still has a big novelty factor for fans watching and in attendance for this one. The 8-4 Scarlet Knights are fourth in the Big East and should offer an interesting contrast to the eighth-place team in the Big 12. We'll see how Iowa State's offense is impacted by a maturing freshman quarterback in
Jared Barnett
. But it will be an offense playing for the final time with offensive coordinator Tom Herman, who will join Urban Meyer's staff at Ohio State after the season.
8. AdvoCare V100 Independence Bowl, Dec. 26: Missouri vs. North Carolina -
The 7-5 Tigers, like 6-6 Texas A&M, didn't go to the SEC in the fashion they would have liked. But even if it's a middling bowl game, don't underestimate the momentum that can be established by a win. Ask Oklahoma, which grew up a
lot
in a win over Stanford in the 2009 Sun Bowl before winning the Big 12 in 2010. That's especially true for a team returning a lot next year like Mizzou, even if it will take on a whole new schedule.
How would you rank the bowls?
December, 31, 2010
12/31/10
1:35
AM ET
That was pretty shocking. I didn't give Washington much chance to win, and I don't think I was alone there. The Huskies proved us all wrong with a
19-7
victory.


How the game was won:
Washington got physical and overpowered Nebraska's defensive line up front for 60 minutes. The Huskies had some success doing it the first time around, but a poor defensive performance kept them from doing it enough to win the game. The defense got it done this time, Washington's offensive line got consistent pushes up front and
Jake Locker
only had to throw into the Blackshirts fearsome secondary when he wanted to. More often, he used his legs to make plays, on called runs and scrambles as part of that success running the ball. The Huskies rode Locker and
Chris Polk
to a 268-yard rushing night and a convincing win over a team almost no one picked them to beat.
The Huskers, meanwhile, made constant mistakes, lost the turnover battle 2-0 and were penalized 12 times for 102 yards. One of the most costly came in the fourth quarter after a goal-line stand that looked like it might swing momentum with the Huskers trailing 17-7.
Cody Green
ran for a first down, but All-Big 12 guard Ricky Henry was called for holding in the end zone, resulting in a safety, which stretched the deficit to 19-7 and gave the ball back to the Huskies. Blame the supposed scapegoat, the dreaded "lack of motivation" if you'd like, but the Huskers' lack of execution in all three phases of the game is a bigger reason for the loss. I never, ever would have pegged Nebraska for seven points against Washington's defense after ringing up 56 in Seattle with three 100-yard rushers back in September.
Turning point:
Locker scored on a 25-yard run early in the third quarter to cap a four-play, 53-yard drive that put Washington up 17-7. The game teetered at halftime even though the Huskies had dominated the line of scrimmage, but Locker's emotional run shifted control of the game firmly in Washington's favor.
Turning point II:
Locker's return. The quarterback took a nasty-looking hit and remained on the ground for several minutes early in the second quarter. He left the game for a few plays, but was able to return and lead his team to a big bowl win after a winless season in 2008 and no bowl appearances since 2002. I don't wear hats often, but if I did, mine would be off to Steve Sarkisian. This was impressive.
Stat of the game:
This wasn't the prettiest passing game. All the quarterbacks combined threw for 170 yards, a touchdown and an interception on 16-of-40 passing.
Player of the game:
Jake Locker, QB, Washington. Polk racked up the yards, but Locker played smart, tough, and made plays with his feet. Polk and the offensive line have a legitimate case for player of the game, but Locker kept the Huskies' offense rolling and did exactly what he had to do for his team to win. Considering the nightmare outing he had last time against the Blackshirts, it's even more impressive.
Record performance:
Nebraska linebacker Lavonte David topped 150 tackles on the season for a single-season school record in just his first year on the field. The junior juco transfer broke former Blackshirt Barrett Ruud's previous record of 149 tackles in 2003.
What it means:
Nebraska's season began with so much promise. National championship aspirations arose following a thorough Thursday night undressing of Kansas State to move to 5-0. A loss to Texas and
Taylor Martinez
's midseason ankle injury were speed bumps for the Big 12 North champions, but a pair of offensive clunkers against Oklahoma and Washington end the Huskers' season with a frustrating thud on the way to the Big Ten.
Conference-wide, it's another loss for the Big 12, who is now 1-4 in bowl games and no loss was more shocking. The Huskers entered as two-touchdown favorites, and were completely outplayed in every way.