Big 12:

Christian Littlehead
January, 29, 2013
1/29/13
12:00
PM ET
Happy 151st birthday, state of Kansas.
August, 16, 2012
8/16/12
10:30
AM ET
Oklahoma State defensive tackle
Christian Littlehead
's misdemeanor assault and battery charge has been dropped after the case was dismissed by the state.
The
Tulsa World first reported the news
on Wednesday.
According to police reports, Littlehead was accused of punching a woman in the face at a party in March. He was scheduled to appear in court on Sept. 24, but won't be doing so now that the case is dismissed.
That's welcome news for coach Mike Gundy, who both has his faith rewarded in Littlehead, and gets to keep a big piece of his rotation at defensive tackle.
Gundy suspended Littlehead for the Fiesta Bowl after he was charged with misdemeanor drug paraphenalia possession. Littlehead later pleaded guilty to the charge. In May, he was arrested in Tahlequah, Okla., on a complaint of public intoxication.
This latest incident looked like it could be his third strike and his ticket out of the program, but Gundy waited to pass judgment.
Littlehead did not practice Friday, two days after police put out a warrant for his arrest, a warrant that was later recalled. Littlehead returned to practice on Saturday, and Gundy commented on his return.
"I've always followed the policy that guys are relatively innocent until proven guilty," Gundy said. "And that's the only way that we can do things. Oklahoma State people have to trust that once I get the information, I'm going to do what's best for this school."
Those words sound pretty wise in hindsight. The state collected the facts and dropped the charge. It doesn't seem like there's much work left to do for Gundy but let Littlehead do his thing on the field.
For all the times it has a negative outcome, cases like this are why coaches wait to collect facts before divvying out punishment.
Here's hoping Gundy knew the case dismissal was coming when he let Littlehead continue to practice while the charge lingered, otherwise, the decision is still questionable. That said, after the smoke has cleared, Gundy's measured approach has paid off.
Good move.
August, 13, 2012
8/13/12
10:30
AM ET
By
ESPN.com staff
| ESPN.com
Oklahoma State defensive tackle
Christian Littlehead
returned to practice on Saturday, days after being charged with misdemeanor assault and battery.
A woman reported to police back in March that Littlehead punched her in the face at a party, and he is due to appear in court on September 24. He didn't practice on Friday, the same day the warrant for his arrest was recalled.
This latest incident
makes three run-ins with the law for Littlehead since December
. All three were misdemeanor offenses.
"I've always followed the policy that guys are relatively innocent until proven guilty," Gundy
told reporters after Saturday's scrimmage
. "And that's the only way that we can do things. Oklahoma State people have to trust that once I get the information, I'm going to do what's best for this school."
It'll be interesting to see how this plays out, but while Gundy gathers the facts from what sounds like a very ugly incident, it's surprising to see Littlehead back on the field.
Gundy will ultimately make the call for how long he stays there.
August, 10, 2012
8/10/12
10:30
AM ET
Oklahoma State defensive tackle
Christian Littlehead
is back in trouble.
The sophomore has been charged with misdemeanor assault and battery, and has a warrant out for his arrest.
From our news story:
The district attorney's office in Cherokee County filed the charge against Littlehead on Thursday after a woman reported to police that Littlehead punched her in the face and knocked her down at a birthday party in March, causing her to scrape her knees and cut her hand.
An ugly incident for sure. Littlehead, a 6-foot-2, 312-pounder, likely would have been a big part of the rotation at tackle for the Cowboys, but after this latest incident, don't be surprised if he never plays another snap for the Pokes.
Littlehead was charged with misdemeanor drug paraphernalia possession in December, and followed it up in May with an arrest on a public intoxication complaint.
Coach Mike Gundy suspended Littlehead for the Cowboys' Fiesta Bowl win over Stanford, but with two offseason arrests, expect further punishment.
He made 16 tackles and a sack last season and started four games.
Littlehead's latest warrant stems from a March incident, but it's a particularly rough one that won't earn Gundy any friends if he doesn't make a statement with Littlehead's punishment, assuming the incident played out like it sounds and Gundy didn't know about the incident.
Punching women in the face doesn't exactly earn you many fans anywhere, including inside your head coach's office, where Littlehead surely will find himself soon, if he hasn't already.
Gundy's got to do his due diligence and collect the details of the incident, but when the smoke clears, Gundy will have to decide whether or not his defensive tackle has run out of chances and lost his privilege to call himself a Cowboy.
May, 23, 2012
5/23/12
12:00
PM ET
By
ESPN.com staff
| ESPN.com
If I wanted to run a monkey hotel, I'd install a banana buffet.
March, 26, 2012
3/26/12
2:30
PM ET
By
ESPN.com staff
| ESPN.com
Time to continue our series breaking down each team's best and worst positions entering the 2012 season. Oklahoma State is up next.
More spring superlatives:

Strongest position: Running back
Oklahoma State's
Brandon Weeden
threw the ball more than all but one quarterback (
Case Keenum
, Houston;
Seth Doege
, Texas Tech) in college football last year, but look for those pass-attempt numbers to dip a bit in 2011 for the Cowboys.
First, Weeden is gone. Second,
Joseph Randle
and
Jeremy Smith
have more than proved they're capable of producing big numbers. Look for the offense to lean on the junior duo next year a bit more as Oklahoma State breaks in a new quarterback, whoever wins the competition between
Clint Chelf
,
J.W. Walsh
and Wes Lunt.
The pass attempts may go down, but look for Randle's 1,216 yards (second in the Big 12 in 2011) to go up next season. He also ran for 24 touchdowns. Smith added 646 yards and nine touchdowns, and those numbers could go up, too. OSU won't suddenly shift to a completely different offense, but these two are going to make the QB transition much easier. Sophomore
Herschel Sims
should add even more depth after a strong freshman year with extremely limited touches.
Weakest position: Defensive line
Oklahoma State lost two great pass-rushers in
Jamie Blatnick
and
Richetti Jones
, who combined for 12 sacks last season and were first and second on the team. There are no elite pass-rushers or players with a ton of potential waiting in the wings. Getting a pass rush will have to be up to some crafty blitz packages.
Cooper Bassett
and
Ryan Robinson
, both seniors, will get the first crack at replacing Blatnick and Jones, but it's tough to see the duo coming close to what its predecessors did.
Inside, defensive tackle was a weakness for OSU last year, and
Nigel Nicholas
returns, but he's moved to defensive end. Power rushing attacks like Texas A&M, Stanford and Texas gave Oklahoma State tons of trouble last year.
Anthony Rogers
and
Davidell Collins
begin the spring as starters, but
James Castleman
and
Christian Littlehead
should be major contributors, too. We'll see if juco transfer Calvin Barnett can make an impact in a much-needed position.
February, 28, 2012
2/28/12
12:00
PM ET
By
ESPN.com staff
| ESPN.com
If Bill Self was coaching me on the blog, it would be about 100 times better.
November, 4, 2011
11/04/11
12:00
PM ET
By
ESPN.com staff
| ESPN.com
Can I go now? Gail's making a roast.
July, 21, 2011
7/21/11
10:30
AM ET
We've tackled every other spot, and now we'll wrap up out Big 12 position rankings with the defensive lines across the Big 12.
Here are the rest of the position rankings.
Now that we've finished ranking the complete units, we'll start ranking the top 10 at each position very soon leading into the 2011 season.
This is a decent position for the Big 12 this season, and the top half of the league should feel pretty good about their group. There aren't many studs in this group, but there are a whole lot of solid players.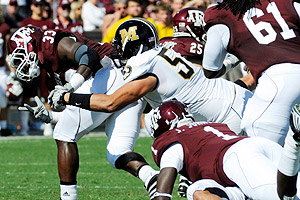 AP Photo/Pat SullivanMissouri has one of the Big 12's best pass rushers in Brad Madison.
1. Missouri --
Missouri has the Big 12's best returning pass rusher and a Defensive Player of the Year contender in Brad Madison, but its depth is what lands it on top of the list. Jacquies Smith is solid at the opposite defensive end spot, and Michael Sam and Kony Ealy provide great depth at DE. Dominique Hamilton's absence last season hurt after breaking his ankle against Oklahoma, but he's back, alongside Terrell Resonno. Sheldon Richardson, who may be transferring from junior college, is a wildcard that could be anywhere between a complete game changer, irrelevant or absent.
2. Oklahoma --
Oklahoma's defensive tackles are somewhat suspect, but the defensive end combo of Ronnell Lewis (provided he is eligible come fall camp) and Frank Alexander is on par with the best in the Big 12. Both were preseason All-Big 12 selections, but Jamarkus McFarland needs to make good on his potential. Stacy McGee and Casey Walker should both get time at the other tackle spot.
3. Texas --
Defensive end Jackson Jeffcoat is loaded with potential as the nation's former No. 1 recruit. He had a big impact early last season before being slowed by an ankle injury. Alex Okafor moved outside from defensive tackle just before spring and had five sacks in the spring game. Inside, Kheeston Randall is an All-Big 12 favorite, but Ashton Dorsey had a strong spring and could help out with Reggie Wilson opposite Randall.
4. Texas A&M --
The Aggies have one of the best linemen in the league in Tony Jerod-Eddie, but Jonathan Mathis, Eddie Brown Jr. and Ben Bass have a lot to prove around him after the loss of Lucas Patterson, who was outstanding in 2010.
5. Texas Tech --
Sam Fehoko has moved to defensive end from middle linebacker, and should provide some good speed to the front line. Scott Smith looked on his way to an All-Big 12 campaign last season, but was suspended for the remainder of the season by coach Tommy Tuberville and has yet to be officially reinstated. For now, Dartwan Bush and Aundrey Barr will help out at defensive end, outside of Donald Langley, Kerry Hyder and Pearlie Graves. The Red Raiders did snatch a big pickup from departed UNC signee Delvon Simmons, a defensive tackle that could have an impact immediately.
6. Oklahoma State --
Defensive line is the biggest weak spot for the Cowboys, who have a decent set of ends in Jamie Blatnick and former heralded recruit Richetti Jones, but an even bigger question mark at defensive tackle where Christian Littlehead and Nigel Nicholas enter fall camp as starters.
7. Kansas --
Top rusher turned defensive end Toben Opurum came on strong late last season and should be one of the most exciting Jayhawks to watch in 2011, but the rest of the line leaves a bit to be desired. Keba Agostino has the other starting spot at defensive end ahead of Pat Lewandowski, who had a great spring. Patrick Dorsey and John Williams enter fall camp as starters at defensive tackles.
8. Kansas State --
K-State recruited this position hard in its 2011 class. For now, defensive end Brandon Harold will try to bounce back from a disappointing 2010 after a promising 2009. Lance Dunbar and Taylor Martinez think this group is ranked too high, but Meshak Williams could start opposite Harold, while Ray Kibble and Raphael Guidry should be the tackles inside.
9. Baylor --
Tevin Elliott was limited this spring because of offseason shoulder surgery, and Terrance Lloyd exited spring practice as the starter, but I'd expect Elliott to regain the spot by the time the season arrives. Phil Taylor, a first-round pick, is a big loss, but Gary Mason Jr. will try to fill his spot next to Nicolas Jean-Baptiste.
10. Iowa State --
Having a pair of linebackers combine for 241 tackles is a good and bad thing. They've got outstanding linebackers, but the defensive line was the Big 12's worst last season for a unit that ranked 10th in rush defense and had just 11 sacks. That was the fewest sacks in the Big 12 and more than just three teams in all of college football. The good news is all four starters return, but for now, this is where the Cyclones start. Stephen Ruempolhamer has some promise, but Cleyon Laing, Jake McDonough and ends Patrick Neal and Roosevelt Maggitt have a lot to prove. Jacob Lattimer ran into offseason trouble, but re-appeared atop the depth chart released by the Cyclones on Wednesday.
April, 20, 2011
4/20/11
3:00
PM ET
By
ESPN.com staff
| ESPN.com
The seventh in our series looking at the strongest and weakest position for each team in the Big 12: The Oklahoma State Cowboys.

Strongest position: Offensive line
Key returnees:
Nick Martinez, Levy Adcock, Jonathan Rush, Grant Garner, Lane Taylor
Key losses:
None
Analysis:
Guys like
Brandon Weeden
,
Justin Blackmon
and last year,
Kendall Hunter
, get all the attention, but I really believe the five guys up front are the real strength for the Cowboys.
Yes, their skill position talent is on par with anyone's in the country, but the
five guys up front got very little credit for Dana Holgorsen's offense
last year.
Despite throwing the ball 532 times (third-most in the Big 12), the Cowboys gave up just 10 sacks, eight fewer than anyone else in the conference. Most games, quarterback Brandon Weeden's jersey barely caught a stain. Sure, part of that is playing on turf at Boone Pickens Stadium, but you get my point. Those 10 sacks were fewer than only seven teams in college football, and among that group were two teams with NFL quarterbacks (TCU, Stanford) and option offenses that rarely threw the ball (Army, Air Force, Navy) and another (Oregon) that played in the national championship. That's pretty good company.
The Cowboys also ran for more than 5 yards per carry last season, which ranked 20th nationally and third in the Big 12.
All five starters return, and to make things better, juco transfer Michael Bowie may crack the starting lineup at left tackle by midseason just because he's got a chance to be even better than Martinez, the starter. Four current starters are seniors and Taylor, the lone junior, has two years of starting experience where everyone else has just one.
There may be some hiccups in the transition from Holgorsen to new coordinator Todd Monken, but an offensive line like the Cowboys have will make those a lot easier to deal with.
Weakest position: Defensive tackle
Key returnees:
Nigel Nicholas
Key losses:
Shane Jarka, Chris Donaldson
Analysis
: The Cowboys have potential in Nicholas, a junior who played some last season and has drawn rave reviews this spring after notching 13 tackles, four tackles for loss and two sacks last year.
Beyond him, though, Oklahoma State may find it difficult to replace both starters on the interior of the defensive line, especially Jarka.
Christian Littlehead is set to start after the spring, but the freshman redshirted last year and will be trying to learn on the go, rather than be eased into a rotation like Nicholas. Additionally, the Cowboys have no one else on the roster with real experience.
Coach Mike Gundy signed five defensive tackles in his 2011 class, but it may be awhile before those players get a chance to really have an effect on the field.
More spring superlatives:
March, 28, 2011
3/28/11
12:00
PM ET
By
ESPN.com staff
| ESPN.com
My sources indicate you should think before you Tweet. Especially if one's career is involved. Still working to confirm.
March, 7, 2011
3/07/11
2:45
PM ET
By
ESPN.com staff
| ESPN.com
Schedule:
Practice opens today, and continues through the spring game on April 16. All 14 practices between now and then are closed to fans and media.

What's new:
The guy calling the plays, but the Cowboys hope the offense isn't. Todd Monken is back in Stillwater for a second term after serving as receivers coach and passing game coordinator under Les Miles. He says he plans on keeping the same system as departed coordinator Dana Holgorsen, and is getting a lesson on the intricacies from his quarterback,
Brandon Weeden
.
On the move:
Punter Quinn Sharp missed the Alamo Bowl, but his duties may be fairly comprehensive after this spring. He already handles punts and kickoffs, and he'll be battling for the starting placekicker job this spring, too.
Key battle:
Oklahoma State returns all five starters from last year's offensive line, but that doesn't mean the same five guys will start the season. Early-enrolling juco transfer Michael Bowie is listed as co-No. 2 at right tackle in the pre-spring depth chart and could make a play for a starting job this spring.
New faces:
Freshman quarterback J.W. Walsh enrolled early and should take part in a three-way battle for the No. 2 spot behind All-Big 12 quarterback Brandon Weeden with fellow passers
Clint Chelf
, last year's backup, and
Johnny Deaton
.
Breaking out:
Running back
Joseph Randle
was a great compliment to
Kendall Hunter
last season, but enters the spring before his sophomore year as the starter ahead of the bulkier
Jeremy Smith
. Randle caught 37 passes last year, second-most among running backs in the Big 12 behind only Oklahoma's
DeMarco Murray
. He'll see a big boost in his carries this time around. He had just 81 last year.
Question marks:
Oklahoma State lost both defensive tackles, Shane Jarka and Chris Donaldson from last year's team, and Nigel Nicholas and Christian Littlehead, among others, will try and fill their voids. Dominant interior defensive line play isn't necessary to win in the Big 12, but teams that have it can be great on a national scale.
Big shoes to fill:
Linebacker Caleb Lavey. He enters the spring as the starter at middle linebacker, and is in line to replace Orie Lemon, one of the defense's leaders in 2010 and the Big 12's No. 2 tackler with 133 stops. Lavey was one of the jewels of the Cowboys' 2010 recruiting class, and as a sophomore, it's time for him to make good on that potential.
Don't forget about:
Receiver
Hubert Anyiam
. He led the team in receptions after Dez Bryant was suspended for the final nine games of 2009, but battled an ankle injury throughout 2010 while teammate
Justin Blackmon
raced to a Biletnikoff Award-winning season. If he can stay healthy, he could develop as an underrated, but very valuable compliment to Blackmon as a senior.
All eyes on:
Quarterback Brandon Weeden. He came out of nowhere last season to become Oklahoma State's first all-conference quarterback since 1932. The 27-year-old went eight years between starts, but looked like he didn't miss a beat from the start. He'll have to try and build off last year with a new coordinator, and him doing so will be necessary for the Cowboys to capture the Big 12 title that narrowly eluded them in 2010.