October, 24, 2014
Oct 24
10:00
AM ET
In Week 9 of Big 12 action, Kansas State and TCU will attempt to keep their playoff hopes alive, while Texas and Texas Tech will try to take a step on the road toward bowl eligibility. West Virginia, meanwhile, will look to keep rolling at Oklahoma State, which hopes to bounce back after getting blown out last week.
Those, among others, will be the storylines to watch Saturday in the Big 12:
Texas at No. 11 Kansas State, noon ET (ESPN):
If the numbers are any indication, Texas won't get anything easy in this game. Kansas State has allowed only 19 plays of 20 yards or more, which is the fewest given up by any Big 12 defense. The Longhorns have been better offensively the last two weeks. Still, only Kansas and Iowa State have produced fewer 20-yard-plus plays in the Big 12 than the Longhorns. Running backs
Johnathan Gray
and
Malcolm Brown
have also had problems breaking loose from the line of scrimmage. According to ESPN Stats & Information, Texas is averaging 1.4 yards after contact on designed runs, the worst average among Power 5 offenses.
The Longhorns will have to be better on the ground to have a chance of pulling the upset in Manhattan, Kansas.
[+] Enlarge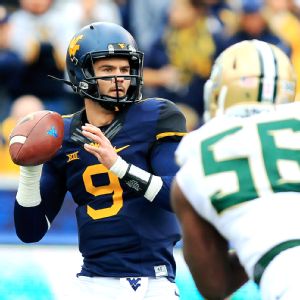 AP Photo/Chris JacksonClint Trickett has thrown 15 touchdown passes and only five interceptions this season.
No. 22 West Virginia at Oklahoma State, 3:30 p.m. ET (ESPN):
How much better has West Virginia QB
Clint Trickett
been this year? He has improved his Total QBR by 29 points from last season, the third-largest increase among Power 5 QBs, according to ESPN Stats & Information. One reason for the dramatic improvement has been the long ball. Trickett has already thrown eight touchdowns on passes of 20 yards or more, tied for third among Power 5 QBs. He had just one such touchdown pass all of last season.
Kevin White
, the nation's leading receiver, has been on the other end of the majority of Trickett's long throws. White tops the country with 16 receptions of 20 yards or more. Oklahoma State, meanwhile, has been even more reliant on throwing deep.
Daxx Garman
has 35 completions on passes thrown 15 yards or longer, tied for the most by a Power 5 QB. One thing is certain in this game: The ball will be flying downfield often.
Texas Tech at No. 10 TCU, 3:30 p.m. ET (FOX):
Trickett isn't the only Big 12 QB who has been a completely a different player this year. Trevone Boykin's Total QBR is up 28.7 points from last season, the fifth-largest increase in college football, per ESPN Stats & Information. Thanks in big part to Boykin's turnaround, the Horned Frogs have featured one of the best big-play offenses in the country. TCU has 13 touchdown drives of three plays of fewer, tied for the most such drives in the country, according to ESPN Stats & Information. Boykin & Co. could add to that total this weekend. Texas Tech's defensive efficiency is the worst among Power 5 teams. Opponents have scored a touchdown on 36 percent of their drives against Tech, the worst percentage of any Power 5 defense. The Red Raiders will probably need their best defensive effort of the year to have any shot at toppling the surging Horned Frogs.
January, 20, 2011
1/20/11
9:00
AM ET
It's a question I get asked pretty often: What was the best atmosphere of any game in the Big 12 this season?
Now, to be fair, I can't weigh in on games I didn't attend this year, so you can find the list of games I did attend this year at the bottom of this post.
But until then, here's my top 5:
1. Texas A&M vs. Nebraska:
This game was in a league of its own in 2010. The white towel-waving 12th Man was out in deafening force, making life hard on Nebraska and spurring their team to a season-defining 9-6 win over Nebraska to validate the Aggies late-season charge. The postgame field-storming was a nice touch for the seniors' final game at Kyle Field, too. Wrecking Crew? Yes sir, they showed up in this one.
[+] Enlarge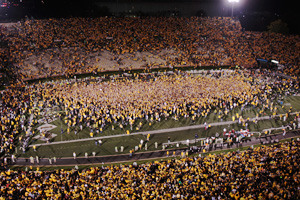 AP Photo/Jeff RobersonFans stormed the field following Missouri's 36-27 victory over then-No. 1 Oklahoma.
2. Missouri vs. Oklahoma:
Missouri had never beaten a No. 1 team. Coach Gary Pinkel had never beaten Oklahoma or Texas. Pinkel,
Blaine Gabbert
and the Tigers did it on homecoming with a prime-time audience. A record-breaking 18,000 fans showed up to ESPN's pregame show, "College GameDay," that morning, and a sellout crowd was raucous from start to finish later that night.
Gahn McGaffie
's touchdown return on the opening kick sent Faurot Field over the top, and Missouri stayed undefeated with a 36-27 win over the Sooners and celebrated with a field-storming of their own and a chance to take the goal posts back to Harpo's in downtown Columbia to be sliced up with hacksaws and distributed to fans.
3. Nebraska vs. Missouri:
Nebraska gets credit for one quarter, but that's all it took to KO Missouri in the de facto Big 12 North championship game. The crowd showed up early and was buzzing for the early afternoon kickoff, but the Huskers led 24-0 after one quarter and won 31-17 on the back of a 307-yard rushing day from
Roy Helu Jr.
, who sent the traditional red balloons floating out of Memorial Stadium early with a 66-yard touchdown run on Nebraska's first offensive play.
4. Oklahoma vs. Florida State:
The Sooner fans knew their team's home winning streak -- the nation's longest -- was in jeopardy with Florida State coming to town, and they did their part, being consistently loud and helping contribute to a rough day for Seminoles quarterback
Christian Ponder
, whose Heisman hopes came to a screeching halt. The Sooners did their part, too, sending the crowd further into a frenzy by scoring 37 consecutive points in the 47-17 win.
5. Texas vs. Oklahoma:
There's no atmosphere like it anywhere else in the Big 12, and as usual, the Red River Rivalry delivered a great game and a great performance from the fans. There wasn't quite as much at stake this year as in past games at the State Fair of Texas, but the Sooners' 28-10 fourth-quarter lead was nearly erased. A late fumble from
Landry Jones
trickled out of bounds to let the half of the Cotton Bowl wearing red exhale in a 28-20 victory.
Honorable mention:
Texas A&M vs. LSU, Oklahoma vs. Nebraska
Here are games I attended that were up for consideration:
Week 1: SMU at Texas Tech

Week 2: Florida State at Oklahoma

Week 3: Texas at Texas Tech

Week 4: UCLA at Texas

Week 5: Oklahoma vs. Texas in the Cotton Bowl in Dallas

Week 6: Nebraska at Kansas State; Texas A&M vs. Arkansas at Cowboys Stadium in Arlington, Texas

Week 7: Missouri at Texas A&M

Week 8: Oklahoma at Missouri

Week 9: Missouri at Nebraska

Week 10: Baylor at Oklahoma State

Week 11: Nebraska at Texas A&M

Week 12: Oklahoma at Oklahoma State

Championship Week: Oklahoma vs. Nebraska at Cowboys Stadium in Arlington, Texas

Bowls: Oklahoma vs. Connecticut (Fiesta Bowl); Texas A&M vs. LSU (Cotton Bowl)
January, 19, 2011
1/19/11
12:30
PM ET
By
ESPN.com staff
| ESPN.com
Yo, who's the grillmaster, dog?
September, 12, 2010
9/12/10
10:00
AM ET
What a weekend of football. What it lacked in drama, it made up in head-spinning results. Here's what we know after it all shook out.
1. The new guy got 'em coached up.
I don't know anyone who really thought Kansas could beat Georgia Tech. I'm sure there were a couple people outside of the Kansas locker room -- but not far outside. While I didn't think they could win, I thought they had a chance to keep it close. Now? I have no idea what to make of Kansas. Is this a bowl team? Was this a one-time thing? Was Georgia Tech really the No. 15 team in America? Those -- and countless others questions -- will be answered in the next 10 games. But you have to give Turner Gill this: He now has plenty of people paying attention to Kansas football.
[+] Enlarge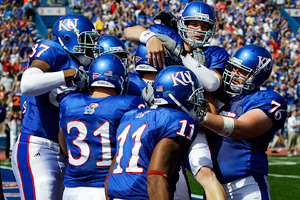 AP Photo/Orlin WagnerA week after losing to North Dakota State, Kansas was celebrating an upset of No. 15 Georgia Tech.
2. Colorado probably won't be leaving the Big 12 until after the 2011 season.
This story got buried during game day, but Pac-10 commissioner Larry Scott spoke to reporters at Saturday's Cal-Colorado game and said he wasn't optimistic the Buffaloes could roam westward until 2012. "The chances are worse than 50-50," Scott said. "I don't know how to rank it beyond that. At this stage, we're planning for them to come in 2012." We had
heard that from Colorado
late last month,
but Scott's comments serve as confirmation from the other side
. That would be a scheduling headache for both sides, with an 11-team Pac-10 and an 11-team Big 12 trying to figure out how to make 2011 work. I'm glad I don't have to be involved in those scheduling decisions. For Colorado, the announcements distracted from their embarrassing 52-7 beatdown in Berkeley.
3. Week 1 wins lose a little sheen.
Kansas State and Oklahoma State were among the two most impressive teams after last week's game. This week, however, Troy had three chances to take the lead in the fourth quarter in the Cowboys' 41-38 win. Although on attempt came after quarterback
Brandon Weeden
fumbled a snap while trying to run out the clock. Kansas State's win over UCLA isn't as impressive as Stanford shut out the Bruins 35-0 in Los Angeles. Oklahoma State's problems were self-inflicted, but Dana Holgorsen is clearly working out the kinks
like he thought he'd have to
. The Cowboys had five turnovers and 12 penalties. "I don't remember being in a game where we made so many mistakes and still found a way to win," OSU coach Mike Gundy said. "I'm not sure we could have done that three years ago." That's a pretty good way of spinning a pretty bad performance, but he's probably right. Oklahoma State is making progress, especially in a supposed rebuilding year.
4. Oklahoma is pretty good.
The way some talked about Oklahoma the past week, you'd have thought the Sooners lost to an FCS team. But the Sooners' inept defensive backs made plays on
Christian Ponder
all day, and let the Heisman candidate torch them for 113 yards on 11-of-28 passing with a pair of interceptions. Meanwhile, the overrated, passive
Landry Jones
barely managed to top 320 yards in the first half and threw just three touchdown passes before halftime. Ten of his 40 passes were also incomplete, a side effect of his terrible decision making. Oklahoma's reign as one of the top teams in the Big 12 is clearly nearing its end.
5. We should get used to watching Taylor Martinez run for touchdowns.
Last week's 46-yarder against
actually
awful Western Kentucky was no fluke. He broke another big play this week with a 67-yard touchdown to put Nebraska up 10-0 in the second quarter -- and added another with a 20-yard score in the third. That gives the redshirt freshman five touchdowns and 284 yards rushing in two games. He has yet to throw a touchdown, but if Martinez proves himself to be competent in the passing game, he'll stay on the field and give Nebraska the big-play threat it lacked all last season. Those legs may decide how the Big 12 shakes out in conference play. His 106 yards on 12-of-17 passing were efficient but won't impress anyone. If he continues at this pace, he may overtake Robert Griffin (who quietly threw for a career high 297 yards in an impressive 34-6 win over Buffalo) as the conference's best running threat at quarterback.
September, 11, 2010
9/11/10
7:22
PM ET
NORMAN, Okla. -- A
big time 47-17 win
for Oklahoma, who showed once again, that when it needs a victory at home, it can quickly shift into invincible mode. The atmosphere and result was reminiscent of the Sooners' 65-21 win over undefeated Texas Tech in 2008.


How the game was won:
Oklahoma doubled Florida State's offensive output in the first three quarters, and picked off Florida State quarterback
Christian Ponder
twice in the third quarter to end any hopes of a comeback.
Stat of the game:
Florida State quarterback Christian Ponder, a Heisman candidate, finished with 113 yards passing. The Sooners secondary gave up 341 yards to Utah State quarterback
Diondre Borel
last week. Clearly,
Stoops' faith in his defensive backs
was rewarded.
Player of the game:
Landry Jones
, quarterback, Oklahoma. Jones finished with 380 yards passing and threw three first-half touchdown passes to pace Oklahoma's offense, which scored on its first four drives to go up 27-7.
Unsung heroes of the game:
Oklahoma's offensive line. Last year's scapegoat, the Sooners' big men gave Jones plenty of time to rack up his impressive numbers, gave up just one sack and kept the sophomore signal-caller's jersey pretty clean.
Second guessing:
Facing a 4th-and-6 at the Oklahoma 37-yard line on its opening drive of the second half, Florida State elected to punt while trailing 34-7. Oklahoma didn't score on its next drive, but the Seminoles ended one of their most productive drives of the half with the game still not entirely out of reach.
What it means:
Oklahoma's defense shut down one of the nation's best offenses. For whatever reason, it looks like last week's struggles against Utah State were an aberration, both on offense and defense.
September, 11, 2010
9/11/10
5:22
PM ET
NORMAN, Okla. --
Turning point:
Oklahoma and Florida State traded impressive opening drives to start with a 7-7 stalemate. But Oklahoma forced the Seminoles into a three-and-out on their next drive and established a defense that dominated the second quarter.
Stat of the half:
Florida State on opening drive: 70 yards. Florida State offense since: 50 yards.
Best player in the half:
Landry Jones
, QB, Oklahoma. Jones has thrown three touchdown passes and completed 22-of-28 passes for 321 yards. A much-needed stat line to silence the criticism sent his way after last week's stinker on the same field against Utah State.
His total was the second-highest in a half in Oklahoma history, second only to Sam Bradford's 350 yards against North Texas.
What Oklahoma needs to do:
Everything it did in the first half. Take the short passes that have been open, pick its spots downfield, and establish the run game.
What Florida State needs to do:
Fly defenders to the ball and play for swing passes and screens. Jones has played well, but he's only had to throw the ball downfield when the Oklahoma coaches have wanted him to. Swing passes and screens to
Ryan Broyles
and
DeMarco Murray
have done the rest. It won't matter what
Christian Ponder
does the rest of the game if the defense lets Oklahoma hang 30 points in the second half like it did the first.
September, 11, 2010
9/11/10
4:51
PM ET
NORMAN, Okla. -- Oklahoma struggled on both sides of the ball in Week 1. Oklahoma is dominating on both sides of the ball in Week 2.
The Sooners have scored touchdowns on all four possessions -- three from
Landry Jones
' passes of at least 18 yards -- and lead,
27-7
in the second quarter after a missed extra point.
Oklahoma needed to put pressure on
Christian Ponder
to slow the Seminoles offense, which can be just as efficient. They've done that. Ponder is just 5-of-9 for 60 yards, and has been sacked three times. He's also been hit several times, including a big shot from safety Tony Jefferson that took Ponder's feet out from under him.
Florida State has moved the ball (116 total yards) outside of a three-and-out on one possession deep in its own territory, but Oklahoma has made it obvious the Seminoles will need plenty more points to stop the Sooners' 31-game home winning streak.
They'll probably be waiting a little bit longer for those points.
Oklahoma has the ball again with a three-touchdown lead and under six minutes to play in the half.
Another score before halftime would officially turn this thing into a rout. A big play by the defense and a score before half would keep Florida State in the game. The Seminoles will get the ball to begin the second half.
September, 11, 2010
9/11/10
4:18
PM ET
NORMAN, Okla. -- Oklahoma's defense gave up over 20 points just twice last season. It gave up 24 in Week 1.
The offense looks like it's ready for a shootout against Florida State, marching 80 yards on its first two drives, capped off by touchdowns from the team's two biggest playmakers,
Ryan Broyles
and
DeMarco Murray
.
Oklahoma leads 14-7
.
Christian Ponder
and the Florida State offense better be ready to match, because it doesn't look like Mark Stoops' defense is going to be able to stop Oklahoma's offense too often.
Ponder made it look easy for a score on Florida State's first drive, but the Sooners just forced a three-and-out topped by an intentional grounding by Ponder and have ignited the crowd at Owen Field.
September, 10, 2010
9/10/10
8:00
AM ET
Oklahoma coach Bob Stoops watched his new corners,
Jamell Fleming
and
Demontre Hurst
, make plays all spring and fall. He saw it when they played in spot duty last season, too. The same goes for his safeties,
Quinton Carter
and
Jonathan Nelson
, who played extensively in 2009.
Last week, he watched them give up 341 yards through the air and beat Utah State by just a touchdown, a team the Sooners beat 54-3 in 2007. Media poll voters were unimpressed enough to drop the Sooners three spots to No. 10, despite holding a 1-0 record.
He's made it clear which was a better representation of his secondary's abilities.
"As much as anything, it's guys just playing the ball, and I've seen these guys do that a good number of times," Stoops said. "So I've got a lot of confidence they'll be able to do that."
They'll have to with Florida State's
Christian Ponder
coming to Norman. Oklahoma's secondary gave up 300 yards passing just twice last season. The Sooners lost both games, against Max Hall and BYU, and
Taylor Potts
and Texas Tech.
In last week's season opener, Utah State quarterback
Diondre Borel
joined the 300 Club, but Oklahoma held on for a win. The result might be different if Ponder burns Oklahoma's secondary like Borel. But the Sooners' corners went back to work all week.
"A lot of practice and pointing out and recognizing areas and ways we could have made plays. It's really not that difficult," Stoops said. "They just misplayed a few balls. That happens from time to time."
For all the Sooners' early struggles, Utah State got the ball four times, including three times in the fourth quarter, down 31-24. The Sooners defense held them scoreless on each drive, including a game-sealing interception by Fleming on the final drive with just over four minutes to play.
Saturday will show which Sooners secondary shows: the one that gave up two third-quarter touchdowns to let the Aggies back into the game after jumping out to a 21-0 lead, or the defense that firmed up with the game in doubt to pitch a fourth-quarter shutout and secure the win.
"Next time, we'll be able to play it," Stoops said. "I've seen them do it in games last year as well, so anyway, it's something I've seen happen over and over, and I'm fairly certain I'll see them play it again."
August, 27, 2010
8/27/10
1:15
PM ET
By
ESPN.com staff
| ESPN.com
The next in our series examining the stretch of games that will make or break each team's season.
Now at bat: The Sooners of Norman.
The stretch
: vs. Florida State (Sept. 11), vs. Air Force (Sept. 18), at Cincinnati (Sept. 25) and Texas (Oct. 2)
The breakdown
: Oklahoma's national championship campaign was derailed on the season's opening weekend in 2009. That won't happen this year when Utah State comes to Norman, but the Sooners' brutal nonconference schedule will have an opportunity to send them stumbling out of the top 10 before conference play arrives.
Oklahoma earned its second loss last year -- at Miami -- before conference play began.
In Week 2, Jimbo Fisher's offense will give Oklahoma a test. The Sooners are starting two new corners after sending Dominique Franks and Brian Jackson to the NFL, leaving sophomore Demontre Hurst and junior Jamell Fleming to step into key roles.
The Seminoles will be without Jarmon Fortson, who was kicked off the team this summer, but
Christian Ponder
still has
Bert Reed
to throw to, a 60-reception guy from a season ago. Defending Owen Field won't be easy. This game should be the toughest test in 2010 for the stadium's mystique.
The next week will be a test for the linebackers, who may here "Stay home!" a record number of times during the week in preparation for Air Force's option attack full of fake handoffs and misdirection. Oklahoma has a solid group in Travis Lewis, Ronnell Lewis and Tom Wort, but its depth suffered with the loss of Austin Box to a disc issue. True freshman Corey Nelson also might get a shot on the field. Defensive tackle Jamarkus McFarland could announce his presence proudly in that game by winning the battle up front, but he was behind Stacy McGee on the Sooners' latest depth chart. It's definitely an opportunity for a breakout game from either of them, especially if fellow tackle
Adrian Taylor
isn't back by then.
Oklahoma quarterback
Landry Jones
has heard the criticisms of his play on the road all summer. Away from Owen Field, he threw just four touchdowns to seven interceptions, and he'll be on spot in this game, the Sooners' first on the road. Cincinnati lost its coach, quarterback and best receiver, but
Zach Collaros
played plenty in relief of Tony Pike in 2009. The Bearcats aren't ranked to begin the season, but they received the most votes of any unranked team in both preseason polls, and Big East blogger Brian Bennett pegs them second in the conference to start the season.
Which brings us to the date circled on Oklahoma's calendar every year. The Texas State Fair has
quite a few new things on the menu
this year: fried lemonade, fried beer and the oxymoronic Fried Frozen Margarita. But this isn't new: Texas and Oklahoma are good. With two great defenses, this could be another classic, and a few key throws could write the first chapter in the legacy of Jones or
Garrett Gilbert
. Folks have said it all offseason and I'll say it again: This should be low scoring and come down to a few key plays. The past two seasons Texas has made those plays and have won four of five. Oklahoma will be looking to change that.
The prediction: 3-1, with a loss to Texas
More Key stretches:
October, 29, 2008
10/29/08
3:50
PM ET
By
Tim Griffin
| ESPN.com
Posted by ESPN.com's Tim Griffin
There's an interesting story in the Dallas Morning News today written by Chuck Carlton about the preponderance of starting college quarterbacks from Texas high schools.
Carlton surveyed all of the FBS schools in the country and found that 21 of the 119 schools in the FBS are starting a quarterback from a Texas high school.
Included in the list are Robert Griffin of Baylor, Todd Reesing of Kansas, Chase Daniel of Missouri, Colt McCoy of Texas, Jerrod Johnson of Texas A&M and Graham Harrell of Texas Tech.
Interestingly, three of the Heisman contending quarterbacks from the Big 12 -- McCoy, Harrell and Daniel -- an underrated leader in Reesing and the two hottest, young quarterbacks in Griffin and Johnson all are from the same state.
Other top quarterbacks from Texas high schools include Matthew Stafford of Georgia, Brian Johnson of BCS-buster Utah and Christian Ponder of Florida State.
Carlton talked to a lot of experts who credit the start of 7-on-7 passing competitions since 1998, the rise of the spread offense and the big-time nature of playing high school football in Texas as the biggest contributors to the recent run of Texas quarterbacks.
Some might think we'll see a continued run of quarterbacks from the state. Which likely is true.
But it's hard to believe that the Big 12 will ever see a better collection of Texas quarterbacks than McCoy, Harrell and Daniel at the top. They might be the best trio of quarterbacks who played in the Big 12 at the same time in the conference's history.
September, 25, 2008
9/25/08
9:09
AM ET
By
Tim Griffin
| ESPN.com
Posted by ESPN.com's Tim Griffin
I'm hoping that playing all of the conference games on Saturdays again will help boost my percentage after last week.
Here's what I've got.
Florida State 27, Colorado 17 -- Neither Christian Ponder and D'Vontrey Richardson played well last week at quarterback for the Seminoles, but their defense kept the game close. With four projected defensive starters returning from suspension, the Buffaloes struggled down the stretch before escaping with a field goal in overtime to beat West Virginia. The guess here is that the Seminoles simply have too many athletes for the Buffaloes, who have tried to prepare for the trip to humid Jacksonville by swigging Gatorade all week. They should stay close before wilting at the Gator Bowl in the fourth quarter.
Kansas State 45, Louisiana-Lafayette 28 -- Coach Ron Prince was so perturbed by his team's defensive performance last week at Louisville that he made them run in the middle of the night as soon as they returned to Manhattan. Louisiana-Lafayette has a strong ground game that is averaging almost 6 yards per carry, but the Wildcats will be up for the test after last week's struggles. Look for Kansas State QB Josh Freeman to return to form and feast on the Ragin' Cajuns' weak defense.
Nebraska 28, Virginia Tech 24 -- The Cornhuskers have been lightly tested in their first three games of the season. This game should be an indicator if the Cornhuskers are legitimate North challengers, as well as an early litmus test of coach Bo Pelini. Virginia Tech is heavily run-based with QB Tyrod Taylor, which should play right into the Cornhuskers' defensive philosophy. Nebraska QB Joe Ganz has shown he can beat top opponents by passing before, but will be challenged by Tech's tough secondary. Give the Cornhuskers a narrow edge, mainly because of a better passing game and the home-field advantage.
Oklahoma 37, TCU 14 -- The Sooners are still smarting from TCU's last visit to Norman, when Horned Frogs shocked OU with an upset victory and the kind of physical whipping that rarely happens to a team coached by Bob Stoops. That was OU's most recent home loss -- the team has charged to a nation-best 20-game home winning streak since then. The Horned Frogs won't be intimidated, considering they have won three of their last four games in Norman and have a seven-game winning streak of their own, tied for third-best in the nation. TCU leads the nation in rush defense and will be a tough matchup against the Sooners' mammoth offensive front. TCU QB Andy Dalton will need to make some downfield plays, something he hasn't done much of this season. Look for the Sooners' superior talent to win this one and make it a runaway late.
Oklahoma State 44, Troy 31 -- After losing at Troy last season, the Cowboys will be ready to play in the rematch. They should be better prepared as their balanced offensive attack, which has hung half a hundred on each of its last two opponents, will keep humming along. Troy looked good in flashes against Ohio State, but could find a bigger defensive challenge this week in trying to keep the Cowboys' multi-faceted offense in check. Look for another big game from Oklahoma State TB Kendall Hunter and WR Dez Bryant, who was shut out in his most recent game after producing nine catches the previous week.
Texas 45, Arkansas 14 -- This one won't be much of a matchup between the two storied former Southwest Conference rivals. The Longhorns' emerging defense will make life miserable for Arkansas QB Casey Dick. Alabama gashed the Razorbacks for 9.4 yards per carry last week, providing a nice recipe for Texas' backfield-by-committee of Fozzy Whittaker, Vondrell McGee and Chris Ogbonnaya. And Texas QB Colt McCoy will have a chance to boost his Heisman candidacy with a big day against Arkansas' leaky pass defense. I'm wondering if Texas fans will be chanting "Big 12, Big 12" to celebrate a victory in this game after Arkansas fans chanted "SEC, SEC" following wins over Texas in two of the last three games of the series.
Texas A&M 24, Army 10 -- Texas A&M coach Mike Sherman will be looking for his first victory at Kyle Field after opening the season with back-to-back losses, the first time that's happened since 1972. The Aggies' quarterback rotation remains iffy after both Stephen McGee and Jerrod Johnson missed practice this week due to sprained shoulders. The Aggies shouldn't get too much of a test from an Army team that has been outscored 85-20 this season and has lost nine of its last 10 games on the road. Even the offensively challenged Aggies should be able to move the ball on the Black Knights, providing a grind-it-out victory.
My predictions last week: 7-2 (77.8 percent)
My predictions for the season: 38-3 (92.7 percent)
September, 13, 2008
9/13/08
6:41
PM ET
By
Tim Griffin
| ESPN.com
Posted by ESPN.com's Tim Griffin
The ability to sit in the studio gave me the opportunity to watch a lot more football than I usually do when I'm sitting in a stadium watching a game. Heck, even more than when I'm at home and it seems like I forever have some household chore to do.
So being in Bristol gave me a chance to really watch football. Here are some things I noticed today.
1. Is anybody else surprised that East Carolina struggled before barely escaping New Orleans with a narrow victory over Tulane? How many times have we seen the BCS-buster du jour come up flat after a couple of wins against the big boys? And the Pirates better prepare for it every week as Conference USA play continues.
2. Who needs View-Masters to hype Missouri QB Chase Daniel for the Heisman? After three games, how about 10 touchdowns and one interception. His quarterback efficiency rating has been more than 250 in each of the last two weeks.
3. Injuries for coaches are a miserable time. But doesn't Notre Dame coach Charlie Weis look especially glum after he was leg-whipped by John Ryan along the sidelines late in the first half?
4. Seeing Dennis Quaid be such a prominent part of the Syracuse game-day experience today was somehow fitting as the Orange struggled through another disappointing loss. Remember, Quaid used to be "The Grey Ghost." And Syracuse used to be a place where running backs flocked.
5. Best story of the day was the emergence of Florida State WR Corey Surrency, who never played high school football. Surrency made his start playing in flag-football tournaments before going to El Camino Community College. He's simply emerged as Christian Ponder's go-to receiver.
6. Wonder how much moving Houston's game against Air Force to Dallas hurt the Cougars? Air Force jumped to a 31-7 lead before Houston stormed back to pull within 31-28 late. The Cougars have piled up 749 passing yards and 1,017 yards in their last two games. All they have to show for the offensive explosion are two losses.
7. Worst weekend this year goes to the Pac-10 for enduring humiliating losses (Baylor over Washington State, Maryland over California, TCU over Stanford, BYU over UCLA and Oregon's struggles with Purdue). But just like they've said over the last few years, thank goodness for USC.
8. Best finish of the day came at UB Stadium in Buffalo, where the Bulls eked out a narrow 30-28 victory over Temple thanks to a 35-yard pass from Drew Willy to Naaman Roosevelt with no time left. If I'm an athletic director at a struggling BCS school, I'm thinking about giving Buffalo coach Turner Gill a chance.
9. Seeing Michigan State RB Javon Ringer pick up a career-high 43 carries en route to 282 yards brings back memories of when Lorenzo White was toting the rock that much for the Spartans.
10. Sure, Northwestern has only beaten Syracuse, Duke and Southern Illinois this season. But coach Pat Fitzgerald's team has quietly fashioned a 3-0 record and is halfway to bowl eligibility.