Big 12:

Clarence McKinney
December, 29, 2014
12/29/14
10:00
AM ET
MEMPHIS, Tennessee -- The fun began with
a phone call
and
a Twitter battle
.
Laughs and jokes were exchanged upon the announcement that Texas A&M and West Virginia would meet in the
AutoZone Liberty Bowl
. Head coaches Kevin Sumlin and Dana Holgorsen and Aggies offensive coordinator Jake Spavital are among those involved who once shared time on the same coaching staff -- relationships that provide an intriguing backdrop for the reunion.
[+] Enlarge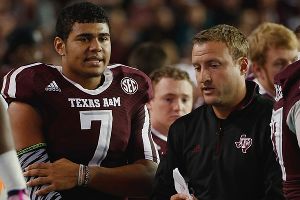 Scott Halleran/Getty ImagesTexas A&M offensive coordinator Jake Spavital (right) learned under West Virginia head coach Dana Holgorsen at Houston.
"He taught me everything about this offense and he knows how I signal the game and I know how he signals the game," Spavital said of Holgorsen. "It'll keep the game interesting, and it'll keep us on our toes."
They're part of a group that shared time together five years ago, interestingly, while trying to get to a Liberty Bowl. During the 2009 season at Houston, Sumlin was head coach and Holgorsen was offensive coordinator. Clarence McKinney, Texas A&M's current running backs coach, held the same position with the Cougars at the time. Spavital was a graduate assistant and current Texas Tech head coach Kliff Kingsbury was the offensive quality control coach.
Making it more interesting was the fact that, at one time, Holgorsen, Kingsbury and Spavital all lived together in an apartment in Houston's Midtown district, a trendy neighborhood with a thriving business scene and nightlife. What could happen with three young, single coaches in close proximity to such an area?
"I'd better not say anything about that," Sumlin said, with laughter. "I didn't go over there at all. Anybody who knows Houston knows that Midtown has a lot of nice restaurants that stay open late at night, I'll just put it that way."
When he took over at Houston in 2008, Sumlin made Holgorsen -- who he describes as "brilliant" -- one of his first hires to install an innovative up-tempo offensive attack.
Holgorsen called Kingsbury, who was still pursuing a pro playing career, that summer. Sumlin agreed to add Kingsbury to the staff while also allowing him time to try out for the NFL.
"He spent more time out there throwing the football and practicing with guys than he did coaching," Sumlin joked. "Over time, thank God he got cut."
In 2009, Spavital's older brother, Houston defensive backs coach Zac Spavital, encouraged Jake to join the Cougars staff. Zac saw promise in Sumlin and Holgorsen and thought Jake could benefit from working with them. After interviewing with Holgorsen, Jake was hired on the spot.
"I loved him," Spavital said of Holgorsen. "He was great to me. He coaches his ass off. He's hard on the kids, he was hard on me. But he would separate work on and off the field. He was hard on me about things and he wanted me to grow as a coach, but then afterwards he was one of my buddies and he treated me that way."
Kingsbury was already living with Holgorsen in that two-bedroom apartment. Spavital would go from couch to couch, from his brother's to Holgorsen's.
"I wanted to be around Dana the whole time, so I'd sleep on his couch a lot," Spavital said. "I'd sleep at the offices, depending on whether Dana had his kids in or anything. I'd just move around because it's a two-bedroom apartment."
The bachelor pad was pretty bare in terms of furnishings.
"We were very minimalist in that household," Kingsbury said. "There wasn't anything to get in your way. ... You know, in Houston there's a lot to do. We would be there to sleep and that was about it."
Added Spavital: "There was no silverware and plates and stuff like that. It was two rooms, two bathrooms and a couch and a TV. We never were there."
McKinney, who joined the staff in 2008, recalls some of the late-night meetings the offensive staff had.
"We spent a lot of time together in meetings after practice," McKinney said. "We'd go from the office to somewhere down the street to grab something to eat, grab some drinks and the meetings would still be going until 2 in the morning."
Certainly it wasn't only football, though, right? When Holgorsen, Spavital and Kingsbury hit the town, there have to be some entertaining stories.
"You can't put that in the paper," Kingsbury said coyly. "It was fun."
Each of them have distinct traits. There's Holgorsen, the casual dresser ("I don't even think Dana owned a suit until he got to Oklahoma State," Spavital said. "He would always say, 'How many games has that suit won?'") and Red Bull devotee ("It's amazing that he's still functioning," Kingsbury said. "I guess his kidneys are pretty strong. He gets after those.").
There's well-dressed Kingsbury, who might still be holding on to NFL dreams. ("If Kliff could play right now, he'd play," Spavital said. "That's why Kliff works out all the time, because I know he believes that he can still do it.")
And there's Spavital, the youngest who deferred to his elders. ("He listens a lot," Kingsbury said. "He's not just going to talk a lot, he likes to listen and soak things up.")
It wasn't just tomfoolery; they had significant success. The 2009 Houston team ranked No. 1 nationally in offense (563.4 yards per game; 42.2 points per game), upset Oklahoma State in Stillwater and triumphed over Texas Tech. The 10-4 Cougars came within an incomplete pass of a Conference USA championship and a Liberty Bowl berth.
As each moved on, they kept in touch daily. They've traded game film, though that practice stopped between Holgorsen and Kingsbury once they became opposing Big 12 head coaches. They still talk, but the relationship dynamic is different now.
It didn't change for Spavital and Holgorsen until this year's Liberty Bowl announcement. They still communicate daily, but they obviously weren't trading tape or exchanging ideas in preparation for Monday's game (2 p.m. ET, ESPN).
"He gave us all his offensive stuff and we didn't give him any of our offensive stuff; I pulled the wool over his eyes in the last couple of weeks," Holgorsen joked. "When it gets competitive and you've got to play a game, you're going to have a good time talking about anything than actual football."
December, 28, 2014
12/28/14
4:00
PM ET
As we get closer to New Year's Day the bowl games become more compelling, and that's certainly the case with Monday's AutoZone Liberty Bowl between Texas A&M and West Virginia. It's a matchup of two head coaches familiar with each other and two similar offenses, and it gives us a dose of Big 12 vs. SEC, which always is good for debate. Let's break it down:
What's at stake:
In the 119-season history of Texas A&M football, the Aggies have never won four consecutive bowl games. They have the opportunity to do so here, seeking a fourth straight bowl win dating back to 2011. West Virginia is appearing in its third bowl game in four seasons under Dana Holgorsen and seeks its second bowl win in that span.
Players to watch:
West Virginia receiver
Kevin White
is worth the price of admission. The senior is one of college football's best receivers, ranking sixth in the nation in receptions (102) and seventh in receiving yards (1,318), with nine touchdowns. He shows a knack for making big-time, highlight-worthy plays. For Texas A&M, true freshman defensive end
Myles Garrett
has lived up to the hype that preceded his arrival in Aggies land. He finished the regular season tied for second in the SEC in sacks (11), which broke Jadeveon Clowney's SEC freshman sack record, Garrett had 12.5 tackles for loss, and he has been a headache for opposing offensive tackles and quarterbacks.
Familiar faces:
These head coaches know each other well. Kevin Sumlin's first offensive coordinator hire as a head coach in Houston was Holgorsen in 2008. The two won 18 games together in two seasons before Holgorsen left for the same position at Oklahoma State. He took then-graduate assistant Jake Spavital with him from Houston to Stillwater and eventually to West Virginia before Sumlin tabbed Spavital to replace Kliff Kingsbury's spot on the Texas A&M staff when Kingsbury left his offensive coordinator post for the head-coaching job at Texas Tech.
Similar attacks:
Both teams operate in a one-back spread attack rooted in Air Raid principles. Each team scores a lot (West Virginia averages 33.2 points, Texas A&M 34.4) and throws quite a bit, too; the Mountaineers average 314.6 passing yards per game, while the Aggies average 306.4.
Trickett out:
West Virginia starting quarterback
Clint Trickett
will miss the game,
announcing last week that he is hanging up his cleats
because of concussions he's suffered. Sophomore
Skyler Howard
will start at quarterback for the Mountaineers. In three games, including a start versus Iowa State, Howard has thrown for 483 yards and five touchdowns.
Record breaker:
Texas A&M sophomore receiver
Josh Reynolds
has emerged as one of quarterback Kyle Allen's favorite receivers, and even when
Kenny Hill
was starting, Reynolds was making things happen. The unheralded junior college recruit tied the single-season school record (held by Mike Evans and Jeff Fuller) with 12 receiving touchdowns. One more would put Reynolds at the top of the list, lofty status for someone who received little buzz when he enrolled at Texas A&M in January.
Coaching attrition:
Texas A&M will be without three coaches that it ended the regular season with: defensive coordinator Mark Snyder, offensive line coach B.J. Anderson and receivers coach David Beaty. Snyder was fired the day after the Aggies' season-ending loss to LSU; linebackers coach Mark Hagen will serve as the interim defensive coordinator for the Liberty Bowl. Beaty accepted the head-coaching position at Kansas, and earlier this month Sumlin announced that Anderson won't return next season or coach in the bowl game. The Aggies will operate with two full-time offensive assistants (Jake Spavital and Clarence McKinney), while graduate assistant Chris Smith assists with the offensive line duties for the game. West Virginia will say goodbye to offensive coordinator and quarterbacks coach Shannon Dawson after the Liberty Bowl, as he will become Kentucky's offensive coordinator, but Dawson will be with the Mountaineers' staff working Monday's game.
January, 4, 2013
1/04/13
11:46
PM ET
ARLINGTON, Texas -- Another Cotton Bowl, another bad loss for the Big 12. Excluding current SEC member Missouri's win back in 2008, the Big 12 has lost the Cotton Bowl to an SEC opponent in eight consecutive seasons. Johnny Football put on a show after a month away and showed zero signs of rust and a zillion signs of being an endless source of frustration for Oklahoma's defense.
The Big 12 finished 4-5 in its nine bowl games, and the SEC improved to 4-3 in its bowl games. Let's take a look at some instant analysis for Texas A&M's
41-13
blowout win over the Sooners.


It was over when:
Facing a fourth-and-5 late in the third quarter, Manziel hit
Ryan Swope
over the middle on a short slant. Swope shed a tackler and raced 33 yards to put the Aggies up, 34-13. That capped a run of three Oklahoma three-and-outs to begin the second half and spelled doom for the Sooners.
Game ball goes to:
Johnny Manziel
. I mean, who else? He broke the Cotton Bowl record for total yards with 516 and accounted for four touchdowns. It could have even been five, too, if not for
Malcome Kennedy
's bobbling a pass in the end zone that was eventually intercepted by Oklahoma's
Javon Harris
.
Stat of the game:
Oklahoma averaged 4.8 yards per play. Texas A&M averaged 9.6 yards per play. It was really that simple in this one. Johnny Football made the Aggies dangerous on what seemed like every snap. Oklahoma's offense played well in the first half, but it rarely looked easy, and Texas A&M prevented the Sooners from breaking big plays. It also clamped down in the red zone.
Unsung hero of the game:
Texas A&M's offensive line. Get a good, long look at
Luke Joeckel
and
Jake Matthews
serving as bookends on this line. They might be gone soon, cashing big-time checks as NFL first-round picks. Mike Sherman had well-chronicled struggles, but the offensive line guru left some big beef for Manziel and the Aggies offense to operate behind. It showed tonight. Oklahoma rarely blitzed, for fear of Manziel running loose in the second level, but he had all day to throw and little pressure on most snaps.
What Texas A&M learned:
Heisman jinx, December distractions, coaching changes, whatever. It all seemed pretty irrelevant in this game. Johnny Football looked like his usual self, if not better. He broke loose for 47 rushing yards on Texas A&M's opening drive and didn't slow down from there. Kliff Kingsbury checked out as Texas A&M's offensive coordinator, but Clarence McKinney had a solid performance in his debut as play-caller. Manziel insisted he wasn't distracted and that the whirlwind of awards and television appearances after winning the Heisman hadn't changed him. His performance validated those claims.
What Oklahoma learned:
Just like Kansas State and Notre Dame, the Sooners were incapable of beating the elite teams in college football this year. A 10-3 season isn't bad, but it's not good enough at Oklahoma. The Sooners might not have even been happy going 1-2 in those losses, but 0-3 will leave a very bitter taste in their mouths thinking back on a season that was very average by the Sooners' sky-high standards. Any notion that it had a formula for stopping or even slowing down the Johnny Football train went out the window. He had his way with the Sooner defense, which tackled poorly, too.