December, 7, 2014
12/07/14
2:28
AM ET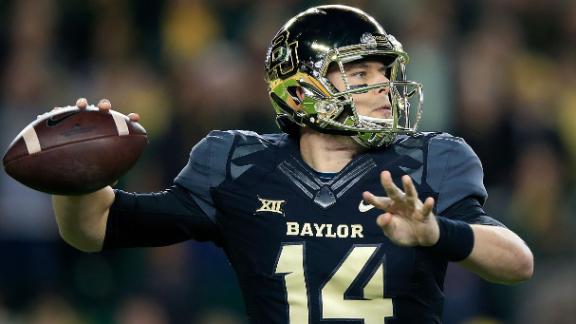 FORT WORTH and WACO, Texas -- This is what happens when a league becomes trapped by a slogan.
You get Baylor coach Art Briles, who should be enjoying a second consecutive championship, dressing down commissioner Bob Bowlsby on a podium in front of 47,934 fans who agree with the coach. You get lines such as, "The real champs, Bowlsby!" and " Have pride in your conference, Bowlsby!" You get chants such as "One true champ!" and "Head-to-head!" You get Bowlsby shuttled through an angry crowd on his way off the McLane Stadium field.
You get Baylor wide receiver
Clay Fuller
saying the Big 12 title is "a little clouded right now" by the team's College Football Playoff uncertainty and the Big 12's unwillingness to fully back the Bears in their pursuit.
[+] Enlarge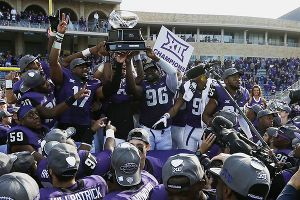 Brandon Wade/Associated PressThe mood was festive in Fort Worth, as TCU was more than happy to be crowned a Big 12 co-champion.
"The Big 12 didn't help us," Fuller told ESPN.com after Baylor's 38-27 win against No. 9 Kansas State. "They wanted to make sure one person got in, and I think it's messing them up now. The commercial says, 'One true champion.' They play that a lot."
What's a recent college football season without some Big 12 squabbling? There was plenty at Baylor after Bowlsby declared earlier in this week that the Big 12 wouldn't designate one champion to the playoff selection committee, in accordance with its bylaws.
The league instead will present Baylor and TCU as equals, even though both played the same schedules and Baylor beat TCU 61-58 on Oct. 11. One true champion? More like one true conundrum.
Baylor athletic director Ian McCaw said that though the Big 12 bylaws recognize co-champions, tiebreakers are in place, and the team winning the tiebreaker would advance as the league's representative. McCaw "disagreed" with Bowlsby's "position" to present co-champions, though Bowlsby said he's simply following the bylaws as they pertain to the playoff.
"If you have a slogan and say there's one true champion, all of a sudden, you're going to go out the back door instead of going out the front," Briles said. "Don't say one thing and do another. That's my whole deal. If they said from the get-go, 'We've got co-champs. Head-to-head doesn't matter,' I'm OK with it. But don't say one thing and do another."
The optimist sees the Big 12 having two teams in the playoff mix. But with No. 1 Alabama, No. 2 Oregon and No. 4 Florida State winning this weekend, the Big 12 likely is competing for one remaining spot. It faces a formidable challenge from No. 5 Ohio State, which pummeled Wisconsin 59-0 in the Big Ten championship game and has no complexities about what it is and what it represents.
The Big 12 has two fabulous candidates in No. 6 Baylor and No. 3 TCU, teams led by great coaches and great quarterbacks (Baylor's
Bryce Petty
and TCU's
Trevone Boykin
combined for 872 pass yards and five touchdowns Saturday).
[+] Enlarge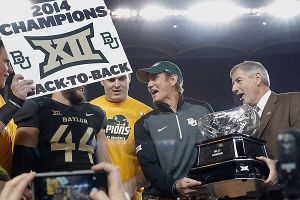 Tony Gutierrez/Associated PressMeanwhile, the awarding of the Big 12 co-championship in Waco was a bit more testy.
But could the league's reluctance to fully back one team hurt in the debate against Ohio State?
"That could be a factor," McCaw said. "The thing that's going to be interesting, if you look at the strength of the Big 12 Conference overall, being one or two [among conferences], the champion of that conference should carry a lot of weight."
Briles referenced the Big 12's strength in his stump speech Saturday. The coach had previously been relatively quiet about politicking, but Petty said Briles told the players, "give me some ammunition" at a recent meeting.
So Briles came out with guns blazing.
He mentioned Baylor's wins against a top 5 team (TCU) and a top 10 team (Kansas State). He mentioned how Baylor played only six true home games, while the other playoff candidates played seven.
"If [selection committee chair] Jeff Long's sitting there, and he asks, 'Who's representing the Big 12?' ... and [Bowlsby] says, 'We're sending Baylor. That's our representative,' they've got to look long and hard at that," Briles said. "Because they won one of the toughest leagues."
It was much tamer earlier in the day at Amon G. Carter Stadium, where TCU thrashed Iowa State 55-3. Bowlsby drew cheers from the crowd when he presented the Big 12 championship trophy.
Horned Frogs coach Gary Patterson told reporters, "You're not going to put me on a pedestal" about his team's playoff chances and said the Horned Frogs would "act like a true champion, a co-champion."
And if they miss the playoff?
"I'd be sad for my kids and for this university," Patterson said. "They've done everything they could possibly do, and I don't believe we did anything today to hurt ourselves."
TCU running back
Aaron Green
was more direct when asked why his team should be one of the top four.
"Because we're the best," Green said. "That's why."
Well, that settles it. Both TCU and Baylor made strong closing arguments, even though the Frogs struggled to score early and Baylor couldn't shake Kansas State for much of the game.
Baylor's narrower home win against K-State 41-20 undoubtedly will be dissected, but the Bears still hold the head-to-head win -- a logical trump card, but perhaps not in this case. One team undoubtedly will be grumpy when the selections are announced at 12:45 p.m. ET Sunday. Maybe both.
"It'd be less painful [if Ohio State got in over both]," Fuller admitted. "I know you're rooting for the Big 12 to get in the playoff. Heck, it'd be worse if TCU got in. I don't understand that argument whatsoever. It doesn't make any sense to me."
It's rarely harmonious in the Big 12 -- a league that nearly dissolved twice in a 14-month span in 2010-11, which cost Bowlsby's predecessor, Dan Beebe, his job. There was the controversial division tiebreaker that cost Texas a national title shot in favor of Oklahoma in 2008.
Now, in an effort to remain neutral and, as Bowlsby says, to stick to its own rules, the Big 12 could be left out cold in the playoff.
"We just happen to be part of the Big 12, and we happen to be the champion two years in a row," Briles said. "So they need to be obligated to us because we're helping the Big 12's image in the nation."
What is that image after Saturday? Is it a league that merits a spot in the playoff over the Big Ten? Or is it a conundrum that might be better left out of the race entirely?
"The winner of the Big 12," Boykin said, "should have a decent chance of getting in."
If only it were that easy.
September, 17, 2014
9/17/14
2:45
PM ET
With six Big 12 teams having this weekend off, now is a good time to take stock of what's working and what isn't after Week 3. What are these six teams happy with and what still needs to get fixed? Here's a closer look:
Baylor
Next game:
Sept. 27 at Iowa State
What's working:
Pretty much everything. Baylor's offense kept rolling even when
Bryce Petty
was sidelined, the run game broke in new toys in
Johnny Jefferson
and
Silas Nacita
,
KD Cannon
became a national phenom in three weeks and the defense ranks top five nationally in scoring, total defense, yards per play and run defense to go along with an FBS-high 15 sacks.
What needs work:
This is welcomed recovery time for a team that got the injury bug in fall camp. Petty is 100 percent now and excited to get go-to target
Antwan Goodley
(quad) and receivers
Corey Coleman
(hamstring) and
Clay Fuller
(collar bone) back on the field. The Bears will likely get running back
Devin Chafin
(high ankle sprain) back in time to travel to Ames, too. With the exception of
Levi Norwood
, they'll have the full arsenal back in time for Big 12 play.
Iowa State
Next game:
Sept. 27 vs. Baylor
What's working:
The Cyclones go into the week off riding an emotional high they aim to turn into momentum. Their 20-17 upset of Iowa provided so many encouraging signs. Quarterback
Sam B. Richardson
had arguably the best game of his career, the defense came up with its first takeaway in a big moment and we saw another impressive performance from
Cory Morrissey
. Paul Rhoads is a happy camper after the rivalry win, and ISU avoided an 0-3 start in dramatic fashion.
What needs work:
A game plan for slowing down Baylor will be the main focus this week. ISU has a few injury issues of its own, but the good news is
Jarvis West
should be OK. Rhoads is focusing in on a four-week, four-game stretch in which the Clones take on Baylor, Oklahoma State, Toledo and Texas. After a win this good, there's always another upset to chase.
Oklahoma State
Next game:
Sept. 25 vs. Texas Tech
What's working:
The youth and inexperience Oklahoma State has on paper is not showing on the field. The Pokes haven't slipped since losing
J.W. Walsh
, they gave Florida State a tough four-quarter ballgame, they won with relative ease after that and they have entered the Top 25. Thsi is not a perfect team yet but is a rising one that's going to scare a lot of teams in conference play.
What needs work:
Facing Tech will give OSU a much better sense of how good its defense can be in 2014 after a nice showing in nonconference play. Gundy wants to see more depth develop in the back seven, and on offense he's expressed concerns about blocking the run game.
TCU
Next game:
Sept. 27 at SMU
What's working:
The offensive transition has been smooth and effective. TCU has averaged 39 points and 491 yards per game with its new Air Raid, and
Trevone Boykin
has been everything the coaches hoped for -- and maybe a little more. The defense hasn't taken a step back without Devonte Fields and has seen several players step up their games up front. Smooth sailing so far for a team that definitely looks bowl-bound again.
What needs work:
TCU's pass defense ranks No. 6 in FBS, but Gary Patterson has said he still wants to make some fixes in pass coverage. They'll devote the required amount of time on SMU, a struggling team led by an interim coach and a third-string quarterback, but the Frogs know they need to work ahead a little on Oklahoma and Baylor, including preparing for the 3-4 fronts of the Sooners' defense.
Texas
Next game:
Sept. 27 at Kansas
What's working:
Despite taking two losses, this defense is playing at a high level with a top-20 yards-per-play rate, a top-15 pass defense and 13 sacks. Defensive tackle
Malcom Brown
looks like a potential All-American so far.
Tyrone Swoopes
is taking steps in the right direction and shined at times against UCLA, while
John Harris
has finally emerged as a go-to receiver.
What needs work:
Where to begin? Texas' patchwork offensive line hasn't gelled and desperately needs these two weeks. The Longhorns need suspended WR/RB
Daje Johnson
back and need a healthy
Desmond Jackson
(ankle).
Cedric Reed
was better against UCLA but hasn't broken out yet. And Charlie Strong needs to start coming up with plans for stopping Baylor and Oklahoma or else this team could start 2-4.
Texas Tech
Next game:
Sept. 25 at Oklahoma State
What's working:
Tech is getting nice production in the run game from
DeAndre Washington
and
Justin Stockton
and in the pass game from
Bradley Marquez
and
Jakeem Grant
. Offensive line play has improved and Tech hasn't given up a sack. Its pass defense ranks 11th nationally, which is probably misleading.
What needs work:
Run defense, penalties, tackling,
Davis Webb
's consistency -- lots of fundamental issues here that are starting to cause concern. Webb seemed to be forcing throws against Arkansas and will need to put in some time this week to clean up concerns about his footwork and decision-making. And that porous run defense has to get cleaned up quick because opponents will keep attacking it hard over the next month.
April, 30, 2014
4/30/14
3:00
PM ET
With spring ball done, we're
reexamining and re-ranking the positional situations of every Big 12 team
, continuing Wednesday with receivers (and tight ends). These outlooks could look different in August. But here's how we see them post-spring:

1. Baylor (pre-spring ranking: 1):
The Bears maintained their commanding advantage over any other receiving corps in the league.
Antwan Goodley
remains an All-American candidate, and
Corey Coleman
looks primed to become Baylor's next great wideout following a spectacular spring.
Levi Norwood
,
Jay Lee
and
Clay Fuller
are proven performers. And more talent is about to arrive, including blue-chip freshman
K.D. Cannon
. The Baylor receivers are as formidable as any position grouping in the league.

2. Texas Tech (3):
The Red Raiders lost their two best pass-catchers from last year in tight end
Jace Amaro
and
Eric Ward
, but this group is overflowing with dynamic young talent. After reeling in two touchdowns in the bowl and dominating Texas Tech's spring game,
Jakeem Grant
looks like he's on the verge of becoming a star in the league.
Bradley Marquez
should be even sharper after giving up baseball to focus on football this offseason. And the speedy
Reginald Davis
is a potential big-play threat on the perimeter. All three players can fly, and they have a quarterback in
Davis Webb
who can deliver the ball to them down field. The unit goes deep in the rotation, too, with
D.J. Polite-Bray
,
Devin Lauderdale
,
Jordan Davis
and
Derreck Edwards
all poised to be factors.

3. Oklahoma State (4):
The Cowboys don't have a
Justin Blackmon
or
Dez Bryant
. But they
have a deep rotation
and a budding All-Big 12 candidate in
Jhajuan Seales
, who is ready to take over as the offense's go-to receiver.
Marcell Ateman
,
David Glidden
and
Brandon Sheperd
were all significant parts of the corps last year, as well, and
Blake Webb
and
Austin Hays
, who both made starts two years ago as true freshmen, bounced back from injury-plagued 2013 seasons to impress in the spring. Track star/running back
Tyreek Hill
also will line up in the slot at times and will be a home-run threat any time he touches the ball. Considering none of the projected eight in the two-deep will be a senior, this group should only continue to get better, too.

4. Texas (5):
Don't fault the Texas receivers for not making a bigger impact in the spring game. For three quarters, reserve quarterback
Tyrone Swoopes
struggled to get them the ball. While the Longhorns probably lack an All-Big 12-caliber performer, they boast an experienced, reliable trio in three-year starter
Jaxon Shipley
and juniors
Kendall Sanders
and
Marcus Johnson
.
Daje Johnson
, who caught a Hail Mary from Swoopes in the spring game, brings even more playmaking to the group as a full-time receiver. Texas obviously has QB issues. But if the Horns can find the right player there, that QB will have reliable weapons to operate within the passing game.

5. Kansas State (2):
K-State still has one of the best receivers in the country in
Tyler Lockett
, who is deserving of preseason All-American consideration. But the rest of the unit didn't round out during the spring as well as the Wildcats would have hoped.
Curry Sexton
(eight catches for 88 yards) and
Deante Burton
(six catches for 48 yards) were both solid in the spring game. So was freshman
Judah Jones
, who hauled in a 51-yard scoring grab. But converted QB
Daniel Sams
still has a ways to go before making a huge impact, and highly touted juco transfer
Andre Davis
failed to make a big spring splash. Any receiving corps featuring Lockett is going to be a handful. But the supporting cast still needs work.

6. Iowa State (7):
The Cyclones have the top returning pass-catching tight end in the league in
E.J. Bibbs
, who coach Paul Rhoads believes could vie for All-American honors.
Quenton Bundrage
has all-league potential, though he disappeared too many times last season, and did so again in the spring game.
Jarvis West
has proven he can make plays out of the slot, and the Cyclones have depth on the perimeter in
P.J. Harris
,
Brett Medders
and
D'Vario Montgomery
, who all developed rapidly during the spring. With highly touted signee
Allen Lazard
set to join the rotation, the Cyclones could boast their best receiving corps in several years.

7. Oklahoma (6):
The Sooners feature a bona-fide No. 1 receiver in
Sterling Shepard
, who has 96 career catches his first two seasons. But the position is the Sooners' biggest question mark. With 12 catches last year,
Durron Neal
is the team's second-leading returning receiver.
Austin Bennett
,
Jordan Smallwood
and
Derrick Woods
all had moments in the spring game, but the competition for snaps will carry over into the fall. Talented four-star incoming freshman
Michiah Quick
could be a factor in the slot once he gets to Norman.

8. West Virginia (8):
Starters
Mario Alford
,
Kevin White
and
Daikiel Shorts
are all back, but, collectively, must produce more consistently than they did last season. Alford seems to be the key. He had 215 receiving yards in West Virginia's final game of 2013, and he has the talent and speed to give the Mountaineers a dangerous No. 1 wideout.
Cody Clay
is a valuable tight end, though does most of his damage with his blocking.
Shelton Gibson
, who was ineligible last year and this spring as a partial qualifier, is a former four-star recruit and could give West Virginia a boost.

9. TCU (9):
The Horned Frogs actually had two positive developments at this position during the spring.
Jordan Moore
made a seamless transition from running back to receiver and is in line to give TCU a physical and fast presence on the outside. Then, former Texas A&M QB Matt Joeckel transferred in, potentially clearing the way for
Trevone Boykin
to swing back to receiver. This group has depth, with
Ty Slanina
,
Josh Doctson
,
David Porter
and
Cameron Echols-Luper
returning. But the future of the most talented receiver on the roster --
Brandon Carter
-- remains in doubt after he was recently arrested on suspicion of marijuana possession, after sitting out spring ball to focus on academics.

10: Kansas (10):
The Jayhawks might be at the bottom here, but they seem primed to field their best one-two punch at receiver since Kerry Meier and Dezmon Briscoe roamed Lawrence five years ago. Miami (Ohio) transfer
Nick Harwell
has taken on a much-needed vocal leadership role among this group and brings a track record of production, having finished second nationally in receiving in 2011. Flanking Harwell will be former running back
Tony Pierson
, who made the full-time move to receiver this offseason. While he's raw as a receiver, Pierson is capable of the big play.
Rodriguez Coleman
also emerged this spring as potential viable third option. The dark days of the Jayhawk receivers posing no threat in the passing game appear to be over.
April, 28, 2014
4/28/14
9:00
AM ET
Over the next two weeks, we'll be analyzing the depth charts of every Big 12 team coming out of the spring. We start with Baylor, which released an official two-deep shortly after concluding spring ball in early April.
OFFENSE
[+] Enlarge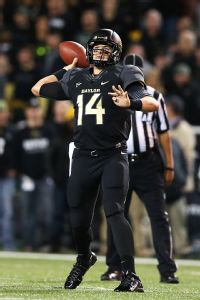 Matthew Emmons/USA TODAY SportsCan Bryce Petty be even better this season?
QB: Bryce Petty (Sr.),
Seth Russell
(So.)
The Bears have one of the top returning quarterbacks in college football in Petty, who was phenomenal last year in his first season as a starter. With a year of experience under his belt, there's no reason to believe he won't be better in 2014. Russell performed well in limited duty last year, suggesting the Bears could survive at least a minor injury to Petty.
RB:
Shock Linwood (So.)
or
Devin Chafin (So.)
,
Johnny Jefferson
(RFr.),
Terence Williams
(Fr.)
The Bears boast four potentially outstanding runners who all have at least three seasons of eligibility remaining. Linwood finished sixth in the Big 12 in rushing last season, despite backing up
Lache Seastrunk
and
Glasco Martin
. Jefferson, however, was the back who created the most buzz during the spring. The 5-foot-11, 200-pounder looks poised to give the Bears a dynamic home-run threat to complement the rest of the backfield. It's not often a program can lose two talents like Seastrunk and Martin and remain loaded.
WR:
Antwan Goodley (Sr.),
Davion Hall
(Fr.)
WR: Jay Lee (Jr.)
or
Robbie Rhodes (So.)
,
Quan Jones
(RFr.)
IR: Corey Coleman (So.)
or
Clay Fuller (Sr.)
,
Cal Spangler
(Jr.)
IR: Levi Norwood (Sr.)
,
Lynx Hawthorne
(So.)
TE: Tre'von Armstead (So.)
or
Gus Penning
(Jr.),
Jordan Feuerbacher
(Fr.)
Despite graduating all-conference performer
Tevin Reese
, the Bears should easily have the deepest collection of pass-catchers in the Big 12. Coleman was tremendous all spring, capped by a 47-yard receiving effort in the spring game. He and Rhodes could have breakout campaigns in their second years in the rotation. Goodley is one of the two best wideouts in the league along with Kansas State's
Tyler Lockett
, and Lee, Fuller and Norwood are all proven commodities. More firepower is on the way this summer, including hotshot freshman
K.D. Cannon
, who looks like a virtual lock to crack the rotation somewhere.
LT: Spencer Drango (Jr.)
,
Pat Colbert
(Jr.)
LG: LaQuan McGowan (Jr.) or Blake Muir (Jr.)
C: Kyle Fuller (So.)
,
Tyler Edwards
(Sr.)
RG: Desmine Hilliard (Jr.)
,
Jarell Broxton
(Jr.)
RT: Troy Baker (Sr.)
,
Tyler Edwards
(Sr.)
The Bears lose unanimous All-American guard
Cyril Richardson
, but will get a huge boost if Drango makes a full recovery from a back injury he suffered late last season. With Drango out, Baylor's blindside pass protection also suffered the final month of the season. When healthy, Drango is one of the best pass-protecting left tackles in the country. Baker, who started as a sophomore, returned late last season after tearing his ACL last spring to reclaim his starting job, which he held through the spring. With Hilliard returning at guard, Fuller locking down the starting job at center and other quality depth inside, the Bears should be very solid on the offensive line -- provided Drango can get healthy and Baker can stay healthy at the bookends.
DEFENSE
[+] Enlarge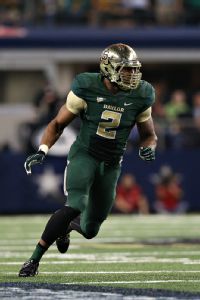 Matthew Emmons/USA TODAY SportsShawn Oakman has elevated his game.
RE: Shawn Oakman (Jr.)
,
K.J. Smith
(RFr.)
NT: Andrew Billings (So.)
,
Suleiman Masumbuko
(Jr.)
DT: Beau Blackshear (Jr.)
or
Javonte Magee
(So.),
Byron Bonds
(So.)
LE: Jamal Palmer (Jr.)
,
Sam Ukwuachu
(Jr.)
Last week, Baylor coach Art Briles said he'd put his top-seven defensive linemen against any other top seven in college football. The unit still has a lot to prove to reach that level, but there's no denying the potential. Oakman elevated his game to another level this spring, and was basically unblockable. He's a candidate to be an All-Big 12 performer even in a league that's stocked at defensive end. The fact that Magee is listed as a co-starter with Blackshear -- a starter last season -- underscores what the coaching staff thinks of Magee, who before taking last year off due to personal matters was among the most highly touted recruits Briles had ever signed. This group is high on ability, and has the capability to prove their coach right in the fall.
WLB: Aiavion Edwards (So.)
,
Taylor Young
(RFr.) or
Raaquan Davis
(RFr.)
MLB: Bryce Hager (Sr.)
, Grant Campbell (Jr.) or
Kendall Ehrlich
(So.)
Hager missed the final four games of last season due to a groin injury, which also kept him out this spring. But Hager is about as reliable as it gets in the Big 12, having earned second-team all-conference honors the last two years. Edwards is the one to watch. He was given the first nod on the weak side, after playing in the middle last season and in the spring in place of Hager. But he'll have to perform to fend off the competition, including Young, who impressed defensive coordinator Phil Bennett during the spring with his nose for the ball.
NB: Collin Brence (Sr.)
, Pat Levels (So.)
CB: Terrence Singleton (So.)
,
Ryan Reid
(So.)
CB: Xavien Howard (So.) or Chris Sanders (Jr.)
DS: Orion Stewart (So.)
,
Alfred Pullom
(RFr.)
CS: Terrell Burt (Jr.)
,
Taion Sells
(So.)
This unit comprises by far the biggest question mark on the team. The Bears should be in good shape at safety. Burt, the only returning starter in the group, will be back shortly from offseason shoulder surgery that kept him out of a spring ball. Briles also singled out Stewart for having a very promising spring as the replacement for All-American
Ahmad Dixon
. After a series of injury setbacks early in his career, Singleton returned to win a starting job at corner, at least for now. Howard also showed a ton of promise during the spring, but he'll have competition from Sanders, one of the top juco corners in the country, who had a shoulder injury this spring. Brence, a walk-on, was the biggest surprise in the secondary, and is listed as the starter at nickelback. How this untested unit comes together could ultimately determine whether the Bears repeat as Big 12 champs.
February, 27, 2014
2/27/14
9:00
AM ET
There are few assistants in college football who pulled in a better recruiting haul this year than Kendal Briles.
Earlier this month, the Baylor wide receivers coach and passing game coordinator inked four receivers ranked in the ESPN 300, padding what was already a loaded position in Waco.
As the defending Big 12 champs get ready to open spring practice Friday, Briles took time to talk to ESPN.com about his signing class, the new expectations at Baylor and what he's learned coaching under his dad -- Bears head coach Art Briles.
Let's first go through the four receivers you signed, and what each brings to the table. Start with K.D. Cannon, who was recruited by virtually everyone in the country.
[+] Enlarge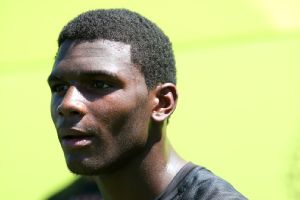 Tom Hauck/ESPN.comK.D. Cannon is one of four ESPN 300 wide receivers that Baylor signed in the 2014 class, making an already-rich position that much more stacked.
Briles:
Well, we feel like we know a lot about K.D. already. He possesses a lot of things you look for in a wide receiver. His body control, how he catches the ball, his shiftiness, competitiveness -- all those things. He's got a great family and all the intangibles to become a great wide receiver. We're real excited to get him here in June. From a talent standpoint, he's off the charts.
What about Davion Hall?
Briles:
Davion is already here and is doing a really good job. His body weight has already come up. He looks real good. He's a powerful, powerful athlete. He's got really good ball skills. He's not going to be as fluid as a K.D.-type player, but he's a really powerful kid who runs well. He's a great, great person, and wants to be extremely successful. That's the thing we really love about him; that he's a really good person. We'll see what he can do here in a few days. He's going to get a chance to put the pads on and see where he's at. He's a little bit nervous, as he should be. But he's been great since he's been here working with the strength and conditioning program, and he's going to compete in spring ball.
Ishmael Zamora?
Briles:
Ishmael is a guy who might have the greatest upside of all of them. He was up to 210 pounds when I talked to him the other day. I expect him to win the state title in the 110-meter hurdles again in [Texas Class] 5A. He's a great athlete whose talents didn't flourish in high school because of the offense he played in. I think he had like five catches as a junior. But his upside is incredible. We're very, very excited about him.
Last, but not least, what about Chris Platt?
Briles:
Chris Platt is a sleeker guy, 168 pounds probably right now. He's going to win the state track meet and become the first four-time state champ in the 400 meters in Texas state high school history. He's a guy who can play -- good ball skills. We had him in camp, and you might think he's just a straight-line guy, but he's got some good hip flexion. He catches the ball, is competitive. He's got tremendous upside as well.
OK, let's get to the guys you have coming back, starting with Antwan Goodley. I remember talking to a Big 12 coach last October, and he was like, 'Where did Antwan Goodley come from?' How did Goodley make so much improvement, and where can he go after a monster junior season?
Briles:
Antwan was a really good high school football player. I saw him, and the kid could run. He wasn't real tall. He committed to us on a junior day in February and held strong the whole time. He was 192 pounds, and he's been as high as 222 -- he's gained 30 pounds of pure muscle. He's one of the strongest kids we have on the team without a doubt. My expectation for him now is to be the best wide receiver in the United States of America. He's proven what he can do on the football field, now we have to make sure he keeps getting better. The spring is big for him. We won't let him go as much -- we have other guys we want to get reps, and we know what he can do. But there are things for him to work on, and he's very excited to get back out there and get back to work.
You've got two highly-touted young guys in Corey Coleman and Robbie Rhodes who haven't made that big splash yet. What is your expectation for them as sophomores?
Briles:
With Corey, you don't think he had a splash as a freshman, but if you look at it, he was second all-time among Baylor freshmen in receiving yards next to Kendall Wright. That's pretty good company. He has a chance to have a tremendous career. He's a little bit raw, but has tremendous speed, tremendous hands and catches the ball very well. He wants to be great. And he's a tough guy. He's not a big guy (5-foot-10) but at 190 pounds, he's very stout. He can play inside and outside because he can handle the blocking stuff well with how strong he is. We're going to have him plugged in all over the field, and he gives us a really dynamic factor.
As for Robbie, it's hard to come in and play as a true freshman. I probably should have redshirted Robbie because he didn't get the experience that he probably needed. He got to play in some big games, but he hurt his ankle early against West Virginia, then again against Kansas, and was out the latter part of the year. He gained 10 pounds in the fall, changed his body in the last two months and looks tremendous. He's going to have an unbelievable spring, and I can't wait for the fall for him. He's about as natural as it gets.
[+] Enlarge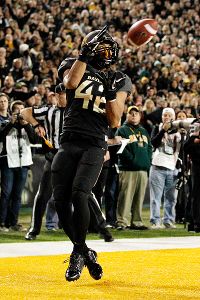 Tim Heitman/USA TODAY SportsLevi Norwood's size and ability to get open makes him a lethal weapon in Baylor's high-powered offense.
How would you characterize Clay Fuller's role on this team? Seems like he's a reliable target for you.
Briles:
That's Clay. That's what we call him. If it's third down or we're in the red zone, you throw it up to him, and he'll make the catch for you. He runs really well, and he's reliable. Add in
Levi Norwood
, who's in the same mold, and you're playing two big guys inside who are long, rangy, block well, catch the football well, run well. They do a tremendous job for us. Both do a great job on special teams for us, too.
With so many options at receiver, seems like you've got a good problem to have, right?
Briles:
Yeah it is. One guy we haven't talked about,
Jonathon Lee
, came on at the end of the year. I expect him to have a good year, too. We've done a good job recruiting as a staff. And playing wide receiver at Baylor is a pretty good deal. Wide receivers in this league have had success. We've led the country in total offense, we chuck the ball around, play in space. We have great uniforms, we're going to be playing in a great stadium. It's a pretty good gig playing wide receiver for us.
This season is going to have a different feel for you guys. As the defending Big 12 champs, you're going to have a target on your backs. How will you guys adjust?
Briles:
There's no doubt there's going to be a target on our backs, but we've always had a chip on our shoulder the way we play. We're not going to change our mindset. Our guys play fearless, physical and fast. People will be gunning for us, but we'll be ready for the task. We have a great team, and we're looking forward to defending our Big 12 championship.
What is the most valuable thing you've learned about being a coach from your dad?
Briles:
Treating people right. The way he treats people on a daily basis is one reason why he's been so successful. The humility, the way he cares for people, he truly wants people to be successful. He makes people around him feel good, and he gets the best out of people. That's a great trait that he has.
There was a lot of talk leading up to the bowl game about him possibly taking a job elsewhere. How did you guys handle that behind the scenes, and what was it like with all that around you?
Briles:
To be honest with you, it never came up inside this office or practice field with our players. People say stuff, put stuff out there. But if other people are coming after your head coach, then you're doing something right. But I think Baylor University understands the coach we have here, and weren't going to let him go anywhere. And Art Briles understands how much he loves Baylor, and doesn't want to go anywhere. It's a great marriage, and we're looking forward to being here a long time.
What's the one thing about your dad that people don't know about him?
Briles:
Everyone knows he's competitive. But if he sends you a text message to play golf at 11:30 in the morning, you better understand you're getting into a war. He's not going out there to enjoy the scenery or to a swing a club. He's going out there to kick someone's [butt]. Most people don't know that. But it better be understood by the people getting into that situation.
January, 6, 2014
1/06/14
3:00
PM ET

Baylor had one of the best seasons in school history, winning 11 games for the first time, making its first BCS bowl and winning the Big 12 for the first time. Those accomplishments easily could have been forgotten with the Bears' horrible showing in their 52-42 loss to UCF in the Tostitos Fiesta Bowl, but this season will be remembered fondly in Waco, Texas.
Offense:
A+
[+] Enlarge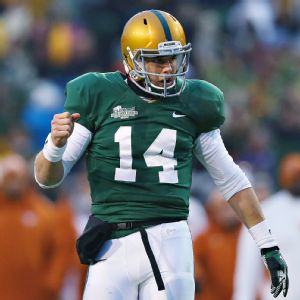 Ronald Martinez/Getty ImagesBryce Petty led Baylor to a nation's-best 52.4 points per game.
Is there anything higher than an A-plus? What more could
Bryce Petty
& Co. do? The Bears averaged 52.4 points per game, 618.8 yards per game and 7.49 yards per play as their offense led the Big 12 in nearly every offensive category. During his first season as the starting quarterback for Baylor, Petty earned Big 12 offensive player of the year honors and was the driving force behind the Bears' title run.
The running backs were superb, with
Lache Seastrunk
,
Shock Linwood
and
Glasco Martin
each finishing with at least 500 rushing yards, helping Baylor lead the conference in rushing. The receivers were just as good, with
Antwan Goodley
and
Tevin Reese
ranking among the Big 12's top receivers and
Levi Norwood
,
Corey Coleman
and
Clay Fuller
providing quality depth.
The foundation was the offensive line, led by Lombardi Award finalist
Cyril Richardson
. Their offensive front allowed Petty's accuracy to draw praise, Seastrunk's shiftiness to frustrate defenders and Reese's deep speed to scare Big 12 secondaries.
Defense:
A-
The defense was the biggest reason the Bears won their first Big 12 title. In recent history, the Baylor offense has been good consistently, always explosive. This season, the defense held up its end of the bargain, finishing among the top 10 nationally in yards per play at 4.75, ranking ninth among FBS teams.
Safety
Ahmad Dixon
was the emotional leader of the defense and set a tone for its aggressive approach with his physical presence in the secondary. Cornerback
K.J. Morton
was a playmaker on the outside and linebackers
Eddie Lackey
and
Bryce Hager
were versatile tackling machines in the middle of the field.
The defensive line did its part as well, leading the Big 12 with 99 tackles for loss and recording 31 sacks. Defensive ends
Shawn Oakman
and
Chris McAllister
were active throughout the season and defensive tackle
Beau Blackshear
was an underrated presence in the middle.
The lone reason the Bears don't get an A-plus was their performance in Baylor's two losses. They allowed 594 yards to Oklahoma State and 556 yards to UCF. As good as Baylor's defense was in 2013, it took a step backward on the big stage against the Cowboys and Knights.
Special teams:
C
Baylor's special teams weren't special; they were average. The Bears finished ninth in the Big 12 in field goal percentage, seventh in kickoff returns and eighth in punt returns. Baylor did have two punt returns and one kickoff return for touchdowns this season, but its special teams units didn't win games. But the Bears didn't need their special teams do to anything but operate efficiently and allow their offense and defense to perform.
Overall:
A+
The Bears will receive rings that say "Big 12 champions" on them. What more could you ask for from a team that opened the season picked to finish fifth in the conference?