March, 21, 2013
3/21/13
2:30
PM ET
Turnover is an annual tradition in college football, but with that, teams' strengths and weaknesses constantly shift, too. Today, we'll continue our look at the biggest strengths and weaknesses for each Big 12 team.
Next up: Oklahoma State.
Strongest position: Pass-catchers

I'll have to apologize to Oklahoma State's trio of safeties in
Daytawion Lowe
,
Shamiel Gary
and
Zack Craig
here, but I'm going with the guys hauling in balls in OSU's pass-first offense as the strongest position. I don't care to debate whether
Blake Jackson
is a receiver or a tight end (he's the former), but I'm obviously including him in this group. He'll be an interesting guy to watch this year after struggling with drops but clearly possessing loads of potential and averaging better than 20 yards a catch on his 29 grabs.
Oklahoma State had nine players with at least 12 catches and 150 receiving yards last season and returns six of those players, including
Tracy Moore
, who was given an extra year of eligibility. He won't be joined by Michael Harrison, who sat out 2012 and was expected to return, but won't be doing so after a strong 2011 season under Justin Blackmon.
Somehow, we've gotten this far without mentioning the unit's headliner, breakout star
Josh Stewart
. He was overshadowed by a trio of superstars in Baylor's
Terrance Williams
and West Virginia's
Tavon Austin
and
Stedman Bailey
, but all three are gone and Stewart is easily the Big 12's best returning receiver. He caught 101 balls for 1,210 yards and seven scores last season, which is more than 150 yards more than any other returning receiver in the league. Stewart's underrated for now, but that could change soon, even though Oklahoma State has a ton of depth at the position with guys like
Austin Hays
and
Charlie Moore
filling out the position and
Blake Webb
emerging late in the season. Will incoming freshmen like Ra'Shaad Samples and Marcell Ateman find space to make an impact right away? It won't be easy, because this is Oklahoma State's biggest strength.
Weakest position: Defensive end
I've got nothing against juco transfers, who can walk on campus and be game-changers immediately, but if you're bringing in guys to do that, it shows a weakness at the position. Oklahoma State is doing that with Sam Wren, the nation's No. 16 overall juco prospect, after the Pokes lost three defensive ends from last season's team in
Nigel Nicholas
,
Ryan Robinson
and
Cooper Bassett
.
Tyler Johnson
is a solid player who made six tackles for loss a year ago, but OSU needs to find him help on the other side or opponents will be able to shut him down with double teams. Kansas State's Joe Bob Clements is a new addition to the staff who'll coach the position and try to sort it out this spring, but look for guys like
Trace Clark
,
Jimmy Bean
and early enrollee Naim Mustafaa to try to earn a starting spot, too.
More Weak and Strong
.
February, 27, 2013
2/27/13
1:00
PM ET
We're moving on with a new series today looking at the players across the Big 12 who have to replace program legends. We might as well call this the
Nick Florence
Memorial team, but let's talk
Texas Longhorns
.
Big shoes to fill: Oklahoma State's defensive ends

This unit will be getting used to a brand-new position coach in Joe Bob Clements, who came over from Kansas State this offseason. The Cowboys are losing three of their top players at the position in
Nigel Nicholas
,
Ryan Robinson
and
Cooper Bassett
, and behind them is a bit of a messy situation.
Tyler Johnson
is the only guy I'd lock into a starting spot after making four sacks, six tackles for loss and 27 stops last season as a reserve, along with an interception and a pair of forced fumbles. Still, with a new position coach, you can never know for sure. Beyond him, it's a crap shoot. We might see sophomore
Trace Clark
emerge, or junior
Jimmy Bean
and sophomore
Taylor May
. The Cowboys might even slide a guy like
Davidell Collins
over. Either way, it's a huge spot for the Cowboys next season. You can't underestimate the importance of a pass rush in a league full of great quarterback play and high-powered offenses. Johnson must grow into his increased role if Oklahoma State's defense is going to have a better 2013 under new coordinator Glenn Spencer.
More big shoes to fill:
January, 1, 2013
1/01/13
12:00
PM ET
Hey, how's the date going?
Good, we just finished the MRI.
November, 16, 2012
11/16/12
12:00
PM ET
Breakfast foods can serve many purposes.
November, 2, 2012
11/02/12
12:00
PM ET
September, 24, 2012
9/24/12
12:00
PM ET
September, 11, 2012
9/11/12
1:45
PM ET
Oklahoma State defensive end Cooper Bassett wasn't too pleased on Monday after last week's loss to Arizona.
The intensity of the Cowboys practices weren't up to par,
he told The Oklahoman.
"I hate to admit it, but the last few weeks we may have got too lackadaisical in practice," Bassett said.
His coach, Mike Gundy, called the recent workouts "good, not great," but added the heat may have contributed to the problem. What did Gundy think about Bassett's assessment? He could only chuckle.
"Cooper is not maybe the best barometer for that because he's like the guy that keeps running through the wall and he can't get through and then he collapses and dies and the wall's still there," Gundy said. "That;s what he's going to do. So that's what he compares everything to, which is awesome."
Also awesome: Gundy's quip. Love it.
September, 6, 2012
9/06/12
10:15
AM ET
Here are 10 things I'm keeping an eye on in Week 2 across the Big 12.
1. Collin Klein's workload.
The big man only got 12 carries a week ago. Was it because Bill Snyder knew his team could handle FCS Missouri State, or can we expect more of a change out of Kansas State's offense? I'm betting on the former, but you never know what to expect from Bill Snyder. No coach in the league plays his cards closer to the vest.
2. Oklahoma's passing game.
It was a little bit of everything last week against UTEP. Receivers looked uncomfortable and didn't always get open. One long pass was called back because the receiver stepped out of bounds. The offensive line wasn't great in protection, but
Landry Jones
held on to the ball a little too long on plenty of occasions. The Sooners know they need to fix the problems. Playing against an FCS opponent is a good time to get some work in.
[+] Enlarge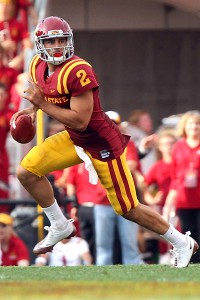 Reese Strickland/US PresswireIowa State's Steele Jantz completed over 70 percent of his passes against Tulsa.
3. Steele Jantz's decision-making.
Jantz was much more judicious with the ball in Week 1 against a decent Tulsa team than he was in the first few games of last season. Will that continue? His one interception last week was partly his fault (poor accuracy) and partly his receiver's fault (tipped pass). Iowa State can't afford turnovers against Iowa.
4. Wes Lunt under fire.
Mike Gundy liked what he saw from Lunt, but knows Lunt didn't face third-and-longs, blitzes or pressure of any kind. That'll change this week against former WVU defensive coordinator Jeff Casteel, now in Tucson. You have to assume Arizona's game plan centers around pressuring the freshman quarterback. You can't drop back and see if the backs can beat you -- they can. How does Lunt handle it? Oklahoma State's hopes hinge on it.
5. Kansas' defensive line.
The Jayhawks had just nine sacks a year ago, but defensive linemen got two against South Dakota State last week. But KU also gave up a 99-yard touchdown run. What does the unit most in need of a facelift from 2011 have in store for Week 2?
6. TCU's defense.
I don't think the Frogs can really prove anything, but I'm mostly curious about who's going to be where and how often for the Frogs. Gary Patterson shook up his defense during fall camp, and TCU has two freshmen starting on the defensive line. How do the new safeties look? Here's guessing that depth chart changes even more after Week 1.
7. Texas' defensive miscues.
Safety
Kenny Vaccaro
said players on defense played as if they'd read too many of their press clippings last week. The defense gave up an 82-yard touchdown to Wyoming and looked undeniably mortal for a unit that's supposed to be the Big 12's best. Will the Longhorns eliminate mistakes this week against New Mexico?
8. Texas Tech's first quarter.
The Red Raiders looked sluggish against FCS foe Northwestern State last week, leading just 7-3 early in the second quarter. This week, they have a road game against Texas State. I think Tech wins, but starting slow and falling behind to the Bobcats would energize the crowd and the team in a game it wants badly. Tech needs to open the game with its best. At halftime of last year's matchup, Texas Tech led this game in Lubbock 10-9.
9. Big 12's first loss of the season?
The Big 12 mostly cruised through Week 1, save for Iowa State's first quarter against Tulsa. The conference faces three major tests in Week 2, though: (1) Oklahoma State has to take care of business on the road against Arizona; (2) can Kansas State take the first step in validating last year's 10-win season against Miami? The most likely spot for a loss? and (3) A toss-up game at Iowa for Iowa State. Getting through two weeks of football at 17-0 is definitely possible for the Big 12, though.
10. Oklahoma State's renewed defense.
The Cowboys have the personnel to be solid this season, but are they as good as advertised on defense? Arizona's zone-read scheme is an interesting test -- mostly for the front seven. The Cowboys linebackers are solid, but can the defensive line prove itself? I'm looking at
Cooper Bassett
,
Nigel Nicholas
and
Calvin Barnett
on this one.
August, 20, 2012
8/20/12
12:00
PM ET
The weekend rain was fun. Back to living in the microwave that is Dallas, Texas.
July, 11, 2012
7/11/12
4:00
PM ET
Yesterday, the Big 12
unveiled its team-by-team lineup for Big 12 media days
, which begin on July 23 at the Westin Galleria in north Dallas.
Here's a few things of note:
Oklahoma, Iowa State, Kansas State, Texas Tech and TCU will be meeting with the media on Day 1, July 23. Texas, Oklahoma State, Kansas, Baylor and West Virginia will meet with the media to close out Day 2.
The programs who bring an extra stowaway always attract a little more attention, but it never means very much. This time, it's West Virginia and Baylor, who are both bringing four players to Day 2, instead of just three.
Oklahoma State is sticking to its policy of not allowing first-year players to speak to the media. That's no surprise. Coach Mike Gundy expressed that earlier this offseason, but true freshman starter Wes Lunt won't be coming to media days. Oklahoma State joins Texas and Iowa State as the only three teams not bringing a QB to media days. Texas hasn't officially announced a starter, and Iowa State has a legitimate battle between Steele Jantz and Jared Barnett in fall camp next month.
The most memorable media days absentee? Remember when Baylor didn't bring RG3 in 2010? Turned out to be pretty interesting.
Speaking of media absentees, no TCU players spoke to media throughout spring practice following a campus drug sting that resulted in four players being removed from the team. That's got to change now. The questions couldn't be asked then, but you'd better believe it's going to come up a whole lot at media days. It'll be interesting to see how players respond. (That said, I feel bad for the endless string of "So, how do you think you guys can handle the new conference?" questions WVU and TCU will face).
A little surprising to see Oklahoma State bring Cooper Bassett, a relative unknown across the league, though he's a senior who has put in a lot of work in Stillwater.
Kansas didn't get very much attention last year, but expect that to change this year. Charlie Weis will be a hit with the horde of media, and the media outside of Lawrence hasn't had a real chance to get to interact with newcomer Dayne Crist, who could morph Kansas into a respectable squad this year. Those two won't be twiddling their thumbs much in Dallas. Bring water and prepare to talk a whole lot.
Texas' defensive duo of Alex Okafor and Kenny Vaccaro is missing this year after an offseason run-in with police
The star power isn't as high this year. Oklahoma's contingent last year was a complete zoo. Landry Jones, Ryan Broyles and Travis Lewis could hardly go anywhere last year without being hounded, but this year, Jones is the player with the biggest profile in the league among players.
The West Virginia folks in town should be a hit, especially coach Dana Holgorsen, who coached in the Big 12 but never needed to attend media days since he wasn't a head coach. The Big 12 media will learn very soon that Geno Smith is a great interview, arguably one of the best in the Big 12. He's my pick as the guy who'll leave media days as a new star, even if folks are well aware of what he brings on the field.
I know it's a little hokey and in today's media landscape, probably a bit unnecessary. Still, I can't help it. I love media days. It's always fun, and good to see the league's players and media in one place, if only for a few days. I'm looking forward to it, and you know we'll have wall to wall coverage right here. Want to know what you can expect?
Here's a sampling of our coverage from last year.
March, 26, 2012
3/26/12
2:30
PM ET
By
ESPN.com staff
| ESPN.com
Time to continue our series breaking down each team's best and worst positions entering the 2012 season. Oklahoma State is up next.
More spring superlatives:

Strongest position: Running back
Oklahoma State's
Brandon Weeden
threw the ball more than all but one quarterback (
Case Keenum
, Houston;
Seth Doege
, Texas Tech) in college football last year, but look for those pass-attempt numbers to dip a bit in 2011 for the Cowboys.
First, Weeden is gone. Second,
Joseph Randle
and
Jeremy Smith
have more than proved they're capable of producing big numbers. Look for the offense to lean on the junior duo next year a bit more as Oklahoma State breaks in a new quarterback, whoever wins the competition between
Clint Chelf
,
J.W. Walsh
and Wes Lunt.
The pass attempts may go down, but look for Randle's 1,216 yards (second in the Big 12 in 2011) to go up next season. He also ran for 24 touchdowns. Smith added 646 yards and nine touchdowns, and those numbers could go up, too. OSU won't suddenly shift to a completely different offense, but these two are going to make the QB transition much easier. Sophomore
Herschel Sims
should add even more depth after a strong freshman year with extremely limited touches.
Weakest position: Defensive line
Oklahoma State lost two great pass-rushers in
Jamie Blatnick
and
Richetti Jones
, who combined for 12 sacks last season and were first and second on the team. There are no elite pass-rushers or players with a ton of potential waiting in the wings. Getting a pass rush will have to be up to some crafty blitz packages.
Cooper Bassett
and
Ryan Robinson
, both seniors, will get the first crack at replacing Blatnick and Jones, but it's tough to see the duo coming close to what its predecessors did.
Inside, defensive tackle was a weakness for OSU last year, and
Nigel Nicholas
returns, but he's moved to defensive end. Power rushing attacks like Texas A&M, Stanford and Texas gave Oklahoma State tons of trouble last year.
Anthony Rogers
and
Davidell Collins
begin the spring as starters, but
James Castleman
and
Christian Littlehead
should be major contributors, too. We'll see if juco transfer Calvin Barnett can make an impact in a much-needed position.
March, 9, 2012
3/09/12
10:30
AM ET
By
ESPN.com staff
| ESPN.com
Oklahoma State kicks off spring practice next week, but the Cowboys released their pre-spring depth chart on Thursday.
You can
see the full chart here
.
A few thoughts: