Big 12:

Corbin Berkstresser
August, 29, 2011
8/29/11
2:00
PM ET
By
ESPN.com staff
| ESPN.com
A few teams across the Big 12 updated their depth charts in preparation for the season. Here's what you ought to know.
KANSAS STATE
Bill Snyder's depth chart for the team's game notes heading into next week's game against Eastern Kentucky? A work of art.
Snyder said he'll be releasing the depth chart tomorrow. More later on the Wildcats.
OKLAHOMA
Oklahoma didn't have any huge surprises, but the biggest news: Jamell Fleming has officially reclaimed his spot above Gabe Lynn at the boundary corner spot, despite missing all of spring practice after leaving the university.
Three true freshmen also broke the lineup. Kameel Jackson will back up Trey Franks at receiver, and recently added linebacker Kellen Jones is a co-backup with Jaydan Bird behind Tom Wort at middle linebacker. Nila Kasitati is a co-backup behind Tyler Evans at right guard.
Doubt the committee approach at running back? Brennan Clay, Dominique Whaley and Roy Finch are all co-starters at the position. Finch is listed last on that group, but we'll see how carries are distributed in Week 1 vs. Tulsa. Whaley is a walk-on who has had big days in the spring game the past two seasons.
Ronnell Lewis is listed as the starter at defensive end, but the university has yet to officially clarify his eligibility status. Kenny Stills is likely suspended for Saturday's game after an offseason arrest, but he's listed as the starter at receiver.
TEXAS TECH
Texas Tech has pair of hyped defensive linemen, and both cracked the two-deep. Leon Mackey, a juco transfer, will start at defensive end in Week 1 for the Red Raiders against Texas State. Meanwhile, former UNC signee and recently cleared true freshman Delvon Simmons will back up Kerry Hyder at defensive tackle in Chad Glasgow's 4-2-5 scheme, fresh from TCU.
Glasgow will lean on a true freshman for one of his two linebacker spots. Blake Dees had a huge impact in the spring and solidified his starting spot during fall camp.
Receiver Marcus Kennard, a juco transfer, looks like he'll redshirt after not showing up on the two-deep, but Darrin Moore will grab the Z receiver spot for the Red Raiders.
OKLAHOMA STATE
The rumors have been officially proven correct at Oklahoma State: The Cowboys return all five starters on the offensive line, but juco transfer Michael Bowie has crashed the starting lineup at left tackle. He'll replace Nick Martinez, who'll back up Lane Taylor at right guard now. The Cowboys offensive line is the league's best, and clearly, Bowie's hyped arrival gives it a whole lot more than depth.
Justin Gilbert has officially usurped Devin Hedgepeth as the corner opposite Brodrick Brown. No surprise there. Gilbert's ceiling is sky high.
Caleb Lavey was the likely starter at the spot, but he'll officially start the year as Orie Lemon's replacement at middle linebacker, where he began spring camp.
MISSOURI
Justin Britt replaces Elvis Fisher at left tackle. The sophomore had been inside, but the team saw him moving outside eventually. He'll take that spot now with Fisher out for the season with a torn patellar tendon.
Hyped juco transfer Sheldon Richardson? Fifth on the depth chart no more. The recently cleared big man moved to No. 2 at defensive tackle behind Terrell Resonno.
Center Travis Ruth is out for the opener against Miami (OH). Jayson Palmgren fills his void.
Starting corner Kip Edwards is doubtful. Trey Hobson is listed as the starter.
Receiver Jerrell Jackson is also doubtful. Marcus Lucas will get the nod if Jackson can't go.
True freshman Corbin Berkstresser grabbed the No. 3 quarterback spot behind James Franklin and returning backup Jimmy Costello, who left the team and planned to join the Army, but re-joined after Tyler Gabbert's transfer.
IOWA STATE
Iowa State made it official on paper: Steele Jantz is the starting quarterback. His backfield? Crowded, but led by Shontrelle Johnson, as expected.
I'm not sure if it means he's playing for sure just yet, but Darius Reynolds is listed as the starter at one of the three receiver spots, despite suffering a broken toe earlier in fall camp.
A.J. Klein, meanwhile, has moved to middle linebacker next to weak side linebacker Jake Knott. Matt Tau'fo'ou started at middle linebacker spot last year, but after suffering a broken leg, he's backing up Klein in the middle. C.J. Morgan, a freshman, takes over at strong side. I haven't seen Morgan play, but at 207 pounds vs. Klein's 243, he'd presumably offer some more, much-needed speed at the position. Jacob Lattimer? Starting at defensive end, despite a March arrest and suspension.
July, 15, 2011
7/15/11
9:00
AM ET
By
ESPN.com staff
| ESPN.com
Thanks for the emails, which kept flowing in even while I was away. Glad you missed me, I suppose. Switching it up Friday with a morning mailbag.
James in Atlanta, Ga., asked:
Here's an interesting water-cooler-conversation I came across - if Nebraska (or in a long shot, Colorado) do REALLY well in their new conferences... will that still reflect back on the strength of the Big XII? I think the media won't spin it that way because the head-to-head games are a more direct comparison, but I don't think its that far out of the question for people to re-evaluate the day in and day out toughness the Big XII demands compared to the Big 10 and Pac 12. What do you think?
David Ubben:
True or not, it's absolutely going to happen. Nebraska proved the last couple years it had emerged to be a very good team in the Big 12. But it was not a great team, and not a team that could win the Big 12, all possibilities aside.
If they walk into the Big Ten, which is wiiiiiide open this fall, and win it, how does that not reflect on the Big 12? The same is true if they walk in and win 6-7 games. Nebraska will be good, but I highly doubt it's significantly better or worse than it was last season. Top 15, etc.
So, in that sense, you're definitely right. Nebraska will be fun to watch, but make no mistake: both conferences' reputations are at stake if Nebraska strays very far from what's expected.
For Colorado, the same is true. I'd expect the Buffs to be a little bit better than last season's team, but if it scraps and wins eight games in a somewhat top-heavy Pac-12, that says a whole lot about the Pac-12's depth.
The same is true of Colorado wins a game in conference and gets embarrassed by any teams other than Stanford and Oregon.
For Big 12 fans, it should be fun to watch, even if they're doing it from afar. I know I'll be watching.
---
GTCat in Tonganoxie, Kan., asked:
I know we're done with this whole trying to rename the conference thing, but can we at least coin a new nickname? If a Baker's Dozen is 13, can the Big 12 become a Beebe's Dozen? Man I want some doughnuts now, chocolate with chocolate frosting and powercat sprinkles please.
DU:
It's official: We have found my favorite moniker for the new Big 12. Prepare for plenty of Beebe's Dozen references on the blog from here on out.
---
Collin in Irvine, Calif., asked:
David, I just finished the second season of Friday Night Lights yesterday. Tell me it gets better... Please....
DU:
Oh, it does. Season Two? Well, it's not very good. The
makers of the show readily admit this
(spoiler alert), and it's a product of pressure from the TV studios.
But no worries. It gets much better. Seasons 1, 3, and 5 are the best, and Season 4 breathes a fantastic new life into the show that was very, very risky on the part of the writers. Plus, the series finale is one of the best ever. Have no fear, Collin. You won't be disappointed by the next three seasons.
---
Chef in Austin, Texas, asked:
I've noticed that the big 12 seems to be the only big 6 conference without an institution under NCAA scrutiny this offseason. If the big 12 stays clean, what implications do you think that will have on the overall perception and quality of the schools?
DU:
This hasn't been lost on me, but I wouldn't keep saying that out loud too often. You never quite know when something will leak. There's no one under serious investigation currently (despite A&M fans' best efforts re: Rachel McCoy/Longhorn Network) for now.
If this continues for, oh, a decade or so, then you'll definitely see the Big 12 cement a reputation as college football's cleanest league, especially one that produces success. I wouldn't be surprised to see it written about if it continues for another couple years and more scandals like the one at Georgia Tech continue, but don't look for the Big 12 to advertise it much. If that status changes, things like that look pretty embarrassing in retrospect. Regardless of when you get caught, if things are going on behind closed doors and you say one thing, and it's clearly not the case, you look very, very out of touch.
---
Sarah Smith in Austin, Texas, asked:
In regards to
whether or not Marquis will get scholarship or not,
at least for this year while he is redshirting they are honoring his scholarship. Texas does not in general revoke scholarships. The general consensus around here is that we wish him the very best and hopes that he can represent us and the US in the olympics. If he were to gain success and go to the olympics, I doubt that he would return here.Just thought you would like to know! Oh, and thank you for not bashing Garrett. He is good friend of mine and it urks me beyond no belief when people want to put all of the blame of last season on his shoulders. I think fans and analysts will be surprised at what our team brings to the table this year. No one is expecting much, and we will use that to our advantage.I enjoy your blog very much! Hook 'Em!
DU:
Interesting info. Thanks for the heads up. Take note, UT fans.
As for Gilbert, I'd agree completely. Obviously, he wasn't anything close to what people thought he'd be last year, and he deserves a good portion of the blame for that, but he got no help at all. Just go look at
where Texas ranked at the skill position rankings
. Spoiler alert for the offensive line rankings on the way: Texas will not be high.
---
Dave in Temple, Texas, asked:
How can you
keep abandoning us in the middle of the most critical time
in the year??? Your blog is what keeps us football fans sane in July. What are we going to do - watch baseball???
DU:
My bad. I'll take that into consideration. My next vacation time is scheduled for the first week of September, the first week of December, and the first two weeks of January.
---
Mr. Oblivious in Hollywood, Calif., asked:
Mr. Ubben: Do you think that with the pressure of quarterbacking the Mizzou Tigers, AND
simultaneously coaching
a young Vanderbilt team,
James Franklin
can hold onto his starting position this fall? Or will the stress be too much and allow Costello, Glaser, or even Berkstresser to challenge him in August? (There's no way T.Gabbert is returning, right? right?!) thank you,Mr.O
DU:
It'll be tough, no doubt. Especially the travel. But I think he can manage. As for Gabbert, no. I've heard the rumors he asked to return after leaving Louisville suddenly, but every indication I've heard is that the door closed behind him at Missouri. He'll find a good fit somewhere else, I'm sure.
(Email of the week there.)
---
Nuria in Tulsa, Okla., asked:
Dear Dave, I know you've compared and contrasted
Brandon Weeden
and
Landry Jones
enough times to give you a headache, but each time you do so it seems that you draw a different conclusion. First you rate Weeden as the better Big 12 player, but Jones as the better quarterback. I know that Weeden works well in a group that clicks, and Jones is a great athlete on a dominant team. If you could clear the fog as to who you think is better, it would be much appreciated.
DU:
Yeah, I've talked about this at length several times, but let me be clear about this: I think Jones has more upside, and it sounds like he's really taking control of this team. That'll be good for him. His head was kind of spinning in 2009. Last season was kind of the process of him taking control of the team, and now, he has it. I really think that confidence will pay off for him.
Their numbers were very, very close last season, especially when you look at
the short passing numbers Jones put up
.
Last season, I thought Weeden was ever so slightly better because when he made mistakes, they were much less costly, and he played well in both of OSU's losses. The Cowboys scored 41 points in both of their losses, versus Jones, who really struggled early against Texas A&M and late against Missouri and really hurt his team.
I think Jones will be the better quarterback and put up better numbers in 2011, but heading into the season, I give Weeden a very, very slight edge in a race that's unbelievably close.
---
PB in Houston asked:
rapid fire minute for ubben; go! 1) best game of the first weekend? 2) what fall camp are you most excited to go to before the season starts? 3) of other CFB pundits, who's stock do you put most in of someone else's opinion? 4) will the willie lyles story have a big effect on any of the conference members? 5) nachos or waffles? thanks and gig 'em!
DU:
Ha, alright, let's close this in style.
1) Baylor versus TCU, closely followed by Texas A&M versus SMU.
2) Texas
3) I always love reading Pat Forde's stuff. The Forde-Yard Dash is a weekly must-read during the season.
4) My guess is no, barring new information. As for what we don't know, I'm not betting one way or the other.
5) I'm a breakfast man. Waffles, clearly. Which reminds me of an age-old debate we had during high school. It was always 50/50. Which do you prefer: jalapeņos or gravy?
June, 20, 2011
6/20/11
11:00
AM ET
We'll kick off our look today at the position rankings for each team in the Big 12 before looping back around to rank the top 10 at every position in the Big 12.
We'll start at the most obvious position: Quarterback, a position that I'd argue is more important in the Big 12 than in any other conference.
Depth will be a huge factor in these rankings, though at quarterback, it's the toughest to gauge, considering how little we see of backup quarterbacks.
Here's how each Big 12 team ranks at the quarterback position:
[+] Enlarge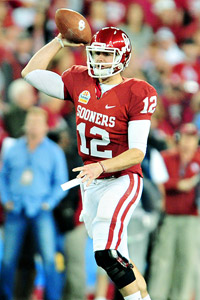 Mark J. Rebilas/US PresswireLandry Jones leads the Big 12's deepest and best group of quarterbacks.
1. Oklahoma
Oklahoma learned the hard way in 2009 about the importance of the backup quarterback, but even in his limited experience,
Drew Allen
has
impressed Bob Stoops after narrowly losing out
on the backup job behind Sam Bradford in 2009.
Landry Jones
is a great one, and with his opportunities, has become a Heisman Trophy favorite. Could Allen have done the same if he had beaten out Jones in 2009?
Blake Bell
, the nation's No. 3 quarterback in the 2010 class, will likely be Oklahoma's No. 3 in 2011.
2. Oklahoma State
Brandon Weeden
's profile spiked when he led the Cowboys to a comeback win over Colorado on a Thursday night game in 2009. He took over as the starter shortly after, but going into that game Weeden was a third-stringer. Alex Cate transferred after it became evident that Weeden would be the starter in 2010, and behind Weeden is
Clint Chelf
and two solid recruits:
Johnny Deaton
and
J.W. Walsh
, who was the nation's No. 10 QB (just outside the ESPNU 150) in 2011 and enrolled early.
3. Texas A&M
Ryan Tannehill
is entrenched at the starting spot, with a lot of youth behind him.
Matt Joeckel
and
Jameill Showers
will try to hold off incoming freshman
Johnny Manziel
for the No. 2 spot this fall. Manziel was impressive during the spring, and will contend for the starting job in 2012, but he'll likely redshirt unless he wins the backup job.
4. Texas Tech
Seth Doege
looks ready to grab the reins for two seasons, barring injury.
Jacob Karam
is probably ready to start in the Big 12 right now, he's just not as good as Doege. Behind them are two promising prospects with upside and development to do:
Scotty Young
and
Michael Brewer
. The Red Raiders are the last of the Big 12 teams who have truly solid depth at quarterback.
5. Baylor
Robert Griffin III
will probably hold every school record for quarterbacks by the time he leaves Waco, but the Bears need to find a true replacement behind him.
Nick Florence
filled in well in 2009 when Griffin missed the final nine games with a knee injury, but he's a junior like Griffin and their eligibility will expire simultaneously. Redshirt freshman
Bryce Petty
and 2012 commit
Jared Johnson
could battle for the spot in 2013.
6. Missouri
The Tigers depth took a hit after Tyler Gabbert's transfer following spring practice, but expectations are high for sophomore
James Franklin
, who got a bit of experience in 2010 behind Blaine Gabbert. Senior
Jimmy Costello
quit the team after last season to focus on an impending fall enlistment in the Army, but rejoined after the Gabbert brothers' departures from Columbia. He's likely to be the backup, with
Ashton Glaser
and walk-on Ryan Howerton filling out the rest of the quarterback spots.
Corbin Berkstresser
, a 6-foot-3, 218-pound quarterback from Kansas City that ESPN ranked No. 43 at his position, will arrive in the fall, too.
7. Texas
How long until we see a quarterback make the kind of plays
Garrett Gilbert
made against Alabama in the national championship? Those kinds of long scores were rare last year, but the Longhorns
will have a competition this fall that sounds like it's pretty open
heading into camp. If Gilbert wins, he'll likely have a much shorter leash in 2011 than he did in 2010, before
Case McCoy
or
Connor Wood
gets a crack, and dark horse true freshman
David Ash
could make things interesting, too.
8. Kansas State
Collin Klein
made a nice move toward winning the job with a strong spring game performance. But coach Bill Snyder says he still didn't see a ton of separation between Klein and his backups,
Sammuel Lamur
and Boston College transfer Justin Tuggle, who spent last year replacing Cam Newton at Blinn College in Texas.
9. Iowa State
James Capello
transferred after the spring, but Iowa State's race has likely boiled down to two men:
Jerome Tiller
and
Steele Jantz
. Jantz, a juco transfer, is the wild card and Tiller will need to show that his struggles in spot duty last season were temporary. He didn't show the progress you'd expect from a maturing player when he played for an injured
Austen Arnaud
in a few games early and late in 2010.
Jared Barnett
is still battling in Ames, but him winning the job would be a huge upset.
10. Kansas
The Jayhawks could use a couple more years of Todd Reesing. The Jayhawks saw a huge drop off at the quarterback position in 2010, as
Jordan Webb
,
Quinn Mecham
and
Kale Pick
all got time under center. Kansas will likely run its offense through a strong group of running backs, but unless newcomer
Brock Berglund
shows potential and proves he's the best of the group, expect Kansas to remain near the bottom of the Big 12 by the end of 2011.
May, 23, 2011
5/23/11
1:30
PM ET
I've done it. You've done it.
"Hey, is that guy still around?"
Even with two fewer teams, it's hard to keep track. Our next series, which we did last year, too, takes a look at two key players for every team in the league that are taking their talents elsewhere, returning to campus, or arriving to try and write a legacy of their own.

So really, this series isn't so much for the fans of the teams in the posts, but more for everyone else. It wouldn't be a bad idea to bookmark this series.
Next up: Missouri
Going:
Blaine Gabbert, QB
Gabbert left Missouri after his junior season with two years of starting experience under his belt. The rocket-armed, 6-foot-5, 235-pounder did it as the 10th pick in the NFL draft, after throwing for more than 6,800 yards and 40 touchdowns with just 18 interceptions. The St. Louis native came to Missouri as
one of the program's most touted recruits ever
and made a whole lot of his potential. It was obvious during his freshman season that Gabbert was the heir to Chase Daniel, and he earned the right the following season. As a first-year starter, Gabbert earned loads of respect from his teammates for playing through a painful ankle injury courtesy of the House of Spears. In 2010 he helped Missouri win the biggest game of Gary Pinkel's career, knocking off No. 1 Oklahoma at home in front of a homecoming crowd with ESPN's College GameDay in town for the first time.
One final note: At this rate, Gabbert is on pace to have the
NFL's most recognizeable 'do
south of Troy Polamalu and Tom Brady.
Gordon Gekko
? Give me
Gordon Bombay
.
Aldon Smith, DE
Smith earned a reputation as one of the league's best pass rushers fast, sprinting to an 11-sack freshman season in 2009, a Missouri record. His production was limited in 2010 because of a broken bone in his leg, but NFL teams believed in his freakish athletic ability and upside, enough so that the San Francisco 49ers made him the seventh overall pick in last month's draft.
The 6-foot-5, 260-pound Raytown, Mo. native was one of the first surprises of the draft, but he'll get his chance to develop while collecting hefty paychecks in the NFL.
Staying:
T.J. Moe, WR and Michael Egnew, TE
Missouri's top receiving duo is back and should provide Gabbert's replacement,
James Franklin
, with a lot of help. Both are sure-handed and won't go down easily. They were the driving force behind Missouri's passing game in 2010, which lacked a home-run threat a la Jeremy Maclin or Danario Alexander. A year of experience as relied-upon threats should be valuable, too.
In 2009, they combined for five catches and 33 yards. Last season? Try 182 catches, 1,807 yards and 11 scores. Finding a deep threat that was absent in 2010 will make it a lot easier -- their production dipped in the heart of conference play -- but both should put up big numbers again in 2011.
Will Ebner, LB
Ebner seems to continually battle injuries, but the big-hearted senior is back for a fourth season. As a freshman, he earned a reputation as one of the team's hardest hitters very early in camp. In 2009, he returned in two weeks from arthroscopic knee surgery, and in 2010 he played through a broken foot. He had just 47 tackles last season, thanks in part to being slowed by the foot injury, but he's likely to slide into a spot on the All-Big 12 team if he can finally stay healthy.
Coming:
Sheldon Richardson, DT
I'd argue that no player in Missouri history has had more written about him before he stepped on campus as an official, enrolled member of the Tigers. Richardson's three-year (and perhaps longer) saga seemed to reach its natural end when he signed with Missouri as its top recruit in 2009, a member of the ESPNU150. But Richardson didn't qualify and headed to junior college in California. Then, as the nation's No. 3 juco recruit, he committed to USC but switched back to Missouri before signing with the Tigers. He's expected to be on campus in June. The athletic, 6-foot-4, 296-pounder looks like a game-changer on paper and on the limited game tape he produced during an injury-plagued juco career. Will he become one at the major college level?
Corbin Berkstresser, QB
After Tyler Gabbert's transfer, James Franklin looks like the likely successor to Tyler's older brother, Blaine. But could Berkstresser slide in front of
Ashton Glaser
to become Franklin's backup, or perhaps earn time if Franklin struggles? The 6-foot-3, 218-pounder from outside Kansas City will have to make up a big experience gap between himself and Glaser, a redshirt sophomore entering his third season in the program. Berkstresser didn't come to Missouri this spring like fellow 2011 signee Wesley Leftwich, whose speed wowed coaches in his first 15 practices as a Tiger.
Click here for more from The Revolving Door.
February, 17, 2011
2/17/11
9:00
AM ET
We took a look at
the Big 12's spring storylines yesterday
, and for several teams, that involves the quarterback. For others, it doesn't. But heading into the spring, which starts as early as Friday at Texas Tech, here's how the Big 12's teams rank in terms of certainty at quarterback.
LOCKED AND LOADED
Baylor:
Baylor's offense runs entirely through the Bears'
Robert Griffin III
. He rebounded well last season from the knee injury that made him miss most of the 2009 season, and became a much, much better passer. We'll see if that continues in 2011, but it would take a serious injury to knock him off his starting spot.
[+] Enlarge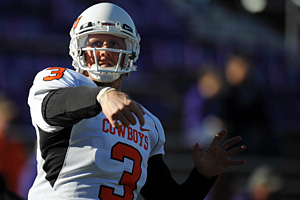 John Rieger/US PresswireBrandon Weeden enters next season as Oklahoma State's starting quarterback.
Oklahoma State:
Brandon Weeden
started every game for the Cowboys last season and earned All-Big 12 first-team honors. He's back. Look elsewhere for quarterback controversy. The backup race between
Clint Chelf
,
Johnny Deaton
and early enrolling freshman J.W. Walsh could be interesting, though.
Oklahoma:
Landry Jones
will effectively be a third-year starter for the Sooners next season, and a strong contender for All-Big 12 honors and possibly the Heisman. It's his offense for sure in 2011.
Texas A&M:
Ryan Tannehill
would be the easy front-runner even if he hadn't started the second half of the 2010 season. But he did, went 5-1 in his starts, and has the Aggies sniffing the top 10 in the preseason.
BETTER LOCK IT DOWN, KID
Texas:
Garrett Gilbert
had a horrible first year as starter in 2010, but he'll need to show his coaches -- new and old -- he'll be better in 2011. Grasping new coordinator Bryan Harsin's system will be key in keeping the junior ahead of his competition,
Case McCoy
and
Connor Wood
. Coach Mack Brown
said last month that the job was open.
Missouri:
James Franklin
is the
likely lead dog in the race,
but only because he got more time and experience playing the game and adjusting to the speed of the game. He'll need to
clearly
be the best quarterback Missouri has to leave the spring as the projected starter.
Tyler Gabbert
and
Ashton Glaser
might steal the title with standout springs, but if all three aren't getting it done, incoming freshman Corbin Berkstresser could theoretically crash the party in preseason camp.
Iowa State:
Jerome Tiller
has five starts in two seasons because of injuries to
Austen Arnaud
, including an historic, albeit ugly, 9-7 win at Nebraska in 2009. But Paul Rhoads signed juco transfer Steele Jantz, and he'll have a great chance to win the job, too.
James Capello
and
Jared Barnett
will try to make splashes in the spring.
WHICH END IS UP?
Texas Tech:
Tech, as usual, is likely to get good play out of whoever wins the job, but it's a near guessing game at this point.
Seth Doege
and
Jacob Karam
impressed coach Tommy Tuberville last spring working with the first team after
Steven Sheffield
and
Taylor Potts
were hurt, but Doege and Karam will have to hold off younger talents
Scotty Young
and Michael Brewer to win the job.
Kansas:
The Jayhawks never settled on a quarterback, and battled injuries at the position last year.
Kale Pick
was moved to receiver during the 2010 season, and
Jordan Webb
and
Quinn Mecham
will be the main competition this year, despite a lack of truly inspired play for much of 2010. If incoming freshman Brock Berglund, who enrolled early, can show flashes of potential and outplay Webb and Mecham, he might be the guy best suited to help Kansas win right now and in the future.
Kansas State:
The Wildcats' presumptive starter
might not even be playing the position in 2011
, and we've seen very, very little of the three quarterbacks hoping to replace the departed
Carson Coffman
. Justin Tuggle, a juco transfer, started three games at Boston College and has a good shot to win the job. Newcomer Daniel Sams could win the gig eventually, or it could be the returning
Sammuel Lamur
, who threw all of three passes last season (completing all three!) as the third-stringer.
February, 16, 2011
2/16/11
9:00
AM ET
By
ESPN.com staff
| ESPN.com
Springtime is almost here. And here's a look at what to expect across the Big 12 when it gets into full swing here in the next couple weeks.
BAYLOR BEARS

Spring practice starts:
February 28
Spring game:
April 2
What to watch:
Big changes on defense. Baylor brought in Phil Bennett as its new defensive coordinator, and he says his scheme will be multiple, built to fit the Bears' personnel. Considering the Bears' recent recruiting successes in the secondary, look for a 4-2-5 type of look.
Recruiting stars: time to shine. Both safeties, Tim Atchison and Byron Landor, are gone. Baylor, though, has two former ESPNU 150 recruits at safety who would be well served to start filling their potential. Prince Kent was a reserve last season and at one time, the nation's No. 51 overall recruit who originally signed with Miami. Ahmad Dixon, meanwhile, was the No. 15 overall prospect in the 2010 class. The opportunity is there. Baylor needs big talent at the position. Briles has recruited it. Can they develop into players who make Baylor a contender?
Running back competition. Jay Finley topped 1,200 yards in 2010, but he's gone. Who steps into his void? Terrance Ganaway is a bowling ball at 5-foot-11, 235 pounds, but the shifty Jarred Salubi could get a good amount of carries, too. They could begin to share carries this spring.
IOWA STATE CYCLONES

Spring practice starts:
March 22
Spring game:
April 16
What to watch:
Quarterback competition. It should be a good one in Ames this spring. Jerome Tiller is the name most recognize after getting lots of meaningful time and starts because of injuries to Austen Arnaud over the past two seasons. But juco transfer Steele Jantz sounds confident he can win the job. Rising sophomore James Capello and redshirt freshman Jared Barnett will compete, too.
Paging Cyclone receivers. Iowa State had one of the most underwhelming receiving corps in the league during the past season, and three of its top five pass-catchers won't return in 2011. Of those three, however, one is a tight end (Collin Franklin) and another is a running back (Alexander Robinson). The new quarterback will need some help, and Darius Darks and Darius Reynolds will need to provide it as seniors.
Shontrelle's time or not? Freshman Shontrelle Johnson looked like the running back with the most pop behind Robinson for most of 2010, but two other freshmen running backs jockeyed for carries, too. Paul Rhoads is hardly handing the job over to Johnson, but spring could be the time when he really separates himself from the pack.
KANSAS JAYHAWKS

Spring practice starts:
April 1
Spring game:
April 30
What to watch:
What are they doing behind center? Kansas never got much consistent play out of the quarterback position last year, but freshman Brock Berglund is one of the 2011 class' top recruits, and enrolled early to compete in the spring with Jordan Webb and Quinn Mecham. With a building program like Kansas, there's perhaps some value in handing the program to a younger player like Webb or Berglund, but they'll have to earn it. Doing so will start in the spring, but don't expect the Jayhawks to have a set-in-stone starter by spring's end.
Top linebacker back on the field. Huldon Tharp missed all of 2010 with a foot injury, but he says he's 100 percent and ready to get back on the field. As a freshman in 2009, he was fifth on the team in tackles, with 59, and looked like one of the league's possible budding stars. Now, he'll get his chance to join fellow linebacker Steven Johnson as one of the team's top tacklers, and he'll do it as a sophomore after redshirting in 2010.
Toben rising? Turner Gill raised plenty of eyebrows when he moved his team's leading rusher in 2009, Toben Opurum, to linebacker in fall camp, and eventually slid him up to defensive end. But toward the end of 2010, Opurum started showing some major signs of growth at the position. We'll get a better idea this spring if he's one of the league's most unlikely new stars at defensive end.
KANSAS STATE WILDCATS

Spring practice starts:
April 6
Spring game:
April 30
What to watch:
Prodigal Kansan sons come home. There's no doubt that the Wichita native Brown brothers are the main attraction at Kansas State this spring, a season after transferring back home. Bryce Brown, the running back, was the nation's No. 8 prospect in the 2009 class. Arthur Brown, the linebacker, was the nation's No. 6 prospect in the 2008 class. Bryce transferred from Tennessee and Arthur from Miami. The Wildcats are pinning much of their hopes on the duo, and we'll get a good sense of what they can provide soon.
Quarterback competition. Carson Coffman is gone, and two new faces will challenge for the job: juco transfer Justin Tuggle and Daniel Sams. Sammuel Lamur is also up for the gig. Collin Klein may or may not be; Bill Snyder hasn't explicitly confirmed a past comment from Sams saying Klein had moved to receiver. Don't expect a starter to be named by spring's end, but a general order could start to form.
Can the defense show improvement? Kansas State had the Big 12's worst overall defense last year, and the worst rushing defense in college football, giving up 3,008 yards on the ground. Coordinator Chris Cosh looks like he'll still be around in 2011, and defensive backs David Garrett and Tysyn Hartman are solid pieces to try and build around. But this young maturing defense must get better to make a bowl game again with so many questions on offense. That starts in the spring.
MISSOURI TIGERS

Spring practice starts:
March 8
Spring game:
April 16
What to watch:
Franklin comes alive! Blaine Gabbert bolted to the NFL early, and Missouri has a gaping hole a quarterback. The position, however, is surrounded by a lot of quality talent that likely makes the Tigers a Top 25 team. There's no understating the importance of the position for the Tigers, and that will begin to be decided in the spring. James Franklin, a rising sophomore, saw spot duty in 2010 as more of a runner, and may have the inside track on the job, but Tyler Gabbert, Blaine's younger brother, and Ashton Glaser should make it an interesting competition in the spring. If neither of them impress early, don't count out incoming freshman Corbin Berkstresser.
Here is the new secondary. Same as the old secondary? After years of pass defense being one of the Tigers' biggest weaknesses, it became a strength in 2010 behind the leadership of senior corners Kevin Rutland and Carl Gettis. But the Tigers lose them and safety Jarrell Harrison. Rutland emerged as one of the team's most impressive players last spring, but was Missouri's success in the secondary a one-time thing or the beginning of a welcome trend?
Time to dominate the trenches? Missouri played without likely first-round pick Aldon Smith for much of the previous season, but the defensive and offensive lines for the Tigers were as good as ever in 2010. How will they look in 2011? Impact juco transfer Sheldon Richardson won't be enrolled by the spring, but the four returning starters on the offensive line should get some solid work against Brad Madison, Jacquies Smith and Terrell Resonno.
OKLAHOMA SOONERS

Spring practice starts:
March 21
Spring game:
April 16
What to watch:
Freshmen on display. Coach Bob Stoops hasn't been shy about saying his 2010 recruiting class was his best ever, but it could look even better after this spring. Two of his best emerging recruits, Justin McCay and Geneo Grissom, didn't even play in 2010, and could start to make an impact. The same goes for Corey Nelson, who will try to earn some more time somewhere backing up star Travis Lewis.
Is there a golden boot in Norman? Jimmy Stevens was much more accurate in 2010, finishing 19-for-23, but his attempts outside 45 yards were sparse. The good news is he missed none of his 53 extra points. Field goals have been a bit of an adventure for the past couple years, but continuing in the spring what he started last year would be a good sign for Oklahoma. The Sooners are strong everywhere and need good special teams play to reach their lofty title goals.
Are the Sooners' backs back? Roy Finch missed the Fiesta Bowl with a stress fracture, and his durability is certainly questionable entering 2011. When he's healthy, he looks like the next star in the Sooners' backfield, but they'll need some depth behind the 5-foot-8, 173-pounder. Jermie Calhoun, Jonathan Miller and Brennan Clay have all looked good at times, but there should be some good competition from newcomers Brandon Wegher, an Iowa transfer who'll be in camp this spring and eligible next season, and blue-chip recruit Brandon Williams, who enrolled early.
OKLAHOMA STATE COWBOYS

Spring practice starts
: March 7
Spring game
: April 16
What to watch
:
Every piece of the offense. The spring in Stillwater is all about keeping or improving upon the status quo. Had it kept Dana Holgorsen, there'd be little doubt that would happen, but Oklahoma State must make the most of its five returning offensive linemen, quarterback Brandon Weeden and receiver Justin Blackmon. The opportunity for a historic season is there, but they'll have to pick up the nuances of the new offense quickly in the spring like they did last year.
What about the kicker? Dan Bailey won the Lou Groza Award as the nation's top kicker in 2010, but he's gone. Oklahoma State needs to fill that role quickly, and we'll likely know who will get the nod after the spring.
Who steps up on the defensive line? The Cowboys lose three starters up front on defense, including All-Big 12 performer Ugo Chinasa and tackles Chris Donaldson and Shane Jarka. Can senior Richetti Jones become a star in the Big 12? We'll have a good idea if he, or any of the Cowboys' other defensive linemen, can by the end of April.
TEXAS LONGHORNS

Spring practice starts
: February 24
Spring game
: April 3
What to watch
:
New coaches and their students/players. Texas has five new coaches. Although it's hard to get a good read early on, how they relate with the players on the field, in the film room and around the facilities will have a big impact on how the 2011 season plays out in Austin. The young-blooded coordinators could serve themselves well by relating to players and the players will need to spend plenty of extra time learning new schemes and plays.
Quarterback competition ... or not? Mack Brown says the gig is open and it is, for now. Garrett Gilbert can close it with a strong spring. If Garrett struggles on the field or has difficulty grasping the new system, the door will be wide open for Connor Wood or Case McCoy to step in and close it. Gilbert didn't get much help, but he did very little in 2010 to inspire a lot of breathing room with McCoy and Wood clamoring for playing time.
And you've got to defend the pass, too. Texas loses its top three cornerbacks to the NFL, and only Carrington Byndom and A.J. White got much meaningful playing time last season. Younger players can earn some rare early playing time with a strong spring. Will anyone step up?
TEXAS A&M AGGIES

Spring practice starts
: March 22
Spring game
: April 16
What to watch
:
New linebackers in the running. Spring isn't so scary when you bring back nine defensive starters, but the two Texas A&M lost were the heart of its defense. Linebackers Michael Hodges and Von Miller are gone. Kyle Mangan didn't look fantastic when forced into action during the Cotton Bowl, but the time is now for Damontre Moore and Dominique Patterson, a pair of sophomores, to make their impact.
Tannehill's tuning things up. Quarterback Ryan Tannehill played about as well as anyone could have hoped late last season, but he'll need it to continue his performance with a solid spring nailing down the timing with his receivers, who all return. He's already got a leg up on last year's quarterback, Jerrod Johnson, who was held out of team drills last spring after shoulder surgery that eventually derailed his senior season.
Christine's back. Christine Michael missed the second half of the season with a broken leg, giving way to Cyrus Gray's rise among Big 12 backs. It should make Texas A&M's depth at the position even more impressive, but we'll see how Michael looks coming back from the injury.
TEXAS TECH RED RAIDERS

Spring practice starts
: February 19
Spring game
: March 26
What to watch
:
Past defending that pass defense. Texas Tech had the Big 12's worst pass defense last season, but has a pair of big potential players at cornerback in rising sophomores Tre Porter and Jarvis Phillips. Starters LaRon Moore and Franklin Mitchem are gone, but if returning starters Cody Davis and Will Ford can continue to mature, the defense should improve in the area most important for success in the Big 12.
And they're off! There's a four-man quarterback derby set in Lubbock this spring between Seth Doege, Jacob Karam, Michael Brewer and Scotty Young. I don't expect it to be settled until midway through fall camp, similar to last season, but there should be a solid front-runner and more clarity after spring. Coach Tommy Tuberville was extremely impressed with Doege and Karam last spring after Taylor Potts and Steven Sheffield went down with injuries.
Time to find new stars. Most of the big names on Texas Tech's defense are gone. Colby Whitlock, Bront Bird, Brian Duncan will all continue their careers elsewhere. The leaders on the defense will have to begin to emerge in the spring. Is it Scott Smith? Cody Davis? A younger, unexpected player? We'll find out. Sometimes these types of situations aren't as easy to predict as they might seem, like Missouri's strength in 2010 emerging in the secondary.
February, 3, 2011
2/03/11
11:30
AM ET

MISSOURI TIGERS
The class
Signees
: 17 (three enrolled early)
Top prospects:
Junior college transfer
Sheldon Richardson
is a defensive tackle and former Missouri signee out of high school who ranks as the nation's No. 3 juco prospect.
Shane Ray
(No. 35 DE) and
Gerrand Johnson
(No. 58 DT) also give the Tigers some strength on the defensive line at the top of its recruiting class. Quarterback
Corbin Berkstresser
(No. 43 nationally) could also have a future at the helm of the Tigers' offense.
Michael Boddie
and
Taylor Chappell
give the Tigers a pair of tackles to develop for the future.
Needs met:
Missouri got some help at receiver with
Wesley Leftwich
and
Brandon Hannah
, but the deep threat its offense needs might already be on campus. Three starting defensive backs graduated, but the Tigers signed four DBs in their 2011 class. The problem is only
Cortland Browning
(No. 82 CB) is ranked by ESPNU. Fellow corner
David Johnson
, and safeties
Earnest Payton
and
Ian Simon
are also coming to Missouri, but the Tigers will have to hope there are hidden gems among the unheralded group.
Analysis:
You'll hear the standard recruiting cliches from Missouri about this class, but the truth is it's pretty underwhelming considering the success the Tigers have had in recent years on the field. Also true? You can't fully judge a class until it takes the field for a couple years. That said, Missouri didn't sign a single four-star high-school prospect in the class. Even if Richardson blossoms into a star, he sounds like a player intent on playing major college football for just one season before a jump to the NFL. The Tigers have proven they're one of the best programs in the Big 12 at developing talent once it arrives in Columbia, so maybe this class could surprise in a few years, but the expectations from this group will be low next season. ESPN ranks the Tigers' class as ninth in the Big 12, ahead of only Iowa State, and that's not very good for a program that's been on the rise the past six years or so under Gary Pinkel.
ESPN recruiting grade:
C
February, 2, 2011
2/02/11
10:11
AM ET
Letters of intent will be coming in all day, but a few of the top commits across the Big 12 have gotten an early start. Here are a few of the top commits in the league who have officially gotten their John Hancocks on to kick off National Signing Day.

Missouri
Nebraska
Oklahoma
Texas
Texas A&M
Texas Tech

February, 9, 2010
2/09/10
11:12
AM ET
By
Tim Griffin
| ESPN.com
Veteran talent analyst JC Shurburtt of ESPN Recruiting has listed the top 11 programs with the fastest start on their 2011 recruiting classes. Both Nebraska and Oklahoma made the unranked list.
Nebraska has already received commitments from three players, including two selections on the ESPNU 150 watch list. Both of Oklahoma's early commitments made the ESPNU 150 watch list.
The Cornhuskers already have received verbal commitments from two of the nation's top linemen, continuing a tradition that is a bedrock of the Nebraska program. Tyler Moore, a 6-foot-6, 270-pounder from Countryside High School in Clearwater, Fla., is joined by Ryne Reeves, a 6-foot-3, 287-pound center from Crete, Neb. Along with those two on the ESPNU 150 watch list with quarterback Jamal Turner of Sam Houston High School in Arlington, Texas.
And the Sooners have garnered two on the 150 list, including wide receiver Kameel Jackson who is Turner's major receiving target at Sam Houston High School. He is joined by quarterback Kendal Thompson of Southmoore High School in Moore, Okla.
Here's a quick look at what other schools in the conference have gotten an early start (Note: * indicates an ESPNU 150 watch list player):
Baylor: None.
Colorado: C Shaun Simon (Hutchinson Community College)
Iowa State: None.
Kansas: None.
Kansas State: OT Cody Whitehair (Abilene, Kan.), DT Olukayode Akinmoladun (Independence Community College), WR Marcus Kennard (Butler County Community College), QB Angelo Pease (Hutchinson Community College), DE Meshak Williams (Hutchinson, Kan.)
Missouri: *QB Corbin Berkstresser (Lee Summit, Mo.); WR Wesley Leftwich (Hickman, Mo.); ATH Anthony Pierson (Gateway, Mo.), DT Sheldon Richardson (College of the Sequoias).
Nebraska: *OT Tyler Moore (Clearwater, Fla.), *C Ryne Reeves (Crete, Neb.), QB Jamal Turner (Arlington, Texas).
Oklahoma: *WR Kameel Jackson (Arlington, Texas), *QB Kendal Thompson (Moore, Okla.)
Oklahoma State: *QB J.W. Walsh (Denton, Texas), T Travis Cross (Plano, Texas), S Isaac Maselera (Glenpool, Okla.)
Texas: None.
Texas A&M: *T Joseph Creek (Seguin, Texas).
Texas Tech: *WR Javares McRoy (Lakeland, Fla.)
December, 11, 2009
12/11/09
9:11
AM ET
By
Tim Griffin
| ESPN.com
A couple of commitments to Nebraska and the latest on the Tyler Gabbert saga highlight today's missive from Tom Luginbill, the national scouting director from ESPN's Scouts Inc.
All of the recruiting information I can devour can be found
here
.
Here's are some Big 12 recruiting nuggets for today.
T Jemarcus Hardrick
Batesville, MS
Fort Scott Community College (KS)
Nebraska has gained Jermarcus Hardrick, a 6-foot-6, 315-pound offensive lineman from South Panola (Batesville, Miss.) / Fort Scott CC, Kan., who has decommitted from LSU.
Hardrick also holds offers from Mississippi, Arkansas, South Florida and Southern Mississippi.
OLB Lavonte David
Miami, FL
Fort Scott Community College (KS)
Outside linebacker Lavonte David of Northwestern (Miami, Fla.)/Fort Scott CC, Kan., has accepted a scholarship offer from Nebraska.
He was also sought by Baylor, Kansas, Kansas State, Tennessee, Houston, Southern Mississippi, Tulsa, Florida International and North Texas.
The 6-foot-1, 210-pound prospect chose Middle Tennessee State over Florida International as a prep.
David is the 16th commitment for the Huskers.
QB Tyler Gabbert
Ballwin, MO
Parkway West H.S.
Scouts Grade:
76
Position Rank:
55
Three-star quarterback Tyler Gabbert of Parkway West (Ballwin, Mo.), the younger brother of current Missouri quarterback Blaine Gabbert, has withdrawn his commitment to the Nebraska Cornhuskers.
The 6-foot-1, 190-pound Tyler has other offers from Missouri, Iowa, Iowa State, Kansas, Oregon, Wake Forest, Indiana, Colorado State and Wyoming.
Gabbert is expected to officially visit Missouri this weekend along with receiver Curtis Carter of North De Soto (Stonewall, La.), who also recently decommitted from the Huskers. Carter is now interested in Missouri and TCU.
Both Tyler and Carter dropped the Huskers after feeling the staff moving towards a more run-oriented offensive scheme. During his senior year, Tyler threw for 965 yards and eight touchdowns. He also rushed for 228 yards and two scores.
Blaine Gabbert originally committed to Nebraska with the Class of 2008, but he changed his choice to the Tigers. The 6-foot-5, 240-pound quarterback passed for 3302 yards and 23 touchdowns during 2009 as a sophomore. He added 228 yards and three scores on the ground.
If Tyler Gabbert ends up committing to Missouri, as expected, he'll join James Franklin of Corinth, Texas, as quarterback prospects for 2010. The Tigers have already received a pledge from 2011 quarterback Corbin Berkstresser of Lee's Summit, Mo.
CB Troy Hill
Ventura, CA
Saint Bonaventure H.S.
Scouts Grade:
76
Position Rank:
54
Oregon has landed three-star cornerback Troy Hill of St. Bonaventure (Ventura, Calif.) for the Class of 2010.
Hill chose the Ducks over Arizona and Washington. He also holds offers from Iowa State, Washington State, Wisconsin, Boise State, Marshall and Utah State.
"I got that special feeling at Oregon and no one was able to match it," Hill told ESPN's Greg Biggins. "I was just so comfortable there and really bonded with the players and coaches. They have a great team and all but it was more than that. The bottom line is Oregon was where I felt most comfortable and it became a pretty easy decision for me in the end."
Rose Bowl-bound Oregon has 15 commitments.
ILB Toquavius Gilchrist
Abbeville, SC
Butler County Community College (KS)
Butler County Community College (El Dorado, Kans.) linebacker Toquavius Gilchrist has committed sign as part of the Cougars' Class of 2010, ESPN affiliate Web site TheShiver.com reports.
Gilchrist selected Houston over Kansas and Kansas State.
DE Geneo Grissom
Hutchinson, KS
Hutchinson Senior H.S.
Scouts Grade:
77
Position Rank:
69
Three-star defensive end Geneo Grissom (Hutchinson, Kans.), a Jayhawks commitment, still has Kansas on top but is seriously considering LSU, ESPN affiliate Web site TheShiver.com reports.
"I actually might be visiting LSU on (the weekend of Jan. 23rd)," Grissom said.
BIG 12 SCOREBOARD
Saturday, 12/27
Saturday, 12/20
Monday, 12/22
Tuesday, 12/23
Wednesday, 12/24
Friday, 12/26
Monday, 12/29
Tuesday, 12/30
Wednesday, 12/31
Thursday, 1/1
Friday, 1/2
Saturday, 1/3
Sunday, 1/4
Monday, 1/12
Tweets from https://twitter.com/ESPNCFB/lists/big12