October, 16, 2014
Oct 16
2:30
PM ET
Our weekly quest to predict which players are due for a breakout game went better than ever last week, with
KD Cannon
,
DeAndre Washington
,
Michael Cummings
,
B.J. Catalon
and
Steve Edmond
all enjoying big performances. Who's going to step up in Week 8? A look at 10 players to watch this weekend:
Baylor CB Xavien Howard:
He's quietly racked up nine pass breakups this season and faces probably his best one-on-one threat of the season in
Kevin White
.
Ryan Reid
got lots of attention last week -- good and bad -- but I have a feeling Howard will rise to the occasion in Morgantown.
Iowa State DE Cory Morrissey:
With no
Desmond Harrison
(suspension) back for Texas, it's likely Morrissey has one of Iowa State's most advantageous matchups this week when he takes on left tackle
Marcus Hutchins
, who hasn't been great. This Texas offensive line, while improving, is still vulnerable and Morrissey has a chance to remind us he's one of the league's more underrated defenders.
Kansas LB Ben Heeney:
Inspired by the fact we made the mistake of snubbing him for our midseason All-Big 12 team, Heeney will rack up 30 tackles against Texas Tech and makes us look like a bunch of fools. I really wouldn't be shocked. He is playing at an All-Big 12 level, no doubt; we simply ran out of linebacker spots.
Kansas State QB Jake Waters:
He got a huge stage against Auburn and made some uncharacteristic mistakes. Here's another big one against Oklahoma, and with the advantage of a bye week, surely this staff has cooked up some good stuff the Sooners won't see coming. Waters is one of the Big 12's best QBs but rarely receives that praise. He'll earn it this week.
Oklahoma RB Alex Ross:
Despite his game-changing kick return for a TD, Ross recorded just five touches on offense against Texas. Let's see what he can do with a little more of a workload, and especially some more opportunities in space, as the lightning to
Samaje Perine
's thunder.
Oklahoma State WR David Glidden:
He has a 20-plus yard reception in five of the Pokes' six games this season and is a sneaky dangerous member of what's becoming a fairly diverse receiving corps. There's no one significant go-to guy among those wideouts, at least not statistically, but Glidden can be on Saturday.
TCU DE Mike Tuaua:
We didn't hear a whole lot from Tuaua last week -- to his credit, his lone tackle was a sack -- but the Frogs' rising defensive end will need to be impactful this week.
Daxx Garman
is capable of challenging TCU deep repeatedly, but not if he doesn't have time in the pocket to make the right decisions.
Texas DE Naashon Hughes:
The redshirt freshman, a converted linebacker with a great frame, earned his first career start against Oklahoma and is proving to be an ideal fit for Texas' Fox end spot. He was sound in tackling and coverage last week and should get some nice chances to blitz and cause trouble in the backfield against ISU.
Texas Tech CB Nigel Bethel II:
After serving his suspension for Tech's nonconference slate, Bethel is back and stepped up in defending Kevin White last week, notching nine tackles. That should be one heck of a confidence-booster for the always-confident true freshman. The big plays are coming soon for him.
West Virginia RB Wendell Smallwood:
You can't ask for more from a change-of-pace back than what Smallwood gave last week, rushing for 123 yards on just 15 carries against Texas Tech. WVU needs to be able to keep Baylor's defense honest by attacking with
Rushel Shell
and Smallwood. Keep an eye on him this week.
October, 16, 2014
Oct 16
11:00
AM ET
AUSTIN, Texas -- Did Iowa State get robbed against Texas a year ago?
Jordan Hicks
couldn't help but crack a sly grin after hearing the question.
"No," Texas' senior linebacker said. "No, we won that game."


You won't hear Paul Rhoads delving into that topic this week. It's a safe bet that Cyclones AD Jamie Pollard, already out $25,000 this season, isn't touching it either. They've already said plenty in the past, and a full 12 months have now passed.
But it's clear, based on Pollard's comments earlier this month, that there's still somewhat of a scar. Don't expect the Cyclones to forgive and forget when it comes to the controversial goal-line fumble in Ames last season.
"We've been on the short end of several controversial calls," Pollard said on Oct. 4, "and it's hard to sit idle and watch ESPN, Fox, other announcers not debate but feel sorry for Iowa State because maybe there will be another apology for a call."
The play on a Thursday night in Ames on Oct. 3, 2013, was high up on Pollard's list of grievances. Iowa State fans will tell you that Jeremiah George clearly stripped
Johnathan Gray
at the goal line before he went down, forcing a fumble that could've sealed the deal for Iowa State and its 30-24 lead in the final minute.
Gray will tell you his forward progress was halted, and he was down before the ball came out. That's the story the game officials were sticking to, and replay upheld the call due to a lack of indisputable evidence. Case McCoy stuck in the go-ahead score on the next play, and Jackson Jeffcoat clinched victory with a game-ending interception.
The Gray play rightfully evoked fire from Rhoads in his
postgame comments
. He expressed his outrage over having his potential game-winning play "taken away" when a fumble should've been "clear to everybody." Rhoads also took a not-too-veiled shot at game officials for the number of penalties (10 for 118 yards) his team received. He later received a public reprimand from the Big 12.
Another source of frustration that week: the cut block by former Texas receiver Mike Davis on ISU's Deon Broomfield also elicited a few days of controversy and, eventually, an apology delivered via one uncomfortable
video
.
So, yeah, the Cyclones have reason to want a little revenge on Saturday.
"I think they're going to come in here with a chip on their shoulder," Hicks said. "I know their coach is probably preaching that right now, that we shouldn't have won last year and this and that. Whatever it may be, we've got to be ready to match their intensity and exceed that."
Iowa State players have not taken the bait this week when it comes to that questionable call. They've moved on and recognize that the 31-30 game wasn't decided on just that one play.
"You can talk about that [controversial play]," Cyclones defensive end
Cory Morrissey
said, "but there were plays throughout the game we should have won the game with."
He's right about that. Had the Cyclones not settled for a field goal on their previous possession, after driving all the way down to the Texas 6-yard line, they could've led 34-24 and taken control of the game for good. But, again, that's the past now.
The stakes are much different this time around -- both teams are currently 2-4 -- but this much hasn't changed: Iowa State gave Texas a four-quarter fight in 2013 that UT didn't see coming. They can do so again this weekend.
"Those guys are going to come out and play their tails off. They have a phenomenal coach," Texas cornerback
Quandre Diggs
said. "I have a lot of respect for him because he gets the most out of those guys.
"They're going to try to upset us and try to beat us. It's going to be a fun game, because those guys are always coming to play us, and it's always been like that since I've been here."
September, 24, 2014
Sep 24
1:00
PM ET
Cory Morrissey
isn't a household name in the Big 12, but the Iowa State defensive end sits alongside Texas defensive tackle
Malcom Brown
atop the sack leaders in the conference with 3.5 sacks. The Cyclones senior took time to chat with ESPN.com about last season's embarrassing 71-7 loss to Baylor, his tribute to former ISU defensive end coach Curtis Bray (who passed away in the offseason) and his potential job of the future.
[+] Enlarge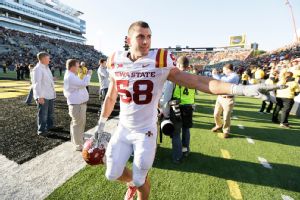 AP Photo/Charlie NeibergallIowa State defensive end Cory Morrissey says the Cyclones have learned from last season's 71-7 loss to Baylor.
What's going to be the key to more success in the future?
Cory Morrissey:
Going to work every day, realizing what we need to work on and not accepting defeat. This team is young and they're showing a lot of guts to get through all this adversity in the beginning, so just constant improvement and learning how to win.
What was the atmosphere like in the week after the season-opening loss to North Dakota State?
CM:
Honestly, we got back to work. We knew what we could have done, we saw the mistakes and worked on fixing those mistakes.
You've been productive. How do you feel about your play?
CM:
There's always something you can do better. I have to keep improving, keep going and I can't hang my hat on anything. I have to keep improving.
Heading into the season did you have anything in particular you wanted to show you've improved in the offseason?
CM:
Pass rush, my speed and my strength.
What have been some of your favorite things about playing for Paul Rhoads?
CM:
His passion and intensity. What he brings to coaching us in the game, he's a great leader, great motivator. I don't know why anyone wouldn't want to play for Coach Rhoads.
You changed your number for Coach Bray. How often do you think about him, and is there anything he said that sticks with you?
CM:
Everyday I put the number on, put the jersey on, it's a reminder of what I have to do that day and I have to go to work for him and his legacy. There's not one thing that sticks out, but just remembering his coaching and his coaching points. I just use that every day.
You have a big-time offense coming in this week with Baylor. When you look at last year, did you just burn that tape and not look at it or use it as motivation?
CM:
We definitely look back and are reminded of the embarrassment we went through with that loss and how different this team is that is coming in this week for us to prepare for.
Was that the biggest low or disappointment as far as a game in your football career?
CM:
Definitely 71-7. I've never been in a situation like that.
What was it like watching that film? Did it feel like you weren't watching yourselves? "Who are these guys?"
CM:
It was definitely a different team. That game we came out, there was no energy, we knew Baylor was good, we accepted defeat from the beginning. There wasn't really any fight back. We were just out there playing.
Has that, in any way, helped you this season?
CM:
We learned what works and what doesn't work and how leadership should lead. Learning from last year's mistakes has continued to progress into this year. Knowing how the team's attitude was last year in situations, we've tried to change it around.
What's going to be the key to success against Baylor on Saturday?
CM:
We have to do everything right. We have to fit the right gaps, stop the run and against their passing game have great coverage. We just have to do everything right. We can't make mistakes.
Being a veteran on the defense, will you monitor things early on confidence-wise to make sure guys don't get down early in the game if something happens?
CM:
Yeah. Against Kansas State and Iowa we had adversity and we've been down and we fought through it. The leadership on this team, we have a lot of guys that won't let that get in the way. It's a football game, we're going to do both ways at times. We just have to push through the adversity.
If you didn't play football what would you be doing?
CM:
I'd be a stuntman, body builder in California.
What makes you interested in that?
CM:
My uncle is one, he lives the life.
So you already have an in?
CM:
Yes, someone who could train me, but I already tell him I can do his job better than him. He's getting old.
So that's something you'd look at in the future?
CM:
You never know, I could go down that road. Looks fun to me.
September, 23, 2014
Sep 23
9:00
AM ET
Last season, Iowa State suffered the most lopsided loss in the history of its program in a 71-7 defeat at Baylor.
The Bears also put up 714 yards of offense and generated 32 first downs.
As the Cyclones prepare to meet Baylor again this weekend, they're banking that their defense will be better prepared for the challenge the Bears' high-powered offense presents.

"I don't think you over beat that drum," said Iowa State coach Paul Rhoads. "A good bit of them were there and they know what took place in Waco a year ago."
To hang tough with Baylor this time, Rhoads will need an inspired effort from his defense, which has played better since surrendering 34 points in the loss to North Dakota State in the opener. Iowa State gave up 13 quick points in the first quarter to Kansas State, too, the following week, but made life difficult on the Wildcats offense the rest of the way. Iowa State then locked up Iowa in a 20-17 victory over the Hawkeyes.
Veteran defensive end
Cory Morrissey
, who is tied for the Big 12 lead with 3.5 sacks, has led the charge up front. Meanwhile, Iowa State's inexperienced secondary has rapidly improved over the past month and has yet to allow a passing touchdown this season.
"I think they're growing up," Rhoads said.
With longtime linchpin safeties Jacques Washington and Deon Broomfield gone from last season, Rhoads has had to rely on several underclassmen in his secondary. That contributed to the shaky start.
Yet, since the early struggles, the defensive backfield has begun to gel.
Against Iowa, sophomore strong safety
T.J. Mutcherson
came up with a huge interception in the second half, which fueled the Cyclones' comeback.
Freshman free safety
Kamari Cotton-Moya
, who was ejected in the opener for targeting, has rebounded to become an enforcer in the secondary.
And cornerback
Nigel Tribune
, who was the only true freshman to play for the Cyclones last season, has settled in as Iowa State's ace cornerback. He'll face the biggest test yet of his young career on Saturday, when he'll be matched up on the outside against the likes of Baylor's
Antwan Goodley
and
KD Cannon
.
"I think Nigel is far from playing his best defense, and I think he realizes that. He knows this game is a big challenge for him," Rhoads said. "We need him to play well in a game like this."
To have a chance against Baylor, Rhoads will need his entire defense to play well. But thanks to their recent play, there's reason to believe the Cyclones will put up a much better fight than they did last season.
September, 17, 2014
Sep 17
2:45
PM ET
With six Big 12 teams having this weekend off, now is a good time to take stock of what's working and what isn't after Week 3. What are these six teams happy with and what still needs to get fixed? Here's a closer look:
Baylor
Next game:
Sept. 27 at Iowa State
What's working:
Pretty much everything. Baylor's offense kept rolling even when
Bryce Petty
was sidelined, the run game broke in new toys in
Johnny Jefferson
and
Silas Nacita
,
KD Cannon
became a national phenom in three weeks and the defense ranks top five nationally in scoring, total defense, yards per play and run defense to go along with an FBS-high 15 sacks.
What needs work:
This is welcomed recovery time for a team that got the injury bug in fall camp. Petty is 100 percent now and excited to get go-to target
Antwan Goodley
(quad) and receivers
Corey Coleman
(hamstring) and
Clay Fuller
(collar bone) back on the field. The Bears will likely get running back
Devin Chafin
(high ankle sprain) back in time to travel to Ames, too. With the exception of
Levi Norwood
, they'll have the full arsenal back in time for Big 12 play.
Iowa State
Next game:
Sept. 27 vs. Baylor
What's working:
The Cyclones go into the week off riding an emotional high they aim to turn into momentum. Their 20-17 upset of Iowa provided so many encouraging signs. Quarterback
Sam B. Richardson
had arguably the best game of his career, the defense came up with its first takeaway in a big moment and we saw another impressive performance from
Cory Morrissey
. Paul Rhoads is a happy camper after the rivalry win, and ISU avoided an 0-3 start in dramatic fashion.
What needs work:
A game plan for slowing down Baylor will be the main focus this week. ISU has a few injury issues of its own, but the good news is
Jarvis West
should be OK. Rhoads is focusing in on a four-week, four-game stretch in which the Clones take on Baylor, Oklahoma State, Toledo and Texas. After a win this good, there's always another upset to chase.
Oklahoma State
Next game:
Sept. 25 vs. Texas Tech
What's working:
The youth and inexperience Oklahoma State has on paper is not showing on the field. The Pokes haven't slipped since losing
J.W. Walsh
, they gave Florida State a tough four-quarter ballgame, they won with relative ease after that and they have entered the Top 25. Thsi is not a perfect team yet but is a rising one that's going to scare a lot of teams in conference play.
What needs work:
Facing Tech will give OSU a much better sense of how good its defense can be in 2014 after a nice showing in nonconference play. Gundy wants to see more depth develop in the back seven, and on offense he's expressed concerns about blocking the run game.
TCU
Next game:
Sept. 27 at SMU
What's working:
The offensive transition has been smooth and effective. TCU has averaged 39 points and 491 yards per game with its new Air Raid, and
Trevone Boykin
has been everything the coaches hoped for -- and maybe a little more. The defense hasn't taken a step back without Devonte Fields and has seen several players step up their games up front. Smooth sailing so far for a team that definitely looks bowl-bound again.
What needs work:
TCU's pass defense ranks No. 6 in FBS, but Gary Patterson has said he still wants to make some fixes in pass coverage. They'll devote the required amount of time on SMU, a struggling team led by an interim coach and a third-string quarterback, but the Frogs know they need to work ahead a little on Oklahoma and Baylor, including preparing for the 3-4 fronts of the Sooners' defense.
Texas
Next game:
Sept. 27 at Kansas
What's working:
Despite taking two losses, this defense is playing at a high level with a top-20 yards-per-play rate, a top-15 pass defense and 13 sacks. Defensive tackle
Malcom Brown
looks like a potential All-American so far.
Tyrone Swoopes
is taking steps in the right direction and shined at times against UCLA, while
John Harris
has finally emerged as a go-to receiver.
What needs work:
Where to begin? Texas' patchwork offensive line hasn't gelled and desperately needs these two weeks. The Longhorns need suspended WR/RB
Daje Johnson
back and need a healthy
Desmond Jackson
(ankle).
Cedric Reed
was better against UCLA but hasn't broken out yet. And Charlie Strong needs to start coming up with plans for stopping Baylor and Oklahoma or else this team could start 2-4.
Texas Tech
Next game:
Sept. 25 at Oklahoma State
What's working:
Tech is getting nice production in the run game from
DeAndre Washington
and
Justin Stockton
and in the pass game from
Bradley Marquez
and
Jakeem Grant
. Offensive line play has improved and Tech hasn't given up a sack. Its pass defense ranks 11th nationally, which is probably misleading.
What needs work:
Run defense, penalties, tackling,
Davis Webb
's consistency -- lots of fundamental issues here that are starting to cause concern. Webb seemed to be forcing throws against Arkansas and will need to put in some time this week to clean up concerns about his footwork and decision-making. And that porous run defense has to get cleaned up quick because opponents will keep attacking it hard over the next month.
September, 11, 2014
Sep 11
2:30
PM ET
Our weekly effort to identify one player poised for a breakout on each Big 12 team hit on a couple nice performances last week, most notably Kansas' DeAndre Mann, Baylor's
Davion Hall
and Oklahoma's
Blake Bell
. We will give it another try this week. Here are 10 players worth keeping an eye on this weekend.
Baylor RB Silas Nacita:
After rushing for three touchdowns in his first two games at Baylor, the Cornell transfer is a feel-good story who is making the most of his carries. The Bears will still divvy out their snaps evenly among a loaded backfield against Buffalo, but expect to see a little more of Nacita and perhaps another score.
West Virginia CB Daryl Worley:
We are big believers in Worley over here on the Big 12 blog. He could be an All-Big 12 player by the end of the season. But let's see if he can show up big against Maryland receivers
Stefon Diggs
and
Deon Long
. After what the Terps did to WVU last season, he is one of the many defenders who needs a big day.
[+] Enlarge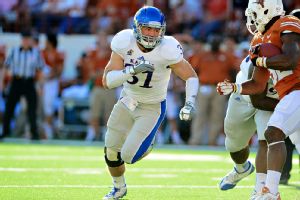 John Albright/Icon SMIKansas needs a big game from linebacker Ben Heeney if it hopes to win at Duke.
Kansas LB Ben Heeney:
Your best players should step up in your biggest games, and this road trip to Duke is a big one. A win against the defending ACC Coastal Division champ would stop KU's 27-game road losing streak. The Jayhawks' tackling machine will make a game-changing play or two this week.
Texas Tech WR Bradley Marquez:
He has been killer through two games (217 receiving yards, 5 TDs) and he will be one of the difference-makers in what could be a closer-than-expected meeting with Arkansas. If Marquez and
Jakeem Grant
can help
Davis Webb
get in a rhythm, they will help make up for whatever struggles Tech's defense faces.
Iowa State DE Cory Morrissey:
Morrissey, the Cyclones' best defensive lineman, was looking forward to his faceoff with Iowa's All-America lineman
Brandon Scherff
. If reports of Scherff having knee surgery are accurate, the Hawkeyes will have to adjust and Morrissey will have to take advantage.
TCU DT Chucky Hunter:
Minnesota's offensive line has allowed two sacks this season, but TCU's defensive line is an underrated bunch led by the run-stuffing Hunter and some rising defensive ends. The Gophers have quarterback issues this week and will try to pound the run with
David Cobb
. TCU needs Hunter's best on Saturday.
Oklahoma State WR Brandon Sheperd:
Quarterback
Daxx Garman
spread his targets around fairly evenly last week, but expect to see more deep shots against a UTSA defense that gave up an 85-yard touchdown pass on its first play against Arizona last week. Sheperd broke out last week when Garman entered the game, and could be in for another nice day.
Texas WR Marcus Johnson:
Texas has struggled to get the ball in the hands of one of its best playmaking receivers. Johnson has three catches for 26 yards and will need to do a lot more than that against UCLA if
Jaxon Shipley
(head injury) is indeed ruled out.
Tyrone Swoopes
should take more shots downfield this week, and though
John Harris
has become the go-to, Johnson needs to get back in the mix.
Oklahoma LB Caleb Gastelum:
Who doesn't love this guy? After earning his scholarship last week, the former walk-on has become a force in the middle. Expect another solid showing against Tennessee and its exciting freshman running back
Jalen Hurd
. Gastelum has a nose for the ball and is building an impressive reputation. He will show up against the Vols.
June, 11, 2014
Jun 11
12:00
PM ET
I've really enjoyed
these glimpses
into USA Soccer's prep for the World Cup.
May, 8, 2014
May 8
9:00
AM ET
Since last week, we've been
analyzing the depth charts
of every Big 12 team coming out of the spring. Thursday, we continue with the
Iowa State Cyclones
, who released an official two-deep after finishing up spring ball last month:
QB: Grant Rohach (So.) OR Sam B. Richardson (Jr.) OR Joel Lanning (RFr.)
[+] Enlarge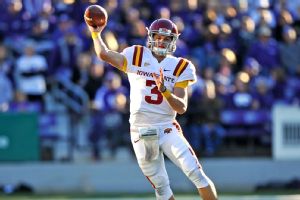 Peter G. Aiken/Getty ImagesGrant Rohach has the edge in Iowa State's quarterback derby right now, but the competition is far from over.
Building off his strong close to the 2013 season, Rohach had the strongest spring of the three quarterbacks to take an edge in the competition into the summer. The Cyclones, however, are holding off on naming a starter until at least mid-August. That could give Lanning, who has impressed the new offensive regime with his arm strength and his toughness, time to narrow the gap with Rohach before the start of the season.
RB: Aaron Wimberly (Sr.)
,
DeVondrick Nealy
(Jr.)
The name of the game here is health. When healthy, Wimberly is one of the best running backs in the league. He was finally healthy again this spring and resembled the running back who rushed for more than 100 yards on Texas. Nealy's emergence gives the Cyclones the luxury of using more discretion when it comes to how many touches to give to Wimberly.
WR (X): Quenton Bundrage (Jr.)
,
D'Vario Montgomery
(So.)
WR (Z): P.J. Harris (So.)
,
Tad Ecby
(Jr.)
Slot (F): Jarvis West (Sr.)
,
Damien Lawry
(So.)
TE: E.J. Bibbs (Sr.)
,
Ben Boesen
(Jr.)
For the Cyclones to get to a bowl game and beyond, they really need Bundrage to be a gamebreaker week-to-week instead of every other game. Too many times Bundrage disappeared last season, and he did it again in the spring game, finishing the scrimmage without a catch. The QBs have played a part in Bundrage's inconsistency, but so has Bundrage. Elsewhere, the Cyclones had several receivers step up this spring, notably Harris, Brett Medders and Montgomery. More help is on the way in blue-chip freshman
Allen Lazard
. If Bundrage plays up to his potential game to game, this could be a very dangerous collection of pass-catchers, which includes Bibbs of course.
LT: Brock Dagel (Jr.)
,
Jake Campos
(RFr.)
LG: Oni Omoile (Jr.)
,
Jamison Lalk
(Jr.)
C: Tom Farniok (Sr.)
,
Ben Loth
(Sr.)
RG: Daniel Burton (So.)
,
Ryan Glenn
(Fr.)
RT: Jacob Gannon (Sr.)
,
Jacob Dunning
(So.)
The Cyclones actually have the second-most returning starters in the Big 12 up front, trailing only Oklahoma. That isn't just quantity, either. Farniok is a four-year starter who is finally healthy again after an injury-plagued junior season. Dagel suffered an infection after a cut during the spring, but he has the look of a cornerstone left tackle. The new offensive staff also was pleased with the intangibles Burton brought to the line, including toughness and a high football IQ. If the Cyclones can stay healthy up front, and Dagel continues to progress, this could be a top-half-of-the-league offensive line.
DEFENSE
DE: Mitchell Meyers (So.)
,
Darius White
(So.)
DT: Robby Garcia (RFr.)
,
Pierre Aka
(So.)
DT: Devlyn Cousin (So.)
,
Vernell Trent
(RFr.)
DE: Cory Morrissey (Sr.)
,
Gabe Luna
(Jr.)
Morrissey and Meyers dominated off the edge in the spring game, but the spring was not a positive for the rest of the D-line. The Cyclones booted tackles
Rodney Coe
and
David Irving
, leaving the inside thin and inexperienced. Iowa State did get 2013 starting nose guard
Brandon Jensen
back following spring ball after he originally quit the team in December. That will help.
[+] Enlarge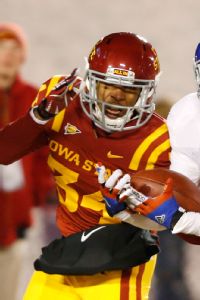 David Purdy/Getty ImagesNigel Tribune is solid at cornerback, but the rest of the Cyclones' secondary is in flux.
SLB: Drake Ferch (Sr.)
,
Jared Brackens
(Sr.)
MLB: Alton Meeks (RFr.)
,
Kane Seeley
(So.)
WLB: Jevohn Miller (Sr.)
,
Levi Peters
(So.)
Transfer
Jordan Harris
led the juco ranks in tackles last year, but Meeks, a former QB, won the starting job out of spring in the middle. Brackens and nickelback Ferch, a walk-on who also surprised this spring, will rotate on the strong side according to down and distance. When
Luke Knott
returns from a hip injury, he will likely take over as the starter on the weak side after winning the job last year as a freshman.
CB: Nigel Tribune (So.)
,
Matthew Thomas
(Sr.)
CB: Sam E. Richardson (Jr.)
,
Kenneth Lynn
(Jr.)
SS: T.J. Mutcherson (So.)
,
Darian Cotton
(Jr.)
FS: Kamari Cotton-Moya (RFr.)
,
Kamari Syrie
(RFr.)
Iowa State has a very good prospect in Tribune surrounded by a whole bunch of questions marks in its secondary. Richardson and Lynn will probably rotate on the opposite side. After losing starters
Deon Broomfield
and
Jacques Washington
, safety is a complete unknown, especially after key juco transfer Devron Moore left in the middle of spring ball after getting homesick (it's unknown if he'll return). Instead, Iowa State will be relying on one young safety coming back from a torn Achilles (Cotton-Moya), and another who sprained his MCL in the spring game (Mutcherson). Safety is a position the Cyclones can ill-afford any more adversity at.
May, 5, 2014
May 5
3:00
PM ET
With spring ball done, we're
re-examining and re-ranking the positional situations of every Big 12 team
, continuing Monday with defensive line. These outlooks will look different in August. But here's how we see them post-spring:
[+] Enlarge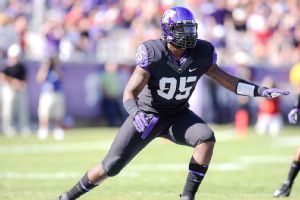 Jerome Miron/USA TODAY SportsWith a healthy and productive Devonte Fields this fall, TCU's defensive line could be an elite unit.
1. TCU (pre-spring ranking: 2):
Devonte Fields
appears to be back, which is a scary proposition for the rest of the Big 12. The 2012 Big 12 AP Defensive Player of the Year basically had a fruitless sophomore campaign, which ended with season-ending foot surgery. But this spring, defensive coordinator Dick Bumpas noted that Fields was making the plays he did as a freshman All-American. Even without Fields, this would be a good D-line, headlined by veteran tackles
Chucky Hunter
and
Davion Pierson
. But with Fields playing up to his potential, this line could be elite.
2. Oklahoma (1):
Not only did the Sooners return the entire line that destroyed Alabama in the Allstate Sugar Bowl, they've added three redshirt freshmen who are clamoring for playing time.
Charles Walker
is the most athletic tackle on the roster, and he ran the fastest tackle 40 time (4.67 seconds) of the Bob Stoops era. Tackle
Matt Romar
quietly emerged this spring and could be on the verge of taking away snaps from some of the veterans inside.
Ogbonnia Okoronkwo
showed this spring he's yet another Sooner capable of getting to the quarterback off the edge. There's a debate on the best D-line in the league. There's no debate on the deepest, with Oklahoma capable of going three-deep across the board.
3. Baylor (6):
Coach Art Briles believes he has one of the best defensive lines in the country, and there's reason to believe he might be right. The Bears made the biggest jump on this list, thanks to the development of end
Shawn Oakman
and emergence of tackle
Javonte Magee
. Briles called the 6-foot-9 Oakman "unblockable" during the spring. Oakman already flashed plenty of potential last season as a sophomore, finishing sixth in the league with 12.5 tackles for loss. Magee, who might be the most highly-touted high school defender Briles has ever signed, sat out his freshman season while dealing with a personal issue. But he established himself this spring and could beat out returning starter
Beau Blackshear
. With former four-star signee
Andrew Billings
(who played as a true freshman) also poised for a big year at the other tackle spot, Briles could indeed be proven correct in the fall.
4. Texas (3):
The Longhorns boast two of the league's blue-chip defensive linemen in end
Cedric Reed
and tackle
Malcom Brown
. But whether this unit rises to the top of the league will hinge on the supporting cast. If athletic end
Shiro Davis
and run-stuffing tackle
Desmond Jackson
play up to their potential, and the Longhorns can get a boost from incoming freshmen
Derick Roberson
and
Poona Ford
, this could be a foundational positional unit in Charlie Strong's first season.
5. Kansas State (4):
Like Texas, the Wildcats have two blue-chip pieces returning up front in All-Big 12 end
Ryan Mueller
and tackle
Travis Britz
. They're banking they'll soon be adding a third in
Terrell Clinkscales
, who will be arriving to Manhattan shortly. Clinkscales, whom the Wildcats snatched away from Nebraska, was the nation's No. 4-rated juco DT, and at 315 pounds, could be the run-stuffer K-State currently lacks.
6. Oklahoma State (5):
With so much turnover elsewhere, the Cowboys will be counting on their line to be their anchor defensively.
There's reason to believe it could be that and more.
Sam Wren
received votes for Big 12 Defensive Newcomer of the Year last season, while
Emmanuel Ogbah
garnered consideration for Big 12 Defensive Freshman of the Year. Throw in promising redshirt freshmen
Vili Leveni
,
Ben Hughes
and
Vincent Taylor
, who all showed signs this spring they might be ready to contribute, along with veterans
James Castleman
,
Ofa Hautau
and
Jimmy Bean
, and Oklahoma State could have the anchor up front it needs while the rest of the defense retools.
7. West Virginia (7):
This will probably be the weakest area of West Virginia defense, but with their talent at linebacker, the Mountaineers don't have to be great up front.
Dontrill Hyman
,
Christian Brown
and
Kyle Rose
are currently the starters coming out of the spring. But the player to watch up front is sophomore
Darrien Howard
, who rapidly progressed since having his redshirt pulled late in 2013. If Howard develops into an impact player, he could give the Mountaineers a huge jolt up front.
8. Texas Tech (9):
The Red Raiders tried to get by this spring while awaiting the horde of defensive line help set to arrive this summer. All told, the Red Raiders signed four juco D-linemen, only one of which –
Keland McElrath
-- enrolled early (McElrath was hobbled by a stress fracture all spring to boot). To be better up front, Tech, which ranked ninth in run defense last fall, will need at least a couple of its juco transfers to hit.
9. Kansas (10):
Keon Stowers
quietly has become as one of the better tackles in the league. He was the defensive MVP of Kansas' spring game after collecting eight tackles from his defensive tackle spot, and he was voted captain for a second straight year. Stowers and linebacker
Ben Heeney
will lead a defense that returns nine starters and could surprise after gaining confidence from playing Oklahoma and Texas tough last season.
10: Iowa State (8):
The Cyclones took it on the chin this spring, with projected D-line starters
Rodney Coe
and
David Irving
both getting kicked off the team. Iowa State got a boost shortly after spring ball ended when 2013 starting tackle
Brandon Jensen
changed his mind about leaving the team. The Cyclones should be solid at end with
Cory Morrissey
and
Mitchell Meyers
, but even with Jensen's return, interior line depth is a major concern.
April, 14, 2014
Apr 14
1:30
PM ET
Iowa State held its annual Cyclone Gridiron Club spring football game on Saturday. A recap of what happened:
[+] Enlarge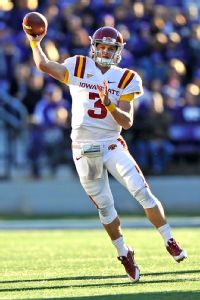 Peter G. Aiken/Getty ImagesAfter a solid spring game, Grant Rohach will head into the summer with an edge in Iowa State's QB competition.
Best offensive performance:
Quarterback
Grant Rohach
got the first turn with the first-team offense and he didn't disappoint. The sophomore completed 22 of 38 passes for 171 yards and led the Cyclones on three of their six scoring drives. He capped one of those with an 8-yard touchdown run. The quarterback competition with
Joel Lanning
and
Sam B. Richardson
isn't over yet. But Rohach will head into the summer with the edge.
Best defensive performance:
In a surprising performance given how many key players were missing, the first-team defense forced seven three-and-outs to begin the game and finished with 12 sacks, even though a defender only had to touch the quarterback to be credited with one. Still, it was a dominating charge led by ends
Cory Morrissey
and
Mitchell Meyers
, who each totaled four sacks apiece and were constantly wreaking havoc in the offense's backfield.
Best debut:
With junior college transfer
Devron Moore
out because of homesickness and
T.J. Mutcherson
suffering an MCL injury, the Cyclones have taken some hits at safety, where they already faced the task of replacing starters
Jacques Washington
and
Deon Broomfield
. But redshirt freshman
Kamari Syrie
had his moments on Saturday, including an interception off Rohach. Pending Moore's return and Mutcherson's recovery, Syrie could end up playing a big role in the Iowa State secondary in the fall.
Notable play:
Receiver
P.J. Harris
flashed his playmaking potential on Saturday. He took a quick hitch from Richardson on the right side, made a couple of defenders miss at the line of scrimmage, then galloped left across the field for an impressive first down. "[Harris] had the longest run of the day," coach Paul Rhoads said. "Eighty yards to gain 18, or whatever it was."
Developing storyline:
Eleven receivers caught at least one pass in the spring game. But
Quenton Bundrage
was not one of them. The Cyclones targeted Bundrage, who tied a single-season school record with nine touchdown catches last season, several times, but most of the attempts were badly overthrown. And the one that hit him in the hands, he dropped. The wind had something to do with the misfires. But there were times last season when Bundrage basically disappeared from the offense. Successfully getting him the ball down the field will be paramount for the Iowa State offense to meet its full potential in the fall.
Biggest question answered:
Whoever the quarterback turns out to be, he'll have the best array of weapons surrounding him that Iowa State has enjoyed in a long time. The 1-2 running back punch of
Aaron Wimberly
and
DeVondrick Nealy
looked sharp on Saturday as they rushed for 71 yards with an average of 5.5 yards per carry. Versatile tight end
E.J. Bibbs
and slot receiver
Jarvis West
each caught eight passes. Even backup receivers
Brett Medders
and Harris had nice outings. The Cyclones still have to settle on a quarterback. But otherwise, they appear stocked with playmakers.
Quotable:
"There comes a point that you really get concerned about timing and making sure the lead guy is getting the majority of those reps with those No. 1s. Whether I'll announce that in April, when we get through practice Wednesday, or we'll wait to see what happens in August. … you've got to remember, there's a lot of things that could happen in May, June and July leading up to August that could change things." -- Iowa State coach Paul Rhoads on the QB competition
April, 3, 2014
Apr 3
3:00
PM ET
We're almost done breaking down the 10 best players at the moment on every team in the Big 12.
These lists don't include junior college or freshman signees who haven't arrived on campus yet. Rather, they include only the players currently on their teams this spring. Some of these rankings might look different after the spring, but this is how we see them now.
Next up, the
Iowa State Cyclones
:

1. WR Quenton Bundrage:
Iowa State coach Paul Rhoads believes Bundrage can be an all-league wide receiver, something Iowa State hasn't had since Todd Blythe in 2005. Bundrage, who finished third in the Big 12 last season with nine touchdown catches, has the talent. He just needs a little more game-to-game consistency.
2. TE E.J. Bibbs:
With Texas Tech's
Jace Amaro
gone, Bibbs is the best returning pass-catching tight end in the league. Despite the lack of stability at quarterback, Bibbs still finished 15
th
nationally among tight ends in receiving and second in the Big 12, behind only Amaro.
3. C Tom Farniok:
With 35 career starts, Farniok is one of the most seasoned offensive linemen in the league. He struggled at times through injury last season, but is the undeniable leader of the offensive line and one of the better centers in the country when healthy.
4. RB Aaron Wimberly:
As Texas found out firsthand,
Wimberly can be electric when 100 percent. Unfortunately for the Cyclones he wasn't at that level for a very long span, as an assortment of injuries slowed Wimberly for most of the season. If the speedy, though slight, Wimberly can stay healthy, he has the ability to be one of the five best running backs in the league.
[+] Enlarge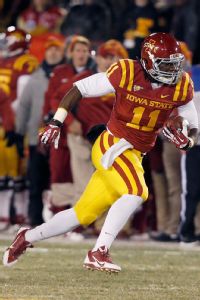 David K Purdy/Getty ImagesE.J. Bibbs is the Big 12's top returning tight end and could be primed for a big season.
5. DE Cory Morrissey:
With
Jeremiah George
and
Jacques Washington
gone, Morrissey has taken on more of a leadership role defensively this spring. Morrissey was an honorable mention All-Big 12 selection last season, and a very solid defender off the edge.
6. CB Nigel Tribune:
Tribune is the only Cyclone to play as a true freshman in either of the last two seasons. He got off to a rough start, but settled in the last half of the season. Tribune should give Iowa State a reliable primary cover corner for the next three seasons.
7. OT Jacob Gannon:
This rising senior has been a key piece of the Iowa State offensive line since his redshirt freshman year, with 12 career starts scattered over three seasons.
8. OT Brock Dagel:
Dagel's return is another big reason why the Cyclones are pumped about the potential of their offensive line. The 6-foot-8, 300-pound tackle won a starting job on the strong side as a sophomore and has a lot of potential. Teamed with Gannon, the Cyclones could wind up featuring one of the better bookend combos in the Big 12.
9. WR Jarvis West:
West has 71 career catches out of the slot and could see his role expand in new offensive coordinator Mark Mangino's no-huddle system. West also can be an dynamic return man. He produced Iowa State's first non-onside kickoff return touchdown in 19 years last season against Texas Tech.
10. RB DeVondrick Nealy:
Wimberly will be the featured running back but will have a competent wingman in Nealy, who rushed for 53 yards against Kansas State and 48 yards against Oklahoma late last season. Like West, Nealy is also dangerous on special teams. He was sixth in the Big 12 last year in kickoff returns, returning one for a touchdown in a narrow loss to TCU.
February, 24, 2014
Feb 24
3:00
PM ET
As we wait for the start of spring ball, we're examining and ranking the
positional situations of every team in the Big 12
, continuing Monday with defensive line. Some of these outlooks will look different after the spring. But here's how we see the defensive lines at the moment:
[+] Enlarge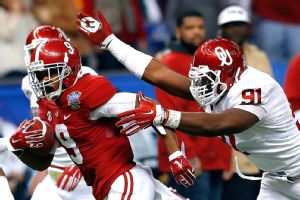 Kevin C. Cox/Getty ImagesOklahoma end Charles Tapper will lead the Big 12's best defensive line in 2014.
1. Oklahoma:
D-line began as a weakness but quickly turned into a strength under first-year position coach Jerry Montgomery. End
Charles Tapper
was an All-Big 12 selection as a sophomore, and tackle
Jordan Phillips
was on his way to earning similar honors before a back injury ended his season prematurely. Both players are back. So is
Geneo Grissom
, who had three sacks in the bowl win over Alabama. Nose guard
Jordan Wade
earned a starting role late in 2013, and
Chuka Ndulue
will be a starter for a third season. Basically, the entire rotation returns. If Phillips rebounds from the injury, this could prove to be Oklahoma's finest D-line since 2009, when NFL All-Pro
Gerald McCoy
roamed the middle.
2. TCU:
DE
Devonte Fields
, the Associated Press' Big 12 Defensive Player of the Year as a freshman in 2012, had an empty season in 2013 thanks to a suspension, then a season-ending foot injury. If Fields can return to the player he was, TCU will be formidable up front.
Chucky Hunter
was a second-team All-Big 12 pick inside last season, and he'll be flanked by an array of experienced tackles in
Davion Pierson
and
Tevin Lawson
, who were all part of the rotation last season. Ends
Terrell Lathan
,
James McFarland
and
Mike Tuaua
, who combined for 11 sacks in 2013, all return as well. Even with DT
Jon Lewis
giving up football, TCU's D-line figures to be as deep as any in the league.
3. Texas:
Cedric Reed
, one of the best sack men in the Big 12 last season, returns after giving the NFL a cursory thought. The Longhorns have to replace Big 12 co-Defensive Player of the Year
Jackson Jeffcoat
on the other side, but ESPN 300 recruit
Derick Roberson
, the No. 8 DE in the Class of 2014, could help right away. The Longhorns should also be stout inside, with run-stuffing tackles
Malcom Brown
and
Desmond Jackson
back to clog the middle.
4. Kansas State:
Ryan Mueller
, who was eighth nationally with 11.5 sacks last season, comes back after a breakout All-Big 12 season.
Travis Britz
is an all-conference-caliber tackle and gives K-State one of the better one-two punches on the D-line in the league. Joining them will be
Terrell Clinkscales
, who was the No. 4 junior college DT in the 2014 class. The Wildcats pried Clinkscales away from Nebraska, and at 315 pounds he could be the perfect complement to Britz, who relies more on quickness.
[+] Enlarge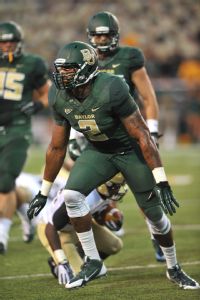 John Rivera/Icon SMIBaylor defensive end Shawn Oakman will play a bigger role next season.
5. Oklahoma State:
The Cowboys lose two-time All-Big 12 tackle
Calvin Barnett
.
James Castleman
, however, will be a three-year starter, and end
Jimmy Bean
had a career night in the Cotton Bowl with three tackles for loss. The key to the Cowboys fielding one of the better lines in the league again will be whether
Ben Hughes
,
Vincent Taylor
and/or
Vili Leveni
can emerge inside after redshirting in 2013. All three are promising prospects, especially Taylor, who was an ESPN 300 recruit in the 2013 class.
6. Baylor:
The Bears feature two of the more intriguing defensive linemen in the league. DE
Shawn Oakman
, a former Penn State transfer with tremendous length at 6-foot-9, finished sixth in the league with 12.5 tackles for loss last season, but he tailed off in Big 12 play. Baylor will ask him to play a much bigger role along the line, and he has the potential to give the Bears a unique playmaker there. On the inside, Baylor will lean more on
Andrew Billings
, who was part of the DT rotation as a freshman. If both Billings and Oakman play up to their vast potential, Baylor could be a handful up front.
7. West Virginia:
The Mountaineers lose two of three starters along the D-line, including second-team All-Big 12 end
Will Clarke
. West Virginia is hoping for big things from DE
Kyle Rose
, who played a lot as a sophomore.
Dontrill Hyman
will likely fill a starting role on the other side, though he could get pushed for time by
Eric Kinsey
and
Noble Nwachukwu
, who both will be in their third year in the program. The Mountaineers will lean on
Christian Brown
and
Darrien Howard
at nose guard. Howard was an ESPN 300 recruit last year and played as a freshman. There's some talent and potential here.
8. Iowa State:
Like Texas Tech, Iowa State loaded up on immediate defensive line help, signing three juco defensive ends in
Dalyou Pierson
,
Terry Ayeni
and
Gabe Luna
, who is enrolled already for spring ball. Those three together with All-Big 12 honorable-mention selection
Cory Morrissey
and sophomore
Mitchell Meyers
should give Iowa State a solid rotation at end.
Rodney Coe
, who started the last four games, will anchor the Cyclones inside.
9. Texas Tech:
The Red Raiders lose their two best defensive linemen in
Kerry Hyder
and
Dartwan Bush
, and Tech got pushed around up front anyway last season. Coach Kliff Kingsbury recognized this deficiency and signed four juco defensive linemen, all of whom have a chance to play immediately. Of the returning linemen,
Branden Jackson
was by far the most productive, totaling nine tackles for loss and four sacks as a starter.
10. Kansas:
Despite also losing two starters, the Jayhawks have experience up front. Defensive captain
Keon Stowers
is back after manning the middle in 2013.
Ben Goodman
returns as well in Kansas' "buck" role, and he is coming off a very solid sophomore season. Goodman's backup,
Michael Reynolds
, and rotation players
Tedarian Johnson
and
Ty McKinney
give the Jayhawks depth.
November, 18, 2013
11/18/13
3:00
PM ET
Here are the Big 12's unsung heroes for Week 12:
Baylor running back Devin Chafin:
Where do the Bears keep finding these running backs? Chafin finished with 11 carries for 100 yards, 9.1 yards per carry, and two touchdowns, all career-highs. He allowed the Bears to sub out
Shock Linwood
without a drop-off in production in BU's 63-34 win over Texas Tech.
[+] Enlarge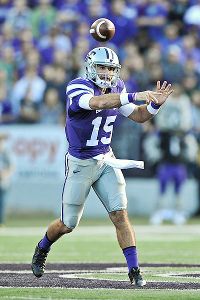 Peter G. Aiken/Getty ImagesKansas State QB Jake Waters didn't have huge numbers, but he made key plays to help beat West Virginia.
Kansas linebacker Ben Goodman:
Goodman was outstanding as Kansas snapped its 27-game Big 12 losing streak with a 31-19 win over West Virginia. He had six solo tackles, two tackles for loss, one sack and one interception, which was key as the Mountaineers were driving early in the third quarter. He showed the athleticism and hops normally seen on the Allen Fieldhouse floor on his momentum-changing interception.
Kansas State quarterback Jake Waters:
He didn't finish with great numbers but led the Wildcats on a game-winning drive in the final two minutes, finding
Curry Sexton
and
Tyler Lockett
on key connections to set up Jack Cantele's game-winning 41-yard field goal. Waters finished 10 of 24 for 234 yards, two touchdowns and one interception but stepped up to make key plays in key moments.
Iowa State defensive end Cory Morrissey:
Defensive teammates
Jacques Washington
and
Jeremiah George
sat atop the tackles list in the Cyclones' 48-10 loss to Oklahoma, but Morrissey was solid with five tackles and one tackle for loss. It was his fifth time recording at least five tackles this season.
Oklahoma receiver Jalen Saunders:
The Sooners' running game was the star, but Saunders sparked OU's 48-10 win with a 91-yard punt return for a touchdown right before halftime. The slippery senior didn't have a major impact in the passing game (three receptions for 15 yards), but his actual impact on the outcome was as big as quarterback
Trevor Knight
and running back
Damien Williams
, who each rushed for more than 100 yards in the win.
Oklahoma State receiver Charlie Moore:
The senior was very productive in the Cowboys' 38-13 win over Texas. He caught six of seven targets for 83 yards and one touchdown. With OSU's top receiver,
Josh Stewart
, out due to injury, Moore provided a quality receiving option for
Clint Chelf
in the victory with his season high in receptions and receiving yards.
Texas safety Mykkele Thompson:
The junior led UT with six solo tackles (seven total) and one interception in the Longhorns' 38-10 loss to OSU. His effort was one of the few bright spots in a disappointing home loss to the Cowboys as Thompson recorded a season-high in solo tackles.
TCU safety Derrick Kindred:
The sophomore continues to play at a high level while emerging as another option in the Horned Frogs' secondary. He led the squad with eight solo tackles in TCU's 33-31 loss to Kansas State. He has 17 tackles in the past two games.
Texas Tech cornerback Justis Nelson:
Talk about thrown into the fire. Nelson earned his first collegiate start against the explosive Baylor offense and held up well despite his team's 63-34 loss. The true freshman showed signs he might emerge as an critical part of the Red Raiders' defense of the future with five solo tackles and three pass breakups.
West Virginia linebacker Nick Kwiatkoski:
The Mountaineers linebacker contributed to a turnover for the third straight game. After grabbing interceptions in his squad's previous two outings, Kwiatkoski had eight tackles, including six solo stops, 1.5 tackles for loss and one fumble recovery in the 31-19 loss to KU.
BIG 12 SCOREBOARD
Friday, 12/26
Saturday, 12/20
Monday, 12/22
Tuesday, 12/23
Wednesday, 12/24
Saturday, 12/27
Monday, 12/29
Tuesday, 12/30
Wednesday, 12/31
Thursday, 1/1
Friday, 1/2
Saturday, 1/3
Sunday, 1/4
Monday, 1/12
Tweets from https://twitter.com/ESPNCFB/lists/big12