January, 4, 2014
Jan 4
2:49
AM ET
ARLINGTON, Texas -- Missouri players sat and watched the Allstate Sugar Bowl with the bewildered feeling the rest of the nation was experiencing. Oklahoma was imposing its will on SEC power Alabama in the heart of SEC country, going from underdog to the talk of the nation on Thursday night.
"It was crazy, it came down to what team wanted it most," Missouri receiver
Dorial Green-Beckham
said of the Sooners' 45-31 win. "You looked at Oklahoma and they wanted to win the game, they wanted to be Sugar Bowl champs, they went out and took what was theirs."
Thus, Missouri players woke up on Friday morning with the knowledge that the weight of an entire conference was on their shoulders. Missouri needed to grab immediate revenge with a victory over Oklahoma State in the AT&T Cotton Bowl if it wanted to defend its conference's reputation.
The SEC took a punch from the Big 12 in the Sugar Bowl, but the Tigers punched back Friday night with a 41-31 win over Big 12 foe Oklahoma State at AT&T Stadium.
[+] Enlarge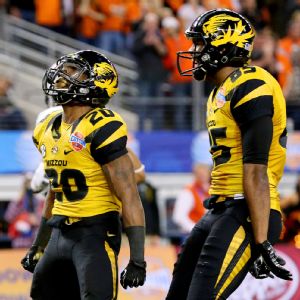 Ronald Martinez/Getty ImagesMissouri might be new to the SEC, but the Tigers understood the importance of beating Oklahoma State and keeping the conference's rep.
"I did feel a tad bit of pressure, because I know we represent the SEC," senior receiver
L'Damian Washington
said. "I think [OSU cornerback]
Justin Gilbert
made a statement earlier this week that the Big 12 was better than the SEC and I think we had to go out and prove the SEC is a force to be reckoned with."
The Tigers used a combination of a relentless pass-rushing defensive line, strong running game and timely plays to earn their school record-tying 12th victory of the season, equaling the win total of the 2007 team.
Led by Cotton Bowl offensive MVP
Henry Josey
, Missouri rushed for 256 yards and averaged 5.4 yards per carry against a Cowboys' defense that allowed 132.9 rushing yards and 3.46 per carry during the regular season. OSU quarterback
Clint Chelf
will have nightmares featuring Tigers pass-rushing duo
Michael Sam
and
Kony Ealy
. Missouri got to Chelf for three sacks, but the Cowboys quarterback was constantly flushed out of the pocket and forced to make plays on the move thanks to the Tigers defensive line, which cemented the win when Sam forced a Chelf fumble that was returned 73 yards for a touchdown by
Shane Ray
to halt OSU's hopes of a game-winning touchdown in the final minutes.
"First-team All-American makes an All-American play," Mizzou coach Gary Pinkel said.
SEC teams rejoiced as the conference escaped back-to-back losses to Big 12 opponents.
"We believe we're the best conference," said
Andrew Wilson
, who finished with a game-high 15 tackles. "And if you want to be the best conference you have to prove it, that's why everyone is rooting for each other in these bowl games for everyone to go out and do what they can do."
Make no mistake, the Tigers wanted the win for themselves, but they also wanted it for their conference.
"That's something real big, representing the SEC," Josey said. "The SEC is such a powerful conference, that's the conference everybody looks to, that's where the attention is. Coming into this game, that was in the back of our mind, that is always in the back of our mind that we had to hold up the rep for the SEC."
Now, with its job done, Missouri passes the mantle to Auburn, which has the opportunity to win the eighth consecutive BCS title for the SEC when it takes on Florida State in the BCS National Championship on Monday night.
"Right now it's up to Auburn to bring it home," Ealy said. "We want to keep it in the SEC, that's the most important thing as far as this conference goes."
January, 4, 2014
Jan 4
12:57
AM ET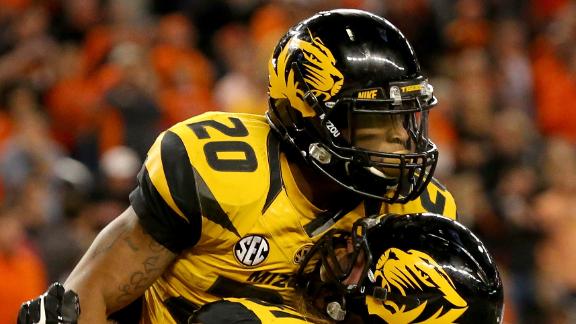 ARLINGTON, Texas -- Missouri sent a message for the SEC with a 41-31 win over Oklahoma State in the AT&T Cotton Bowl on Friday Night at AT&T Stadium. Here's how it happened.


It was over when:
Missouri defensive lineman
Shane Ray
returned a fumble 73 yards for a touchdown. Oklahoma State was driving to try to take the lead or tie the game in the final minutes when Missouri's
Michael Sam
stripped OSU quarterback
Clint Chelf
of the ball, which Ray picked up for the scoop and score.
How the game was won:
After Oklahoma State drove down to take the lead late in the fourth quarter, Missouri responded on its next drive to score the game-winning points.
James Franklin
led the Tigers down the field to jump right back on top after running back
Henry Josey
's 16-yard touchdown run made the score 34-31 with 3:08 remaining. Josey's touchdown capped off a 7-play, 69-yard drive and gave the Tigers a lead they wouldn't relinquish.
Turning point:
Missouri receiver
Dorial Green-Beckham
made a key 27-yard catch on the Tigers' final drive on 3rd-and-9 from the OSU 43-yard line. Green-Beckham used his size and ball skills to outfight OSU's
Tyler Patmon
for the key third down conversion. Josey rumbled 16 yards for the game-deciding touchdown on the next play.
Stat of the game:
256. Mizzou ran for 256 yards on the Cowboys, averaging 5.4 yards per carry. Josey was shifty and solid while backup quarterback
Maty Mauk
was explosive with three carries for 73 yards in spot duty. OSU simply didn't have an answer for Missouri's running game, particularly when it needed one in the fourth quarter.
Player of the game:
Josey. He didn't have outstanding numbers, but his quickness and cutback ability gave OSU's defense fits. He finished with 12 carries for 92 yards and three touchdowns, averaging 7.7 yards per carry.
What it means for Oklahoma State:
The Cowboys end the season with back-to-back disappointing losses after falling to the Tigers in the Cotton Bowl and losing to Oklahoma in their regular-season finale. OSU heads into the offseason with very little momentum and looking to replace several starters while opening the 2014 season with Florida State.
What it means for Missouri:
The Tigers rebounded well from their SEC championship loss to Auburn. Missouri finishes 12-2 with the Cotton Bowl victory and will head into 2014 with plenty of confidence and momentum.
January, 4, 2014
Jan 4
12:40
AM ET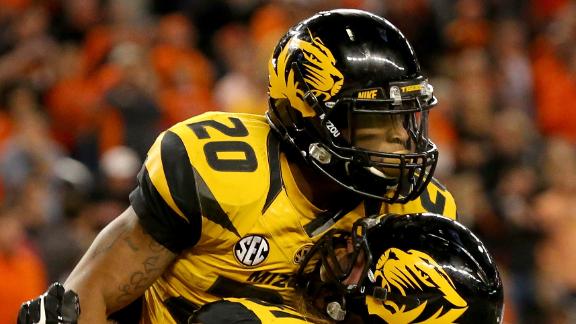 ARLINGTON, Texas -- No matter what Oklahoma coach Bob Stoops tells you, the Big 12 is not up to the SEC's level. Not yet, anyway. But the conference isn't as far off as the experts thought when the season began, either.
[+] Enlarge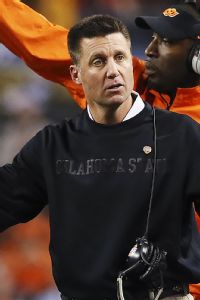 Kevin Jairaj/USA TODAY SportsMike Gundy watched as Missouri narrowly escaped Friday night.
Missouri ended Oklahoma State's hopes of becoming the second Big 12 team to knock off an SEC team in two nights Friday. The Cowboys watched as defensive end
Shane Ray
scooped up a late-game fumble and rumbled 73 yards for the touchdown that sealed Missouri's 41-31 win in the AT&T Cotton Bowl.
It was a back-and-forth fourth quarter between two of the better offenses in the country, and it ended with the SEC team making a key play late to ensure the victory.
Just six years ago, Missouri was winning the Cotton Bowl as a member of the Big 12. You can take Missouri's success this season -- an East Division title and a spot in the SEC championship game -- and Texas A&M's status as a top-flight program as a slap to the Big 12, since the Tigers and Aggies left the conference for the greener (think dollars) pastures of the SEC two years ago. But there's another way of looking at it: Perhaps the Big 12 was better than many thought, since both programs are competing for titles in the best conference in the country so quickly.
It's clear the Big 12 needs the
Texas Longhorns
to return to prominence for this league to consistently compete for national titles as the SEC continues to do. But Auburn is proof that a big program with resources, talent and the right coach can engineer a turnaround in record time. There's no reason to think Texas can't rebound quickly, either.
I know what you're thinking: If the biggest school in your conference is making news by looking for a new coach fresh off a tumultuous season -- and having some trouble finding some big names who want to actually take the job -- how can 2013 be considered a step forward for said conference?
But to judge this Big 12 season on Texas' failure isn't completely fair. How quickly we forget that nobody expected much from this conference when the season began.
The preseason AP top 25 included four Big 12 teams. None of them were in the top 10. The highest-ranked team was Oklahoma State, at No. 13. Texas was a sleeper pick by some for a run to the national title game. Instead, the Longhorns sputtered, fired their defensive coordinator and waved goodbye to head coach Mack Brown after a blowout loss to Oregon in the Alamo Bowl.
TCU, ranked 20th when the season began, was supposed to be primed for conference championship contention with a bunch of returning starters. But injuries and an ineffective offense led to the end of the school's bowl streak and the hiring of a couple of new offensive coaches.
Baylor wasn't even in the top 25 when the season began, but sprinted up the rankings about as quickly as it scored points. The Bears got rid of the tarps and became the conference's best chance for a BCS title-game appearance, but that run ended in a blowout loss to Oklahoma State in Stillwater.
[+] Enlarge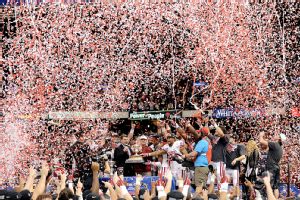 Stacy Revere/Getty ImagesOklahoma's win over Alabama gave the Big 12 a boost.
Oklahoma rebounded from an injury-plagued 2012 to get back to a BCS bowl. But a loss to Texas at the Cotton Bowl in October slowed its rise, and Baylor ended any long-shot title-game discussion with a 41-12 trouncing.
The conference did manage a few bowl wins that could be building blocks toward next season. Texas Tech came into the Holiday Bowl as a huge underdog after losing its final five regular-season games. But the Red Raiders beat up Arizona State. Kansas State outplayed Michigan in the Buffalo Wild Wings Bowl. It hurt that Baylor lost as a heavy favorite to Central Florida in the Fiesta, but that might say more about the Knights and how good they were than it does about the Bears. Oklahoma made the biggest statement, pulling the shocker of the bowl season with a Sugar Bowl win over Alabama on Thursday. With Texas down, the Sooners needed to step up for the conference -- and did against a team that many thought was the best in the country despite losing to Auburn in the Iron Bowl.
In the end, the conference held its own during bowl season. Monday night will be another reminder that the Big 12 has work to do as the SEC plays for an eighth consecutive national title against an undefeated Florida State team from the ACC.
It wasn't that long ago that Texas and Oklahoma were playing for national titles -- and even winning some of them. There's still work to do, but the Big 12 isn't far from having that opportunity again.
January, 3, 2014
Jan 3
5:30
PM ET
Oklahoma State can make up for losing out on a Big 12 title with a marquee win over a former conference foe Friday, when the No. 13 Cowboys meet No. 8 Missouri in the AT&T Cotton Bowl at AT&T Stadium in Arlington. Three things the Pokes much do to pick up the 11th win:


1. Attack Missouri's run defense:
You saw what
Tre Mason
did to this defense last month, right? The Auburn back became a Heisman finalist thanks to his domination of this Mizzou front (46 carries, 304 yards, 4 TDs). OSU can have similar success but will need contributions from several backs, including
Desmond Roland
,
Jeremy Smith
and maybe even
Kye Staley
. And don't forget
Clint Chelf
, who's capable of breaking big runs off the zone read. The Pokes need all hands on deck to get their run game going and attack a defense that, prior to the SEC title game, was holding teams to 119 rush yards per game.
2. Protect Chelf:
Nobody needs a month of preparation to know that Missouri's
Michael Sam
and the rest of the Tigers' defensive line are a disruptive, problematic unit. Missouri ranked among the top 15 nationally in sacks with 38 this season and is more than capable of getting to Oklahoma State's senior quarterback. His offensive line must protect their passer and preserve their tempo against what should be a great challenge.
3. Get those pistols firing:
The best we've seen Oklahoma State this season was when Baylor came to Stillwater on Nov. 23. The Cowboys came out firing, attacking the Bears' defense like nobody had before and stifling
Bryce Petty
. The momentum built and a 14-3 halftime lead quickly became 35-3. Mike Gundy broke out a few trick plays, but the rest was no fluke. Oklahoma State needs to be the aggressor and regain that confidence tonight.
January, 3, 2014
Jan 3
2:00
PM ET
The last time Oklahoma State played a Missouri team ranked this high, it was hardly the Oklahoma State it is now.
Sure, the Cowboys already had mega-booster Boone Pickens' money and facilities that would become the envy of the Big 12 were being erected.
But Oklahoma State hadn't yet achieved the success on the field to back any of that up.
[+] Enlarge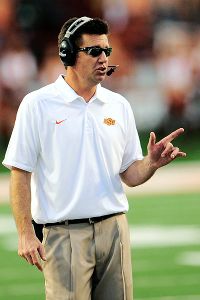 Stacy Revere/Getty ImagesSince a 2008 win over then-No. 3 Missouri, Mike Gundy's Cowboys have won the Big 12 and been a fixture in the top 15 of the rankings.
In Friday's AT&T Cotton Bowl, the No. 13 Cowboys and eighth-ranked Tigers will meet in a rematch of old Big 12 rivals. And it was the trip to Missouri in 2008 that proved to be Oklahoma State's turning point.
"It was a big win for our program," Cowboys coach Mike Gundy said.
When Gundy took over Oklahoma State in 2005, the program endured some growing pains. The Cowboys went 4-7 that first season. The following two years, Oklahoma State couldn't get over the hump, either, settling for back-to-back 7-6 seasons.
But after an easy start to the 2008 schedule, the Pokes traveled to Missouri on Oct. 11 with a 5-0 record.
By then, the Tigers were well over the hump.
The Tigers climbed all the way to a No. 1 ranking in 2007, before falling to Oklahoma in the Big 12 championship game. With Heisman finalist Chase Daniel and a host of other key players back, the Tigers were a title contender again in 2008. And when Oklahoma State came to town, Missouri was ranked third in the country.
"We didn't really know what we had," said Zac Robinson, Oklahoma State's quarterback then and a member of Gundy's first recruiting class.
What the Cowboys had was the first of many prolific offenses. Kendall Hunter would become an All-Big 12 running back. Dez Bryant was about to become a superstar wide receiver. The offense had other future pros such as tight end Brandon Pettigrew and left tackle Russell Okung.
And in Columbia, it finally came together.
Earlier that same day, top-ranked Oklahoma had lost to Texas. Second-ranked Alabama had the week off. The Tigers were primed to jump back into the No. 1 spot. Instead, it was Oklahoma State that would begin climbing the polls.
The Tigers had the nation's second-highest scoring offense, and on their first possession, marched right down the field to open with a lead.
"I remember thinking, 'Oh great,'" Gundy recalled.
But after that, the Oklahoma State defense bucked up, and gave up only one more score the rest of the half, as the Cowboys went into halftime trailing just 10-7.
"Missouri's offense hadn't had a three-and-out all season," Robinson said. "Our defense really stepped up."
Then in the third quarter, the offense stepped up. And Hunter delivered the biggest play yet of the Gundy era.
A minute into the half, Hunter took a pitch from Robinson to the right, bounced off a tackler, then bounded 58 yards down the sideline for a touchdown.
"After that, you could tell guys believed we were going to win that game," Robinson said. "It was a huge boost."
Twice, Robinson found wideout Damien Davis downfield for long touchdown bombs, as Oklahoma State jumped to a two-score lead before holding on, 28-23.
"It was a really big win for us on a big stage that gave our players some evidence we can do this," Gundy said. "You have to win one to make people think you can do it, and I think that was a big game for our university and for our program."
It gave the program just its second 6-0 start in 63 years. And the players the faith they could compete with the best in college football on the biggest stages.
"It was a big moment," said former receiver Bo Bowling, who hauled in two first-down grabs from Robinson that game. "Nobody really remembers that game now, but that win really catapulted the program. Really helped bring Oklahoma State to where it is now."
The Cowboys have come miles since that game.
Following the Missouri win, Oklahoma State jumped to eighth in the polls, and has been a fixture in the top 15 of the rankings ever since. After going 18-19 in Gundy's first three seasons, Oklahoma State has compiled a record of 59-18 over his past six. That record includes many other big wins. The Cowboys defeated Oklahoma in 2011 for the school's first Big 12 championship. They have beaten Texas their past three trips to Austin.
Yet all of that success traces back to Missouri -- Gundy's first building-block win.
"When I look back at my career, there's no doubt that was the biggest game in terms of putting the program on the map," Robinson said. "Everyone realized after that we were a legitimate contender.
"It changed the program."
January, 3, 2014
Jan 3
11:00
AM ET
In case you didn't know, Friday's AT&T Cotton Bowl matchup between No. 8 Missouri (11-2, 7-1 SEC) and 13th-ranked Oklahoma State (10-2, 7-2 Big 12) is a bit of a reunion.


Oklahoma State, proud members of the Big 12, will meet their old brothers who jumped ship for the SEC in 2012.
While a big deal has been made of Friday's meeting and its backstory, Missouri defensive end
Michael Sam
isn't moved by it. He's actually bored of it.
"I don't really care," Sam said. "We used to be in the Big 12; we're not any more. I think the media is blowing it way out of proportion. I could care less."
Sam might be on to something, but it is pretty cool when you think about the last two Cotton Bowls. This year, it's Mizzou-Oklahoma State. Last year, it was Texas A&M-Oklahoma.
Rematches of games that once had conference stakes on the line now feature bragging rights and even traitor talk in some circles. There are even whispers in Big 12 country that the Tigers ran away from their old league.
So while Sam might not care about the old Big 12 matchup, it does create an interesting storyline, and he'd be crazy to think that no one else in this game isn't intrigued by that aspect of the game.
"It is just a great opportunity to play a great Missouri team; they were in the Big 12, so it is a little rivalry there," Oklahoma State wide receiver
Charlie Moore
said. "You always want to play the best and always fun to play the SEC. It is going to be a good game no matter what conference they are in and it is fun to be in the Cotton Bowl."
[+] Enlarge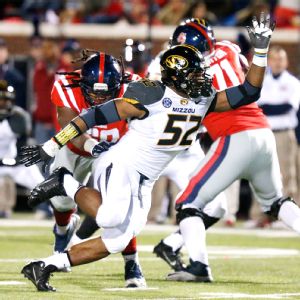 AP Photo/Rogelio V. SolisMichael Sam is tired of the Missouri vs. Big 12 storyline, but is eager to show the Tigers defense is better than it showed against Auburn.
And, like the Big 12 that Mizzou was used to, this one has the makings of being an old-fashioned shootout in the heart of Texas.
A year removed from an injury-plagued first season in the SEC, the Tigers bit back with one of the SEC's most potent offenses. Mizzou finished the regular season ranking in the top five in the league in passing offense, rushing offense, total offense and scoring. The Tigers went from averaging 356.4 yards a game and 25.8 points in 2012 to 492.9 yards and 39 points in 2013.
The Tigers also went from missing a bowl game to winning the SEC Eastern Division, beating Florida and Georgia and ranking as high as fifth in the BCS standings along the way. If they had beaten Auburn in the SEC championship game, these Tigers would be out in sunny California for the VIZIO BCS National Championship.
On the other side, the Cowboys are averaging 440.5 yards per game with an offense that features some "Air Raid," three-back and pistol. They'll throw in some zone-read just to make things interesting.
Sam said he's excited about facing Oklahoma State's passing game, which averages 268.5 yards per game. The Tigers ranked 13th in the SEC in pass defense (256 yards per game), but Sam made it clear that this defense hasn't had an issue defending the pass all season.
"We've never struggled stopping the pass," Sam said confidently. "We want to stop the run so they can be forced to pass. We hope they pass all night, to be honest with you."
Mizzou has 18 interceptions and has given up 16 passing touchdowns. But in games away from Faurot Field, the Tigers gave up 270.7 passing yards per game and quarterbacks enjoyed a combined efficiency rating of 129.3.
Oklahoma State quarterback
Clint Chelf
has thrown for 200 or more yards in four of his past five games and has 11 touchdowns to four interceptions.
"It definitely takes you back, so I am excited to see the ball in the air a little bit more than the SEC does," cornerback
E.J. Gaines
said.
Regardless of how the Cowboys approach their offensive plan, this is a chance for Mizzou to show the country that its defense is still worthy of being called a solid unit. Before surrounding 677 yards to Auburn (545 rushing), Missouri held opponents to fewer than 400 yards in five of the previous six games. After being gashed by Auburn, the perception is that the Tigers aren't as steady on defense as they once appeared.
"We've been a great defense all season," Sam said. "We had one bad game and I don't think that should define our season."
What will help define this season is the outcome of tonight's game. A victory would serve as more validation that the new kids deserve their seat at the SEC's big-kid table.
"The win would just prove that we belong in the SEC and we should be respected by everyone in that conference," Sam said. "... I think we earned a lot of respect from our conference, [and a victory would] show we belong where we are and we are one of the best in the country."
January, 3, 2014
Jan 3
10:00
AM ET
Oklahoma State will want to strike another blow for the Big 12, Missouri will want to defend the SEC's reputation. It should be a good one.


OSU and Missouri battle in the AT&T Cotton Bowl (7:30 pm ET, FOX) on Friday night at AT&T Stadium in Arlington, Texas. Here's a preview of one of the most evenly matched games of this bowl season.
Who to Watch:
Missouri defensive end
Michael Sam
. Look out
Clint Chelf
, Sam is coming for you and he's been a terror for opposing offenses throughout the year. He led the SEC with 10.5 sacks and 18.5 tackles for loss. The senior brings a combination of acceleration and athleticism to the table that is very difficult for offenses to stop. If OSU has any hope to win, it can't let Sam spend his holiday season in the backfield in hot pursuit of Chelf, the Cowboys quarterback, and OSU's running backs.
What to Watch:
The interior lines. Missouri has a strong group in the trenches, and OSU's success has mirrored its ability to control the line of scrimmage. Whoever wins the battle of the big fellas will probably win the game. Both teams have very talented skill players, like OSU receiver
Josh Stewart
and Missouri running back
Henry Josey
, who can make plays if given the chance. How do you take those explosive players out of the equation? Win the battle up front.
Why to Watch:
The matchup between OSU cornerback
Justin Gilbert
and Mizzou receiver
Dorial Green-Beckham
is one reason. The battle between former Big 12 foes is another. These two teams know each other better than the normal bowl matchup, and the Cowboys will be looking to strike another blow for the Big 12 after Oklahoma's Sugar Bowl win, while the Tigers will be looking to redeem the SEC. The Sooners' win over Alabama could very well ramp up the intensity in this one.
Prediction:
Oklahoma State 35, Missouri 34. The Cowboys prevail in one of the best games of the bowl season. Neither team dominates in the trenches, so this one is decided by turnovers and key plays on special teams. A late turnover by the Tigers helps OSU score a late touchdown to snatch the victory out of the hands of their former conference rival.
January, 2, 2014
Jan 2
1:00
PM ET
Their collegiate careers have taken similar paths.
They stepped on campus as raw athletes with unique talent, they flashed that ability as true freshmen and they began to turn their potential into production as sophomores.
[+] Enlarge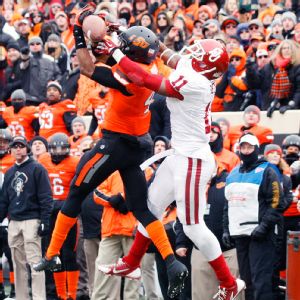 J.P. Wilson/Icon SMIAfter a down season in 2012, Justin Gilbert was a Thorpe finalist this season.
Oklahoma State cornerback
Justin Gilbert
and Missouri receiver
Dorial Green-Beckham
are two of college football's toughest individual matchups. And they'll battle each other on Friday in the AT&T Cotton Bowl.
Gilbert, a senior, is projected to be a first round NFL draft pick after a stellar final season for the Cowboys. Green-Beckham, a sophomore, will play on Sundays someday and ranks No. 6 on ESPN.com's list of
top 25 non-eligible NFL prospects ($)
in college football.
The Cotton Bowl provides Gilbert one last opportunity against an NFL-level talent in Green-Beckham after a disappointing junior year. He was a star as a sophomore and looked like a guy who would be NFL-bound when he initially arrived at OSU but the struggles in 2012 led to his return for his final season.
"I felt I owed this team a lot more than I gave them last year," Gilbert said. "During the season last year Coach [Mike] Gundy brought me in and had a little talk about the production I wasn't having and how they expected more out of me and they knew what I could do."
Gilbert took those words to heart, becoming one of the nation's best cornerbacks and a finalist for the Thorpe Award, which is given to the nation's top defensive back. Gilbert's stellar play has made OSU defensive coordinator Glenn Spencer's job easier during his first year running the Cowboys' defense. For opposing receivers, Gilbert has been like the fly you can't get rid, keeps showing up at the most inopportune times and making life much more unpleasant than it should be.
"I've asked him to do some more difficult things this year than I have in the past, played more aggressive out there on the corner, some stuff schematically we've never done here at Oklahoma State before," Spencer said. "I would not have been able to do those things if it wasn't for [Gilbert]."
Now Gilbert faces one of his most difficult tests in his final college game. Green-Beckham, also known as DGB, was the No. 3 player in the ESPN 300 for the Class of 2012. At 6-foot-6, 225 pounds, DGB combines the size of a tight end with the speed and athleticism of a man half his size. In the SEC title game against Auburn, Green-Beckham had six receptions for 144 yards and two touchdowns. He gave SEC defensive coordinators nightmares with 55 receptions for 830 yards and 12 touchdowns this year, taking a clear step forward during his second collegiate season.
"It's just being comfortable really," he said of his improvement. "Looking at last year's season [I had] that freshman mind, but this year I felt like I came out here and used last year as more of an experience to come out here and play a lot harder."
Fortunately for the Cowboys, Gilbert seems to rise to the occasion against the best. He battled NFL top-10 pick Justin Blackmon in practice during his first two years in Stillwater and won his share of those one-on-one battles. As a sophomore, he had picks against future NFL starting quarterbacks Ryan Tannehill, Robert Griffin III and Andrew Luck.
If the Cowboys hope to knock off the Tigers, Gilbert will have to play a major role in slowing DGB and the Missouri passing game.
"Justin has gotten the national accolades and well-deserved," Spencer said. "He's in a [high] profile position, is going to get tested many times during the bowl game."
December, 17, 2013
12/17/13
2:00
PM ET
By
ESPN.com staff
| ESPN.com


Andrea Adelson talks to Oklahoma State cornerback Justin Gilbert about his success this season, and what he is looking forward to in the bowl game against old Big 12 rival Missouri.
December, 8, 2013
12/08/13
11:10
PM ET
Jan. 3, 7:30 p.m. ET, Arlington, Texas (FOX)
OKLAHOMA STATE COWBOYS BREAKDOWN
Oklahoma State was one game away from its second Big 12 title and BCS bowl berth in three years. Problem for the Cowboys, that one game was the one they seemingly never can win.
The Cowboys will head to the AT&T Cotton Bowl with a sour taste after losing to Oklahoma for the 10th time in 11 years, spoiling what otherwise was a strong regular season.
[+] Enlarge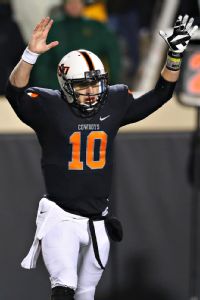 Ronald Martinez/Getty ImagesOklahoma State's offensive effectiveness tends to depend on how quarterback Clint Chelf is playing.
Oklahoma State, which has already totaled double-digit wins for the third time in four seasons, hammered Big 12 champ Baylor by 32 points, a week after rolling Texas by 25 on the road.
The Cowboys boast the best defense they've had under coach Mike Gundy. They lead the Big 12 in scoring defense, turnovers forced, red zone efficiency and several "Next Level" stats such as points allowed per drive. The defense is also deep and experienced, with seven senior starters and a standout at every level:
Calvin Barnett
at tackle,
Caleb Lavey
at linebacker and
Justin Gilbert
at cornerback.
On the other side of the ball, the Cowboys aren't quite as explosive offensively as they've been in the past, but they can still put up points.
Desmond Roland
is a tough, one-cut running back, and the receiving corps is deep and talented, headlined by versatile playmaker
Josh Stewart
.
The offense, however, is usually only as good as quarterback
Clint Chelf
is. Chelf had the highest QBR of any signal-caller in the month of November, and as a result, Oklahoma State smoked Texas Tech, Texas and Baylor.
But in the cold of Bedlam, he struggled with his accuracy for most of the game, and in turn, the offense bogged down, which allowed the underdog Sooners to hang around.
-- Jake Trotter

vs.

MISSOURI TIGERS BREAKDOWN
Give Gary Pinkel his due. Missouri's veteran coach never pushed the panic button after the Tigers' SEC debut a year ago produced a disappointing 5-7 season. His message all offseason was the same. Pinkel was confident Missouri would be better in Year No. 2, and he wasn't blindsided by anything the Tigers faced in their first season in the SEC.
[+] Enlarge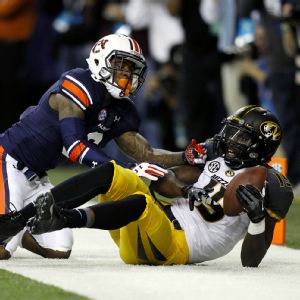 Brett Davis/USA TODAY SportsDorial Green-Beckham leads a sizable group of Missouri receivers who are major threats in the red zone.
He obviously knew what he was talking about because Missouri bounced back in a big way by winning 11 games and earning a trip to the SEC championship game. The Tigers enter the postseason on a bit of a downer after losing 59-42 on Saturday to Auburn in the SEC championship game. Missouri had no answers for Auburn's running game and was shredded for 545 yards on the ground, but that was the exception this season.
The Tigers entered that game ranked second in the SEC against the run and hadn't given up more than 21 points in regulation in their last six games.
Whereas Missouri was decimated by injuries a year ago, the Tigers stayed relatively healthy this season. The notable exception was at quarterback. Senior
James Franklin
separated his shoulder against Georgia in the sixth game and missed most of the next four games. Redshirt freshman
Maty Mauk
stepped in and helped keep the Tigers in the SEC East race, and then Franklin returned against Ole Miss in the next-to-last regular-season game to finish the deal.
Franklin should be as healthy as he's been since injuring his shoulder in the bowl game. Despite missing parts of five games, Franklin still passed for 2,255 yards and 19 touchdowns and rushed for 474 yards and four touchdowns. The Tigers scored more than 30 points in 10 of their 13 games and were one of the most balanced offensive teams in the SEC.
Senior running back
Henry Josey
rushed for 1,074 yards and 13 touchdowns and averaged 6.6 yards per carry. Three different receivers had more than 45 catches, with
Dorial Green-Beckham
and
L'Damian Washington
each surpassing 800 receiving yards. Green-Beckham, the No. 1 high school prospect in the country two years ago, caught 12 touchdown passes and Washington caught 10.
The Missouri receivers all pose difficult matchups for opposing defenses because of their size and athleticism. Green-Beckham is 6-foot-6 and Washington 6-4, and they both are excellent at going up and wrestling defensive backs for jump balls.
-- Chris Low