September, 2, 2011
9/02/11
2:00
PM ET
By
ESPN.com staff
| ESPN.com
Thanks for all the emails, everyone. I'm in Waco, Texas, for tonight's game between TCU and Baylor, so I'll be checking in from Floyd Casey Stadium shortly.
I. Am. Excited. ESPN, 8 p.m. ET and right here on the blog all night. See you there.
Matt in Bemidji, Minn., asked:
Dave, i'm a Husker fan up here in the Great White North. I miss reading your blog, i really enjoyed your coverage even when i disagreed with you (which wasn't often). As someone with a lot more information, especially the kind that is not biased towards any specific team, not like what i read on my own teams board, nationally does this whole A&M thing sort of vindicate the Huskers or does it make them look even worse for "breaking up the conferance?"
David Ubben:
Thanks for the kind words, Matt. And I do think you're absolutely right. I didn't blame Nebraska for wanting to leave a year ago. It was clearly the right move.
This time around, though, there's no question they're looking smarter than ever. My biggest question?
How long until Nebraska makes sure we all know about it?
Say what you will about the confidence in the future of the Big 12, but I thought R. Bowen Loftin said it well when he took questions in College Station awhile back.
Look at the SEC's track record. Look at the Big Ten's track record. Those conferences are forever. Maybe the Big 12 is. But nobody knows for sure and most believe it isn't.
All other variables aside, Nebraska and Texas A&M will get stability in their new homes.
Daniel in Santa Fe, N.M., asked:
David, I'm a concerned Aggie fan in NM. I wanted to get your opinion on whether A&M will suffer the same fate as Nebraska did last year with what seemed to be an obvious bias in officiating.
DU:
I think the actual sense of
what Nebraska faced was a bit overstated
.
Looking back on it, here's what I see: Was that
Eric Martin
suspension incorrect? No. Was it enforced more strictly than others across the league? I would say yes.
The bad calls in the A&M game last year were all judgment calls except for one: The roughing the passer penalty on Courtney Osborne when he hit
Ryan Tannehill
"late." That was an awful call, but really the only one that was indefensibly bad.
I just don't buy the whole conspiracy talk.
Will Big 12 officiating in Texas A&M games this season be watched? It absolutely will, and more closely than any other officiating in the league. Will that show evidence of a conspiracy? I'm saying no.
Mark in Corpus Christi, Texas, asked:
Why can't we all get along? Let's go back to the days when the NCAA regulated the TV contracts. Maybe some of the mess could have been avoided.
DU:
Your solution isn't the answer, but I really do hate what college football seems to have been reduced to. I discussed this at length in
a podcast with SEC blogger Chris Low and columnist Ivan Maisel. Check it out
.
Kyle in Fort Hood, Texas, asked:
Why would any stable school (like BYU) want to join an obviously unstable, uncertain conference like the Big XII (-2-1)? The idea of luring in a big name school, like BYU or ND, seems a bit assuming since the true colors of how the conference operates have been exposes fairly well in the last few weeks. Especially with legitimate teams leaving two years in a row.
DU:
It's a great question, but one I think has a reasonable answer. I've addressed it a bit in the past, but if the Big 12 wants to really convince big-time programs like BYU to come to the league, it has to offer some sort of concrete, contractual agreement that keeps teams in this league for a minimum of 10 years, and perhaps longer.
Eliminating that concern would make it a lot easier to coax the Cougars to come to the Big 12, which I believe the league has to do, or else it risks watching Oklahoma strongly consider a move to the Pac-12 and bring a few teams with it.
Additionally, you'll probably see some concerns about league stability go away if it can convince all 10 teams (or 12?) to sign and commit to the Big 12 long-term. I thought the Big 12 made a mistake in simply taking each school at its word last season, and the league is paying for that mistake now with Texas A&M's move to the SEC.
Mike P in Houston asked:
Hey Ubbs, Is
Jerrod Johnson's "Thank you Aggieland"
one of a kind? I can't think of another athlete leaving a school with any gesture as grand as this one. Thanks for all your work with the Ags in the Big 12, we're going to miss you next year.
DU:
Great video from Jerrod. We've
seen his singing chops before
, but it was nice of him to take the time out and thank the folks that gave him a lot. He gave them a whole lot, too.
Jerrod's a class act, though. It didn't surprise me.
Cowgirl in Tulsa asked:
Ubbs: I know you've rated each team's uniforms and helmet logos, but have you ever made a list of your favorite Big 12 mascots? After ranking each player and team in 100 different categories, why don't you just have fun with this one?
DU:
Ha, this will no doubt get me in trouble, but here goes. I'm only taking each team's best mascot. Teams have a few too many these days. Also, I miss Ralphie.
1. The Sooner Schooner, towed by Boomer and Sooner
2. The Masked Rider, Texas Tech (Big 12's best entrance, post-Nebraska Tunnel Walk)
3. Bevo, the Texas Longhorn (iconic)
4. Cy, the Cardinal. I've never known why the Iowa State
Cyclones
have a Cardinal mascot, but Cy looks good
5. Bruiser, the Baylor Bear
6. Reveille, the Texas A&M collie, who is cool, but collies have a very low ceiling on awesomeness
7. Big Jay the Kansas Jayhawk, who is solid
8. Truman the Tiger, who is a bit too cartoony
9. Pistol Pete, whose
head is much too large
and made of gross plastic with a five o'clock shadow
10. Willie the Wildcat, who, well,
I have all kinds of genetic origin questions about
.
February, 9, 2011
2/09/11
3:15
PM ET
By
ESPN.com staff
| ESPN.com
Chronicling 12 months in a few hundred words is never easy. I tried yesterday, when I
laid out a case for Nebraska as college football's most interesting program.
We still missed out on a few incidents that made headlines.Thanks for all the e-mails. You folks are sharp and don't forget much.
A few that were overlooked:
July 2010:
Nebraska
releases a video promoting its new website
, RedOutAroundTheWorld.com, but the tagline at the end of the video reads, "Wear Red. Be Loud. Beat Texas." That raised plenty of interest, but Nebraska maintained it picks a game each year to emphasized. Later, the video is taken down and re-done without "Beat Texas" at the end.
Oct. 16, 2010:
Nebraska receiver
Niles Paul
dropped a pair of touchdown passes in a 20-13 loss to Texas and
tells the Associated Press that Nebraska fans yelled at him
as he walked to his car from the stadium, and flooded his Facebook with so many negative messages he chose to deactivate it.
Oct. 28, 2010:
Linebacker Eric Martin, an enforcer on the special teams, is
suspended for a helmet-to-helmet hit on Oklahoma State's Andrew Hudson
during a Niles Paul's kickoff return for a touchdown in a 51-41 Nebraska win. The rule that allows suspensions was instituted before the season, but Martin was the only player suspended by the Big 12 for a hit all season.
Nov. 3, 2010:
A hit that looked like helmet-to-helmet contact on
Blaine Gabbert
from Nebraska safety Courtney Osborne is
sent for review to Big 12 offices by Missouri coach Gary Pinkel
. No action is taken.
Nov. 20, 2010:
ESPN cameras catch Texas A&M defensive lineman Tony Jerod-Eddie jabbing or poking at the back of Nebraska lineman Ben Cotton's legs, near the groin area. Video of the incident hits YouTube before the game even ends, and Jerod-Eddie is reprimanded by not suspended by Aggies coach Mike Sherman. Cotton, asked about the incident, says Jerod-Eddie was simply trying to find the ball. If his tongue wasn't in his cheek, it should have been.
Dec. 10, 2010:
With the Miami job vacant and rumors of Pelini as a candidate swirling, he
issues a statement saying he has no plans to leave Lincoln.
Personally, I didn't think this would ever happen, and nothing really came of it, so it's not surprising I forgot it. But still, it was big news in college football for obvious reasons.
An already crazy year might have been even crazier for the Huskers, no?
January, 18, 2011
1/18/11
10:00
AM ET
The season's over, but our wrap-up isn't. We'll take a look back at some of the memorable moments, best plays and best games of the 2010 season, among other things, so we'll kick this off with the best games of 2010.
1. Sept. 30: Oklahoma State 38, Texas A&M 35.
This Thursday nighter was the Big 12's only game-winning field goal of the year in conference play, and had a much bigger impact on the Big 12 South race than perhaps anyone thought when it was over. Both teams ended up tying for the Big 12 South title alongside Oklahoma, but the Aggies could have won it outright if they'd pulled the upset in Stillwater. The Aggies dominated the first half, leading 21-7, but the Cowboys' offense rallied behind
Kendall Hunter
in the second half for the comeback win.
Jerrod Johnson
filled up the stat sheet with 409 yards on 40-of-62 passing. He had
five touchdowns passes and four memorable interceptions
. The final one sailed over his target into Shaun Lewis' hands to set up Dan Bailey's game-winner.
2. Nov. 20: Texas A&M 9, Nebraska 6.
An
awful roughing the passer penalty
on a Courtney Osborne hit on
Ryan Tannehill
that extended the eventual game-winning drive left a bad taste in Huskers fans' mouths, but A&M fans will likely choose to remember it for a dominant defensive performance and
a workhorse night
for
Cyrus Gray
to give the Aggies a second signature win of the season after beating Oklahoma two weeks earlier.
Taylor Martinez
left early with an injury, returning a call to his concerned father from the locker room, and Bo Pelini's
accosting of his freshman quarterback
when he returned was one of the lasting images from a game that didn't feature a touchdown. The penalty discrepancy (16-2 in favor of Texas A&M) got plenty of attention, but that
doesn't tell the whole story
.
3. Nov. 27: Oklahoma 47, Oklahoma State 41.
No. 2 on the list didn't have a touchdown? This one had four in a 92-second span in the game's final five minutes. No other fourth quarter could compete with this game, which decided the Big 12 South. It also featured
my pick for the play of the year
, which, shockingly for this track meet, was a defensive play. Oklahoma quarterback
Landry Jones
threw three first-half interceptions, including one returned for a score, but bounced back for a career-high 468 yards that helped the Sooners win their eighth South title since 2000.
4. Nov. 6:
Nebraska 31, Iowa State 30 (OT)
.
Iowa State coach Paul Rhoads tried his hand at the call of the year, but his fake extra point in overtime failed when punter Daniel Kuehl's pass
floated in the wind and was intercepted
by Nebraska's Eric Hagg. The win kept Nebraska on track for a Big 12 North title, and it did it without Martinez, who missed the game with an ankle injury. Iowa State rallied from a 24-10 deficit entering the fourth quarter, but the gutsy call in overtime didn't pay off for the Cyclones, who would have gone bowling if they'd won the game.
5. Dec. 4: Oklahoma 23, Nebraska 20.
The nostalgia faded early. Nebraska was the early aggressor and looked ready to bury Oklahoma. The Huskers sprinted to a 17-0 lead and the task of climbing out of that hole away from home against the best secondary in college football was a gigantic one. Jones and the Sooners answered the call. The sophomore quarterback racked up an astonishing 342 passing yards and helped Oklahoma win its seventh Big 12 title in the last decade.
Honorable mention:
Kansas 52, Colorado 45; Colorado 44, Kansas State 36; Oklahoma 28, Texas 20; Texas Tech 45, Baylor 38.
November, 21, 2010
11/21/10
10:00
AM ET
We'll see Nebraska play angry the rest of its season.
Generally, I'm not a fan of dwelling on officiating after a game. It accomplishes very little and wastes plenty of breath, a bit like screaming at a brick wall. An apology is the best you can expect from anyone who'll listen, which is a select few.
I'll make a brief exception here.
[+] Enlarge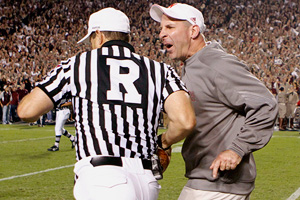 Brett Davis/US PresswireBo Pelini was less than pleased with the officiating in Saturday's loss to Texas A&M.
There were a few questionable flags, and the roughing the passer penalty that kept Texas A&M's game-winning drive alive was an indefensible bad call. Courtney Osborne made a clean hit on
Ryan Tannehill
on time and below the helmet. I know Nebraska fans are also angry about the flag
Ben Cotton
received, but you're naive if you think that worse doesn't happen under piles every Saturday. I don't blame Cotton for retaliating, but let's not act like he's the first and only player to ever have an opponent's hand in an uncomfortable place. The cameras just caught this one. That said, the flag discrepancy (16-2, in favor of Texas A&M) doesn't tell the whole story. Both pass interference calls and the PI that officials initially flagged on Texas A&M but later waved off were the right calls, and Nebraska was flagged for just one holding penalty, football's most subjective penalty. The vast majority of the Huskers' other penalties were personal fouls, false starts or illegal procedures. Those are mental errors, not conspiring flag-tossers with a mandate from league headquarters in (gasp!)
Texas
.
Nebraska got the short end of this one, no doubt. It happens. Most of the close calls went the way of the Aggies. The Huskers have a right to be angry. But they also have to realize they didn't play well enough to win; good penalties, bad penalties, injuries or otherwise. All three happen in every game, and Nebraska couldn't overcome them. A mature team puts this loss behind it, and goes out and captures the goals in front of it, big goals like the Big 12 title which is still very much in Nebraska's grasp. We'll find out how mature this team is over the next two weeks (or maybe one, if it loses to Colorado.)
The Huskers were already playing with a bit of an us-against-the-world edge after the suspension of Eric Martin earlier in the year, and that will only intensify now. Also, I got in touch with my buddy over at the Big Ten blog, Adam Rittenberg, and after checking with Jim Delany & Co. at the league office in Chicago, we can report that in almost a century of Big Ten football, no call has ever been missed. So take heed, Huskers. Upon your exit to the Big Ten, you'll finally be out from underneath the tyrannical thumb of human error.
We've still got some interesting division races.
Oklahoma won to stay alive, and Nebraska lost to keep Missouri alive, which means both divisions are up for grabs in the season's final weekend. That should be some solid drama. Nebraska will head back home to face a rolling Colorado team brimming with confidence and a new coach. Oklahoma State will host Oklahoma in Stillwater for a Bedlam with the most on the line for both teams in a long time. I'd expect Nebraska and Oklahoma State to hold serve at home, but would it surprise me if either went down? Not entirely.
Oklahoma's road problems don't extend to Waco.
The Sooners got it done in a big way against Baylor, notching their first convincing road victory of the season with a 53-24 win. The offensive execution was there, even after an interception on Oklahoma's first drive, which is a good sign of some mental toughness. The defense held long enough for the Sooners to rack up a 53-10 lead before the Bears added a couple fourth-quarter garbage-time scores, and it forced a safety, scored a touchdown and forced three turnovers. That'll get it done. But at the end of the day, Oklahoma isn't going to impress anyone by stretching its record to 20-0 all-time against the Bears. The true test comes Saturday in Stillwater against the Big 12's most consistent team, Oklahoma State, in one of the program's biggest games ever.
Colorado is playing its best football of the season.
Where did this come from? Beating Iowa State at home is one thing. Out-powering a physical Kansas State team is another. That's exactly what Colorado did, jumping out to a second-half lead on the back of
Rodney Stewart
and riding him to the finish line while
Carson Coffman
and the Wildcats had to sling it to play catch-up. Colorado is putting it all together under Brian Cabral, and now faces a monumental task, heading to Lincoln with bowl eligibility on the line for the Buffs, and the Big 12 North at stake for the Huskers.
November, 4, 2010
11/04/10
10:15
AM ET
I'll be in Stillwater on Saturday checking out a big South battle between Oklahoma State and Baylor, but I'll have my eye on every game as usual. Here's what I'm watching:
1. The scoreboard at Boone Pickens Stadium.
You saw it in my pick this morning, there's going to be a lot of points on the board this Saturday, featuring some of the best skill-position talent in the league. Oklahoma State's triplets -- quarterback
Brandon Weeden
, running back
Kendall Hunter
and receiver
Justin Blackmon
-- go head-to-head with
Robert Griffin III
,
Jay Finley
and
Kendall Wright
.
[+] Enlarge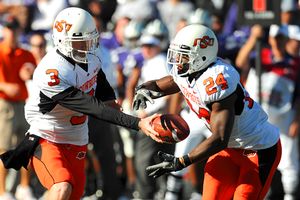 John Rieger/US PresswireOklahoma State's Brandon Weeden (3) and Kendall Hunter (24) -- along with receiver Justin Blackmon -- have been tough to stop this season.
2. Big hits.
This should be something to keep an eye on for the rest of the season, really. I had it on
last week's what to watch
, but I'm interested to see if receivers over the middle go unjacked-up, or if there's any noticeable difference with how defenders hit. Oklahoma safety Quinton Carter, one of the league's hardest hitters, says his style is changing because of the crackdown. Nebraska's defense says it won't change the way it plays after linebacker Eric Martin was suspended. Courtney Osborne's hit on
Blaine Gabbert
(clean in my book) went unpunished after Missouri's Gary Pinkel sent it to the league for review in hopes of educating his players on which hits were legal and which hits weren't.
3. Texas' defense.
It completely shut down the league's best rushing offense earlier in the season in a marquee 20-13 victory at Nebraska. Now, it takes on the Big 12's No. 2 rushing team, Kansas State, in Manhattan. What's in store for running backs
Daniel Thomas
and
William Powell
?
4. Texas Tech's receivers.
Jacoby Franks
and last year's leader,
Alex Torres
, are out. They the are Red Raiders' Nos. 3 and 4 targets. Franks is gone for the year, and Torres could be too, but arthroscopic surgery earlier this week provided hope he could return in a few weeks. Those who will be playing, namely seniors
Lyle Leong
and
Detron Lewis
, will need to play well to keep up with Missouri's offense. Younger players like
Austin Zouzalik
and
Tramain Swindall
have to elevate their play.
5. Blaine Gabbert.
Gabbert actually played pretty well for what was available last week, running when he needed to and throwing without any real misses on the rare occasion when a receiver was open. This week should be much easier against a Texas Tech secondary that is the worst in the league and one of the worst in the nation. Is he due for a big week? His targets will be back open, and he won't get hit nearly as much. The Red Raiders gave up 449 yards to
Ryan Tannehill
, 274 yards to
Cody Hawkins
and 356 to Brandon Weeden in the past three weeks. Not a sparkling résumé.
6. Oklahoma on the road.
Bob Stoops says it's not a real problem. The Sooners'
win-loss margin at home is 22.7 points higher than away
from Owen Field, by far the highest of any other elite program. This year, the Sooners have a loss to Missouri and a two-point win over Cincinnati, the last-place team in the Big East at 3-5, on their record. Texas A&M is a renewed team with Ryan Tannehill at quarterback. Is an upset in store?
7. Tannehill's next test.
Like we mentioned above, Texas Tech's secondary ranks last in the league, giving up 45 more yards per game through the air than any other team. That ranks 119 out of 120 teams nationally. Oklahoma isn't way, way better (sixth in Big 12, No. 83 nationally), but they'll be tougher than Texas Tech. What does Tannehill have in store for his encore after a school-record 449 yards and four touchdowns in his first start last week?
8. Quarterback controversies.
Texas Tech has reopened the competition between
Steven Sheffield
and
Taylor Potts
, and hasn't officially announced a starter. Kansas' top two passers may be back this week, but their status is in doubt as No. 3
Quinn Mecham
hopes to make his second career start. Texas A&M coach Mike Sherman hasn't explicitly said Tannehill will start on Saturday, but it would be hard to imagine he wouldn't after last week. Keep an eye on how all this shakes out on Saturday.
9. Kansas climbing.
The Jayhawks led at halftime last week at Iowa State. Now, they host the next-worst team in the league, Colorado, the Big 12's only other 0-4 team. There's no doubt this is the best chance for either team to get their first -- and maybe only -- conference win of the year.
10. Huskers taking care of the ball.
I'm not 100 percent sure, but I think the definition of a football nightmare is finishing a game with more turnovers than points. That's what Nebraska did last year, turning the ball over eight times in a 9-7 home loss to an Iowa State team missing its two best players, running back
Alexander Robinson
and quarterback
Austen Arnaud
. They'll face a full-strength Iowa State team in Ames on Saturday for control of the North. The Huskers have an incredible 26 fumbles in eight games, but have lost only nine of them. What are the odds history repeats itself?
November, 3, 2010
11/03/10
11:00
AM ET
By
ESPN.com staff
| ESPN.com
Missouri coach Gary Pinkel submitted a hit by Nebraska safety Courtney Osborne for league review earlier in the week, putting the Huskers at the center of the debate over illegal hits for a second consecutive week.
Pinkel later clarified that his review request was more self-educational than an accusatory complaint, but after Nebraska linebacker and special teams contributor Eric Martin sat our Saturday's game, Pelini admitted on Tuesday he's sick of discussing the legality of hits.
"It just seems like I was sick of it three weeks ago. Obviously, nobody wants anybody to get hurt," Pelini said. "I think they just blew it up so much. I just don't like that it seems like the NFL dictates so many things now. I'm a little bit tired of that."
Pelini contended that Tigers quarterback
Blaine Gabbert
ducked into a helmet-to-helmet hit by Osborne in the fourth quarter of Nebraska's 31-17 win, and still frames from the game appeared to support Pelini's assertion.
"Officials try to do a good job of talking about intent," Pelini said. "I think every situation is a bit different, and it has gotten to the point where it is hard for officials to call it. It's a difficult thing. There is such an emphasis on it, and it is so blown up. It is damned if you do and damned if you don't for the officials. I kind of feel for those guys at times. And really everybody involved in the decision and enforcing it and what the media has done with the whole issue. It's not an easy thing right now. It's hard to coach."
The Big 12 announced its suspension of Martin on Wednesday last week, but notified Nebraska in search of contention earlier in the week. Pelini said Tuesday he had yet to hear from the league on any disciplinary action toward Osborne, whose hit had Gabbert slow to get up, and caused a fumble that was ruled dead on the field.
"We don't teach anybody to do that. I don't think anybody is out there intentionally doing it. I really don't. I think sometimes things happen in the emotion of the game, but I don't think anybody is out there intentionally trying to hurt anyone," Pelini said. "It's a physical sport and things happen fast. It's not an easy thing, and it is something we are all working through together. Coaches, officials, conference officials, everybody. Players alike, everybody is working through this together and it's not an easy thing. It takes time. Like I said, you just have to keep educating people on it."
Education is the first step, but finding full-fledged solutions to resolving the debate over hits -- illegal or otherwise -- isn't a simple exercise.
"I think they are trying to handle it the right way. I mean, I think the intent is there. It's not an easy thing for anybody involved," Pelini said. "Things happen in the sport and they happen fast. It isn't easy to call or easy on people setting the rules. It isn't easy to coach or for the players. It is going to take time."
November, 1, 2010
11/01/10
4:00
PM ET
By
ESPN.com staff
| ESPN.com
Midway through the fourth quarter of Missouri's 31-17 loss to Nebraska on Saturday, Huskers safety Courtney Osborne blitzed off the edge of the line toward Missouri quarterback
Blaine Gabbert
's front side. He was left unblocked and delivered a huge hit that had Gabbert slow to get up.
Gabbert
appeared to crouch in anticipation
of the hit, but Osborne made helmet-to-helmet contact with the quarterback, whose fumble on the play was ruled dead, allowing Missouri to retain possession. No penalty was assessed on the play.
Monday morning, Missouri coach Gary Pinkel said he sent video of the hit to the Big 12 for review.
"We'll see what happens," said Pinkel. "I don't know if there was malice involved there."
Nebraska coach Bo Pelini said he "thought it was a good tackle."
"They gotta do what they gotta do," Pelini said of Missouri's decision to ask for a review of the play. "Like I said, he tucked a little bit at the last second. It was a good hit. The Big 12's going to do what they have to do. I don't know; I can't control that."
What he can control is how his players are coached to play. Reserve linebacker and special teams player Eric Martin was suspended for last week's game after a hit on Oklahoma State's Andrew Hudson on a Nebraska kick return.
Asked how the review and last week's suspension could affect the way his team played, Pelini kept his answer succinct.
"It won't," he said.
March, 17, 2010
3/17/10
10:30
AM ET
By
ESPN.com staff
| ESPN.com
Here, we'll take a look at one area where each team in the Big 12 can expect to succeed, and another that needs improvement.

Nebraska
Weak: Safety
Nebraska must replace both Larry Asante and Matt O'Hanlon at safety. O'Hanlon showed massive growth over the 2009 season, leading the team with six interceptions, including three in a win over Oklahoma.
Asante and O'Hanlon combined for 148 tackles, and the battle for the back line could be interesting this spring.
Senior Ricky Thenarse returns from a knee injury that cost him nearly all of last season but earned him a medical redshirt, granting him a fifth year of eligibility. Sophomore P.J. Smith appeared in all 14 games as a freshman, and could earn a starting spot in the fall.
Junior Lincoln native Austin Cassidy should also compete for the job alongside sophomore Courtney Osborne.
If either of them improves as rapidly as O'Hanlon did, this could easily become a strength over the course of 2010.
Strong: Running back
Senior
Roy Helu Jr
. is the headliner, but sophomore
Rex Burkhead
ran for 100 yards against Colorado and 92 yards in the 33-0 Holiday Bowl blowout of Arizona.
The starter is almost irrelevant; both will get touches, but Burkhead will look to make sure his contributions to the offense remain consistent.
Helu's 1,147 yards were fourth-most in the Big 12, and with an uncertain situation at quarterback, both Helu Jr. and Burkhead will be relied on to provide some breathing room for either
Cody Green
or
Zac Lee
. Last season, the Husker offense was the least productive in conference play, and Nebraska was tied for 11th in completion percentage.
Improving either of those numbers begins with Helu Jr. and Burkhead.
More Weak & Strong:
January, 21, 2010
1/21/10
11:56
AM ET
By
Tim Griffin
| ESPN.com
Signing day is just around the corner, and each Big 12 team is doing what it can to keep together its class while adding a late upgrade in talent.
Here's a look at what immediate recruiting needs each North Division team must address first.
Colorado
Running back:
With the departure of
Darrell Scott
and
Demetrius Sumler
, Dan Hawkins needs to find some talent at running back. With only three scholarship backs on the roster, an immediate talent infusion is needed. Tony Jones is the only commitment and the Buffaloes could use size from a bigger back.
Tight end/H-back:
All of the positions are important in Kent Riddle's offense, and six players graduated from those positions in December. The only player who will return with experience includes junior tight end
Ryan Deehan
, so Hawkins needs players at the position who can help immediately.
Quarterback:
With
Tyler Hansen
set at quarterback and
Cody Hawkins
set to graduate after next season, the Buffaloes still would like to add some depth at the position. Nick Hirschman has enrolled early to get a head start on his development, and
Josh Moten
appears ready to enroll after failing to make his grades before last season.
Iowa State
Across the board talent infusion:
The Cyclones already have added 24 commitments for the upcoming season. Junior college players like massive offensive lineman Jon Caspers, defensive end Rony Nelson, wide receiver Anthony Young and tight end Ricky Howard should provide an immediate lift. And look for coach Paul Rhoads to add a couple of more to capitalize on the late momentum from the Insight Bowl victory.
Running back:
Preparing for the future will be important as
Alexander Robinson
will be entering his senior season. Freshmen
Beau Blankenship
still has some developing to do and
Jeremiah Schwartz
has left the program. The Cyclones have added depth with the addition of Duran Hollis and Shontrelle Johnson. Don't be surprised if Hollis moves positions once he comes to college if Johnson develops as expected.
Wide receiver:
The Cyclones had trouble making big plays and could use a talent boost at the position. Leading 2009 receiver
Marquis Hamilton
has graduated and
Jake Williams
will be a senior next season. Recruits Jarvis West and Chris Young appear to have addressed those needs.
Kansas
Defensive end:
The Jayhawks could use a talent upgrade here with occasional starters Jeff Wheeler and Maxwell Onyegbule graduated, and Jake Laptad and Quintin Woods entering their senior seasons in 2010. It became more of a need after Oklahoma beat out the Jayhawks for top defensive end prospect Geneo Grissom earlier this week.
Quarterback:
With unproven
Kale Pick
set to take over for
Todd Reesing
, the Jayhawks have added junior college transfer Quinn Mecham of Snow Junior College to immediately contend for playing time. Meacham threw for 3,091 yards and 40 touchdowns last season and has already captured the attention of new offensive coordinator Chuck Long because of his experience in the spread offense.
Secondary:
New coach Turner Gill also needs help in the secondary where starters Darrell Stuckey and Justin Thornton were seniors and Philip Strozier, Chris Harris and Calvin Rubles will be seniors next season.
Kansas State
Adjust time-held notions to recruiting:

Bill Snyder said recruiting seemed "out of kilter" in his first season back because of how teams now are in a hurry to link up with rising juniors. This strategy has caused Snyder to change his recruiting strategy, looking into signing more players earlier than in his previous coaching strategy.
Junior-college additions again will be critical in the trenches:
Snyder has attacked the junior colleges with his traditional fervor as he attempts to unearth a couple of under-recruited gems in the offensive line and defensive lines -- the Wildcats' two primary needs. Also, the Wildcats need some immediate help from the junior colleges after a recruiting imbalance during the last two seasons under Ron Prince that has left them with a need for immediate contributors. Snyder has estimated that up to 13 players will enroll at the semester break to contend immediately for playing time.
Quarterback:
Even with a crowded group of potential contenders at the position, Snyder is still considering another quarterback.
Carson Coffman
,
Sammuel Lamur
,
Collin Klein
and Oregon transfer
Chris Harper
all are in the mix at the position heading into spring practice.
Missouri
Wide receiver:
The Tigers have a lot of talent returning, but still will lose leading 2009 receiver
Danario Alexander
and
Jared Perry
. The opportunity for eventual playing time will be there for new arrivals, although
Jerrell Jackson
,
Brandon Gerau
,
T.J. Moe
and
Wes Kemp
will be back.
Nose tackle:
The graduation of Jaron Baston and Bart Coslet's senior-to-be status opens up a position for a contribution in the trenches for the Tigers.
Secondary:
All four of Missouri's projected starters next season -- cornerbacks Carl Gettis and Kevin Rutland and safety Jarrell Harrison and Jasper Simmons -- will be seniors. The Tigers need to restock depth at the position and perhaps move it forward from this class.
Nebraska
Defensive end:
The Cornhuskers could use an additional player with Barry Turner graduating and Pierre Allen set to enter his senior season in 2010. They are in the hunt with Oregon for Owamagbe Odighizuwa, a heralded speed rusher from Portland, Ore., who would be the crown jewel in the Cornhuskers' incoming class if he commits.
Wide receivers:
Many players are back, although the Cornhuskers could use an infusion of speed at the position. Niles Paul will be a senior and more talent is needed to make the Cornhuskers competitive with the athletic teams in the South Division like Texas, Oklahoma and Texas Tech.
Safety:
Starters Matt O'Hanlon and Larry Asante both will be graduating and Eric Hagg will be a senior in 2010. The Cornhuskers will need some help to join with youngsters Courtney Osborne, Austin Cassidy and P.J. Smith at the position.
September, 29, 2009
9/29/09
12:40
PM ET
By
Tim Griffin
| ESPN.com

Posted by ESPN.com's Tim Griffin
Here's a look around the Big 12 with some of the more interesting stories across the conference today.
September, 29, 2009
9/29/09
10:18
AM ET
By
Tim Griffin
| ESPN.com

Posted by ESPN.com's Tim Griffin

Nebraska could be facing a quandary at safety as key backup Rickey Thenarse won't practice this week and might be out for an extended period.

Nebraska coach Bo Pelini said Monday he isn't sure how severe Thenarse's knee injury is. Pelini only stated that Thenarse "will be out for a while."

Thenarse landed awkwardly on his right knee while covering a first-quarter kickoff in the Cornhuskers' 55-0 victory over Louisiana-Lafayette last week. He did not return to the game.

The injury is a concern for the Cornhuskers, who are battling depth at that position while preparing for next week's Big 12 opener against Missouri. Pelini had recently praised Thenarse for his development in the Nebraska defense.

Thenarse's injury will mean that several inexperienced players will be called on to back up starting senior strong safety Larry Asante and starting senior free safety Matt O'Hanlon.

Redshirt freshmen Courtney Osborne and P.J. Smith and sophomore Austin Cassidy all received extensive playing time after Asante was injured on a 74-yard interception return against Louisiana-Lafayette.

Asante's injury isn't considered serious and he's expected to return to practice this week.

But the extra work for the backups was beneficial in his absence to build confidence in the developing group.

"I feel good about our depth at safety," Pelini said. "We're a lot deeper there than we were a year ago, so I feel good about it."