April, 17, 2014
4/17/14
1:30
PM ET
Kansas State heads into the 2014 season with its entire coaching staff intact for the first time since Bill Snyder returned to lead the program he built in 2009.
Normally, the thought of continuity would bring great piece of mind for a head coach. But Snyder is a unique man and coach, one who is always covering every angle and thinking of every possibility.
[+] Enlarge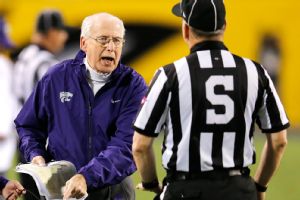 AP Photo/Matt YorkBill Snyder's entire coaching staff is back this season. While that's comforting, Snyder isn't happy with just maintaining the status quo.
"I think that it is something that you have to be cautious about, not taking that for granted," Snyder said of having the coaching staff intact. "Just the fact that you have the same people in place, it will be very easy to think it will just be done how it has always been done. Then you get yourself into some dire straits if you accept it that way."
The Wildcats staff features several coaches who have been at KSU for more than a decade. Special teams coordinator Sean Snyder, co-offensive coordinator Dana Dimel, co-offensive coordinator Del Miller and interior defensive line coach Mo Latimore have combined to spend 82 seasons in the program. The program does feature some newer faces in receivers coach Andre Coleman and defensive ends coach Blake Seiler, who just completed their first season as position coaches in Manhattan.
Snyder's response to the question about continuity could be a glimpse at what helps separate him from other coaches. In his mind, there's no advantage to having his entire staff return if they return as the same coaches they were during the previous season. He expects his staff to grow as coaches, much like he expects his team to grow as players.
"It is a plus to have all of your staff returning, but it is a plus only if that staff continues to grow and continue to provide the foundation for our players to improve on a regular basis," Snyder said. "When you have been in a position -- yours, mine, anyone else's -- the longer that you are in it, the more susceptible you [are to] take certain aspects for granted. We need to be awfully careful about that."
Clearly the coaches on his staff buy into that mindset, and it's working. The Wildcats have averaged 8.4 wins per season since Snyder's return five years ago, including 29 wins during the past three seasons. KSU averaged 5.6 wins per season in three years with a 17-20 overall record under Ron Prince from 2006-08.
April, 2, 2014
4/02/14
10:30
AM ET
Kansas State will be the final Big 12 school to begin spring ball when Wildcats hit the practice field today. The units at Baylor and Oklahoma will get more hype, but co-offensive coordinator Dana Dimel has reason to believe K-State can have one of the Big 12's best offenses in 2014 after a strong finish to last season.
On Tuesday, Dimel chatted with ESPN.com about holes that must be filled in the lineup, what to expect from his offensive leaders this spring and fall and the big game on the nonconference calendar.
First off, are you ready to coach up your son, freshman Winston Dimel?
Dimel:
Hey, yeah, I'm excited about Winnie. He's going to play fullback for us and it's a really good niche for him because he's built for it, has really good lower body strength. He's about 6-1, 230 right now and getting pretty big. He's kind of custom-made for that position. Winston is kind of that fullback/H-back type and I'm excited about having him come in, he'll add some good stuff to the offense.
How excited are you about where this offense is heading going into the spring?
Dimel:
Obviously the big thing for us is trying to hit where we left off. We ended the season with some good momentum and now we want to hit this thing rolling and grow with it. Our biggest concerns are we lost our two starting tackles, both good players with starting experience, and then our second thing is to replace
John Hubert
at running back.
How do you feel about those two tackle spots entering spring ball?
Dimel:
We feel like we're really athletic and we have some guys, two JC transfers. One is a first-semester transfer from Butler,
Luke Hayes
, who's been with us for the whole winter conditioning and he looks really, really good so far. We feel like he'll grab ahold of one of those tackle spots. Then we've got
Aaron Bennett
, a JC guy who redshirt last year, and we really feel like he's got a chance to be solid at that other spot. Then we've got
A.J. Allen
,another JC guy we signed out of San Diego, who's coming in and will challenge for that position. We have more depth in the O-line since we've had when we got back (in 2009), even though we lost two starters.
Where do you stand at running back now in replacing Hubert?
[+] Enlarge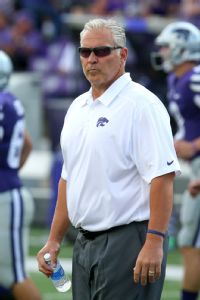 Scott Sewell/USA TODAY SportsDana Dimel hopes the Kansas State offense can keep the momentum built late last season.
Dimel:
That's an interesting position. I think, to an extent, because he's been here so long and hasn't seen the field,
DeMarcus Robinson
is kind of the guy that's underrated right now. He was a very highly recruited kid out of Wichita, very good speed, prototypical K-State back. He's not much taller than
Darren Sproles
, about 5-5½ or 5-6.
But the one thing I've gotten leery about with small backs is their pass protection skills. K-State has had successful smaller backs, but I don't like the small backs who can't pass protect. Nice thing about D-Mac is he's 205, 210 pounds. He's really got huge calves and very good breakaway speed. D-Mac is a guy that people have looked past, but he's the guy who could have a surprising senior year.
Speaking of those backs, where do you see Dalvin Warmack fitting in when he gets to campus?
Dimel:
We like Dalvin a lot. I think he's got a great mixture of strength and speed and he's a super good leader, and he's been a winner. Taking all those things and putting them into one package with him, I think he's going to be a guy that's got a chance to get on the field quickly. That was the positive thing in recruiting for him, too. DeMarcus is going to be a senior, and then
Jarvis Leverett
and
Charles Jones
are the only two scholarship running backs we'll have. With Dalvin's time frame, he's going to accelerate pretty quickly and have a chance to get on the field early.
What's the next step for Jake Waters and what will you ask of him this spring?
Dimel:
I think what he did against Michigan, through the extra weeks of preparation for that ballgame, he really got more of a grasp of feeling secure about taking things that are in the system when they're there. He's really kind of expanded his game. That's where we expect him to keep progressing, that ability Collin Klein had to be able to get us into the very, very best play at the very best time. He did a nice job of that in the bowl game.
After proving he was arguably the Big 12's best receiver last fall, what are Tyler Lockett's goals now?
Dimel:
He's a really good route runner, probably underrated a little bit there, and he's an extremely hard worker. He stays after practice and works on his routes and timing with the quarterbacks. He's real diligent on improving his skill set in the little things. With that being said, he's a weapon for us whether he's getting the ball or not getting the ball. With a guy like him, you force people to double-cover him and if they don't, you attack the single coverage. He brings a lot as a go-to guy but also a lot as a bait and decoy.
When you went back and watched the film, how would you sum up Daniel Sams role in 2013 and where do you see his role going forward? Does that have to be a situational thing?
Dimel:
I like what Daniel does at quarterback, I'd just like to see him keep progressing and competing. We have depth now. You have Daniel who you can always go to if something happens to Jake, but we also have a redshirt freshman named
Jesse Ertz
who we feel like is going to be really, really good. We kind of have an interesting situation, because we don't want to take away from the progress of Jesse. He has the chance to be outstanding. We also want to be able to use Daniel as well and get him some playing time. We've got to manage all of that.
Lastly, how do you feel about playing Auburn this year? I'm sure that's going to be a heck of a chess match.
Dimel:
That's going to be a great game and one that I know our fans are really excited about, an opportunity to get a team that played in the national championship game and had a great chance to win the national championship. To have them coming into your home stadium and playing, that's going to be a good time and a good game seen by a lot of people across the country. Great opportunity for us but a really tough challenge. They have a quarterback [
Nick Marshall
] who played at the Kansas junior college level and a lot of guys coming back. It's our chance to see if we can play at that level and get back to where we were a couple years ago.
February, 11, 2014
2/11/14
3:00
PM ET
The Big 12 is full of talented assistant coaches. In a conference loaded with quality assistants, we've tried to narrow it down to the top 10 based on the on-field production of their offense, defense or position group and their ability to evaluate, recruit and develop players at their position.
[+] Enlarge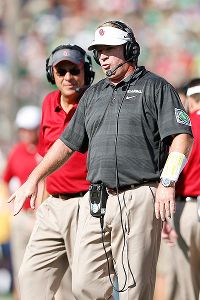 Joe Robbins/Getty ImagesMike Stoops' defenses at Oklahoma have been among the best in the Big 12 the last two seasons.
Here's a closer look at the top 10 assistant coaches in the Big 12:
Mike Stoops, Oklahoma defensive coordinator/safeties coach: The Sooners defense has been solid since Stoops returned after his stint as head coach at Arizona. Oklahoma has been among the Big 12's top defenses during the past two seasons, particularly against the pass. Stoops secured the top spot on the list with his willingness to completely change the defense in 2013, going to a three-man front and making the defense faster and more versatile. And he's one of the best evaluators and developers of defensive backs in the country.

Phillip Montgomery, Baylor offensive coordinator/quarterbacks coach: Montgomery coordinated the nation's top offense in 2013. The Bears led all BCS teams, averaging 52.4 points and 618.8 yards per game, as the offense spearheaded Baylor's run to its first Big 12 title. Montgomery also has mentored some of the Big 12's top quarterbacks in recent years, including Robert Griffin III and Nick Florence, capped by Big 12 offensive player of the year Bryce Petty in 2013.

Glenn Spencer, Oklahoma State defensive coordinator/linebackers coach: Spencer took over Oklahoma State's defense in 2013 and the Cowboys transformed into a more aggressive and adaptive unit. Oklahoma State's defense led the Big 12 in fewest points allowed (21.6) and lowest third-down conversion rate (31.4 percent) to finish among the top 20 teams in the BCS in each category. Spencer also is a superb recruiter and developer of linebackers for the Cowboys, who featured two of the Big 12's best in Caleb Lavey and Shaun Lewis last season.

Dick Bumpas, TCU defensive coordinator/defensive line coach: Bumpas has coached with TCU head coach Gary Patterson since 2004, and the Horned Frogs have fielded some of the best defenses in the nation during Patterson's tenure. TCU's defense finished among the Big 12's best in several categories in 2013, including its 4.83 yards allowed per play, which was No. 13 among BCS teams. Bumpas' defensive line group also has been among the Big 12's best, as he consistently turns players other teams overlooked into solid performers.

Dana Dimel, Kansas State offensive coordinator/running backs and tight ends coach: The Wildcats' creativity on offense often goes unnoticed, but K-State finished among the top 30 BCS teams in yards per play. Dimel, who coaches the running backs and tight ends, has been a key member of Bill Snyder's staff and has coached 34 players who have played in the NFL. That includes Daniel Thomas, who arrived on campus as a junior college quarterback before developing into an All-Big 12 running back.

Joe Wickline, Texas offensive coordinator/offensive line coach: Wickline has been one of the Big 12's top position coaches for the past few years as Oklahoma State's offensive line coach. He coached several players to all-conference honors, including NFL first-round pick Russell Okung. Wickline moves to Austin, Texas, in 2014 after being named Texas' offensive coordinator by head coach Charlie Strong. He has a proven ability to evaluate talent and develop relative unknowns into productive offensive linemen.

Wally Burnham, Iowa State defensive coordinator/linebackers coach: Burnham consistently has developed All-Big 12 linebackers during his time on the Cyclones' coaching staff. During his five seasons coaching linebackers, Jesse Smith, Jake Knott, A.J. Klein and Jeremiah George each earned All-Big 12 honors. The Cyclones defense took a step backward in 2013, but much of their success under Paul Rhoads is built upon an underrated defense led by quality linebackers.

Sonny Cumbie, TCU co-offensive coordinator: The Red Raiders receivers have been among the Big 12's best under Cumbie for the past few seasons. His work with the receivers was one reason Texas Tech led the Big 12 and finished second nationally with 392.85 yards per game in 2013 despite playing multiple quarterbacks. Cumbie will play a key role in kick-starting TCU's offense in 2014.

Kendal Briles, Baylor passing game coordinator/receivers coach: Briles secured his spot on this list thanks to his ability to evaluate, recruit and develop receivers. He's one reason Baylor has become "Wide Receiver U" in the Big 12 while putting several players into the NFL, including Kendall Wright, Terrance Williams and Josh Gordon. Not only does he evaluate well -- such as with overlooked speedster Tevin Reese -- Briles has shown he can develop those signees into all-Big 12 performers.

Jay Norvell, Oklahoma co-offensive coordinator/receivers coach: Much like Briles, Norvell consistently recruits and develops players for the Sooners. He coached NFL draftees Ryan Broyles, Kenny Stills and Justin Brown during the past three seasons, when six receivers have caught at least 50 passes. His ability to continue to bring in elite prospects amps up the competition at the position.
August, 26, 2013
8/26/13
9:30
AM ET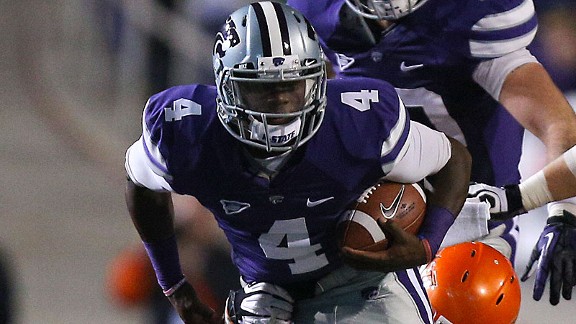 Ed Zurga/Getty ImagesWhether he wins the starting job or not, expect Daniel Sams to be involved in the offense.
The guy
Daniel Sams
and
Jake Waters
are competing to replace casts a long shadow, but he isn't standing too far away these days.
Collin Klein, undrafted last spring, is still in Manhattan, Kan., working out for his next NFL opportunity. And he's as excited as anyone to see how this quarterback battle plays out.
"I think the competition will do nothing but make them better," Klein told ESPN.com on Sunday. "It's not an easy process from a player's perspective. There's uncertainty; there are up and down days. You've got to really focus on being the best you can possibly be, and they'll both be better for it."
Amid all the attention the rest of the Big 12 quarterback battles garnered this month, somehow the one replacing the Heisman Trophy finalist and Big 12 Athlete of the Year went overlooked.
Klein accounted for close to 70 percent of KSU's total offense last season. What he brought to the Wildcat program, beyond reaching a No. 2 BCS ranking and winning the Big 12 title, is incalculable.
That's why KSU coach Bill Snyder doesn't talk about his decision in terms of passing and rushing yards. This isn't about objective statistical performance. Because, in truth, he could get good numbers from either candidate.
What Kansas State needs is a leader.
"I appreciate the competitiveness of it and also the fact that they are providing quality leadership," Snyder said on Aug. 5. "They are helping each other and showing a tremendous amount of unselfishness."
Most of the talk about Snyder's big decision has centered on understanding the offense. Sams, entering his third year in the program, would seem to have an undeniable advantage there, but Waters has been given every opportunity to make up ground.
Of the many differences between these two quarterbacks, that experience might be most important. But look closer at each and you appreciate just what a difficult decision this might be for Snyder and his staff.
Sams is a proven commodity as a rusher, picking up 235 yards (7.3 per carry) and three scores last season. Even though he has attempted only eight passes as a Wildcat, his predecessor knows the sophomore is capable of big things.
"He's just an electric player," Klein said. "He's very athletically gifted and can make something really special out of nothing. He's a truly gifted player."
Sams has been around long enough to know all the ins and outs of what offensive coordinator Dana Dimel expects. He knows the playbook from cover to cover by now. This fall camp has been about fine-tuning.
"I am very comfortable with the offense, but I try not to get complacent because I know the offense well," Sams said this month. "I still try to work on timing with the receivers and find chemistry and let everything else fall into place."
[+] Enlarge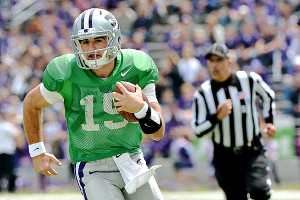 Peter G. Aiken/Getty ImagesJake Waters might lack experience, but he has a 49-2 record as a starter since high school.
One thing is certain: Waters is a winner. He took over an Iowa Western Community College program entering only its fourth year in existence and won a national junior college championship in 2012. Including his high school career, he's 49-2 as a starter.
"This is a great kid," Klein said. "He works very hard, studies very hard, picks things up fairly quickly. So yeah, he's going to be good."
For Snyder and Dimel, it won't be as simple as just picking one guy over the other. Dimel already has admitted publicly that Sams will have a role in the offense even if he's not the starter. The KSU staff wants the ball in his hands.
It might seem like Kansas State and its offense are at a crossroads while everyone waits for Snyder's decision. They're just too different to suggest the offense will perform the same with either at the helm. But keep this in mind: The battle isn't really over on Saturday.
Klein won't be surprised if their competition continues to be waged during the season. He expects both passers to play at some point, and he knows that's not an easy proposition for anyone involved.
"It's something, as a player, you can't control and you've just got to do your best every day and let the coaches be coaches and make those decisions," Klein said. "It's not an easy or fun process at times, but it's about what's best for the team, and if that's what they think is best for the team, that's what you've got to do."
And as long as he's still working out in the Little Apple, he said he'd be happy to help out Waters and Sams if they're ever in need.
Just don't ask Klein to make any predictions on who's winning his old job.
"I'm going to keep quiet just like everybody else," he said with a laugh. "That's how coach likes it, and it's probably better for the team."
December, 31, 2012
12/31/12
12:00
PM ET
December, 8, 2009
12/08/09
6:41
PM ET
By
Tim Griffin
| ESPN.com
Here are some letters I received this week on a variety of subjects.
Paul Lloyd of Austin, Texas, writes:
Tim, great work on the Big 12, this is the only non-work related bookmark I keep on my computer at the office. I have a question or proposal for you about the BCS Championship game that I've been repeating since the Texas naysaying began. Do you feel that a month worth of doubt and underselling Texas helps their chances to play the "no one wants you here" edge against Alabama?
I know this is a common motivator in sports but it really hits home with Texas since before the 2005 team won the National Championship against USC, ESPN ran a week long piece that culminated in declaring that team the greatest ever. I think there's a reason Saban kept trying to remove any David vs. Goliath connotations Sunday night, because he knows how big a motivator and demotivator this can be for both sides. What are your thoughts?
Tim Griffin:
Paul, I think you are exactly right on this. Texas will be repeatedly undersold during the next month of its preparation. Mack Brown couldn't ask for a better psychological ploy than this happening.
The Longhorns will be doubted over the next few weeks.
Colt McCoy
and the offense will be castigated for their performance against a pretty good Nebraska defense.
And another advantage for the Longhorns will be the presence of Will Muschamp on Brown's staff. If anybody knows about Nick Saban and his play-calling habits it will be Muschamp, who coached with him at LSU and later followed him to the Miami Dolphins.
Saban is a savvy enough coach to realize the "David vs. Goliath" comparison is a tad specious.
I prefer to consider the matchup as "King Kong vs. Goliath" between these two storied powers – in terms of football history, tradition, prestige, coaching and the like. The game should be an interesting one.
---
Jon Weinhold of Lincoln, Neb., writes:
Hey Tim, love the column. I've recommended you to a few friends as a way to get a quick dose of Big XII news. That being said, do you think the biggest indication of how good Ndamukong Suh has been this season is that almost everyone has actually learned how to correctly pronounce his name? Second, as corn-fed and die-hard as I am, I'm SHOCKED that the Huskers moved UP in the polls after that loss to Texas. Remember, I'm a Nebraska fan, so I'm well-acquainted with dropping in the polls after a win, but not the reverse. Does that happen often around the nation and I just don't notice?
Tim Griffin:
Jon, like you said, a lot of people have learned to correctly pronounce his first name over the last few weeks. But I still like how Bo Pelini sometimes still refers to him as "Big Suh" and Mack Brown a couple of times last week called him "Young Suh." For those of you at home, his name is phonetically said "N Dom In Can."
And you do bring an interesting point in Nebraska earning some unexpected respect for their close loss last week to Texas. They did play a great game – particularly the Cornhuskers' defense. But it was going to be tough to beat Texas or any other good team without scoring any touchdowns.
But I do think that Bo Pelini's team got a healthy dose of national respect around the country. They jumped from 20
th
to 19
th
in the coaches' poll and 21
st
to 20
th
in the coaches' poll. They even got votes as high as No. 12 by Ron English of Eastern Michigan and No. 13 by Rich Rodriguez of Michigan.
And I'm sure the Cornhuskers got a lot of respect from Mack Brown, who probably more than once has realized that his team was fortunate to escape Cowboys Stadium with the Big 12 title Saturday night.
---
John Nuxoll from Dallas writes:
Hey Tim. Forgive the pointed question, but can you with a conscience not vote for the best player in college football this year --Nebraska's Suh -- just because traditionally the award is given to an offensive player?
Tim Griffin:
John, I'll reveal my vote for the Heisman a little later in the week – how's that for suspense? I'm planning an entire blog item on why I voted the way I did.
John, there's no doubt Suh is a great player. I saw the way he dominated the center of the Texas line on Saturday night. But I also remembered some struggles he had earlier in the season against teams like Texas Tech and Kansas.
I also remember Colt McCoy's struggles not only against Nebraska but also against Oklahoma. Or how
Mark Ingram
rushed for only 50 yards against Arkansas or 30 yards in 16 carries against Auburn only a week ago. Heck, I can remember when
Toby Gerhart
went for 82 yards against Wake Forest.
So my decision dealt with a lot of factors. And I'll detail them later in the week. Watch for it.
---
Dan R. Becker from Des Moines, Iowa, writes:
Tim, I just want to see if I can get some clarification on the lack of outrage with a 7-5 Oklahoma team and 6-6 Texas A&M team jumping Missouri. No offense, but you have gained a reputation with a lot of fans from the North schools of supporting the South schools. To me, it just seems incredibly unfair to be characterizing this as a spat between ISU and Missouri when two other schools were very clearly involved as well. Like the blog and we all gain information from it but sometimes an argument like this one has more than just the obvious conflict to look at.
Tim Griffin:
Dan, you are correct. But I also think it's germane to the argument to point out Texas A&M did beat Iowa State in a head-to-head game and Oklahoma had a better record than Iowa State. It was interesting that most of the outrage I've read in Missouri newspapers over the last couple of days specifically concerns Missouri being passed by Iowa State more than Missouri and Texas A&M or Missouri and Oklahoma.
That might be because the Insight Bowl is judged to be the best of the trips from a spectators' standpoint.
But in terms of a pecking order of teams heading into the bowls, I think it would be fair to put Iowa State last among the eight Big 12 schools. When a program with the eighth-best record among teams jumps past the one with the fifth-best record, I can understand why there might be some hurt feelings.
---
Ethan from Manhattan, Kan., writes:
With Kansas State's season over with, the Wildcats' largest question is who is going to step in at QB. I see Harper taking the job with Coffman as a backup but what if Snyder can get Cameron Newton from Blinn C.C.? Then I see KSU with one of the best set-ups for the wildcat in the nation. Harper would move to WR and Thomas was a QB in high school and Juco. KSU would have three athletic quarterbacks and a bunch of options for what could happen. What do you think is going to happen?
Tim Griffin:
Like you said, a lot hinges on where Newton ends up. If he arrived at Kansas State, he would provide offensive coordinators Del Miller and Dana Dimel with a lot of different ways to go. I doubt we would see
Daniel Thomas
get much playing time at quarterback, except in those Wildcat formations. He's simply too valuable as a running back, where his strength and durability made him the Big 12's best running back this season. I've also heard some big things about
Chris Harper
, particularly if his shoulder is healthy when he returns. I would expect
Carson Coffman
to have the edge, but Harper will give him a big push once spring practice starts. Who plays quarterback at Kansas State will be one of the most interesting personnel battles in the Big 12 next year.
Thanks again for all of the questions. We'll check back again on Friday.
March, 20, 2009
3/20/09
5:00
PM ET
By
Tim Griffin
| ESPN.com
Posted by ESPN.com's Tim Griffin
It wouldn't be a Friday without some letters from the readers. Here are some I got this week.
Brandon from Ames, Iowa, writes: Tim, I'll be a Cyclone fan until I die no matter how bad we get, but is there going to be any hope for a good season this year? Rhoads is making us hopeful, but what should we consider a successful season given our current condition?
Tim Griffin: Brandon, I've been impressed during the times I've talked with Paul Rhoads since he's taken the job. He seems very positive and upbeat and realizes how daunting the job will be. I see a lot of similarities between him and his coaching mentor, Dan McCarney, who hired Rhoads at Iowa State earlier in his coaching career.
I was also impressed by his two hires for coordinators. Both Tom Herman and Wally Burnham are both very respected in the business and will help him tremendously.
But the Cyclones' talent is at the bottom of the North Division and it will be a big challenge for them to escape the cellar in Rhoads' first season. I think a more realistic goal would be for them to win a game or two more than last season's 2-10 record that ended with 10 straight losses. Anything more than that, in my opinion, will be extremely difficult to accomplish.
---
Austin from Houston writes: Tim, I noticed in your March 13 mailbag that you mentioned Oklahoma hasn't lost at home since 2001. Did you forget that they lost to the mighty TCU Horned Frogs 17-10 on September 3, 2005? I know that all of the Sooner fans as well as Bob Stoops remember that day. On a different note, although we are roughly seven months away from the game, who is your "way too early" pick for the Texas/OU game?
Tim Griffin: Austin, thanks for the catch. I meant to say the Sooners hadn't lost a conference game since 2001. I do remember the TCU game -- I was there that day. The Horned Frogs were able to dominate the Sooners at Owen Field. I had never seen that happen before with Bob Stoops coaching. And I haven't seen it since, either.
As far as my Red River Rivalry pick, if you asked me today, I would have to go with the Longhorns, but just barely. I'll reserve the right to make my final pick the week before the game.
Texas obviously will be smarting after failing to make the Big 12 championship game despite beating the Sooners last season in the celebrated three-way tie for the South Division championship. They couldn't ask for more inspiration coming into the game than that whole scenario.
But one thing that struck me when talking with Oklahoma players last week in Norman was the defense's confidence. The Sooners have nine starters back on their defensive unit, missing only safeties Nic Harris and Lendy Holmes. The Sooners seem comfortable that their defense will be much improved from last season. I thought the Sooners had a great defensive effort against Missouri in the Big 12 game and a good one in the loss to Florida in the Bowl Championship Series title game. Oklahoma's defense wasn't to blame for the Sooners losing that game.
So I think the Sooners' defense will be a little better than most people think this season. It should make for a great matchup at the Cotton Bowl.
Can we play tomorrow?
---
Robert Holmes from Norman, Okla., writes: Tim, if you were starting a Big 12 team of all the players who are coming back for the 2009 season, who would you pick first?
Tim Griffin: Great question and one that bears a more detailed answer. I'm going to start a daily post on Tuesday where I will count down the 40 most valuable players in the Big 12. I'll have a player a day culminating on May 2, which also coincidentally is the day of the Kansas State spring game -- the last one in the conference.
So start watching for that next week.
And I won't give you my final answer, but it would be safe to expect that a South Division quarterback, like maybe Colt McCoy or Sam Bradford. Keep watching to check who I've picked.
---
Brandon from Poteet, Texas, writes: Tim, I saw where you were at Baylor yesterday. How do you gauge the Bears' mindset coming into the upcoming season? Is a bowl berth a real possibility? And where did you end up eating on your way home? I would have advised George's if I was you.
Tim Griffin: The Bears seem to be a confident bunch. From interviews with new defensive tackle Phil Taylor to safety Jordan Lake and defensive coordinator Brian Norwood and coach Art Briles, to newcomers like offensive tackle Danny Watkins, I could detect a different attitude from previous seasons. Those players and coaches flatly tell you they will be playing in a bowl game. And it appears that it will be a shock for them if they aren't bowling somewhere in December.
That being the case, the Bears will face a typically difficult South Division schedule. They absolutely must win three games in the nonconference schedule. And a key swing game at Texas A&M on Nov. 21 will be huge for them.
Baylor's 41-21 victory over the Aggies last season in Waco was a convincing one. But remember that the Bears have produced 10 losses and a tie in their last 11 trips to Kyle Field. The last time Baylor won in College Station was on Oct. 20, 1984, when Grant Teaff's team claimed a 20-16 triumph. As of today, that's a string of 8,917 days and counting.
That's a huge gap and won't be easily snapped.
And as far as my meal in Waco, I didn't really have much time after spending a couple of hours finishing my work and getting a late start back home. I hopped right in the car and made it back home in time to eat one of my wife's delicious leftover pulled-pork sandwiches while I switched between President Obama's appearance on Jay Leno and the final minutes of the Illinois-Western Kentucky game late last week.
Maybe next time for George's.
---
Steve Woodson from Garden City, Kan., writes: Hey Tim. Great blog. I wouldn't think of starting my day without reading it. I've got a quick question for you. Which team would you anticipate to be the "surprise team" in the Big 12 this season? And which team do you expect will take the biggest step backwards from last season.
Tim Griffin: Steve, thanks for the compliments. I think that Colorado is nicely situated with some diminished expectations outside the program after last season's struggles.
I know that coach Dan Hawkins predicted his team would go 10-2 this season, which would be a surprise to almost anybody outside the Colorado program. But I do think if the Buffaloes can stay healthy and have a quarterback to emerge that they've got a great shot to make it back to a bowl game and might even be able to climb into North Division title contention with a few breaks along the way.
And as far as the program I expect to take the biggest step back, I would nominate Texas Tech. Graham Harrell and Michael Crabtree will be missed, obviously. But so will players like Brandon Williams, Louis Vasquez, Daniel Charbonnet, Darcel McBath, Shannon Woods and Rylan Reed. That's a big chunk of talent that had a huge p
art in the Red Raiders' South Division tri-championship team last season to replace at one time.
I still expect the Red Raiders to contend for a bowl appearance as I would peg them about fourth in the Big 12 South behind Texas, Oklahoma and Oklahoma State. But I think seven or eight wins is a more likely victory total for them this season rather than last year's 11-2 mark.
---
Jackson from Telluride, Colo., writes: Which off-season coaching moves to do you think will prove to be the most important in the Big 12 this season?
Tim Griffin: I'll actually nominate three. Obviously, the hiring of Bill Young as Oklahoma State's new defensive coordinator has huge ramifications. Mike Gundy is counting on him to be able to fashion together enough improvement to push the Cowboys into contention. That will be a tall order for him, even with all of his past success at previous stops.
I'm also very curious how the new staff of Bill Snyder works together at Kansas State. I think the hiring of Vic Koenning was a huge get for Snyder. I'm also intrigued to see how Dana Dimel and Del Miller will work together again as co-offensive coordinators. Both have worked with Snyder before. Are there any changes in their coaching since they lasted coached there? We'll see.
And I'm also very interested to see the work of new Missouri offensive coordinator Dave Yost and defensive coordinator Dave Steckel. Both have been with Gary Pinkel since the beginning at Missouri. But both also represent changes that have come to the program after former offensive coordinator Dave Christensen left for the head coaching job at Wyoming and former defensive coordinator Matt Eberflus left to become the Cleveland Browns' linebackers coach.
Pinkel had never had a change in his coaching staff in the first eight years at Missouri. I'm curious to see how the recent switches will alter the Tigers and Pinkel's schematics, if any.
That's all for this week. Check back next week for more correspondence and keep the questions and answers coming. I appreciate it.
March, 5, 2009
3/05/09
5:40
PM ET
By
Tim Griffin
| ESPN.com
Posted by ESPN.com's Tim Griffin
Reading the story earlier today about Texas A&M's manufactured quarterback battle between Jerrod Johnson and Ryan Tannehill got me thinking about something.
I started thinking which quarterbacks in the conference absolutely could afford to go fishing this spring and not worry about earning their job back in the fall.
There are several players who fit this category, starting with the top two finishers in the Heisman Trophy race last season.
Heading into spring practice, here's how I would rank the volatility of the various quarterback jobs across the conference. Those at the top could afford to spend a few weeks in Cancun. And those at the bottom better worry about every pass they throw.
Here are my rankings:
1. Sam Bradford, Oklahoma -- Something about winning the Heisman Trophy and coming back for another season ensures you'll have the job come September.
2. Colt McCoy, Texas -- Or finishing second, for that matter.
3. Robert Griffin, Baylor -- Maybe he could afford to go out and run for the Baylor track team this spring as his major athletic endeavor. But I bet he doesn't.
4. Todd Reesing, Kansas -- In his own way, might be the most valuable player in the conference -- considering the talent around him compared with the other conference's other top quarterbacks.
5. Zac Robinson, Oklahoma State -- Needs the spring work to tweak his throwing a little. But if asked, he could also become a devastating option quarterback.
6. Taylor Potts, Texas Tech -- Mike Leach appears sold on him after 15 career games and 85 passes. But he still needs the activity to develop a better grasp of Leach's offense and work with his receivers.
7. Austen Arnaud, Iowa State -- After taking virtually every snap last season, seemingly should be in safe company. But you never know with a new coaching staff coming aboard.
8. Jerrod Johnson vs. Ryan Tannehill, Texas A&M - I'll take coach Mike Sherman at his word. Maybe Tannehill can challenge Johnson this spring. But Johnson showed a lot of promise early last season and Tannehill is among the Aggies' top playmaking receivers. I bet it stays that way, too.
9. Blaine Gabbert vs. Blaine Dalton, Missouri -- Gabbert has a year of experience, which should prove invaluable in the battle to replace Chase Daniel. Gabbert's pedigree and size also should help him nail down the job this spring.
10. Carson Coffman vs. the field, Kansas State -- Coffman has more experience than any of the five quarterbacks that Bill Snyder has inherited and is bringing into the program. It should mean that Chase Coffman's little brother gets a head start on the offense crafted by Dana Dimel and Del Miller. That work likely should be enough to keep him in front when fall practice begins.
11. Zac Lee vs. Cody Green vs. Kody Spano, Nebraska -- I have no idea who will win this battle. Lee is presumed to be ahead at the present time, but Green apparently has made a strong early impression with his teammates as an incoming freshman. I still would imagine that Lee starts the season at quarterback, with Green receiving situational playing time.
12. Cody Hawkins vs. Tyler Hansen vs. Clark Evans vs. Matt Ballenger, Colorado -- Another tight battle that is muddled because the Colorado coaching staff made the desperation move of burning Hansen's redshirt midway through last season. Hawkins and Hansen both have won Big 12 games, but it should be an even race that plays out through the spring. This is a positional battle that could hinge on every scrimmage.
March, 3, 2009
3/03/09
7:55
PM ET
By
Tim Griffin
| ESPN.com
Posted by ESPN.com's Tim Griffin
Arizona inside receivers coach Mike Smith has left the Wildcats program to pursue a possible position at Kansas State.
The Arizona Daily Star reported Tuesday that Smith told Arizona coach Mike Stoops of his decision on Monday, and the job opening was placed by athletic department officials early Tuesday.
"Mike Stoops gave me his blessing," Smith told the Star. "I value Mike's friendship and our relationship on and off the field. It was a tough decision for me."
Smith could become the second Arizona coach to join KSU coach Bill Snyder's staff in the past month. Associate head coach Dana Dimel, a former veteran KSU assistant under Snyder, returned to his old school on Feb. 10.
With the departure of offensive coordinator Andy Ludwig for a vacant job at California late last month, Dimel likely will roll into the coordinator position with Smith taking a similar job coaching receivers with the Wildcats.
The return makes a lot of sense for Smith, who coached running backs with Snyder on his KSU staff from 1995-2005. His two daughters still live in the Manhattan area, the Star reported.
It would appear to be another part of Snyder's staff familiar with his coaching philosophy. Among the coaches who are currently on the KSU staff, co-defensive coordinator Chris Cosh, defensive ends coach Joe Bob Clements and defensive line coach Mo Latimore all previously served on Snyder's staff. And co-defensive coordinator Vic Koenning played at KSU.
Or maybe it's the addictive Cajun food at the Hibachi Hut in Aggieville in Manhattan, Kan.
March, 2, 2009
3/02/09
6:03
PM ET
By
Tim Griffin
| ESPN.com
Posted by ESPN.com's Tim Griffin
The hiring of Utah offensive coordinator Andy Ludwig was hailed as a personnel coup by many observers after he agreed to join Bill Snyder's staff at Kansas State.
Ludwig's offensive prowess was well known after his work leading the Utes to a 13-0 record after successful previous stops at Oregon and Fresno State.
In short, his arrival was an ideal hire for Snyder's staff as he attempts to change the culture at KSU.
But after spending less than two months at KSU, Ludwig accepted a job on Jeff Tedford's staff as California's new offensive coordinator.
Ludwig finally explained the reasons for his move in an interview with veteran KSU beat writer Mark Janssen of the Manhattan Mercury.
And his reasons are good, even if it might not necessarily make the KSU fans much happier.
Ludwig told Janssen that the move was a "family matter," necessitated by the fact that his mother, brother and sister all live in the East Bay area of San Francisco near the Berkeley campus.
"It was all about the positives of being at Cal professionally and personally, and nothing to do with getting away from the (KSU) situation I was in," Ludwig said.
The move to Tedford's staff comes with a salary hike. But so does the cost of living.
A coach with a $200,000 yearly salary in Manhattan would have to earn $342,206 for equal buying power in San Francisco, according to a CNNMoney.com web calculator. The survey also indicates that groceries will cost 32 percent more in the Bay area, housing 182 percent more, utilities 5 percent more, transportation 11 percent more and health care 35 percent more.
Ludwig also said he did not feel good about the departure, adding it was "an ugly deal, but something I had to do."
And his most telling answer -- and one that has baffled most observers -- was whether there was any potential rift with Snyder.
"Absolutely not, absolutely not," Ludwig said. "That had zero influence on this decision."
Snyder now will be working with familiar coaches in Del Miller and Dana Dimel to run his offense. Ludwig would have brought a fresh approach. It will be interesting to see whether the familiar strategies of Miller and Dimel will change with their new opportunity again working with the legendary KSU coach.
February, 10, 2009
2/10/09
5:53
PM ET
By
Tim Griffin
| ESPN.com
Posted by ESPN.com's Tim Griffin
Kansas State coach Bill Snyder wasted little time in hiring former Wildcats assistant coach and player Dana Dimel on Tuesday.
Several Kansas and Arizona newspapers reported that Dimel, who was Arizona's tight end and running backs coach for the past three seasons, would replace Dave Brock on Snyder's staff.
Dimel, who has served on three previous coaching staffs at Kansas State, told the Arizona Daily Star it was difficult to leave Mike Stoops' staff.
"It's a really sad day for me, to tell you the truth," Dimel told the Star. "I'm having the hardest time leaving my guys. That's the part that makes it very difficult."
He will be reunited with Snyder, on whose staff he was a member from 1989-96. He later served as a graduate assistant on Snyder's staff in 2005 after he had been fired as Houston's head coach in 2002.
"Being back there with Bill Snyder is a big thing," Dimel said. "He made a big gesture by stepping up to try to resuscitate Kansas State. I feel like I have a lot vested there. A lot of us do."
Brock, who was Kansas State's offensive coordinator for former coach Ron Prince, was kept on Snyder's staff but moved on to Boston College.
November, 24, 2008
11/24/08
12:09
AM ET
By
Tim Griffin
| ESPN.com
Posted by ESPN.com's Tim Griffin
I was always surprised that Bill Snyder left football in the first place when he retired in 2005. I have never seen any coach more consumed in the process of building a program than Snyder was.
And when I saw him a couple of times in recent seasons, he always seemed kind of sad because he wasn't coaching anymore. So it's not a surprise that he's coming back to Kansas State after Ron Prince was dismissed after three seasons as the Wildcats' coach.
Apparently, the rejuvenated Snyder believes that he can pull the Wildcats back into Big 12 relevancy after three years with Ron Prince, including no bowl trips in back-to-back seasons.
Snyder was the architect of modern football's most stunning reclamation project. He took KSU on a magical ride during his earlier career, directing them to 11 straight bowl games and the cusp of the BCS championship game in 1998.
But it was how he did it that was so memorable. I've never seen anybody who managed the details quite like Snyder did.
There were the stories about how Snyder made his team sleep on one side of the airplane during a trip to the Coca-Cola Bowl in Japan so they wouldn't be facing the sun. He demanded his butter whipped rather than in pats at pregame meals because it was easily digestible. And he was legendary because he waited to eat his one meal of the day at 1 a.m. when he returned back home because he was working so late at his offices.
Snyder could coach a little bit, too. He made the Wildcats meaningful first in the Big Eight and then in the Big 12. And it hasn't been that way since he left.