July, 27, 2011
7/27/11
4:00
PM ET
DALLAS -- One play could have changed the entire Big 12 landscape in 2010. Iowa State took a
Taylor Martinez
-less Nebraska team into overtime and scored what looked like a game-tying touchdown … until the Cyclones faked the extra point.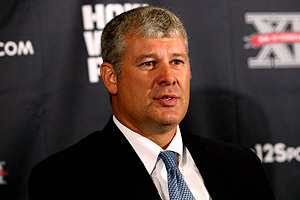 Kevin Jairaj/US PresswirePaul Rhoads and Iowa State were a play away from making noise in 2010.
Reserve punter Daniel Kuehl had a wide-open
Collin Franklin
, the Cyclones' leading receiver, in the back of the end zone, but short-armed the pass on a wind-swept November day in Ames, allowing Nebraska's Eric Hagg to come down with a game-clinching interception.
"It's a call that I relive and a play I relive every week," Iowa State coach Paul Rhoads said. "There's not a week that goes by that I don't think about the play and what it could have created for our football team and our football program."
And not just for the Cyclones, who would have been bowl-eligible with the win. It also would have put Iowa State in the Big 12 North Division drivers' seat and sent Nebraska to the Big Ten without so much as a share of the Big 12 North title. Instead, Missouri would have represented the conference against Oklahoma.
Rhoads, though, has repeatedly emphasized he'd do it all over again.
"And as the game went along, it was a play I studied and certainly was there," he said. "That's the name of the game, when it's a play like that, the final play of a game or the first play of the game, you have to execute to be successful."
Iowa State was playing with a limping quarterback, a limping top receiver and a center in Ben Lamaak who left the game twice with an injury. One play was the best way to decide it.
The Cyclones lost a game on that day, but Rhoads, perhaps the Big 12's most underrated coach, earned a whole new legion of fans with the gutsy call gone wrong.
"The fallout was positive," Rhoads said. "If anything, from players to fans to most people I talked to they thought it was a right call -- gutsy call, but the right call -- and would have given us an opportunity to really springboard our program, I feel."
February, 14, 2011
2/14/11
10:00
AM ET
Valentine's Day isn't all chocolate and kisses and hearts. Plenty of those hearts get broken. The same is true throughout any Big 12 season. Here's who left a few opposing fans in tears in 2010.
1. Landry Jones.
Oklahoma State had him backed up deep in his own territory with a two-point lead and a deafening crowd behind him with less than three minutes to play. He'd already teased them with a pick-six earlier in the game. But Jones connected with
Cameron Kenney
for
an 86-yard touchdown
to put the Sooners up by nine points. He later hit
James Hanna
for a 76-yard score to ice the game after the Cowboys returned the ensuing kick for a score. That's cold.
2. Kenji Jackson.
It looked like a fairly harmless hit at the time, one that happens countless times in any game. But late in the first half, the Missouri safety came up to the line of scrimmage and laid a solid hit on
Taylor Martinez
's lower body. Martinez stayed in the game to finish the half, but didn't play in the second half. Nebraska won, but Martinez's sprained ankle changed Nebraska's season, and
he was never quite the same player
after he hurt the ankle. Jackson's hit was the gift that kept on giving. If it didn't happen, who knows where Nebraska's season would have finished.
3. The Ames wind
. I'll give Iowa State backup punter Daniel Kuehl the benefit of the doubt on this one. If the wind at Jack Trice Stadium hadn't been absolutely swirling, he probably
could have completed the pass that would have meant the Cyclones beat Nebraska and Texas
in the same season and would go to a bowl game. But the pass floated in the wind, and Nebraska's Eric Hagg intercepted the fake extra point to preserve the win. If it had been completed, it would have put the Cyclones in the driver's seat of the Big 12 North, too.
4. Officials in The Bronx.
Adrian Hilburn
made the catch, made a defender miss and sprinted 30 yards into the end zone to cut Syracuse's eight-point lead to two with less than a minute to play in their bowl game. He
shook off a defender after scoring and saluted a group of K-State fans
in the stands who made the trip from one Manhattan to the other for the week before the Pinstripe Bowl. "Wrong move, buddy," one official reportedly told Hilburn. He tossed a flag and the Wildcats' lengthy conversion was incomplete. The dagger!
5. Oklahoma State's defense against Texas A&M.
What a cruel, cruel win. The defense struggled a bit and let the Aggies jump out to a 21-7 lead at the half. Then a sack and fumble returned for a touchdown put them up 35-21 in the fourth quarter against the Aggies, a stretch of 28 consecutive points. The defense allowed the Aggies to tie the game, but Shaun Lewis intercepted
Jerrod Johnson
-- his fifth turnover of the night -- and set up a game-winning field goal to beat the Aggies at the gun. If Texas A&M had beaten the Cowboys, it would have won the Big 12 South outright for its first division title since 1998. What a painful way to go down.
January, 25, 2011
1/25/11
10:30
AM ET
We saw plenty of great moments and great games across the Big 12 in 2010.
We also saw a lot of weird moments.
So with a nod to the guys at Monday Night Football, here are the five biggest plays of 2010 that made everybody give a hearty, "C'mon, man!"
1. Needed: Onside kick practice.
Texas Tech's players were standing and staring, which is rarely a good idea on the football field, but usually acceptable in kick coverage. Not this time. The Red Raiders tried an onside kick, but it didn't travel the necessary 10 yards for a Texas Tech recovery. So, while three Red Raiders hovered over the ball, Baylor's
Terrance Ganaway
picked it up and outran the Red Raiders for a 38-yard touchdown. That was bad (and rare) enough, but Texas Tech gave up a touchdown on a desperation onside kick against Iowa State a week earlier, too. Jeremy Reeves caught it and returned it 42 yards to ice the 52-38 win. Here's hoping Tech puts in a few more onside kick reps this spring, and a YouTube video titled "Texas Tech onside kick goes horribly wrong" doesn't rack up almost 4.5 million views again in 2011.
2. Victory formation isn't supposed to go like that.
Oklahoma State looked ready to trot off the field as 41-38 winners over Troy in their second game of the year. Cowboys quarterback
Brandon Weeden
lined up in the victory formation, but fumbled the snap, unbelievably giving the ball back to Troy on their 34-yard line with just under a minute to play. Lucky for Weeden, his teammate, Justin Gent, sacked quarterback
Corey Robinson
on the next play, and Orie Lemon recovered Robinson's fumble to end any notion of what could have been one of the most embarrassing losses in recent history. In Weeden's defense, he was playing with a ruptured tendon in his thumb, which meant pain during any snap under center, but it'd be tough to find a worse time to fumble a snap than in that situation.
3. Creative losing will key a coaching search.
Listen, I respect my man Herm Edwards when he rather emphatically states that coaches and players should "Play to win the game." But when you're up 45-17 in the fourth quarter and you've got a running back in
Rodney Stewart
who ended up with 175 yards on the day, there's no other way to put it: Run. The. Ball. Dan Hawkins' puzzling refusal kept the clock stopped more than it should have been, and the Buffaloes did plenty more turning it over late in the game than moving the ball. Somehow, Colorado turned that 28-point lead into a seven-point deficit with less than a minute to play. "We just didn't want to be one-dimensional," Hawkins said. What? His explanation didn't cut it, and because of the meltdown, Hawkins never coached another game for the Buffs.
4. Throw it to Mom in the stands, man.
Missouri quarterback
Blaine Gabbert
shredded a soft Iowa zone defense for 434 yards in the Insight Bowl, and the Tigers looked in complete control with a 24-20 lead and a drive that had reached Iowa territory. With less than six minutes to play, Gabbert was flushed to his left and tried to throw across his body to receiver
Wes Kemp
. Iowa's Micah Hyde picked off the ill-advised pass, reversed field and returned it 72 yards for a game-winning pick six. Gabbert admitted after the game that he got "greedy," but the probable first-round pick would probably throw that ball away 90-plus times out of 100 if he had it to do over again.
5. Filling up the stat sheet: Not always good.
Texas A&M quarterback
Jerrod Johnson
rallied his team from a 35-21 fourth-quarter deficit on the road against Oklahoma State, and got the ball back on his own 29-yard line for a possible game-winning drive with just more than a minute to play. He'd already thrown three interceptions -- along with 400 yards and five touchdowns -- but his fourth pick of the game cost the Aggies. He overthrew a well-covered receiver, and Cowboys linebacker Shaun Lewis made an easy interception, returning the ball 28 yards back to the Aggies' 40-yard line. Oklahoma State won the game shortly after on a 40-yard field goal from Dan Bailey. If Texas A&M wins that game, they also win the Big 12 South outright.
Honorable mention:
Iowa State reserve punter Daniel Kuehl's attempted pass against Nebraska on the Cyclones' fake extra point in overtime for the win.
To those six, I think we can all say: C'mon, man.
November, 12, 2010
11/12/10
12:00
PM ET
By
ESPN.com staff
| ESPN.com
And if we have to have government, make it as small as possible. Dwarfs! Tiny buildings! Pizza bagels for lunch!
November, 8, 2010
11/08/10
2:00
PM ET
Best offensive player:
Brandon Weeden, QB, Oklahoma State.
Weeden completed a school-record 34 passes for a school-record 435 yards, pacing an offense that moved the ball for a school-record 725 total yards. Maybe you didn't notice, but not a lot of guys have had a day like that this year.
Best defensive player:
Michael Hodges, LB, Texas A&M.
Hodges was everywhere against Oklahoma, making 19 stops and a pair of sacks in the Aggies upset win that landed them in the top 25. Eight of his tackles were solo, too.
Honorable mention:
Tie, Tysyn Hartman, S, Kansas State and Ty Zimmerman, S, Kansas State
.
I'll spare you the wordplay on this one, but this pair of safeties both picked off Texas quarterback
Garrett Gilbert
twice and racked up 93 yards of interception return yardage.
Best team performance:
Oklahoma State.
No competition here. The Cowboys dominated a good Baylor team on both sides of the ball and never let the Bears seriously threaten to win, scoring the game's first 34 points.
Best offensive freshman:
James Sims, RB, Kansas.
Sims rushed for 123 yards on 20 carries, but most importantly, his three of his fourth touchdowns came in the fourth quarter, helping Kansas complete its miracle comeback against Colorado.
Best defensive freshman:
Tre Walker, LB, Kansas State.
Walker made 11 tackles in the win over Texas to lead the Wildcats defense in stops.
Classiest gesture:
Taylor Potts, QB, Texas Tech
. After leading a Texas Tech comeback, Potts eschewed postgame interviews
to make this speech to the media
about what the team's jerseys on Saturday meant to him.
Best play:
Justin Blackmon, WR, Oklahoma State.
The only way Baylor was going to come back and beat Oklahoma State was with a big start to the second half. Blackmon was the one who got it, and last I checked, he didn't play for Baylor. The Cowboys faked a screen play and Weeden pitched to Blackmon, who raced down the left sideline for a 69-yard touchdown that put Oklahoma State up 31-0 seconds into the third quarter.
Honorable mention:
James Sims' game-winning 28-yard run in the final minute against Colorado.
Honorable mention:
Any of Texas A&M's three goal-line stands.
Best play II:
Josh Cherry, K, Kansas State.
Cherry had his extra point attempt on Kansas State's final touchdown blocked, but the kicker scooped up the ball and took it into the end zone for a two-point conversion.
Worst play:
Daniel Kuehl, P, Iowa State
. I'm sure
Kuehl's effort on the game's final play
was his best try, but if anyone did that in a game with friends at the park, they wouldn't live it down for decades.
Worst quarter:
Colorado's fourth quarter.
It started off innocently enough, with a touchdown on the first play to go up 45-17. By now,
you probably know the rest
. It wasn't very good.
Best game:
Nebraska 31, Iowa State 30 (OT).
The wind and Nebraska's quarterback injuries were big equalizers for the Cyclones, but Iowa State rallied from a 14-point deficit in the fourth quarter to force overtime, and nearly pulled off the play of the year in the Big 12 with Paul Rhoads' fake extra point attempt for the win.
November, 6, 2010
11/06/10
7:06
PM ET
Is there a Mad Hatter Jr. on the loose in Ames?


Iowa State scored what looked like a game-tying touchdown in overtime against Nebraska, but Paul Rhoads called for a fake extra point with the Big 12 North in the balance.
The Cyclones had the element of surprise and a wide-open
Collin Franklin
in the end zone, but punter Daniel Kuehl short-armed what should have been an easy game-winning pass. Instead, it was intercepted to secure the
31-30 win
for Nebraska, who moves to 8-1 and 4-1 in Big 12 play, and most importantly, stays on top of the North division.
The call was debatable, but I was definitely in favor of it. Nebraska is a better team than Iowa State, even without
Taylor Martinez
. If you can get a chance to knock off a top-10 team with one play, you take it. Rhoads got it, the play call worked, but the execution failed.
Players, fans and media alike love gutsy play calls like the one Rhoads made, and it should have worked.
The Cyclones coach may have lost a game on Saturday, but he won over plenty of fans.
BIG 12 SCOREBOARD
Saturday, 12/27
Saturday, 12/20
Monday, 12/22
Tuesday, 12/23
Wednesday, 12/24
Friday, 12/26
Monday, 12/29
Tuesday, 12/30
Wednesday, 12/31
Thursday, 1/1
Friday, 1/2
Saturday, 1/3
Sunday, 1/4
Monday, 1/12
Tweets from https://twitter.com/ESPNCFB/lists/big12