November, 4, 2013
11/04/13
2:30
PM ET
The Big 12 has featured some prolific wide receiver tandems over the years.
Baylor's
Tevin Reese
and
Antwan Goodley
, however, have a chance to top that list.
[+] Enlarge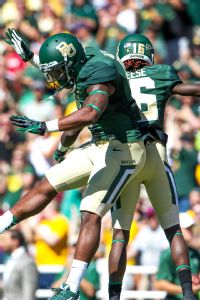 Jerome Miron/USA TODAY SportsAntwan Goodley and Tevin Reese rank 1-2 in the Big 12 in receiving yards per game.
This season, Reese is second in the Big 12 with 118 yards receiving a game. He trails only Goodley, who leads the league with an average of 128 yards receiving. They are a big reason why the Bears are on pace to break the FBS records for points (56.0) and yards (624.9) per game that were set by Army in 1944 and Houston in 1989.
Depending on how they finish, Reese and Goodley could wind up becoming the best duo in Big 12 history. But they aren't the only big-time duos in the Big 12 this year.
Kansas State's
Tramaine Thompson
and
Tyler Lockett
have been lighting it up since returning from injury. The last two weeks the two have totaled five touchdown catches.
Jalen Saunders
and
Sterling Shepard
lead the Sooners with five touchdowns apiece. Texas Tech's
Eric Ward
and
Jakeem Grant
are fifth and sixth in the league in receiving. Oklahoma State's
Josh Stewart
and
Tracy Moore
are beginning to warm up with
Clint Chelf
at QB. And
Jaxon Shipley
and
Mike Davis
have been stalwarts in this league for years.
But who are the best tandems ever to play Big 12? We lay it out below.
Tight ends were not included (sorry Jermaine Gresham and Chase Coffman). The tandems were evaluated on what they accomplished together, not on whether their careers simply overlapped (eliminating Jeremy Maclin and Danario Alexander, for example); and, this is a list for duos, not singles, trios or quartets (apologies to Rashaun Woods, and the 2008 Oklahoma and 2010 Baylor receiving corps).
To the list:
1. Stedman Bailey and Tavon Austin, West Virginia (2012):
In their only year in the league, this tandem was one-two in the Big 12 in receiving, combining for 224 receptions and 2,914 receiving yards. Bailey himself had 25 receiving touchdowns; nobody else in the league had more than 13. Austin, meanwhile, also rushed for 344 yards in one game at running back. As Bailey tweeted out earlier Monday morning on this topic, "case closed."
2. Michael Crabtree and Danny Amendola, Texas Tech (2007):
Crabtree got all the headlines in 2007 on his way to winning his first of two Biletnikoff awards. But out of the slot, Amendola quietly put up 109 receptions for 1,245 yards, as Tech went 9-4.
3. Jordan Shipley and Quan Cosby, Texas (2008):
Shipley and Cosby starred on one of the three best Big 12 teams that didn't win a conference title. The two each had 1,000 receiving yards and double-digit TDs from QB Colt McCoy, as the Longhorns finished the year 12-1, their only loss coming on Crabtree's game-winning touchdown in the final seconds in Lubbock. The two were also prolific on special teams, with Shipley's kick return touchdown sparking Texas' 45-35 comeback win over Oklahoma.
4. Justin Blackmon and Josh Cooper, Oklahoma State (2011):
As with Crabtree-Amendola, Blackmon got all the attention on his way to a second Biletnikoff award. But Cooper was a pivotal piece in OSU's first Big 12 title team, as he racked up 71 receptions out of the slot. Blackmon, of course, had a monster year with 121 catches and 18 touchdowns.
5. Kendall Wright and Terrance Williams, Baylor (2011):
Reese was actually the third wheel to this duo, which shined with RGIII at quarterback. Wright was an All-American with 108 catches, 1,663 yard and 14 touchdowns. Williams was big time, too, finishing fifth in the Big 12 in receiving before taking over the No. 1 role in 2012.
6. Ryan Broyles and Kenny Stills, Oklahoma (2010):
Broyles led college football with 131 receptions on his way to becoming the all-time FBS leader in career catches. Stills broke OU's freshman single-season receiving record, as the Sooners stormed back to capture the Big 12 crown after a pair of midseason losses.
7. Kerry Meier and Dezmon Briscoe, Kansas (2008):
It might be difficult to remember now, but the Jayhawks used to play some ball. Meier tied Crabtree for second in the league with 97 receptions. Briscoe trailed only Dez Bryant with 1,402 receiving yards. This was an underrated duo.
8. Quincy Morgan and Aaron Lockett, Kansas State (1999):
On one of the first passing teams in the Big 12, Morgan and Lockett shined. Morgan had 42 receptions for 1,007 yards and nine touchdowns and was a first-team all-conference selection. Lockett, Tyler Lockett's uncle, was a second-team all-league pick for the Wildcats, who went 11-1 and finished the year ranked sixth in the polls.
9. Mark Clayton and Travis Wilson, Oklahoma (2004):
Clayton carried the moniker of best receiver in OU history until Broyles came around. Because of Adrian Peterson, Clayton's numbers dipped in '04, but he was still an All-American with 66 catches. Wilson led the Sooners with 11 TD grabs, as OU advanced to a second consecutive national championship game.
10. Jarrett Hicks and Joel Filani, Texas Tech (2005):
Neither might be a household name around the Big 12 anymore, but these two were both first-team All-Big 12 selections in '05 along with Iowa State WR Todd Blythe.
April, 12, 2013
4/12/13
12:00
PM ET
By
ESPN.com staff
| ESPN.com
Allergies?
Cowardice, and weak-willed men. Oh, and hazelnuts.
June, 23, 2009
6/23/09
6:44
PM ET
By
Tim Griffin
| ESPN.com
Posted by ESPN.com's Tim Griffin
No. 14
The day that press conferences were bigger than anything on the field.
Date: Sept. 22, 2007
Place: Boone Pickens Stadium, Stillwater, Okla.
Score: Oklahoma State 49, Texas Tech 45
Oklahoma State's wild victory over Texas Tech started the 2007 conference race with one of the most memorable games in Big 12 history.
The two teams combined for 94 points, 62 first downs, and 1,328 yards. There were also three lead changes in the final 12:25.
And that action was upstaged by the comments of both teams' coaches in the post-game press conference.
OSU coach Mike Gundy quickly became a celebrated national figure after he defended his backup quarterback Bobby Reid, who he felt had been unfairly portrayed before the game in a column in the Daily Oklahoman.
Texas Tech coach Mike Leach had a similar eruption where he questioned the toughness of his defense after it had been gashed for 366 rushing yards.
It was a wild scene unlike anything that has been seen -- before or since -- in Big 12 history.
Earlier, the action on the field was nearly as memorable.
Tech wide receiver Michael Crabtree had helped stake the Red Raiders to a 35-28 halftime advantage with three early touchdown grabs. But OSU stormed back to tie the game on Zac Robinson's 3-yard keeper with 1:15 left in the third quarter.
Early in the fourth quarter, OSU's defense came up with a huge play when Tech wide receiver Edward Britton fumbled at the Tech 38. On the next play, OSU took the lead when Seth Newton hit Jeremy Broadway on a 33-yard option pass for a touchdown to give the Cowboys the lead.
Tech stormed back to tie the game four plays later when quarterback Graham Harrell threw his fifth touchdown of the game -- a 41-yard strike to Danny Amendola.
The Red Raiders withstood OSU on the next drive as Robinson was stopped on fourth down at the Tech 40 by Joe Garcia. Tech then marched 58 yards on a scoring drive capped by Alex Trlica's 19-yard field goal that gave the Red Raiders a 45-42 lead with 4:49 left.
After an exchange of punts, OSU had one final chance. And on the first play from scrimmage, Robinson hooked up with tight end Brandon Pettigrew on a 54-yard TD reception that gave them the lead for good with 1:37 remaining.
Tech marched to the OSU 15, but Crabtree dropped a touchdown pass in the end zone with 19 seconds left after OSU cornerback Ricky Price had flashed in front of him.
It provided Gundy with a victory in his first conference game of the season, emboldening him to make perhaps the most celebrated rant in college football history.
Factoids to note: Harrell's 646 passing yards was the fourth-best single-game total in college football history at the time of the game as he completed 46 of 67 passes. OSU had three backs who rushed for 100 yards for the first time in the same game in school history -- Dantrell Savage with 130 yards, Robinson with 116 yards and Kendall Hunter with 113 yards. Crabtree and Amendola both had huge games as Crabtree produced 14 receptions for 237 yards and Amendola snagged 14 catches for 233 yards ... It was only OSU's second victory in a Big 12 opener in nine seasons.
They said it, part I: "Come after me! I'm a man! I'm 40!" OSU coach Mike Gundy's comments after he felt backup quarterback Bobby Reid was unfairly attacked in a newspaper column before the game.
They said it, part II: "We got hit in the mouth and acted like somebody took our lunch money. All we wanted to do was have pouty expressions on our face until somebody dabbed our little tears off and made us (expletive) feel better," Tech coach Mike Leach on his defense's inability to contain OSU's offense.
They said it, part III: "If I put it on the other shoulder, he's going to catch that easily and we win. If I put it a foot on the other side of him, we catch the ball and win. It's probably my fault. He played a heck of a game," Tech QB Graham Harrell on Michael Crabtree's late drop that cost the Red Raiders a game-winning touchdown.
They said it, part IV: "That was my Superman," OSU tight end Brandon Pettigrew describing his leap for the end zone on his game-winning touchdown.
The upshot: Gundy became a cult figure after his 3-minute 20-second outburst, which has been replayed on YouTube millions of times after the incident. Robinson claimed the starting position after the comeback victory and Reid never started at quarterback again. He eventually started at wide receiver later in the season, but transferred to Southern University after the season for his final year. In an interview with ESPN the Magazine's Tom Friend, Reid said that Gundy's rant "basically ended my life."
Leach fired defensive coordinator Lyle Setencich the following day and inserted Ruffin McNeill into the position. The move worked as the Red Raiders' defense improved markedly and helped spark them to a 9-4 season punctuated by a 31-28 victory over Virginia in the Gator Bowl. That triumph helped boost Tech to a No. 22 ranking in the final Associated Press poll that season.
OSU used momentum from the comeback victory to charge to a 7-6 record during the rest of the season, capping the season with a 49-33 triumph over Indiana in the Insight Bowl in the Cowboys' second-straight bowl victory under Gundy.
The countdown:
15. Rout 66: No, that score wasn't a typo.
16. Kansas State finally slays the Cornhuskers.
17. Kingsbury and Long hook up in a passing duel for the ages.
18. Henery and Suh make Colorado blue.
19. Stunning OSU rally leads to Stoops' first home loss.
20. It's never over for Texas Tech until it's over.
21. Reesing to Meier. Again and again.
22. A Texas-sized comeback -- Texas over Oklahoma State in 2004.
23. A Border War unlike any of the rest -- Missouri over Kansas in 2007.
24. Seneca Wallace's wild TD run vs. Texas Tech in 2001.
25. Baylor's "So Much for Taking a Knee" against UNLV in 1999.
November, 18, 2008
11/18/08
7:05
PM ET
By
Tim Griffin
| ESPN.com
Posted by ESPN.com's Tim Griffin
An old recruiting adage says that college football is more about the Jimmys and the Joes than the Xs and the Os.
Texas Tech's defense is confounding that notion today, taking a group of unheralded recruits and combining them into one of the Big 12's most productive units.

The Tech defense isn't dotted by four- and five-star recruits. The Red Raiders don't consider internet rankings when they are filling in players for their defense.
"We recruit to fit our system," Texas Tech defensive coordinator Ruffin McNeill said. "Coach Leach has always done that and we as a defense are doing it now, too. We go by film only and how we think guys will help in how we play defense."
Starting defensive end Jake Ratliff was an undersized tight end in high school in Lawton, Okla. Nose tackle Colby Whitlock got more notoriety as a state wrestling champion in Noble, Okla., than he did for football. Making his development even more intriguing is that Noble is only a couple of long touchdown passes away from Norman, where the Red Raiders will be playing for a shot at the Big 12 South title Saturday night against the Sooners.
And defensive end Brandon Williams, the Big 12's leader in sacks, was discovered playing defense and rebounding in a basketball game for his high school in Fort Worth.

"He must have weighed about 215 pounds at the time," McNeill said. "(Safeties coach) Carlos Mainord saw him playing basketball and thought he might be able to eventually help us."
After extensive work in college, Williams has blossomed into a 265-pound sacking specialist who has wreaked havoc on Big 12 offenses throughout his career. He's just another one of Tech's underrated defenders who came to the South Plains and got better.
Daniel Charbonnet arrived at Lubbock as a walk-on, mainly because of his friendship with former Texas Tech wide receiver Danny Amendola. He had started his career at Duke as a freshman starting cornerback who got homesick repeatedly losing with the Blue Devils. Charbonnet wanted to come home and Tech provided him that opportunity.
"I was looking around and Tech looked like the best place for me," said Charbonnet, who has combined with free safety Darcel McBath to contribute 11 interceptions this season. "It's worked out well for me. This is a great situation for me."
The Red Raiders' group of defensive overachievers has been the underrated component of a 10-0 team that is off to the best start for Texas Tech since 1938.
The defense almost was an afterthought in some of coach Mike Leach's early teams. But the installation of McNeill has helped them develop into a cohesive unit that meets the specifications of the coach.
"I think the key is more good, solid, overall defense," Leach said. "Just to not have flaws in your defense. Understand the other guy is going to get some yards, and then just outlast them and keep making plays
The little team that could has blossomed under McNeill's tutelage.
After taking over four games into last season -- after Tech was blistered for 49 points and 610 yards in a loss to Oklahoma State -- McNeill has built a defense in his vision.
His mantra is "fast legs and clear minds" and the Red Raiders are playing like it. He jokes that he took his original playbook of concepts and then cut it in half to enable his players to have a clearer understanding of his philosophy.
Over the last nine games last season, Tech was No. 1 in the Big 12 in total defense. This season, the Red Raiders are second and have been especially effective in recent weeks holding high-powered offenses like Kansas, Texas and Oklahoma State well below their averages for scoring and total offense.
"Their defense is playing with almost an offensive style," Oklahoma State coach Mike Gundy said.
But the biggest challenge will come this week against Oklahoma, which leads the nation in scoring offense, is third in passing offense and fourth in total offense. Adding to the difficulty is that Oklahoma is 59-2 at home under Bob Stoops.
"You have a lot of confidence, but going to Norman is a tough place to play," Ratliff said. "This is a completely different team. And I wouldn't expect to see much of what they did last year. This will be two different teams going against each other."

McNeill utilizes one of the most basic philosophies in the Big 12. The Red Raiders like to sit back in a zone defense and make opposing offenses go the length of the field to beat them.
With Tech rarely making turnovers on offense and the Red Raiders' potent attack scoring a high probability of the time, it gives the Tech defense a unique advantage. If they can contribute two or three stops during the course of the game, they should be in good shape.
"It's a very good defense and very solid," Oklahoma quarterback Sam Bradford said. "There's lot of zone coverages they use. They try to force mistakes and end drives with their zone defense and don't make many mistakes. We're going to have to be disciplined and take what they give us within our system if we're going to be successful."
November, 3, 2008
11/03/08
6:46
PM ET
By
Tim Griffin
| ESPN.com
Posted by ESPN.com's Tim Griffin
The ivy-covered turrets and pristine campus at Duke were an early attraction for Daniel Charbonnet. And so was the chance to immediately play for the Blue Devils.
But Charbonnet missed his friends and family back home in Texas. He never really felt comfortable despite an early shot at playing time as a freshman cornerback for the downtrodden program.
Four seasons later, Charbonnet has emerged as one of the key defensive players for Texas Tech. He's battled long odds, from starting over as a walk-on with the Red Raiders to becoming one of the prime playmakers in a rapidly improving secondary.
| | |
| --- | --- |
| | |
| | Jamie Squire/Getty Images |
| | Texas Tech cornerback Daniel Charbonnet celebrates after returning an interception for a touchdown during the win last Saturday against Texas. |
"It seemed like a good opportunity at the time, but I never really enjoyed playing there," Charbonnet said about his short-lived career in the Atlantic Coast Conference. "But I wanted to come back to Texas and I was homesick. I came out here and I just loved it."
His association with former Texas Tech wide receiver Danny Amendola, an old friend from high school in the Houston suburb of the Woodlands, convinced him to transfer.
"I just saw all of the stuff they were doing and it looked like a good fit for me," Charbonnet said. "The coaches liked me and I liked them. It just seemed like a good place to play."
His family has a strong football tradition. His late maternal grandfather, Levin "Chuck" Johns was a standout halfback at LSU in the 1950s. And his younger brother, Taylor, has joined him in the Tech program where he's become a key special-teams player.
After sitting out the 2005 season as a transfer and starting as a scout teamer and then a special teams player, Charbonnet finally cracked the Red Raiders' playing rotation last season. And despite his 5-foot-11, 203-pound frame, he's becoming one of the top big play producers in the Big 12 conference after moving to strong safety.
Coming out of spring practice, he beat out Anthony Hines for the starting position. And he hasn't looked back as he's become a key contributor because of his uncanny playing instincts and his hustle.
"Daniel is a good player," Texas Tech defensive coordinator Ruffin McNeill said. "He does a lot with things that just can't be coached. There are a few players that always seem to have that knack about being around the ball and he's one of them."
Earlier in the season, he set the school record with three interceptions in a game against SMU.
His biggest game could have come last week against Texas, when he produced an 18-yard interception return for a touchdown that helped provide the only second-half touchdown for the Red Raiders before their dramatic late touchdown pass from Graham Harrell to Michael Crabtree.
Charbonnet punctuated the victory by causing and recovering a fumble on the kickoff, the final play of the game, which wrapped up the win. It enabled him to earn his second Big 12 Defensive Player of the Week award of the season.
"You dream about something like that," said Charbonnet, who shares the conference lead in interceptions (five) with teammate Darcel McBath. "It just happened and I was very thankful for the opportunity. We've always felt like we could play with anybody and beat anybody. And that game proved that."

But Charbonnet said the Red Raiders are cognizant that they can't celebrate the first victory over a No. 1 ranked opponent in school history for too long. Especially with the challenges that Oklahoma State's multi-faceted offense will provide this week. It's another test with a top-10 opponent.
"I'm happy about the Texas game and having the impact I did on it, but all of that won't matter unless we take care of business this week and the rest of the season," Charbonnet said. "And that's how we all are approaching it. We still have a lot more to do."