November, 9, 2014
Nov 9
1:49
AM ET
FORT WORTH, Texas -- Sensing another seam in the Kansas State defense,
Trevone Boykin
abandoned the pocket and zipped forward. As he neared the goal line, three K-State defenders converged. But before they could reach him, Boykin went airborne and somersaulted all three Wildcats before landing feet first in the end zone.
"I'm not a gymnast," Boykin said. "But when I get to the end zone, I'll do anything to get in. I'll do whatever it takes for this team to win."
Behind another winning performance from its electric quarterback, TCU took a giant leap forward in its playoff hunt with a resounding
41-20
victory over seventh-ranked K-State on Saturday.
[+] Enlarge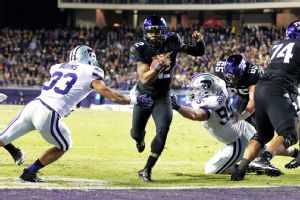 Tim Heitman/USA TODAY SportsQuarterback Trevone Boykin sparked TCU on Saturday, scampering for three touchdowns.
Yet as impressive as the sixth-ranked Horned Frogs were before a packed Amon G. Carter Stadium, to complete their playoff quest, they might need a solid effort down the road from the same squad they demolished.
"They're grown-ups," said TCU coach Gary Patterson, when asked if his team deserved to be ranked in the coveted top four when the playoff selection committee updates its rankings Tuesday. "We just beat the seventh ranked team in the nation. We'll see what they say."
We'll see what the playoff committee says.
But it's beginning to feel like 2008 all over again in the Big 12.
Earlier Saturday, Baylor demolished No. 15 Oklahoma 48-14 in Norman and handed the Sooners their second worst loss in 16 seasons under Bob Stoops.
Should both TCU and Baylor win out, the committee could be left with a difficult determination between the two for playoff inclusion.
Having disposed of 7-2 Minnesota, TCU has a better out-of-conference résumé than Baylor, which was the only Big 12 school that didn't schedule a Power 5 opponent in the nonconference schedule.
But having rallied from 21 down in the fourth quarter to stun the Horned Frogs 61-58 in Waco the past month, the Bears have the head-to-head advantage. Although the conference recognizes co-champions, in the eyes of the playoff committee, Baylor would be the One True Champion, which the committee has indicated will be a factor in its playoff deliberations.
Does this feel familiar? It should.
Six seasons ago, Oklahoma and Texas finished tied atop the Big 12 South standings with Texas Tech. The Longhorns beat the Sooners head-to-head. But the BCS standings broke the three-way tie and sent Oklahoma to the Big 12 title game -- and ultimately the national championship -- instead. The debate resulted in Facebook-funded flyovers and even prompted Texas coach Mack Brown to politic his side during the TV broadcast of Oklahoma's final regular-season game at Oklahoma State.
After his game Saturday, Patterson was asked whether he felt he also needed to make a case for his team to be ranked ahead of Baylor.
"No," Patterson said before proceeding to state his case. "It was at their place, we were up 21 points, and it was a three-point ball game. I don't have a problem. I think Baylor is a really good football team. But I also know Minnesota is now 7-2, and they just beat Iowa. I thought Baylor did a great job [at Oklahoma]."
He also noted that
Sterling Shepard
, the Big 12's leading receiver, sat out against Baylor with a groin strain.
"I don't see any of the games [the Bears] have left would mean any more than the games we have," Patterson said.
TCU, however, saved its best talking for the field.
The Horned Frogs outgained K-State on the ground 352-46, limited the Wildcats to just three first downs the entire first half and even forced K-State quarterback
Jake Waters
into his first turnover of the Big 12 season.
TCU was without two of its top offensive playmakers, and it hardly mattered. Leading rusher
B.J. Catalon
was sidelined with an upper body injury, while starting wideout
Deante' Gray
was unable to play with a bum leg.
Aaron Green
filled in for Catalon in the backfield and rushed for 171 yards and a dazzling, sideline-to-sideline, 65-yard touchdown that effectively put the game away in the third quarter.
David Porter
, who hadn't caught a single pass in three weeks, picked up Gray's production through the air with a team-high seven receptions and a first-quarter touchdown grab that gave TCU early control.
"You want to be a great team? The next guy has to play. That's the way it is," Patterson said. "You want to win championships? The next guy has to step up. And the next guy stepped up."
As good as his supporting cast was, no one was more spectacular than Boykin, who produced a Heisman moment with the somersault and sandwiched it with several thrilling others.
Boykin torched a stout and steady K-State defense that had previously locked up everyone else in the Big 12 -- and Auburn before that. He rushed for a career-high 127 yards and three touchdowns and completed 23 of 34 passes for 219 yards and another score.
"Guys made plays all over the field," said Boykin, who admitted he was upset with his up-and-down performance in TCU's 31-30 win at West Virginia last week and was focused on bouncing back. "This was a great win."
It might have also been TCU's final chance to make a great impression on the committee. In their final three games, the Horned Frogs face Big 12 doormats Kansas and Iowa State and unranked Texas in Austin on Thanksgiving night.
Baylor, meanwhile, gets slumping Oklahoma State and Texas Tech.
But the Bears still have to go through K-State -- Patterson's alma mater -- in the regular-season finale Dec. 7. The Wildcats could end any dispute by knocking off Baylor then.
Otherwise, this playoff debate will rage on -- like it's 2008.
"We can't control the committee," Patterson said. "All we can do is try and win."
August, 11, 2014
Aug 11
4:00
PM ET
TCU's new offense is a receiver's dream.
"This is the type of offense a receiver wants to be in," Horned Frogs receiver
David Porter
said. "You get to spread the defense out and get the ball in open spaces."
Bragging rights among TCU's skill guys are up for grabs and on the minds of playmakers like Porter and running back
B.J. Catalon
.
[+] Enlarge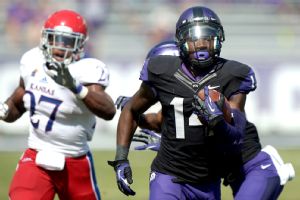 Kirby Lee/USA TODAY SportsReceiver David Porter is excited about the potential for big plays in TCU's up-tempo offense.
"We talk about that every day," said Porter who rooms with Catalon. "Who is going to have the most catches? Who is going to make the most plays. We're always talking about this offense."
Yet the Horned Frogs' new up-tempo attack won't mean TCU will be abandoning the running game. When Mike Leach's "Air Raid" style attack is at the root of an offense, the assumption tends to be made that moving the ball on the ground is a thing of the past. That belief is well-earned, evidenced by Leach's Washington State squad ranking last among FBS teams at 18.7 rush attempts per game in 2013.
Yet new offensive coordinators Doug Meacham and Sonny Cumbie aren't expected to put TCU's talented running backs on the cupboard shelf. As the Leach offense has grown and expanded, with several different guys putting their spin on it, the running game has become a integral part of its success at several different places, including Oklahoma State, where Meacham helped the Cowboys rank in the top five nationally in total offense from 2010-12 before his lone season at Houston.
In 2013, Houston averaged 33.5 rush attempts per game with Meacham at the helm and Texas Tech, Cumbie's former team, averaged 32.7 rush attempts per game. Those rush attempt per game numbers are music to the ears of TCU center
Joey Hunt
.
"I came from an offense in high school where we ran the ball all the time," Hunt said. "I want to continue to run the ball, too, [so we] have big plays running and passing."
Up-tempo spread offenses at OSU, Texas Tech, West Virginia and Baylor are known for their high-flying passing games, yet OSU and Baylor averaged more rush attempts than pass attempts a year ago. Not surprisingly, those two squads found themselves in the thick of the Big 12 title race in November.
Balance is key.
"You have to run the ball," Hunt said. "We want to have a balanced offense. Be able to run the ball when we need to and pass the ball when we need to."
Having that ability is arguably the thing that separated Baylor's offense from the rest last season. The Bears could throw when they wanted to throw or run when they wanted to run, and both aspects of the offense set up the other.
With Meacham and Cumbie in charge, TCU hopes to do the same. The tempo has increased, with Porter calling it "crazy" and Hunt admitting "it's different" and noting that he has taken on a centerpiece role in the tempo change as the guy who gets on the ball and sets the rhythm for the entire offense.
It is creating excitement and anticipation for TCU's offense to debut on Aug. 30 against Samford, because it's not just a new offensive system the Horned Frogs' OC duo has brought to Fort Worth, Texas.
"They have swagger and confidence," Hunt said. "And that's what our offense needs."
May, 6, 2014
May 6
9:00
AM ET
Over the next two weeks, we'll be analyzing the
depth charts of every Big 12 team
coming out of the spring. We continue today with
TCU
, which released an official two-deep after wrapping up spring ball. After its recent addition at QB, here's our take on what the Horned Frogs' depth chart now looks like:
OFFENSE (projected starter in bold)
QB: Matt Joeckel (Sr.)
OR
Trevone Boykin (Jr.)
,
Zach Allen
(RFr.)
Joeckel announced last month he will
transfer from Texas A&M to TCU
, but the paperwork isn't officially done so TCU has made no formal announcement. When he does arrive in Fort Worth, expect Joeckel to become the frontrunner for the QB spot due to his experience running the Air Raid offense. Boykin will fight for his job but is versatile enough to be a legitimate contributor at receiver. Freshmen
Foster Sawyer
and
Grayson Muehlstein
arrive in the summer.
[+] Enlarge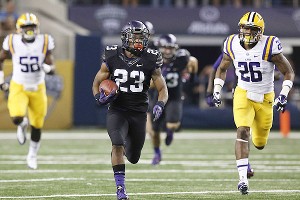 Jim Cowsert/Fort Worth Star-Telegram/Getty ImagesB.J. Catalon is the most experienced player in a crowded, unsettled TCU backfield.
RB: B.J. Catalon (Jr.) OR Kyle Hicks (RFr.) OR Aaron Green (Jr.) OR Trevorris Johnson (RFr.)
The three-OR move isn't about Gary Patterson refusing to tip his hand. It's more a sign that the Horned Frogs will rely on a committee of backs, and by the end of spring Catalon, Hicks and Green had all suffered injuries. The competition to find that No. 1 back continues in the fall, and freshman
Shaun Nixon
will be in the mix then, too.
WR-X: Ja'Juan Story (Jr.) OR Kolby Listenbee (Jr.)
WR-H: Ty Slanina (So.),
Deante' Gray
(Jr.)
WR-Y: David Porter (Sr.)
,
Cameron Echols-Luper
(So.),
Griffin Gilbert
(So.)
WR-Z: Josh Doctson (Jr.)
,
Jordan Moore
(Jr.)
TCU will need several of these guys to step up to make the high-speed passing game thrive. Two-year starter
Brandon Carter
is not listed on the post-spring depth chart but is still a member of the program. The athletic Moore might've finally found his position after moving over from running back. Gilbert moved over from tight end and could be a factor, while
Cliff Murphy
and
Buck Jones
are now the options at tight end in short-yardage situations. This group gets better and deeper in the summer when touted signees
Emanuel Porter
and
Corey McBride
show up.
LT: Halapoulivaati Vaitai (Jr.),
Tayo Fabuluje
(Sr.)
LG: Jamelle Naff (Jr.)
,
Bobby Thompson
(Jr.)
C: Joey Hunt (Jr.)
,
Brady Foltz
(Jr.),
Patrick Morris
(So.)
RG: Frank Kee (Jr.)
,
Matt Pryor
(RFr.)
RT: Joseph Noteboom (RFr.)
,
Aviante Collins
(Jr.)
Patterson felt much better about the strength and depth of this group following spring ball. Noteboom was the surprise of the group, and Kee made a big impression coming out of junior college. Collins was listed as the starter at left tackle entering the spring, but "Big V" Vaitai impressed, and Fabuluje should contribute again after leaving the team last fall. Don't be surprised if Thompson eventually wins the job at left guard. TCU adds four freshmen, and each one could redshirt if the depth holds up.
DEFENSE
LE: James McFarland (Jr.)
,
Josh Carraway
(So.),
Bryson Henderson
(RFr.)
DT: Chucky Hunter (Sr.)
,
Mike Tuaua
(Jr.)
DT: Davion Pierson (Jr.)
,
Tevin Lawson
(So.)
RE: Devonte Fields (So.),
Terrell Lathan
(Jr.)
[+] Enlarge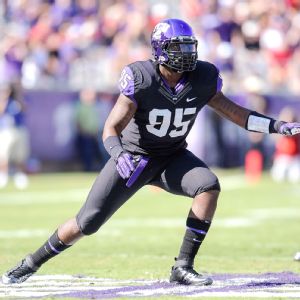 Jerome Miron/USA TODAY SportsNow healthy, Devonte Fields is working to returning to his All-Big 12 form of 2012.
Fields is listed as the backup right end on TCU's official post-spring depth chart, but that's more a measure for motivation. The former Big 12 AP Defensive Player of the Year is healthy and hungry. Hunter and Pierson forms one of the Big 12's better defensive tackle combos. McFarland, Carraway and Lathan will all compete for the left end job, and Lathan and Tuaua can play several spots on the line.
MLB: Jonathan Anderson (Sr.)
,
Paul Whitmill
(RFr.)
SLB: Marcus Mallet (Sr.) OR Paul Dawson (Sr.)
,
Sammy Douglas
(So.)
The Horned Frogs bring back their entire linebacker corps this fall and have some nice pieces for these two starting spots. Dawson will continue to push Mallet and let the team with 91 tackles in 2013. It'll be interesting to see what Douglas, a special teams contributor last season, and Whitmill can provide in their second year in the program.
CB: Kevin White (Sr.),
Travoskey Garrett
(Jr.)
CB: Ranthony Texada (RFr.)
,
Cyd Calvin
(RFr.)
SS: Sam Carter (Sr.),
Denzel Johnson
(So.),
George Baltimore
(RFr.)
FS: Derrick Kindred (Jr.)
,
Geoff Hooker
(Sr.),
Steve Wesley
(RFr.)
WS: Chris Hackett (Jr.)
,
Kenny Iloka
(Jr.)
With
Jason Verrett
gone, White is the leader of the corners now, and TCU needs several others to be ready to contribute by August. Texada was consistently praised by his coaches this spring and is the favorite to take the vacant starting spot after redshirting last season. Carter, Hackett and Kindred form a talented safety trio, but don't sleep on Iloka and Johnson. Both are expected to see the field a lot in 2014.
April, 30, 2014
Apr 30
3:00
PM ET
With spring ball done, we're
reexamining and re-ranking the positional situations of every Big 12 team
, continuing Wednesday with receivers (and tight ends). These outlooks could look different in August. But here's how we see them post-spring:

1. Baylor (pre-spring ranking: 1):
The Bears maintained their commanding advantage over any other receiving corps in the league.
Antwan Goodley
remains an All-American candidate, and
Corey Coleman
looks primed to become Baylor's next great wideout following a spectacular spring.
Levi Norwood
,
Jay Lee
and
Clay Fuller
are proven performers. And more talent is about to arrive, including blue-chip freshman
K.D. Cannon
. The Baylor receivers are as formidable as any position grouping in the league.

2. Texas Tech (3):
The Red Raiders lost their two best pass-catchers from last year in tight end
Jace Amaro
and
Eric Ward
, but this group is overflowing with dynamic young talent. After reeling in two touchdowns in the bowl and dominating Texas Tech's spring game,
Jakeem Grant
looks like he's on the verge of becoming a star in the league.
Bradley Marquez
should be even sharper after giving up baseball to focus on football this offseason. And the speedy
Reginald Davis
is a potential big-play threat on the perimeter. All three players can fly, and they have a quarterback in
Davis Webb
who can deliver the ball to them down field. The unit goes deep in the rotation, too, with
D.J. Polite-Bray
,
Devin Lauderdale
,
Jordan Davis
and
Derreck Edwards
all poised to be factors.

3. Oklahoma State (4):
The Cowboys don't have a
Justin Blackmon
or
Dez Bryant
. But they
have a deep rotation
and a budding All-Big 12 candidate in
Jhajuan Seales
, who is ready to take over as the offense's go-to receiver.
Marcell Ateman
,
David Glidden
and
Brandon Sheperd
were all significant parts of the corps last year, as well, and
Blake Webb
and
Austin Hays
, who both made starts two years ago as true freshmen, bounced back from injury-plagued 2013 seasons to impress in the spring. Track star/running back
Tyreek Hill
also will line up in the slot at times and will be a home-run threat any time he touches the ball. Considering none of the projected eight in the two-deep will be a senior, this group should only continue to get better, too.

4. Texas (5):
Don't fault the Texas receivers for not making a bigger impact in the spring game. For three quarters, reserve quarterback
Tyrone Swoopes
struggled to get them the ball. While the Longhorns probably lack an All-Big 12-caliber performer, they boast an experienced, reliable trio in three-year starter
Jaxon Shipley
and juniors
Kendall Sanders
and
Marcus Johnson
.
Daje Johnson
, who caught a Hail Mary from Swoopes in the spring game, brings even more playmaking to the group as a full-time receiver. Texas obviously has QB issues. But if the Horns can find the right player there, that QB will have reliable weapons to operate within the passing game.

5. Kansas State (2):
K-State still has one of the best receivers in the country in
Tyler Lockett
, who is deserving of preseason All-American consideration. But the rest of the unit didn't round out during the spring as well as the Wildcats would have hoped.
Curry Sexton
(eight catches for 88 yards) and
Deante Burton
(six catches for 48 yards) were both solid in the spring game. So was freshman
Judah Jones
, who hauled in a 51-yard scoring grab. But converted QB
Daniel Sams
still has a ways to go before making a huge impact, and highly touted juco transfer
Andre Davis
failed to make a big spring splash. Any receiving corps featuring Lockett is going to be a handful. But the supporting cast still needs work.

6. Iowa State (7):
The Cyclones have the top returning pass-catching tight end in the league in
E.J. Bibbs
, who coach Paul Rhoads believes could vie for All-American honors.
Quenton Bundrage
has all-league potential, though he disappeared too many times last season, and did so again in the spring game.
Jarvis West
has proven he can make plays out of the slot, and the Cyclones have depth on the perimeter in
P.J. Harris
,
Brett Medders
and
D'Vario Montgomery
, who all developed rapidly during the spring. With highly touted signee
Allen Lazard
set to join the rotation, the Cyclones could boast their best receiving corps in several years.

7. Oklahoma (6):
The Sooners feature a bona-fide No. 1 receiver in
Sterling Shepard
, who has 96 career catches his first two seasons. But the position is the Sooners' biggest question mark. With 12 catches last year,
Durron Neal
is the team's second-leading returning receiver.
Austin Bennett
,
Jordan Smallwood
and
Derrick Woods
all had moments in the spring game, but the competition for snaps will carry over into the fall. Talented four-star incoming freshman
Michiah Quick
could be a factor in the slot once he gets to Norman.

8. West Virginia (8):
Starters
Mario Alford
,
Kevin White
and
Daikiel Shorts
are all back, but, collectively, must produce more consistently than they did last season. Alford seems to be the key. He had 215 receiving yards in West Virginia's final game of 2013, and he has the talent and speed to give the Mountaineers a dangerous No. 1 wideout.
Cody Clay
is a valuable tight end, though does most of his damage with his blocking.
Shelton Gibson
, who was ineligible last year and this spring as a partial qualifier, is a former four-star recruit and could give West Virginia a boost.

9. TCU (9):
The Horned Frogs actually had two positive developments at this position during the spring.
Jordan Moore
made a seamless transition from running back to receiver and is in line to give TCU a physical and fast presence on the outside. Then, former Texas A&M QB Matt Joeckel transferred in, potentially clearing the way for
Trevone Boykin
to swing back to receiver. This group has depth, with
Ty Slanina
,
Josh Doctson
,
David Porter
and
Cameron Echols-Luper
returning. But the future of the most talented receiver on the roster --
Brandon Carter
-- remains in doubt after he was recently arrested on suspicion of marijuana possession, after sitting out spring ball to focus on academics.

10: Kansas (10):
The Jayhawks might be at the bottom here, but they seem primed to field their best one-two punch at receiver since Kerry Meier and Dezmon Briscoe roamed Lawrence five years ago. Miami (Ohio) transfer
Nick Harwell
has taken on a much-needed vocal leadership role among this group and brings a track record of production, having finished second nationally in receiving in 2011. Flanking Harwell will be former running back
Tony Pierson
, who made the full-time move to receiver this offseason. While he's raw as a receiver, Pierson is capable of the big play.
Rodriguez Coleman
also emerged this spring as potential viable third option. The dark days of the Jayhawk receivers posing no threat in the passing game appear to be over.
March, 25, 2014
Mar 25
1:00
PM ET
TCU is searching for solutions at wide receiver this spring while one of its best sits out.

Brandon Carter
is not practicing while he works to get his academic affairs in order. That means extra reps for a group that will need them.
TCU coach Gary Patterson
told the Fort Worth Star-Telegram
he's hopeful Carter will be able to rejoin the program in August.
"If he makes his academics," Patterson told the paper. "He's got to pass. Why take reps away from somebody if he's not eligible?"
If Carter is unable to get back on track, TCU would be losing one of its best playmakers as it transitions to an offense that has been described as an Oklahoma State-Texas Tech hybrid.
Carter followed up a promising 2012 season with a frustrating junior year, finishing with 370 receiving yards and no touchdowns on 31 catches. He also struggled in the return game. He took a leave of absence from the team last November to deal with personal issues and is now trying to find his way back to the field.
The offseason dismissal of receiver
LaDarius Brown
and the absence of Carter is forcing TCU to test its depth this spring. Leading receivers
Josh Doctson
and
David Porter
do return, but the rest will have to step up going forward.
Ja'Juan Story
,
Kolby Listenbee
and
Jordan Moore
, a converted running back, are all worth keeping an eye on.
Help arrives this summer from four incoming freshmen, including four-star signees
Emanuel Porter
and
Corey McBride
, and Patterson knows these rookies will need to chip in.
"We're going to need to just because we don't have the numbers," Patterson told the Star-Telegram.
If Carter can take care of his business and rejoin the program for fall camp, it'll be a major boost. TCU's returning receivers can't gain any more game experience before then, but they do have an opportunity now to load up on first-team practice reps and start proving themselves.
And as all those Oklahoma State and Texas Tech offenses have proven in the past, if the system is working and the quarterback is dealing with confidence, it might not make much of a difference who's split out. The promise of what this scheme can do for his talents ought to give Carter plenty of extra motivation to get back.
March, 4, 2014
Mar 4
4:30
PM ET
With TCU eyeing a run at the Big 12 title this fall, the Horned Frogs hit the practice field to kick off spring football last weekend. Here are some things to keep an eye on during TCU's spring drills:
[+] Enlarge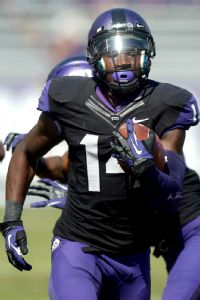 Kirby Lee/USA TODAY SportsA productive spring could lead to a big season for David Porter.
Offensive returner ready to take next step:
TCU's new up-tempo offense will need as many quality receiving targets as possible. Senior
David Porter
came on down the home stretch of the 2013 season with 17 receptions for 236 yards and four touchdowns during the month of November. He was a key target with 14 of those 17 receptions going for first downs, while his 82.4 first-down percentage was third in the Big 12 in November. If he uses the spring to prove he can be that consistent, he could rank among the Big 12 leaders in receptions this fall.
Defensive returner ready to take the next step:
Derrick Kindred
has never been "the guy" at either safety spot during his first two seasons, but he started at least one game in 2012 and 2013. The junior should make a seamless transition into a starting safety spot, particularly after starting the final three games of 2013 and finishing seventh on the squad with 48 tackles. He's an active playmaker who is always around the ball and should help TCU's secondary continue to rank among the conference's top units.
Redshirt freshman to watch
: Several eyes will be on cornerback
Ranthony Texada
, who opened the spring as
Jason Verrett
's replacement opposite
Kevin White
. A three-star prospect out of high school, Texada is known for his speed but faces a tough task as the player sliding into Verrett's spot. This spring will be key for Texada to show he can match the competitiveness and desire that Verrett brought to the table each Saturday.
Most significant position battle:
The quarterback battle might not be decided during the spring but its easily the most important competition in this program. New offensive coordinators Doug Meacham and Sonny Cumbie need to find a signal-caller with
Trevone Boykin
,
Tyler Matthews
and
Zach Allen
taking reps this spring. If Matthews or Allen steps up during the spring, it gives the coaching staff the freedom to move Boykin to receiver, where he excelled after
Casey Pachall
returned to the lineup late in the 2013 season.
Key midterm enrollee:
The Horned Frogs are hoping
Frank Kee
's arrival at the guard position can help solidify the offensive interior and spur competition among TCU's offensive front. Kee, a junior-college signee, brings bulk and athleticism at 6-foot-4 and 345 pounds. He's set to battle
Jamelle Naff
at left guard this spring.
Question that could be answered:
How will Boykin be used? That question could be as important as who wins the starting quarterback job. Matthews or Allen's emergence during the spring would be the best-case scenario because Boykin looked like TCU's best receiver when he lined up on the outside in 2013. If Meacham and Cumbie aren't worried about the quarterback spot, it opens up ways to use Boykin all over the field and, more importantly, it gives the coaching staff the summer months to devise the best ways to use Boykin without worrying about the quarterback position. The talented junior has the most experience at quarterback, but it could be his least effective position in the offense in 2014.
Question that won't be answered until fall:
Can TCU count on
Devonte Fields
to return to his freshman form? Even if Fields has a stellar spring and looks like the dominant force he was as a freshman, the Horned Frogs are going to make him earn his starting spot back. Fields begins the spring listed with the second-team defense, a sign that he will have to regain the trust of the coaching staff. Fields will need to carry any momentum he creates during the spring into August practices and September games before he re-establishes his name among the Big 12's best defenders.
February, 19, 2014
Feb 19
4:00
PM ET
Life will go on after TCU kicked receiver
LaDarius Brown
off the team. Brown, the Horned Frogs' second-leading receiver with 393 yards in 2013, was arrested over the weekend and
is no longer a member of the program
, the
Fort Worth Star-Telegram
reports.

With a roster full of talented receivers, the Horned Frogs shouldn't bat an eye at the loss of Brown.
Brandon Carter
,
Ty Slanina
,
David Porter
and
Josh Doctson
all return as playmakers at the position. And multi-talented
Trevone Boykin
could be the best of the bunch. So a lack of pass-catching talent won't be an issue for TCU's passing offense.
Yet in another way, Brown is still a tough loss. Receivers with his size (6-foot-4, 220 pounds), speed and athleticism don't grow on trees. He flashed exceptional ability during his first two seasons and arguably had the biggest upside of the receivers on the roster.
However, his unique ability means nothing if it's not utilized. Brown never had more than 400 receiving yards in a season and made a poor off-the-field decision over the weekend.
There's no doubt that TCU will miss Brown, but the Horned Frogs could be better off without him.
November, 30, 2013
11/30/13
10:17
PM ET
FORT WORTH, Texas -- Before Baylor's game at TCU, Bears running back
Lache Seastrunk
pulled his head coach to the side.
"Coach Briles, I know you lost somebody," Seastrunk told him. "But you've gained 99 of us."
On Wednesday,
Art Briles lost his brother
, Eddie, who died unexpectedly from a head injury after falling in the bathroom of his home.
On Saturday, Briles' football family gave him a win to ease the pain of that loss, if only for a little bit.
Keeping their Big 12 title and BCS bowl aspirations alive, the ninth-ranked Bears (10-1, 7-1 Big 12) held on
to defeat TCU 41-38
at Amon G. Carter Stadium in a thriller that came down to the final seconds.
[+] Enlarge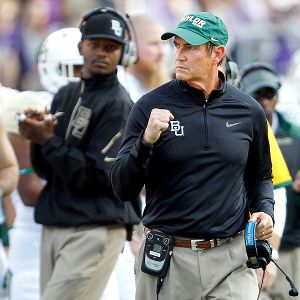 MCT via Getty ImagesCoach Art Briles' Baylor team didn't play its best game against TCU but still came out on top.
After falling behind 34-17 on a pair of Baylor defensive touchdowns, the Horned Frogs made a furious comeback and drove into field goal range with a chance to tie. But with 18 seconds to go, TCU went for the win, and quarterback
Casey Pachall
's pass toward the end zone was tipped, then intercepted by
Terrell Burt
, sealing the victory.
"That just showed we're a tough football team," said Briles, who declined to speak directly about his brother, but spent time outside the locker room emotionally hugging players, boosters and administrators. "You want to be in a room full of fighters and believers, and that's what we have."
This week required some fight from the Bears.
They suffered their first loss of the season last weekend, as Oklahoma State emphatically bounced them from the national title picture with a 49-17 victory in Stillwater.
Four days later, Eddie -- a nurse in Haskell, Texas, and Briles' only sibling -- passed away, leaving behind a wife and two children.
Eddie actually appeared in a "College GameDay" feature last weekend, and spoke to ESPN.com for
a feature story
on his younger brother earlier this month. Their parents, Dennis and Wanda Briles, and their aunt, Elsie "Tottie" Kittley, died in a car accident while traveling to the Cotton Bowl in Dallas to watch Art play for the University of Houston on Oct. 16, 1976.
"(Winning for Coach Briles) was the emphasis of the week for sure," Baylor quarterback
Bryce Petty
said. "Every guy in that locker room loves him like their own dad. It hurts you to see him hurt. I think this win was huge for him and that's what we wanted to do."
The win didn't come easily.
TCU (4-8, 2-7), without enough wins to have a chance of qualifying for a bowl, turned Baylor into its de facto bowl game.
Due to an array of injuries and suspensions, the Horned Frogs had struggled offensively all season. But with an extra week to prepare, they saved their best performance for last. The Horned Frogs outgained the nation's top statistical offense by 40 yards. Yet, after a flurry of turnovers, they found themselves still trailing Baylor 34-17 early in the third quarter.
Over the course of four possessions, TCU fumbled at its own 1-yard line, then Pachall threw two interceptions that
Orion Stewart
and
Eddie Lackey
returned for touchdowns.
"I made quite a few mistakes that cost us the ball game," Pachall said. "I gave them 14 points, just handed it over on a platter."
But TCU didn't go down without a fight, either.
And the turning point came on its following possession. Baylor senior captain and safety
Ahmad Dixon
was ejected for a targeting penalty on Horned Frogs wide receiver
Trevone Boykin
, seemingly igniting a heated exchange between Briles and TCU coach Gary Patterson on the field.
Briles avoided addressing the exchange after the game. But Patterson didn't.
"To come across the field to me. ... He's picking on the wrong guy," said Patterson, who didn't refer to Briles by name. "You're not going to come across to me. You can go correct your player, not me.
"If that's what class is, then I don't want to be it."
The penalty ultimately ignited the Horned Frogs, too. TCU scored touchdowns on its next two possessions, thanks to a Pachall 4-yard touchdown scamper, then a 16-yard scoring toss to
Josh Doctson
at the back of the end zone.
After Petty found
Levi Norwood
for a touchdown, TCU came right back again with Pachall's touchdown strike to
David Porter
, trimming the deficit to 41-38.
The Horned Frogs got the ball back again with 1 minute, 23 seconds remaining and moved the ball all the way to the Bears' 23. But two plays later, Pachall's attempt to
Brandon Carter
was tipped away by Baylor nickelback
Sam Holl
, and into the arms of Burt in the end zone.
"This win really showed the character of this team," Holl said. "We were all playing for Coach Briles. He's family. He's going through a rough time right now.
"So we really wanted to get this one for him."
May, 1, 2013
5/01/13
8:30
AM ET
2012 record:
7-6
2012 Big 12 record:
4-5
Returning starters:
Offense: 6; defense: 9; kicker/punter: 2

Top returners:
DE
Devonte Fields
, CB
Jason Verrett
, WR
Brandon Carter
, S
Sam Carter
, S
Elisha Olabode
, RB
Waymon James
, K
Jaden Oberkrom
, RB
B.J. Catalon
Key losses:
WR Josh Boyce, LB
Kenny Cain
, DE Stansly Maponga, C
James Fry
, OG
Blaize Foltz
, RB
Matthew Tucker
, WR
Skye Dawson
2012 statistical leaders (*returners)
Passing:
Trevone Boykin* (2,054 yards)
Rushing:
B.J. Catalon* (584 yards)
Receiving:
Josh Boyce (891 yards)
Tackles:
Kenny Cain (86)
Sacks:
Devonte Fields* (10)
Interceptions:
Jason Verrett* (6)
Spring answers
1. Offensive line getting straightened out.
James Fry and Blaize Foltz were big losses on the interior of the offensive line, and replacing them was a big concern for the Frogs' quiet spring. The spring ended with senior
Eric Tausch
atop the depth chart at center and sophomore
Jamelle Naff
winning the right guard job to replace Foltz. Tausch started at left guard last season and moved over, but sophomore
Joey Hunt
slid up to replace him. Neither Naff nor Hunt have much experience (Hunt earned his lone career start in a loss to Iowa State), but they'll be leaned on this season.
2. New targets acquired.
Josh Boyce and Skye Dawson took their talents to the next level, leaving the Frogs in search of a pair of new starters.
LaDarius Brown
and Brandon Carter were sure things, but strong springs helped fellow juniors
Cam White
and
David Porter
win starting jobs at receiver. There aren't many open gigs for a team returning 15 starters, but that's one that will have a big impact.
3. Mallet dropping the hammer.
Junior
Marcus Mallet
emerged late last season and finished with five tackles for loss and a forced fumble among his 18 stops. Now, he looks like the likely candidate to replace departed Kenny Cain and a possible breakout talent on a loaded TCU defense. The 6-foot-1, 216-pounder finished atop the depth chart after a good spring.
Fall questions
1. Is Casey Pachall back to his old self?
It's probably safe to operate under the assumption that Pachall will win his job back in fall camp, but beating out
Trevone Boykin
isn't the same as leading the Big 12 in passing efficiency, like he was last year before his DUI arrest that ended his season. You don't win a Big 12 title with average quarterback play, which brings me to my next question.
2. Can TCU really handle a Big 12 schedule?
TCU was competitive last year, sure, and only had one game that it wasn't competitive in. But TCU's not trying to be competitive. It didn't come to the Big 12 to do that. It came to win, and it's proven exactly nothing in that realm just yet. Managing a difficult week-to-week schedule is one thing. Winning just about every week is another. Ask K-State's 2012 team and Oklahoma State's 2011 squad how easy that is.
3. Is the defense for real?
On paper, this unit should be absolutely dominant after finishing No. 1 in the Big 12 in total defense and returning nine starters, including Big 12 Defensive Player of the Year Devonte Fields at defensive end. That sounds like Texas' defense from last year, who fell off the map and allowed more rushing yards than any team in school history. Sometimes, you just never really know. This is a new season and last year means nothing. Prove it again.
BIG 12 SCOREBOARD
Saturday, 12/20
Monday, 12/22
Tuesday, 12/23
Wednesday, 12/24
Friday, 12/26
Saturday, 12/27
Monday, 12/29
Tuesday, 12/30
Wednesday, 12/31
Thursday, 1/1
Friday, 1/2
Saturday, 1/3
Sunday, 1/4
Monday, 1/12
Tweets from https://twitter.com/ESPNCFB/lists/big12