January, 13, 2014
Jan 13
1:30
PM ET
Earlier today, I released my Big 12 all-BCS era team. Here were the toughest players leaving off the team:
[+] Enlarge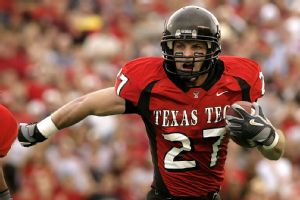 Ronald Martinez/Getty ImagesWes Welker returned eight punts for touchdowns and made 259 receptions in four seasons at Texas Tech.
1. PR: Wes Welker, Texas Tech (2000-03)
– I originally had Welker on my team as the punt returner. But then I had nowhere to put Oklahoma receiver Ryan Broyles, who only set an FBS record with 349 receptions and probably would have won the Biletnikoff Award in 2011 had he not been injured. While not at Welker's level as a returner, Broyles was still prolific returning punts, so I wound up sticking him there to get him on the team. In hindsight, I should have just cheated and created three WR slots, as there was a decent drop-off after Justin Blackmon, Michael Crabtree and Broyles. That would've cleared space to keep Welker on the team.
2. LB: Dat Nguyen, Texas A&M (1998) –
Nguyen was a tremendous player, but he was hurt by the fact he only played one year in the BCS era. Still, Nguyen was very deserving based on that one season. He was a unanimous All-American, and won the Bednarik (defensive player of the year) and Lombardi (best lineman or linebacker) awards.
3. PR: Antonio Perkins, Oklahoma (2001-04)
– I had actually had Welker ranked slightly ahead of Perkins as a returner, so it wouldn't have mattered if I had created three WR spots. Still, Perkins was a consensus All-American returner and set a record for punt return touchdowns in a game with three, and for that, he was in the conversation.
4. OG: Davin Joseph, Oklahoma (2002-05) –
One area in which the Big 12 lacked quality options was at offensive guard. Texas' Justin Blalock made the team as a guard, even though he was largely a tackle in college. Joseph, however, was a quality player for the Sooners, making 40 career starts while blocking for Adrian Peterson.
5. S: Earl Thomas, Texas (2008-09)
– Thomas was the top safety left off the team. He was only at Texas for two seasons, but was a consensus All-American while leading Texas' defense when it made the national championship game after the 2009 season. He was second in college football in 2009 with eight interceptions before leaving early for the NFL Draft.
March, 11, 2013
3/11/13
2:00
PM ET
ESPN draft expert Mel Kiper has two Big 12 players -- Oklahoma's
Lane Johnson
and Texas'
Kenny Vaccaro
-- potentially going in the first round of this year's NFL draft.
Fellow expert Todd McShay has the same two as Kiper and also is optimistic about the chances of West Virginia's
Geno Smith
and
Tavon Austin
.
So let's split the difference and label the potential Big 12 first-round picks as an optimistic three, with Johnson being the only absolute first-round lock.
Those three would represent the fewest Big 12 players taken in the first round of the NFL draft since 2008. Even if four went, the Big 12 still would have the fewest since 2008.
That year, only Kansas -- yep, the Jayhawks -- managed a first-rounder,
Aqib Talib
to Tampa Bay with the 20th pick. In the four drafts that followed, the Big 12 has always put at least five players into the first round, including the first four overall picks in 2010.
How well this year's group of first-round picks will fare might not be known for years. What is known, though, is how well Big 12 players have done when they are selected in the first round. With that in mind, here is a ranking -- from worst to best -- of the Big 12's best first-round draft classes over the past 10 years.
2008
: It's all about quantity, and a little bit of quality. In 2008, the Big 12 only produced one first-round pick, Talib. He has not produced dramatic returns in the NFL. In the past two years, he has only started nine games. He was somewhat productive for Tampa Bay in the previous three seasons, starting 41 games and playing in 53. But, again, he was the only Big 12 player taken in the first round in 2008.
2006:
Vince Young
is working out at Texas' pro day at the end of March. Enough said.
Davin Joseph
and
Michael Huff
have been solid producers. But when the No. 3 overall pick is out of the league and having to work out at his alma mater's pro day, it means it was a bad year for the Big 12 in the first round of the NFL draft.
2004:
Tommie Harris
and Marcus Tubbs, the two defensive tackles taken in the first round, were productive for a few years, with Harris selected to Pro Bowls in 2005, '06 and '07 before he was beset by injuries. Tubbs lasted four seasons in the NFL. Roy Williams had 5,715 receiving yards but never lived up to the hype he generated coming out of Texas. Rashaun Woods played only two years and had seven career catches.
2005:
The lack of numbers might be what hurts this group the most.
Cedric Benson
,
Jammal Brown
,
Derrick Johnson
,
Mark Clayton
and
Fabian Washington
all proved they could play at the NFL level. Benson has had three 1,000-yard-plus seasons. Johnson is one of the top linebackers in the game. Brown remains a solid option on the offensive line. Clayton played seven NFL seasons; Washington played six. But there were only five guys selected and that isn't enough to push 2005 to the top of the list.
[+] Enlarge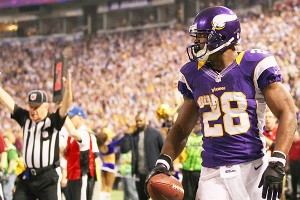 Andy Clayton King/Getty ImagesThe Big 12's 2007 draft class wasn't huge, but did feature 2012 NFL MVP Adrian Peterson.
2009:
Every Big 12 player selected in the first round in 2009 has produced and appears to be poised to continue to do so. Only
Jason Smith
didn't have a start last year. But the offensive lineman still played in all 16 games for the
New York Jets
.
Michael Crabtree
,
Brian Orakpo
,
Josh Freeman
,
Jeremy Maclin
,
Brandon Pettigrew
and
Ziggy Hood
are all starters for their respective teams.
2007:
It wasn't the biggest group, but it did include
Adrian Peterson
, so there could be some quibbling that maybe 2007 should be higher in the rankings. Throw in
Aaron Ross
and
Michael Griffin
and the debate could get even more heated.
Adam Carriker
was also taken this year. He started his career strong but suffered an injury and only played in two games last season.
2003
:
Kevin Williams
has been the standout of this group. The defensive tackle has started every game but four in his 10-year career.
Terence Newman
has been effective as a defensive back, first in Dallas and last season in Cincinnati. Tyler Brayton played at least 15 games on the defensive line in a nine-year career.
Ty Warren
played eight solid seasons for New England but tailed off last season with Denver. Andre Woolfolk lasted four seasons, mostly as a reserve.
2011:
Von Miller
, who was the highest pick among Big 12 players this year, has proved to be the top player so far.
Aldon Smith
is not far behind. Add in
Prince Amukamara
,
Phillip Taylor
, who when healthy is a starter at defensive tackle, a somewhat productive
Blaine Gabbert
and
Nate Solder
as well as reliable backups
Danny Watkins
and
Jimmy Smith
and this proved to be a successful year for Big 12 first-round selections.
2012:
Three quarterbacks, and all were not only starters as rookies but also made huge differences for their respective squads. Clearly,
Robert Griffin III
made the most dramatic impact, but
Ryan Tannehill
, with the Dolphins, and
Brandon Weeden
, with Cleveland, were both solid.
Kendall Wright
and
Justin Blackmon
each had 64 catches, for Tennessee and Jacksonville, respectively. Blackmon was targeted more (133 to 104) and had 200 more receiving yards.
2010:
This list maybe doesn't have the star power and is not littered with offensive playmakers, but six of the nine players picked were selected for the 2013 NFL Pro Bowl:
Gerald McCoy
,
Trent Williams
,
Ndamukong Suh
,
Earl Thomas
,
Russell Okung
and
Jermaine Gresham
. And the other three players --
Dez Bryant
,
Sam Bradford
and
Sean Weatherspoon
-- were vital pieces for their respective teams.
May, 30, 2012
5/30/12
4:00
PM ET
We took a look at the All-Big 12 crossover team earlier this week, but colleague Ted Miller took a look at the All-Pac-12/NFL team
over at the Pac-12 blog on Tuesday
.
So, what about the Big 12? I'm glad you asked.
I love the NFL, and it's time to take a look at the Big 12's top players at the next level. This isn't about what you did in college. This is about what you've done at the next level. Sorry,
Vince Young
.
You must be active, and I'm judging this team based on how good players are
right now
. However, I included players from teams in the Big 12 during the 2011 season.
Let's start with the offense:
QB: Sam Bradford, St. Louis Rams (Oklahoma)
Bradford edges out Kansas State's
Josh Freeman
for this award. Bradford won Rookie of the Year honors after winning the Heisman at OU, but had a rough sophomore season. Either way, it's Bradford's spot here.
RB: Adrian Peterson, Minnesota Vikings (Oklahoma)
Peterson's recovering from a serious knee injury, but he's got a case as the game's best running back.
RB: Jamaal Charles, Kansas City Chiefs (Texas)
Charles is coming back from a torn ACL, but he rushed for 1,467 yards in 2010, his second consecutive 1,000-yard season.
WR: Wes Welker, New England Patriots (Texas Tech)
I hated to leave
Michael Crabtree
off this list, but there's no doubt Welker belongs. His 1,569 receiving yards in 2011 were a career high, and his fourth 1,000-yard season.
WR: Jeremy Maclin, Philadelphia Eagles (Missouri)
Maclin is a deep threat for
Michael Vick
and dangerous as a runner, too. Anybody who saw him at Mizzou isn't surprised. He dealt with a cancer scare in 2011, but should get back to his form in 2012 like he was in 2010, catching 70 passes for 964 yards and 10 scores.
WR: Dez Bryant, Dallas Cowboys (Oklahoma State)
Bryant's a rising star, but health issues have slowed him a bit. He nearly doubled his production in 2011, his second season, with 928 yards and nine touchdowns.
TE: Jermichael Finley, Green Bay Packers (Texas)
Finley's been a big target for MVP
Aaron Rodgers
, and caught eight touchdown passes on 55 catches for 767 yards.
OL: Jammal Brown, Washington Redskins (Oklahoma)
Brown is a two-time Pro Bowler and a one-time All-Pro who left OU as an Outland Trophy winner in 2004. Most impressive? He's started 84 of a career 85 games.
OL: Davin Joseph, Tampa Bay Buccaneers (Oklahoma)
Joseph made two Pro Bowls (2008, 2011) and helped pave the way for
LeGarrette Blount
and a powerful Bucs rushing offense. He only took a season as a part-time starter before earning full-time honors in his second year in Tampa.
OL: Jeromey Clary, San Diego Chargers (Kansas State)
Clary started 60 games since being drafted in the sixth round in 2006.
OL: Phil Loadholt, Minnesota Vikings (Oklahoma)
Loadholt was a juco transfer who made a big impact on one of the best O-lines in Big 12 history for the 2008 Sooners. He's started every game of the first three years of his career for the Vikings helping pave the way for Adrian Peterson.
OL: Louis Vasquez, San Diego Chargers (Texas Tech)
Vasquez was the only rookie starter for the Chargers in 2009, and he's started all 34 games of his career. He already established himself as one of his division's top linemen.
Come back later this week when we tackle the defense.
Who would you have on the team?
December, 28, 2011
12/28/11
1:00
PM ET
By
ESPN.com staff
| ESPN.com
The NFL Pro Bowl released its rosters on Tuesday, and seven players have their roots in the Big 12.
Texas
Missouri
Justin Smith, DE, San Francisco (starter)
Oklahoma
Texas A&M
Von Miller, LB, Denver (starter)
Shane Lechler, P, Oakland
Texas Tech
April, 27, 2011
4/27/11
9:00
AM ET
By
ESPN.com staff
| ESPN.com
For just the second time ever, the first round of the NFL draft will be the only part of the draft's first day, set for primetime on Thursday night.
This year, the Big 12 could have as many as five first-round picks, and
five players from the league are in New York
for the draft.
So, let's take a look back. Since the first NFL draft of the Big 12 era, who has the most first-rounders?
Texas: 16
Oklahoma: 12
Oklahoma State: 6
Missouri: 4
Kansas State: 3
Texas A&M: 2
2003: DT Ty Warren, 13th overall, New England Patriots
2003: DB Sammy Davis, 30th overall, San Diego Chargers
Texas Tech: 1
Kansas: 1
2008: CB Aqib Talib, 20th overall, Tampa Bay Buccaneers
Baylor: 1
Iowa State
: none since 1973 (George Amundson)
A few thoughts and observations:
I doubt many would be surprised that this list is also a reasonably accurate reflection of overall success since the Big 12's inception in 1996. Obviously, Texas and Oklahoma have dominated. Since 2000, Texas has the nation's fourth-most first-rounders. Oklahoma is No. 6. Their success has paralleled that, along with recruiting rankings.
In that same breath, it's impossible to look at this list and not once again be impressed with what Mike Leach did. He obviously has the reputation as an overachiever, but looking big picture, he was able to do it with one first-round pick. Nobody beat Texas and Oklahoma more and Leach helped put together what is still the Big 12's longest bowl streak.
Texas' consistency sticks out, too. Since just 2001, Texas has had two first-rounders in six different seasons. If you've got two first-rounders on your team, you're probably going to be pretty good. The Longhorns, if you haven't noticed, have been. Those two first-rounders in six seasons are more or as many as half the league has in the history of the Big 12. What else you should note? Texas is unlikely to have a first rounder this year, and after Aaron Williams is drafted, Sam Acho probably will be the next to go, which won't be until the third or fourth round.
Oklahoma State and Missouri's rise over the past three seasons has paid off in the NFL draft. Missouri had three first-rounders in the last two seasons and figures to add two more this year after having just one in the 12-year history of the league before 2009. That's quite a streak, and even more proof of what Gary Pinkel has built at Missouri. One more piece of evidence? Despite losing those two first-rounders, Missouri should be back in the preseason polls next year after losing two of its top players. That's definitely something new in Columbia. The Cowboys figure to add more soon with Justin Blackmon at least. As long as Pinkel and Gundy are at the helm for their respective programs, expect them to continue to rise.
Don't be surprised by Texas A&M's swoon following R.C. Slocum's departure. From 1990-1998, the Aggies won nine games every season but one. From 1990-96, the Aggies had eight first-round picks. Since 1998? Two seasons with at least nine wins and just two first-round picks.
More evidence you can't underestimate the importance of having first-round picks? None for Baylor in the history of the Big 12 before Art Briles. In just three years, Briles may have three if the Bears add two more this year with Phil Taylor and Danny Watkins. Taylor and Watkins both came from unlikely sources. Taylor was a Penn State transfer and Watkins a juco transfer that formerly worked as a fireman in Canada.
January, 20, 2010
1/20/10
6:12
PM ET
By
Tim Griffin
| ESPN.com
Oklahoma was the dominant program of the last decade in the Big 12, leading the conference with six titles, seven conference title-game appearances and four BCS title-game appearances.
All of those accomplishments are a testament to Bob Stoops, one of two conference coaches to direct his team throughout the decade.
Setting the Sooners' all-decade team was difficult. The choice at wide receiver next to Mark Clayton was extremely difficult. Malcolm Kelly, Juaquin Iglesias or
Ryan Broyles
all would have been good choices. I went with Broyles because of his proficiency despite constant double-team defenses this season when he produced 89 receptions.
And at quarterback, I went with
Sam Bradford
over Jason White in a tough positional choice between two Heisman Trophy winners.
Here's my choice for Oklahoma's all-decade team.
OFFENSE
QB: Sam Bradford
RB: Adrian Peterson
RB: Quentin Griffin
WR: Mark Clayton
WR: Ryan Broyles
TE:
Jermaine Gresham
OL: Jammal Brown
OL: Trent Williams
OL: Davin Joseph
OL: Phil Loadholt
C: Vince Carter
DEFENSE
DL: Dan Cody
DL: Tommie Harris
DL: Gerald McCoy
DL: Jeremy Beal
LB: Teddy Lehman
LB: Rocky Calmus
LB: Curtis Lofton
DB: Derrick Strait
DB: Roy Williams
DB: Andre Woolfolk
DB: Brandon Everage
K: Garrett Hartley
P: Jeff Ferguson
Ret: Ryan Broyles
Offensive player of the decade:
QB Sam Bradford. He became the first quarterback in Big 12 history to lead his team to back-to-back titles, capping his sophomore season by throwing for 50 touchdowns and earning the Heisman Trophy. His final season in college didn't go as expected, but he still leaves school as a player who will be immortalized with a statue at Owen Field in the not-too-distant future.
Defensive player of the decade:
S Roy Williams. He was such a natural that Bob Stoops created a position "the Roy" especially for his talents. He set the standard as a physical run-stuffing safety and sealed his legacy with the hit on Chris Simms that sealed the 2001 victory over Texas.
Coach of the decade:
Bob Stoops. The only coach of the decade for the Sooners had more unprecedented early success than any coach in Big 12 history, winning the national championship in his second season and claiming a record six conference championships. They aren't calling him "Big Game Bob" as much as before, but Stoops still ranks among the most pivotal figures in Big 12 history.
Most memorable moment of the decade:
On a misty night at Pro Player Stadium, the Sooners' defense turned in a masterful performance to claim the 2001 Orange Bowl and bring home the 2000 national championship. Josh Heupel managed to direct the offense despite a sore elbow and the Oklahoma defense would have pitched a shutout in a 13-2 triumph over Florida State except for a special-teams safety in the final minute of play.
BIG 12 SCOREBOARD
Saturday, 12/20
Monday, 12/22
Tuesday, 12/23
Wednesday, 12/24
Friday, 12/26
Saturday, 12/27
Monday, 12/29
Tuesday, 12/30
Wednesday, 12/31
Thursday, 1/1
Friday, 1/2
Saturday, 1/3
Sunday, 1/4
Monday, 1/12
Tweets from https://twitter.com/ESPNCFB/lists/big12