April, 17, 2014
4/17/14
1:30
PM ET
Kansas State heads into the 2014 season with its entire coaching staff intact for the first time since Bill Snyder returned to lead the program he built in 2009.
Normally, the thought of continuity would bring great piece of mind for a head coach. But Snyder is a unique man and coach, one who is always covering every angle and thinking of every possibility.
[+] Enlarge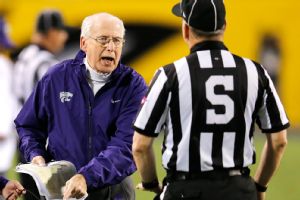 AP Photo/Matt YorkBill Snyder's entire coaching staff is back this season. While that's comforting, Snyder isn't happy with just maintaining the status quo.
"I think that it is something that you have to be cautious about, not taking that for granted," Snyder said of having the coaching staff intact. "Just the fact that you have the same people in place, it will be very easy to think it will just be done how it has always been done. Then you get yourself into some dire straits if you accept it that way."
The Wildcats staff features several coaches who have been at KSU for more than a decade. Special teams coordinator Sean Snyder, co-offensive coordinator Dana Dimel, co-offensive coordinator Del Miller and interior defensive line coach Mo Latimore have combined to spend 82 seasons in the program. The program does feature some newer faces in receivers coach Andre Coleman and defensive ends coach Blake Seiler, who just completed their first season as position coaches in Manhattan.
Snyder's response to the question about continuity could be a glimpse at what helps separate him from other coaches. In his mind, there's no advantage to having his entire staff return if they return as the same coaches they were during the previous season. He expects his staff to grow as coaches, much like he expects his team to grow as players.
"It is a plus to have all of your staff returning, but it is a plus only if that staff continues to grow and continue to provide the foundation for our players to improve on a regular basis," Snyder said. "When you have been in a position -- yours, mine, anyone else's -- the longer that you are in it, the more susceptible you [are to] take certain aspects for granted. We need to be awfully careful about that."
Clearly the coaches on his staff buy into that mindset, and it's working. The Wildcats have averaged 8.4 wins per season since Snyder's return five years ago, including 29 wins during the past three seasons. KSU averaged 5.6 wins per season in three years with a 17-20 overall record under Ron Prince from 2006-08.
December, 8, 2009
12/08/09
6:41
PM ET
By
Tim Griffin
| ESPN.com
Here are some letters I received this week on a variety of subjects.
Paul Lloyd of Austin, Texas, writes:
Tim, great work on the Big 12, this is the only non-work related bookmark I keep on my computer at the office. I have a question or proposal for you about the BCS Championship game that I've been repeating since the Texas naysaying began. Do you feel that a month worth of doubt and underselling Texas helps their chances to play the "no one wants you here" edge against Alabama?
I know this is a common motivator in sports but it really hits home with Texas since before the 2005 team won the National Championship against USC, ESPN ran a week long piece that culminated in declaring that team the greatest ever. I think there's a reason Saban kept trying to remove any David vs. Goliath connotations Sunday night, because he knows how big a motivator and demotivator this can be for both sides. What are your thoughts?
Tim Griffin:
Paul, I think you are exactly right on this. Texas will be repeatedly undersold during the next month of its preparation. Mack Brown couldn't ask for a better psychological ploy than this happening.
The Longhorns will be doubted over the next few weeks.
Colt McCoy
and the offense will be castigated for their performance against a pretty good Nebraska defense.
And another advantage for the Longhorns will be the presence of Will Muschamp on Brown's staff. If anybody knows about Nick Saban and his play-calling habits it will be Muschamp, who coached with him at LSU and later followed him to the Miami Dolphins.
Saban is a savvy enough coach to realize the "David vs. Goliath" comparison is a tad specious.
I prefer to consider the matchup as "King Kong vs. Goliath" between these two storied powers – in terms of football history, tradition, prestige, coaching and the like. The game should be an interesting one.
---
Jon Weinhold of Lincoln, Neb., writes:
Hey Tim, love the column. I've recommended you to a few friends as a way to get a quick dose of Big XII news. That being said, do you think the biggest indication of how good Ndamukong Suh has been this season is that almost everyone has actually learned how to correctly pronounce his name? Second, as corn-fed and die-hard as I am, I'm SHOCKED that the Huskers moved UP in the polls after that loss to Texas. Remember, I'm a Nebraska fan, so I'm well-acquainted with dropping in the polls after a win, but not the reverse. Does that happen often around the nation and I just don't notice?
Tim Griffin:
Jon, like you said, a lot of people have learned to correctly pronounce his first name over the last few weeks. But I still like how Bo Pelini sometimes still refers to him as "Big Suh" and Mack Brown a couple of times last week called him "Young Suh." For those of you at home, his name is phonetically said "N Dom In Can."
And you do bring an interesting point in Nebraska earning some unexpected respect for their close loss last week to Texas. They did play a great game – particularly the Cornhuskers' defense. But it was going to be tough to beat Texas or any other good team without scoring any touchdowns.
But I do think that Bo Pelini's team got a healthy dose of national respect around the country. They jumped from 20
th
to 19
th
in the coaches' poll and 21
st
to 20
th
in the coaches' poll. They even got votes as high as No. 12 by Ron English of Eastern Michigan and No. 13 by Rich Rodriguez of Michigan.
And I'm sure the Cornhuskers got a lot of respect from Mack Brown, who probably more than once has realized that his team was fortunate to escape Cowboys Stadium with the Big 12 title Saturday night.
---
John Nuxoll from Dallas writes:
Hey Tim. Forgive the pointed question, but can you with a conscience not vote for the best player in college football this year --Nebraska's Suh -- just because traditionally the award is given to an offensive player?
Tim Griffin:
John, I'll reveal my vote for the Heisman a little later in the week – how's that for suspense? I'm planning an entire blog item on why I voted the way I did.
John, there's no doubt Suh is a great player. I saw the way he dominated the center of the Texas line on Saturday night. But I also remembered some struggles he had earlier in the season against teams like Texas Tech and Kansas.
I also remember Colt McCoy's struggles not only against Nebraska but also against Oklahoma. Or how
Mark Ingram
rushed for only 50 yards against Arkansas or 30 yards in 16 carries against Auburn only a week ago. Heck, I can remember when
Toby Gerhart
went for 82 yards against Wake Forest.
So my decision dealt with a lot of factors. And I'll detail them later in the week. Watch for it.
---
Dan R. Becker from Des Moines, Iowa, writes:
Tim, I just want to see if I can get some clarification on the lack of outrage with a 7-5 Oklahoma team and 6-6 Texas A&M team jumping Missouri. No offense, but you have gained a reputation with a lot of fans from the North schools of supporting the South schools. To me, it just seems incredibly unfair to be characterizing this as a spat between ISU and Missouri when two other schools were very clearly involved as well. Like the blog and we all gain information from it but sometimes an argument like this one has more than just the obvious conflict to look at.
Tim Griffin:
Dan, you are correct. But I also think it's germane to the argument to point out Texas A&M did beat Iowa State in a head-to-head game and Oklahoma had a better record than Iowa State. It was interesting that most of the outrage I've read in Missouri newspapers over the last couple of days specifically concerns Missouri being passed by Iowa State more than Missouri and Texas A&M or Missouri and Oklahoma.
That might be because the Insight Bowl is judged to be the best of the trips from a spectators' standpoint.
But in terms of a pecking order of teams heading into the bowls, I think it would be fair to put Iowa State last among the eight Big 12 schools. When a program with the eighth-best record among teams jumps past the one with the fifth-best record, I can understand why there might be some hurt feelings.
---
Ethan from Manhattan, Kan., writes:
With Kansas State's season over with, the Wildcats' largest question is who is going to step in at QB. I see Harper taking the job with Coffman as a backup but what if Snyder can get Cameron Newton from Blinn C.C.? Then I see KSU with one of the best set-ups for the wildcat in the nation. Harper would move to WR and Thomas was a QB in high school and Juco. KSU would have three athletic quarterbacks and a bunch of options for what could happen. What do you think is going to happen?
Tim Griffin:
Like you said, a lot hinges on where Newton ends up. If he arrived at Kansas State, he would provide offensive coordinators Del Miller and Dana Dimel with a lot of different ways to go. I doubt we would see
Daniel Thomas
get much playing time at quarterback, except in those Wildcat formations. He's simply too valuable as a running back, where his strength and durability made him the Big 12's best running back this season. I've also heard some big things about
Chris Harper
, particularly if his shoulder is healthy when he returns. I would expect
Carson Coffman
to have the edge, but Harper will give him a big push once spring practice starts. Who plays quarterback at Kansas State will be one of the most interesting personnel battles in the Big 12 next year.
Thanks again for all of the questions. We'll check back again on Friday.
August, 5, 2009
8/05/09
6:22
PM ET
By
Tim Griffin
| ESPN.com
Posted by ESPN.com's Tim Griffin
Bill Snyder seemingly was enjoying retirement before he heard the call to return to his old job at Kansas State.
Snyder, who orchestrated one of the most celebrated turnarounds in college football history during his first stint with the Wildcats, will be facing a rebuilding job nearly as steep this time around.
The Wildcats have played in only one bowl game since their 2003 Big 12 championship season. Since then, they have had one winning season, a 7-6 mark in 2006 season.
Snyder is back, saying his zest has returned after his three-season sabbatical.
Here are three quick predictions I foresee for him and his team in the upcoming season.
1. Brandon Banks will emerge as one of the most valuable offensive weapons in the league. Fans saw Banks develop into one of the top receivers and returners last season. But I look for bigger things this season. It won't surprise me if veteran Kansas State offensive coordinator Del Miller uses him in a "Wildcat" formation that will emphasize his game-breaking skills and even see what he can do as a passer.
2. I expect at least two starting quarterbacks for the Wildcats this season and maybe even more. Carson Coffman got the nod on the first day of practice Wednesday and should be the Wildcats' opening-game starter Sept. 5 against Massachusetts. But it wouldn't surprise me if junior college transfer Daniel Thomas gets a start and maybe even Grant Gregory, a transfer from South Florida.
3. Snyder's coaching acumen will enable KSU to claim a victory or two that some might not expect this season. The Wildcats are expected by most to struggle to stay out of the North Division basement. I think they'll be better than that, coming close to qualifying for a bowl berth and sneaking in an upset from one of three late-season home games -- against Missouri, Colorado or Kansas. If they can win two of those games, the Wildcats might go bowling this season.
June, 19, 2009
6/19/09
2:49
PM ET
By
Tim Griffin
| ESPN.com
Posted by ESPN.com's Tim Griffin
If it's Friday afternoon, it must be time for opening my mailbag.
We received some interesting questions and comments this week. Here are some of the best.
Bob Jackson from Sioux Falls, S.D., writes: Tim, I'm really enjoying your countdown on the top 25 moments in Big 12 history. But one question. Why did you pick the Missouri-Kansas game last year over the one in 2007 that had so much hype involved with it? I'm curious how you determined one from another.
Tim Griffin: Bob, hopefully all of my readers are enjoying the countdown of moments as much as I enjoyed developing the list.
My rationale for picking specific moments over others deals with the "wow factor" of the game. I wanted my top events to be moments that made people gasp with excitement when they were watching them live. It has no correlation to the importance of the game, although big plays in huge games tend to make those more memorable than others.
But I picked the 2008 game over the 2007 one because of those "wow" moments. The 2007 game had much more hype than any Missouri-Kansas game in history, but had trouble living up to that billing. Missouri jumped ahead early and really had to scramble only at the end of the game when a late sack and safety by Lorenzo Williams wrapped up the game.
The game last season had lessened stakes than that one. But it was hard to tell it by watching the game. There were four lead changes in the fourth quarter, including the dramatic game-winning score from Todd Reesing to Kerry Meier. The fact that both players were injured earlier in the season and battled back to play in the game heightened its drama, in my opinion. And the fact that Missouri had a chance to tie the game on the final play before a blocked kick only added to the excitement.
Both games were good, but the 2008 game was slightly more memorable to me than the one in 2007 because of those memorable plays. And that's why I ranked them in that order.
---
Bill Barkley from Waco, Texas, writes: Tim, Just a comment about Art Briles and Baylor. I think Briles is not only one of the best coaches in the Big 12 but he is one of the best coaches in the nation. NOBODY [Mike Singletary included] could be doing as good a job as he has done at Baylor. Robert Griffin is here as you know because of Briles. Put Mack Brown in Waco without Will Muschamp and Major Applewhite and see how many games he wins. Put Art Briles in Austin or College Station and we could be talking a top-5 team in the nation every year. This guy has it as a coach.
Tim Griffin: Bill, I agree with you on Briles' coaching acumen. Look at the job he did dominating Texas high school football before even coming to college. But one concern I might have if I was a Baylor backer and the Bears play as well as some of those rosy preseason predictions. Then, I'm wondering if other more attractive schools might come looking at him as a coach.
Obviously, making a bowl game is his most immediate goal. But if that happens and a football power school wants to hire him, it will then be interesting to see if Briles stays in Waco.
---
David Clouse from Pacola, Okla., writes: What are you expecting this season out of Oklahoma running back Chris Brown? He could be the most valuable RB in the conference, yet DeMarco Murray receives most of the attention. Brown will be a huge key for OU on third downs this year.
Tim Griffin: Actually, I think that Brown will also be effective on first, second and fourth downs, too.
I think that together, Brown and Murray are the best combination in the Big 12 (Sorry, Nebraska fans). And working together only heightens their value. Both don't face the constant pounding that would be in place if they were both every-down backs. It's not to say that either couldn't fill that role, but just that they are each more effective with the other as a part of the team.
For example, I still think that Murray's presence in the BCS title game might have helped lead to a different result for the Sooners. It would have been interesting to see his explosive running and Brown's bullish between-the-tackles thrusts against Florida.
If both stay healthy, it wouldn't surprise me to again see Brown and Murray both rush for more than 1,000 yards. Neither will likely be in the mix for All-American honors, but their abilities together help make the Sooners one of the nation's top teams.
---
Ted Padberg of Independence, Mo., writes: I have news for you, Tim. Blaine Gabbert may just supplant Chase Daniel in the Mizzou record books and in the hearts of Tiger fans. He has that much potential.
Tim Griffin: Ted, I'm not arguing with you. Gabbert is coming into the Missouri lineup as likely the most hyped recruit in Gary Pinkel's tenure. He has better size and likely a better arm than Daniel did. He won't have the surrounding weapons - at least this season - so it will be interesting to see how patient Missouri fans will be after the Tigers' back-to-back championship game appearances in the last two seasons.
So there are huge expectations that he will be facing. He might someday do more than Daniel, but he arrives having to replace the most statistically successful quarterback in school history. And no matter how you consider it, those are some huge shoes to fill.
---
Matt from Lincoln, Neb., writes: Great blog Tim! I was just wondering how long you think it will take Bo Pelini to get Nebraska in a BCS game or national championship game. Will it be within four seasons?
Tim Griffin: Obviously, the quick turnarounds and early success that coaches like Bob Stoops, Pete Carroll and Jim Tressel have enjoyed have proven that tradition-rich programs can turn around quickly. And Pelini is in exactly that kind of position.
But in order to get into that BCS discussion, he's going to have to significantly improve the Cornhuskers' recruiting. He needs to start attracting a bunch of athletic difference makers that will be needed to enable the Cornhuskers to compete with Texas and Oklahoma for the Big 12 title. They'll need to be in that ballpark to get into the BCS mix.
Can that happen in four seasons? No doubt. But Pelini will have to build on his first season of success and ratchet up the Cornhuskers' program another couple of rungs to get them on that level.
And there still is a lot of work remaining to get there.
---
Joe Bonds of Dallas writes: Tim, I will agree that Texas' non-conference schedule is extremely weak this year, but could someone please point out that it was not intentionally scheduled this way. Utah backed out, Arkansas backed out and UT tried to negotiate a game with Wisconsin this year. Texas does have some big-name programs on the schedule in the future. Why does no one point that out?
Tim Griffin: Joe, you are exactly right. But the BCS computers or pollsters aren't going to factor in that the Longhorns almost played Utah or that Arkansas didn't want to play them or that Wisconsin couldn't have been arranged.
We can point out who the Longhorns almost played, but it still won't take away the fact that their non-conference schedule includes games against Louisiana-Monroe, UCF, UTEP and Wyoming. Those will be the four games that Texas will be judged against.
And I still think that lack of competition, especially compared to some of the non-conference games that other potential national contenders are playing, could come back to haunt the Longhorns.
The road to a national championship is paved with good intentions. But that weak non-conference schedule remains something that Mack Brown and the Longhorns can't diminis
h. Because it's there.
---
Kenneth Smith of Houston writes: How will Brandon Banks will play this year? Considering teams know who he is now, will that change how he produces for Kansas State. Also how high will he go into the draft?
Tim Griffin: I've gone on record as thinking that Brandon Banks might be the most underrated player in the Big 12. And even though teams know about him a little more this season, they still have to stop him. And that's more easily said than done.
I've heard rumblings that Banks will have a new role with Del Miller as the offensive coordinator. It wouldn't surprise me to see him used in a modified role of a "Wildcat" where he would take direct snaps from center and perhaps and run and throw the ball a little like Darren McFadden originally did for Arkansas.
If he does that and is successful, it will only boost his national stature.
Banks is one of the fastest players in the country with reputed 4.28 speed in the 40-yard dash. But his professional chances are hampered by his size at 5-foot-7 and 150 pounds. Because of that size, I think it's a long shot he'll be drafted until he really tears things up this fall.
Thanks for all of the good questions. We'll check in again next week.
May, 18, 2009
5/18/09
9:00
AM ET
By
Tim Griffin
| ESPN.com
Posted by ESPN.com's Tim Griffin
The spring semester is ending across the Big 12. Most teams will take the rest of the month of May off. Intensive conditioning work will begin again next month and continue throughout the summer as Big 12 squads prepare for the upcoming season.
Here's a look at several teams with the most immediate work this summer facing them when they return.
Colorado: The Buffaloes will have to settle on a quarterback before the start of the season. Several variables are involved, including the close race between Tyler Hansen and Cody Hawkins for the starting job in spring practice, Hansen's broken thumb in the spring game and new offensive coordinator Eric Kiesau working into his new job. If the Buffaloes are to fulfill the spoiler role that some are predicting in the North Division, they need to make a real push before training camp starts in August.
Iowa State: Oh, so much work and so little time to do it. New Iowa State coach Paul Rhoads lamented he couldn't have 30 spring practices rather than the 15 mandated by the NCAA in order to help transform his program. Rhoads needs a lot of work to rebuild ISU's defense from a unit that ranked 110th in scoring defense, 112th in total defense, 116th in pass defense and 117th in pass efficiency defense. The summer will be critical as the Cyclones try to prepare for another run of high-powered Big 12 offenses.
Kansas State: Bill Snyder will be facing a big challenge to return the Wildcats to the role of a Big 12 North challenger again. His first chore will be sorting through a quarterback battle that should rage throughout training camp as South Florida transfer Grant Gilbert and heralded junior-college transfer Daniel Thomas arrive to challenge Carson Coffman. Both will be facing a crash course in learning Del Miller's offensive strategy after Coffman made a strong late push in training camp to earn the No. 1 job. And that's just the start of Snyder's work.
Oklahoma: After being called out by Coach Bob Stoops before spring practice for their lack of diligence in conditioning drills, it would behoove Oklahoma offensive linemen to stay in shape this summer. The Sooners' offensive line remains the most glaring question as the three-time defending Big 12 champions prepare this summer. Stephen Good got the start at left guard and Ben Habern flourished at center. Cory Brandon and LSU transfer Jarvis Jones also showed some development, but need much more. The group will need to work hard through strength coach Jerry Schmidt's summer drills to keep from earning Coach Bob Stoops' wrath - again.
Texas A&M: Coach Mike Sherman was nowhere near playing with a full deck after struggling through spring practice with 20 players who sat out the spring game from a group of Aggie players were treated with 19 off-season surgeries. Surprisingly, none of the Aggies' freshman class enrolled early or they could have gone a long way to staking a claim for immediate playing time. Sherman has estimated that 60 to 65 percent of those freshmen players will be able to contribute immediately. Defensive coordinator Joe Kines urged those players to arrive in shape for a shot at immediate playing time - even with their lack of college experience.
March, 20, 2009
3/20/09
5:00
PM ET
By
Tim Griffin
| ESPN.com
Posted by ESPN.com's Tim Griffin
It wouldn't be a Friday without some letters from the readers. Here are some I got this week.
Brandon from Ames, Iowa, writes: Tim, I'll be a Cyclone fan until I die no matter how bad we get, but is there going to be any hope for a good season this year? Rhoads is making us hopeful, but what should we consider a successful season given our current condition?
Tim Griffin: Brandon, I've been impressed during the times I've talked with Paul Rhoads since he's taken the job. He seems very positive and upbeat and realizes how daunting the job will be. I see a lot of similarities between him and his coaching mentor, Dan McCarney, who hired Rhoads at Iowa State earlier in his coaching career.
I was also impressed by his two hires for coordinators. Both Tom Herman and Wally Burnham are both very respected in the business and will help him tremendously.
But the Cyclones' talent is at the bottom of the North Division and it will be a big challenge for them to escape the cellar in Rhoads' first season. I think a more realistic goal would be for them to win a game or two more than last season's 2-10 record that ended with 10 straight losses. Anything more than that, in my opinion, will be extremely difficult to accomplish.
---
Austin from Houston writes: Tim, I noticed in your March 13 mailbag that you mentioned Oklahoma hasn't lost at home since 2001. Did you forget that they lost to the mighty TCU Horned Frogs 17-10 on September 3, 2005? I know that all of the Sooner fans as well as Bob Stoops remember that day. On a different note, although we are roughly seven months away from the game, who is your "way too early" pick for the Texas/OU game?
Tim Griffin: Austin, thanks for the catch. I meant to say the Sooners hadn't lost a conference game since 2001. I do remember the TCU game -- I was there that day. The Horned Frogs were able to dominate the Sooners at Owen Field. I had never seen that happen before with Bob Stoops coaching. And I haven't seen it since, either.
As far as my Red River Rivalry pick, if you asked me today, I would have to go with the Longhorns, but just barely. I'll reserve the right to make my final pick the week before the game.
Texas obviously will be smarting after failing to make the Big 12 championship game despite beating the Sooners last season in the celebrated three-way tie for the South Division championship. They couldn't ask for more inspiration coming into the game than that whole scenario.
But one thing that struck me when talking with Oklahoma players last week in Norman was the defense's confidence. The Sooners have nine starters back on their defensive unit, missing only safeties Nic Harris and Lendy Holmes. The Sooners seem comfortable that their defense will be much improved from last season. I thought the Sooners had a great defensive effort against Missouri in the Big 12 game and a good one in the loss to Florida in the Bowl Championship Series title game. Oklahoma's defense wasn't to blame for the Sooners losing that game.
So I think the Sooners' defense will be a little better than most people think this season. It should make for a great matchup at the Cotton Bowl.
Can we play tomorrow?
---
Robert Holmes from Norman, Okla., writes: Tim, if you were starting a Big 12 team of all the players who are coming back for the 2009 season, who would you pick first?
Tim Griffin: Great question and one that bears a more detailed answer. I'm going to start a daily post on Tuesday where I will count down the 40 most valuable players in the Big 12. I'll have a player a day culminating on May 2, which also coincidentally is the day of the Kansas State spring game -- the last one in the conference.
So start watching for that next week.
And I won't give you my final answer, but it would be safe to expect that a South Division quarterback, like maybe Colt McCoy or Sam Bradford. Keep watching to check who I've picked.
---
Brandon from Poteet, Texas, writes: Tim, I saw where you were at Baylor yesterday. How do you gauge the Bears' mindset coming into the upcoming season? Is a bowl berth a real possibility? And where did you end up eating on your way home? I would have advised George's if I was you.
Tim Griffin: The Bears seem to be a confident bunch. From interviews with new defensive tackle Phil Taylor to safety Jordan Lake and defensive coordinator Brian Norwood and coach Art Briles, to newcomers like offensive tackle Danny Watkins, I could detect a different attitude from previous seasons. Those players and coaches flatly tell you they will be playing in a bowl game. And it appears that it will be a shock for them if they aren't bowling somewhere in December.
That being the case, the Bears will face a typically difficult South Division schedule. They absolutely must win three games in the nonconference schedule. And a key swing game at Texas A&M on Nov. 21 will be huge for them.
Baylor's 41-21 victory over the Aggies last season in Waco was a convincing one. But remember that the Bears have produced 10 losses and a tie in their last 11 trips to Kyle Field. The last time Baylor won in College Station was on Oct. 20, 1984, when Grant Teaff's team claimed a 20-16 triumph. As of today, that's a string of 8,917 days and counting.
That's a huge gap and won't be easily snapped.
And as far as my meal in Waco, I didn't really have much time after spending a couple of hours finishing my work and getting a late start back home. I hopped right in the car and made it back home in time to eat one of my wife's delicious leftover pulled-pork sandwiches while I switched between President Obama's appearance on Jay Leno and the final minutes of the Illinois-Western Kentucky game late last week.
Maybe next time for George's.
---
Steve Woodson from Garden City, Kan., writes: Hey Tim. Great blog. I wouldn't think of starting my day without reading it. I've got a quick question for you. Which team would you anticipate to be the "surprise team" in the Big 12 this season? And which team do you expect will take the biggest step backwards from last season.
Tim Griffin: Steve, thanks for the compliments. I think that Colorado is nicely situated with some diminished expectations outside the program after last season's struggles.
I know that coach Dan Hawkins predicted his team would go 10-2 this season, which would be a surprise to almost anybody outside the Colorado program. But I do think if the Buffaloes can stay healthy and have a quarterback to emerge that they've got a great shot to make it back to a bowl game and might even be able to climb into North Division title contention with a few breaks along the way.
And as far as the program I expect to take the biggest step back, I would nominate Texas Tech. Graham Harrell and Michael Crabtree will be missed, obviously. But so will players like Brandon Williams, Louis Vasquez, Daniel Charbonnet, Darcel McBath, Shannon Woods and Rylan Reed. That's a big chunk of talent that had a huge p
art in the Red Raiders' South Division tri-championship team last season to replace at one time.
I still expect the Red Raiders to contend for a bowl appearance as I would peg them about fourth in the Big 12 South behind Texas, Oklahoma and Oklahoma State. But I think seven or eight wins is a more likely victory total for them this season rather than last year's 11-2 mark.
---
Jackson from Telluride, Colo., writes: Which off-season coaching moves to do you think will prove to be the most important in the Big 12 this season?
Tim Griffin: I'll actually nominate three. Obviously, the hiring of Bill Young as Oklahoma State's new defensive coordinator has huge ramifications. Mike Gundy is counting on him to be able to fashion together enough improvement to push the Cowboys into contention. That will be a tall order for him, even with all of his past success at previous stops.
I'm also very curious how the new staff of Bill Snyder works together at Kansas State. I think the hiring of Vic Koenning was a huge get for Snyder. I'm also intrigued to see how Dana Dimel and Del Miller will work together again as co-offensive coordinators. Both have worked with Snyder before. Are there any changes in their coaching since they lasted coached there? We'll see.
And I'm also very interested to see the work of new Missouri offensive coordinator Dave Yost and defensive coordinator Dave Steckel. Both have been with Gary Pinkel since the beginning at Missouri. But both also represent changes that have come to the program after former offensive coordinator Dave Christensen left for the head coaching job at Wyoming and former defensive coordinator Matt Eberflus left to become the Cleveland Browns' linebackers coach.
Pinkel had never had a change in his coaching staff in the first eight years at Missouri. I'm curious to see how the recent switches will alter the Tigers and Pinkel's schematics, if any.
That's all for this week. Check back next week for more correspondence and keep the questions and answers coming. I appreciate it.
March, 5, 2009
3/05/09
5:40
PM ET
By
Tim Griffin
| ESPN.com
Posted by ESPN.com's Tim Griffin
Reading the story earlier today about Texas A&M's manufactured quarterback battle between Jerrod Johnson and Ryan Tannehill got me thinking about something.
I started thinking which quarterbacks in the conference absolutely could afford to go fishing this spring and not worry about earning their job back in the fall.
There are several players who fit this category, starting with the top two finishers in the Heisman Trophy race last season.
Heading into spring practice, here's how I would rank the volatility of the various quarterback jobs across the conference. Those at the top could afford to spend a few weeks in Cancun. And those at the bottom better worry about every pass they throw.
Here are my rankings:
1. Sam Bradford, Oklahoma -- Something about winning the Heisman Trophy and coming back for another season ensures you'll have the job come September.
2. Colt McCoy, Texas -- Or finishing second, for that matter.
3. Robert Griffin, Baylor -- Maybe he could afford to go out and run for the Baylor track team this spring as his major athletic endeavor. But I bet he doesn't.
4. Todd Reesing, Kansas -- In his own way, might be the most valuable player in the conference -- considering the talent around him compared with the other conference's other top quarterbacks.
5. Zac Robinson, Oklahoma State -- Needs the spring work to tweak his throwing a little. But if asked, he could also become a devastating option quarterback.
6. Taylor Potts, Texas Tech -- Mike Leach appears sold on him after 15 career games and 85 passes. But he still needs the activity to develop a better grasp of Leach's offense and work with his receivers.
7. Austen Arnaud, Iowa State -- After taking virtually every snap last season, seemingly should be in safe company. But you never know with a new coaching staff coming aboard.
8. Jerrod Johnson vs. Ryan Tannehill, Texas A&M - I'll take coach Mike Sherman at his word. Maybe Tannehill can challenge Johnson this spring. But Johnson showed a lot of promise early last season and Tannehill is among the Aggies' top playmaking receivers. I bet it stays that way, too.
9. Blaine Gabbert vs. Blaine Dalton, Missouri -- Gabbert has a year of experience, which should prove invaluable in the battle to replace Chase Daniel. Gabbert's pedigree and size also should help him nail down the job this spring.
10. Carson Coffman vs. the field, Kansas State -- Coffman has more experience than any of the five quarterbacks that Bill Snyder has inherited and is bringing into the program. It should mean that Chase Coffman's little brother gets a head start on the offense crafted by Dana Dimel and Del Miller. That work likely should be enough to keep him in front when fall practice begins.
11. Zac Lee vs. Cody Green vs. Kody Spano, Nebraska -- I have no idea who will win this battle. Lee is presumed to be ahead at the present time, but Green apparently has made a strong early impression with his teammates as an incoming freshman. I still would imagine that Lee starts the season at quarterback, with Green receiving situational playing time.
12. Cody Hawkins vs. Tyler Hansen vs. Clark Evans vs. Matt Ballenger, Colorado -- Another tight battle that is muddled because the Colorado coaching staff made the desperation move of burning Hansen's redshirt midway through last season. Hawkins and Hansen both have won Big 12 games, but it should be an even race that plays out through the spring. This is a positional battle that could hinge on every scrimmage.
March, 2, 2009
3/02/09
6:03
PM ET
By
Tim Griffin
| ESPN.com
Posted by ESPN.com's Tim Griffin
The hiring of Utah offensive coordinator Andy Ludwig was hailed as a personnel coup by many observers after he agreed to join Bill Snyder's staff at Kansas State.
Ludwig's offensive prowess was well known after his work leading the Utes to a 13-0 record after successful previous stops at Oregon and Fresno State.
In short, his arrival was an ideal hire for Snyder's staff as he attempts to change the culture at KSU.
But after spending less than two months at KSU, Ludwig accepted a job on Jeff Tedford's staff as California's new offensive coordinator.
Ludwig finally explained the reasons for his move in an interview with veteran KSU beat writer Mark Janssen of the Manhattan Mercury.
And his reasons are good, even if it might not necessarily make the KSU fans much happier.
Ludwig told Janssen that the move was a "family matter," necessitated by the fact that his mother, brother and sister all live in the East Bay area of San Francisco near the Berkeley campus.
"It was all about the positives of being at Cal professionally and personally, and nothing to do with getting away from the (KSU) situation I was in," Ludwig said.
The move to Tedford's staff comes with a salary hike. But so does the cost of living.
A coach with a $200,000 yearly salary in Manhattan would have to earn $342,206 for equal buying power in San Francisco, according to a CNNMoney.com web calculator. The survey also indicates that groceries will cost 32 percent more in the Bay area, housing 182 percent more, utilities 5 percent more, transportation 11 percent more and health care 35 percent more.
Ludwig also said he did not feel good about the departure, adding it was "an ugly deal, but something I had to do."
And his most telling answer -- and one that has baffled most observers -- was whether there was any potential rift with Snyder.
"Absolutely not, absolutely not," Ludwig said. "That had zero influence on this decision."
Snyder now will be working with familiar coaches in Del Miller and Dana Dimel to run his offense. Ludwig would have brought a fresh approach. It will be interesting to see whether the familiar strategies of Miller and Dimel will change with their new opportunity again working with the legendary KSU coach.