May, 1, 2013
5/01/13
9:00
AM ET

2012 record:
8-5
2012 Big 12 record:
5-4
Returning starters:
Offense: 7; defense: 7; kicker/punter: 0
Top returners:
QB
Clint Chelf
, WR
Josh Stewart
, CB
Justin Gilbert
, LB
Shaun Lewis
, LB
Caleb Lavey
, WR
Blake Jackson
, DT
Calvin Barnett
, S
Daytawion Lowe
, DE
Tyler Johnson
Key losses:
RB Joseph Randle, LB
Alex Elkins
, K/P/KOS
Quinn Sharp
, CB
Brodrick Brown
, DE
Nigel Nicholas
, WR
Isaiah Anderson
2012 statistical leaders (*returners)
Passing:
Clint Chelf* (1,588 yards)
Rushing:
Joseph Randle (1,417 yards)
Receiving:
Josh Stewart* (1,210 yards)
Tackles:
Alex Elkins, Daytawion Lowe* (75)
Sacks:
Tyler Johnson* (4)
Interceptions:
Lyndell Johnson*, Daytawion Lowe*,
Shamiel Gary
* (2)
Spring answers
1. The defense's intentions are clear
. Bill Young is out. Glenn Spencer is in, and he's all about playing aggressive. Tight coverage and blitzes are the name of the game, and we'll see if it pays off in a Big 12 lacking in quarterback experience. Last season, OSU's parade of turnovers came to an end, but Spencer seems intent on bringing it back. Nobody's stopping Big 12 offenses, but forcing turnover and holding teams to three in the red zone are how you succeed on defense in this league.
2. The offensive line is set ... for now.
Center
Evan Epstein
and guard
Lane Taylor
are gone, but the Pokes are going with youth at left tackle in sophomore
Devin Davis
, moving last year's left tackle,
Parker Graham
, to left guard. Meanwhile, junior
Jake Jenkins
is sliding up to take Epstein's spot at center. That's how it ended in the spring, but OL coach Joe Wickline is kind of unpredictable, so those guys better continue to bring it in fall camp.
3. Athletic director Mike Holder is still running the show.
Gundy and Holder had a disagreement on scheduling that nearly ended with Gundy packing his bags to succeed Derek Dooley in Knoxville. But Gundy's displeasure with Holder helping schedule Mississippi State this year and Florida State next year -- both on neutral fields -- hasn't changed much. OSU just announced a future home-and-home with Boise State. Who knows what Boise will look like then, but the intent is clear: Holder wants attention-grabbing, money-making games to start the season, not home games against patsies to help OSU run up an easy 3-0 mark before conference play begins.
Fall questions
1. Seriously, what's the deal at quarterback?
Chelf is the safe bet at quarterback, but Gundy reneged on a statement midway through spring that he would hold onto his starting spot in Week 1 ahead of
J.W. Walsh
and
Wes Lunt
. Now, Gundy says the starter for Game 1 hasn't been decided, and quarterbacks are off limits to the media with no updates being given until after the season opener. We'll see if Gundy sticks to it, and if Chelf hangs onto the starting job he earned with strong play to close 2012.
2. Is Oklahoma State a new Big 12 power?
The Pokes broke through and won a title in 2011, but one title doesn't mean anything in the big picture. OSU is in position to win another and just may be the league favorite to start the season. They are in my book for sure. Two Big 12 titles in three seasons? That's serious, and the Pokes have a chance to do some special things this season.
3. Is Mike Yurcich the next super coordinator at OSU?
Mike Gundy's been a head coach less than a decade, but his coaching tree is already way underrated. He's churning out head coaches year after year, highlighted by guys like Dana Holgorsen at West Virginia, Larry Fedora at North Carolina and Tim Beckman at Illinois. Todd Monken just left for Southern Miss, and if Yurcich, who stepped into the new role from a Division II school, keeps the pace for this offense, I'm betting he may attract interest before too long, too. Watching how he handles Year 1 will be interesting. Monken came from being an NFL position coach and made parlaying that into a head coaching job look easy.
February, 9, 2010
2/09/10
1:29
PM ET
By
Tim Griffin
| ESPN.com
A quick show of hands, please, from anybody who braved the lines at their nearby Denny's Restaurant for a free Grand Slam breakfast this morning.
The thought occurred to me to check it out, so I drove by the nearest location after I delivered my boy to school earlier today.
The lines outside the restaurant convinced me that a wiser choice was to return back home to my blogging duties.
Here are some stories from across the Big 12 this afternoon that should prove a little more substantial than the blueberry Pop Tart I had instead.
January, 20, 2010
1/20/10
1:02
PM ET
By
Tim Griffin
| ESPN.com
We've got more lunch links that we can shake a stick at this afternoon.
My doctor tells me that consuming these links every day will help prevent colds.
Call it my version of chicken soup for the Big 12 fan's soul.
January, 15, 2010
1/15/10
9:13
PM ET
By
Tim Griffin
| ESPN.com
Mike Gundy wasn't particularly happy about his team's offense this season after watching Oklahoma State's scoring decrease by more than 12 points per game this season.

That realization led Gundy to hire Houston offensive coordinator Dana Holgorsen as his new offensive coordinator, the school announced Friday night.

"We're elated that Dana is joining our staff," Gundy said. "He has a great pedigree, and a history of success. We're excited about what he brings to the OSU football program."

Only a day after Gundy vowed to retain control of his offense in a Tulsa World story, the new hiring brings one of the nation's hottest coordinators to Oklahoma State.

Holgorsen, a protege of Mike Leach's coaching tree, helped the Cougars lead the nation in scoring (42.2 points per game), passing yards (433 per game) and total offense (563 yards per game). Obviously, he was helped by having quarterback Case Keenum at his disposal. But there's still something to be said for that kind of production.

There apparently are no immediate changes in Gundy's staff, making current offensive coordinator Gunter Brewer's status iffy. It's undetermined if Brewer would take another role on Gundy's staff with Holgorsen's arrival, although the Oklahoman reports that specific duties have not been determined.

Brewer is close with new Tennessee coach Derek Dooley. A persistent rumor has that Brewer, the son of former Mississippi coach Billy Brewer, might return to the Southeastern Conference to join Dooley's new staff with the Volunteers.

It will be interesting to see what Holgorsen's arrival will mean for Gundy, who has dabbled with his team's offense ever since taking over as the team's head coach in 2005.

I can't see Gundy giving that tinkering up. But I also can't believe that Holgorsen would take the OSU job unless he was given autonomy to run the Cowboys' offense.
December, 22, 2009
12/22/09
4:03
PM ET
By
Tim Griffin
| ESPN.com
AUSTIN, Texas -- Will Muschamp wanted to get out of his house for a few hours while visiting relatives in Atlanta on Christmas Day 2000, figuring that meeting a few old coaching friends would provide a calming respite.
[+] Enlarge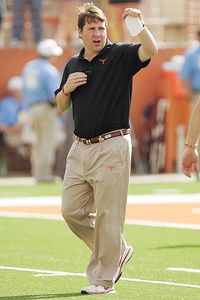 Brian Bahr/Getty ImagesTexas defensive coordinator Will Muschamp attributes some of his success to what he learned under Nick Saban.
He called some old friends on the LSU staff that morning with hopes of watching the Tigers practice for their Peach Bowl game a few days later.
While there, Muschamp met first-year LSU coach Nick Saban. Both of their lives changed from that moment.
The then-Valdosta State defensive coordinator was hired to join Saban's staff three weeks later as a linebackers coach after a vacancy appeared on the staff.
"He wanted somebody young, from the South and who had ties with people on the staff," Muschamp said. "They brought me in for an interview and we talked that day. That night, he offered me the job."
LSU won a BCS championship barely four years later. Muschamp then followed Saban to the Miami Dolphins, where at 34, he was one of the youngest defensive coordinators in recent NFL history.
Later, Saban returned to Alabama and Muschamp became the defensive coordinator at Auburn. Muschamp eventually was hired at Texas, where his strong work has earned him the designation of Mack Brown's successor when he leaves coaching.
Back in the LSU days, Saban had a reputation as a taskmaster who was difficult for many assistants to work for.
But in Muschamp, he found a kindred spirit who enjoyed grinding away at the job as much as he did.
"Nick never asked me to do anything he wasn't doing himself," Muschamp said. "From a work standpoint, a recruiting standpoint or a coaching standpoint, if you didn't want to work it wasn't a good place to be. But I enjoyed work and I like coaching football.
"I like evaluation and I like recruiting and that's why we got along philosophically and schematically. We believe the same way in coaching and motivating. I think that's why we got along."
Today, Muschamp's players say the apple hasn't fallen too far from the tree in terms of Muschamp's dedication for work.
"I always want to try to beat him into the office," Texas defensive tackle Kheeston Randall said. "But it's hard to do. He's the first one there a lot and the last one to leave. You look out and see (Muschamp's) that white truck out there all the time."
Saban is proud of Muschamp's ascension in coaching like the development of former assistants like Michigan State head coach Mark D'Antonio, incoming Florida State coach Jimbo Fisher or Louisiana Tech head coach Derek Dooley.
"To put it into perspective, (it's like) when one of your children does something that makes you proud," Saban said. "That's how you feel when coaches on your staff go on and do bigger and better things and have success in what they do. I'm really proud and want to see them all do extremely well."
Because of their dedication to coaching, Muschamp estimates that he and Saban talk less than once a month. They haven't exchanged pleasantries since the Texas-Alabama matchup was set when Texas beat Nebraska in the Big 12 championship game and Alabama defeated Florida in the Southeastern Conference title game earlier that day.
"It's tough during the season," Muschamp said. "He knows they are playing us and I know we're playing them. He's busy and I am, too."
Both coaching staffs have a lot of connections other than the Saban-Muschamp association. Current Alabama defensive coordinator Kirby Smart was Muschamp's secondary coach at Valdosta State when Muschamp was hired at LSU. Alabama associate head coach/linebackers coach James Willis worked as Muschamp's linebackers coach at Auburn. And Texas running backs coach Major Applewhite worked on Saban's staff as his offensive coordinator and quarterbacks coach in 2007.
Saban faced a similar challenge at Miami when he faced his old mentor, Bill Belichick, when he was coaching the New England Patriots.
"I'm really proud and want to see them all do extremely well," Saban said. "We're good friends and you compete and play against each other, but you don't dislike each other and it's not you don't have the same amount of respect and admiration for them.
"You want to be helpful to those guys if you can. And even if you compete against somebody in that moment in time, you're trying to do the best you can for your team."
Muschamp learned a lot during his time with Saban. While he jokes there will be a lot of "wasted ink" written bout their relationship over the next few weeks, he remains grateful for the opportunity to join Saban's staff nine years ago.
"When you get there and get exposed to a lot schematically, that appealed to me," Muschamp said. "And that's obviously where I formed my ideas about how you play and the things you needed to do to be successful."
December, 17, 2008
12/17/08
1:00
PM ET
By
Tim Griffin
| ESPN.com
Posted by ESPN.com's Tim Griffin
I feel a little remiss that we didn't celebrate Nebraska coach Bo Pelini's birthday last week in a suitable manner.
Pelini turned 41 on Saturday, a likely day for stoppage of mail and garbage delivery considering his early success with the Cornhuskers.
A rash of recent hirings of younger coaches has dropped Pelini to 13th among the youngest FBS head coaches. And his matchup with Clemson's Dabo Swinney in the Gator Bowl will be only the second time that Pelini has been older than his opposing coach. The only other time that happened was when he beat Ron Prince and Kansas State earlier this season.
And here's another way to place Pelini and Swinney's youth in perspective. Their combined ages at kickoff for the Jan. 1 game in Jacksonville will be 80 years, 1 month and 31 days. That total is far less than Penn State's Joe Paterno, who will be 82 years and 11 days old on that date.
Here's a look at the youngest FBS coaches in the nation. Coaches who have been hired since the end of the season to their new jobs are indicated with an asterisk.
Youth Movement
Name
School
Age
Birthdate
Bowl berth
Lane Kiffin *
Tennessee
33
May 9, 1975
--
Pat Fitzgerald
Northwestern
34
Dec. 2, 1974
Alamo
Steve Sarkisian*
Washington
34
March 8, 1974
--
Dan Mullen*
Mississippi State
36
April 27, 1972
--
David Elson
Western Kentucky
37
Aug. 26, 1971
--
Mario Christobal
Fla. International
38
Sept. 9, 1970
--
Bret Bielema
Wisconsin
38
Jan. 13, 1970
Champs Sports
Mike Locksley*
New Mexico
38
Dec. 25, 1969
--
Dabo Swinney*
Clemson
39
Nov. 20, 1969
Gator
Al Golden
Temple
39
Aug. 4, 1969
--
Derek Dooley
Louisiana Tech
40
June 10, 1969
Independence
Butch Jones
Central Michigan
40
Jan. 17, 1968
Motor City
Bo Pelini
Nebraska
41
Dec. 13, 1967
Gator