November, 29, 2013
11/29/13
11:00
AM ET
Recruiting season is about to kick into high gear. As soon as Bedlam is over on Dec. 7, Oklahoma will hit the recruiting trails hard looking to secure the future.
[+] Enlarge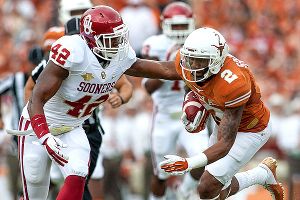 William Purnell/Icon SMIOU didn't offer Dominique Alexander a scholarship until last October. Now he's a starting linebacker.
OU has been superb at finding late hidden gems in recent seasons, with cornerback
Zack Sanchez
, a redshirt freshman from the Class of 2012, and linebacker
Dominique Alexander
, a true freshman from the Class of 2013, already making an impact on the program after getting relatively late offers from the Sooners.
Here are some priority spots for the Sooners to address in their 2014 class during the final two months of this recruiting cycle. Keep in mind, this list has everything to do with the young players on campus at each position, not necessarily the guys who are playing at that position each Saturday in 2013.
Offensive tackle:
Derek Farniok
and
Christian Daimler
are the lone underclassmen at offensive tackle. OU badly needs depth at the position and should be aiming to land at least two offensive tackle prospects in this class. If redshirt freshman tight end
Sam Grant
ends up at tackle, that would help the cause and lessen the urgency, but its a high priority position in this year's class. Worse yet, there doesn't seem to be a lot of hope at the position with top prospects mentioning OU on their lists. Finding a hidden gem in December could be the top priority for offensive line coach Bill Bedenbaugh.
Defensive tackle:
This position looks a lot better right now than it did a year ago with the early play of
Jordan Phillips
, a sophomore, and the emergence of
Jordan Wade
, a redshirt freshman. Nevertheless, there is no such thing as too many quality defensive tackles. The Sooners have one commit in Irving (Texas) Ranchview's
Brandon Glenn
, but that's not enough. OU needs to secure at least one more defensive tackle prospect to join Glenn and redshirting freshmen
Matthew Romar
and
Charles Walker
as the future at the position.
Linebacker:
OU rallied to bring in two quality linebackers late in last year's recruiting cycle with Alexander and
Jordan Evans
. Each committed to OU late in the process and became impact freshmen this fall. The Sooners need to supplement that duo with a least one more playmaker to join Allen (Texas) linebacker
Tay Evans
and Murrieta (Calif.) Vista Murrieta linebacker
Curtis Bolton
on their commit list. Several linebackers could be in play and keep in mind the Sooners did secure Alexander and Evans late in the process.
Running back:
You can never have too many running backs. And OU loses three quality ball carriers in
Brennan Clay
,
Roy Finch
and the recently dismissed Damien Williams. Redshirt freshman
Alex Ross
has a good size/speed ratio, true freshman
Keith Ford
has terrific upside, and commitment
Samaje Perine
(Pflugerville, Texas/Hendrickson) is a member of the ESPN 300. But the Sooners need to add another quality runner into the mix. Oakley (Calif.) Freedom running back
Joe Mixon
, No. 72 in the ESPN300, would be an outstanding addition to this class.
Receiver:
Even though the Sooners seem to have some solid youngsters already on campus, they don't have a proven game-breaking receiver outside of
Sterling Shepard
returning in 2014. But, and this is critical, they can't just use a scholarship to bring in another guy. With Tulsa (Okla.) Union receiver
Jeffery Mead
and La Mirada (Calif.) receiver
Dallis Todd
already committed, receivers coach Jay Norvell should think elite receiver or bust. Norvell should join Mike Stoops in doing whatever it takes to land
Michiah Quick
(Fresno, Calif/Central East), then fight for him to end up on the offensive side of the ball.
November, 15, 2013
11/15/13
10:00
AM ET
Back again with more stats and tidbits courtesy of SID departments across the league and ESPN stats and information. Did you know …
TCU coach Gary Patterson returns to his alma mater for the first time as a head coach when he visits Kansas State on Saturday. He played linebacker and safety for the Wildcats before graduating in 1983. He was born in Larned, Kan., and lived in Rozel, Kan.
TCU's Trevone Boykin is the only player in the nation with a 100-yard rushing, 100-yard receiving and 200-yard passing game this season.
TCU leads the Big 12 with 70.4 percent (2,379 of 3,380 yards) of its scrimmage yards from underclassmen.
Deante' Gray, who started two games at receiver this season, started at cornerback for TCU against Iowa State last Saturday and had two tackles and a pass breakup. He also leads the squad in special teams tackles.
Iowa State's DeVondrick Nealy's 98-yard kick return for a touchdown snapped TCU's 135-game streak without allowing a kick return for a score, which was the nation's longest.
TCU is tied for the conference lead and sixth in the nation with 25 forced turnovers this season.
TCU holds the nation's third longest streak of games without being shut out at 265, dating back to a 32-0 shutout loss to Texas in 1991.
Kansas State coach Bill Snyder earned victory No. 175 overall and No. 100 in conference play with the Wildcats' 49-26 win over Texas Tech last Saturday. He's the 46th coach to reach the 175-win mark and just the 11th reach that standard at one school. He joins Tom Osborne of Nebraska and Barry Switzer of Oklahoma as the only Big 8/12 coaches with at least 100 wins at one school.
K-State has turned it on in the fourth quarter of recent games, outscoring opponents 56-14 during its three-game win streak.
The Wildcats are 49-17 in November under Snyder since 1991.
KSU is looking to become the fourth Big 12 team to start 2-4 or worse yet still make a bowl game. 2001 K-State, 2002 Oklahoma State and 2004 Iowa State are the only teams to achieve that feat thus far.
Since 1999, K-State ranks No. 1 nationally in non-offensive touchdowns with 91.
John Hubert is averaging 109.5 rushing yards per game and one touchdown in KSU's last four games after averaging 53.6 rushing yards in the Wildcats' first five contests.
KSU sophomore defensive lineman Travis Britz has blocked four kicks this season, which leads the nation.
Texas is 6-0 in the Big 12 for the fifth time under Mack Brown (1999, 2005, 2006, 2009).
The Longhorns has scored 30 points or more in their last six games, matching their longest streak since 2009.
UT is No. 5 nationally in sacks in its last six games. The Longhorns have gotten to the quarterback 24 times during their last six contests.
Longhorns' guard Mason Walters has started 47 straight games, the second-longest streak in the nation among offensive linemen (Mississippi State's Gabe Jackson owns the longest streak).
Texas has scored 11 touchdowns on plays of 45 yards or more this season. Eight different Longhorns have achieved that feat.
UT receiver Jaxon Shipley is clutch with 30 of his 46 receptions resulting in a first down this season, including three on fourth down. His fourth-down catch kept hope alive in the Longhorns' 47-40 overtime win over West Virginia last Saturday.
UT defensive end Cedric Reed is the lone FBS defender with at least six sacks, four pass breakups and four forced fumbles. The junior has seven sacks, four pass breakups and four forced fumbles.
Oklahoma State has won 10 of its last 11 games in the state of Texas.
An OSU win over Texas would be the Cowboys third-straight victory in Austin and make the Cowboys the first team to do it since Colorado in 1990, 1994 and 1997.
OSU has scored 20 or more points in 48 straight games dating back to the start of the 2010 season. It's the longest streak in the nation.
OSU has forced a turnover in 17 straight games.
Cowboys cornerback Justin Gilbert leads all active players with six kickoff returns for touchdown in his career after his kickoff return for a score to open the game against Kansas.
OSU is one of seven teams ranking in the nation's top 20 in both scoring offense (40.7 points per game) and scoring defense (19.7 ppg). Alabama, Baylor, Florida State, Oregon, Ohio State and Louisville join the Pokes in that category.
The Cowboys are averaging 6.11 three-and-outs forced per game this season.
OSU ranks No. 9 nationally in yards per play allowed at 4.67 yards per play. Michigan State leads the nation at 3.47 followed by Baylor's 4.08.
The Cowboys lead the Big 12 in third down conversion percentage at 29.6 percent which ranks sixth nationally.
The Cowboys could feature the league's most balanced offense. OSU has 343 rushing attempts and 343 passing attempts heading into its battle with Texas.
Texas Tech's series with Baylor is the longest in school history. The Red Raiders hold a 36-34-1 lead in the series.
The Red Raiders have scored 20 points or more in 25 straight games, dating back to 2011.
Linebacker Will Smith has either led or tied for the team lead in tackles in six of TTU's last eight games. He has 72 tackles in 10 games, including 50 solo stops.
TTU had its nation-leading streak of 257 straight PATs snapped when KSU blocked Ryan Bustin's attempt last Saturday. It also snapped Bustin's personal streak of 101 consecutive PATs.
TTU tight end Jace Amaro had nine receptions for 67 yards against Kansas State to make it nine straight games with at least eight receptions for the junior, tying Michael Crabtree for the school record. He also moved to 10th on Tech's single season receptions list with 88 catches this season.
Baylor head coach Art Briles is a 1979 Texas Tech graduate and was an assistant coach on Mike Leach's staff from 2000-02.
It's been a full year since Baylor lost a game and the Bears 12-game winning streak is a school record. Oklahoma was the last team to defeat Baylor on Nov. 10, 2012.
The Bears' 8-0 start is the best in Baylor's history.
Baylor is hoping to win three straight games against TTU for the first time since 1984-87.
Baylor leads the nation in total offense (686 ypg), scoring (61 ppg), pass efficiency (201.5), yards per play (8.64) and passing yards per completion (19.29).
The Bears defense has more interceptions (11) than passing touchdowns allowed (8).
Baylor leads the nation in fewest three-and-outs per game (1.02) and is No. 2 in three-and-outs forced (7).
Baylor is on track to set NCAA records in points per game (61) and yards per game (686). Army averaged 56 points per game in 1944 while Houston averaged 624.9 yards per game in 1989.
BU's starting offense has 85 drives resulting in 52 touchdowns, getting into the end zone on 61.1 percent of its drives.
Baylor has won a school-record eight straight conference games. The previous high was five in 2010.
The Bears lead the Big 12 in tackles for loss with 8.9 per game. That ranks No. 2 in the FBS.
Baylor has converted 52.7 percent of its third down attempts, which leads the Big 12 and ranks No. 8 in the nation.
Baylor leads the Big 12 in sacks at 3 per game. That number ties the Bears for 14th nationally.
BU quarterback Bryce Petty leads the nation in pass efficiency (210.6) and yards per completion (19.68).
BU running back Lache Seastrunk has 10 games of 100 rushing yards or more in Baylor's last 12 games. He's averaging 8.7 yards per carry, which ranks No. 2 nationally.
Seastrunk leads the league with 111 rushing yards per game and 11 touchdowns.
Teammate Shock Linwood, a redshirt freshman running back, is second in the Big 12 with 89.3 rushing yards per game.
BU receiver Antwan Goodley leads the Big 12 with 121.8 receiving yards per game, which is No. 4 nationally.
Baylor is 12-1 in November and December since 2011, which is tops in the FBS. That record includes a 5-1 mark against Top 25 teams.
Iowa State's loss to TCU was the fifth time this season the Cyclones lost a game by eight points or less, including losses to Big 12 foes Texas, Texas Tech and TCU by a combined 12 points.
ISU and Rutgers are the only two teams with two different players who have returned a kickoff 95 yards or more for a touchdown.
Nealy has scored in four straight games in three different ways for the Cyclones.
ISU has used eight different starting offensive lines in nine games. With injuries ravaging its offensive front, 10 different Cyclones have starting along the offensive line.
Receiver Quenton Bundrage is the only Cyclone to start every game on offense.
ISU linebacker Jeremiah George has recorded double digit tackles in seven of nine games. He leads the Big 12 with 11.3 tackles per game, ranking fourth nationally.
Even with ISU's struggles on the field, the Cyclones have had three sellouts this season (Oklahoma State, Iowa, Northern Iowa) and are averaging the highest attendance average (55,617) in program history.
ISU has converted 23 of 24 red zone possessions into points (18 touchdowns, five field goals) to lead the Big 12 and rank No. 4 nationally at 95.8 percent.
West Virginia is making its first trip to Memorial Stadium in Lawrence, Kan.
Two of the top-20, single-game rushing performances in KU history have occurred on Nov. 16. June Henley rushed for 209 yards against Texas in 1996 (15th best) and John Riggins rushed for 189 yards against K-State in 1968 (19th best).
Mountaineers running back Dreamuis Smith played at Wichita (Kan.) Heights and was committed to the Jayhawks before spending two seasons at Butler County Community College.
KU's Michael Reynolds has 5.5 sacks this season, the most by a KU defender since 2009. He has a sack in four of KU's last five games.
KU punter Trevor Pardula has punted for 3,044 yards this season, nearly 1.73 miles. He leads the nation at 338.2 yards per game.
West Virginia has scored 30 points or more in 24 games, 40 points of more in 12 games, 50 points or more in six games and 60 points or more in three games during Dana Holgorsen's tenure.
WVU running back Charles Sims leads the Big 12 in all-purpose yardage, averaging 124.2 yards per game.
WVU has forced a turnover in 16 straight games and 28 of its last 29 contests.
WVU's is looking to extend its streak of making bowl appearances to 12 with wins over Kansas and Iowa State to close the season.
WVU is 3-1 on the road in November under Holgorsen
Oklahoma has won 14 straight games against Iowa State and is 8-0 under Bob Stoops.
The Sooners are 13-1 on Senior Day under Stoops.
Stoops has 156 career victories and will be looking to tie Barry Switzer at 157 with a win on Saturday.
OU will honor 17 seniors on Senior Day. This class is 39-10 during their time in Norman.
The Sooners are seeking a perfect home record for the 11th time in 15 seasons under Stoops and the first time since 2010.
The Sooners-Cyclones contest will feature a battle of brothers. Tom Farniok is ISU's starting center while Derek Farniok is a backup tackle at OU.
October, 3, 2013
10/03/13
1:00
PM ET
While the Iowa State defense was on the field last week at Tulsa, one individual on the Cyclones' sidelines grabbed a clipboard and started drawing up adjustments.
It wasn't quarterback Sam Richardson or any of the coaches.
It was center
Tom Farniok
– Iowa State's second quarterback.
After sleepwalking through its first two games, the Iowa State offense finally woke up in its 38-21 win over Tulsa, giving the Cyclones the momentum they desperately craved going into tonight's Big 12 opener with Texas.
It's no coincidence that the Cyclones' sudden offensive revival surfaced in conjunction with Farniok's return to the lineup from an MCL knee sprain that sidelined him the first two games.
Rarely can a center make that big a difference for an offense. Then again, not many centers are like Farniok.
"I wasn't aware he was drawing up plays, but that doesn't surprise me," Iowa State coach Paul Rhoads said. "He brings leadership both mental and physical, and I think that's obvious to anyone associated with our program.
"He's very valuable to us being successful."
[+] Enlarge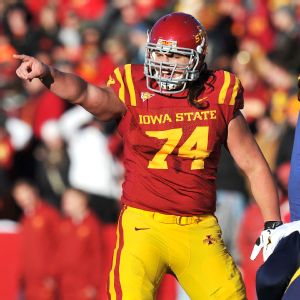 Peter G. Aiken/USA TODAY SportsWith Tom Farniok back on the offensive line, Iowa State had its first 100-yard rusher of the season.
Through the first two games of the season, the Iowa State offense was anything but successful.
In a disastrous opener, the Cyclones, without Farniok, failed to finish off drives in a 28-20 loss to FCS opponent Northern Iowa.
Iowa State didn't fare much better in its next game, either. Unable to muster much of anything offensively, especially on the ground, the Cyclones fell behind 27-7 to Iowa before scoring a couple of late touchdowns to make the score respectable.
"We definitely missed him," Rhoads said of his center.
Farniok, however, returned to the lineup in Tulsa, and just like that, the offense clicked.
Sure, there were other factors. Running back
Aaron Wimberly
finally got involved and produced Iowa State's first 100-yard rushing performance in more than a year. Richardson didn't look so hobbled by the right-ankle injury he suffered against Northern Iowa, and he made plays in and out of the pocket. Others emerged, too, like tight end
E.J. Bibbs
, the gem of the most recent recruiting class.
But no difference was bigger than Farniok, who brought an attitude to the run game and a calming influence to the huddle.
"He really brings a comfort level to our offense, and definitely to me," Richardson said. "He definitely has a positive effect on what we're doing. You could see in [the Tulsa game] how comfortable we looked as an offense with him in there."
Farniok grew up in Sioux Falls, S.D., as the oldest of four football-playing brothers. His oldest younger brother, Derek, is an offensive tackle with the
Oklahoma Sooners
. Another brother, Matt, is a sophomore offensive tackle in high school, and is already garnering the attention of college recruiters.
But while his brothers were gifted physically from an early age, Tom Farniok weighed just 160 pounds on his first day of high school.
"I was a little bit of a late bloomer," he said. "I didn't hit puberty, like, at all until I got to eighth grade."
As a result, Farniok went overlooked. FCS powerhouse North Dakota State offered him a scholarship. So did his home-state school of South Dakota State. Farniok, however, didn't get a single FBS offer until Rhoads extended one after being impressed during one of Iowa State's summer camps.
Still at just 260 pounds, Farniok didn't seem like much then. But after adding more weight as a redshirting freshman, he turned into a key cog on Iowa State's offensive line, starting every game the last two seasons.
"He's played a lot of games for us and been in the trenches for us a long time," Rhoads said. "And that's awfully valuable to an offense."
It didn't take long for that to become evident in Tulsa.
With Farniok still not 100 percent, Iowa State started backup
Ben Loth
at center. But during the Cyclones' second possession, Farniok entered the game, and Iowa State summarily put together its best offensive drive of the season.
The Cyclones capped that drive with Wimberly's 35-yard dash -- the first run of more than 10 yards by a running back this season -- then
Jeff Woody
's TD plunge.
After the score, Farniok took the clipboard and started drawing up how the Cyclones could score next.
"He did that through high school,"
Derek Farniok
said. "He probably knows what the receivers are supposed to do. Probably yells at them what to do.
"He's always been a football-smart guy."
But Tom Farniok is more than just smarts.
In the third quarter, facing third-and-goal from the Tulsa 1, the Cyclones ran Woody right behind Farniok for another rushing touchdown to go up 28-14 and assume command the rest of the way.
"He's a hard-nosed dude," Richardson said. "With him back, we're beginning to mesh."
Despite losing their first two games, the Cyclones have a big chance tonight against Texas to get their season completely on track. A chance that looks a whole lot better with their second quarterback back at center.
March, 5, 2012
3/05/12
5:30
PM ET
For the first time in his tenure at Oklahoma, coach Bob Stoops is welcoming back a quarterback entering his fourth straight season as a starter.
What kind of advantage does having somebody with
Landry Jones
' experience quarterbacking the Sooners as they begin spring drills this week?
"I believe it's a great advantage," Stoops said during a news conference to kick off spring practice Monday. "The leadership, the poise, being able to hopefully avoid the really poor plays that put you in bad position with turnovers. And then hopefully there's increased precision and execution. That's what you really get with a more mature and experience quarterback."
Jones struggled some late last season after losing top target
Ryan Broyles
to a knee injury. But by coming back for his senior season, he also has a chance to become the winningest quarterback in OU history.
"He makes a great impact," Stoops said. "He's a tremendous leader and a very talented quarterback in everything he does — not just throwing the football. With another year under his belt and time to work here in the spring and summer with these receivers, I'm excited about the possibilities."
Other news and notes from Stoops' news conference:
• On his first day at practice as defensive coordinator, Mike Stoops will be without three key starters. Defensive tackle
Casey Walker
(shoulder), safety
Aaron Colvin
(shoulder) and middle linebacker
Tom Wort
(back) will sit out the spring recovering from injuries sustained last season. Wort could still return late in spring drills.
The Sooners will also be without center
Ben Habern
(neck) and running back
Dominique Whaley
(ankle).
• Two players that were expected to miss spring will actually be available. Wideout
Jaz Reynolds
(kidney) and fullback
Aaron Ripkowski
(back), who both suffered serious injuries in the loss at Oklahoma State, have both been cleared for spring drills.
"Jaz has been cleared for probably the last three weeks and has really gotten back to full strength and looks good," Stoops said. "He's cleared to go. And in all likelihood, we're set to have a procedure at the end of spring that will sideline him just for probably three weeks."
• Stoops said that
Lane Johnson
, who started at right tackle last season, will start the spring at left tackle as the Sooners work to replace
Donald Stephenson
. Sophomores
Daryl Williams
and
Tyrus Thompson
will man the right side.
Stoops also noted that mammoth redshirt freshman
Derek Farniok
has made strides during the winter and has a chance to become part of the rotation.
"Derek Farniok, a young guy, had a huge winter," Stoops said. "He's a totally different guy than the guy that walked in here. It's exiting to see how hard he's worked, how well he's running. He's the biggest of all of them. The other guys are all doing well."
• Stoops confirmed that Florida State tried to schedule Oklahoma for a third straight season, with both programs needing to fill holes because of conference realignment. But Stoops said FSU wanted the Sooners to come back to Talahassee for a second straight year.
"I know it was brought up about Florida State, but they didn't seem to want to come here," Stoops said. "We might have entertained it if they wanted to come here first game."