November, 30, 2009
11/30/09
10:30
AM ET
By
Tim Griffin
| ESPN.com
Texas and Nebraska are two programs inexorably linked in the Big 12's young history.
Saturday's championship game in Arlington, Texas, will represent the third time the two traditional superpowers have played for the Big 12 title. Those rivals have played against each other for the title more than any other two teams in Big 12 history with each team winning one of the championship games.
Texas is a heavy favorite this year after a 12-0 regular season that has placed it on the cusp of a second national championship game berth in five seasons. Nebraska claimed the North title this season, but is a huge early underdog against the Longhorns.
[+] Enlarge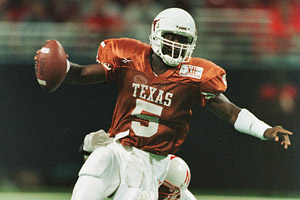 Jed Jacobsohn/Getty ImagesQuarterback James Brown predicted a Texas win in the first Big 12 championship game in 1996.
It's a complete role reversal from the first championship game in the conference's history. The Cornhuskers were ranked No. 3 and seemingly on their way to a national championship during that first Big 12 title game in St. Louis in 1996. Texas had come along late to earn the Big 12 South title, but was presumed by most prognosticators to have little chance with the mighty Cornhuskers.
"It kind of struck me a little unusual because of the matchup and how it's playing out," former Texas wide receiver Wane McGarity said. "It's almost the exact opposite of what happened that first time around."
That game became even more storied after Texas quarterback James Brown predicted a huge victory for the Longhorns and then backed it up with a stunning 37-27 upset that knocked the Cornhuskers out of the national title hunt.
The first Big 12 championship represented much more than merely a football game that would decide the conference's first representative into the old Bowl Coalition.
Nebraska was the dominant power in the old Big Eight Conference. Texas was considered to be one of the strongest among the four teams that joined the reconstituted Big 12 from the Southwest Conference.
The two schools battled on practically every item in the formative stages of the Big 12. Nebraska wanted the conference offices to remain in Kansas City. Texas wanted them moved to Dallas. Texas won that argument.
Nebraska wanted each team in the conference to be able to keep a certain number of partial qualifiers on the roster. Texas was against that. Texas won that argument.
Nebraska wanted former Kansas athletic director Bob Frederick as the conference's first commissioner. Texas wanted Southwest Conference commissioner Steve Hatchell. Texas won that argument.
Those off-the-field skirmishes made the first actual game between the two schools in the conference seem that much bigger.
Nebraska came into the game the two-time defending national champion. After losing early in the season at Arizona State, the Cornhuskers reeled off nine straight victories. Coming into the championship game, Nebraska had won 46 of its last 48 games.
Texas struggled with nonconference losses to Notre Dame and Virginia early in the season. John Mackovic's team fell into an early hole in the conference race after back-to-back losses to Oklahoma and Colorado left it at 3-4.
But Texas rebounded to win its final four regular-season games to finish strongly, including a 51-15 beatdown of Texas A&M. Still, most observers didn't give it much hope.
Nebraska was a three-touchdown favorite coming into the game. That status galled Brown, who predicted several days before the game that the Longhorns would win the game by three touchdowns.
"We weren't intimidated by them," McGarity said. "James made the comment we might win by 21 points. It just started it off and we all rallied behind him."
Like Nebraska heading into Saturday's game, that Texas team was hot after playing well down the stretch.
"We were the underdogs and people didn't think we had a chance," McGarity said. "But we weren't intimidated in the least by them. We thought we had a good chance to win once the game started. And we played like it."
That game is remembered by the stunning fourth-and-inches gamble made by Mackovic late in the game with his team nursing a slim 30-27 lead. Brown faked a handoff and then hit reserve tight end Derek Lewis on a 61-yard pass to the Nebraska 11. Priest Holmes scored his third touchdown on the next play to wrap up the victory and account for the only rushing touchdowns scored on Nebraska's first-team defense all season.
It's gone down in history as one of the biggest upsets in recent college football history.
Most observers aren't giving Nebraska much hope against Texas in this year's conference championship.
But if the Cornhuskers can duplicate the Longhorns' stunning triumph on Saturday, it will be every bit as large as the earlier Texas victory in the first conference championship game.
June, 29, 2009
6/29/09
6:00
PM ET
By
Tim Griffin
| ESPN.com
Posted by ESPN.com's Tim Griffin
Roll left: James Brown guarantees victory and then beats Nebraska
Date: Dec. 7, 1996
Place: TWA Dome, St. Louis, Mo.
Score: Texas 37, Nebraska 27
The first Big 12 championship game had much meaning and symbolism on both sides.
Nebraska and Texas had been on opposite sides of practically every major issue in the early history of the Big 12 -- from the first commissioner and site of the conference office to how many partial qualifiers would be acceptable to each conference school.
Nebraska was a two-time defending national champion that came into the game looking for a chance to play for the national championship. Texas arrived as a three-touchdown underdog, but one that had played well down the stretch. The Longhorns entered with a late four-game winning streak that boosted them to the South title after losing four of five games earlier in the season.
When reporters asked Texas quarterback James Brown about the Longhorns' huge underdog status before the game, he brazenly predicted his team might win by three touchdowns.
And while he didn't quite live up to that boast, Brown was masterful in directing one of the most memorable upsets in Big 12 history.
The Longhorns weren't intimidated by the Cornhuskers from the opening snap, marching 80 yards on 11 plays on the first drive of the game, capped by a 5-yard TD run by Priest Holmes. Texas was poised to extend the lead on its second drive after moving inside the Nebraska 10, but Brown was intercepted by Eric Stokes in the end zone to kill the drive.
The Cornhuskers tied the game on their ensuing possession on a 2-yard TD run by DeAngelo Evans.
Holmes later added a 61-yard TD run later in the first half that was matched by a 23-yard TD run by Evans later in the second quarter. Texas claimed a 20-17 halftime lead on a 30-yard field goal by Phil Dawson with 1:00 left before the break.
After another Dawson field goal, Nebraska took its first lead of the game on Evans' third TD jaunt of the game -- a 6-yarder with 2:11 left in the third quarter that boosted them to a 24-23 advantage.
The Cornhuskers then extended their lead to 27-23 on a 24-yard field goal by Kris Brown with 10:11 left.
But Brown, who passed for 353 yards on the game, put the Longhorns ahead to stay by arching a 66-yard TD pass to Wane McGarity with 7:53 left.
McGarity, a converted running back, made a brilliant over-the-shoulder catch over the outstretched hands of Nebraska safety Mike Minter near the sidelines before streaking past him for the final 35 yards into the end zone.
The Cornhuskers were stopped in Texas territory on the ensuing drive, but opted to punt the ball on fourth down to the Texas 7 with about four minutes left.
Texas coach John Mackovic then converted on the gamble of the year. Facing fourth-and-inches from his own 28, Brown faked a dive and rolled left. Tight end Derek Lewis was wide open down the left sidelines, Brown hit him in stride with a perfect pass, gaining 61 yards before he finally was stopped.
Holmes scored on an 11-yard TD run on the next play, punctuating a wild 37-27 upset victory that gave the Longhorns the first Big 12 title.
Factoids: Coming into the start of the Big 12, Nebraska coach Tom Osborne was the loudest critic of staging a conference championship game. But he and other coaches were outvoted because of the revenue generated for each conference school by the extra game ... Holmes rushed for 120 yards on nine carries ... Ricky Williams was used as a decoy, rushing for a career-low 7 yards on eight carries. But his pass blocking was invaluable in the Longhorns' triumph ... Evans rushed for a game-high 130 yards on 32 carries ... Nebraska quarterback Scott Frost rushed for 47 yards on 18 carries and completed 15-of-24 passes for 155 yards ... The Longhorns gashed the Cornhuskers for a season-worst 503 yards of total offense, despite having the ball for only 20 minutes, 25 seconds. Texas produced 8.82 yards per snap ... Before the loss, Nebraska had won its previous nine games and their last 31 games against conference opponents.
They said it, part I: "I could have thrown that ball behind my back and hit him. The play was so wide open. I looked up and Derek was open deep. I just had to get him the ball," Texas quarterback James Brown on the "Roll Left" pass to Derek Lewis.
They said it, part II: "Oh God. The losses stick with me more than the wins. And that game was disappointing to say the least. We were more talented with that team than the 1997 team that won the national championship," Nebraska defensive tackle Jason Peter on the disappointment of the Cornhuskers' loss.
They said it, part III: ''That was a tremendous call. It was a big gamble, but it worked,'' Nebraska coach Tom Osborne on Texas' dramatic fourth-down conversion.
The upshot: Texas ruined Nebraska's hopes of playing for a shot at the national championship. Instead, the Longhorns earned their first berth in the Fiesta Bowl against Penn State. The Longhorns squandered a halftime lead as the Nittany Lions stormed back to outscore them 31-3 in the second half en route to a decisive 38-15 victory. The loss dropped Texas to 8-5 for the season, finishing No. 23 in the final Associated Press poll.
While knocked out of the national title picture, Nebraska took advantage of four-straight scoring drives in the second half to claim a 41-21 triumph over Virginia Tech in the Orange Bowl. The Cornhuskers finished the season 11-2 and No. 6 in the final AP poll -- their lowest end-of-season finish in four years.
The countdown:
11. When BCS meant "Boo Chris Simms."
12. A Buffalo stampede: Six Chris Brown TDs lead CU to first Big 12 title game.
13. Run, Ricky, run. Ricky Williams breaks career rushing record.
14. Wild game, wilder post-game rants when Gundy and Leach meet in 2007.
15. Rout 66: No, that score wasn't a typo.
16. KSU finally slays the Cornhuskers.
17. Kingsbury and Long hook up in a passing duel for the ages.
18. Henery and Suh make Colorado blue.
19. Stunning OSU rally leads to Stoops' first home loss.
20. It's never over for Texas Tech until it's over.
21. Reesing to Meier. Again and again.
22. A Texas-sized comeback -- Texas over Oklahoma State in 2004.
23. A Border War unlike any of the rest -- Missouri over Kansas in 2007.
24. Seneca Wallace's wild TD run vs. Texas Tech in 2001.
25. Baylor's "So Much for Taking a Knee" against UNLV in 1999.
November, 4, 2008
11/04/08
7:44
PM ET
By
Tim Griffin
| ESPN.com
Posted by ESPN.com's Tim Griffin
Here's another batch of e-mails from this week.
Sean from San Antonio writes: Can you tell me if I'm right or not on this? If Texas wins against Baylor, and Notre Dame loses this week, Texas (3rd) will tie the Irish for 2nd most in all-time wins (829).
Tim Griffin: Sean, you are correct. Here's the current list of all-time victories heading into this weekend.

Michigan: 871
Notre Dame: 829
Texas: 828
Nebraska: 813
Ohio State: 804
Penn State: 797
Alabama : 796
---
Jeff from Horseshoe Bay, Texas writes: Tim, are you crazy? How can you say that the Harrell-Crabtree reception last week was the biggest play in the history of the Big 12? What about Vince Young's run against USC or James Brown's fourth-down pass in the Big 12 championship game in 1996 against Nebraska to Derek Lewis. Those were pretty monumental, too.
Tim Griffin: I got several e-mails like this over the course of the last several days after I called Crabtree's catch the biggest play in Big 12 history. I think it is for several reasons. First, was the sheer magnitude of the play for Texas Tech. It enabled the Red Raiders to jump into the national championship mix, beating a No. 1 team on the verge of becoming the first team in 65 years to beat four top-12 teams in a row. It snapped a five-game losing streak to Texas and came before the largest home crowd in the history of Jones AT&T Stadium.
It was also a game-settling play with one second left. Young's run, although big and winning the national championship, did have to hold up after a Texas defensive stand later in the game. Heck, an even bigger play in that game could have been Pete Carroll deciding to call a timeout in his unsuccessful stop to let Texas go for two points on the next play. Considering how the Trojans moved the ball on the ensuing possession, I bet Carroll still wishes he had that timeout at the end of the game to have helped set up a field goal.
But I digress. And certainly if some readers don't agree it was the biggest, I certainly think that the Crabtree-Harrell hookup was the most dramatic. Like I said, many people who were watching that game on television are going to remember where they were when that play took place. They have already written to tell me about it.
---
Dan from Atlanta writes: Mack Brown should look at the one blown call that handed his team the game against Oklahoma State before he starts sending blown calls to the Big 12 from the Texas Tech game. When a quarterback gets knocked down on a late hit after an interception is thrown, you don't give the ball back to them just because he got knocked down. Quit whining and play.
Tim Griffin: To be fair, most Big 12 coaches take advantage of a system to send disputed calls to the league offices after every game. My sources indicate that even more are being sent this year by coaches from throughout the Big 12 than ever before. I just found it a little odd that Brown made his pronouncement that he couldn't talk about officiating and then say that he had sent several disputed calls to their attention. Because everybody does that almost every week anyway.
---
Drew Merrill from Denton, Texas writes: Is there a scenario out there where the remaining schedule could result in the South Division representative being determined by the BCS standings? I know that somewhere down the list of tiebreakers, BCS standings are a determinant, which would really steam some fans who already hate the BCS. If there was a scenario that resulted in using the BCS, who do you think would be ahead in the BCS?
Tim Griffin: You are right. As I've mentioned on a couple of blog items, the BCS standings at the end of the Big 12 regular season would be the fifth determiner in the list of tiebreakers involving a three-team deadlock.
Potentially, this could be even more controversial than picking a team for a national championship -- at least in this part of the world.
All of those teams that end up at the top of the South are going to be thinking they deserve a shot to play for the championship. And the supporters for each team will think it's a travesty if they don't have the opportunity to do that, especially if they were denied by a nebulous computer formula that nobody really understands.
It's hard to look that far ahead, but I'm guessing that Oklahoma or Oklahoma State would receive the most BCS bounce, if they were to be tied with other one-loss teams. Both would have to win out to force a tie with other one-loss team, meaning they likely would have the momentum generated by beating Texas Tech and/or each other down the stretch.
That would appear to give them more BCS bounce than Texas, which finishes with games against Baylor, Kansas and Texas A&M. Texas Tech would have to lose a game to fall into that three-way tie scenario and I'm guessing that would doom their BCS numbers.
But I can't say for sure. I was surprised as anybody to see Oklahoma beat Nebraska, 62-28, and drop two places in the BCS standings last week. I'm sure Bob Stoops was more perturbed than he let on when I asked him about that.
---
Kyle from Omaha writes: Tim, I'd like to hear your opinion on what Colorado needs to do to turn the program back into Big 12 and national title contenders again.

Tim Griffin: Probably get healthy first. No team has been as affected as the Buffaloes and it got worse last week when Rodney "Speedy" Stewart went down with a season-ending broken fibula. It marks the eighth player the Buffaloes have lost with a season-ending injury.
Another big question that Coach Dan Hawkins will need to answer is whether either Tyler Hansen or his son, Cody Hawkins, really is the quarterback to lead the Buffaloes into Big 12 North title contention. Considering that Colorado has scored 31 points in its five Big 12 games, the early answer might be that the offense needs a boost to get back into the title mix.
But I think the Buffaloes have a nice collection of young talent coming back. Missouri will be down a little after losing Chase Daniel. So it wouldn't surprise me if the Buffaloes were a factor in the North Division race next season.
---
Joe from New York City writes: Hi Tim. Your blog is bookmarked on my browser. Great work. Can you please answer me one question: Why didn't Mike Leach go for two points on the final touchdown of the Texas game? Kicking the PAT only put Texas Tech up by 6 points which didn't really mean anything except that a hail mary pass in the end zone (if there were a fair catch) or a run back on the kick off (kicked from the 7 1/2 yard line) would have won the game for Texas. I've thought this through a number of different ways but can't think of any reason not to go for two. Can you?
Tim Griffin: Not really. But I know that the excitement of the late play might have had something to do with it. Leach said after the game that he didn't give going for two much thought, but he did consider taking a knee on the conversion. But there also was one second remaining, meaning there would be a kickoff upcoming, no matter what.
But with the way that the crowd charged the field, it made things pretty wild along the sidelines. I can see why the Red Raiders went for the conversion almost as a matt
er of course.
---
Joseph from College Station writes: Tim, I think it's safe to say that the whole Big 12 South is dominant over the North. Wouldn't you agree? A&M, at the bottom of the South, has beaten both Iowa State and Colorado. Baylor has also beaten Iowa State and almost beat Missouri last week. And then we have Texas' stomp of Missouri. And I don't even want to throw Tech, Oklahoma State or Oklahoma in there.
Do you think the Big 12 is that one-sided and do you think they will ever consider the East/West division you wrote about last week?
Tim Griffin: The Big 12 is as one-sided during the regular season as I've ever seen in the history of the league. I think the South Division is clearly the toughest division in college football -- tougher than the SEC East or West or anything found in the ACC.
The record after last week's games is 13-3. The best North teams, Missouri and Kansas are a combined 1-4. The South's four teams in the national top 10 are a combined 10-0 against the North. And the remaining games that will merit watching next week will be when Texas visits Kansas and Oklahoma State travels to Colorado in games that the Longhorns and Cowboys both desperately need to keep their BCS hopes alive.
So the gap appears wider than ever between the two divisions this season. And the South team in the Big 12 should be a heavy favorite against the North, even playing in Kansas City. The South will carry a four-game winning title game winning streak into the game.
But even with that imbalance that has marked the recent history of the league, I don't see the Big 12's administrators rushing to make any change.
---
Ryan from Lincoln, Neb.,
writes
: Tim, I live in Lincoln but I'm not a Husker fan. Because, my question is, why in the world did Versus pick the Iowa State-Colorado game for the 11:30 a.m. time slot rather than the Kansas-Nebraska game which will be a pay-per-view contest at 1:30 p.m. Am I missing something? Is 2-7 vs. 4-5 really more appealing than 6-3 vs. 5-4?
Tim Griffin: I was thinking the same thing when I looked at this week's schedule. Which means I probably better start looking for some Nebraska or Kansas fans in the Lubbock area who wouldn't mind a blogger visiting their home for a couple of hours Saturday afternoon. Because I definitely would rather watch Nebraska-Kansas (and I'll even pay a few bucks and contribute some non-alcoholic beverages or some munchies) if they let me visit rather than watching the game that Versus will be offering that will be available for free at my hotel.
Again, thanks for all of the questions this week. Keep them coming and be sure to visit my chat beginning at 3 p.m. on Thursday.