Big 12:

Deveric Gallington
August, 28, 2012
8/28/12
1:00
PM ET
Today we continue our look across the league at a few players from each team who had low profiles last year, but you'd better get to know before Saturday. They just might be household names by season's end.
More fresh faces:

Will Smith, LB:
Smith's about to become the fresh prince of Texas Tech's defensive backfield. The juco transfer walked into the spring and before it was even over, had already secured a starting spot at middle linebacker. The 6-foot-3, 224-pounder showed up in West Texas via California and racked up 13 tackles for loss during his undefeated season in junior college last year. You never know how guys will handle the transition, but expect Smith to do well and fit in as a major piece that Tech's defense needed badly.
Delvon Simmons, DT:
Simmons' growth is paramount to Texas Tech's improvement on defense. He didn't start last year, but made an impact with 13 tackles and 1.5 tackles for loss in the rotation. It's easy to see why the 6-foot-5, 290-pounder was a super recruit who signed with North Carolina, but later decided he wanted out. Butch Davis' loss was Tommy Tuberville's gain. After a solid freshman year, it's time for Simmons to move into a starring role. He'll start at nose tackle for Art Kaufman's new 4-3 defense, but the Pennsylvania native should inspire plenty of excitement around Lubbock.
Le'Raven Clark, OG:
The former high school All-American redshirted last season but will be the team's starting guard to start the season, despite no playing experience. Texas Tech's offensive line is pretty underrated and has big talents in tackle
LaAdrian Waddle
and center
Deveric Gallington
, both seniors. They ought to help the young guys along, but the biggest task for everybody on the line is staying healthy.
August, 16, 2012
8/16/12
12:00
PM ET
There are two specific kinds of people in this world: People who own houses, and people who own condos.
March, 30, 2012
3/30/12
10:00
AM ET
Got a chance to catch up with Red Raiders coach Tommy Tuberville this week, and if you missed it earlier this week, here's a look at a couple stories from that conversation:
He had plenty more to say, though.
[+] Enlarge

AP Photo/Eric GayTexas Tech coach Tommy Tuberville came away encouraged with spring practice despite having to deal with numerous injuries.

Texas Tech and Oklahoma State are the Big 12's only teams without indoor facilities, so Tuberville readily admits the Red Raiders roll the dice every year with weather when they start spring. This year, Tech began practice on Feb. 17, before any other Big 12 team. They only missed two practices, and made up the time before last Saturday's spring game. Tech is already finished with spring practice, but Kansas State hasn't even started.

You know football teams have 22 starters, right? Texas Tech was missing six to seven starters this spring from injuries suffered during the season. Nobody got beat up last year like Tech did. Mizzou was a distant second. Oklahoma had big-impact injuries (Ryan Broyles, Dominique Whaley), but had nowhere near the volume Tech did.

Texas Tech has hauled in top 25 recruiting classes in each of the past two years, two of the best in school history. But for the players even in the 2011 class, it's easy to forget most are entering their first spring. Tuberville thought this spring was really valuable for guys like DL Delvon Simmons, LB Branden Jackson, DE Kindred Evans, QB Michael Brewer, RB Kenny Williams and OL Le'Raven Clark. "They didn't know what to expect but that's where you can get better. That's where you work on a lot of fundamental techniques, so that was the main objective, trying to bring up the level of the young guys on the team," Tuberville said. "Some ended up playing, but we didn't have a lot of time to spend with them on fundamentals because of game planning in the fall."

Tuberville loved what he saw from juco transfer Rashad Fortenberry out of Mississippi. "He's going to be a real solid left tackle behind LaAdrian Waddle, and that was a big concern with him coming out of junior college," Tuberville said. "He had a very good spring, but I think we really readied ourselves there in terms of depth on the offensive line."

Looking for leadership? Tuberville feels like he identified it during the last 15 practices. Defensively, S Terrance Bullitt, S D.J. Johnson, S Cody Davis and DE Kerry Hyder emerged this spring. For the offense, Tuberville saw leadership out of offensive linemen Waddle and Deveric Gallington.

There was plenty of hype around Brewer at quarterback this spring, and Tuberville loves what he's seen from the apparent heir to the Red Raider QB throne. "He's got the ability and the luxury of playing behind [Seth] Doege and learning from him and how he handles himself and how he's worked through adversity. Seth's been a very good coach," Tuberville said. "He's got a lot of room for improvement, but the main thing is his leadership and his knowledge of the offense were much, much better this spring."

The offense had a rough spring at times, but Tuberville pointed to his reliance on a lot of different players and combinations at receiver and on the offensive line that produced some short-term struggles he hopes are long-term advantages. "We've got so many receivers that we're looking at," Tuberville said. "There wasn't one day that we had the same guys playing the same position at the same time, so timing was off a little bit, but that's a luxury for us." Among the receivers who made great strides during the spring: Javon Bell, Tyson Williams and Derek Edwards.

Art Kaufman is Texas Tech's fourth defensive coordinator in four years, but Tuberville says his scheme isn't much different from the 4-2-5 Texas Tech ran under Chad Glasgow in 2011. "We're pretty much running our same things, we just changed a little of our philosophy and some of our techniques that we're playing in the secondary and at linebacker," he said.

From my estimation, Texas Tech may have the best special teams duo of any squad (outside of do-everything Quinn Sharp at Oklahoma State) in the Big 12 next year. New kicker Ryan Bustin "picked up right where Donnie Carona left off." Tuberville estimates he made 90-95 percent of his kicks in game action this spring. Punter Ryan Erxleben averaged about 48 yards on his eight punts in the spring game, and Tuberville called it some of the best punting he'd ever seen. "I think Ryan has finally bought into the situation that golfers and basketball players and a lot of skill guys finally come to the conclusion of, 'I've gotta get stronger.' A lot of kickers and punters don't believe that," Tuberville said. "They believe in more flexibility, but Ryan's bought into the fact that he's got to get his leg stronger and in the last eight or nine months, he's worked on that, and I'll tell you, he had a really good spring."

Tuberville was disappointed in his secondary for good reason in 2011, but likes what the unit showed during the spring, especially after moving receiver Cornelius Douglas to defense and keeping him there. "We're much better with him and Eugene Neboh and Derrick Mays who, I think, is making a lot of progress. We still don't have the depth we need at defensive line," Tuberville said. "It's a work in progress, but we've got two more coming in from the high school ranks."
October, 24, 2011
10/24/11
1:00
PM ET
Here's our look back at the weekend that was.
Best offensive player:
Seth Doege, QB, Texas Tech.
Doege quarterbacked the Red Raiders to a huge win over Oklahoma, snapping the Sooners' 39-game home winning streak. He finished 33-of-52 for 441 yards and four touchdowns without a turnover in the 41-38 win.
[+] Enlarge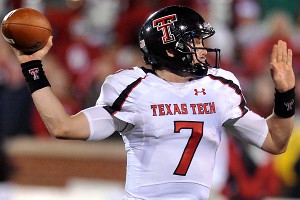 Mark D. Smith/US PresswireSeth Doege threw four touchdown passes in Texas Tech's upset of Oklahoma.
Best defensive player:
Jamie Blatnick, DE, Oklahoma State
. OSU ran away from Mizzou late, aided by big plays from the Cowboys defender. Blatnick tipped two passes and both were intercepted by teammates. He also notched a sack and forced a
James Franklin
fumble for another turnover to help the Cowboys get a big win in the turnover column (4-1).
Best team performance:
Texas Tech.
The Red Raiders were unfazed and went toe-to-toe with the Big 12's top team, beating them in every phase of the game on their home field, and did it while being hampered by injuries, too.
Best game:
Texas Tech 41, Oklahoma 38. The Red Raiders jumped out to a 31-7 third-quarter lead and held off a furious late charge by the Sooners for the win. Great theater in a great nightcap after a less-than-thrilling set of early games. The closest margin of victory was Texas A&M's 16-point win over Iowa State.
Best performance in relief:
Deveric Gallington, C, Texas Tech
. Justin Keown is already playing with one injured knee, and hurt the other early on in the win over Oklahoma. The answer? Gallington, who had never played center. He stepped in admirably, blocking well. And although there were a few shaky snaps, he was an unsung hero in a huge win for Tech.
Second-best performance in relief:
Jared Barnett, QB, Iowa State.
Steele Jantz
struggled early, and the Cyclones turned to Barnett. His completion percentage (44 percent) wasn't high, but he led the team with 66 yards rushing and threw for 180 yards. That's a good sign for the future.
Biggest guts:
Tommy Tuberville, Texas Tech
. Tubs was is full "Riverboat Gambler" mode on Saturday night. He went for a fourth down inside the 5-yard line in the first half and scored a touchdown. He did it again in the second half and failed, as did a fake punt, but it said a lot about Tech's intentions, and the Red Raiders won. Just imagine if they'd won those last two gambles ...
Worst 90 seconds:
Kansas before/after halftime.
Kansas grabbed momentum with a late first-half touchdown to come within 28-14 with :14 left in the half. In the 1:21 of game time that followed, Kansas State's lead grew to 45-14. A 48-yard pass to
Tyler Lockett
set up a field goal. Lockett returned the opening kick of the second half for a score, then scored again after a quick fumble inside the 10-yard line by
Tony Pierson
. Yikes.
Best trend:
Big 12 road warriors.
Every road team (Texas Tech, Texas A&M, Kansas State, Oklahoma State) won on Saturday, the first time that's happened since 2000 and just the third time in Big 12 history.
Worst guest:
Mother Nature.
Once again, she rudely interrupted an already late kickoff in the Big 12. Baylor and Texas Tech have dealt with weather delays, and Oklahoma State didn't kick off a game until after midnight earlier this season. Oklahoma and Texas Tech endured a 94-minute delay before their game, which kicked off at 8:45 p.m. The Sooners ran plays and worked out in their indoor facility while Tech passed the time with peanut butter and jelly sandwiches in the cramped visitor's locker room.
August, 17, 2011
8/17/11
11:00
AM ET
Texas Tech starting center Justin Keown will miss four to five weeks after injuring his right knee during practice early this week.
"He's got some damage, but they think they might be able to rehab it and get him back in another month or so," Texas Tech coach
Tommy Tuberville told reporters
. "No surgery right now."
As a result, the Red Raiders offensive line, which returned five starters from last season's team, will have to get used to a few new positions.
From the Lubbock Avalanche-Journal:
Starting guard Deveric Gallington will be moved to center to take Keown's place, and versatile backup Terry McDaniel will replace Gallington at right guard.

"Gallington does a good job at center," Tuberville said. "The problem is you just hate to lose a guy that's been out here for so long and played in so many games, senior leadership and those type of things. It's an obvious disadvantage."

Gallington started every game last year at right guard, when the Red Raiders went 8-5, and Keown started every game at center. The senior from Anderson, S.C., has 15 career starts.
That's a big blow for the Red Raiders, who lose Keown a day after Missouri lost starting tackle Elvis Fisher for the season. Texas Tech will be breaking in a new quarterback, new running back and lost its top two receivers from last season's team. The offensive line needs to be great.
The good news?
Even if it's not, Texas Tech could still run up a 4-0 record if Keown isn't back by the Oct. 1 date the Red Raiders hope.
Texas Tech opens with Texas State and has dates with New Mexico, a depleted Nevada team and opens conference play in October against Kansas, who won just one game in Big 12 play last season.
It gets real the following week with a home date against Texas A&M, so Keown better be ready to go by then.
August, 6, 2010
8/06/10
2:00
PM ET
Schedule:
Practice starts Saturday
What's new:
The defense. New coach Tommy Tuberville brought in James Willis as his defensive coordinator. Willis coached the linebackers at Alabama and won a national title in 2009. He brought with him an aggressive, blitzing 3-4 scheme that's almost the complete opposite of what the Red Raiders used for a decade under Mike Leach.
Key battle:
Quarterback.
Steven Sheffield
and
Taylor Potts
will resume their abbreviated battle from the spring for the starting job, and Tuberville hopes to make a decision after the second scrimmage, trusting that one will stand out. Sheffield has the fan vote, but Potts has more experience.
New on the scene:
The offensive line. Texas Tech must replace three starters up front, but it left the spring with Terry McDaniel, Lonnie Edwards, Justin Keown, Deveric Gallington and LaAdrian Waddle as starters.
Breaking out:
Safety Cody Davis is the team's second-leading returning tackler, but it's been hard to make headlines on defense while playing for Texas Tech. Under Tuberville, that might change. Davis' 81 tackles as a freshman were already impressive, but this year, others outside Lubbock might take notice, especially if the Red Raiders see defensive success under Willis.
Don't forget about:
Running back
Baron Batch
. He's topped 750 yards in each of the past two seasons and should get more carries this year as one of the team's most talented players under a coach who loves to run the ball. Tech's offense will still the the Air Raid, but this year's version will be faster and around a 60-40 pass-run ratio, slightly more balanced than the 68-32 ratio (669 passes, 319 rushes) in 2009.
Eric Stephens
and
Harrison Jeffers
are quality backups who'll earn a few of those carries, too.
All eyes on:
The quarterback battle. It's worth mentioning twice. Tuberville won't be flipping starters unless there's an injury, so one guy should be set up to put up big numbers, while the other is forced to spend his senior season on the bench. Not an easy situation for Potts, Sheffield or Tuberville to be in.
Quoting:
"First thing I did when I went in to them, when I first talked to them, I apologized to them for what they went through because players are there to get an education and have fun playing college football, and they went through a season that was hectic and coach leaves and the bowl game was a mess in terms of it wasn't about them, it was about who's going to be the coach. So we had to get our players back. So it's really been good." --
Texas Tech coach Tommy Tuberville
March, 25, 2010
3/25/10
10:30
AM ET
Here, we'll take a look at one area where each team in the Big 12 can expect to succeed, and another that needs improvement. This edition happened to correspond with my visit to Lubbock, but there will be plenty more on the Red Raiders next week.

Weak: Offensive line
Texas Tech loses three starters from an offensive line that tied for 8th in the Big 12 in sacks given up (31), but was one sack away from the 11th spot. If the more mobile
Steven Sheffield
wins the starting quarterback spot permanently, that number could drop, but Texas Tech is replacing three starters for the second consecutive season.
LaAdrian Waddle, a 6-foot-6, 350-pounder, could compete for a starting spot.
Mickey Okafor and Deveric Gallington should compete to replace departed right guard Brandon Carter.
Junior Justin Keown could also start.
The unit could be at an advantage after their position coach, Matt Moore, was the only coach retained from Mike Leach's staff.
Strong: Quarterback(s)
Whether Sheffield or
Taylor Potts
ends up being the starter, the bottom line is this: both are experienced, and both have shown they can thrive if given the opportunity. There's no reason to believe Texas Tech should have problems at quarterback. Both say they already feel comfortable in the new but similar system, and both put up Texas Tech-like numbers as juniors. They should both be much improved in 2010.
Potts engineered wins over Oklahoma and Michigan State, completing over 65 percent of his passes in the two games for four touchdowns and an average of 380 yards.
Sheffield was responsible for decisive wins over Nebraska and Kansas State, and threw for 490 yards and seven touchdowns against the Wildcats. The Red Raiders scored more points (31) against Nebraska, the nation's No. 1 scoring defense, than any other Huskers opponent.
Every coach in the Big 12 probably envies Tommy Tuberville, who has two senior quarterbacks with plenty of meaningful game experience.
Runner-up:
Running backs, where starter
Baron Batch
has two experienced sophomores,
Eric Stephens
and
Harrison Jeffers
, backing him up.
More Weak & Strong: