March, 26, 2014
Mar 26
10:00
AM ET
Dick Bumpas is entering his 11th season as TCU's defensive coordinator and knows there's plenty that must get addressed in spring ball if this 11th year will be a resurgent one for the Horned Frogs.
But the coach who has worked with Gary Patterson at four other schools in the past knows what this program is capable of if everyone can shake off the disappointment of last season's 4-8 campaign and move forward and embrace some competition.
Bumpas recently spoke with ESPN.com about replacing
Jason Verrett
, getting
Devonte Fields
back and finding contributors at several other spots.
Is the spring, for you about installing or just getting everyone back up to speed?
[+] Enlarge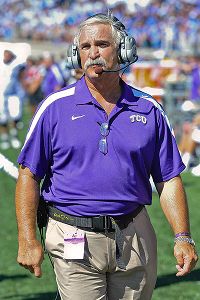 Andrew B. Fielding/USA TODAY SportsLongtime TCU defensive coordinator Dick Bumpas is in the unfamiliar position of needing his unit to bounce back in 2014.
Bumpas:
It's back to the basics. You can build a house a hundred times, but unless you have a good foundation, you're going to have to build it a hundred times. We're going back to fundamentals and that way hopefully next year the kids will be schooled in the fundamentals of the game and ready to go.
It seems like that house will be back in good shape going into 2014.
Bumpas:
Well, I haven't counted up the numbers, but I do know we've got a lot of kids coming back. The one thing that's been my experience is the kid who's played a while is better than he was the year before. So hopefully that'll have some merit. We're just excited about it. We'll have to wait and see.
Tell me about where Devonte Fields is right now.
Bumpas:
Well, his foot seems in pretty good shape. It tweaks him every once in a while. I'm excited about him. I think he's hopefully going to continue where he left off. It was very frustrating for him to come back and break the dang thing and have to sit out a year, but he's starting to look like his old self and he should have a good year.
What do you think that setback did not only for how hungry he is but also another year of maturity?
Bumpas:
Yeah, I think that's the one thing, too. Being away from football made him appreciate it a lot more. He really enjoys football and I think that's even more so because he can get where he wants to get to. He just loves football and when he doesn't have it, it's very frustrating.
Replacing Jason Verrett is a big one, but what are the areas where you have to address question marks this spring?
Bumpas:
You can't really replace a kid like Jason Verrett. He's such a special kid. But we've got some good, young kids at that position, and the thing right now is it's exciting to watch them compete and that's all we can ask for. I think there's going to be some healthy competition for that spot and, really, every position. When that happens, everyone gets better.
I'm sure you're getting phone calls from NFL guys inquiring about Verrett. What is the way you sell him to those guys when they ponder whether he's a first-rounder?
Bumpas:
Well, if I'm not mistaken, he only gave up one touchdown pass last year and, with the people he played against, I think that's a pretty good résumé. Now it just really gets down to, OK, what are you looking for? If you're looking for a guy that competes and will play hard, he'll do that, he'll go cover that guy, he'll support the run. He's done everything we've asked him to do. Whoever gets him will get a real good one.
I know Coach Patterson has said he's encouraged by what Ranthony Texada is doing at corner. What do you think of him and where you do stand with those other options?
Bumpas:
Ranthony is doing a lot of good things, and the one thing he does have, he's a really fast kid. You can't coach them to run faster. If you start with that as a base, you can throw in a lot. We have a lot of strong possibilities back there, and we're excited about it. We have one guy who's been an injury-prone kid in
Travoskey Garrett
, he really hasn't played a whole lot because he's been banged up a lot. But he's another kid that I think will come on and really have a chance to compete for some playing time. And of course with
Kevin White
back that gives us three pretty good kids, and as long as you've got three of them, that's good competition.
You had inexperience at linebacker last year, so how is that group coming along?
[+] Enlarge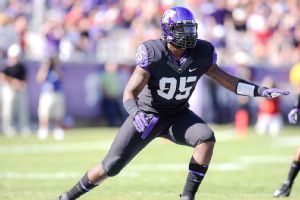 Jerome Miron/USA TODAY SportsThe return of DE Devonte Fields from a foot injury that sidelined him most of last season will be a key for the Horned Frogs.
Bumpas:
It wasn't necessarily that they were young in age, which they were, but they really hadn't played much linebacker.
Jonathan Anderson
is getting to be a senior but only one year at linebacker.
Paul Dawson
, he's got a chance to improve. Last year was really his first year. You have two young kids.
Paul Whitmill
has looked better and better every day, and there's
Sammy Douglas
. I tell you, the one veteran kid who gets overlooked is
Marcus Mallet
. He knows what to do.
When you went back to the 2013 film, are there things you find that you know will be solved by this season?
Bumpas:
We're certainly hoping so. But we will find out. The hurry-up offenses create some problems for you that, if you're not careful, you'll give up some big plays because you weren't ready for the ball to be snapped. We're just trying to eliminate that, and then it's about who people are trying to pick on, and what are they trying to pick on. Where do they want to throw the ball, and where are they trying to take advantage?
Do you get the sense your players feel like they have some unfinished business and are unsatisfied by 2013?
Bumpas:
I think they were frustrated last year. They lost so many close games, and that's a great motivator. It makes people work harder, makes people pay more attention. When you go back and look at what could've been, I think they're motivated and where you like them to be.
February, 11, 2014
Feb 11
3:00
PM ET
The Big 12 is full of talented assistant coaches. In a conference loaded with quality assistants, we've tried to narrow it down to the top 10 based on the on-field production of their offense, defense or position group and their ability to evaluate, recruit and develop players at their position.
[+] Enlarge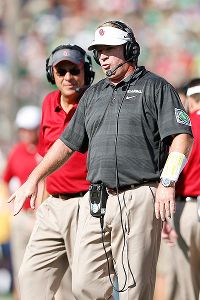 Joe Robbins/Getty ImagesMike Stoops' defenses at Oklahoma have been among the best in the Big 12 the last two seasons.
Here's a closer look at the top 10 assistant coaches in the Big 12:
Mike Stoops, Oklahoma defensive coordinator/safeties coach: The Sooners defense has been solid since Stoops returned after his stint as head coach at Arizona. Oklahoma has been among the Big 12's top defenses during the past two seasons, particularly against the pass. Stoops secured the top spot on the list with his willingness to completely change the defense in 2013, going to a three-man front and making the defense faster and more versatile. And he's one of the best evaluators and developers of defensive backs in the country.

Phillip Montgomery, Baylor offensive coordinator/quarterbacks coach: Montgomery coordinated the nation's top offense in 2013. The Bears led all BCS teams, averaging 52.4 points and 618.8 yards per game, as the offense spearheaded Baylor's run to its first Big 12 title. Montgomery also has mentored some of the Big 12's top quarterbacks in recent years, including Robert Griffin III and Nick Florence, capped by Big 12 offensive player of the year Bryce Petty in 2013.

Glenn Spencer, Oklahoma State defensive coordinator/linebackers coach: Spencer took over Oklahoma State's defense in 2013 and the Cowboys transformed into a more aggressive and adaptive unit. Oklahoma State's defense led the Big 12 in fewest points allowed (21.6) and lowest third-down conversion rate (31.4 percent) to finish among the top 20 teams in the BCS in each category. Spencer also is a superb recruiter and developer of linebackers for the Cowboys, who featured two of the Big 12's best in Caleb Lavey and Shaun Lewis last season.

Dick Bumpas, TCU defensive coordinator/defensive line coach: Bumpas has coached with TCU head coach Gary Patterson since 2004, and the Horned Frogs have fielded some of the best defenses in the nation during Patterson's tenure. TCU's defense finished among the Big 12's best in several categories in 2013, including its 4.83 yards allowed per play, which was No. 13 among BCS teams. Bumpas' defensive line group also has been among the Big 12's best, as he consistently turns players other teams overlooked into solid performers.

Dana Dimel, Kansas State offensive coordinator/running backs and tight ends coach: The Wildcats' creativity on offense often goes unnoticed, but K-State finished among the top 30 BCS teams in yards per play. Dimel, who coaches the running backs and tight ends, has been a key member of Bill Snyder's staff and has coached 34 players who have played in the NFL. That includes Daniel Thomas, who arrived on campus as a junior college quarterback before developing into an All-Big 12 running back.

Joe Wickline, Texas offensive coordinator/offensive line coach: Wickline has been one of the Big 12's top position coaches for the past few years as Oklahoma State's offensive line coach. He coached several players to all-conference honors, including NFL first-round pick Russell Okung. Wickline moves to Austin, Texas, in 2014 after being named Texas' offensive coordinator by head coach Charlie Strong. He has a proven ability to evaluate talent and develop relative unknowns into productive offensive linemen.

Wally Burnham, Iowa State defensive coordinator/linebackers coach: Burnham consistently has developed All-Big 12 linebackers during his time on the Cyclones' coaching staff. During his five seasons coaching linebackers, Jesse Smith, Jake Knott, A.J. Klein and Jeremiah George each earned All-Big 12 honors. The Cyclones defense took a step backward in 2013, but much of their success under Paul Rhoads is built upon an underrated defense led by quality linebackers.

Sonny Cumbie, TCU co-offensive coordinator: The Red Raiders receivers have been among the Big 12's best under Cumbie for the past few seasons. His work with the receivers was one reason Texas Tech led the Big 12 and finished second nationally with 392.85 yards per game in 2013 despite playing multiple quarterbacks. Cumbie will play a key role in kick-starting TCU's offense in 2014.

Kendal Briles, Baylor passing game coordinator/receivers coach: Briles secured his spot on this list thanks to his ability to evaluate, recruit and develop receivers. He's one reason Baylor has become "Wide Receiver U" in the Big 12 while putting several players into the NFL, including Kendall Wright, Terrance Williams and Josh Gordon. Not only does he evaluate well -- such as with overlooked speedster Tevin Reese -- Briles has shown he can develop those signees into all-Big 12 performers.

Jay Norvell, Oklahoma co-offensive coordinator/receivers coach: Much like Briles, Norvell consistently recruits and develops players for the Sooners. He coached NFL draftees Ryan Broyles, Kenny Stills and Justin Brown during the past three seasons, when six receivers have caught at least 50 passes. His ability to continue to bring in elite prospects amps up the competition at the position.
November, 30, 2010
11/30/10
9:00
AM ET
By
ESPN.com staff
| ESPN.com
Oklahoma State offensive coordinator Dana Holgorsen is the Big 12's only representative on the list of finalists for the Frank Broyles Award, given annually to college football's top assistant coach.
The other finalists are:
Auburn OC Gus Malzahn
Wisconsin OC Paul Chryst
TCU DC Dick Bumpas
Stanford OC Greg Roman
There are plenty of great coordinators on the list, but with respect to the other four, Holgorsen deserves this award.
He was working with a first-year starter at quarterback and turned
Brandon Weeden
into one of the most productive passers in the country. Oklahoma State's top returning receiver has been hurt for most of the season, but he took a player with 20 career receptions and helped make
Justin Blackmon
the favorite for the Biletnikoff Award.
That's not to say this is a gimmicky, chuck-and-duck offense. His running back was an All-American two years ago, and
Kendall Hunter
is right back there again this year, needing 39 yards to equal his production in 2008.
His passing offense ranks No. 2 nationally. His rushing offense ranks No. 31. Together, it ranks No. 3 in scoring offense and No. 2 in total offense.
And all that came from behind an offensive line with four new starters this year.
None of those other coaches equaled the excellence of Holgorsen's unit, using players with more moderate resumes to begin the season.
Holgorsen should be rewarded for doing so.
December, 1, 2008
12/01/08
4:05
PM ET
By
Tim Griffin
| ESPN.com
Posted by ESPN.com's Tim Griffin
Oklahoma offensive coordinator Kevin Wilson has been named among the five finalists for the Broyles Award, given annually to the top assistant coach in the country.
Other finalists include: Florida defensive coordinator Charlie Strong, Utah defensive coordinator Gary Anderson, TCU defensive coordinator Dick Bumpas and Ball State offensive coordinator and former Kansas State coach Stan Parrish.
It marked the second time that Wilson has been a Broyles finalist. He was also a finalist in 2000 while an assistant at Northwestern.
The Broyles Award will be presented Dec. 9 in Little Rock, Ark.