October, 17, 2009
10/17/09
7:32
PM ET
By
Tim Griffin
| ESPN.com
Posted by ESPN.com's Tim Griffin
DALLAS -- A defensive performance like the one that Texas crafted against Oklahoma wasn't just a result of having good players.
| | |
| --- | --- |
| | |
| | Ronald Martinez/Getty Images |
| | Defensive back Aaron Williams, No. 4, and the defense carried the Longhorns to a victory over Oklahoma. |
Sure, it helped. But the true genesis of the Longhorns' 16-13 victory over Oklahoma blossomed when defensive coordinator Will Muschamp was convinced late last season to stay at Texas with a future promise of a head coaching job at the school.
It's hard to believe the Longhorns could have performed with the intensity or with the defensive acumen without their leader staying in place for another season.
And if Muschamp had been hired as the head coach at Tennessee, Washington or Clemson, as had been rumored late year, it wouldn't have happened Saturday afternoon for the Longhorns at the Cotton Bowl.
"In a game like this, you need everybody and not just the 11 guys on the field," Texas safety Blake Gideon said. "You need the guys up in the box and along the sideline. I'm not big on forecasting, but it would have been a lot more difficult."
And that's the genius of the deal that Mack Brown, Texas athletic director DeLoss Dodds and Muschamp agreed to. By keeping Muschamp around the Texas program as the Longhorns' coach-in-waiting, the Longhorns' defense wouldn't have to again be overhauled with a new coordinator.
The Longhorns had played under Gene Chizik, Dick Tomey, Greg Robinson and Duane Akina in recent years. And the biggest bugaboo for the Longhorns was that they had to relearn defensive concepts with a change in coordinators coming seemingly every year.
"I think that was huge because I worried about changing coordinators four out of five years," Brown said. "It's hard for the kids to get continuity and learn the same defensive calls. Today, all of our defensive coaches along with Will knew what to go to."
The best indication was the growth of the Texas secondary, which struggled at times last season and produced only six interceptions last season to tie for 113th nationally.
"Last year, we were just trying to get lined up right," Gideon said. "This year, we're able to relax more, rely on our experience and communicate. Those skills are really important when we're lining up to play against an offense as good as Oklahoma."
In last year's Oklahoma game, Ryan Palmer went down with an injury, leaving three freshmen to play against
Sam Bradford
and the Sooners. The result was a tough learning experience with five touchdowns allowed in a game where the Longhorns persevered for a 45-35 victory.
"Those guys grew up that day," Muschamp said. "They didn't blink. And they didn't blink today. We put our secondary in some difficult situations and they were able to come through."
On Saturday, the Longhorn defenses finished by stopping Oklahoma on downs and producing two interceptions on the Sooners' final two possessions to salt away the victory on Oklahoma's final three possessions.
Muschamp said the Longhorns' performance was indicative that his defense would "step on somebody's throat" to wrap up a victory.
"That's the mentality that Coach Muschamp has instilled in us," Texas defensive end Sergio Kindle said. "We had one of those grind-it-out games where we had to seal the deal. And we got one today."
Oklahoma was limited to minus-16 yards of rushing -- tied for the second-lowest total in FBS this season. Only Washington State which rushed for minus-54 yards last week against Arizona State had a worse rushing game than the Sooners.
"We just hammered away at it them and then took the opportunity to beat those guys," Texas defensive tackle Lamarr Houston said. "It was a game that we took."
But it was the play of a developing secondary where Muschamp's fingerprints could be seen.
"He puts everybody in the right places and it's up to you to make the play next," Thomas said. "Coach is just a great defensive coordinator. He puts us where we need to be."
Whether the Longhorns could have come up with a defensive performance with Muschamp as a head coach somewhere else is something that Thomas didn't want to even consider.
"I'm glad we've got him," Thomas said. "I wouldn't want to even think about replacing him."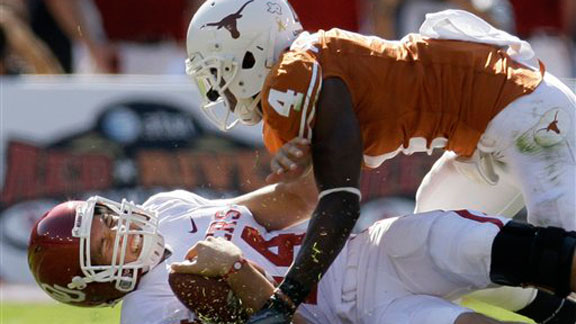 May, 4, 2009
5/04/09
12:14
PM ET
By
Tim Griffin
| ESPN.com
Posted by ESPN.com's Tim Griffin
While it's not followed as closely as the changes at the top of the football program, the hiring of solid coordinators can often make or break a program.
And it's a chore that sometimes faces successful programs on a pretty regular basis.
For example, former Oklahoma offensive coordinators Mike Leach and Chuck Long both assumed head coaching jobs after coaching on Bob Stoops' staff with the Sooners. And former Texas defensive coordinators like Dick Tomey, Greg Robinson and Gene Chizik all parlayed their experience coaching under Mack Brown to head coaching positions.
Missouri coach Gary Pinkel will be facing an unprecedented dilemma -- at least while at Missouri -- as he replaces offensive coordinator Dave Christensen and defensive coordinator Matt Eberflus. Adding David Yost as his offensive coordinator and Dave Steckel as his defensive coordinator ranks as among the major changes the Tigers will be facing this season.
College Football News' Robert Cirminiello ranks the 20 biggest hirings of offensive and defensive coordinators for the upcoming season. Several have interesting Big 12 connections.
4. Kevin Steele, Clemson defensive coordinator: The former Nebraska assistant and Baylor head coach will be trying to pump some life into the Tigers' defense on Dabo Swinney's staff.
5. Bill Young, Oklahoma State defensive coordinator: The veteran Oklahoma State graduate returns to his old school from Miami intent on trying to bring the Cowboys' defense in line with their explosive offense.
11. Greg Robinson, Michigan defensive coordinator: After washing out at Syracuse as a head coach, the former Texas defensive coordinator has been charged with bringing some life in Rich Rodriguez's group with the Wolverines.
12. David Yost, Missouri offensive coordinator: After working with Missouri quarterbacks in the past, Yost was a natural pick to replace Christensen after he left for the head coaching job at Wyoming.
13. Andy Ludwig, Californa offensive coordinator: Picked up stakes and moved to California after barely having time to memorize the menu at the Hibachi Hut in Manhattan during his 65-day stint on Bill Snyder's coaching staff.
20. Gary Nord, Purdue: The former UTEP coach had a short stint on Howard Schnellenberger's staff at Oklahoma where he earned much derision among Sooner fans when he mentioned that he didn't see a full set of teeth in the state when coaching there.
November, 18, 2008
11/18/08
9:48
PM ET
By
Tim Griffin
| ESPN.com
Posted by ESPN.com's Tim Griffin
The surprise promotion that designated Will Muschamp as the Longhorns' replacement when Mack Brown retires was thrilling news for Texas players.
Defensive end Brian Orakpo has seen his career blossom with a team-leading nine sacks in Muschamp's defense. But Orakpo has been excited about Muschamp's strength as a leader.
"He just has a love for the game and we feed off of that," Orakpo said. "This whole season was by far one of my favorite seasons because we can go out there and have fun with a great game plan and execute it to a T, and also have fun with our coaches. He's brought a lot of
energy to us and this whole program, on both sides of the ball. It's a tremendous honor to be coached by him."
Muschamp made his mark on the Longhorns early, but Orakpo said his tenacity and enthusiasm has helped the team throughout their 10-1 season.
September, 6, 2008
9/06/08
2:26
PM ET
By
Tim Griffin
| ESPN.com
Posted by ESPN.com's Tim Griffin
Even while Nebraska fans are cheering the scoreboard updates from Columbus featuring Ohio University coach and former Nebraska coach Frank Solich, the Cornhuskers were battling through their own struggles against San Jose State.
The Spartans showed they meant business early in the game, notching two sacks to end Nebraska's first possession. San Jose State then marched 59 yards on five plays to take a quick 6-0 lead on Kyle Reed's 12-yard TD run as the conversion was missed.
Nebraska reclaimed the lead on their next possession as backup I-back Roy Helu accounted for 48 yards on three plays. Quentin Castille scored two plays later to give Nebraska the lead.
Perhaps the best sign of the first half for Nebraska coach Bo Pelini came on the next drive. NT Ndamukong Suh, who underachieved badly last season as he struggled with injuries, returned an interception 49 yards for a touchdown to extend Nebraska's lead to 14-6.
But San Jose State pulled within 14-9 on a 41-yard field goal by Louis Schuman. It could have been much closer with San Jose twice having the ball inside the Nebraska 25, but Schuman misfired on two field goals in the second half, including a 32-yard attempt to end the first half.
San Jose State coach Dick Tomey told San Jose reporters earlier this week that he backed out of a game against Tennessee in favor of one against Nebraska because he thought the Cornhuskers were easier. The Spartans responded by dominating the first half offensively with a 13-7 edge in first downs, 221-111 in total offense, 107 yards rushing and three sacks of Nebraska QB Joe Ganz.
At the end of the first half, the Cornhuskers were fortunate to be ahead even by five points.
September, 6, 2008
9/06/08
11:03
AM ET
By
Tim Griffin
| ESPN.com
Posted by ESPN.com's Tim Griffin
RENO, Nev. -- Sorry for the delay this morning, but the sun was barely creeping over the nearby Sierra Nevadas when I started this. Also, with only four games played in the conference before this evening, most fans should be taking a similarly leisurely game-day routine.
With most Big 12 teams taking a trip to the pastry wagon this week, here are some delectable links almost tasty as the cupcakes being served at most places around the conference.
August, 18, 2008
8/18/08
2:01
PM ET
By
Tim Griffin
| ESPN.com
Posted by ESPN.com's Tim Griffin
There's an interesting list that Foxsports.com posted of the top 10 college football coaches on the rise.
The Big 12 is represented on the list only once, and it's not by any head coach. Texas defensive coordinator Will Muschamp checks in at No. 3. Muschamp, who starts his first season with the Longhorns this year, ranks only behind BYU head coach Bronco Mendenhall (No. 1) and Tulsa coach Todd Graham (No. 2).
Muschamp is the only assistant on the list. And the Foxsports list makes it sound like it's a foregone conclusion that he'll have another job. It even pegs his most likely location, saying Muschamp's most logical next position would be as head coach at Tennessee.
Muschamp knows his way around that conference after stops at LSU and Auburn. But he apparently has noticed the way that defensive coaches at Texas have moved to head coaching jobs in recent seasons.
After Dick Tomey, Greg Robinson and Gene Chizik, Muschamp likely will be the next.
The Big 12 is indirectly mentioned with North Texas coach Todd Dodge, a former Texas quarterback who is ranked No. 10 on the list. The Web site speculates that the next position for him could be as Oklahoma's offensive coordinator.
If that was to happen, it would be kind of a piece of reverse karma from long, long ago. Seems that legendary Texas coach Darrell Royal once was a pretty good Oklahoma quarterback.