January, 24, 2012
1/24/12
9:00
AM ET
Signing day is coming fast. Next Wednesday, the next round of players will sign up for their respective programs and start what could be storied careers.
Here's what each team across the Big 12 needs. You'll find Texas A&M and Mizzou on the SEC blog and West Virginia on the Big East Blog.

BAYLOR
Quarterback:
This one's pretty simple.
Robert Griffin III
is taking his talents to the NFL early.
Nick Florence
is waiting to take over, and the Bears have
Bryce Petty
behind him, but more reinforcements at quarterback are needed. Dual-threat quarterbacks, ideally.
Defensive tackle:
Baylor already was one of the nation's worst teams (102nd nationally) at stopping the run. Now it'll need to replace both its interior linemen,
Nicolas Jean-Baptiste
and
Tracy Robertson
.
Offensive linemen:
Baylor's offensive line, meanwhile, has been solid. It loses junior college transfer and two-year starter
Robert T. Griffin
, as well as All-Big 12 center
Philip Blake
.
John Jones
, a reserve guard, also has exhausted his eligibility.

IOWA STATE
Receiver:
This has been a weak spot for the team for several years, and its top overall talent,
Darius Reynolds
, is gone.
Darius Darks
is, too.
Aaron Horne
and
Josh Lenz
will be the team's best weapons in 2012, but the pair of shifty slot guys will be seniors. This position needs reinforcements.
Defensive back:
The DBs have been a quiet strength for ISU, especially in 2011. Cornerback
Leonard Johnson
and safety
Ter'Ran Benton
both have exhausted their eligibility, though, and defensive backs coach Bobby Elliott left for Notre Dame. You'll see plenty of new faces in the Cyclones' secondary next year.
Defensive line:
Experienced starters
Stephen Ruempolhamer and Jacob Lattimer are both gone, and Iowa State has struggled to stop the run consistently the past few seasons.

KANSAS
Quarterback:
Kansas landed high-profile transfers
Dayne Crist
(Notre Dame) and
Jake Heaps
(BYU), but this is still a huge position of need. Last year's starter,
Jordan Webb
, left the team.
Quinn Mecham
is out of eligibility. Heaps is sitting out his NCAA-mandated year after transferring. Crist is the starter, but he badly needs a backup, especially if
Brock Berglund
's transfer appeal allows him to leave.
Wide receiver:
Kansas lacks a big threat at this position. It needs a talent upgrade in a big way. Oklahoma transfer
Justin McCay
is joining the team, but he's no guarantee to a) be granted immediate eligibility or b) become an impact player.
Defensive tackle:
Kansas is thin here, too. Richard Johnson,
Patrick Dorsey
and
Michael Martinovich
are gone, and Kansas couldn't stop much of anything on defense. Some push up front could help make everything look better. A late addition to the 2012 class from a junior college seems like a no-brainer. The Jayhawks need physically mature players to contribute immediately.

KANSAS STATE
Offensive line:
K-State's offensive line was much better in 2011 and could be again in 2012. It needs help replacing All-Big 12 lineman
Clyde Aufner
, though. Starter
Colten Freeze
is also gone.
Defensive line:
Kansas State is bringing back about as many starters as anyone in the Big 12, but the biggest losses are along the defensive line. Kick-blocking specialist (five in 2011) Ralph Guidry is gone, along with tackle
Ray Kibble
. Juco transfer
Jordan Voelker
exploded onto the scene this year, but he's gone, too.
Defensive backs:
Cornerback
David Garrett
leaves a huge hole behind.
Tysyn Hartman
may not be as talented as teammate
Ty Zimmerman
, but his experience leaves a big hole. Zimmerman will have to mentor a younger safety in the near future.

OKLAHOMA
Receiver:
The Sooners are thin here in a big way. That was obvious late in the season when
Ryan Broyles
' storied college career ended a few weeks early with a knee injury. The team also lost Justin McCay (transfer) to Kansas.
Jaz Reynolds
and
Kenny Stills
are the likely top two targets, but they need help.
Tight end:
This position inspired a bit of panic at the end of the season. Seniors
James Hanna
and
Trent Ratterree
are gone.
Austin Haywood
wasn't allowed back on the team, and two more tight ends left the team for various reasons. That left the Sooners suddenly without a scholarship player at the position returning in 2012.
Offensive line:
Starting tackle
Donald Stephenson
must be replaced, as will guard
Stephen Good
, who moved in and out of the starting lineup throughout his career. The Sooners bring back a lot of talent and aren't dying for depth there, but those two will leave holes. Three more offensive line starters will be seniors in 2012.

OKLAHOMA STATE
Offensive line:
The Cowboys need a whole lot of help here to fill in behind young players stepping into the starting lineup. Starters
Levy Adcock
,
Nick Martinez
and
Grant Garner
are gone. Backup center
Casey LaBrue
is gone, too. Those are two All-Big 12 linemen who leave big shoes to be filled.
Receiver:
Justin Blackmon
surprised no one by leaving a year early, and
Josh Cooper
leaves with perhaps the most underrated career of any receiver in school history. In OSU's offense, there's always room for depth here. Nine receivers had at least 19 catches in 2011. Blackmon and Cooper combined for 192, though.
Defensive ends
: The pass rush was solid for Oklahoma State this year, but both starters,
Jamie Blatnick
and
Richetti Jones
, are gone. Replacing both is a necessity.

TEXAS
Receiver:
Texas lacks a true game-changer at the position, though
Jaxon Shipley
and
Mike Davis
may develop into that role in 2012. Former blue-chip recruit
Darius White
left for Missouri, too.
Quarterback
:
David Ash
and
Case McCoy
didn't show a ton of potential at quarterback this year, though Ash may grow with an offseason to prepare as starter. Garrett Gilbert got a big chunk of the work in the spring, summer 7-on-7 and fall preseason camp. Even if Ash does grow, the Longhorns need reinforcements at the position.
Linebacker:
Two senior impact players are gone. Texas is left trying to replace
Emmanuel Acho
and
Keenan Robinson
, though
Jordan Hicks
may mature into a star in 2012.
TCU
Offensive line:
TCU's offensive line is headed for some major turnover. OT
Robert Deck
, OG
Kyle Dooley
and OG Spencer Thompson are gone. Two more starters, OG
Blaize Foltz
and C
James Fry
, will be seniors in 2012.
Defensive linemen:
TCU isn't losing a lot at this spot, but
Ross Forrest
and
D.J. Yendrey
will be seniors in 2012. The Horned Frogs would be well-served to prepare, and offer some depth next year.
Specialists:
TCU will have to break in a pair of new starters on special teams next season. Kicker
Ross Evans
and punter
Anson Kelton
have exhausted their eligibility.
TEXAS TECH
Receiver:
The Red Raiders' offense requires a lot of depth here.
Tramain Swindall
is the only loss at the position, but three more (
Alex Torres
,
Cornelius Douglas
,
Darrin Moore
) will be seniors. Douglas moved to cornerback this year after the team was racked with injury, but we'll see whether he moves back this offseason.
Offensive line:
Tech has a huge need here. Four players won't be returning in 2012.
Lonnie Edwards
,
Mickey Okafor
and center
Justin Keown
must be replaced.
Defensive linemen:
Tech's
Donald Langley
and
Scott Smith
are both out of eligibility, and juco transfer
Leon Mackey
will be a senior.
August, 25, 2011
8/25/11
11:30
AM ET
By
ESPN.com staff
| ESPN.com
Delvon Simmons is a 6-foot-5, 286-pound defensive tackle who ranked among the nation's top recruits in the 2011 class.
Now, he's officially an eligible piece of the Texas Tech Red Raiders.
Simmons, a native of McKeesport, Pa., originally signed with North Carolina, but had a change of heart and decided to head to West Texas to play for Tommy Tuberville.
He began practicing on Aug. 6, but was cleared by the NCAA Clearinghouse on Wednesday.
"He's a Red Raider a hundred percent now," Tuberville
told reporters after a scrimmage Wednesday
. "I think the pressure's off him. He's going to be a heck of a football player. I think he even practiced better today knowing he was going to be here for sure."
Tuberville said he noticed a difference in Simmons after being notified of the news in a meeting before the scrimmage.
"It was stressful," Simmons told reporters. "Just thinking about it, thinking about playing football, thinking if I was going through all this for nothing. It was stressful."
No more, and now the Red Raiders' depth at defensive tackle gets better, and Simmons could provide a lot more than just depth sooner than later.
Donald Langley and Kerry Hyder are atop the depth chart heading into the Sept. 3 opener against Texas State.
"I hadn't understood it the whole time, but what else is new when you're dealing with folks up north?" Tuberville told reporters, alluding to the NCAA offices in Indianapolis. "It worked out. It should have been worked out a long time ago, because he did everything he needed to do. But you've got to go through the proper channels. There's a lot of red tape that we had to work through. A lot of people did a good job of helping in terms of getting our message over."
July, 21, 2011
7/21/11
10:30
AM ET
We've tackled every other spot, and now we'll wrap up out Big 12 position rankings with the defensive lines across the Big 12.
Here are the rest of the position rankings.
Now that we've finished ranking the complete units, we'll start ranking the top 10 at each position very soon leading into the 2011 season.
This is a decent position for the Big 12 this season, and the top half of the league should feel pretty good about their group. There aren't many studs in this group, but there are a whole lot of solid players.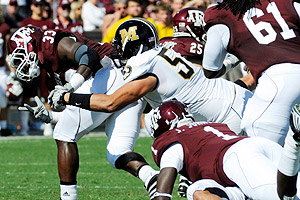 AP Photo/Pat SullivanMissouri has one of the Big 12's best pass rushers in Brad Madison.
1. Missouri --
Missouri has the Big 12's best returning pass rusher and a Defensive Player of the Year contender in Brad Madison, but its depth is what lands it on top of the list. Jacquies Smith is solid at the opposite defensive end spot, and Michael Sam and Kony Ealy provide great depth at DE. Dominique Hamilton's absence last season hurt after breaking his ankle against Oklahoma, but he's back, alongside Terrell Resonno. Sheldon Richardson, who may be transferring from junior college, is a wildcard that could be anywhere between a complete game changer, irrelevant or absent.
2. Oklahoma --
Oklahoma's defensive tackles are somewhat suspect, but the defensive end combo of Ronnell Lewis (provided he is eligible come fall camp) and Frank Alexander is on par with the best in the Big 12. Both were preseason All-Big 12 selections, but Jamarkus McFarland needs to make good on his potential. Stacy McGee and Casey Walker should both get time at the other tackle spot.
3. Texas --
Defensive end Jackson Jeffcoat is loaded with potential as the nation's former No. 1 recruit. He had a big impact early last season before being slowed by an ankle injury. Alex Okafor moved outside from defensive tackle just before spring and had five sacks in the spring game. Inside, Kheeston Randall is an All-Big 12 favorite, but Ashton Dorsey had a strong spring and could help out with Reggie Wilson opposite Randall.
4. Texas A&M --
The Aggies have one of the best linemen in the league in Tony Jerod-Eddie, but Jonathan Mathis, Eddie Brown Jr. and Ben Bass have a lot to prove around him after the loss of Lucas Patterson, who was outstanding in 2010.
5. Texas Tech --
Sam Fehoko has moved to defensive end from middle linebacker, and should provide some good speed to the front line. Scott Smith looked on his way to an All-Big 12 campaign last season, but was suspended for the remainder of the season by coach Tommy Tuberville and has yet to be officially reinstated. For now, Dartwan Bush and Aundrey Barr will help out at defensive end, outside of Donald Langley, Kerry Hyder and Pearlie Graves. The Red Raiders did snatch a big pickup from departed UNC signee Delvon Simmons, a defensive tackle that could have an impact immediately.
6. Oklahoma State --
Defensive line is the biggest weak spot for the Cowboys, who have a decent set of ends in Jamie Blatnick and former heralded recruit Richetti Jones, but an even bigger question mark at defensive tackle where Christian Littlehead and Nigel Nicholas enter fall camp as starters.
7. Kansas --
Top rusher turned defensive end Toben Opurum came on strong late last season and should be one of the most exciting Jayhawks to watch in 2011, but the rest of the line leaves a bit to be desired. Keba Agostino has the other starting spot at defensive end ahead of Pat Lewandowski, who had a great spring. Patrick Dorsey and John Williams enter fall camp as starters at defensive tackles.
8. Kansas State --
K-State recruited this position hard in its 2011 class. For now, defensive end Brandon Harold will try to bounce back from a disappointing 2010 after a promising 2009. Lance Dunbar and Taylor Martinez think this group is ranked too high, but Meshak Williams could start opposite Harold, while Ray Kibble and Raphael Guidry should be the tackles inside.
9. Baylor --
Tevin Elliott was limited this spring because of offseason shoulder surgery, and Terrance Lloyd exited spring practice as the starter, but I'd expect Elliott to regain the spot by the time the season arrives. Phil Taylor, a first-round pick, is a big loss, but Gary Mason Jr. will try to fill his spot next to Nicolas Jean-Baptiste.
10. Iowa State --
Having a pair of linebackers combine for 241 tackles is a good and bad thing. They've got outstanding linebackers, but the defensive line was the Big 12's worst last season for a unit that ranked 10th in rush defense and had just 11 sacks. That was the fewest sacks in the Big 12 and more than just three teams in all of college football. The good news is all four starters return, but for now, this is where the Cyclones start. Stephen Ruempolhamer has some promise, but Cleyon Laing, Jake McDonough and ends Patrick Neal and Roosevelt Maggitt have a lot to prove. Jacob Lattimer ran into offseason trouble, but re-appeared atop the depth chart released by the Cyclones on Wednesday.
February, 17, 2010
2/17/10
2:00
PM ET
Here's a breakdown of three issues facing each program heading into the spring:

Baylor Bears
Spring practice starts
: March 16
Spring game
: April 10
1. Quarterback Robert Griffin III's surgically repaired right knee
. Griffin hasn't played since tearing the ACL in his right knee in the third game of the '09 season. He recently said he's ahead of schedule in rehabilitation, but probably won't do much during spring practice. He'll wear a heavy knee brace and won't participate in contact drills.
2. New linebackers
. The Bears lost strongside linebacker Antonio Jones and middle linebacker Joe Pawelek, who combined to make 190 tackles last season. Senior Earl Patin, who also has played some defensive end during his career, is poised to replace Pawelek in the middle. But Patin will have to hold off highly regarded youngsters Chris McAllister and LeQuince McCall, who redshirted in '09. Senior Chris Francis is probably the top candidate to replace Jones on the strong side.
3. Safety
. The Bears must replace both of their starting safeties, including All-Big 12 performer Jordan Lake, who started 36 games in a row. Junior college transfer Byron Landor and sophomore Mike Hicks will get the first looks in the spring. But they'll have to hold off incoming freshman
Ahmad Dixon
, one of the top prospects to ever sign with Baylor, after he arrives for fall camp.

Colorado Buffaloes
Spring practice starts
: March 6
Spring game
: April 10
1. Michigan transfer Toney Clemons
. Buffaloes coach Dan Hawkins called Clemons his team's most exciting receiver while he sat out the '09 season under NCAA transfer rules. The cousin of Arizona Cardinals receiver Steve Breaston, Clemons could bring an interesting dynamic to the CU offense. His arrival couldn't come at a better time, either, after
Markques Simas
was suspended indefinitely for violating team rules.
2. Linebacker
. The Buffaloes must replace their two most productive linebackers after losing Marcus Burton and Jeff Smart. The departed seniors combined to make 105 solo tackles and 6.5 sacks last season. Senior Michael Sipili is the top candidate to replace Burton in the middle, and sophomore Jon Major might get the first crack at replacing Smart on the weak side.
3. Offensive line
. The unit's inconsistency has dogged Hawkins' offense in each of his first four seasons. Eight offensive linemen had significant playing time in '09, so the Buffs are looking for more stability up front. The return of sophomore guard Maxwell Tuioti-Mariner from a pair of knee injuries, and early arrival of junior college transfer Eric Richter might shore up the interior line.

Iowa State Cyclones
Spring practice starts
: March 23
Spring game
: April 17
1. Linebackers
. The Cyclones lost each of their starting three linebackers: Josh Raven, Jesse Smith and Fred Garrin. Junior Jacob Lattimer is in line to replace Raven on the strong side, and two highly regarded sophomores are in line to fill the other spots. A.J. Klein, who had 17 tackles in 13 games as a freshman, might get the unenviable task of replacing Smith, who led the Big 12 in tackles in '09. Jake Knott, who had 23 tackles as a freshman, is the top candidate to start on the weak side.
2. Wide receiver
. Iowa State lost leading receiver
Marquis Hamilton
, who had 50 catches for 606 yards with four touchdowns in '09. Tight end
Derrick Catlett
, another top receiving threat, also is gone. The good news: Junior
Darius Reynolds
returns from a broken leg that caused him to miss all but four games last season. Reynolds, who earned the moniker "Money" for his big-play potential, had 13 catches for 72 yards before he was hurt in practice in late September. Junior college tight end Ricky Howard enrolled in classes in January and will participate in spring practice.
3. Defensive line
. Two starters will have to be replaced after ISU lost right end Christopher Lyle and tackle Nate Frere. Lyle led the team with five sacks in '09; Frere was a pretty good run-stopper. Sophomores Cleyon Laing and Roosevelt Maggitt will get strong looks at end, and senior Austin Alburtis and sophomore Jake McDonough will move into the tackle rotation.

Kansas Jayhawks
Spring practice starts
: March 27
Spring game
: April 24
1. Quarterback
. New Kansas coach Turner Gill might have one heck of a competition on his hands. Sophomore
Kale Pick
is a mobile option, after averaging 11.9 yards per rushing attempt in 2009. Junior college transfer Quinn Mecham, who enrolled in classes at Kansas in January, threw for 3,091 yards with 40 touchdowns and 11 interceptions at Snow College in Utah last season.
2. Wide receiver
. The Jayhawks have to replace departed stars
Kerry Meier
and
Dezmon Briscoe
, which will be no easy task. The duo combined to catch 186 passes for 2,322 yards with 17 touchdowns last season.
Bradley McDougald
and
Johnathan Wilson
were proven targets last season, but younger players such as
Chris Omigie
and incoming freshman
Keeston Terry
will have to help this fall.
3. Secondary
. The Kansas defense gave up too many big passing plays and didn't create enough turnovers last season. The Jayhawks will have to replace strong safety Darrell Stuckey, who led them with 93 tackles in '09. Senior Phillip Strozier will get the first crack at replacing the heart and soul of the Kansas defense.

Kansas State Wildcats
Spring practice starts
: March 21
Spring game
: April 24
1. Oregon transfer Chris Harper
. In 2008, Harper played wide receiver and quarterback for the Ducks as a freshman. He became the first Oregon player in eight years to run, pass and catch a touchdown in the same season. Harper, a native of Wichita, Kan., might figure into Kansas State's quarterback or wide receiver plans after sitting out the '09 season under NCAA transfer rules.
2. Quarterback battle
. Harper and two other players will probably battle to replace departed senior
Grant Gregory
. Senior
Carson Coffman
, who started the '09 season at quarterback, figures to be back in the mix, along with junior college transfer
Sammuel Lamur
.
3. Defensive line
. The Wildcats have a couple of gaping holes to fill up front defensively. End Jeff Fitzgerald, who had 40 tackles and 10 tackles for loss in '09, has to be replaced, along with tackles Daniel Calvin and Chidubamu Abana. Junior college transfer Javonta Boyd, who has already enrolled in classes, could help in the interior line.

Missouri Tigers
Spring practice starts
: March 9
Spring game
: April 17
1. Wide receiver
. The Tigers have to replace
Danario Alexander
, who led the country with 1,781 receiving yards in 2009. Juniors
Jerrell Jackson
and
Wes Kemp
both caught more than 20 passes last season, but younger players like
T.J. Moe
and
Rolandis Woodland
are going to have to contribute more. Incoming freshman
Marcus Lucas
could help in the fall.
2. Linebacker
. The Tigers bring back two of their starting three linebackers, but three-time All-Big 12 selection Sean Weatherspoon is the one who left. Sophomore Donovan Bonner heads into spring camp as the top candidate to replace Weatherspoon on the weak side, and Will Ebner and Andrew Gachkar are back at the other linebacker spots.
3. Defensive line
. Two starters are gone on the defensive front: end Brian Coulter and nose tackle Jaron Baston. At least the Tigers know they're set at one side, with end Aldon Smith coming back after totaling 19 tackles for loss and 11.5 sacks in '09. Marcus Malbrough and Jacquies Smith will battle for starting end, and Terrell Resonno could move into the vacant tackle spot.

Nebraska Cornhuskers
Spring practice starts
: March 24
Spring game
: April 17
What to watch:
1. Will quarterback Zac Lee keep his starting job?
After Lee was plagued by inconsistency throughout the '09 season, offensive coordinator Shawn Watson is expected to open the competition during spring practice. Sophomore
Cody Green
, senior
Latravis Washington
and freshman
Taylor Martinez
will all be given a fair chance to win the job.
2. Defensive tackle
. Nebraska fans won't see All-American Ndamukong Suh commanding double-team blocks along the line of scrimmage. Even after losing one of the most decorated players in school history, the Cornhuskers figure to be pretty good up front. Jared Crick and Baker Steinkuhler will man the middle, with Pierre Allen and Cameron Meredith entering spring camp as the favorites at ends.
3. Rex Burkhead
. The sophomore burst onto the scene after Roy Helu Jr. was hurt early in the Huskers' 33-0 rout of Arizona in the Pacific Life Holiday Bowl, rushing for 89 yards with one touchdown. Burkhead was very explosive running out of the Wildcat package, so look for Watson to try and utilize him even more to make the Nebraska attack less predictable.

Oklahoma Sooners
Spring practice starts
: March 8
Spring game
: April 17
1. Offensive line
. The Sooners have a lot of questions up front on offense, after left tackle Trent Williams and right guard Brian Simmons departed. Will junior Donald Stephenson finally be ready to contribute at left tackle after being suspended for all of the '09 season? Will center Ben Habern be ready after breaking his leg late in the '09 season? When will Jarvis Jones return from a broken heel?
2. Linebacker Ronnell Lewis
. The sophomore had a break-out game in the Sooners' 31-27 victory over Stanford in the Sun Bowl, finishing with six tackles and a forced fumble. With starting linebackers Keenan Clayton and Ryan Reynolds departing, Lewis will assume a starting role on the strong side. Redshirt freshman Tom Wort is projected to start in the middle, with junior Travis Lewis starting on the weak side.
3. Secondary
. The Sooners have shuffled their defensive backs after losing cornerbacks Dominique Franks and Brian Jackson. Sophomore Demontre Hurst is in line to replace Franks at field cornerback, and senior Jonathan Nelson has moved from strong safety to boundary cornerback. Junior Sam Proctor is expected to replace Nelson at strong safety, and senior Quinton Carter is back at free safety.

Oklahoma State Cowboys
Spring practice starts
: March 8
Spring game
: April 17
1. Quarterback Brandon Weeden
. The 26-year-old junior is the top candidate to replace
Zac Robinson
, who broke nearly every OSU passing record. Weeden was a second-round choice of the New York Yankees in the 2002 amateur baseball draft. If he can grasp new offensive coordinator Dana Holgorson's spread offense quickly, the Pokes' passing game should again be potent in 2010.
2. Defense
. Defensive coordinator Bill Young will have his hands full this spring trying to replace nine starters. The only returning starters are defensive end Ugo Chinasa and strong safety Markelle Martin. The Pokes have to replace three starters on the defensive line, three linebackers and three defensive backs. Three newcomers -- linebacker
Caleb Lavey
and defensive backs
Devin Hedgepeth
and Malcolm Murray -- will get early looks in spring camp.
3. Offensive line
. The Cowboys will have to replace star left tackle Russell Okung, left guard Noah Franklin, center Andrew Lewis and right tackle Brady Bond. Juniors Nick Martinez, Casey LaBrue and Grant Garner will be the top candidates to fill open starting spots.

Texas Longhorns
Spring practice starts
: Feb. 26
Spring game
: April 4
1. Quarterback Garrett Gilbert
. The sophomore was thrust into action after
Colt McCoy
injured his shoulder against Alabama in the Citi BCS National Championship Game and played admirably well in tough circumstances. The Longhorns might change their identity on offense with a young quarterback under center, so developing a running game to take pressure off Gilbert might be a top priority.
2. Defense
. The unit is in good hands with coordinator Will Muschamp, but he'll have to replace many of the star players from 2009. End Sergio Kindle, tackle Lamarr Houston, linebacker Roddrick Muckelroy and safety Earl Thomas are all gone. Younger players such as end Alex Okafor and tackle Tyrell Higgins will have to turn it up a notch during spring practice.
3. Wide receiver
.
Jordan Shipley
, who was McCoy's favorite target, also departed. Seniors
James Kirkendoll
and
John Chiles
, junior
Malcolm Williams
and sophomore
Marquise Goodwin
will have to be more consistent in their route running and pass catching. Other receivers such as
D.J. Monroe
and
DeSean Hales
will be trying to crack the receiver rotation during the spring, before talented freshmen like
Darius White
,
Mike Davis
and
Demarco Cobbs
arrive on campus.

Texas A&M Aggies
Spring practice starts
: March 23
Spring game
: April 17
1. New defensive coordinator Tim DeRuyter
, who built one of the country's best units at Air Force last season. He inherits an A&M defense that was woefully porous last season and will switch to a 3-4 scheme. Nine starters are coming back on defense, including pass-rushing specialist Von Miller. DeRuyter will spend the spring trying to install his system and getting his players comfortable with it.
2. Offensive line
. The Aggies must replace three starting offensive linemen: left tackle Michael Shumard, center Kevin Matthews and right tackle Lee Grimes. Juniors Joe Villavisencio and Danny Baker and sophomore Stephen Barrera have to be ready to step up this spring.
3. Special teams
. The Aggies' special teams weren't so special last season, as they ranked 104th in net punting, 91st in kickoff return defense and 49th in kickoff returns among FBS teams. Aggies coach Mike Sherman is putting a new emphasis on special teams, which cost his team dearly in its 44-20 loss to Georgia in the Independence Bowl.

Texas Tech Red Raiders
Spring practice starts
: March 7
Spring game
: April 17
1. Quarterbacks
. With former Auburn coach Tommy Tuberville replacing Mike Leach at Texas Tech, senior quarterbacks
Taylor Potts
and
Steven Sheffield
figure to start spring camp on a level playing field. Potts started 10 games last season, throwing for 3,440 yards with 22 touchdowns and 13 interceptions. Sheffield started two games and threw for 1,219 yards with 14 touchdowns and four picks. New offensive coordinator Neal Brown, who was hired from Troy, runs a version of the spread offense, but Tuberville will probably incorporate more of a traditional running game into the offense.
2. Defensive line
. New defensive coordinator James Willis has to replace three starters on his defensive front: ends Brandon Sharpe and Daniel Howard and tackle Richard Jones. Making matters worse, the top two reserve ends in 2009 were seniors, along with the backup nose tackle.
3. Offensive line
. O-line coach Matt Moore, who was retained from Leach's staff, has to replace three starters: center Shawn Byrnes, right guard Brandon Carter and right tackle Marlon Winn. Juniors Justin Keown and Mickey Okafor and sophomore LaAdrian Waddle will probably be given first crack at replacing them. Incoming junior college transfer Scott Smith could play stand-up end in Tech's 3-4 scheme, and junior college defensive tackle Donald Langley might also have an impact in spring practice.
February, 4, 2010
2/04/10
2:57
PM ET
By
Tim Griffin
| ESPN.com
Texas Tech Red Raiders
Total class:
25
ESPN 150:
0
By position:
CB 5, DE 5, S 4, OT 3, DT 3, OLB 2, WR 1, RB 1, QB 1.
By state:
Texas 13, Florida 4, Louisiana 3, Oklahoma 2, Arkansas 1, Maryland 1, Hawaii 1.
Already enrolled in school:
2.
The big ones:
Jackson Richards, the nation's No. 31 defensive end prospect, should provide some help at an area where Coach Tommy Tuberville is desperately looking for an upgrade. Shawn Corker, the nation's No. 47 wide receiver, left South Florida to come to Lubbock because of the program's burgeoning reputation for developing wide receivers under Mike Leach. He stayed firm with his commitment even after Leach was fired.
Sleeper:
DT Donald Langley originally committed to Tennnesse out of high school but ended up at Copiah-Lincoln Community College in Mississippi as a non-qualifier. He's a 290-pound run stuffer – something the Red Raiders' defense desperately needs.
Needs met:
The Red Raiders needed to find some defensive linemen because of the turnover in the roster from four graduating players this year and losingn nose tackle Colby Whitlock after 2010. Seven additions keyed by Richards, Dartwan Bush and Coby Coleman will help. Keeping quarterback recruit Scotty Young was imperative as the Red Raiders will lose graduating seniors Steven Sheffield and Taylor Potts after one more season. Speedy, squat running back Delans Griffin looks like a prototypical Tech back because of his catching and running abilities.
Analysis:
Considering he had only three weeks to keep the recruiting class together, Tuberville did a masterful job. He addressed the program's defensive needs with a group heavily tilted to that side of the ball. It signals a change in thinking around the Tech program and one that likely would be necessary if the Red Raiders ever become consistent Big 12 title-game participants. Young seems to be similar to the long line of quarterbacks that Tech has always attracted under Leach. And Corker symbolizes the Red Raiders' emerging national reach under Leach after players like Michael Crabtree have developed in the program. It will be interesting if that trend continues with Tuberville, or if his staff turns back to a more regionalized approach.
What Tommy Tuberville said:
"It's been a tough situation that we've put our coaches in, but I'm proud of what they did and how they did it. We did keep a few that had previously committed . . . and some for obvious reasons went other directions. Looking at this, it's going to be a class that we can look back on and say, 'You know? For a three-week period of time, it was pretty dang good.' This group is going to win a lot of games."
Scouts Inc. grade/rankings:
C-plus, eighth in Big 12.