Big 12:

Dontrayevous Robinson
January, 7, 2011
1/07/11
12:00
PM ET
By
ESPN.com staff
| ESPN.com
Would you mind if I listen to my book on tape? I'm kind of a bookworm. It's the novelization of the movie "Precious" based on the book "Push" by Sapphire.
April, 19, 2010
4/19/10
3:00
PM ET
By
ESPN.com staff
| ESPN.com
LINCOLN, Neb. -- Nebraska knew what it had early when its new, shifty freshman running back named
Rex Burkhead
showed up on campus.
"Right when he came into camp, he had the "get it" factor. He got it right away," said offensive coordinator Shawn Watson. "In practice, he was very, very good, and when he takes it to the field, it translates and it's natural. There's not a lot of coaching you have to do. He's just a natural player."
[+] Enlarge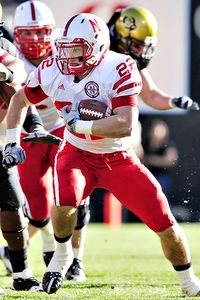 Ron Chenoy/US PresswireRex Burkhead impressed his coaches almost immediately last season.
Watson got Burkhead involved in the offense early, trying to increase his role as the season progressed and the college game in front of him slowed. Watson knew he could contribute to an offense lacking in proven playmakers, but a stress fracture forced him out of five games in the middle of the conference season.
"That really hurt our team offensively. That really hurt us," Watson said. "We like to run two or three backs, and now we're down to Roy [Helu Jr.]."
Once Burkhead returned, he delivered on the potential he showed early on, stating his case for a starting job. In each Nebraska's final three games, he carried the ball at least 17 times and ran for 92 yards in the Holiday Bowl win over Arizona. He notched his first 100-yard performance against Colorado a month earlier.
"The offensive line opened up some good holes in that game. I was able to get some good runs so that was a good start," Burkhead said.
But Burkhead still sees his role as complementary. ("Right now it's still Roy's starting job and I'm there whenever he needs a break," Burkhead says.) Nebraska will use both Burkhead and Helu Jr., along with bruising 230-pound
Dontrayevous Robinson
, who was forced into action from the scout team last season after Burkhead's injury held him out and Helu Jr.'s action was limited by injury as well.
In games as a featured back against Iowa State and Baylor, Robinson ran for 77 and 61 yards, respectively.
"You've got to have multiple backs," Burkhead said. "There's injuries and teams use running backs so much, it's good to have a little mix-up, change it up a little bit with different styles of runners. It just helps out the team."
Nebraska will mix it up even more with Burkhead, a former high school quarterback, keying the Wildcat formation that saw plenty of air time in the Holiday Bowl.
"I don't know what Rex can't do," Watson said. "Will it be something that we do? Yeah, we'll always have the ability to do it. It'll depend on the game plan. ... Will it be a huge part of what we do? No. But will it be a part? Yes, but it's just a segment."
Burkhead will be more than just a small segment of a Nebraska offense looking for improvement.
November, 7, 2009
11/07/09
12:41
PM ET
By
Tim Griffin
| ESPN.com
Posted by ESPN.com's Tim Griffin
Here's a look at what Oklahoma and Nebraska need to do for success in tonight's pivotal game in Lincoln.

Three keys for Oklahoma
Establish the running game:
The Sooners need to get
Chris Brown
and
DeMarco Murray
involved early to take some of the steam out of the pass rush keyed by Ndamukong Suh and Jared Crick. If they can get in some manageable down-and-distance situations, it will reduce the pressure quarterback
Landry Jones
will face.
Get the blitz going:
Oklahoma should have a favorable situation against inexperienced Nebraska quarterback
Cody Green
. The Sooners will be aiming to confuse him from the start of the game, keeping him discombobulated with different blitz combinations throughout the game. It's a formula that has made Brent Venables' group one of the nation's best for most of this decade.
Play strong on special teams:
It's been a mixed bag all season for the Sooners with occasional success but just as many struggles on special teams. They can't make mistakes tonight and expect to win. That means better coverage on kickoffs, making field goals and not fumbling.

Three keys for Nebraska
Start fast:
Green needs some early confidence to get the Cornhuskers off on the right foot. Their struggling offense has produced only three touchdowns since that 27-point offensive explosion in the fourth quarter against Missouri. They need some early success to get the crowd into the game early.
Emphasize their defensive line advantage:
Suh has been playing at an Outland Trophy level all season. Crick trumped that last week with a five-sack performance against Baylor that tied the school single-game record. And Barry Turner and Pierre Allen combine to give strong pressure from the flanks. It combines to make the Nebraska defensive front one of the best in the nation. They will have their chances against an inexperienced Oklahoma offensive front that has allowed only eight sacks this season, but still hasn't faced a challenge like the Blackshirts.
Run the ball effectively:
With Roy Helu Jr. hobbling, the Cornhuskers have struggled moving the ball on the ground. That's where Green will be important. And freshman I-back
Dontrayevous Robinson
has been steadily getting more confidence in the offense. It might be asking a lot for the Cornhuskers to produce a lot of yards against a Sooner defense that ranks third nationally against the run and eighth in scoring defense. But Nebraska needs some kind of ground presence to give Green a chance.
November, 2, 2009
11/02/09
5:50
PM ET
By
Tim Griffin
| ESPN.com
Posted by ESPN.com's Tim Griffin
Nebraska coach Bo Pelini is intent on improving production in Saturday's game against Oklahoma, despite facing the Sooners' ballyhooed rushing defense.
"We've got to get better production," Pelini said. "We need to run the football better. We've got to block better. We've got to run more consistently. We have to not miss holes. We just need to execute better in that phase of our game."
Despite producing 145 yards rushing against Baylor -- the most by the Cornhuskers since the third game of the season -- Pelini was disappointed with how the Cornhuskers finished the game in their rushing attack. Nebraska averaged 6.7 yards per carry in the first quarter against the Bears. But they produced only 78 yards on 28 carries over the final three quarters for an average of 2.8 yards per carry.
The Cornhuskers have shown a precipitous drop in running game production since conference play began. Nebraska averaged 183.8 yards per game and 5.7 yards per carry in the non-conference portion of their schedule, scoring 10 rushing touchdowns on 130 carries.
But since conference play began, those numbers have dipped. Nebraska is averaging 108.5 yards per game and 3.4 yards per carry against conference foes. The Cornhuskers have scored three rushing touchdowns on 129 carries against Big 12 opponents.
And it won't be any easier against Oklahoma, which ranks third nationally in rush defense and will be the best rush defense the Cornhuskers have yet faced. The Sooners are allowing 80 yards per game rushing, allowing only four opponents to top 100 yards against them in a game this season.
Pelini said his running game should get a boost with the return of I-back
Dontrayevous Robinson
, who was shaken up after catching a screen pass late in the third quarter against Baylor. Pelini said that Robinson should be ready to practice this week to get ready for Saturday's game.
October, 24, 2009
10/24/09
1:16
PM ET
By
Tim Griffin
| ESPN.com
Posted by ESPN.com's Tim Griffin
We all thought that quarterback
Cody Green
would be the agent of change to boost production in Nebraska's offense.
Surprise -- it's somebody else.
Freshman running back
Dontrayevous Robinson
capped a long drive with a 3-yard touchdown run to give the Cornhuskers to a
7-3 lead
over Iowa State.
Roy Helu Jr. has picked up only two carries so far, leaving Robinson to slip into the role as the featured back.
The running game is helping quarterback
Zac Lee
look a little more comfortable passing. And that's the biggest reason for the Cornhuskers' early lead.
October, 13, 2009
10/13/09
8:36
PM ET
By
Tim Griffin
| ESPN.com
Posted by ESPN.com's Tim Griffin
Nebraska freshman running back
Rex Burkhead
will be sidelined indefinitely with a foot injury that was sustained in practice on Monday.
Nebraska coach Bo Pelini told reporters Tuesday that Burkhead will be sidelined "for awhile" and offered no other specifics.
Burkhead is Nebraska's second-leading rusher with 23 carries for 118 yards and has also added eight receptions for 66 yards. He has been a key contributor on offense and special teams.
"Any time you have a football player out, you're going to miss him," Pelini said. Tuesday "I feel worse for the kid. He's a prideful, tough competitive guy."
The emergence of Burkhead helped fill the spot on Nebraska's roster where
Quentin Castille
played before he was kicked off the team before the season started.
The injury could be significant for the Cornhuskers as they prepare for Saturday's game against Texas Tech.
Leading rusher Roy Helu Jr. appeared to be dinged at the end of the Cornhuskers' 27-10 victory over Missouri last week, wearing a bag of ice strapped around his neck as he limped to the team bus. Helu has returned to practice with the Cornhuskers.
With Burkhead's injury, other players will be featured in Nebraska's running game. Among those mentioned by Pelini at the press conference included
Austin Jones
,
Lester Ward
,
Collins Okafor
,
Marcus Mendoza
and
Dontrayevous Robinson
. His special teams use could be filled by freshmen wide receivers
Antonio Bell
and
Tim Marlowe
.
August, 24, 2009
8/24/09
7:45
PM ET
By
Tim Griffin
| ESPN.com
Posted by ESPN.com's Tim Griffin

Nebraska was my early favorite to win the North Division, mainly because of its improving defense working under Bo Pelini and the Cornhuskers' formidable depth in the backfield.

I've also always said I would reserve a chance to change my mind depending on what happens throughout preseason camp.

Nebraska's abrupt dismissal of Quentin Castille over the weekend for an undisclosed violation of team rules is that big of a hit for the Cornhuskers.

Now, I'm barely slightly toward Kansas, despite the Jayhawks' fearful cross-divisional schedule and that rebuilt defense that has always given me pause.

Castille would have been an important weapon for the Cornhuskers, mainly because he provides depth and a bruising nature to a team looking for that identity.

He was a revelation in the Gator Bowl when he barreled over and through Clemson for 125 yards and nearly 7 yards per carry. More of the same was expected this season, particularly as he kept his weight down and appeared ready to take off where he finished the 2008 season.

Roy Helu Jr. still might be one of the best running backs in the North Division. But the Cornhuskers are going to be asking a lot out of him. He's bulked up from his playing weight from last season and appears to be susceptible to hamstring pulls because of the added weight and muscle. That's not a good sign for a Cornhusker team that doesn't feature an experienced back behind him now.

Even more, he and Helu would have been an ideal tandem. They would have reminded fans of Nebraska's glory days, bringing a physical presence to the Cornhuskers in a league where offense has been marked by passing in recent years.

But as much as anything, the bruising 235-pound Castille offered a nice change of pace from Helu and the other back. He could come in and plow through defenders for a few series while Helu was resting on the sideline. The fact that he is such a physical back would have made him ideal for the Cornhuskers' ball-control offense -- even with his past reputation as a fumbler.

The Cornhuskers will be asking for a huge contribution from Rex Burkhead, a talented freshman from Plano, Texas. They also have sophomore walk-on Austin Jones, the half-brother of Nebraska wide receiver Melenik Holt. Also in the mix will be redshirt freshmen Collins Okafor and Lester Ward and freshman Dontrayevous Robinson. Wide receiver Marcus Mendoza has also moved back to running back as well.

Whether that's enough to get the Cornhuskers through an extended injury in the backfield is anybody's question. But it's definitely sliced into Nebraska's slim margin of error that I gave them when I made them my preseason favorite.

The North Division was going to be tight anyway. And it's just gotten tighter. You can make a point that any of four teams -- Nebraska, Kansas, Missouri and Colorado -- could win it with enough breaks. The Cornhuskers just sustained the biggest early hit of the preseason.

The loss puts some pressure on Nebraska offensive coordinator Shawn Watson, who in my mind, is one of the best coordinators in the nation.

Watson saw a lot of his 2001 Colorado team in what he had with the C
ornhuskers when Castille was there. That Buffaloes' squad won the Big 12 title with journeyman quarterback Bobby Pesavento starting. They were able to win -- claiming huge upset victories down the stretch against Nebraska and Texas -- thanks to a similar power running game keyed by Chris Brown and Bobby Purify.

Now, the Cornhuskers are going to be asking a lot out junior-college transfer Zac Lee. I know some will say he's started junior college football games before. But he still has never faced a hostile crowd like the one he will be facing in his first two road games when the Cornhuskers visit Virginia Tech on Sept. 19 or in their Oct. 8 conference opener at Missouri.

It will be a huge task, particularly without one of his biggest offensive weapons.
August, 22, 2009
8/22/09
6:24
PM ET
By
Tim Griffin
| ESPN.com
Posted by ESPN.com's Tim Griffin
The announcement earlier today by Nebraska coach Bo Pelini that junior I-back Quentin Castille was kicked off the team sent shock waves shooting through the Nebraska program.
The move is potentially very big for the Cornhuskers.
Castille had come on strongly late in his freshman season and was expected to be a big contributor for Nebraska this season. While I doubt he would have beaten out Roy Helu Jr. for the starting job, Castille still would have provided depth and accentuated the team's biggest offensive strength.
It wasn't out of realm of possibility that Castille could have provided 700 or 800 yards from his back-up position. And his departure places further pressure on untested Nebraska starting quarterback Zac Lee.
Castille had been a headache for Pelini in terms of discipline problems throughout his time at Nebraska. He left the program for several weeks earlier in the summer and returned to his home in Texas, professing that the move had made him ready to play under Pelini's rules when he returned.
Also, an arrest warrant was issued for Castille earlier this year after he failed to appear in court on traffic violations. He was later fined for a missing license plate.
"It's pretty black and white, my expectations and what we lay out as a staff," Pelini told reporters when he made the announcement. "And if someone doesn't follow those policies and guidelines, they're no longer going to be with the football team. And that's the case with Quentin."
His departure means there's an immediate opening behind Helu as the Cornhuskers' No. 2 I-back. Freshman Rex Burkhead has looked good in early practices and will inherit the role.
Austin Jones, Dontrayevous Robinson, Lester Ward and Collins Okafor all will be in the mix at running back. None of the backs behind Helu have a carry at the college level.
Also, look for Marcus Mendoza to immediately surface back in the mix at running back after spending the previous time at camp at wide receiver in a move that Pelini claimed was unrelated to Castille's ouster.
"We were moving Marcus back there anyway," Pelini said. "It was more of his choice."
Now, he's got a shot at immediate playing time in the Huskers' backfield -- along with a lot of other players.