Big 12:

Dravannti Johnson
January, 19, 2012
1/19/12
4:15
PM ET
If you're one of our most faithful readers, you'll remember we took a look at the ESPNU 150 recruits from the past five years before Signing Day 2011.

You can take a look at those here:
That was before the 2011 season. Now, our recruitniks have taken it upon themselves to provide a new update for the 2008 class.
You'll need ESPN Insider to see the full updates for each player group, but here's how the Big 12 players have done:
Prospects ranked from 1-25

No. 6 Arthur Brown, LB, Kansas State (via Miami):
Brown committed to Miami (Fla.), where he struggled to see the field in 2008 and 2009. He transferred to Kansas State and was named Big 12 newcomer of the year in 2011 after recording 95 tackles, two sacks and an interception (of Heisman Trophy winner
Robert Griffin III
).
No. 7: Jermie Calhoun, RB, Oklahoma:
Calhoun's career never got off the ground at Oklahoma after he redshirted as a true freshman. He appeared in 16 games and rushed for 242 yards on 56 carries. He tore his ACL early in his sophomore season (2010) and decided to transfer to Football Championship Subdivision program Angelo State University.
No. 11: R.J. Washington, DE, Oklahoma:
Washington has appeared in 25 games (no starts) for the Sooners, and has 20 tackles and 3.5 sacks. His 13 tackles, three sacks and five pass breakups in 2011 are all career highs.
No. 13: Josh Jarboe, WR, Oklahoma:
Jarboe was arrested for bringing a weapon onto his high school campus before enrolling at Oklahoma. His career with the Sooners didn't last long, as he was kicked off the team after a YouTube video emerged with him rapping about guns and violence. Jarboe resurfaced at Troy but couldn't escape the negative headlines and was dismissed in 2009. After a year at Northeast Mississippi junior college, Jarboe returned to the Football Bowl Subdivision ranks at Arkansas State, and had 54 receptions for 730 yards and two touchdowns this season
No. 16: D.J. Grant, WR, Texas:
After redshirting in 2008, Grant suffered season-ending knee injuries in 2009 and 2010. He finally got on the field in 2011 and started six games, finishing the season with 16 receptions for 180 yards and three touchdowns.
No. 17: Dan Buckner, WR, Texas:
Buckner had 50 receptions for 526 yards and six touchdowns in two seasons with Texas. He was arrested on charges of criminal trespassing and resisting arrest in January 2010 and decided to transfer to Arizona. Buckner had 42 catches for 606 yards and two touchdowns this season for the Wildcats.
Prospects ranked 26-50

No. 38: Blaine Gabbert, QB, Missouri:
It was once thought that Gabbert would be redshirted as a freshman in 2008. Instead, he was the third-string quarterback for the Tigers. He is now a starting NFL quarterback, playing for the Jacksonville Jaguars. During his career at Missouri, Gabbert threw for more than 6,800 yards and 40 touchdowns. He left for the NFL after his junior season.
Prospects ranked 51-75

57. Cyrus Gray, RB, Texas A&M:
Gray closed out his junior season with seven consecutive 100-yard rushing performances, and he added two more to that streak to open his senior campaign. He missed the final two games of the Aggies' season, but he closed out his career with 312 yards and five scores in his final two games. He was named to the 2011 All-Big 12 second team, and ran for nearly 3,300 yards and 30 touchdowns in his career.
No. 72: Jameel Owens, WR, Oklahoma:
In two years with the Sooners, Owens caught four passes for 44 yards. He then transferred to Tulsa before the 2010 season, receiving a transfer waiver so he did not have to sit out a season. But he lasted only one season for the Hurricanes, as he was granted a leave of absence during spring drills in 2011 and never returned to the team.
Prospects ranked 76-100

No. 79: David Snow, OL, Texas:
Snow came right in and played as a true freshman. When it was all said and done, he appeared in 51 games, starting 31 at center and both guard positions. He received a Big 12 honorable mention this past season.
No. 84: Stephen Good, OL, Oklahoma:
Good has been an active member of the Sooners' offensive line since he arrived in 2008. He was in the two-deep since day one, playing both guard positions.
No. 91: Derrick Hall, ATH, Texas A&M:
Hall never made it to College Station because he failed to qualify academically. He went on to Navarro Junior College, where he rushed for more than 2,200 yards and 29 touchdowns in two seasons. Hall then signed with Tulsa, but the NCAA ruled him ineligible.
No. 92: Daniel Franklin, ILB, Oklahoma:
Franklin redshirted his freshman season, and has since been a career backup and special-teams player in Norman.
No. 95: DeSean Hales, WR, Texas:
Hales redshirted his freshman season in Austin. Through the next three years, he played in 31 games, catching 13 passes for 87 yards. He has one more season of eligibility.
No. 100: Emmanuel Acho, LB, Texas:
Acho started every game this past season for the Longhorns, leading the team in tackles with 131. He also recorded 19 tackles for loss and three sacks. Acho was named first-team All-Big 12 in 2011, and finished his career with 269 tackles, 40 tackles for loss and eight sacks.
Prospects ranked 101-125

No. 106: Jordan Fields, CB, Texas A&M:
Fields committed to Texas A&M but never signed with the Aggies. He enrolled at Blinn JC (Texas) following high school and has yet to sign with an FBS school.
No. 114: Nolan Brewster, OLB, Texas:
Brewster played in all 13 games as a true freshman, mainly on special teams, and had eight tackles. He had 24 tackles and an interception as a backup safety as a sophomore and then redshirted his junior year after undergoing shoulder surgery. As a senior, Brewster played in Texas' first four games but had to retire from football due to multiple concussions and post-traumatic migraine headaches.
No. 117: Kye Staley, RB, Oklahoma State:
Staley redshirted and then suffered a knee injury that wiped out his 2009 season. He quit the football team and didn't play in 2010 but rejoined the team the following year. He played in 13 games this past season, catching 10 passes for 81 yards and a touchdown.
No. 118: Kendall Wright, ATH, Baylor:
He made an immediate impact as a true freshman, leading the team in catches, yards and touchdowns. He earned second-team All-Big 12 honors his sophomore year, catching 66 balls for 740 yards and four touchdowns. Wright broke school records his junior season, catching 78 passes for 952 yards and seven touchdowns to again earn second team All-Big 12. As a senior, Wright earned several All-American honors after catching 108 passes for 1,663 yards and 14 touchdowns, all school records. He's rated as a potential first-round draft pick in April's NFL draft.
No. 122: Landry Jones, QB, Oklahoma:
Jones will likely shatter every Sooners passing mark after surprisingly deciding to come back for his senior year. He started 10 games his redshirt freshman season after starter Sam Bradford (St. Louis Rams) suffered a season-ending shoulder injury. He set a school freshman record, throwing for 3,198 yards and 26 touchdowns, including a school-record six in one game. He earned All-American honors as a sophomore after throwing for 4,718 yards and 38 touchdowns and led the Big 12 in total offense. Jones' numbers were down a bit his junior season, but he still threw for 4,463 yards and 29 touchdowns.
No. 125: Justin Johnson, RB, Oklahoma:
Johnson's Sooners career was short-lived as he transferred to Abilene Christian following his freshman year. He rushed for 103 yards and had a 100-yard kickoff return for a score as a sophomore but transferred following that season to McMurry, a Division III school. Johnson rushed for 771 yards and eight touchdowns to go with 40 catches for 352 yards and four more scores for the War Hawks as a junior last year.
Prospects ranked 126-150

No. 138: Dravannti Johnson, LB, Texas:
Johnson decided to transfer from Texas last month, having already graduated. The junior defensive end saw limited action, playing in only seven games and registering just four tackles, one for a loss. Johnson's most productive season came in 2010, when he started five games and recorded 23 tackles, two tackles for a loss, one sack and six quarterback pressures. He is expected to transfer to a smaller school for more playing time.
No. 143: Rodrick Davis, DT, Texas A&M:
After two uneventful seasons at Texas A&M, Davis transferred to Fort Scott (Kansas) Community College before transferring again to New Mexico following the 2011 season. Davis played in eight games last season for Fort Scott and recorded 28 tackles. He redshirted in 2008 so he has one year of eligibility remaining and can play this season.
June, 29, 2011
6/29/11
1:15
PM ET
We've taken a look at the Big 12 offensive skill positions in our position rankings, and we'll circle back along to the lines eventually. For now, though, we'll flip to the defensive side of the ball, starting with linebackers.
There's a lot of turnover in this space, and the bottom half was pretty hard to sort out. We haven't seen a lot of these new faces on the field for extended periods of time, so it's somewhat of a crapshoot. I don't feel like there's a wide gap between teams 7-10, and each of those squads have at least one linebacker who could be due for a huge year and shoot them up this list.
I see Nos. 1-3 possibly being great, with dropoffs before the No. 4 and No. 7 teams.
Also, if you missed them, here are the other position rankings we've done so far.
So, without further ado, here's how I ranked the linebackers. (Nickel backs are included in this list, hybrid DE/LBs will be with defensive lines)
[+] Enlarge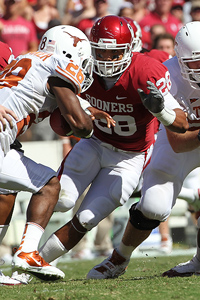 Matthew Emmons/US PresswireOklahoma's Travis Lewis is the Big 12's top returning defender.
1. Oklahoma
-- The Sooners boast the Big 12's top returning defender in Travis Lewis, who has notched at least 100 tackles in each of the past three seasons, and he'll be joined by the Big 12's co-Defensive Freshman of the Year, Tony Jefferson. Tom Wort and Corey Nelson are both loaded with potential, and will fill out the rotation, after the starter at middle linebacker, Austin Box, died on May 19.
2. Iowa State
-- The Cyclones boast two of the Big 12's best in Jake Knott and A.J. Klein, who combined for more tackles than any two teammates in the Big 12 last season. They had 241 stops, and, after healing from a broken leg suffered midseason last year, Matt Tau'fo'ou should join them at middle linebacker.
3. Texas
-- Texas' offense may be lacking, but the defense will be strong once again, led by two others likely to earn spots as some of the Big 12's best. Keenan Robinson and Emmanuel Acho were Texas' top two tacklers last year with 187 stops, and return as likely captains come fall camp. Texas' depth chart is wide open, but look for former blue-chip recruit Jordan Hicks to emerge as another star this year, despite being forced to sit out spring camp with a broken foot. Dravannti Johnson played some defensive end last year at the Buck position for the Longhorns, but may find his way back to linebacker. Tevin Jackson was ineligible last year, but he's ready for 2011, and could make an impact.
4. Oklahoma State
-- The Cowboys "Star" linebacker is occupied by co-Defensive Freshman of the Year Shaun Lewis, and sophomore Caleb Lavey is charged with replacing Orie Lemon, the leader of last year's defense. Oklahoma State has questions on the weak side, but LeRon Furr and Chris Dinkins will compete next fall.
Kris Catlin
could be a factor, too.
5. Texas A&M
-- The Aggies must replace their leading tackler, Michael Hodges, and don't have a clear replacement heading into fall camp. The good news: They've got two others with lots of experience in the linebacking corps that look like budding stars. Garrick Williams should be one of the defense's leaders and Sean Porter returns after making 74 tackles last year to rank third on the team.
6. Missouri
-- The Tigers have lots of experience at middle linebacker, where a pair of seniors (albeit frequently injured seniors) Will Ebner and Luke Lambert will be on the field a lot. One of the Big 12's most exciting players, junior Zaviar Gooden, will hold down the weakside and perhaps become a household name by season's end. Sophomores Andrew Wilson and Donovan Bonner, who missed all of last season with a knee injury, will likely compete for strongside duties in fall camp. Andrew Gachkar, the team's leading tackler, is gone, but here's guessing Gooden emerges as the defense's top playmaker.
7. Kansas
-- The Jayhawks linebackers were solid last year, and could be pretty good again, despite losing Drew Dudley and Justin Springer, two of the team's top four tacklers. Steven Johnson, the team's leading tackler in 2010, is back and he'll be joined by possible star Huldon Tharp, who missed all of last season with a leg injury. Fellow sophomore Darius Willis earned a starting role after spring.
8. Kansas State
-- K-State's front seven struggled last year, but will get a big boost from Arthur Brown. One man won't be enough to totally fix the Wildcats rush defense problems, though. K-State gave up 26 more yards on the ground per game than any other team in the Big 12 (more than 231 per game) but Brown may be playing in a 4-3 next fall rather than the 4-2-5 the Wildcats have employed since Snyder's return. Alex Hrebec, Emmanuel Lamur, Tre Walker and Blake Slaughter will likely fill the rotation along with Brown.
9. Baylor
-- Baylor's defensive depth chart, like Texas', is a bit amorphous after bringing in a new coordinator, but Elliot Coffey figures to be the Bears biggest playmaker at linebacker. Chris McAllister should be solid and Ahmad Dixon is promising at nickelback, too. Brody Trahan is a great story, but him
going from third-string quarterback to starting linebacker
isn't a ringing endorsement for Baylor's depth at the position.
10. Texas Tech
-- Tech will be moving to a 4-2-5 this year under new coordinator Chad Glasgow, and could rise up this list, but the Red Raiders lose a lot of talent from last season's team, which ran the 3-4. Bront Bird and Brian Duncan are both gone, and youth will be a big factor with this group. Cqulin Hubert's outstanding potential is matched by his more outstanding first name, and freshman
Blake Dees
showed promise after arriving early this spring. They'll likely be the rotation at middle linebacker spot alongside Daniel Cobb and Zach Winbush. Terrance Bullitt could be a playmaker at his new safety spot, listed as a strong safety but with plans to spend lots of time near the line of scrimmage, a la nickelback.
January, 31, 2011
1/31/11
2:30
PM ET
By
ESPN.com staff
| ESPN.com
ESPN the Magazine had a fascinating feature
looking back at the past 25 No. 1 high school recruits

, where they are now and what the ranking meant to them. With apologies to
Vince Young
, there aren't a ton of Big 12 talents on the list, but there have been plenty of great recruits to come through the Big 12. We took a look on Thursday at
how the All-Big 12 team stacked up as recruits
, and you saw quite a mixed bag.
Well, it's the same for the recruits who came to campus with high rankings and high profiles. Going back to 2006, here's how every Big 12 commit from the ESPNU 150 turned out. We'll eventually get to 2010 and the current class, 2011, around signing day, but here's how the 2008 class breaks down.
No. 7: Jermie Calhoun, RB, Oklahoma
. Has 242 yards and a touchdown on 56 carries. Missed final two months of sophomore season in 2010 after tearing ACL against Colorado on Oct. 30.
No. 9: Darrell Scott, RB, Colorado.
Transferred to South Florida after 2009 season because of lack of playing time. Ran for just 95 yards on 23 carries as a sophomore after running for 343 yards and a touchdown on 87 carries as a freshman in 2008.
No. 11: R.J. Washington, DE, Oklahoma
. Has seven tackles and half a tackle for loss in two seasons after redshirting his first year on campus.
No. 16: D.J. Grant, WR, Texas.
Redshirted in 2008, missed all of 2009 season with knee injury. Still trying to fully recover from injury, per former offensive coordinator Greg Davis at a November news conference.
No. 17: Dan Buckner, WR, Texas.
Caught 50 passes for 526 yards in two seasons, including 45 for 442 as a sophomore in 2009. Transferred to Arizona after the season, less than 24 hours after an arrest in College Station, Texas.
No. 38: Blaine Gabbert, QB, Missouri.
Two-year starter who threw for 6,822 yards and 40 touchdowns in his three-year career, which featured two All-Big 12 seasons. Projects as early first-round pick in 2011 draft.
No. 57: Cyrus Gray, RB, Texas A&M.
Earned All-Big 12 honors in 2010 with seven consecutive 100-yard games to close the season. Has 2,253 yards and 18 touchdowns for his career. Also caught 72 passes for three touchdowns and more than 500 yards.
No. 66: Jarvis Humphrey, DT, Texas.
Forced to withdraw from the University of Texas because of a kidney condition.
No. 72: Jameel Owens, WR, Oklahoma
. Caught four passes for 44 yards in 2008 before transferring to Tulsa after the season.
No. 79: David Snow, OG, Texas.
Appeared in all 38 career games, including 13 starts at center (11 in 2010) and five at right guard.
No. 84: Stephen Good, OT, Oklahoma.
Became a starter in 2009 and was second on the team in knockdowns that season. Part of the Sooners' rotation at guard in 2010.
No. 91: Derrick Hall, ATH, Texas A&M.
Did not qualify academically. Enrolled at Navarro College before signing with Tulsa out of junior college.
No. 92: Daniel Franklin, ILB, Oklahoma.
Reserve linebacker has seen playing time on special teams.
No. 95: DeSean Hales, WR, Texas.
Has 11 career receptions for 77 yards. Appeared in 20 games over three seasons.
No. 98: Jon Major, LB, Colorado.
Missed entire freshman season with torn ACL in fall camp. Became a starter in 2010. Has 54 career tackles with three pass break-ups and two tackles for loss.
No. 100: Emmanuel Acho, OLB, Texas.
Has 11 career starts and was an All-Big 12 performer in 2009 as a sophomore. Has 135 career tackles, 21 tackles for loss, four sacks, six forced fumbles and three fumble recoveries.
No. 114: Nolan Brewster, OLB, Texas.
Reserve safety has appeared in 27 games, including special teams, over career. Has 32 tackles, one interception and two tackles for loss.
No. 117: Kye Staley, RB, Oklahoma State.
Missed all of 2009 with knee injury and left the team before the 2010 season.
No. 118: Kendall Wright, WR, Baylor.
Two-time All-Big 12 performer has 194 career catches for 2,341 yards and 16 touchdowns.
No. 122: Landry Jones, QB, Oklahoma.
Became starter as redshirt freshman in 2009 after Sam Bradford injured a shoulder in the season opener. Earned All-Big 12 honors in 2010. Has 7,916 career yards with 64 touchdowns and 26 interceptions.
No. 125: Justin Johnson, RB, Oklahoma.
Transferred in June 2009 to Abilene Christian after playing sparingly as a freshman in 2008.
No. 138: Dravannti Johnson, LB, Texas.
Made 21 tackles in 2010 after redshirting in 2008 and not playing in 2009.
No. 143: Rodrick Davis, DT, Texas A&M.
Reserve lineman redshirted in 2008, accumulated no stats in 2010.
No. 150: Lynn Katoa, OLB, Colorado
. Transferred in May 2009 after academic issues. Was ineligible for 2008 season.
November, 23, 2010
11/23/10
1:00
PM ET
Texas A&M knows how Texas feels. They've been there.
It's been a full decade since the Longhorns ended a season without a double-digit number in its win column. Texas A&M? They haven't seen a 10-win season since 1998.
Which, of course, has meant the spoiler tag has been more often pinned to the Aggies.
[+] Enlarge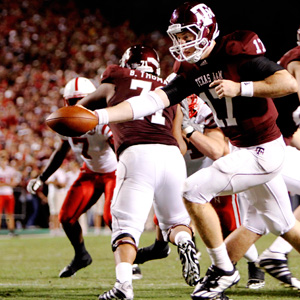 Brett Davis/US PRESSWIRETexas A&M quarterback Ryan Tannehill likes the way the offense is coming along. "We're playing a lot better, the offense is starting to gel and play as a unit," he said.
Not so in what's been a wild 2010. Through six games, Texas A&M sat at 3-3. Texas was a healthy 4-2, fresh off a win over then-No. 5 Nebraska in Lincoln.
The Aggies haven't lost since. Texas is 1-4 over the same stretch.
They'll meet on Thursday, and with a win, Texas A&M is within a bowl win of a 10-win season.
"Just beating Texas--we haven't done that since I've been here -- is big in itself," said Aggies coach Mike Sherman, whose team already has wins over Big 12 powers Nebraska and Oklahoma this season. "We always talk about the next step, and each step -- as I told the players -- the consequence of winning is the challenge and expectations become greater and greater. If you don't beat Nebraska or you don't beat Oklahoma, then the significance of the ensuing games isn't quite the same. They put themselves in a position to be in a national spotlight, and this game Thursday night is huge for us."
A win could propel the Aggies to a berth in the Cotton Bowl for the first time since 2005 and finish the season with a six-game winning streak capped by no sweeter an opponent.
"We're starting to play together. We're coming together as a team. We're playing a lot better, the offense is starting to gel and play as a unit," said quarterback
Ryan Tannehill
. "All those small things are coming together and making the team better as a whole. The special teams are playing great. It's been a team effort and I think we're playing as a team right now."
But while Texas may get its chance to prevent that from happening, their own string of losses has allowed that spoiler tag to still apply to the Aggies. A Texas A&M win ends Texas' season in November for the first time since 1997.
"It really comes down to a one-game season. We've played ourselves into this situation, some good, some bad. But we have played ourselves into this situation," said safety Blake Gideon. "It really does come down to this."
The Longhorns got their first win in over a month on Saturday, beating Florida Atlantic. Considering the history of the program, keeping that bowl streak alive is the only meaningful piece of the season to salvage.
These seniors would get to play another game, and they would like to. They feel like they've made some progress here at the end. The team's hung together, and they did play well on Saturday," said Texas coach Mack Brown. "The other thing is Senior Day, beating your rival on Senior Day, your last game at home in your home stadium is very emotional."
But bigger for the Longhorns is a point Brown maintained throughout his team's skid. Getting back to Texas' winning ways next year won't be automatic, and getting that bowl bid this year could pay off next year.
"We would love to have the 13-to-15 practices for this young team to lead into spring practice," Brown said.
Young talents like quarterback
Garrett Gilbert
, linebacker Dravannti Johnson, receiver
Mike Davis
, a handful of offensive linemen and defensive back Kenny Vaccaro should all be contributors for the Longhorns for years to come. They'd be among the biggest benefactors of those valuable December workouts that not every team can use to their advantage.
The prospect looms, however, that the Longhorns could receive a bowl bid at 5-7 if not enough teams are eligible to fill 70 slots in 35 bowl games. Texas would be near the top of the list for bowl committees scrambling to fill a spot.
Texas A&M can't control that, but that doesn't mean they would enjoy beating Texas for the first time since 2007 any less.
August, 4, 2009
8/04/09
2:31
PM ET
By
Tim Griffin
| ESPN.com
Posted by ESPN.com's Tim Griffin
I'll admit I'm a sucker for any achievement award. Give me an All-American squad -- either preseason or after the season is over with -- and I'll peruse it with diligence as I look for familiar players and teams.
And I've seen a bunch of them so far this season in a variety of magazine and Web sites.
But one of my most favorite ones has always been College Football News' redshirt freshman All-America team. It provides an early look at some of the more notable freshmen to watch around the country, both offensively and defensively.
Richard Cirminiello's team had a lot of familiar names from Big 12 schools that merit some watching. Here's a list of his first-team selections from the Big 12.
T -- Tanner Hawkinson, Kansas
C -- Ben Habern, Oklahoma
T -- Bryce Givens, Colorado
DT -- Baker Steinkuhler, Nebraska
LB -- Sean Fisher, Nebraska
LB -- Douglas Rippy, Colorado
S -- Joseph Ibiloye, Oklahoma
It bodes well for the Big 12's passing games if both tackles come from the conference. In particular, I'm intrigued with the selection of Hawkinson, a converted high school tight end who moves over from defense to protect Todd Reesing's blind side.
Oklahoma players tell me that Habern has the skill to perhaps be one of the best at his position at Oklahoma if he can keep developing. And Fisher and Rippy both have the ability to be playmakers in defenses that struggled to make many key stops last season.
Honorable mention selections included quarterback Landry Jones of Oklahoma, tackle Mark Buchanan of Texas, guards Trevor Marrongelli and John Williams of Kansas, defensive end Dravannti Johnson of Texas, defensive tackle Stacy McGee of Oklahoma, linebacker Kyle Mangan of Texas A&M and punters Quinn Sharp of Oklahoma State and Tress Way of Oklahoma.
It wise to keep an eye on these redshirt freshman. Remember that Michael Crabtree won the Biletnikoff Award as a redshirt freshman in 2007. Sam Bradford won the first of two Big 12 titles as a redshirt freshman in the same season. And Travis Lewis developed into one of the most play-making linebackers in the nation as a redshirt freshman last season.
April, 5, 2009
4/05/09
8:03
PM ET
By
Tim Griffin
| ESPN.com
Posted by ESPN.com's Tim Griffin
As I'm typing these notes, the turf at Royal-Texas Memorial Stadium is being systematically ripped up and sold to fans as the school prepares to install a new turf in time for the upcoming season.
The giant Orange Longhorn logo has been completely sold, along with 12-inch-by-12-inch chunks between the goal line and the 10-yard line near the North end zone. I would guess they made about $8,000 by selling about 400 chunks of the turf.
Here are some other observations to note from the Longhorns Sunday's scrimmage.
The scrimmage was played before an announced crowd of 44,000 at Royal-Texas Memorial Stadium. A stiff breeze was the only deterrent in the game. The wind was steady at 18 mph with gusts of up to 30 mph. Texas coach Mack Brown said he would have moved the practice inside if it had been a typical spring game.
Texas quarterback Colt McCoy said the breezy conditions helped contribute to his pedestrian final statistics.
"It's a challenge," McCoy said. "It seems like every time we've been outside the wind has been howling. But you have to get used to it. You never know when you have to play in conditions like that."
Texas defensive end Sergio Kindle was held out of action because Texas coaches felt he had proven enough earlier in the spring.
"The point of doing that was that he's proven his mettle as a player," Texas defensive coordinator Will Muschamp said. "We needed to experiment with the other guys and look at what they are going to do. Our job is to get them all ready in the fall."
Brown said that Kindle played like he would have hoped coming into the spring.
"We answered the question about Sergio," Brown said. "He could drop [in pass coverage], we knew, but could he be a consistent pass-rusher like Rak [departing Texas All-America defensive end Brian Orakpo]?
"He can be a great pass-rusher and not a good one. So that question was answered for us."
The Longhorns produced only one sack in the game, as converted defensive end Dravannti Johnson contributed.
Among the players who did not play due to injuries included wide receiver Brock Fitzhenry (right hamstring), tight end D.J. Grant (left ankle), tight end Ian Harris (neck), tackle Kyle Hix (left shoulder), defensive tackle Jarvis Humphrey (illness) and running back Cody Johnson (left hamstring).
Brown said the kickoff returns were a little skewed because the top kickoff return team played against the second kick coverage squad. It helped account for an average of 31.4 yards per kick return, including a 52-yard return by Malcolm Williams and a 37-yarder by Aaron Williams.
And it also provided some weird plays for spectators, like when orange-clad James Kirkendoll was tackled by kicker Hunter Lawrence, who also was wearing orange.
Justin Tucker showed a little diversity, kicking with both his left and right foot in his rugby-style running punting style.
Tucker uncorked a 45-yard kick with his left foot and later had a 48-yard punt with his right foot.
"We feel our kicking game should be good," Brown said. "Justin's a plus and we feel our kicking game can be better than it's been."
Like it was at the final game last season, the winter rye turf at the stadium was slick. Vondrell McGee slipped on a goal-line run early in the game.
Brown said he won't miss the old turf, which will be replaced before the Longhorns' Sept. 5 opener against Louisiana-Monroe with a new Field Turf playing surface.
"The fact that we will have consistent grass every day and not have what we had in the A&M game, which none of us were proud of, is a positive," Brown said.
The game was carried live on ESPN360.com and later shown on a tape-delay basis by ESPNU.
I wonder if Texas Tech coach Mike Leach noticed who served as the referee of the scrimmage. It was none other than Big 12 official Randy Christal, an Austin resident.
Leach bitterly complained two years ago after a loss to the Longhorns in Austin when Christal served as the referee of the game. The Texas Tech coach claimed that Christal was biased because he lives in Austin.
Leach was fined by the conference for his comments, and Christal worked only two Texas games last season. But he was back working for the Longhorns on Sunday.
BIG 12 SCOREBOARD
Saturday, 12/20
Monday, 12/22
Tuesday, 12/23
Wednesday, 12/24
Friday, 12/26
Saturday, 12/27
Monday, 12/29
Tuesday, 12/30
Wednesday, 12/31
Thursday, 1/1
Friday, 1/2
Saturday, 1/3
Sunday, 1/4
Monday, 1/12
Tweets from https://twitter.com/ESPNCFB/lists/big12