Big 12:

Eers-Raiders-101312
October, 13, 2012
10/13/12
9:14
PM ET
LUBBOCK, Texas -- Facing a fourth-and-6 on his own 29-yard line, Dana Holgorsen didn't look to do much contemplating about whether or not he'd send out his punting unit.
With more than eight minutes to play in the third quarter, 95 percent of coaches would have thought about the same amount of time ... and sent out the punter.
The West Virginia coach elected to take the risk and lost, when his Heisman front-runner quarterback missed on a throw to
Tavon Austin
along the right sideline. That wasn't much different than the way the rest of Saturday went for the Mountaineers, who suffered a humbling
49-14 loss
to Texas Tech and surely will drop from the top five in falling to 5-1.
It was a move that smelled of desperation because it was born from it. Down 35-7, West Virginia's defense hadn't given Holgorsen much of a choice.
"They played better than we did on all three sides of the ball, they played harder than we did, the effort was harder, they outcoached us," Holgorsen said. "We let the situation get to us."
Defensive coordinator Joe DeForest admitted he saw a lack of energy even in warm-ups, and once the game began, West Virginia still looked like it was warming up. Thing is, WVU never got hot, or anything close to it.
Tech needed just six plays to score the game's first touchdown on a 39-yard pass from
Seth Doege
to
Jace Amaro
, and the Red Raiders left no doubt as to which team was superior.
Doege finished with a career-high 504 yards with six touchdowns on 32-of-42 passing.
"It's not like they were outscheming us; they just played harder than we did, which is disappointing," Holgorsen said. "You only have 12 games to play. Anytime you leave the game and say, 'They played harder than us,' is something that's very disturbing to me."
[+] Enlarge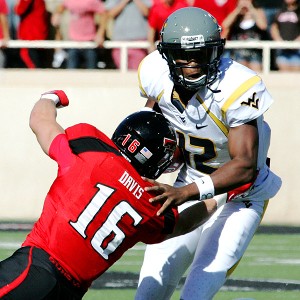 Michael C. Johnson/US PresswireMountaineers QB Geno Smith completed just 29 of 55 passes, for 295 yards and one score.
Holgorsen admitted that perhaps the whipping West Texas wind affected star quarterback
Geno Smith
's head more than his passes, although Smith rejected that notion later. Holgorsen also emphasized that no amount of weather or injury -- WVU played the second half without receiver
Stedman Bailey
(ankle) and the whole game without top defensive lineman
Will Clarke
, who didn't practice this week -- is an excuse for playing the way the Mountaineers played Saturday.
The "blame" is rather obvious. West Virginia had given up 35 points in a half before, just two weeks ago in a 70-63 win over Baylor. When the offense scores 35, too, it's a little easier to shrug off the defensive failures.
Saturday, though, was a bad day for the "You don't need defense to win it all!" crowd. West Virginia's defense is still waiting for a performance to write home about, and with one forgettable day from the offense ("Everything just seemed a little off," offensive coordinator Shannon Dawson said), a perfect season came to a rather spectacular end.
"There's no excuses for what happened today. I was off. I wasn't hitting my targets, wasn't hitting my reads. There's a number of things I did wrong," Smith said.
He finished 29-of-55 for 275 yards and a touchdown, keeping his interception-free streak alive but leaving with a head-scratching loss. Texas Tech didn't blitz more than he thought it would. Smith said he wasn't confused and felt well-prepared.
The plays just didn't work. The running game that was dominant against Texas the previous weekend never materialized to take pressure off Smith, and the entire offense suffered, although Smith's struggles were the clearest Saturday.
"There's no explanation for it; it's just the way the game goes," Smith said. "Everyone has a bad game. That's all there is to it. I don't think I played terribly bad, I just didn't do enough to win the game, and that's the way I measure myself, by wins and losses, rather than all that other stuff that people like to build up in the media world."
If Saturday's loss wasn't enough of a reminder that the Big 12 will be a bumpy road -- this same Texas Tech team lost by three touchdowns to Oklahoma last week -- next week will offer yet another. The Big 12's lone undefeated team -- Kansas State, a 27-21 winner over Iowa State on Saturday -- already has its sights set on a West Virginia offense that looked vulnerable for the first time Saturday and a defense that hasn't stopped much of anyone all season. There's no time to waste for Holgorsen.
"They were the better team today. They outplayed us, they outcoached us and they were better on all three sides of the ball. It happens in football," Holgorsen said. "I told them to hurry up, get dressed, get on the bus, we'll get on the plane, fly back, we'll watch the tape tonight and tomorrow, meet with them tomorrow, get the game over with, and we'll move on to Kansas State."
October, 13, 2012
10/13/12
6:58
PM ET
LUBBOCK, Texas -- That was a first-class beatdown from start to finish. Texas Tech turned in its best performance of the season on the same day West Virginia turned in its worst. The result: a
49-14 loss
that ranks among the most embarrassing for West Virginia in a long time.


Geno Smith
looked out of sorts and uncomfortable, and the Texas Tech defense played inspired all game. Let's take a closer look at some instant analysis:
It was over when:
West Virginia failed to score on its first three drives of the second half and Texas Tech scored a touchdown to take a 42-7 lead. Any hopes of a comeback from a 35-7 halftime deficit were never realized.
Game ball goes to:
Texas Tech defensive coordinator Art Kaufman. He confused Geno Smith (29-of-55, 275 yards, TD) and made the passer uncomfortable all day. The secondary covered well, but Smith was rushed constantly and flushed from the pocket with no options downfield for most of the day. The Red Raiders had a solid scheme and put together a complete team performance defensively. Smith avoided throwing his first interception of the season, but that was about the only bright spot for the Mountaineers' offense.
Stat of the game:
West Virginia was just 2-of-7 on fourth downs. Last week against Texas, WVU was 5-of-5.
Stat of the game 2:
Texas Tech coach Tommy Tuberville is now 6-2 versus top-five teams all-time, with wins over No. 1 Oklahoma and No. 5 West Virginia in consecutive seasons.
Unsung hero of the game:
Seth Doege
, QB, Texas Tech. Much of the focus Saturday will be on what Texas Tech's defense did to West Virginia, but Doege shredded West Virginia's defense and found open receiver after open receiver. He finished with a career-high 504 yards and six touchdowns on 32-of-42 passing, and put the ball on the money, into the hands of his playmakers all day.
What Texas Tech learned:
This team has the potential to be much better than anyone expected. Iowa State? Good team. West Virginia? Obviously a good team. Oklahoma showed last week that Texas Tech can look very average if not bad, but the potential is clear. Can Texas Tech keep doing it every week? A
Casey Pachall
-less TCU team awaits next week. Texas Tech should win that game handily, which would make it officially bowl-eligible after a five-win season in 2011. Then again, Texas Tech beat No. 1 Oklahoma for its fifth win of the season last year and didn't win again the rest of the season. Which will it be?
What West Virginia learned:
The road to a Big 12 title won't be an easy one. Texas Tech got blasted a week ago, and this week, the Red Raiders did the blasting on West Virginia's second trip west to Texas in two weeks. The travel woes and the wind? I'm not buying it. In an unfamiliar league trying to learn unfamiliar personnel, the potential was high that somebody would thwack West Virginia at some point. It just so happened to be Texas Tech. Lubbock has always had a Bermuda Triangle feel about it, and West Virginia experienced that firsthand Saturday, leaving with a blistered behind.
October, 13, 2012
10/13/12
1:03
PM ET
LUBBOCK, Texas -- Gorgeous day in Lubbock for West Virginia's second trip to Texas in as many weeks.
There's a typical West Texas wind, but the skies are clear and the temperature is hovering around 70 degrees. You couldn't ask for anything more.
In its home conference opener last week, Texas Tech failed its toughest test of the season against Oklahoma. Today's may be even tougher. Neither side of the ball was up to the task and the result was a three-touchdown loss.
West Virginia is caught with the stereotypical "trap game," making a trip to Lubbock in between games against Big 12 title contenders in Texas and Kansas State. For West Virginia, today's about maintaining a focus and sharpness in between games the school dreamt about when it joined the Big 12.
I'll be here to see if WVU can keep the Big 12 (and national?) title trains rolling, along with
Geno Smith
's Heisman campaign.
Follow along on Twitter.